Browsing articles tagged with " Vegetables"
And the NDP Convention is a wrap! After hours of debates, votes and speeches, NDP delegates will leave Montreal excited at the Party's prospect of forming the first ever Federal NDP government under the leadership of Tom Mulcair!
The time had come for me to enjoy my last lunch as provided by Capital catering.
I'd like to point out that, despite the huge attendance – this was the biggest NDP policy convention ever – the lines always moved quickly and I never had to wait very long to get to my food. There could have been more space for folks to sit down near them, however.
Capital catering's last daily special was first, a cream of mushroom – which wasn't terrible, except for the rubbery mushrooms and other lumps.
As a main, a BBQ-style beef stew – which had nothing to do with BBQ – big beef cubes, fairly tender, in a rich sauce. On the side, Mixed Californian Vegetables, which had seen better days, and Barley Pilaf with Diced Vegetables.
I enjoy barley, but usually in soup. Here, I was pleasantly surprised – but then again, I like barley.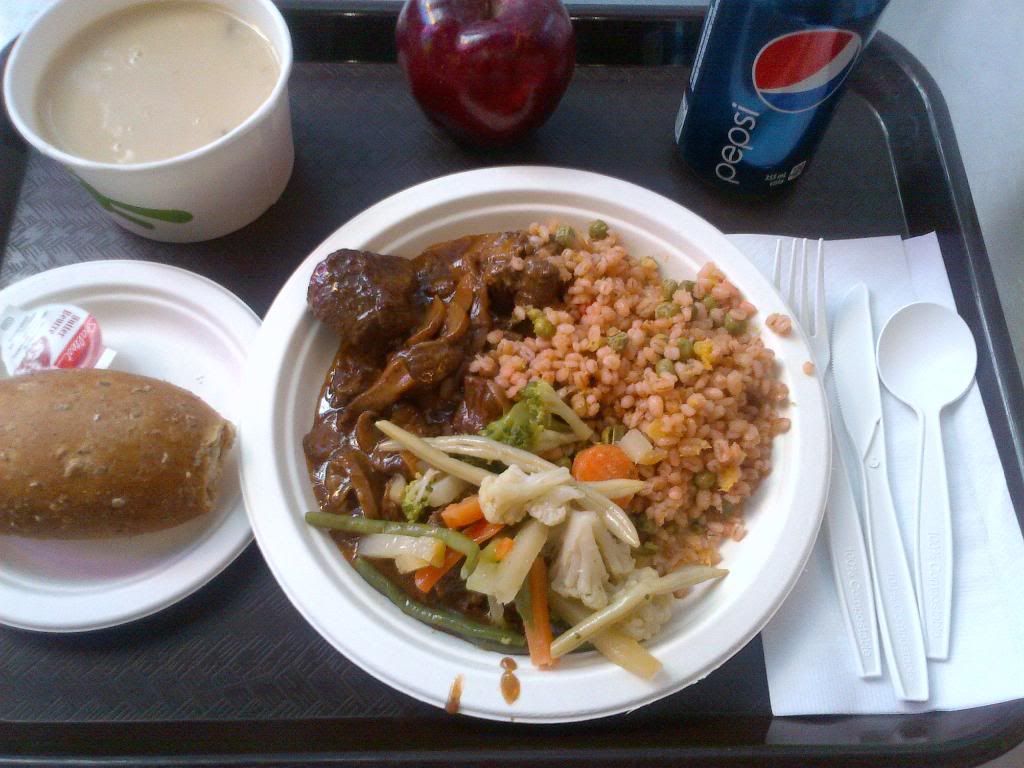 Capital catering has a cafeteria right outside the main convention room.
The concession stand is open to all, so I decided to have an early lunch.
The daily special today was actually not bad. Carrot and herb soup to start, which was tasty but piping hot – I went for the main first to let it cool down.
The main was a sauteed pork in coconut milk with mild curry – and by mild, they meant it didn't taste like curry. Bulgur with dried fruits & diced veggetables on the side, which was correct. The maple glazed carrots & peas didn't taste very maply, but the peas had a good pop and the carrots weren't too mushy.
The doors open at 1:30 – I'm ready to roll!
The year is ending. 2012 breakfasts would soon be a thing of the past. Since our hotel was serving the same brunch as yesterday, we decided to leave on an adventure to find a suitable location.
It didn't take long – once on Henri-Bourassa, the familiar n logo soon appeared, and so Normandin would be our last breakfast destination of 2012.
Normandin is a chain of family restaurants originating from Quebec City. Their delivery service is quite popular – and noticeable, with a fleet of blinking n logos on top of red cars. It is also open late, making it a destination for the bar crowd looking for a late snack. Normandin is also sells a lot of their products at a counter, where you can get buckets of their spaghetti sauce, family size dishes such as Lasagna, Macaroni, Pâté Chinois, and savoury or sweet pies.
The first one opened in 1969 in the the Neufchâtel restaurant and was quite popular. By the 90s, there were 19 Normandin established mostly in the Quebec City region. Normandin is still expanding into other regions, and now counts 40 restaurants from Mont-Joli to the East, Sherbrooke to the South and Ste-Julie to the West. They have yet to breakthrough on the Island of Montreal.
Normandin also diversified its business, with two hotels in Quebec City, the Hôtel & Suites Normandin on Pierre-Bertrand and the N Hotel on Ste-Anne.
We settled down in our booth, and our waitress soon brought to the Waffle Jr. a coloring mat with a small bucket of Crayola crayons, and a bowl of Froot Loops, much to Mrs. Waffle's amused dismay.
We peered at the breakfast menu, which is always available, a great feature for those getting up late.
Jr. wanted pancakes, so that settled that pretty quickly. The pancakes ($4.25) came with a glass of milk, a bowl of fruit and real Maple Syrup, for which Normandin needs to be commended.
Normandin's breakfast options feature many egg options, from the casserole to the omelettes to the benedict or the standard bacon n' egg plate. Other options include bagels, pancakes, french toasts and also a Breakfast Pizza.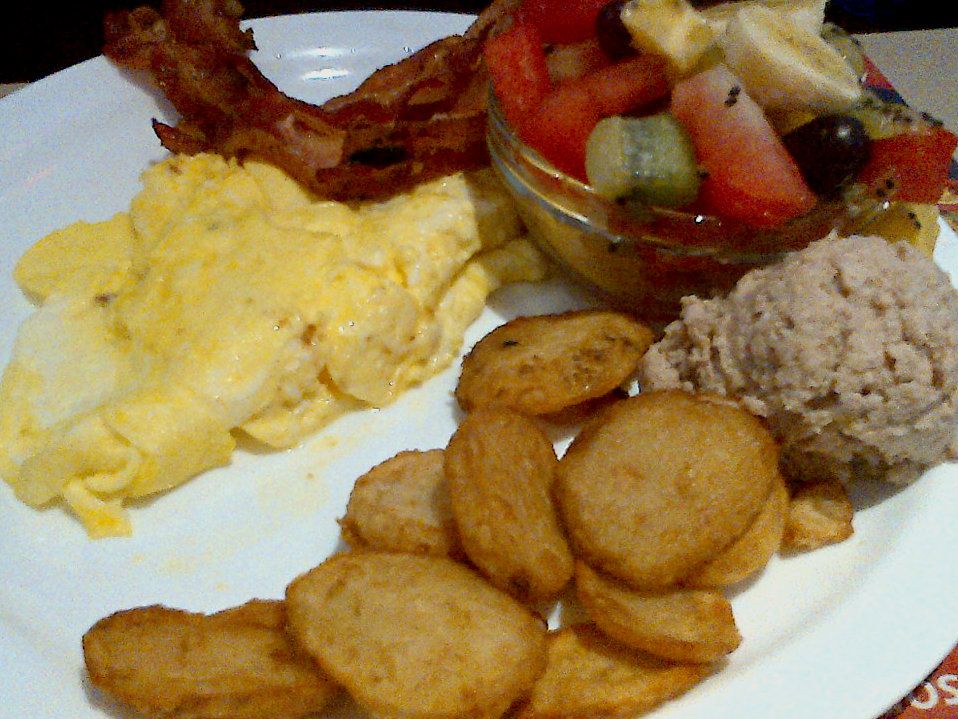 Mel felt like having a traditional breakfast, so she ordered the #5-plus ($7.55).
That would give her two eggs, her choice of meat (she picked bacon), a side of home fries, a bowl of mixed-fruit (watermelon, kiwi, bananas, grapes, oranges), toast and coffee. That's the regular #5, going for $6.10.
The plus? A scoop of Normandin's cretons (also available at take-out counter) for an extra $1.45. "I'm getting the cretons for you!", she said. Awesome!
For my part, I was kind of tempted by the Breakfast Pizza, but in the end I decided to go for a healthier option: l'Assiette Campagnarde aux Légumes ($9.95).
A casserole dish with a mix of onions, green peppers, mushrooms, brocoli, home fries, smothered in Hollandaise sauce, au gratin, and served with two eggs on top – I went with poached eggs. A few pieces of fresh fruit came as a garnish on the side.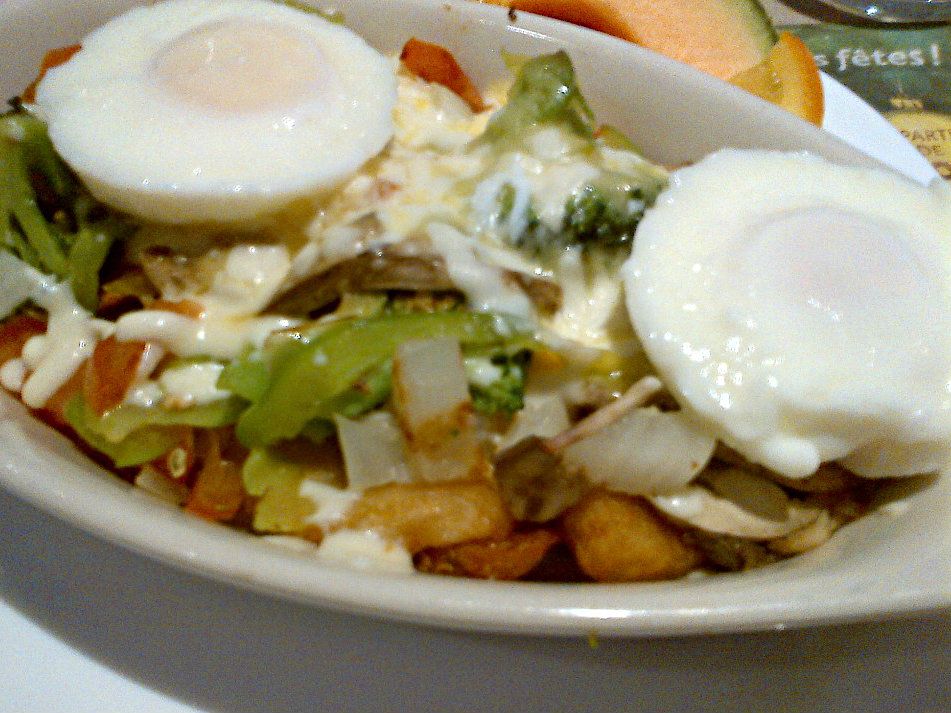 The food arrived fairly promptly. The Waffle Jr. dug into her pancake and seemed to enjoy it tremendously. The cloud of whipped cream? She mostly used it to dip her fruit in it, and the home fries she manage to scavenge from her mother's plate.
From her plate, Mel seemed to enjoy the bacon the most. Strange, isn't it? The eggs, scrambled, were cooked well. The home fries, she felt were a little dry and commercial, but not terrible, really the Waffle Jr. ate most of them anyways.  As for the mixi-fruit, she didn't like it much: "It's obviously right out of the fridge."  Though here Normandin gets points for at least going beyond the traditional melon-pineapple from a can (which is what Jr. got), the mixi-fruit is obviously prepped ahead of time and refrigerated, killing some of the freshness and flavour in the process. That is especially true for the kiwi, which doesn't support that kind of handling.
My Assiette Campagnarde was alright. On the plus side, the veggies were crunchy and juicy, and there was plenty of it – though there could have been more tomatoes. The eggs were poached as I asked them, but they were poached in a mould, removing some of that cloudyness one should get with poached eggs. On the alright side, the home fries were hit and miss. Some were crispy on the outside and fluffy inside, but some were simply mushy all around. On the down side, the Hollandaise sauce was only there in spirit – I mean, there were traces, but it's like it had evaporated. The cheese also was lacking – perhaps evaporated with the Hollandaise? You see, the point of this casserole dish is to really smother the veggies with Hollandaise sauce and to then cover the dish with cheese, in order to create a cheesy-eggy-gooeyness filled with bold flavours, supported by crunchy veggies. (Normandin also has a meaty version, but I wanted to be a good boy to end the year – and I was getting cretons!) The portion, however, was quite sufficient, especially considering the very generous scoop of cretons I was spreading on my toast. The cretons were quite smooth, but dense.  Quite good, though I prefer less creamy and more meaty.
Before tax and tip, our last breakfast of 2012 cost us $25. Without being the most amazing breakfast we ever had, it certainly did the trick, and got us ready to go for the remainder of 2012!
I go to Milestones Grill + Bar from time to time, mostly the location near Parliament Hill. Not too often, as I find the faux-branché atmosphere sometimes a little on the annoying side. Milestones, which was founded in Vancouver in 1989, has grown fast since Cara bought the chain in 2002, and now has 45 locations in British-Columbia, Alberta and Ontario.
I went there for lunch with a bunch of colleagues between two meetings, and hesitated for some time as I studied the menu. Despite the "a little of everything for everyone" approach, I was really undecided. Salads, Sandwiches, Burgers and Wraps, Pasta, Asian-style, Steaks, Chicken and Seafood. They even have a Gluten-Free selection, which I assume is appreciated by those on a Gluten-Free diet.
The food is generally good, if overpriced. Which perhaps leads to the aforementioned hesitation.
After a few minutes, I settled on Milestone's version of comfort food, from their menu's urban classics section: The Kobe Style Classic Meatloaf. Apparently, meatloaf were once very popular with the urban scene.
The service was prompt and efficient (if familiar), and my meatloaf arrived promptly.
The meatloaf comes topped with lightly fried onion strings and is served over their garlic mashed potatoes, with a shiitake mushroom au jus and seasoned vegetables, in this case carrots and green beans. Fresh parsley was used as a garnish.
We were in Gatineau looking for a place to eat after an appointment related to the Waffle jr., and we decided to stop at Madisons. Madisons is a new chain of restaurants which label's itself a New York City Grill & Bar. It has 12 locations, all in the Montreal area with one exception: the Gatineau establishment, located on the beautiful Maloney boulevard. It is on a prime real estate spot: the parking lot shared by Canadian Tire and Future Shop.
The concept is a little more open than Bâton Rouge if you can believe it – not a lot of quiet booths here – the atmosphere is meant for the professional crowd, with a constant buzz of professional chatter.
We sat down and peered at the menu sections – salads, pasta, ribs, chicken, fish, sandiwiches and burgers – everything for everyone just as most of these sorts of chains offer.  And of course, they offer beef, in a section they simply entitle Grill.  A short section, I should point out, because despite our pre-conceived idea of what a New York Style Grill should be, Madison's offers only 4 cuts of beef: The Prime Rib, the Rib Steak, the NYC Cut Sirloin, and the Filet Mignon.
I picked the NYC Sirloin and Mel went with the Filet Mignon.
With these steaks, Madison's offers as a starter either the soup of the day or a clam chowder or a Mykonos style Greek salad or a Caesar salad or the House salad and one of the following side dishes: fries or baked potato or garlic mashed potatoes or creamed spinach & Reggiano cheese dip or steamed vegetables.
To start, I had the Greek salad.  To be honest, I do not know why they label it Mykonos-style. It certainly had no special ingredients when compared to a regular Greek salad.
However, the ingredients were quite fresh:  vine tomatoes, green peppers, cucumbers, red onions, Kalamata olives and a block of actual imported feta cheese, all of it drizzled with herbs and olive oil.
The cheese had a nice and round sharp flavour, and the oil was also of a good quality.
The portion was great for a starter, and I was hoping the rest of the meal would be as good.
I ordered my Sirloin steak with vegetables, which were nice and warm, although a bit watery.
I chose the mushroom sauce to accompany my meat, it was not too thick but could have had more mushrooms.
The steak was a bit smaller than I expected – it looked like a small 14 oz.
Nevertheless,  the meat was nicely seasoned and nicely grilled, with a nice charred pattern on both sides of the steak.  It was cooked medium-rare, as I requested, and although it was not the best piece of meat I've ever had, it was decent.
I've had worse steak in my life, it was certainly enjoyable.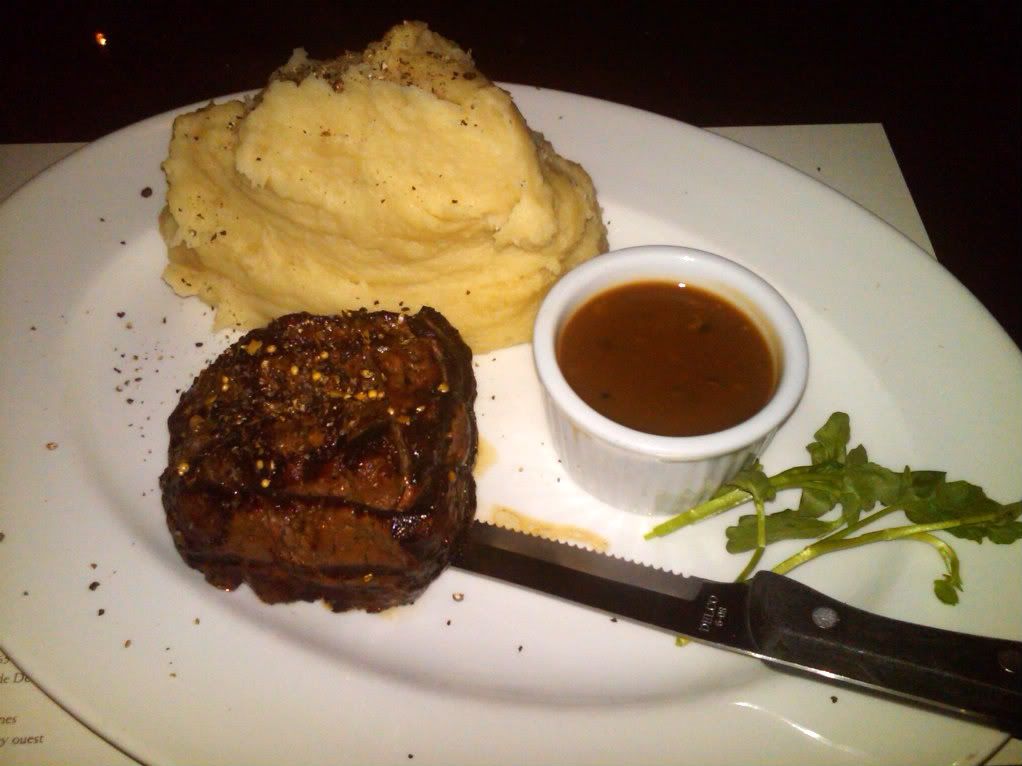 Melissa's filet mignon was an 8 oz, and it looked more or less like she got what she had asked for.
A better cut than my steak, the meat was certainly more tender than my NYC.  Same seasoning, same grill marks, it was also cooked to her liking.
She had her meat with the peppercorn sauce, which it turns out was a better sauce than my mushroom sauce. Lots of peppercorns, good consistency, a tad bit salty, it was a nice accompaniment to the meat, and they were not shy with the quantity.
But the higlight of that plate was not the meat, in Melissa's book.  In fact, I had to finish it for her.
But she wouldn't share much of…
THE MOUNTAIN OF MASHED POTATOES!!!
Let's look at the reverse angle:
This was some serious potatoes. A huge pile, Melissa was simply ecstatic. In fact, for a few seconds, she couldn't help but stare in amazement at the gigantic mass of spuds on her plate. She quickly rejected my suggestion to build something with it and dug in instead.
Warm throughout, creamy, she was eating them faster than the meat, let me tell you. And she knew there was a lot of it.  And she knew that there was only space for a small amount of meat in her stomach.  "If only I could order a 5 or 6 oz," she said.
Thankfully, I had ordered the vegetables, so I was happy to help out when the time came…
So our Honeymoon was set for Malta.
Why Malta, you may ask?
Well, we wanted something different, with nice weather and historic things to visit.  Located in the middle of the Meditaranean Sea, Malta seemed perfect. And it was relatively easy to get to, Ottawa-Frankfurt-Malta and hop!
Food in Malta is not renowned as gourmet cuisine, but it is reasonably priced and there are plenty of locations to choose from. Foreign influences still play a major role in the local cuisine. The islands' proximity to Sicily leads inevitably to many pasta dishes and pizzerias; the Brits also left their mark – fish and chips, obviously.  The Mediterranean stamp is there, with olive oil being omnipresent, and fresh vegetables, such as tomatoes and green peppers, are commonly used. Fresh fish is easily found and proudly offered.  Abundant, it comes poached, steamed, braised or grilled.
The national  dish of Malta is fried rabbit. But you can also find rabbit in stews and in pasta. Interestingly enough, we failed to see any rabbits around the islands. Another regional meat dish is bragioli. It is made with thin slices of beef wrapped round a minced meat, egg and bacon stuffing.
Other local delicacies include Gbejna, a sheep's milk cheese, served either fresh or half-dried. It comes from Gozo, it looks like boccocinni, but it is much more firm. Also, the Maltese bread, called Hobz, is very crusty on the outside and soft on the inside, and is heavily consumed on the islands. Ftira is another bread, higher end, denser.
After visiting Malta's National War Museum and walking around the city, it was time for lunch.  We picked Cocopazzo, a small place, located on Triq Nofs in-Nhar, which was recommended in our guidebooks. We were not disappointed.  We were hungry early, so the place was not really busy.  Colourful, cozy, unpretentious, with great service and great food.

From left to right:  Cocopazzo's cozy atmosphere; complimentary bread pieces, oven-toasted with herbs and olive oil; we shared some delicious rabbit stuffed ravioli to start; I went for the mixed fish grill (red snapper filet, tuna filet, swordfish, shrimp – quite dense) served with fresh vegetables, 20€ ; Melissa went for the fried calamari on a bed of greens, fresh and tender, 13€; and it all came with a side of steamed vegetables, more food than we could consume.  The total bill was 56€, before tip.
Our second meal out, the next day, was after a 10 km walk, from Sliema's waterfront back to Valletta, through Gzira, Ta' Xbiex, Msida, Pieta', Hamrun and Floriana.  It was a long walk under the baking sun of Malta, and we were ready for something civilized. We just happened to end up in front of Valetta's 5 star hotel, the Phoenicia, so we went in to enjoy lunch on The Phoenix's terrace, which had a nice view of  some of Valletta's fortification system.
I went for the classic Maltese Ftira, left, another local bread. Totally mediterranean,  with tuna, onions, capers, tomatoes and black olives.  Plenty of olive oil to bring everything together.  It came with a little basket of potato chips and a mini-salad, for 7€.  Melissa picked the Chicken Baguette, garnished with bacon and smoked cheddar.  It was served with a mediterranean salad for 8.50€.  Despite the 5 stars, and sharing the terrace with Ladies and Gentleman directly out of Falcon Crest, this was a nice lunch and not too pricey.
In the Fall of 2007, in the old Au Coq building on St-Joseph in Hull , opened Georges, a trendy-looking lounge and grill by the owner of La Station, a Gatineau deli I wrote about here.
Georges' menu is self-described as eclectic, but their specialty clearly is beef.  Prime Rib and steaks are at the heart of their offerings, but you can also find a few pasta dishes, poultry and seafood.  They even have a gourmet poutine section in their menu.
I had yet to try it – and we felt like steak tonight, so we drove over there after hesitating between Georges and le Sterling, another Gatineau steakhouse.
The place looks very nice – hard to believe this was a chicken rotisserie place.  You enter into a spacious reception area, and you have the choice of going right, into a trendy lounge area for a more casual dining experience, with electronic music and electric blue lighting behind the bar.  Trying to attract a young thirty-something crowd, they are offering 5$ Martini Night on Wednesdays and a Ladies Night on Thursdays.
To the left, the restaurant area is a more traditional, with comfortable booths and a classic dining environment, although the open kitchen concept does not make this place a quiet one, especially when it is busy because it is quite a large restaurant.
As it was my first visit, I decided to order the item named after the restaurant: The Steak Georges,  a 10 oz Angus New York sirloin, served with shrimp and scallops, topped by asparagus and béarnaise sauce.  It came with grilled vegetables and mashed potatoes.
The shrimp were a little overcooked, and so were the scallops, unfortunately, making them a tad bit chewy.  Not a catastrophe, but still.  The asparagus were nicely grilled, and went very well with the sauce.  A béarnaise is a very rich sauce, and you do not need a lot to accompany your meal, which is what was going on here.  The other vegetables, a mix of green and red peppers, zuchinni and onions, were nice and crispy, with nice char marks.  La pièce de résistance, the steak, was cooked medium-rare as I had asked, and was very good.  The cut was nice, and the meat very tender and juicy.
Melissa decided to go for the beef tenderloin filet mignon.  She chose to go for the baked potato, and ordered peppercorn sauce on the side – a little pricey at $3.50.   The beef was a 6 oz Angus grade, and was also grilled as she had asked.  The baked potato was quite big and nicely done.  As for the peppercorn sauce, I am sure glad I didn't order a side too.  A thick sauce, it was very peppery and tasted very good with the meat, but why bring a swimming pool of sauce?  We're not going to swim in it, so why not bring less, charge less, and look less ridiculous?  I had never seen anything like this before.
A weakness, their wine selection is a bit thin.  Most of the wines offered are very good, but they are also quite expensive, with very few bottles below $30.
For two, with an appéro each, our meal and a bottle of wine, we got out of there with a bill over a $100.  Still, we didn't feel cheated, which is always a good thing.
.

I continue my review of my by-election food aventure.
Here is what my second week looked like -
Sunday, August 17 2008: Lunch:
Nothing fancy, I went to 
St-Hubert
for a chicken breast.  I love St-Hubert.  I could drink the sauce.  Eeer.  I do, most times.  The fries were quite tasty, fairly crispy, and the chicken was succulent.  Their coleslaw wasn't as vinegary as it should have been, though.  I love St-Hubert.
Dinner: I enjoyed some Jazz at Les Jardins Nelson in Montreal with my friend Marika.  We shared their breaded calamari strips, which they bake.  They were golden and crispy, nicely done. Not a greasy ball of breading, as we often see.  We followed with Pizza, Si Si Si – I picked the Gambari, she went for La Charcutière.  They were fine, but nothing exceptionnal.  Nancy Martinez was the guest star for the night, and she clearly loves singing.  Too bad the crowd was barely noticing her and her band.
Monday, August 18 2008: Breakfast: Had breakfast with Richard Marois and Jean-Claude Rocheleau, NDP candidate in Hochelaga-Maisonneuve, at Le Petit Québec.  It was huge, the scrambled eggs were not overcooked, and there was tons of meat.

Lunch: I had lunch with a prominent Montreal columnist at Les Belles Soeurs on Le Plateau. I had not been there in years. He had an omelette, but I couldn't resist going for the Belles Soeurs burger, with their excellent fries.  Although I was reasonable and had only half a serving, the other half was a salad.

Dinner: I ordered some pizza from Jacques Cartier in Longueil, a meat lovers and an all-dressed.  It was 2 for 1, so no choice.  The meat wasn't overcooked, the bacon not too salty.  Not too bad.  However, it took them over an hour to deliver.  At 10 pm on a Monday night, that is uncalled for.
Tuesday, August 19 2008: Lunch: The NDP Leader was in St-Lambert for a Transit announcement and we had a working lunch at Les Cigales with members of the Chamber of Commerce.  Their fish soup was excellent, classic.  I followed it with a very nice bavette de boeuf, I just love that french cut.  I wish the schedule hadn't been as tight in order to really enjoy the great french cuisine.

Dinner: Left over pizza.
Wednesday, August 20 2008:
Lunch: Grabbed some fruits and nuts at the campaign office.
Dinner: Went to La Piazetta in St.Lambert with a Radio-Canada reporter.  I enjoyed their cannelloni al'emiliana as an appetizer and then went for La Diabola pizza. The cannelloni were a bit flat, probably because there was so much – too much – cheese on top.  La Diabola was good, but could have been spicier.
Thursday, August 21 2008:
Lunch: A very late lunch at Le Claremont after a successfull press conference in Westmount where Jack Layton and Anne Lagacé Dowson received the support of Charles Taylor, Julius Grey and other prominents Montrealers. I picked the quesadillas, I added some hot sauce to hit.  Their salsa was home made, but too young. The mango inside the tortillas gave it a nice twist.  My co-worker went for a salad, which looked very fresh.  It is a trendy Westmount bistro with a friendly and tatooed service.
Dinner: Left over pizza. Ya, I know.

Friday, August 22 2008
Lunch: ND and I grabbed a Club Sandwich to go from St-Hubert.  Did I ever mention that I love St-Hubert?  The sandwich was succulent.  But the fries do not travel as well as the meat and were a bit soggy, which is often the case with fries when you don't eat in!
Dinner: Hot Dogs at Richard Marois' campaign office!  We had a nice bbq going, I ended up on the grill.  We served six dozen nicely grilled sausages in crispy buns.  A big hit!

Saturday, August 23 2008
Dinner: Nice view of the river and the South Shore from the Verses Sky rooftop patio in Old Montreal.  Ordered a vodka-tonic upon arrial.  There was a bunch of us, and we all enjoyed a very nice meal.  I went for the Grilled Tuna, which was a tad small but nicely cooked, and served with crispy vegetables, which were actually the same for most of the entrees folks ordered.  the atmosphere was great, the weather perfect.
Sunday, August 24 2008
Lunch: Grabbed a junior cheeseburger at Burger King. Had to get back to Ottawa and was in a bit of a rush.  No time to sit down, had it in the car.