Browsing articles tagged with " Seafood"
As we were making our way towards the John Dickinson State Park, we were keeping an eye out for a place to have dinner before getting to our vacation accomodation.
The Waffle Jr. had just woken up and was, also, eager for dinner. We made an infructuous stop at Duffy's Sports Grill on Indiantown road in Jupiter (The parking lot was full, it was Friday Night, it was a Sports grill – we though better than bringing in a starving baby).
We kept going North on Highway 1, until a colourful sign attracted our attention. We were at Pep's Island Grill in Tequesta, Florida.
It being Florida, we decided that despite the cool evening, we had to have our first vacation meal outside. Pep's has a very large deck, surrounded by palm trees and going all the way around the corner. There is also a Tiki bar at the back. As we set up, we noticed how the interior seating was not very appealing, looking more like a roadside diner, but the patio was certainly more interesting. And considering the time of day, the road traffic noise was very limited.
There were three other tables occupied on the deck, but we had to go inside to indicate our presence – it seems that no one had noticed us, even though at least two staffers came to look after their tables. Hopefully, this was not a sign of the service to come.
Pep's Menu features $10 Real Deals: A starter, an entrée and a dessert – the selection includes Jumbo Crab Cakes, Lamp Chops and Chicken Picata. Not a bad deal at all, but we took a pass.
Melissa went for the Dozen Shrimp, half grilled, half tempura ($13.50). With her dish came two sides of her choice, she went for the Lobster Mac and Cheese and the Garlic Mash.
But first, a starter was included and she got the Bimini Salad.
I can only assume that this salad is from the Bahamas, Bimini being the closest point in the Bahamas to mainland USA – about 80 kms East of Miami.
On a bed of greens were some tomatoes, green peppers, mango, pecans, with a honey poppy seed dressing. Interesting, different.
The shrimp were very good, especially the grilled ones, lightly seasoned and greatly smoked. They were cooked to perfection and simply melted in the mouth.
The tempura shrimp were also quite good – golden, crispy, yet tender on the inside.
Both types were good with lemon, or with the cocktail sauce but the tartare sauce that also came with was heavy and masked the shrimp's delicate flavour.
As for the sides, the garlic mash were correct, but the star was definetely the lobster mac and cheese.  Creamy, with good chunks of lobster and a bread crumb and parmesan topping, it was quite good.   It would make a very rich main if it were available as such.
I ignored the main menu and had to try a Florida Delicacy currently available at Pep's: I ordered a pound and a half of Florida Stone Crab claws, medium size ($25.90).  They came with two sides as well, and I picked the coleslaw and the Grilled Asparagus with Chinola Sauce. Continue reading »
We were visiting our friends Mary and Cameron in Georgetown, ON, and we arrived shortly after 6 PM – nothing like crossing Toronto on the 401 at rush hour.
As usual, Cam suggested Thai food.  It seems that everytime we are anywhere near Cam, we end up having Thai food.  Here is a prime example.
So the four of us made our way to Georgetown Thai Cuisine, in their newish location on Main street, having moved recently from a tiny place down the road.  The place seems very popular – it was packed as we walked in around 8 pm.  They offered us to wait at the bar, which we did.   While waiting, 3 of us ordered a Singha, the classic imported beer offered in most Thai restaurants.
Singha is the dominant brand in Thailand.  A lager, it has very subtle aromas, some spices, no hoppiness at all. It is quite smooth, maltier than most Asian beers, with some sweetness and a hint of bitterness at the end.
A nice touch here, it came with a frosty mug.  In fact, every single new one we ordered came with a new frosty mug.
We didn't wait for long to get a table – and we ordered the appetizer assortment platter as we perused through the menu, which was, in typical thai fashion, offering hundreds of choices.
Two Chicken Satay – nicely done, flavourful, great with the peanut sauce; two Fresh Rolls – chicken bits, with carrots julienne, mango, basil and mint leaves, they were fresh and left us wanting more; two Porpia-Tod – deep fried thai spring rolls, they were ok, kind of bland; two Goong-Haw, deep-fried rolls stuffed with tiger shrimp, seasoned with garlic and pepper – the shrimp were huge, great texture and flavour, the garlic was not overpowering; and some Plamuk-Tod, deep fried calamari, frehsly made, that Mary first mistook for onion rings. The platter was served with sweet and sour sauce, which was not bad, but overshadowed by the peanut sauce, thick, heavy in flavour and chunks, nicely done. Too bad there was not enough of either.
The New Democratic Party Christmas Party…  err, I'm sorry, the New Democratic Party Holiday Party is always a classy affair. (Though in french, it was still la "Réception de Noël".)
This year, it included the usual classy skit and the finale of a Movember competition, where NDP MPs Nathan Cullen and Glenn Thibeault faced off to figure out who could grow the best under-the-nose facial hair.  They ended up in a tie, which means they both lost half their moustaches and most of their dignity.
This year, a record number of 270 guests were in attendance at the fiesta, which was held at 200 West Block. This meant that gone were the convivial round tables, which New Democrats love, in favour of the more space-efficient rectangular tables, which Convention delegates love.
And so to accommodate all these people, the organizers went for the very democratic Hot & Cold Buffet, catered by the House of Commons catering services and its very capable and friendly staff.
Despite being a simple Holiday party, and despite the fact that nobody (or almost nobody) was actually on Holiday, Santa Claus was present to supervise the buffet proceeding.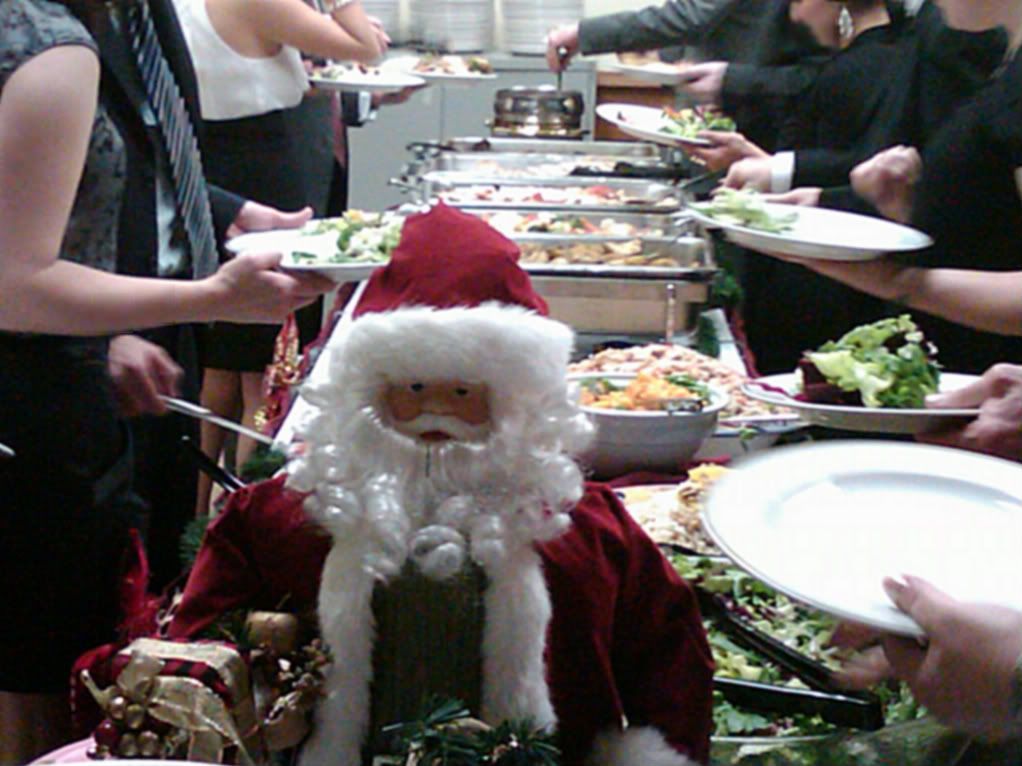 Mel and I were meeting Crystal for dinner to catch up and so on and so on.  Ever since she moved to BC, we barely see her anymore.
Mel had picked the terrace in front of the Metropolitain as a meeting point, planning to maybe wander in the Market for a place to eat.  But since I was a few minutes behind and Crystal was nowhere in sight, Mel made the executive decision to pick up one of the few remaining tables on the Met's patio.
I showed up and we ordered drinks while we waited.  Mel felt Euro-sophiticated and decided to go for an Alsatian Kiss, one of their Metro Martinis – Citron vodka, apple vodka, apple juice, simple syrup.  (Why isn't it called Lemon Vodka anyway?)  It was a well balanced drink – not too sweet, some tartness. Refreshing.   I opted for a pint of Stiegl. An Austrian beer, the Stiegl is a golden lager, with moderate yet rich malt flavours, lightly hopped, a mellow taste overall with a grassy finish.
Crystal finally showed up 30 minutes behind schedule – she wouldn't be able to choose an appetizer as, while waiting, we had decided to take advantage of the dying minutes of the Hill Hour to order Le Petit, the smallest of their seafood platters, and 25% off during the Hill Hour.
Oysters, shrimp, crab, ceviche, salmon, mussels – a nice looking platter and a good opportunity to enjoy quality seafood at a lesser price than the regular one.
As we were consuming the sea fare, we noticed some stalkers.  First, an Ottawa Citizen photographer.  Then, a guy from the Ottawa Sun.  Soon after, a CTV cameraman.  Another reporter soon joined the group.  I put my sunglasses on, hoping they weren't after me again, as they were taking shots of the patio from accross the plaza.  I looked around and noticed a growing local conservative crowd, including Tory blogger Stephen Taylor.
We waited for our food.  Mel ordered the Steamed Mussels & Frites, not quite understanding why they were Mussels & Frites as opposed to Mussels & Fries or, even better, Moules & Frites.  She unfortunetaly missed the "Hill Hour" deadline and ended up paying an extra $7 to enjoy them.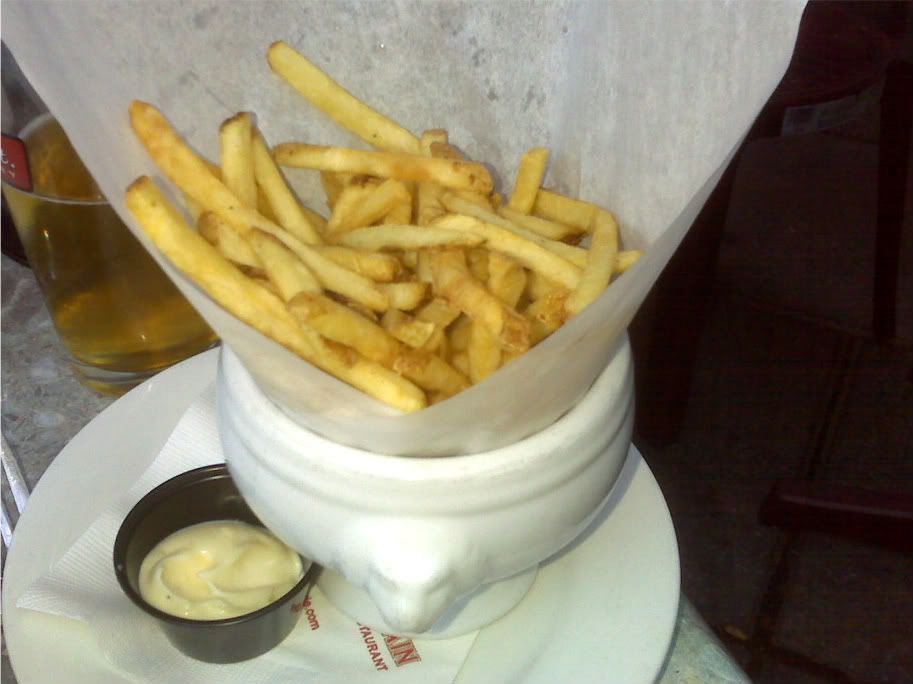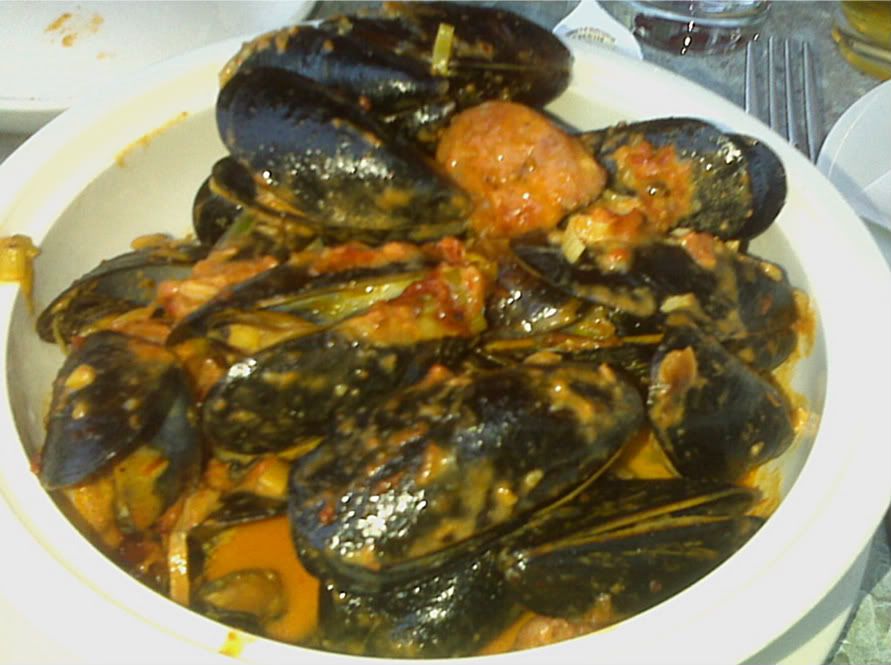 The fries at the Met are always nice, warm and crispy.  The Mussels were prepared with sundried tomatoes and spicy chorizo, they were nicely cooked and the sauce was rich and colourful, a pleasure for the palate and the eyes.
I ordered the Wednesday Special, la choucroute!  Smoked pork loin with pork belly, veal sausage, frankfurter served with sauerkraut and boiled potatoes.  At 24$, it is a stange price for a sausage special, but I could not choose anything else.
The potatoes still had their skins, adding some crisp to the dish.  Nice surprise, the sauerkraut came covered with little french cornichons, adding a fresh vinegar flavour to the fermented cabbage.  The sausages were cooked perfectly, but the smoked pork was a tad overdone and a bit on the dry side. Usually, the cabbage is very dominaut in a sauerkraut, but here, it was just an equal partner to the meat.  The portion was therefore smaller than the usual sauerkraut dish, but I did not suffer too much from it.
Finally, we realized who the crowd was waiting for – Ottawa Mayor Larry O'Brien, who lives nearby, was coming to celebrate the end of his trial.
The "Get out of Jail for Free" party was soon underway, with the Mayor's supporters, a versatile conservative crowd and even some reporters who covered, or not, the trial.
Good times.
I'm glad I had pork.
I used to hang out quite a lot at "Les Raftsmen" on St-Raymond in Hull.  Half-tavern, half-brasserie, half-night club.  It looked old, it looked rough, it smelled like beer, bands would play there, you could drink and dance and have a lot of fun very loudly.
They renovated a few years ago, and in "Les Raftsmen" building now you can find a neat little place called Le Quai Saint-Raymond.  With a menu focussing on seafood, but simple meals with no pretention, a decor focussed on Alexander Keith's accessories such as umbrellas hanging on the ceiling. It is definetely a blue collar place.  And I think Keith's is a sponsor.  Hell, even the window frames have the Keith's design on them.
You'll often see workers from neighbouring shops, hotels and even the Casino end up there for a cold one after their shift.
What I really love about Le Quai is the fact that some tables are equipped with their own beer tap!!  Cheaper than if you order it from the bar, you pay for what you pour and it is always cold!
Your beer is getting warm?  No worries, top it off! You are very thirsty?  No waiting for the waiting staff, it is right there! Careful, though, it can be dangerous…  and costly in the end.
But nevermind, it is a great concept, and of course at Le Quai, it is fresh cold Keith's that is available for you to enjoy.
I know of only one other place that does this in the National Capital Region, and it is at Le Pêle-Mêle in Old Hull.
There, however, you get to enjoy Coors Light from the tap.
We went to le Quai last night for a late dinner, and we found the place extremely busy, surprisingly so, for a Wednesday night.  Turns out, unbeknownst to us, that Le Quai was celebrating its fourth anniversary that day.  Unfortunetaly for us, it was a 5 à 7 party, and we arrived too late to enjoy the free hors-d'oeuvres, the door prizes and the free Keiths.   But fortunetaly for us, a table with a tap was open, and we seized it with great enthusiasm.


Mel ordered the Mexican Pizza.
Le Quai has only a handful of choices when it comes to pizza, and they come in individual sizes.
I have never been disappointed, their pizza is pretty good, and around $10. Nothing fancy, though a nice effort with the presentation, as you can see.
The cheese was nicely golden and caramelized on the edges. There was pepperoni and ground beef, not in enormous proportion, but the right amount.
The green peppers were nice and crispy, but the onions were not cooked enough.  It is often the case when onions are used in pizza, especially red onions.  That is why when I make pizza, I usually fry the onions a bit first, in order to make sure they are not too raw.
Mel's pizza was pretty good overall, but I am not clear on why it is called Mexican.  There was no flavour that reminded us of Mexico, no hot peppers of any kind, no salsa despite the claim of a spicy sauce.
I decided to go with the Paëlla. A new item on their menu, and at $16.95 it is one of the most expensive items on the menu.  That was a risky choice.  Paëlla is a Spanish dish, originating from the East Coast. It is cooked in a special large round shallow pan, which is called a paellera.  I somehow doubt that Le Quai has any paellera in their kitchen.
Surprise, here came the Mexican twist, as the paëlla was obvisouly cooked with corn chips sprinkled all around.
I had never seen that before.  As expected, the chips were overcooked and the flavour totally didn't work with the paëlla.  So I discarded them promptly.
Their simple but fairly generous seafood mix included mussels, scallops and shrimp.  There was also some sausage, which added a nice zip to it all. The rice was plain and  quite starchy, and the tomato flavour was strong but not too overpowering.
It was certainly not the best paëlla I've ever had, but it was nevertheless surprisingly good, considering.
I probably won't have it again, as they do other better stuff, but it was certainly not a disaster.  A meal for two, including the beer tap flowing freely, ended up costing us $40.08 before taxes and tip.