Browsing articles tagged with " Sauce"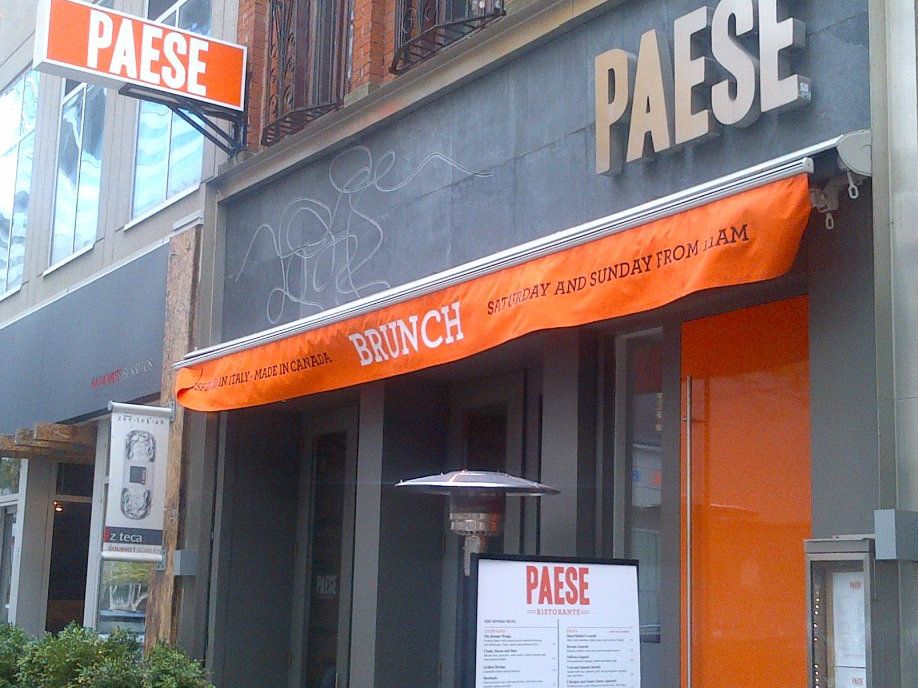 I was on a business trip to Toronto, and my scheduled lunch appointment was cancelled. Which meant I was on my own for lunch, and that suited me fine. I walked out of my home base, the Hyatt on King Street, looking for a new experience. Plenty of choices in the area, in the heart of the Entertainment Theater District.
Across the street from the Hyatt, a couple of restaurants I had been to before, Verona Ristorante (fine Italian cuisine) and Z-Teca (gourmet burritos). Squeezed between the two, in the location formerly known at the Bistro 333, you can find Paese. With its slick orange banners and a massive custom-built bright orange front door, this second Paese location (in addition to the original on Bathurst, established in 1989 by Tony Loschiavo) is a component of the L-Eat group. The King Street location opened in 2010.
Inspired in Italy, Made in Canada, says the banner (which also prominently features their brunch). I walked in.  A modern yet cozy, rich interior, with reclaimed brick walls and walnut tabletops and bar counter, with cool jazz music to create a relaxing atmosphere.  The place wasn't very busy, only half a dozen tables were occupied, leaving most of the ninety-odd-seats unoccupied.  Yet, I decided to sit at the bar, an informal seating location which reduces the awkwardness of eating alone in a public place.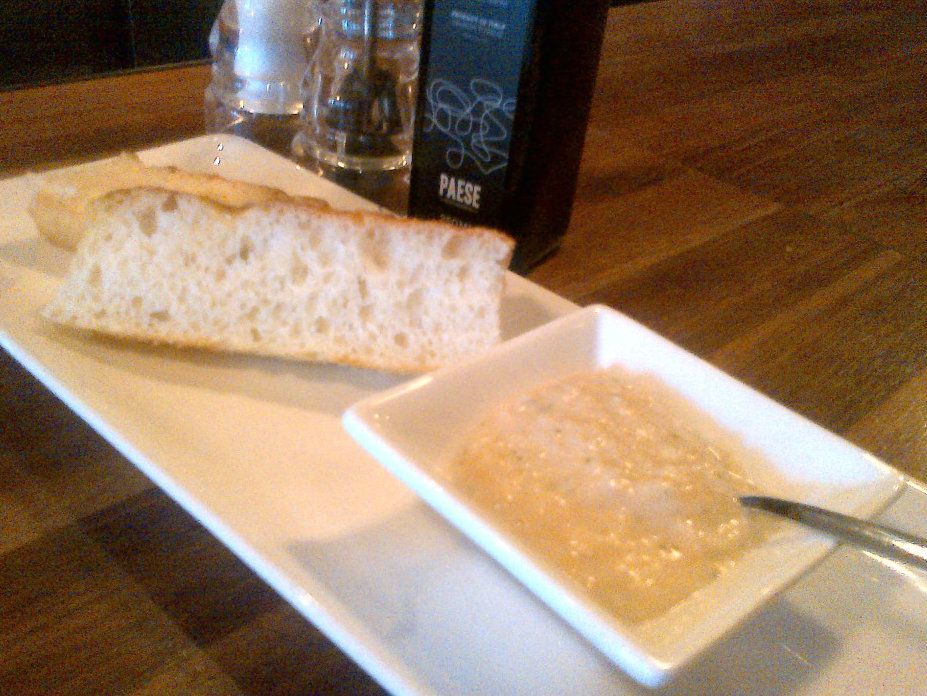 As I peered the lunch menu, I was offered an amuse-bouche, a chick pea and horseradish purée with fresh Italian bread to spread it on. Refreshing. At hand, sea salt, pepper mill and a bottle of extra virgin olive oil.
Paese has a bunch of different menus, and each location offers something different. On the King Street lunch menu, you'll get to choose from a selection of Antipasto (Clams, Bacon and Beer; Grilled Shrimp with Cannellini beans and gremolata; Veal and Pork Meatballs; Grilled Octopus and escarole), Salads (Roasted Chicken Salad; with green apple, toasted hazelnuts and gorgonzola; Chopped Italian Salad with fontina, salami, olives, soft boiled egg), Panini (Ham and Cheese; Grilled Chicken; Veal), Pasta and Polenta (Cavatelli with slow cooked tomato sauce and ricotta di bufala; Ricotta Gnocci with roasted chicken, sweet peas and mascarpone sauce; Saffron Linguini with pork and fennel sausage and rapini in a tomato sauce), Pizza (Margherita; Funghi; Genova; Capicollo Bianca; Grande Fumo with smoked trout). Continue reading »
Do you remember when I told you that we were getting screwed two years ago?
How food corporations were reducing the format of their products while keeping their prices the same, basically pulling a fast one on the unaware customer, a price hike by stealth?
How Nestlé's 2 litre container of Real Dairy ice cream was now 1.89 litres.
An actual price increase of 5.5%.
How Miracle Whip's 1L format went down to 950 ml then to 890 ml.
An actual price increase of over 6%.  Hellman's soon did the same thing with their mayonnaise!
How Le P'tit Québec cheese brick has gone from 540 g to 500 g.
An actual price increase of 7.4%.
How Pringles' boxes of chips went down from 163 g to 140 g.
An actual price increase of 14%.
How Post and Kellogg shrunk their cereal boxes to 411 g from the 510 g format.
An actual price increase of 19%.  General Mills soon followed with a similar downsize.
How Häagen Dazs dropped its pint of ice cream to  a smaller 14 oz container.
An actual price increase of 13.5%.
Turns out, the trend is not over.  In order to fool consumers, more corporations are downsizing their format while keeping prices at the same level.
In today's La Presse, Marie Allard gives two more recent examples of food corporations taking advantage of consumers unawareness. Canadian families are working hard, have played by the rules – but the rules have change, and nobody has told them, so they are no longer getting what they expect for their money.
Just in time for Easter, Cadbury has shrunk their famous Creme Egg from 39g to 34 g – effectively jacking the price of the delicious candy by 12.8%. Produced by Cadbury UK and sold here by Kraft, you can complain about the move here.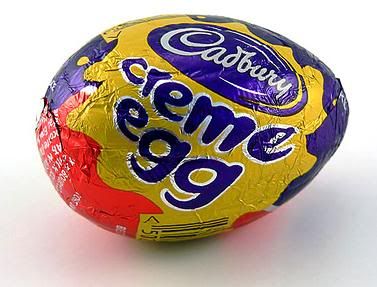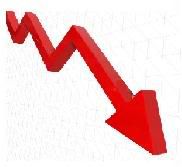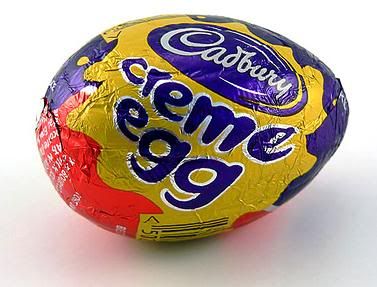 I had to work late and really didn't feel like cooking.  Mel was meeting some friends in the area, so she was certainly willing to look into having a nice dinner.
I suggested the Market, and since she is a sucker for pasta, I decided to bring her to Mezzanotte, a restaurant which incidentally she didn't know anything about. This Italian restaurant is located in the heart of the Byward market, in the same building as Le Droit and the Empire Grill. However, it is on the Murray street side and can be easily forgotten. I, in fact, had not been there for years.
Which is really too bad.  Because the food was excellent and the staff very attentive. The place is quite nice, a warm and lovely atmosphere created by dark woods complimented by white leather furniture.  The restaurant is fairly big, I'd say about a 100 seats, but it was not too crowded except for a civil servant's retirement party.
We sat down and peered at the trendy Italian bistro menu. Pasta, of course, but also a couple of fish, chicken, veal and beef  dishes. Their wine list focusses on Italian wines, of course, but you can find a few French bottles.
Soon after we ordered, incredible multi-grain buns were served to us with olive oil, mixed at the table with a combination of sundried tomatoes, garlic, peper flakes, basil and other herbs - thankfully, we had not ordered appetizers!
The mixture was rich, spicy, different, delicious.
It was an explosion of sunny flavours. Seeing our waiter mix everything in front of us was a nice touch, and they were quite generous with it.
The buns were served very, very warm – yet quite fresh and soft.
I ordered the Pepe Ripienne ($19.95), a red pepper stuffed with a porcini risotto, with pancetta and ricotta cheese over a melted asiago and a sundried tomato basil pesto sauce.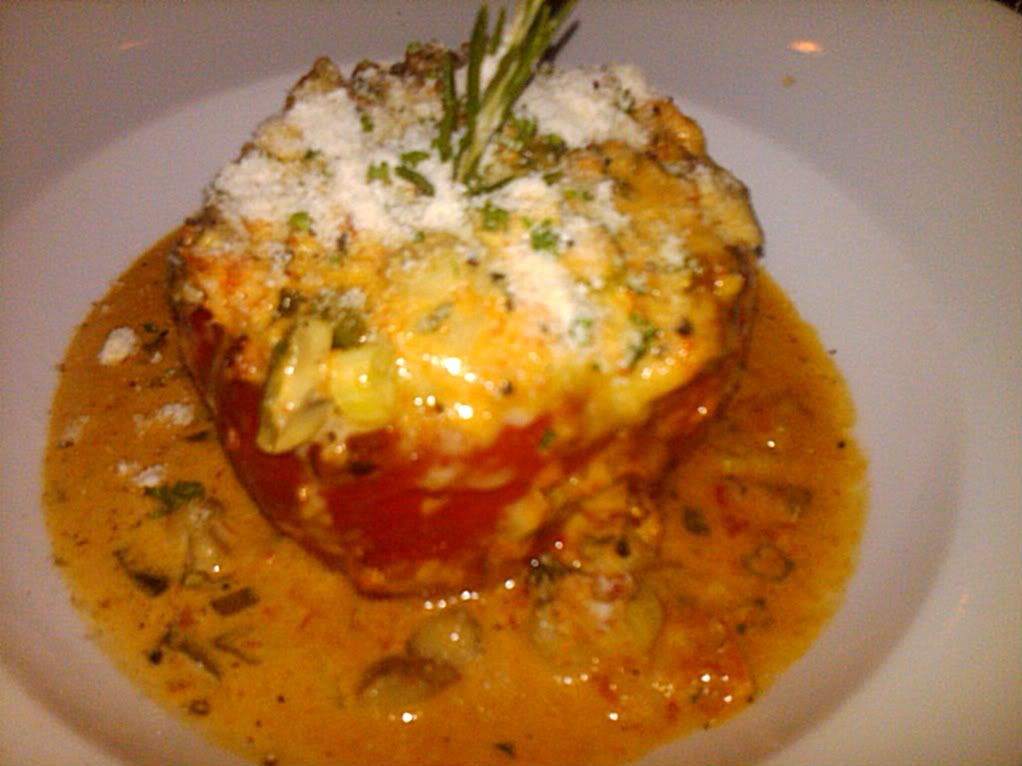 I usually do not order vegetarian dishes, but this was actually inspiring.  And yes, I know pancetta is not a vegetable, but it's not meat either, is it?  Either way, it's delicious, and I enjoy it very much when used as part of a dish.
And this was a nice looking dish. The risotto was creamy and dense, as it should be, and the mushroom flavour was strong. The red pepper was cooked perfectly – it was not overcooked and stayed together nicely. It made each bite even more enjoyable.
The sauce was a nice complement to the dish, the pesto being a little subtle, no doubt to strike the balance needed for the risotto.  The melted asiago was a great touch, especially with the addition of a healthy helping of fresh grated parmesan to smooth things out.
The dish was quite filling – lots of cheese and rice do that – yet it was light and fluffy and I felt like having another one.  But I didn't.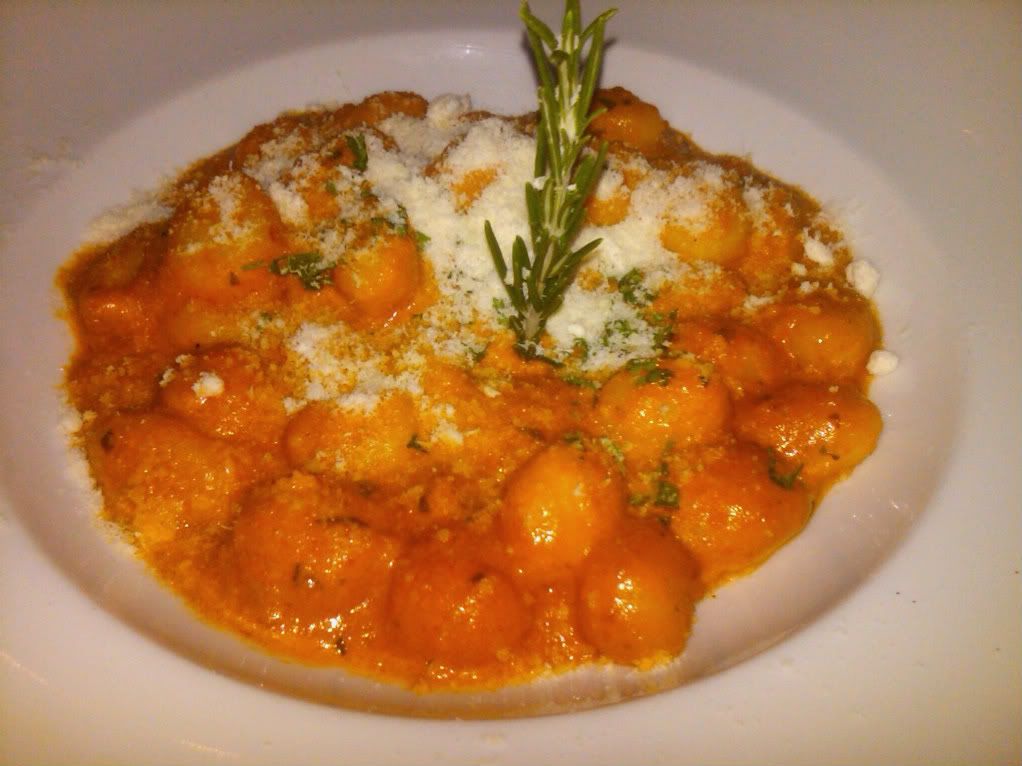 Melissa ordered their Pasta alla Mafalda ($16.95), which were gnocchi in a basic tomato sauce.
Although Melissa has a major weak spot for pasta, she has an even weaker spot for potatoes. Not surprisingly, wannabe-pasta potatoes are a favorite of hers as well as an Italian classic.
The gnocchi here were quite simply prepared – but this simple dish brought everything back to the essence of the gnocchi – great texture, cooked perfectly, and served with a simple and efficient tomato sauce.  A classic.
Mel enjoyed them – but they were quite filling, as they tend to be, and she had to bring half of it home with her.
Needless to say, we skipped dessert.
On a final note, let me point out that the service was incredible. Our waiter was very attentive and extremely pleasant. I certainly won't wait as long this time to go back to Mezzanote.
We were looking for something fun to do before Parliament came back – and what's better than pigging out, I thought. Thankfully, I had heard that Montana's All you can eat ribs promotion was back.  And so 4 of us decided to kick-off March with…
THE WAFFLE'S FIRST MONTANA'S ALL YOU CAN RIBS CHALLENGE!!!
Thankfully, after calling to reserve a few days before, I was informed that the promotion was extended to March 14th, which was great news – we didn't want to miss out, but we didn't want to rush into it either.
First, the rules needed to be clear – and I received the rules from Cara's Guest services department.  Then I had to clarify our own rules:
Everyone had to try every type of ribs – Pork Back, Pork Side, Beef.
Everyone had to try every type of sauce – Texas Bold, Apple Butter, Honey Garlic.
Everyone had to fill out the scorecard
Everyone had to drink beer.
So we proceeded to Montana's in South Keys, armed with our scorecards to evaluate their ribs with the following criteria:  Taste, Texture, Aroma, Temperature, Quality.
We ordered a pitcher of Rickard's Red, got the scorecards out (much to the staff's amusement) and we got down to business.  After the jump, the results of our deliberation:
We were in Gatineau looking for a place to eat after an appointment related to the Waffle jr., and we decided to stop at Madisons. Madisons is a new chain of restaurants which label's itself a New York City Grill & Bar. It has 12 locations, all in the Montreal area with one exception: the Gatineau establishment, located on the beautiful Maloney boulevard. It is on a prime real estate spot: the parking lot shared by Canadian Tire and Future Shop.
The concept is a little more open than Bâton Rouge if you can believe it – not a lot of quiet booths here – the atmosphere is meant for the professional crowd, with a constant buzz of professional chatter.
We sat down and peered at the menu sections – salads, pasta, ribs, chicken, fish, sandiwiches and burgers – everything for everyone just as most of these sorts of chains offer.  And of course, they offer beef, in a section they simply entitle Grill.  A short section, I should point out, because despite our pre-conceived idea of what a New York Style Grill should be, Madison's offers only 4 cuts of beef: The Prime Rib, the Rib Steak, the NYC Cut Sirloin, and the Filet Mignon.
I picked the NYC Sirloin and Mel went with the Filet Mignon.
With these steaks, Madison's offers as a starter either the soup of the day or a clam chowder or a Mykonos style Greek salad or a Caesar salad or the House salad and one of the following side dishes: fries or baked potato or garlic mashed potatoes or creamed spinach & Reggiano cheese dip or steamed vegetables.
To start, I had the Greek salad.  To be honest, I do not know why they label it Mykonos-style. It certainly had no special ingredients when compared to a regular Greek salad.
However, the ingredients were quite fresh:  vine tomatoes, green peppers, cucumbers, red onions, Kalamata olives and a block of actual imported feta cheese, all of it drizzled with herbs and olive oil.
The cheese had a nice and round sharp flavour, and the oil was also of a good quality.
The portion was great for a starter, and I was hoping the rest of the meal would be as good.
I ordered my Sirloin steak with vegetables, which were nice and warm, although a bit watery.
I chose the mushroom sauce to accompany my meat, it was not too thick but could have had more mushrooms.
The steak was a bit smaller than I expected – it looked like a small 14 oz.
Nevertheless,  the meat was nicely seasoned and nicely grilled, with a nice charred pattern on both sides of the steak.  It was cooked medium-rare, as I requested, and although it was not the best piece of meat I've ever had, it was decent.
I've had worse steak in my life, it was certainly enjoyable.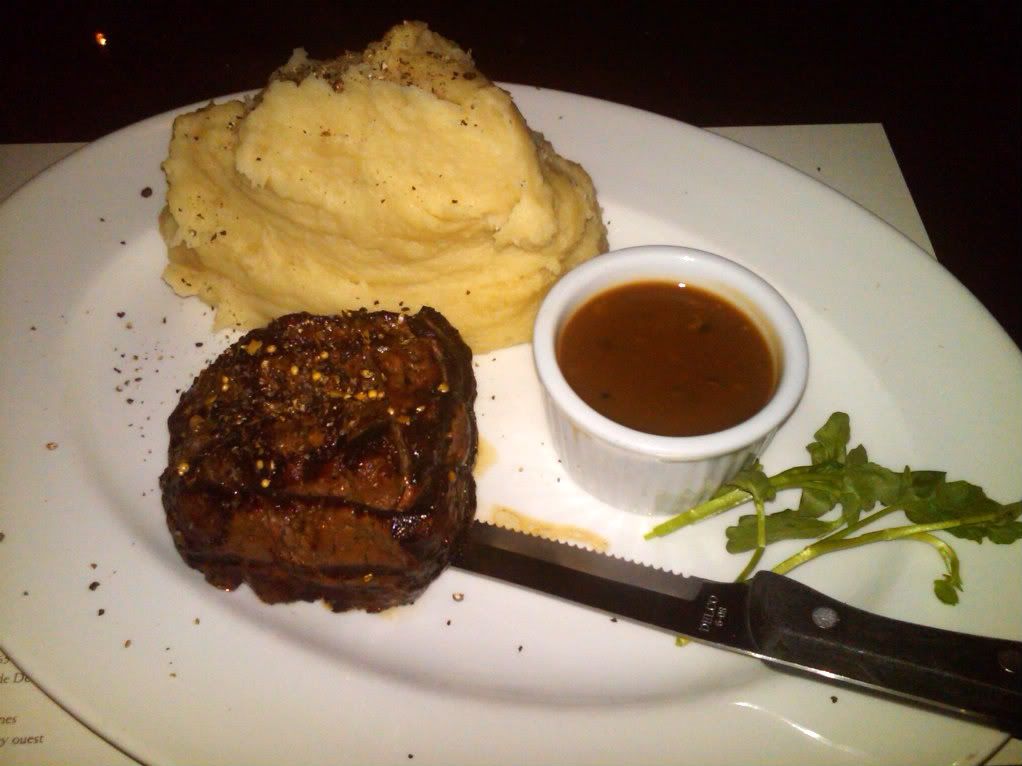 Melissa's filet mignon was an 8 oz, and it looked more or less like she got what she had asked for.
A better cut than my steak, the meat was certainly more tender than my NYC.  Same seasoning, same grill marks, it was also cooked to her liking.
She had her meat with the peppercorn sauce, which it turns out was a better sauce than my mushroom sauce. Lots of peppercorns, good consistency, a tad bit salty, it was a nice accompaniment to the meat, and they were not shy with the quantity.
But the higlight of that plate was not the meat, in Melissa's book.  In fact, I had to finish it for her.
But she wouldn't share much of…
THE MOUNTAIN OF MASHED POTATOES!!!
Let's look at the reverse angle:
This was some serious potatoes. A huge pile, Melissa was simply ecstatic. In fact, for a few seconds, she couldn't help but stare in amazement at the gigantic mass of spuds on her plate. She quickly rejected my suggestion to build something with it and dug in instead.
Warm throughout, creamy, she was eating them faster than the meat, let me tell you. And she knew there was a lot of it.  And she knew that there was only space for a small amount of meat in her stomach.  "If only I could order a 5 or 6 oz," she said.
Thankfully, I had ordered the vegetables, so I was happy to help out when the time came…
One of the great things about our trip to Malta was our apartment.  Located in Valletta on Old Theatre Lane, it had a great view of the Marsamxett harbour and a well equipped kitchen.  So we were able to save money while having romantic dinners, relaxing and enjoying the views that were offered to us.
Mel loves pasta, and I was happy to oblige. Here, I made Spaghetti with a very simple tomato-basil sauce. On the side, bread with a cheddar gratin. To accompany our meal, we had a bottle of Corvo Vendemmia 2006, a very nice wine from Sicily, smooth and light in tanin.
In the background, Manoel Island and its Fort, which was built in the XVIII century and was a strong defensive position all the way to World War II, when anti-aircraft guns were deployed in and around the fort.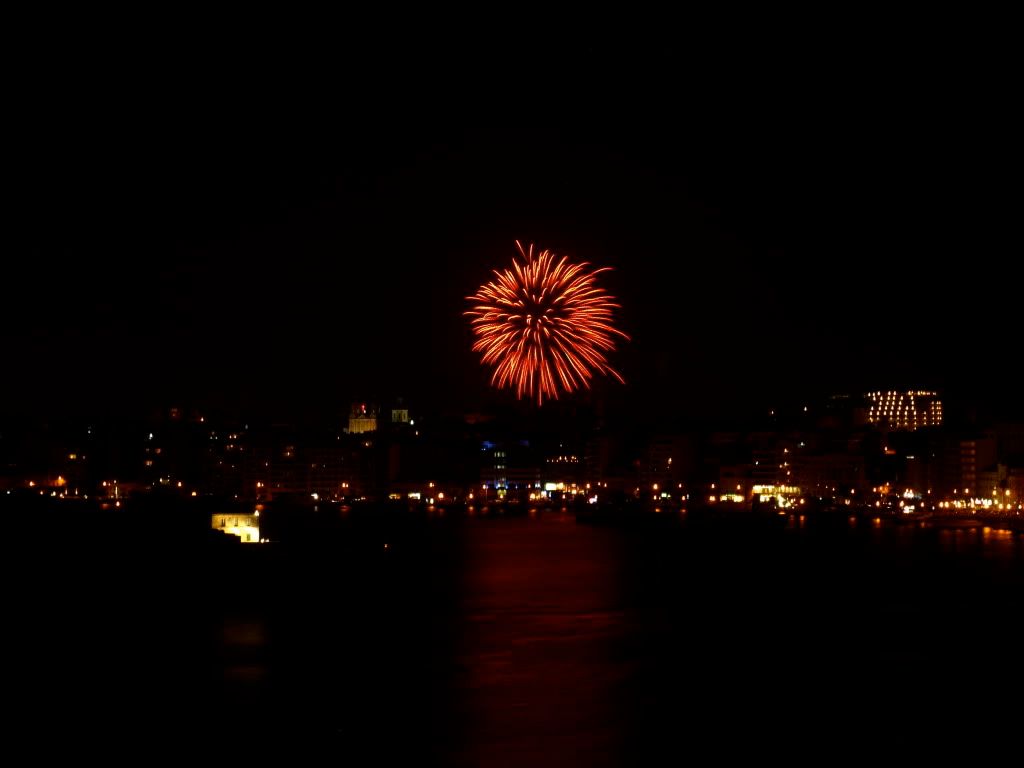 Another Spaghetti dish, this time I decided to be more creative. I first roasted some garlic in olive oil, then added some lardon. When everything was nicely golden, I tossed in some oregano and bits of Ġbejniet. Ġbejniet is a cheese, originating from Gozo. When you buy it, it looks like a ball of Mozzarella. Made from sheep milk, but originally from goat milk, it has a smooth texture and a subtle, creamy flavour. I was hoping it would melt a little like Mozzarella, but it remained much firmer. A bottle of Medina Sangiovese was the wine du jour. Very soft tannins, but a little acidic. It did worked with the dish, however.
Malta is a very Catholic country, and they take their Saints very seriously. Our stay began a few days before the Feast of St. Julian. So every night in the leadup to the feast, there were fireworks, from two, sometimes three different locations. Every night. And on the Saturday before the feast, the spectacle lasted for well over two hours.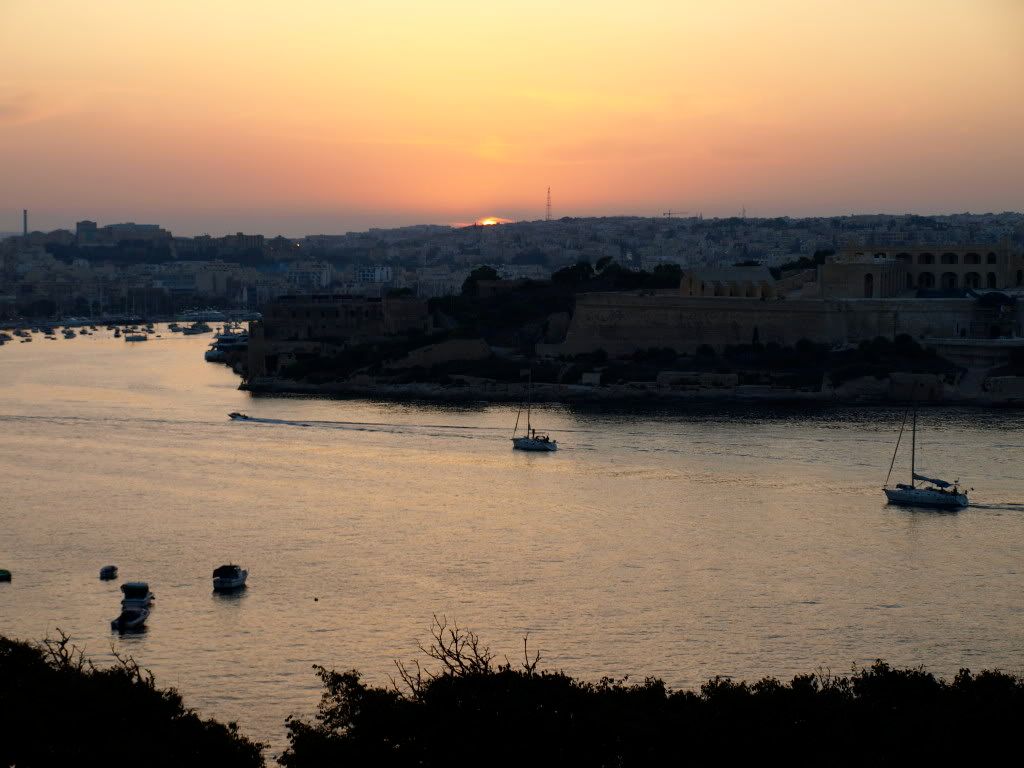 For this meal, even though I decided to stick with pasta, I mixed it up a bit, going for penne this time.  The sauce is a tomato-chili base, with garlic and oregano.  I topped the dish with lardons and fresh green peppers.  Vegetables were easy to find in Valletta, and all kinds of little outlets were offering them in fairly wide varieties.
We enjoyed our penne with a bottle of Cape Quarter, a Shiraz Pinotage from South Africa, as the sun was setting on the islands and numerous boats were coming back to  the harbour. I had never had a South African wine before, and this one was quite pleasant, lots of dark berry flavours including blackcurrant.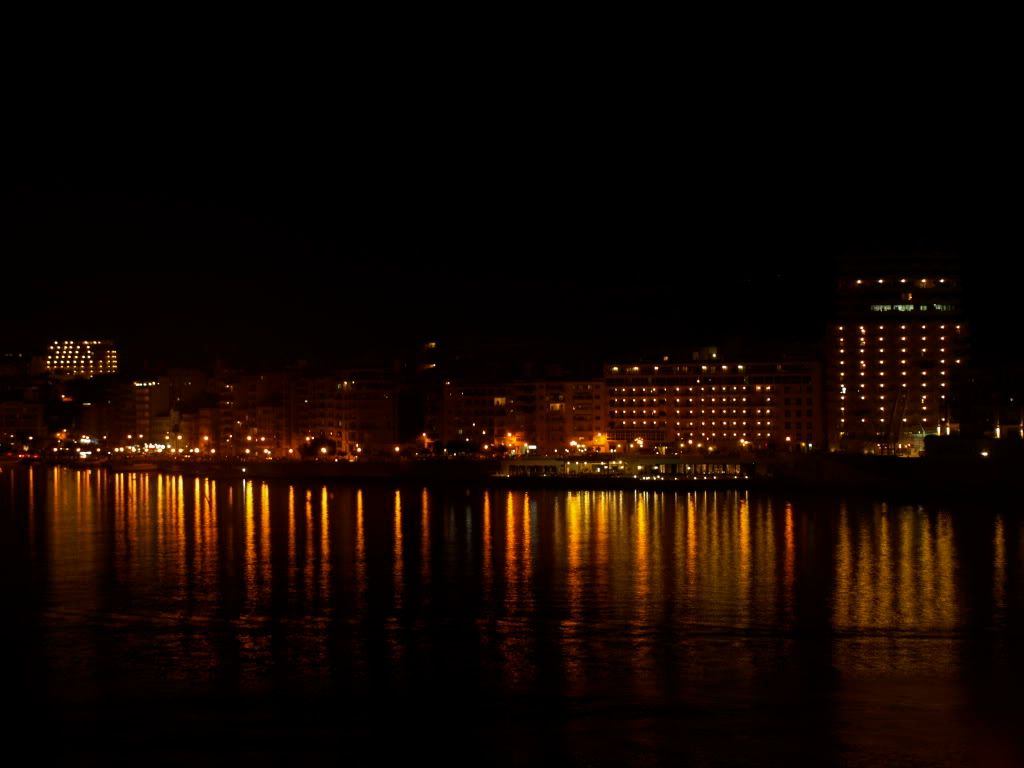 Right in front of the Grand Master's Palace is Valletta's covered market, the Is-Suq, which has various stands and stalls where you will find fresh vegetables, fish, groceries, meat, herbs and spices.  It is quite busy in the morning, as is the rest of merchant street.  However, the longer you wait, the less merchants there are .  We wandered there a few times, especially when we were craving meat. We got two huge steaks – the Suq's butcher basically had half a cow on the counter, and asked us how thick.
I cooked the meat in olive oil, adding just a few spices as I wanted to maximize the pure meat flavour.  Then, I reserved it, and caramalized some shallots and garlic in the jus. When that was done, I deglazed with some red wine.  The meat was not the most tender I have ever eaten, but the meat was oh! so fresh.  Obviously, they had not aged it 30 days here, and the taste was very powerful.  On the side, we have yellow courgettes, baked with fresh tomatoes, herbs, and finished with a blend of fresh cheese.
The view at night was spectacular.  The lights from the more modern buildings and hotels from Sliema were reflecting on the water, making our dinner even more enjoyable.  The wine, a Bacchus Cabernet Sauvignon 2007, was bold enough to go well with our meat, but again, this Maltese Winery can only improve with time.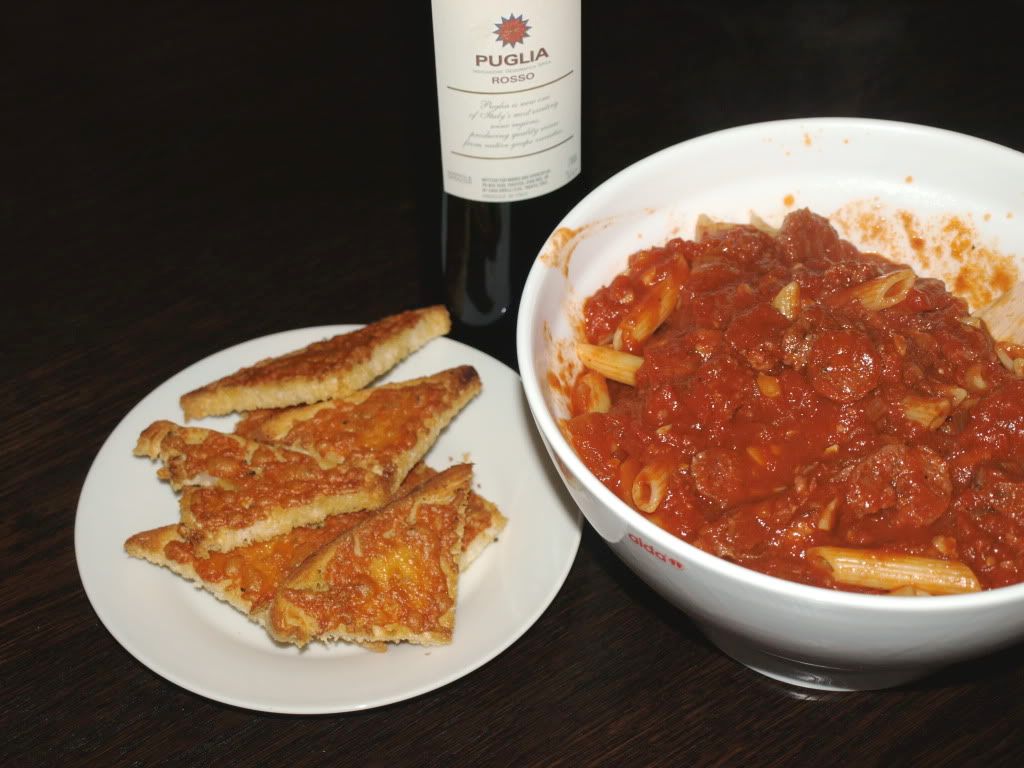 One could think we would have gotten tired of pasta, but the atmosphere just was right for more and more.  With cheese bread on the side, it was simple enough not to take too much time, but I could find a twist everyday to make every meal very different.   This time, I picked three fresh maltese sausages.  Maltese sausage are made from minced pork, mixed with spices and herbs. They are air cured and are often served and eaten raw. Melissa was unpleasantly surprised when she was served some with a platter of Maltese Antipasto at Giannni – but I personally didn't mind it, though the texture is somewhat strange. So I fried them slowly, sliced them, and served them with penne and a spicy tomato sauce.  Fried like that, they were quite tasty, but gone was the mushy raw meat texture.  And Mel was happy, so much so that she didn't realize they were the same.  In fact she stated that this was the best pasta meal I made in Malta, and thankfully I made them before our escapade to Sicily.
We had a bottle of Rosso di Puglia with this meal, a solid, full bodied Italian wine. We finished it under one of the most spectacular sunsets yet, where pink and red colours were brought out by the clouds, which were present more than normal. Just spectacular.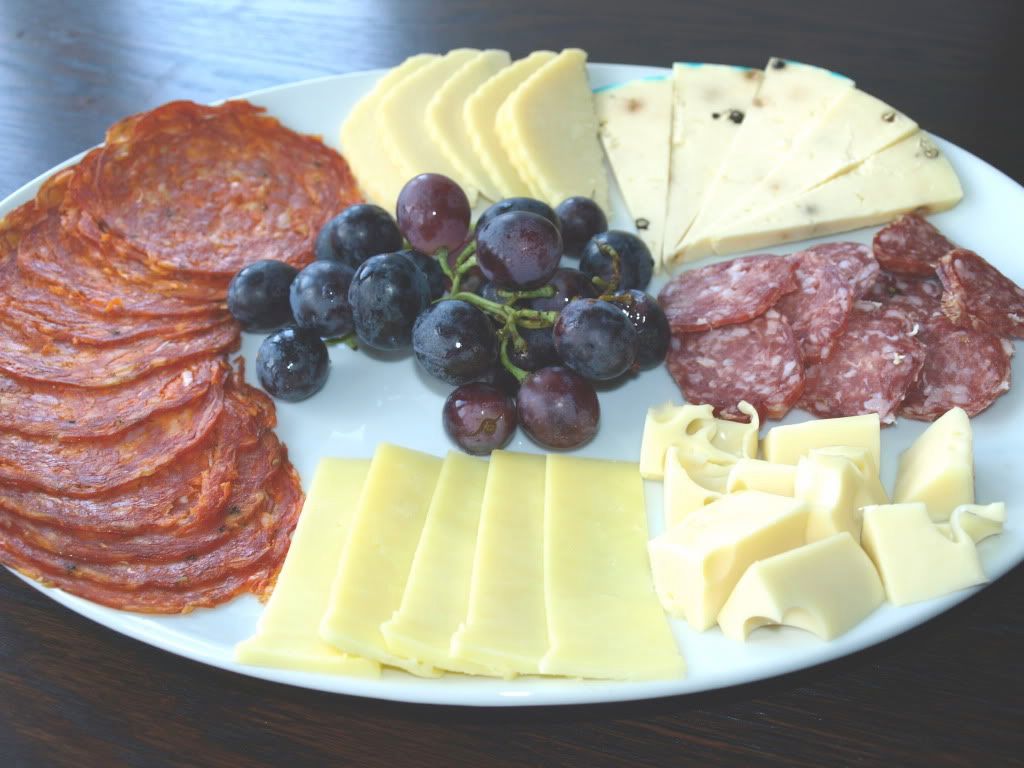 We usually had lunch away from home, but from time to time we would have a light lunch at the appartment. Or sometimes, we would come back early from an afternoon of touristing, and we would put together a nice snack platter.  Cured meats and cheese are easily available in Malta, lots of varieties, some local made, some imported, but everything very fresh.  Add to that a fresh bunch of grapes, a cool bottle of white wine, (and, quite frankly, very cool AC!!) and there you have it! A Maltese snack at its best. We would eat slowly, enjoying the different flavours, the spices, the aromas, the textures, while looking at the ferry go back and forth in the harbour…
.
We decided to eat out tonight, and didn't think about the fact that this was the eve of Valentine's Day.
 And, marketing obliged, Le Bifthèque had prepared a lovely menu for those who wanted to celebrate love.  Their regular menu was available, except for the appetizers, but the three course special was attractive enought at $25 that we decided to go for it. 
 In Gatineau, Le Bifthèque (which I think should be named La Bifthèque – as La Bibliothèque, La Discothèque, La Vidéothèque – but I digress) is located in the  Ramada Plaza – Le Manoir du Casino, just accross the Casino du Lac-Leamy.   
And tonight, Le Bifthèque was hosting Anne-Marie and Yvon Farmer  for the first of their two Valentine's Day shows.  Such luck!
For some reason, the menu was incomprehensible to many. I even offered my services when the couple beside us asked for the assistance of a translator. 
"French is on the other side", I said helpfully. "I know," she replied. "But I still don't understand what it means!"
You be the judge.
Melissa started with the Embrace of young leaves in their ribbon with a raspberry emulsion.
The greens were fresh, the emulsion seemed also fresh, and wasn't too sweet or tart.
I went for the Lovely crawl fish bisque with crocus pistils.
This was indeed lovely.  Very smooth and creamy – thanks to the butter topping added as a final touch.  Too often, crawl fish dishes are made to taste like seafood, but actually, you should be looking for a very "inland" taste.
As a main, we could have gone for the
Tender poultry with a leek melt and cepes cream, served with tarragon butter, garden jewels and beet and old cheddar risotto
.  Or an
Atlantic "pavé" hugged by it's saint-Jacques and creamy sortilege sauce, served with tarragon butter, garden jewels and tomato saffron rice
.   But we both decided to go for their
Caged prairie heart, "Grand Veneur" sauce, served with tarragon butter garden jewels and accompanied by a potato "pavé" with garlic flower
.
The meat was a very nice cut, quite tender and cooked medium-rare, as requested.  The "cage" was made of a salty paste, and no doubt they throw this in the oven to finish.  It was a little too mushy, but probably would have been perfect if we had ordered our meat well done.  Superfluous.  The sauce "Grand Veneur" was fine, but not the best I ever had.  Usually, you bind a pepper sauce with some game blood, and you finish by adding cream and black or red currant jelly.  I think they used beef blood here, as the sauce wasn't very gamey. If anything, they didn't use any blood at all.  The vegetables were not jewels, but they were okay.  The tarragon was present, but very subtle. The potato "pavé" was nicely done, crusty on the outside with goey-ish potato goodness on the inside.
For dessert, their Lovely Declination:  Chocolate Truffle with Grand Marnier and Red Currant Jelly, Crème Brûlée with Litchi and Maple Sap, Apple Tatin on it's "Crème Anglaise."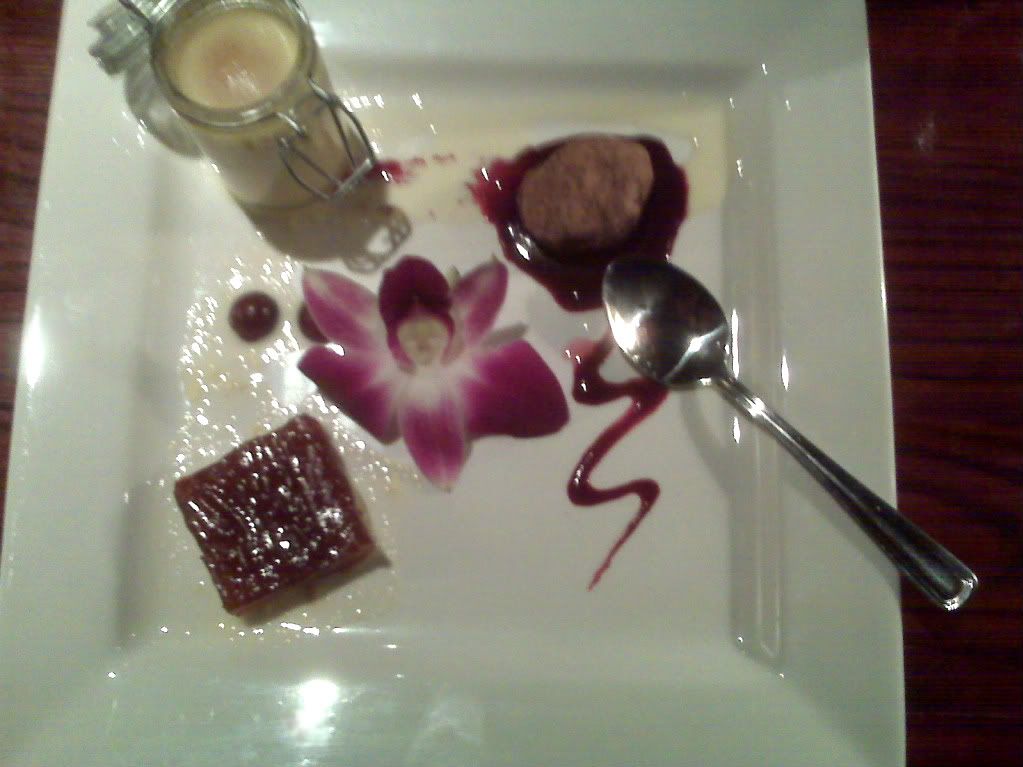 The Truffle was fine, the Apple Tatin was passable (the Crème Anglaise wasn't rich enough), but the Crème Brûlée was not cooked enough.  The custard hadn't set, so it was very runny and therefore, not a custard.  It is likely because of the container, a shot glass which was tall and thin, as opposed to wide and shallow.  You could taste the Litchi and the Maple, if it hadn't been presented as a crème brûlée, it would have been a passable dessert. 
All in all, a not a bad dinner.  It was fairly cheap at 25$ each for the meal, chased down with a decent Bordeaux, a Franc Caillou 2005 and fortunetaly enough, Yvon and Anne-Marie didn't perform very long once we showed up.
In the Fall of 2007, in the old Au Coq building on St-Joseph in Hull , opened Georges, a trendy-looking lounge and grill by the owner of La Station, a Gatineau deli I wrote about here.
Georges' menu is self-described as eclectic, but their specialty clearly is beef.  Prime Rib and steaks are at the heart of their offerings, but you can also find a few pasta dishes, poultry and seafood.  They even have a gourmet poutine section in their menu.
I had yet to try it – and we felt like steak tonight, so we drove over there after hesitating between Georges and le Sterling, another Gatineau steakhouse.
The place looks very nice – hard to believe this was a chicken rotisserie place.  You enter into a spacious reception area, and you have the choice of going right, into a trendy lounge area for a more casual dining experience, with electronic music and electric blue lighting behind the bar.  Trying to attract a young thirty-something crowd, they are offering 5$ Martini Night on Wednesdays and a Ladies Night on Thursdays.
To the left, the restaurant area is a more traditional, with comfortable booths and a classic dining environment, although the open kitchen concept does not make this place a quiet one, especially when it is busy because it is quite a large restaurant.
As it was my first visit, I decided to order the item named after the restaurant: The Steak Georges,  a 10 oz Angus New York sirloin, served with shrimp and scallops, topped by asparagus and béarnaise sauce.  It came with grilled vegetables and mashed potatoes.
The shrimp were a little overcooked, and so were the scallops, unfortunately, making them a tad bit chewy.  Not a catastrophe, but still.  The asparagus were nicely grilled, and went very well with the sauce.  A béarnaise is a very rich sauce, and you do not need a lot to accompany your meal, which is what was going on here.  The other vegetables, a mix of green and red peppers, zuchinni and onions, were nice and crispy, with nice char marks.  La pièce de résistance, the steak, was cooked medium-rare as I had asked, and was very good.  The cut was nice, and the meat very tender and juicy.
Melissa decided to go for the beef tenderloin filet mignon.  She chose to go for the baked potato, and ordered peppercorn sauce on the side – a little pricey at $3.50.   The beef was a 6 oz Angus grade, and was also grilled as she had asked.  The baked potato was quite big and nicely done.  As for the peppercorn sauce, I am sure glad I didn't order a side too.  A thick sauce, it was very peppery and tasted very good with the meat, but why bring a swimming pool of sauce?  We're not going to swim in it, so why not bring less, charge less, and look less ridiculous?  I had never seen anything like this before.
A weakness, their wine selection is a bit thin.  Most of the wines offered are very good, but they are also quite expensive, with very few bottles below $30.
For two, with an appéro each, our meal and a bottle of wine, we got out of there with a bill over a $100.  Still, we didn't feel cheated, which is always a good thing.
.