Browsing articles tagged with " Ribs"
So Sparks Street had the brilliant idea to present another ribfest event. I was pleased, but until they actually set up shop yesterday, I thought might just be a dream.  Then they started smoking and they started grilling and it became real.
Mrs. Waffle wasn't as excited as I was, but she was happy enough to make her way downtown for a lunch date.  Our plan was to grab some pork delicacies and find a spot on Carmello's patio.  The weather was great, and the lines at the ribbers between Metcalfe and Bank were quite long, though not as long as they are in June.  Still, I had to go west.  All the way to the last ribber, which luckily, had no line-up at all, despite the best efforts of the grillmen to attract potential customers by shouting "RIIIIIIBS!" to the top of their lungs.  "Directly from Las Vegas, Nevada….  RIIIIIIIIBS!"
Ribs Royale had me convinced.  Who doesn't want to spin the roulette and sample Nevada's Finest Ribs?  (Ignoring for a minute that they actually are based in London, Ontario?)
Their menu is typical of what other ribbers usually offers on Sparks Street:
Ribs, Chicken, Pulled Pork. They offer combos, they offer a Vegetarian nightmare, they offer a Royale Feast.  Ribs Royale usually offers Beef Ribs and Brisket, but it didn't seem to be available – it certainly wasn't advertised or displayed.
Owner Gus Sakellis started Rib Royale BBQ in 2006. He has been competing at festivals since then, and is serving about 3,000 lbs. of meat every year. As far as I know, it is Ribs Royale's first visit to Sparks Street.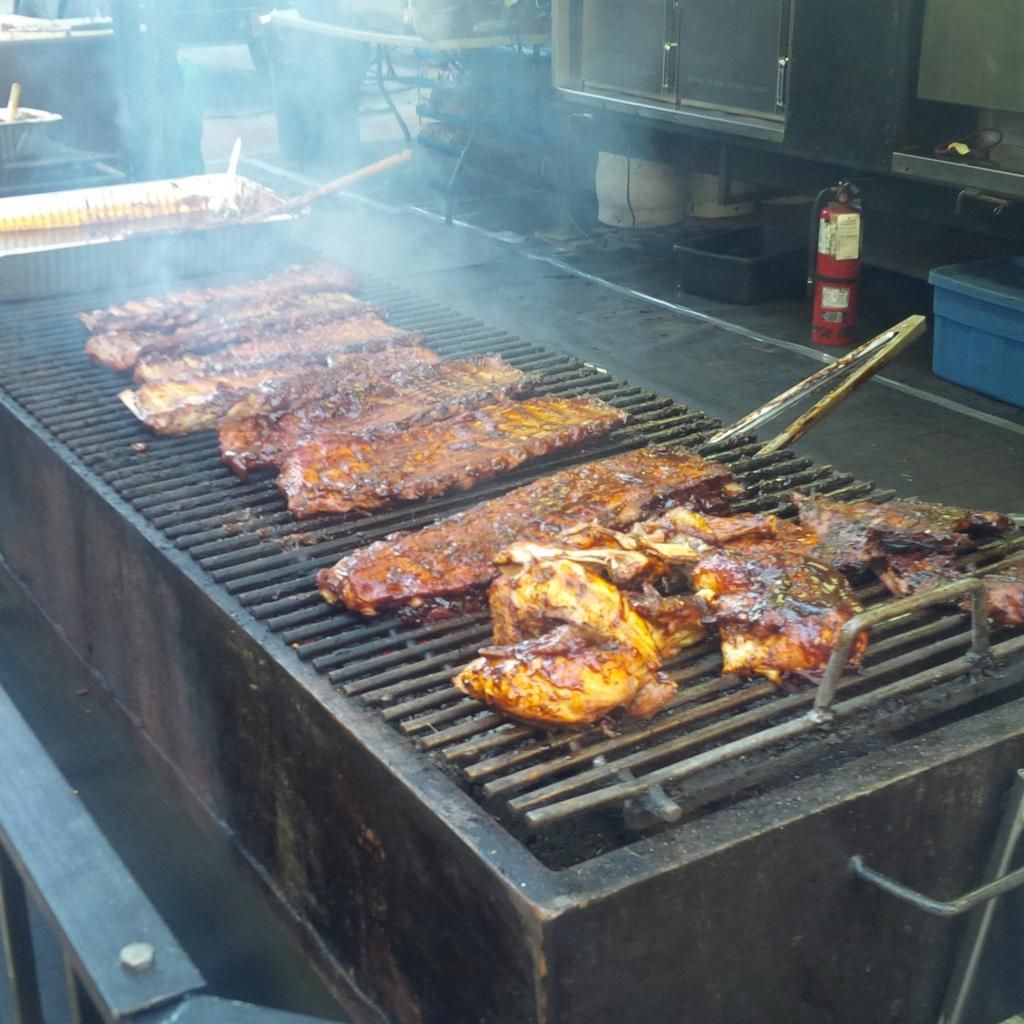 I was looking at the grillmen in action,  finishing the Ribs and the Chickens. The grill was plenty hot, with plenty of  charcoal smoke to add another layer of flavour. My mind was set: I would get a full rack of ribs ($22). It is, after all, called RIBtoberfest. Not Chickenoberfest or Pulledporkoberfest. Still, my wife wanted the pulled pork sandwich dinner, extra saucy ($10). That's just the kind of woman she is.
I ordered our food, made sure they heard I wanted extra sauce. I tipped the grillman, and, appreciative, he picked the biggest rack he had going and smothered it with a fresh layer of BBQ sauce. "Saucy, saucy, saucy!" he sang aloud. "From Las Vegas, Nevada, get your saucy Ribs right here!" Well, then.
After a few minutes, our order was ready. I picked up the compostable boxes, a few sheets of hand towels and made my way to Carmello's, where Mrs. Waffle and L'il Waffle were awaiting. We ordered a pitcher of Bavarian Lager and opened our box of goodies.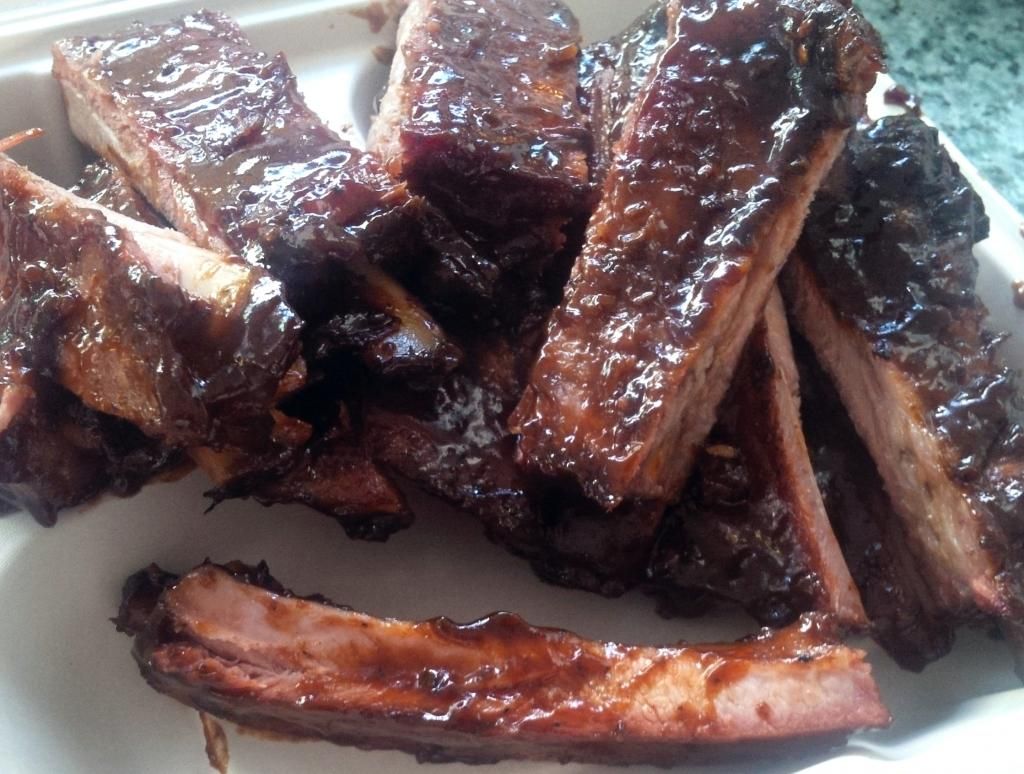 These ribs were excellent, very meaty and moist. They were tender, but not too much – there was some resistance when you pulled the meat from the bones, and it had a good chew. That's the way ribs should be cooked.  There was a nice, pink smoke ring clearly visible on the meat, produced by cherry wood with a hint of hickory.
Mel's sandwich dinner looked equally delicious.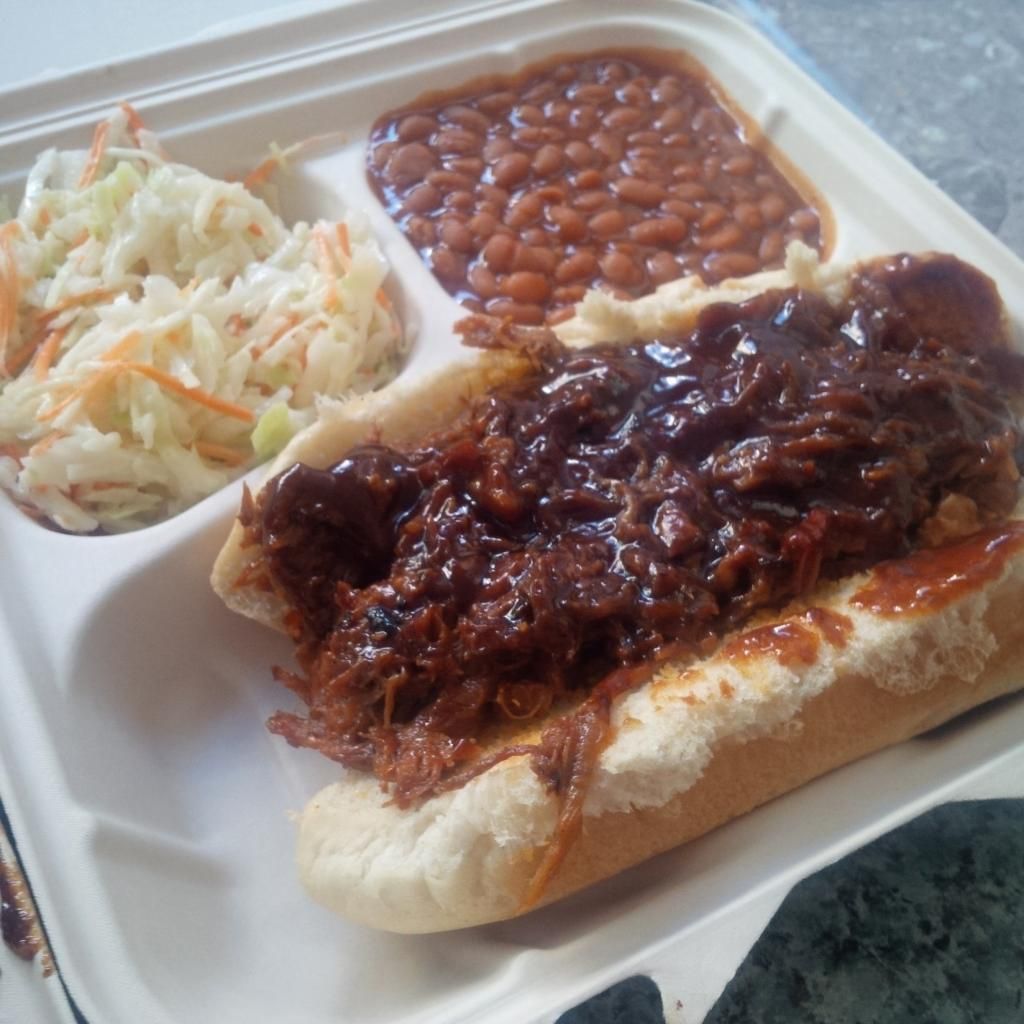 Loads of perfectly cooked Pulled Pork on a fresh bun, smothered in BBQ sauce.  The pork was very good, nice strings of goodness that after trying for the first time, L'il Waffle engulfed by the fistfull. The BBQ sauce was excellent, a great tangy-sweet balance with a smoky undertone.  You won't be surprised to know that the secret ingredient is Crown Royal, which helps round out the flavour.
The sides were uneven.  The baked beans were simple, a well executed side dish, with a tomato-based sauce that had a nice consistency and texture reminiscent of British beans.  But the coleslaw was bland, uninspiring. Neither creamy nor vinegary, barely seasoned. Unfortunate.
Nevertheless, we were quite happy with this new competitor's products.
Especially when you stick with the main event:
Ribs.
And Ribs Royale's were royally good.
It looks like Houston is coming to the National Capital Region and will soon offer another option for steak and rib lovers.
The Laval-based franchise is expanding and will soon open in Gatineau, in the old Cage aux Sports on Montclair in the Hull sector.
The Waffle is basing this story on the fact that he drove by the old Cage aux Sports on Montclair on his way to work today and saw the evidence – renos are well under way, signs are up and gone is the big yellow plane that was hanging from the ceiling. La Cage aux Sports closed over a year ago, after 10 years on Montclair. The word on the street has it that the owners weren't happy with the franchise. It is the second time that la Cage aux Sports has left Hull, after closing their location on Du Portage about 15 years ago. La Cage is still firmly established in Gatineau, on Gréber, and plans to come back to Hull in short order.
This will be the 8th establishment for Houston, who also has restaurants in Laval, Montreal, Lachenaie, Toronto, Edmonton and Barrie.
Houston Canada is offering "a unique environment that has something for everyone…… You will discover a refined kitchen; simple, classy and smart all at the same time." Houston's menu features Ribs, Steaks from the Grill, Burgers & Sandwiches, Fish, Chicken & Pasta. So ya, something for everyone. This new Houston is located two blocks away from a Bâton Rouge, so competition may get fierce.
———————————–
UPDATE 18-01-2013 @ 18:08 PM
Mrs. Waffle had noticed some people coming in and out of the restaurant on Thursday night, so we tried to go check it out tonight. Alas, Houston must have had a soft opening on Thursday night, to which the Waffle wasn't invited. Because even though lights and tvs were on, and a few cars were in the lot, the restaurant was closed, as proven by the locked doors.
———————————–
UPDATE 19-01-2013 @ 10:18 PM
Le Droit is confirming the news and has a few more details about Houston in their paper edition – namely that they officially open on Monday; that two other Houston locations will open soon – in Brossard and Quebec City; that the Gatineau location will have capacity for 200 patrons.
Yesterday, someone left me a message.
It was carefully laid down on my keyboard.
I couldn't avoid it.
Someone wanted me to… 
GET THE BIG APPLE TREATMENT!
And why not?
I hadn't been to Madisons for quite some time and I hadn't been disappointed the last time I was there.
Madisons' New York Grill & Bar is offering once again their 2 for 22$ special menu – 7 days a week!
For a limited time, you can choose between the Baby Back Ribs, the "Classic" Grilled Marinated Chicken Breast, the Chicken Tenders, the Madisons Burgers, the Grilled Marinated Chicken Sandwich (all served with french fries, or, for 1,50$ extra, with steamed vegetables) or the Chicken Filet Cesar Salad.
The offer is valid for a minimum of two meals, but there is no maxium – meaning that if there are 3 of you, it's 3 for 33$!
Of all the items offered, the best deal is going for the Baby Back Ribs, who normally go for 16,95$.  Sweet deal!
Even sweeter when you consider that with your meal, you get your choice between the daily soup, the clam chowder, the cesar salad or the house salad.
What choice did I have but to go?
And so we did.  I unmasked my secret messenger easily and we made our way to the closest of the 13 Madisons, on Maloney boulevard in Gatineau.
We got there a little before 1 PM. The restaurant was basically empty.
Either we missed the lunch rush, or there was none. Fine by me, this will guarantee a prompt service. And a nice booth!
We looked for the special menu, we couldn't find it.  Had we been had? Was there a special clause about the special being only available for dinner? Was the Gatineau location excluded?
"We were attracted here by the ad in the newspaper. Is it not on?" I asked, puzzled.
"The promotion is so new, we haven't received the special menu yet!"
We breathed a sigh of relief.
And since great minds think alike, we both ordered the Baby Back Ribs with French Fries.
Finally, the House has recessed for the summer.
Finally, I'll be able to enjoy a full rack of ribs and not be pressed for time between meetings and Question Period.
You either go Full Rack or Go Home, they say.
Well, they don't really say that, but they should.
With lunch time approaching, it being Friday and the Heat Wave still scorching Sparks Street, there was no time to waste in order to get good quality Q with minimal wait. 
I got out of the office and lined up at the closest stand, right outside the Sparks Street exit of our research bureau: Billy Bones BBQ.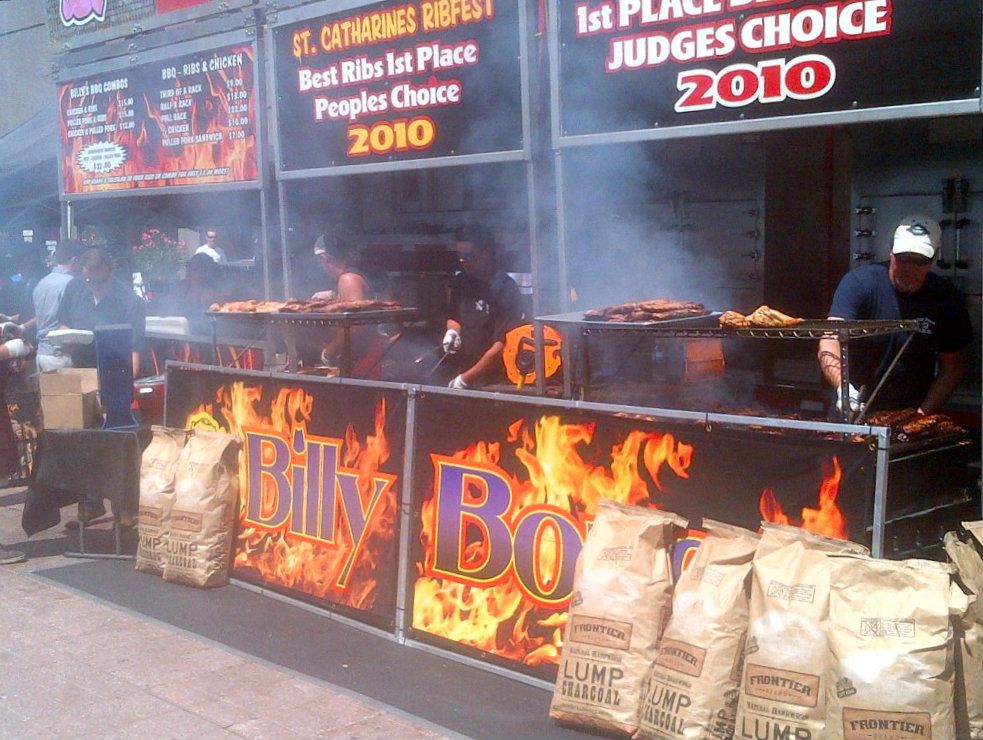 Bill Wall, aka Billy Bones (no relations with the pirate from Treasure Island), has been in the business for 36 years. From their home base in Sanford, Michigan,  Billy Bones BBQ has participated in cooking competitions in every state of the United States of America, and also  in Ireland and Jamaica, and has accumulated over 350 awards over the years.
In Canada, Billy Bones BBQ is operated by the Brunton siblings from Fort Erie, ON, interestingly, the Brunton family also handles Silver Bullet.
Legend has it that Billy Bones learned to cook at the side of an ol' gentleman on Central avenue in Cincinnati, Ohio, in the Sixties. What do you know.
They were working the grills hard.  The decaled flames weren't needed to imagine how hot it must have been behind the grill. I could only hope their hard work would be worth it. I ignored the pulled pork, I ignored the chicken, I skipped the beans and the coleslaw and ordered the Full Rack (22$) of Billy Bone's St-Louis style pork ribs.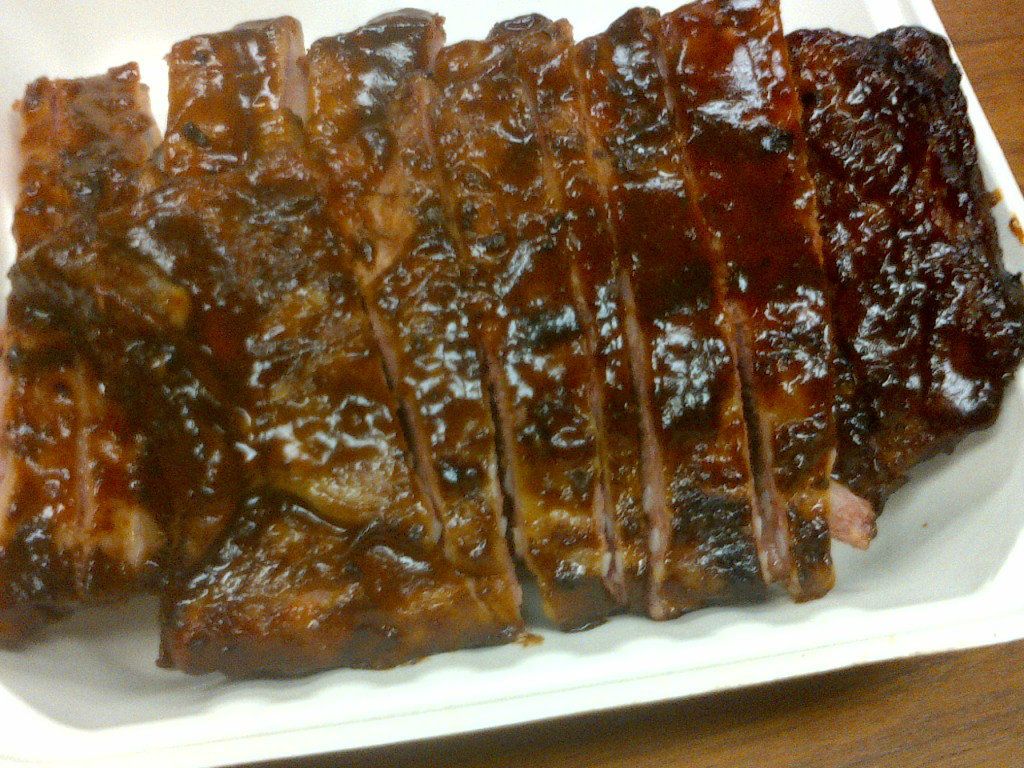 Billy Bones' ribs were tangy with a smoky bite. They were meaty, tender, juicy.  Well-balanced by the sauce, neither too sweet nor too bitter: vinegar, soy, brown sugar. A good blend of flavours underneath.  They were easy to eat, and went down fast, with the help of an ice cold Diet Coke.
Because you do have to keep an eye on your calorie intake.
Day two of the Sparks Street Cook-Off.  Day two of the Heat Wave.  The sun was blasting (the planet, not the paper), so grillers were sweating and hungry patrons were burning as they lined up to get their fix of ribs, pulled pork, chicken, beans and coleslaw.
That was the scene as we walked out of the National Press Building, following the NDP's press conference reviewing the Spring Parliamentary sitting.
The Leader of the Official Opposition looked at his watch, looked at me and said "We must get some ribs!"  Why, yes, I said! Why, no, said the NDP's House Leader. His loss.
We sent our vegetarian colleague to reserve some seats on Brixton's patio. Brixton's has the brilliant idea of offering its space to rib-lovers, as long as they buy a beverage. (A smart idea!)
So we lined up at the Silver Bullet location. The ribbers were working hard to keep the pace as the lines were growing longer.
Silver Bullet is from Fort Erie and mostly tours in Ontario. They are regulars here in Ottawa, and a crowd favorite every year, partly because of a favorable spot at the corner of O'Connor, partly because they know what they are doing.
The crew is always into it, they seem to have a lot of fun at Silver Bullet, and it was the case once again, folks yelping and being really energetic despite the heat.
The stall was generating lots of smoke while we waited in line, and the grillman was working hard to grill and mop the meat. I finally decided to go with the Texas Teaser (22$), in order to sample all the meats on the offer (Ribs, chicken and pulled pork).  My boss had the Ribs and Pulled Pork Bullet Classic Combo (15$).
The ribs were great.  Very tender and lean, yet not giving completely, and look at that nice smoke ring! The smoky flavour was fantastic, all the way to  the bone, underneath a crusty bark. Also, lots of meat on them, this was a solid 1/3 rack of ribs, and the sauce was a great complement.
Silver Bullet's sauce is sweet with a hint of spice and heat. Not too thick, and gluten-free, it was also very good with the pulled pork.  Talking of the pulled pork, the meat was very tender, very well pulled too.  Not too fatty, it needed a bit of sauce to round out the flavours, and it was delicious.
The chicken, however, was a bit of a disappointment, as the meat was bland, and on the dry side of things. Once you were past the skin, you were out flavour.  Unfortunate, but you can skip the bird.
Nevertheless, Silver Bullet remains a strong competitor on Sparks Street and as we walked back to the office, the line up had actually doubled in size.
So Ribfest, or as it is officially known, the International Invitational Chicken-Rib Cook-Off Competition, is on.
The Waffle is planning to pig out this week, and Mrs. Waffle has put in an order of Pulled-Pork to bring home.
But things are busy on the Hill as the Spring sitting comes to an end, and time is precious. One cannot wait in line for too long to enjoy the meat on offer.
So you either have to go early, or late, ie avoid the high-noon rush hour. and considering the scorching temperatures hitting Ottawa these days, a shorter line is definetely better.  But if you have only time to eat around noon, here is another tip: favor the extremities. Line-ups are usually shorter in the block past Kent (Boss Hogg, Texas Rangers and Blazin' BBQ) or near Elgin (Texas Outlaws and Crabby's) .
But often, shorter lines can mean lesser quality.  Time is money, but is it good food?
The Waffle went ahead to check things out for you on Opening Day.
Indeed, the line-ups were quite short at Crabby's BBQ Shack.  In fact, I waited for Marc-André to make it and didn't feel the need to get in line and save a spot. Once he got there, we had our food whitin 5 minutes.
Crabby's BBQ Shack has been in the business for 20 years.  Hailing from London and founded by  George Kefalidis, Crabby's is still a family owned business and operates at least three independent rib teams at any given time, the first hitting the competition circuit in 1999.
Crabby's uses natural wood and cooks over an open flame, the good old fashioned way! Crabby's has won over 350 'Awards' to date for 'Best Ribs', 'Best Sauce', and 'Best Chicken.' Now of course, all these teams win prizes all the time. If a team wasn't winning, they wouldn't have much to put on their banners and no trophies to display, so who would come?
Still, in 2011 Crabby's won 1st place for their Ribs at the Gatineau Beer Festival, and at Ribfests in Etobicoke, Scarborough, St. Thomas and London. Their chicken won 1st place in Peterborough, Mississauga and Sudbury Their pulled pork won in Gananoque, and their sauce in St. Thomas and Lindsay.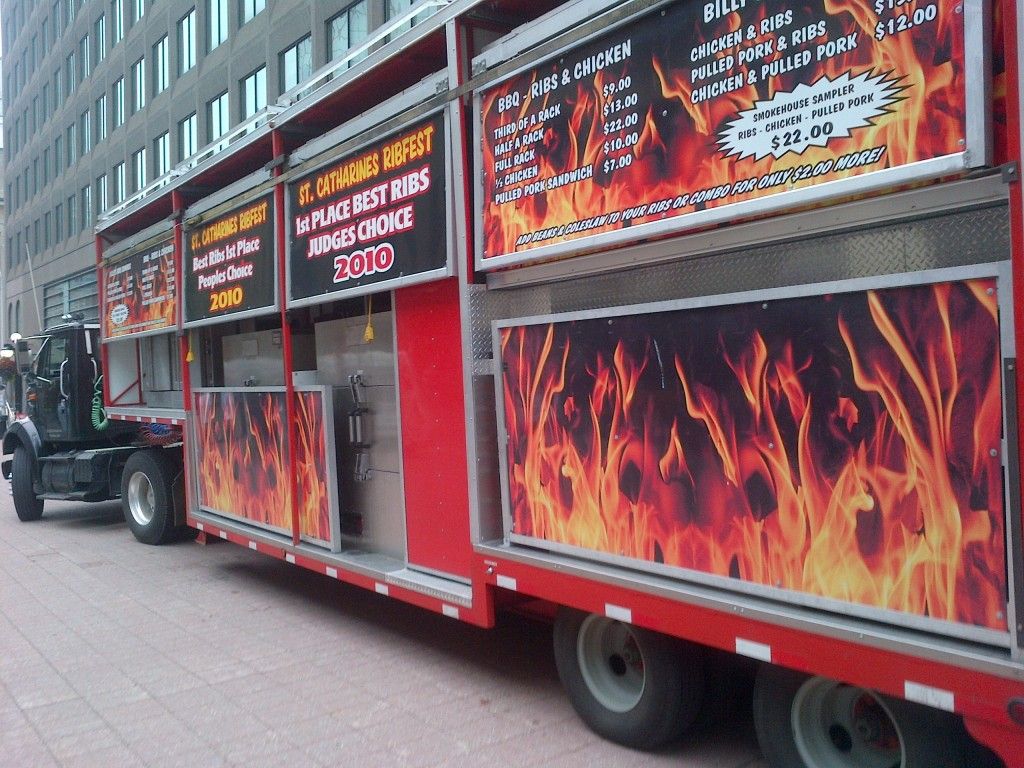 If you walked on the Sparks Street Mall today, you will no doubt have noticed the trailers, the picnic tables, the lemonade kiosks and the BBQ pits being set up.
That's because Ottawa's 21st annual International Chicken-Rib Cook-off starts tomorrow.
Teams from Canada and the United States will be competing for the top rank of best rib choice, best rib sauce, best chicken choice and best chicken sauce.
The 2008 edition basically kick-started the Waffle.
Your favorite teams are back this year: Uncle Sam's, Camp31, Texas Rangers, Boss Hogg, Blazin' BBQ, Silver Bullet, Billy Bones, Gator BBQ, Crabby's and Texas Outlaws.  Also here, Sticky Fingers from Mt. Pleasant, South Carolina and Hawgs Gone Wild.  Check out the map here!
You do not want to miss this event – this is some to the best BBQ chicken and ribs you can get in Ottawa.
Don't believe me? Have a look at this bad boy!
The Waffle, always here to serve the Waffler Nation, was able to put his hands (and his teeth) on a freshly smoked full rack of ribs,  right out of the top shelf of the smoker of one of the teams who were setting up and prepping for the big day.
No grilling, no saucing, just pure smoking.  I can tell you, if this sneak preview means anything, this year is going to be a great year.
Awesome.
Melissa had a craving.  She'd been talking about it for a few days now.  Fajitas, she wanted. The urge was becoming too powerful to ignore, so we got ourselves a babysitter and we headed to Lone Star Texas Grill in the Byward market.
We were welcomed by very cheerful staff, who even opened the door for us, which was nice. The place was busy, but not packed, which suited us just fine.   We were seated by a table near the door, which was unfortunate – the staff was not opening the door just for us, they were doing it for everyone, letting in a cool breeze in the process.  We ain't that special.
"Dixie", in tight jeans and plaid shirt, brought us our menus and took our drink order quite promptly.  Before even coming back with our drinks, she put down on the table a complimentary basket of freshly-fried tortilla chips with a side of salsa.  A bottle of "True Texas" hot sauce was also provided – a cayenne pepper sauce not far off from Tabasco, but with much less vinegar.
There is nothing like fresh tortilla chips.  These were very crispy, a tad oily, served warm with just enough salt. They cannot be good for you but were so much better than their bagged cousins.  The salsa, also house made,  is served cool, a nice contrast to the chips.  Not a lot of bite, but nice tomato chunks, great fresh feel.  And if you go through the basket or the salsa, they'll bring you more! Nice.
Lone Star's menu is typical Tex-Mex, with Nachos, Quesadillas, Chili, Enchiladas, Tacos, Burrito, Chimichanga, etc.  They also have a Salad section, a selection of Burgers and Sandwiches, Ribs, Chicken and Steaks, including a 72 oz. Steak Challenge  - eat the  steak with all the trimmings in one hour and it's free! If you fail, it's $54.99. But to try, you've got to order it 24 hour in advance. Why?  They need to thaw the monster! Perhaps a future Waffle Challenge…
I digress. We were here for the Fajitas, weren't we?
Lone Star is really proud of their Fajitas.  They claim to have introduced Canada to fajitas in 1986, when the original Lone Star opened in Ottawa (there are now 16 Lone Star locations, all in Ontario), a claim The Waffle cannot debunk so it might be just true.
We ignored the fancy fajitas versions such as Chili Jalapeno Fire, Vegetarian (with broccoli!?!), or Buffalo Chicken, and decided to go big with the Fajita Fiesta.
Quite the Fiesta in fact, including Mesquite-grilled steak & chicken, sautéed garlic shrimp and Pork Back Ribs.  "Dixie" thought it was the best deal on the menu, and who am I to challenge her?
As we waited for our meal, the fixings appeared first, with lots of good stuff to pick from: shredded cheddar cheese, lettuce and sour cream, of course.  But also a very creamy housemade guacamole and fresh, zesty Pico de Gallo.
As the story goes, Texas cowboys starting eating fajitas after long cattle drives, when they would grill steak over a fire and wrapping them up in a flour tortilla.  But I can't imagine them cowboys carrying the trimmings with them as well. I mean, how sour can cream be?
Anyhow.
The star of the night showed up soon after.  Lone Star uses skirt steak, which they grill over real Mesquite wood imported from Texas. The beef was nicely seasoned, could have been enjoyed on its own.   White meat is the chicken you get, grilled the same way as the steak, with the same seasoning.  It was juicy, quite good.
The garlic shrimp were surprising, I was worried they would be on the dry side, but no, perfectly cooked, lots of meat, great texture, not too much garlic. Good stuff.
The quarter rack of ribs was tender, falling off the bone, nicely smoked. The sauce helped on that front, as we had picked the Smoky Chipotle Tequila sauce over the Original Texas or the Honey Garlic Jalapeño.
The meat was served on a bed of sizzling onions and peppers, as usual.  I love the aroma of sizzling fajitas.
The hot fixings were served on the side: a very ordinary and somewhat dry Mexican-style rice;  Saddle beans – not the triple re-fried beans paste we usually have at Tex-Mex places, but actual firm beans in a sauce – not drenched in it, which was good. I'm not sure why they are called Saddle beans, perhaps because of the texture? Naaah, can't be.  The beans were a little smokey, a little spicy, a very honest rendition.
But what really shines at Lone Star are the fresh flour tortillas, baked on order in a custom-made tortilla oven. Eva's Food World shows how it works:  small balls of dough placed at the top, then flattened and and baked as they slide down a ramp.  The result is fantastic, nice fluffy tortillas, so much better than the usual paper thin flat bread.  We had to order more to finish eating everything, which was A-ok from our perspective.
If you'd like to enjoy Lone Star's Fajitas, and you should, you might want to go on a Monday, when you can enjoy All-You-Can-Eat fajitas for $19.99, or on a Sunday when 4 eat family fajitas for $44.  Or really, whenever you have a fajitas craving!
All You Can Eat Ribs is back at Montana's.
The last time they came back, I was able to throw:
The event was a success, and last year's winning combination was the Beef Ribs with the Texas Bold sauce.
This year, you still pay a $1 more than the price of a large rack for the AYCE.
I am hoping to throw a second edition this year, with the same rules as last year, which may be a challenge since there are now two new sauces:
Cracked Black Peppercorn
Chipotle Honey
The Cookhouse is daring me to get saucy.
I will do my best to be up to the challenge. Again.
All the Wafflers out there deserve it.
—————————————————-
UPDATE – Mar 17 2011 @1:58 PM
The AYCE Ribs promotion is now available only on Wednesdays.
We were on our way back to the Fort Lauderdale airport as our vacation was coming to an end. All week, Melissa had been talking about going to Chili's. Why? I think she has been craving Chili's because of all the ads she sees when I force her to watch American Football. Which, of course,  I never do.
Founded in Dallas in 1975, Chili's has over 1400 locations in 32 countries around the world, most of them in the United States. There are 14 locations in Canada, all in Alberta except for 2 in Saskatchewan and 1 in Ontaro.
We were driving south on the I-95 and our appetites were growing, so I started looking for a Chili's location on the GPS. There are a lot of Chili's in Florida, so I had no trouble picking one – we stopped in Wellington, Florida, a well-off village in Palm Beach County.
The location was fairly large, and despite being busy, there was plenty of seats available in the dining room, and even more in the bar section. The atmosphere is meant to be very friendly, fun and carefree, marketing to families and young adults. Noisy, but not too loud. The place, with it's Southwesternish decor, was very clean and lots of staff were roaming around, double teaming tables everywhere.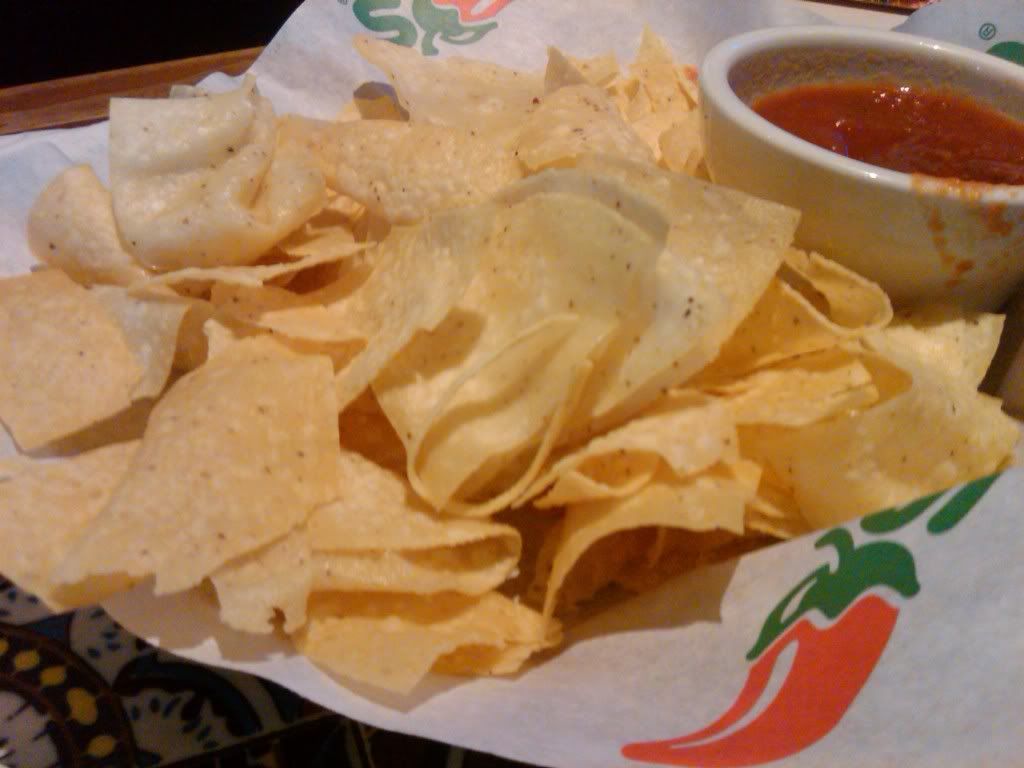 We had barely sat down in our booth when our first waitress very forcefully asked if we wanted chips and salsa. We were too afraid of her to say no and kind of hoping they would be free like at Chinco Rhino, we said yes. They weren't, but at $2.99, that's not really overpriced.
It took no time for us to receive a basket of deep fried Tostada Chips with a big bowl of salsa, which they claim is house-made.
The salsa, I have to say, impressed us.  They did not wimp out on the spices (or salt!!), it had a nice bite to it. It wasn't, however, a chunky type – it was in fact quite runny.  Nevertheless, enjoyable, mostly for the bite. (There are some copycat recipes out there that you can check out.)
The corn chips were deep fried – and some were so deep fried they were transparent. Thankfully, they weren't all like that, most of them were thin and crispy. The bowl of chips, despite being bottomless, was more than sufficient as an appetizer for the two of us, so we didn't get a refill.
To chase down the chips and the spicy salsa, I ordered Chili's signature margarita:
The Presidente.
Sauza Conmemorativo Tequila, Patrón Citrónge orange liqueur and Presidente Brandy, shaken and served in its own shaker, it was pretty good.  And there was plenty of it, therefore there was no need for me to order another one later. Respectable.
Melissa, being a good mother and a responsible driver, settled for Strawberry Lemonade. This weird concoction was bottomless, and she was even offered a refill to go as we settled the bill.
Nice.
But of course, the main attraction was the food.  We both discarded their Mild or Wild menu, Chili's current promotion. It didn't seem wild enough to deserve that qualifier, and why go mild anyway?
At first, I figured since I was at Chili's, and since there were signs everywhere stating EAT MORE CHILI and similiar slogans, I should order Chili.  Here, they call it Terlingua Chili (slow-cooked chili with beef, onions and chiles, topped with cheese), named after the famous Texas town, host of two famous chili cook-off – the Chili Appreciation Society's International Telingua Chili Championship and the Annual Original Telingua International Championship.  I got cold feet though, afraid of a disapointment, and took a pass on the chili.
I kept looking, and spotted the ribs. Ah, yes, Chili's famous babyback ribs, with it's famous "I want my babyback babyback" jingle (performed here by Nsync in 2002!). Chili's claims that their ribs are slow-smoked in-house over pecan wood. I had some doubts, and I found out later that it is not quite how they are done – the truth is that they are pressure-smoked during prep in the morning, refrigerated, and then finished on the charbroiler when ordered.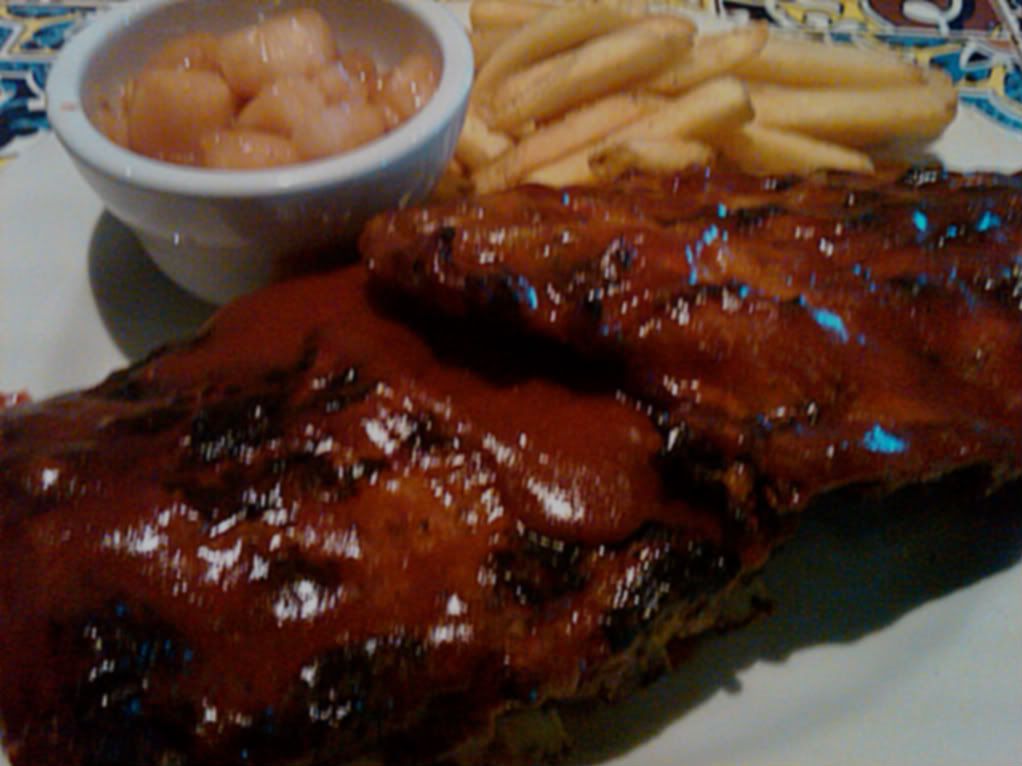 I ordered a full rack of the Original babybacks ($16.99). Other options were Honey-Chipotle, Shiner Bock BBQ Sauce or Memphis Dry Rub. But I decided to stick with the original, hoping I couldn't go wrong considering Chili's marketing of their ribs.
Yes, Chili's is very proud of their ribs, and there are a lot of copycat recipes on the web.  It was definitely a nice size rack of ribs.  The meat was falling off-the-bone, with very little effort.  The meat was very tender, but the smoke wasn't really present – it had only a subtle presence.
The ribs weren't marinated at all – it is clear that they add the flavour at the last minute, smothering the meat with the sauce.