Browsing articles tagged with " Poutine"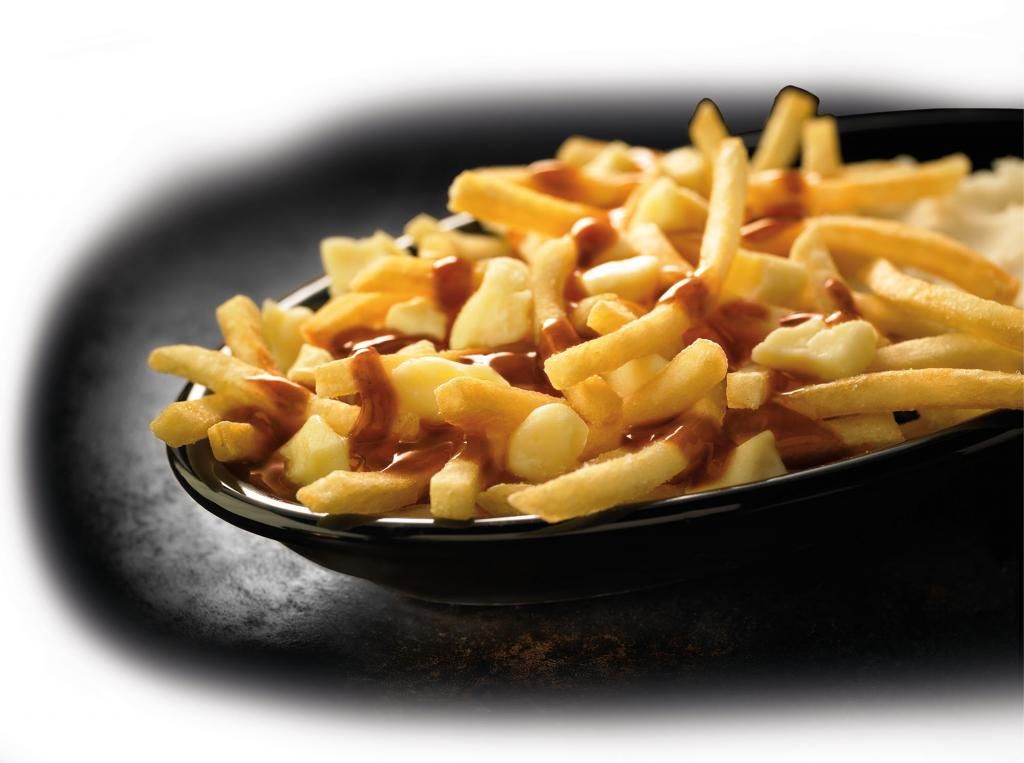 Today, McDonald's has announced that they were putting an end to their discriminatory practice of offering Poutine in Quebec only.
A popular McDonald's menu item in Quebec since 1990, the McPoutine has popped up here and there as a limited-time only menu item across Canada.
But no longer.  McDonald's will offer this Quebec favourite to their customers across Canada and it will be a permanent item.
Created more than 50 years ago, the Poutine has grown in popularity and sales represents a $79 million category in Canada.
On various blogs, social media and even McDonald's own Q&A website, customers in various regions across the country have been asking for the McPoutine.
McDonald's answer, until now: "We serve poutine but it's only available as a regional offer in Quebec, much like how the McLobster is only available in the Maritimes. That said, we're always looking to bring our regional products to other parts of Canada. Of course, we think our World Famous Fries stand up pretty well on their own!"
But it appeears McDonald's has finally listened to the poutine-loving clamour.   Priced from $3.99 plus tax, McDonald's Poutine is made with the French Fries topped with real Quebec cheese curds and gravy.  It can be had on its own or for an extra charge, it can replace the fries with Poutine in any Extra Value Meal. Or you can, like Barbara at Dose, get a poutine with a side order of poutine!
I haven't had a McPoutine in a while.  If I recall correctly, the cheese is not squeeky, the chicken-base gravy , with tomato, onion and garlic flavours is lightly drizzled and the whole thing is too salty.
But perhaps it's time for The Waffle to give it another try.
We left the Floribell Resort early Sunday afternoon to go home after having had a good time with family and friends. Frolicking on the beach, swimming in the lake, drinking a few cold ones. Life was good. Especially since yours truly became International Champion of Water Frisbee. But that's another story.
So we left Saint-Élie-de-Caxton and started looking for a place to have a quick bite.  We hit Road 351 then Road 153 before arriving in Saint-Barnabé and spotting a Casse-Croûte just off the main street.  The place didn't look busy, but there were a few cars in the parking lot.
The classic Pepsi sign told us that we were at le Casse-Croûte du Parc Vert.
Built in 2005, Casse-Croûte du Parc Vert is located downtown St-Barnabé Nord, such as it is.  It is basically about 20 minutes from Trois-Rivières,  Shawinigan and Louiseville.
They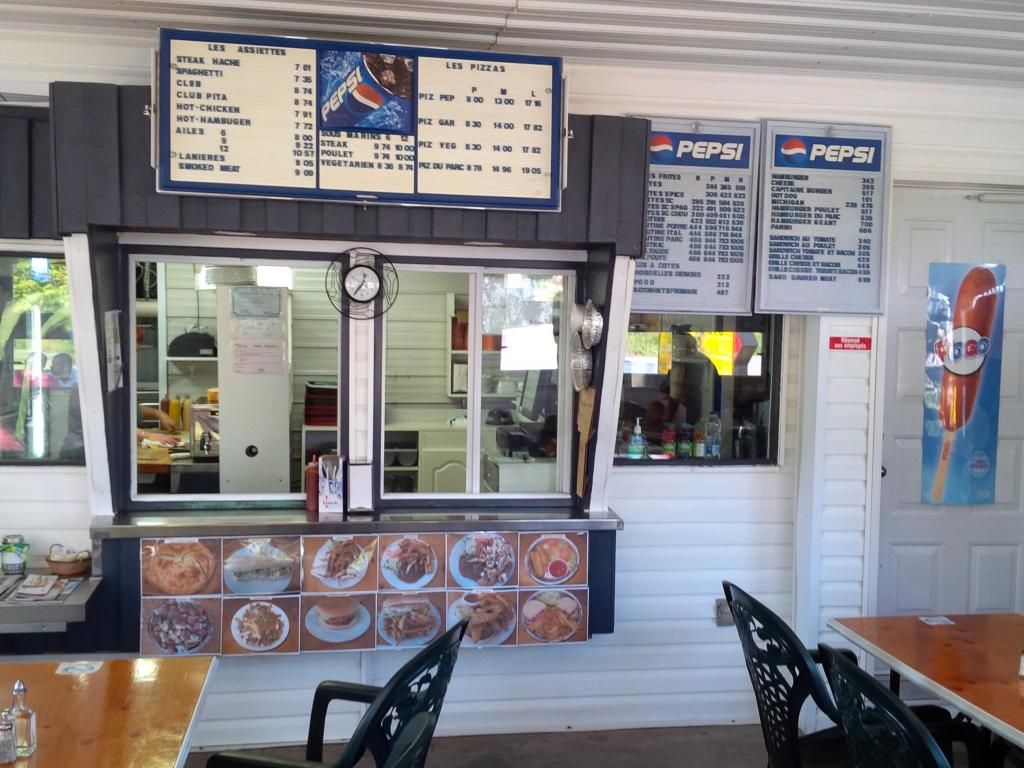 claim that everything on their menu is home made.  The spot used to be a classic snack bar hole-in-the-wall – but clearly they renovated to add indoor seatings, about 30 seats. Outside, a couple of picnic tables if you prefer.
The menu is posted on a couple of boards over the order window.  Here, you can find the usual casse-croûte fare:
French Fries, Poutines, Subs, Hamburgers and Hot Dogs; but also Chicken Wings and Pizzas.
The owner, which was operating the kitchen, was very friendly and resourceful, answering all our pre-meal requests:  high chair? booster seat? (nooooooooooooooooo, papa! I am tall now!) and even a  band-aid to cure a bébitte's bite.
The Waffle Jr. wanted chicken and they were offering nuggets by single unit – a great option - but I knew she would want French Fries from our order, so I got her the full platter ($7.83). Mrs. Waffle didn't hesitate either – she wanted an Italian Poutine – a small one ($5.96), with a tomato-bacon sandwich ($3.05) on the side. For my part, I took my time to look at the menu, asking questions.  After pondering my options, I ordered a medium Poutine du Parc ($7.83).
For drinks, they were selling juice and milk at the window – but for pop, you had to get a can from a Pepsi machine in the corner - $1.50 a pop. Mel got a Mountain Dew, me a Pepsi.
Our lunch was ready in a jiffy – except for the sandwich, which was forgotten – but it would soon be made and delivered to our table.
Mel's Italian Poutine looked good, smelled good – and tasted good. The Italian sauce had a strong, fresh tomato flavour. There were bits of carrots, but not too much - the sauce was nicely balanced, not too sweet.  "The curds squeak-squeak", she exclaimed.  Great news!  There wasn't too much sauce, the fries were holding firm and the curds weren't melting too quickly, holding their chew – and their classic sound.  A nice dish.  Mel was also satisfied with her sandwich – even though she got a Tomato-Bacon Grilled Cheese instead of what she wanted.  My bad, I guess.

The Waffle Jr. was quite excited about her plate. She didn't like the coleslaw, so I had it – it was a classic sweet and sour salad, the way coleslaw should taste, with a great crunchy texture. The French Fries were really good – probably better on their own than in the poutine, I thought. A dark golden colour, thick with a nice crisp on the outside and quite fluffy inside. Jr. would dip them in the gravy and in ketchup, alternating between the two until she decided that ketchup was much better. Of course!  The chicken nuggets, however, were quite ordinary.  A little thin, a little dry. Flavourwise, they tasted good enough for Jr. to keep at it – but I suspect that these guys are not homemade.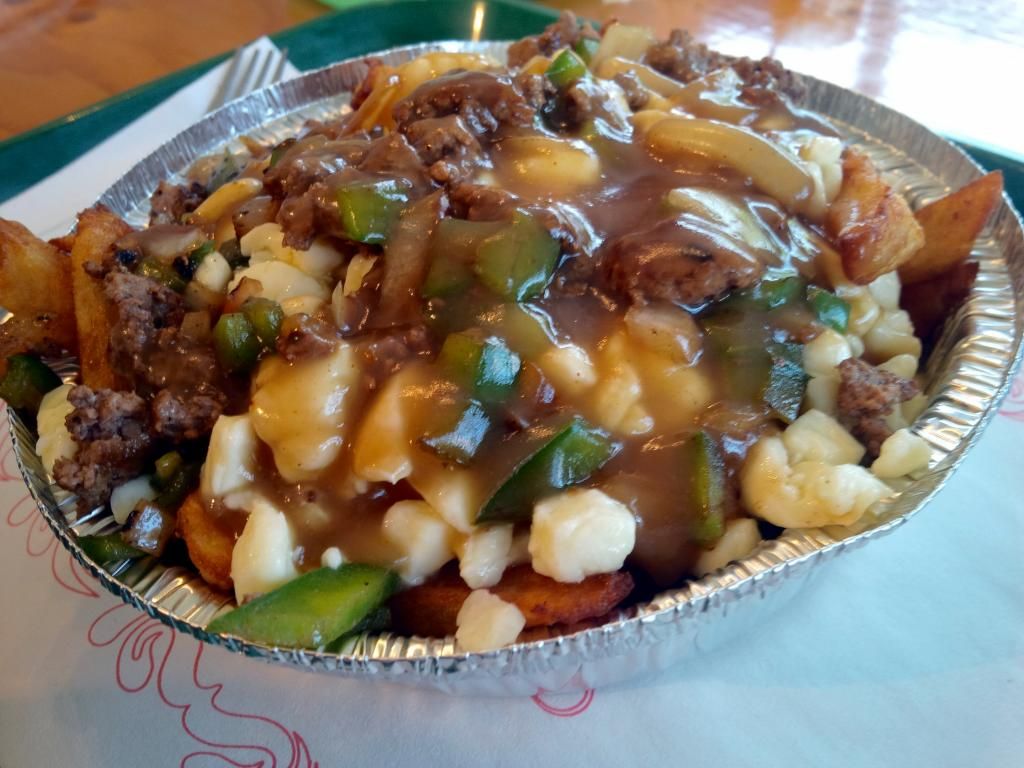 The spectacular dish of the day was my medium-sized Poutine du Parc. What a beauty! A poutine with a classic brown gravy, topped with ground beef, green peppers and onions.  It was delicious!  The gravy was served hot, covering the fries and the toppings.  It was a classic brown gravy, not too salty. It was smooth, silky, delicious. I mean, you almost wanted to drink the stuff!  Beef, onions, peppers – what a great combination.  The steak was nicely seasoned, cooked perfectly - throughout without being dry. The onions brought some sharpness while the peppers brought some sweetness.  The challenge was to get the perfect bite each time:  potato, beef, onion, pepper, cheese curd, gravy. Man, that hit the spot! And yes, medium is quite large. I was done and done.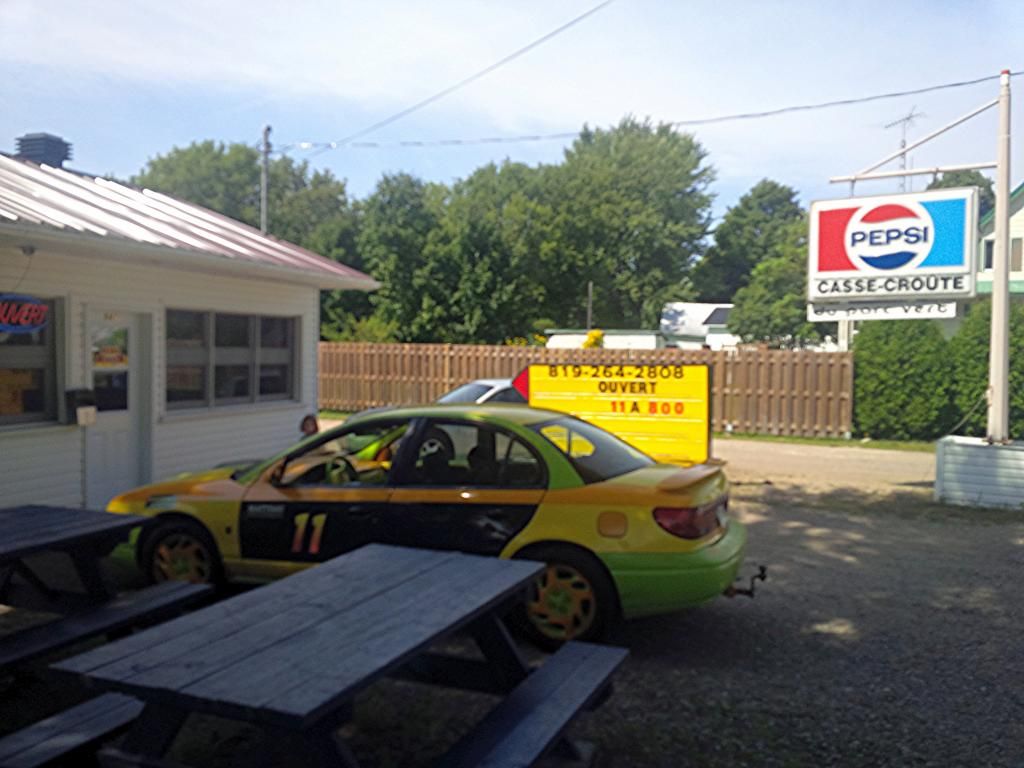 The owner, still very friendly and ressourceful, answering all our post-meal requests:  a cup to go for Jr.'s milk, a paper bag for the fries she didn't eat and wanted to keep for later.  Great service!
Right before we left, a new customer arrived.
A Green. Yellow. Black. Orange.  #11. Saturn.
You never know what you'll find when you stop for a poutine somewhere on Quebec's back roads.
A late night poutine, after drinking a few pints, is one of the great pleasure of this world.
But apparently, you'll soon be able to enjoy your poutine differently.
Waffler nation member MA has alerted The Waffle of this new possibility:
The Gist is reporting that Jones Soda Co, a Seattle based company,  is now making it possible for customers to ingest a carbonated beverage infused with the essence of french fries, gravy and cheese curds in their new Poutine flavored pop.
The Waffle will try it at the first opportunity, and report back.
The NDP Convention was over, the set had been struck and delegates were leaving Montreal happy and motivated. My train wasn't leaving for another couple of hours, and fellow delegate Tania had to wait for her plane.
We decided to look for a place to celebrate a succesful Convention, and started wandering the streets of Montreal, ending on Ste-Catherine, heading west. A new sign on University street intrigued me: Bofinger. But more importantly, there was an umbrella featuring St-Ambroise's Blonde.
We found our spot.
Turns out, it was an American BBQ joint. I wasn't about to turn around!
I remembered hearing about a BBQ spot called Bofinger that had opened a couple of years ago in NDG. Turns out, this is the same guys!
Bofinger Barbecue Smokehouse first opened in the NDG neighborhood of Montreal in 2007. The place was immediately succesful, and there are now 3 other locations: on du Parc, in Dollard-des-Ormeaux, and of course, downtown.
Bofinger claims they are bringing authentic Southern Style BBQ to Montrealers. We'll see, I thought!
We walked in, thinking that the diminutive patio was just not good enough, and besides, it was a tad chilly, if nice. Inside, it was spacious. This location was obviously an old Irish Pub, renovated somewhat. But Irish traces were still around, inclduing a glass ceiling featuring a Celtic knots by the side bar.  Dark woods and booths were also more reminiscent of an Irish Pub, but there were a few accessories here and there to give you more of a Southern American atmosphere.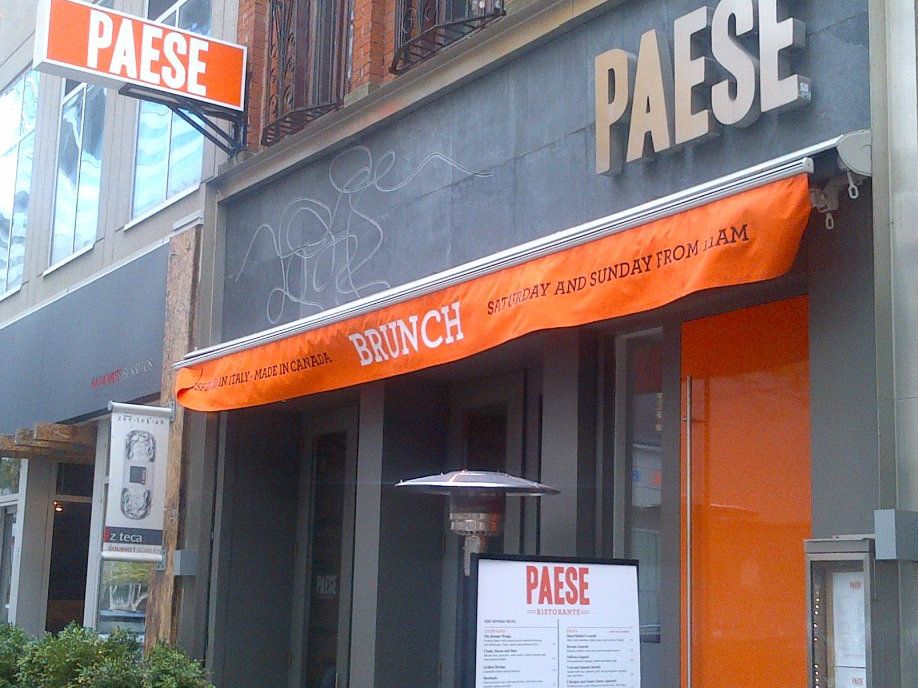 I was on a business trip to Toronto, and my scheduled lunch appointment was cancelled. Which meant I was on my own for lunch, and that suited me fine. I walked out of my home base, the Hyatt on King Street, looking for a new experience. Plenty of choices in the area, in the heart of the Entertainment Theater District.
Across the street from the Hyatt, a couple of restaurants I had been to before, Verona Ristorante (fine Italian cuisine) and Z-Teca (gourmet burritos). Squeezed between the two, in the location formerly known at the Bistro 333, you can find Paese. With its slick orange banners and a massive custom-built bright orange front door, this second Paese location (in addition to the original on Bathurst, established in 1989 by Tony Loschiavo) is a component of the L-Eat group. The King Street location opened in 2010.
Inspired in Italy, Made in Canada, says the banner (which also prominently features their brunch). I walked in.  A modern yet cozy, rich interior, with reclaimed brick walls and walnut tabletops and bar counter, with cool jazz music to create a relaxing atmosphere.  The place wasn't very busy, only half a dozen tables were occupied, leaving most of the ninety-odd-seats unoccupied.  Yet, I decided to sit at the bar, an informal seating location which reduces the awkwardness of eating alone in a public place.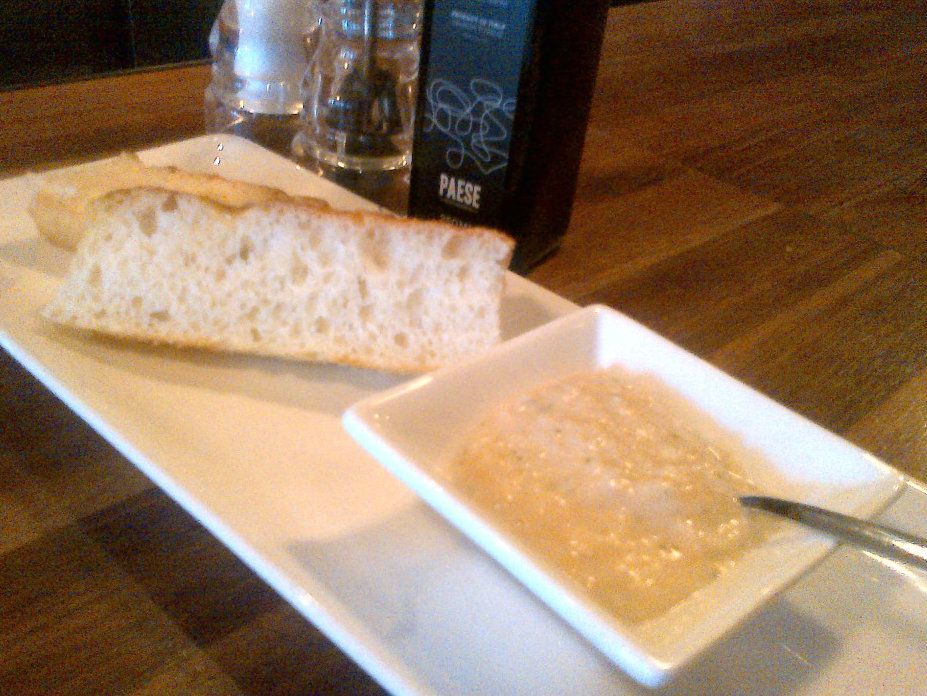 As I peered the lunch menu, I was offered an amuse-bouche, a chick pea and horseradish purée with fresh Italian bread to spread it on. Refreshing. At hand, sea salt, pepper mill and a bottle of extra virgin olive oil.
Paese has a bunch of different menus, and each location offers something different. On the King Street lunch menu, you'll get to choose from a selection of Antipasto (Clams, Bacon and Beer; Grilled Shrimp with Cannellini beans and gremolata; Veal and Pork Meatballs; Grilled Octopus and escarole), Salads (Roasted Chicken Salad; with green apple, toasted hazelnuts and gorgonzola; Chopped Italian Salad with fontina, salami, olives, soft boiled egg), Panini (Ham and Cheese; Grilled Chicken; Veal), Pasta and Polenta (Cavatelli with slow cooked tomato sauce and ricotta di bufala; Ricotta Gnocci with roasted chicken, sweet peas and mascarpone sauce; Saffron Linguini with pork and fennel sausage and rapini in a tomato sauce), Pizza (Margherita; Funghi; Genova; Capicollo Bianca; Grande Fumo with smoked trout). Continue reading »
On a business trip to Montreal, we had limited time before our main meeting, but we had to have lunch. We were on Papineau, close to Mont-Royal, so I figured we'd go to a branchée eatery and have a quick bite, Plateau-style.
But Brad insisted, supported by Drew : poutine was the way to go.
We turned the corner, and the banner of one of the most classic fast-food eateries was shining a few blocks away. There was no turning back – we were going to La Belle Province.
The first Belle Pro was opened in the East End in 1970 by Peter Kivitos, a Greek native who had worked during the 60s in another restaurant located on Ste-Catherine, which was also called La Belle Province. Success came slowly, but steadily, and after opening a second restaurant in Saint-Hubert in 1976, the chain grew to about 200 franchises across Quebec. Kivitos' still owns many of the locations.
Despite being lunch hour, the place was not really busy. I have however seen it humming and buzzing past midnight.
There was a half-dozen customers quietly eating, most of them watching the sports highlights on the tv at the far end of the restaurant. The other tv, near the entrance, instead featured a Bruce Lee movie. Bruce Lee, who once said wisely: "If you love life, don't waste time, for time is what life is made up of."
Well then.
My two colleagues both ordered a medium poutine, but I decided to go with the trio #1 – two steamies and a poutine. I was expecting a small poutine, but I also got a medium poutine.  At least, Bruce Lee had good advice: "If you spend too much time thinking about a thing, you'll never get it done. "
So I got it done.
I asked for my hot dogs to be all dressed, which at La Belle Province means mustard, relish, onions and cabbage.
The steamies here are really steamed: the Hygrade wieners themselves are steamed. The buns are steamed too, of course, so they're very fluffy and moist and delicious.
The mustard-relish combo is a classic, and one of the best for dogs.
The crunch from the onions gave them a nice texture, and the dogs were loaded with cabbage on top, giving it a hint of sweetness while adding a lot of freshness.
As the countdown began, Melissa decided she would go for one last treat before labour. After our appointment at the Gatineau Hospital for routine tests, we had planned for a late lunch before making our way to la Maison des Naissances de Gatineau. When the time came, Melissa simply declared that she wanted a poutine.
Before leaving the hospital, I asked the nurse what was the best poutine around. She pointed us to Magni-Frites on St-René but I thought it was a little far.
However, I knew there was a Valentine two blocks from the hospital, and since Melissa had never been, I thought, why not?
Valentine is a 96 location fast-food chain established in 1979 in St-Hyacinthe. The Montérégie town has 6 Valentine restaurants and the company's headquarters are still there. They first specialized in hot dogs, french fries and poutine, but over the years they have expanded their menu to include hamburgers, club sandwiches and smoked meat.
The Gatineau location is the sole one in the Outaouais area (the next closest after that is in Lachute). It is not particularly well advertised, hidden behind nice trees, providing shades to the small patio.  We walked in welcomed by the characteristic smell of oil and fries.  The place was not very busy – it was the middle of the afternoon – yet there were a few customers enjoying some classic steamed hot dogs.
But we were there for poutine.  Valentine is offering 5 types of poutine in two sizes – regular or large. They have their regular poutine, the italian, the chicken, the sausage, and the extreme.  I was not surprised to see Mel order a regular Italian poutine.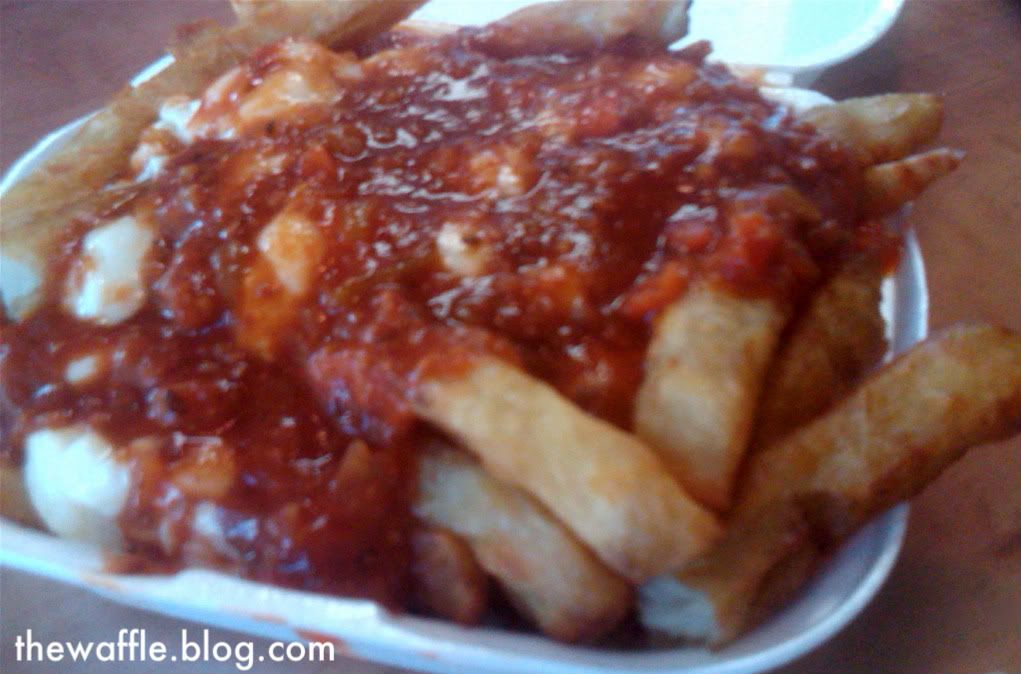 The fries were fresh, some a tad undercooked, but they were still golden, crispy and firm inside.  Valentine uses curds from Kingsey (now owned by Saputo). Kingsey's curds are pretty good, firm and a little flaky when very fresh.  Valentine keeps the cheese in individual-size bags, guaranteeing a precise amount of cheese in each poutine, and keeping it fresher, longer. Unfortunately, here it was kept near the sauce pots, which probably contributed to the curds melting faster than they should have, burying any potential "squeek-squeek" in the process.  Still good, but not perfect – and the same goes for my poutine.
The Italian sauce was interesting.  Clearly not a typical canned sauce, the tomato flavour was very strong, and the meat, medium grind, gave it a nice texture – just making it thick enough for you to know this wasn't a simple sauce in a can. It could have used more seasoning, but if you like tomato meat sauce, this one is honest.
I decided to go for a Poutine Extreme – which came with chopped hot dog sausages, ground beef and onions, on top of their regular cheese and gravy combination.
Now, this was a heavy, consistent and greasy poutine.    Their gravy is dark, thick, with a rich texture, almost slimy, coating everything nicely.  It doesn't have a spectacularly distinct flavour, but it is a very correct rendition. (You can buy their gravy mix here.)
On to of the cheese, there was a lot of the other toppings.  The hot dogs were chopped bite-size, they weren't chewy at all and were good enough.  The beef was very good, nicely seasoned, it went very well with the gravy and the onions added to the mix just gave it a hint of sweetness to make this a good poutine.  In my opinion, the sausage bits are not necessary – Valentine could simply offer a Dulton and offer the sausage as an extra for those tempted by it.  Not that the weiners were out of place, but it was just a little too much protein and a little too decadent.
And here is the downside of our visit to Valentine – the prices used to be very good.  In fact, they were known to be a bargain fast-food chain, attracting customers with their cheap grub. No longer the case: for a regular Italian poutine, a large Extreme and two pops, the total cost was $19.83.  At least, it was tasty.
That's because Valentine has cleaned up it's image, changing their logo a couple years ago and coming up with a slogan, Lâche pas la patate, focussing on the quality of its fries instead of their renowned but cheap hot dogs.  Basically, they have tried to established themselves as a nicer spot than it's competitors. Indeed, the place was very clean and looked nicer than the Valentine of my youth, but that change came with a slight cost increased passed on to consumers. This is not a complaint, but a fact. They are trying to broaden their clientele, and while we were there, we saw a mom with two kids, an elderly couple, a trio of blue collars, a middle aged woman and her senior aunt – no teenagers looking for fast food.
That was a good thing, because we needed some quiet time to enjoy this last treat before it all began…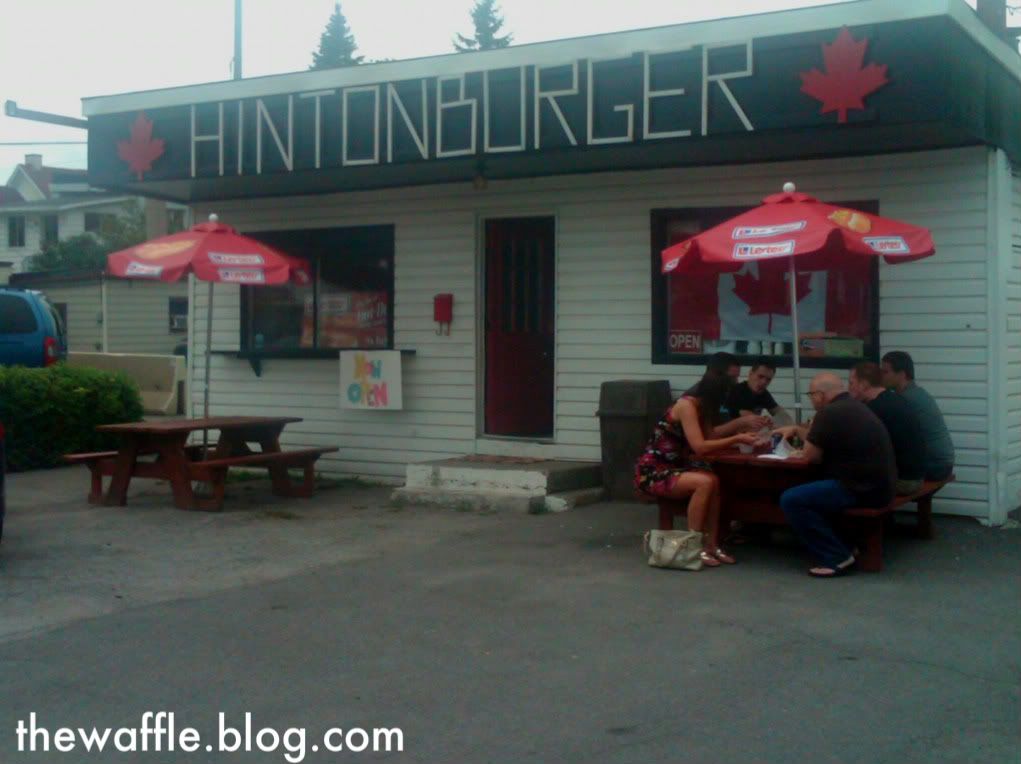 I'd heard of Hintonburger earlier this week via the Lord of the Wings who went outside his specialty with a NWR (non-wing review) to discover a new place which opened in late June on Wellington street in the area of Hintonburg. Apparently, the inhabitants are sometimes referred to as 'Hintonburgers' so the spot just took that name.
I shared that discovery with Scott, who got really excited and immediately took it upon himself to get The Waffle to experiment at the location, and he organized an excursion for Ira and I to join him there for lunch.
The place is a very small joint, with only a long counter-table, a table for four at the front and a diner-style booth in the back. Outside are a couple of picnic tables – it seems to me they have space for a few more, because the place quickly goes over-capacity.
When we got there a little after noon, Hintonburger was already fairly busy. A group was occupying one of the picnic tables outside and another group was inside. A guy was ahead of us with a take out order, and another group of 5 showed up after us – including a twenty something woman who tried to order a veggie burger – no such thing is available.  Yet.
There were three staff running the place, a young woman with two face piercing was taking orders and getting the drinks and the sides, another one dressing the burgers, and a tall sweaty guy was in the back, grilling, battering and frying. I can't imagine how hot it has been in there during the last few days, when the temperature reached 35 degrees before humidex! Oh, and there was this guy who showed up twice on a scooter with some supplies – a big pink box the first time, a bag filled with burger buns the second time. A storage issue or some early-planning kinks? We didn't ask, since Scooter guy never took his helmet off.  St-Albert also made a cheesy delivery while we were there.
The three of us lined up and studied the minimalist menu : 3 types of burgers, Lesters steamed hotdogs ($2.30), corndogs (dubbed the Fat Cat – $3.50), fries, poutine and onion rings. We had different tactics but the same idea – if they are proud enough to name it after the place, it's got to be the best – so we all ordered the Hintonburger ($6.50) over the Wellington ($5.50) and the Armstrong ($4.50).
6 oz of organic hormone-free, grain fed beef from O'Brien Farms (a fourth generation beef producer from Winchester), grilled with bbq sauce, topped with grilled bacon strips (thick cut from Tannis) and cheese from St-Albert. A nice touch: they also grill the buns.  They then add all the fixings you want – and we wanted them all – mayo, ketchup, mustard, lettuce, tomatoes, pickles, hot peppers and onions. Except for Ira who declined the onions. Shame.
………
Ira also declined to get a side (Re-Shame!) but Scott went for a large poutine and I went for a large side of onion rings. There was a bit of a wait to get our food – they cook everything to order and dress the burgers one at a time.  The grill – a small gas one – is a little small, so it's tough for them to get more than 6 going at a time. And since they cook them to order, be patient if the place is busy.
But believe us, that burger will be worth the wait.  Once the fixings are in, the meat sandwich is wrapped in parchment paper and then stuffed in an aluminum pouch.  Even though you've seen it made before your own eyes, the good folks of Hintonburger know that there is nothing like unwrapping a present, even when you know what's in it. And when you unwrap it, it's Christmas in July:
Now, that's what we are talking about.  This thing is simply screaming at you "Eat me, eat me!"  The burger looks quite big. However, there is a little catch – the buns are simple, regular-sized POM burger buns. Maybe they could go for a bigger burger bun, but I suppose it is much simpler to go with a once size fits all burger bun approach. Yet, it looked great to our little group. "Meaty and messy, exactly what a burger should be!" Ira exclaimed.
Messy and meaty it was. I actually think at some point we all had mustard somewhere on our face. The beef patty is actually not extra big – if it was a plain burger, it would fit perfectly, which I guess is the point.  Strong meat flavour, light seasoning, the bbq sauce they slather the meat with is subtle but present, a tad sweet and tangy.  The meat is clearly of good quality, with enough fat content to keep the meat moist even though it was medium-well done.
The bacon was simply fantastic.  Thick, crunchy, smoky, no chewiness at all yet some tenderness to it, it gives a nice zing to the burger. The cheese is melted on top of the meat and the cook got the timing right. Perfect consistency, nicely melted yet remaining thick and slowly making its way between the slices of bacon, balancing the saltiness of the pork and bringing everything together.
Tomatoes, onions and lettuce were fresh, straight from the Parkdale Market, although the lettuce was a little wet and could have been dried a little better after being washed. But most of it was crispy nevertheless. The pickles and the hot peppers brought a touch of acidity and were of good quality.
The onion rings were very good – especially after a healthy addition from the salt shaker.  Not too big, they held nicely together, the batter fried perfectly on the onion, crispy, no steam stuck inside. Excellent.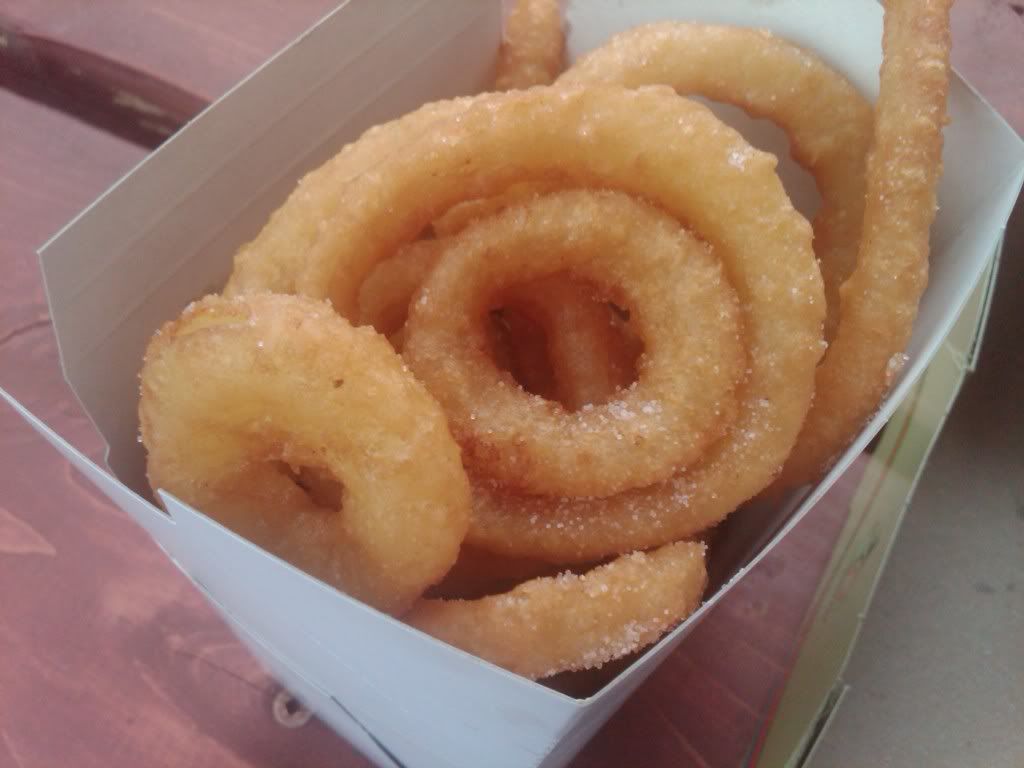 …….
The poutine was drowning in a very rich and thick gravy, which was a bit too salty according to Scott. I concur.  The fries were not super crunchy, but weren't a complete mush either – but there was a lot of gravy, so it is not surprising.  The cheese curds unfortunately, failed the "squeek-squeek" test.  But it was still good, and the gravy was certainly warm enough to slightly melt the curds.  Hintonburger's poutine is not why you'd go there, but if you have a craving, it is a correct rendering, if not spectacular.
Considering the location and the fact that it has just opened, this burger shack seems to be doing very well already. People are never afraid to go an extra mile for a great burger, so the Hintonburger will do well.  However, they have also stated on facebook their intentions to expand the menu. Hintonburger is contemplating adding a humus burger or a grilled mushroom burger to its menu in the near future. They are also looking at specialty sandwiches, wraps and salads, and possibly soft serve ice cream.
Is it sustainable? Or should they focus on doing what they are currently doing very well? The future will tell.  But for now, this burger is worth the detour.
As reported by The Waffle in an exclusive over two months ago,  Smoke's Poutinerie finally opened in Ottawa on Monday, in the location once occupied by famous indie music store End Hits.
The place is already a hit, the fast growing poutine-only chain having earned a solid reputation in Toronto over the past 20 months. It now has 10 locations, all in Ontario, but is set to open it's first Quebec location in Mont-Tremblant on July 7th.
Will it make it in La Belle Province?  That remains to be seen.
Will it make it in the By-Ward Market? Very likely.
I resisted the temptation of checking it out on Monday and Tuesday.
But when Jesse suggested we go for a reconnaissance mission for lunch, I simply couldn't say no.  And the bean salad I had brought to work for lunch simply paled in comparison to the mission.
Marc-André was more interested in chicken wings but without a wingman, decided to join us on the poutine discovery adventure.
We arrived around 12:15 – the place was packed and we were worried we would have to eat our poutine outside the joint, in the brisk cold of late June. We waited in line, eyeing the patrons and hoping they'd time their departures with our readiness.
Thankfully, Her Majesty was also in Ottawa today, and we somehow managed to grab a table under Her portrait when our order was ready.
We ate under Her watchful eyes and friendly smile.  The place must be owned by the Royal Family, because she looks an awful lot like Smoke.
Nevermind.
We scouted the menu, which offers over 20 different options.  The line was moving fairly fast, although not as fast as most poutine counters usually do – most likely a combination of the affluence and of the variety of choices – and of the 14 year old staffers in the kitchen.
But we couldn't really complain – we were orders #72, 73 and 74 of the day after all.
Jesse didn't feel adventurous and decided to judge Smoke's poutine with a regular size Traditional ($6.95).
Marc-André, despite his earlier chicken wings craving, took a pass on the four chicken options and went for another classic, the Italian Poutine – but the Deluxe version, with Italian Sausage ($9.95).
I decided to be a little more adventurous – I went all in with the Philly Cheese Steak Poutine ($9.95), with shaved roast beef, peppers, mushrooms, onions and of course, cheese sauce.
The evening started at The Exchange with a going away party for a colleague who was leaving us behind, attracted as she was by the big $$$ one can make as a lobbyi$t in this town. Who can blame her?
My first two attempts to order a beer were unfruitful – they were out of Kronenbourg, they were out of Okanagan Spring Ale.  I ended up drinking Creemore – and my wife enjoyed one bottle of O'Douls, before being told they were out of that too.  I hope for their sake tomorrow is delivery day.
During the evening, we had to suffer through the pathetic display of the NHL bias in favor of the Canadiens as they won their second Game 7 in a row, and fairly easily at that.
Mat and Justin didn't need to do much work to convince me that I had to drown my sorrows – so we walked to the Market – a quick stop at the Laff convinced us to go elsewhere – and we ended up at the Dominion Tavern, for some Molson Export quarts, loud punk music and even some pool playing. The Dom is the antithesis of the Market concept – which is why those who love it, really love it.
Whitout noticing, it was closing time. Mat was hungry, and I didn't have a proper dinner so his suggestion to go for poutine was more than welcome.  And what do you know, right besides the Dom is Sasha's Chip Wagon.
Perfect.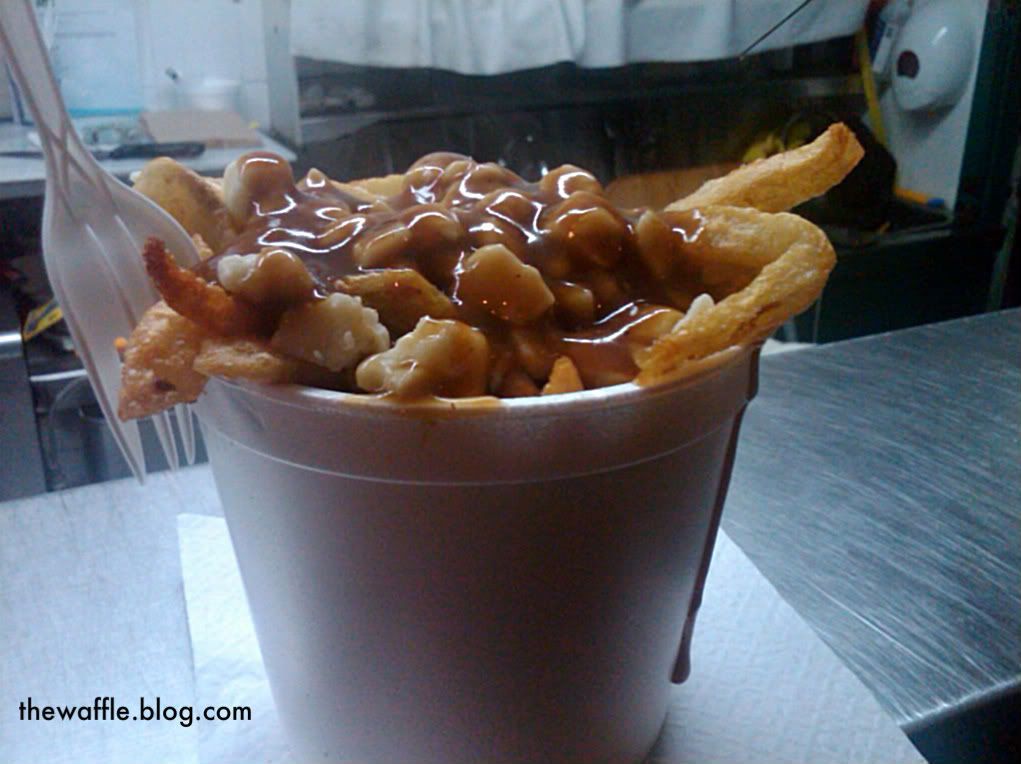 Sasha's was chosen as the best Chip Wagon in 2009 by the readers of the Ottawa Xpress, and it's poutine also got an honourable mention.  We ordered a large one each – 7$ a piece.  We were Sasha's last customers, but nevertheless, the fries were fresh out of the fryer, golden and crispy; the gravy was hot and rich.  The cheese was not the freshest – no "squeek-squeek", but it was curds, so Sasha's gets points for that and there was plenty of it.
Although the gravy was good, I was looking for a little something – and thankfully, Sasha's offers a condiment bar to complement your dish. (Be aware of Cobrasnatch's warning – Sasha's is prone to crackhead condiment raids! ) The usual stuff is available, including hot peppers, green olives, and what I needed – bbq sauce!  I gave my poutine a good squeesh, and that really hit the spot, giving the poutine a little tangy twist which was fantastic.