Browsing articles tagged with " Potatoes"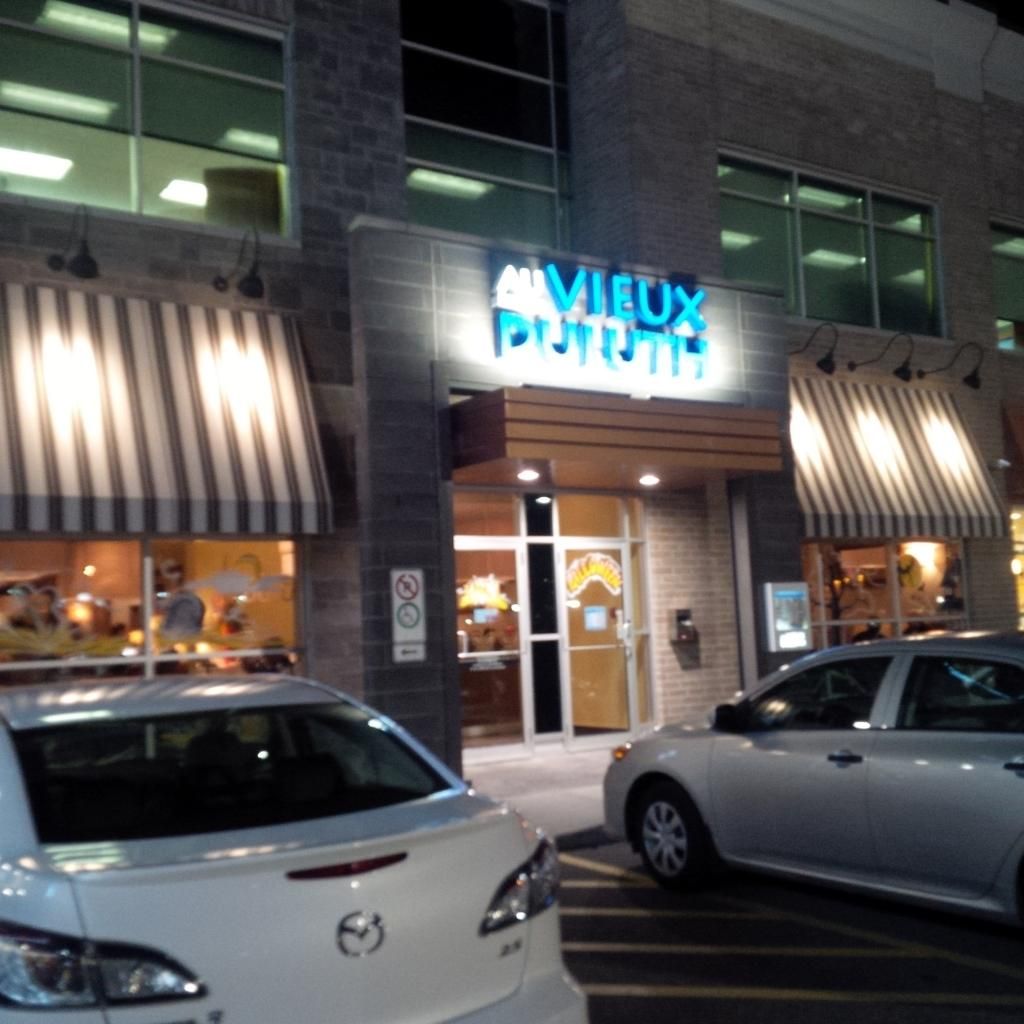 Sunday night, coming back from a very successful scouting trip at the Conservative Convention in Calgary, I couldn't say no when the Waffle Jr. asked to go to a restaurant. Interestingly enough, we have some gift certificates to use Au Vieux Duluth, and that is where we headed.
Au Vieux Duluth is a chain of 34 Greek-style restaurants hailing from Montreal. The first Vieux Duluth opened its doors on February 1982 on Duluth street in Montréal.  Au Vieux Duluth's winning formula focusses on grilled specialties and seafood dishes, generous portions and of course, the bring-your-own-Wine-and-Beer formula.
The Hull location has moved north recently, and is now conveniently located in a new mini-mall, which includes an SAQ store.
The place was really busy, as it usually is on Sunday evenings. Thankfully, there was space, and we were given a large 6-seat booth for the 4 of us. We were in the middle of the action, with birthday parties left and right – the place was really noisy, which got the kids a bit agitated.  This wouldn't be a relaxing meal, it felt like.
We peered at the menu, which features different combinations of chicken, beef, fish and seafood.
I wasn't really hungry, so I decided to keep it simple and ordered their Chicken Brochette ($15.95). Mel decided to go for the Chicken breast and Butterfly shrimp ($22.95). Both dishes are served with home-fried potatoes, rice and house salad. Meanwhile, for some reason, the Waffle Jr. wanted the Tzatzki ($5.95),  Creamy yogurt, cucumbers and garlic mixture served with toasted pita bread and marinated peppers. And of course, French Fries.
Despite signalling to our server that the Tzatziki was our daughter's entrée. it was brought to our table right away. Nothing exceptionnal here, the highlight was the pita bread.
The rest of the food followed after a little while. The plates were the classic Vieux Duluth presentation: a healthy portion of their House Salad, 3 Potato Wedges, a ball of Rice and the meat. You'd like to get your salad in a separate dish?  That'll cost you extra.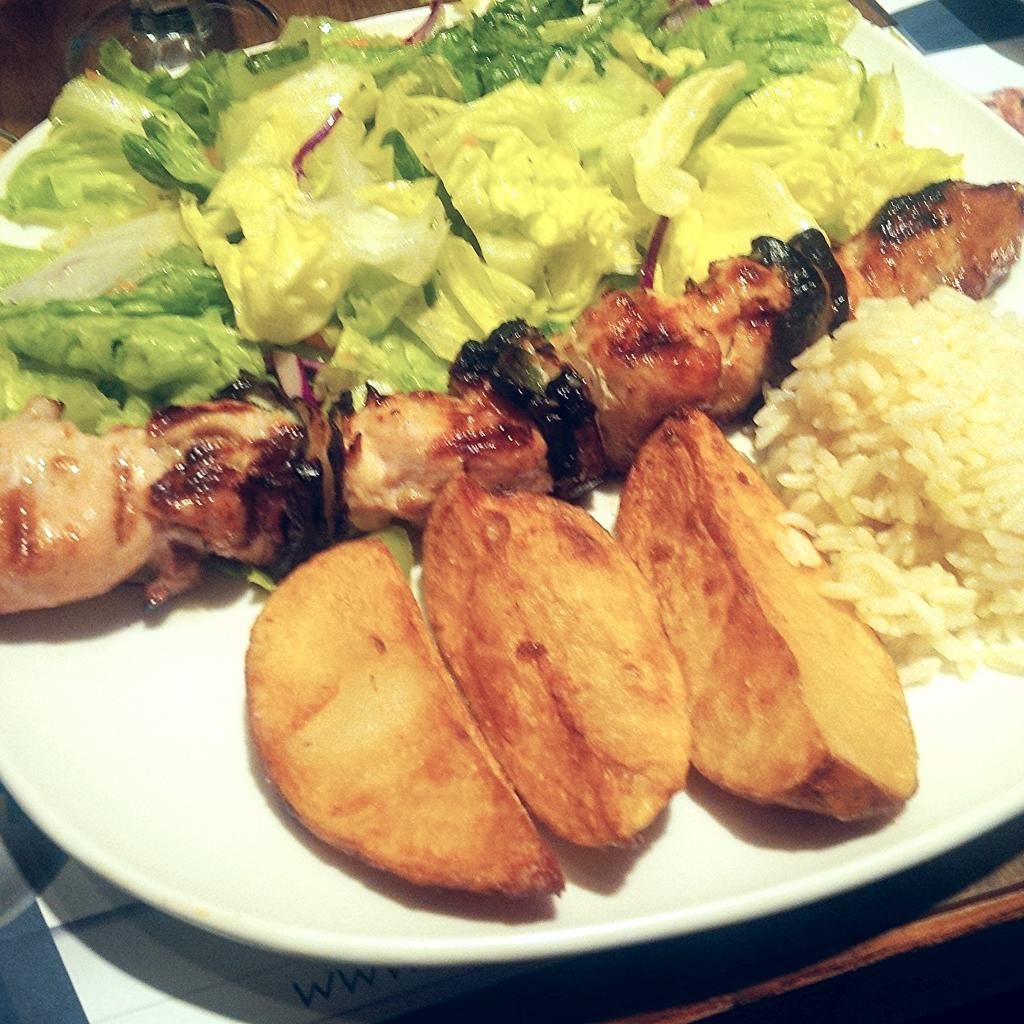 The salad was a little too wet with dressing, but the iceberg was fresh and crunchy, and the dressing interesting. The potatoes were dense, a little dry. The rice was texturally pleasant, but a little bland.  The highlight was defintely the chicken: Here we had skewered marinated chicken with onions and green peppers.  The chicken was tender, juicy, a little zesty.  The veggies had charred edges, but were nicely caramelized in the middle.  The pieces could have been thicker, I thought.
Melissa's plate was similarly presented – except she had two types of animals on her plate, and a small bucket of garlic butter.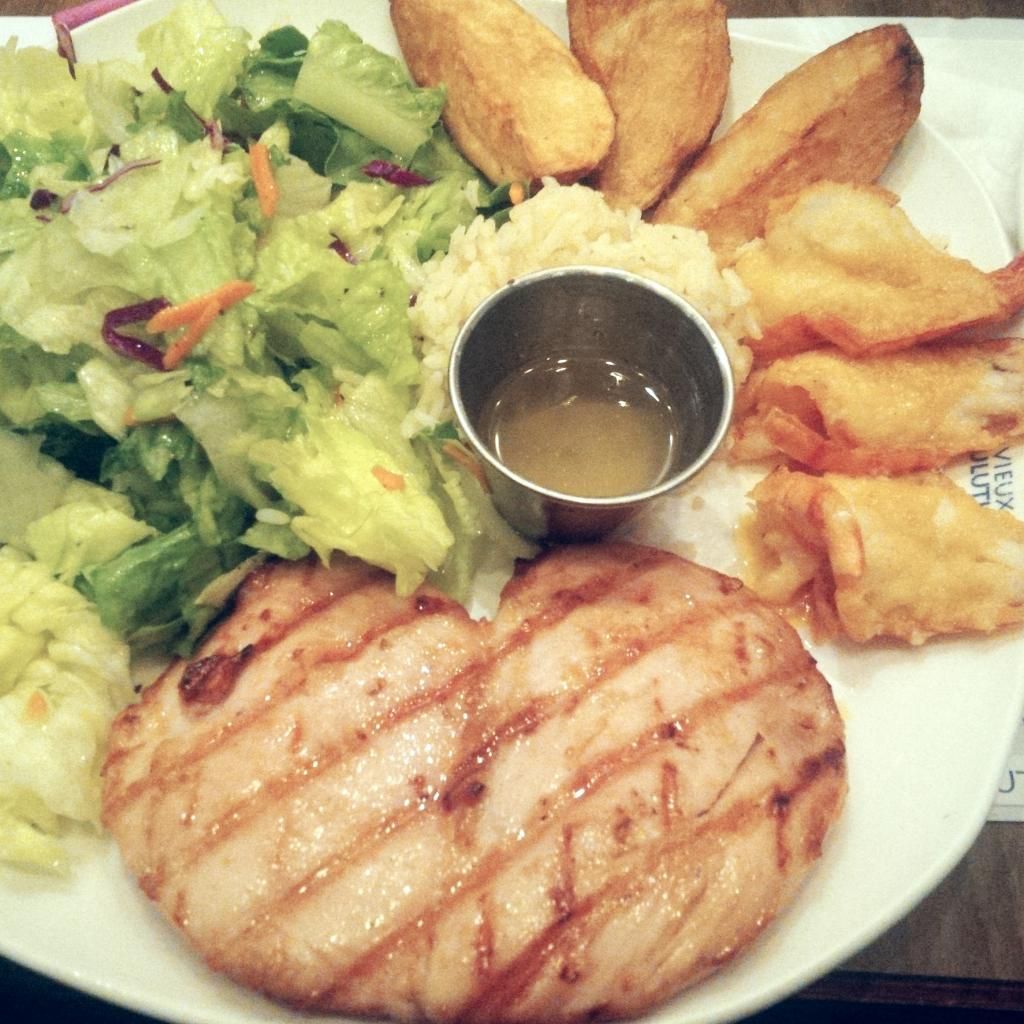 If the 9 oz butterflied chicken breast was grilled nicely, was tender and juicy, thanks to the zesty marinade, the butterfly shrimp were a major dispointment – the breading was soggy and the shellfish a little chewy. Thankfully, there was garlic butter!
The place was really busy and really noisy, and the waiting staff couldn't possibly be attentative despite their best efforts. The prices were reasonable, but more expensive than what you should really pay – not serving alcohol does come with a price. Still, it was a night out with the familly – and that was what made my day.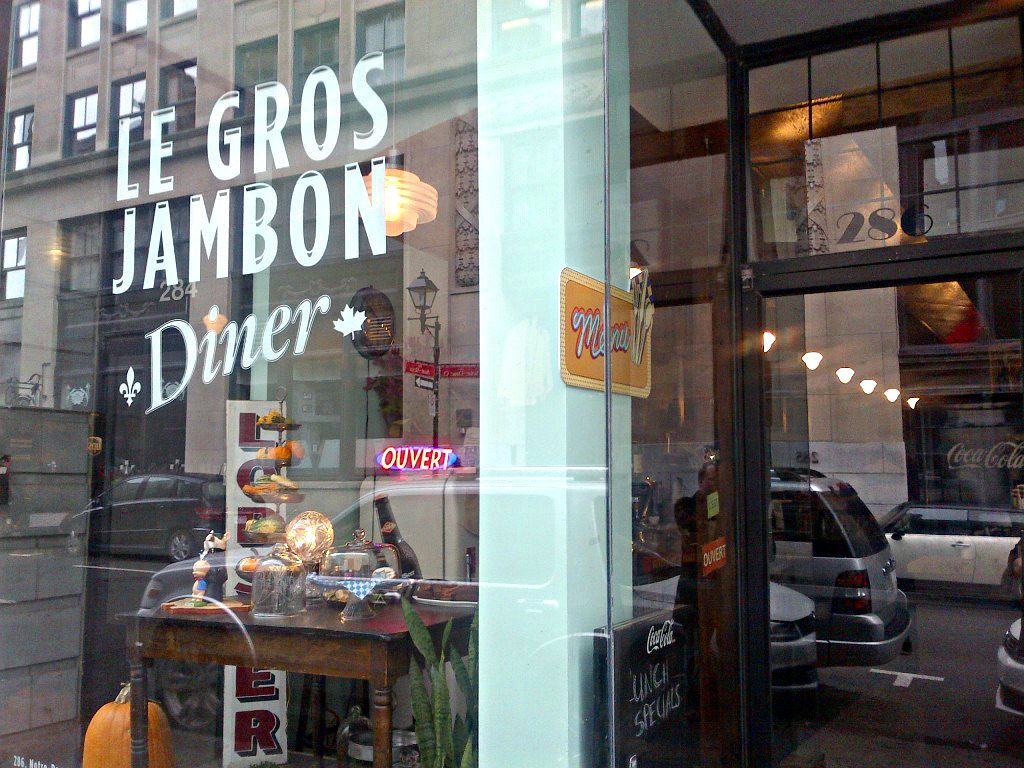 After an interesting discussion about the future of the NDP in Quebec, and after two hours of discussion about the NDP Quebec section's constitution, ND and I left Montreal's Palais des Congrès, looking for a lunch spot. We walked a few blocks south, and hit the unassuming and narrow storefront of Le Gros Jambon, a Diner on Notre-Dame.
The spot opened a year ago in an old jewellery store, but it almost feels like its been there forever – except it is too clean and too slick here and there to really fool you.  Still, le Gros Jambon is quite tight – an actual Gros Jambon could have problems navigating between the two rows of stools.  The place was opened by Travis Champion and Monica Terlecki, who also run L'Orignal, a few blocks away.
The decor is retro-cool, with the wall stacked with vintage photographs and posters, a bunch of old licence plates and a series of pictures of a freckled kid eating poutine  – the kid is clearly the restaurant's mascot, and the pics were done by Montreal photographer Riccardo Cellere.
The place wasn't super busy. We walked all the way across the restaurant and sat towards the back, at the counter facing the open style kitchen.
The waitress warned us – since it was only 1 PM on this gray Saturday, only the brunch menu was available - about a dozen different dishes - though the plain hot dog, the plain burger and the poutine were also available. Tempting.
I was hoping there would be something other than eggs on the menu.  I was tempted to go with a burger and the poutine, but looked at the menu first. The Huevos Rancheros (Eggs, Salsa Verde, Pico di Gallo, Homemade Chorizo onRrye Bread) and the Breakfast Lobster Rolls (Lobster and Scrambled Egg in a bun topped with Hollandaise) or the Mushroom Toasts (Fried eggs and smoked meat served on toasted rye bread, smothered in a mushroom sauce)  looked interesting, but too eggy for what I felt like having.
The Pumpkin and Cinnamon Pancakes could also have been interesting, but not this late in the day. Another sweet option was the  Banana Bread French Toast. Naaaah.
In the end, I felt like my options were limited to only one thing – the classic Chicken and Waffles ($14). So I ordered.
To drink? I felt like only a good old fashion Coke would do the trick. And it came in a good old fashion glass bottle!  Doesn't Coke taste better in a glass bottle?
Mrs. Waffle was jealous.
I got to pig out every day while she couldn't.
She had placed an order for pulled pork early in the week, but circumstances made it impossible. But tonight she was going to get lucky. After a hard day's work, I made my way to Sparks street to assess the scene and pick up some much needed pulled pork and save my marriage.
However, I was stopped cold by some friends who enticed me to help them drink some ice cold Sangria on Brixton's patio.  Reluctantly, I accepted. But soon enough (ahem) I was back on the quest.
I walked all the way down to the end of Sparks Street. Line-ups were long everywhere, except at the Texas Rangers, where there was no line-up at all.  Alas, no luck – they were out of pulled pork!  Bad planning or exceptional pork? I will never know: I was on a mission.
I decided to turn around and try a new competitor this year, so new in fact that the official Sparks Street Mall web site didn't even list its presence: Hawgs Gone Wild.
Hawgs Gone Wild BBQ team is from Daytona Beach, Forida. Their menu is slightly different than the other ribbers: they offer their beans and coleslaw at 1$ each (as opposed to selling them combined.) Also, they offer cornbread and Hawgs' Hash, and a Heavenly version of said Hash. Intriguing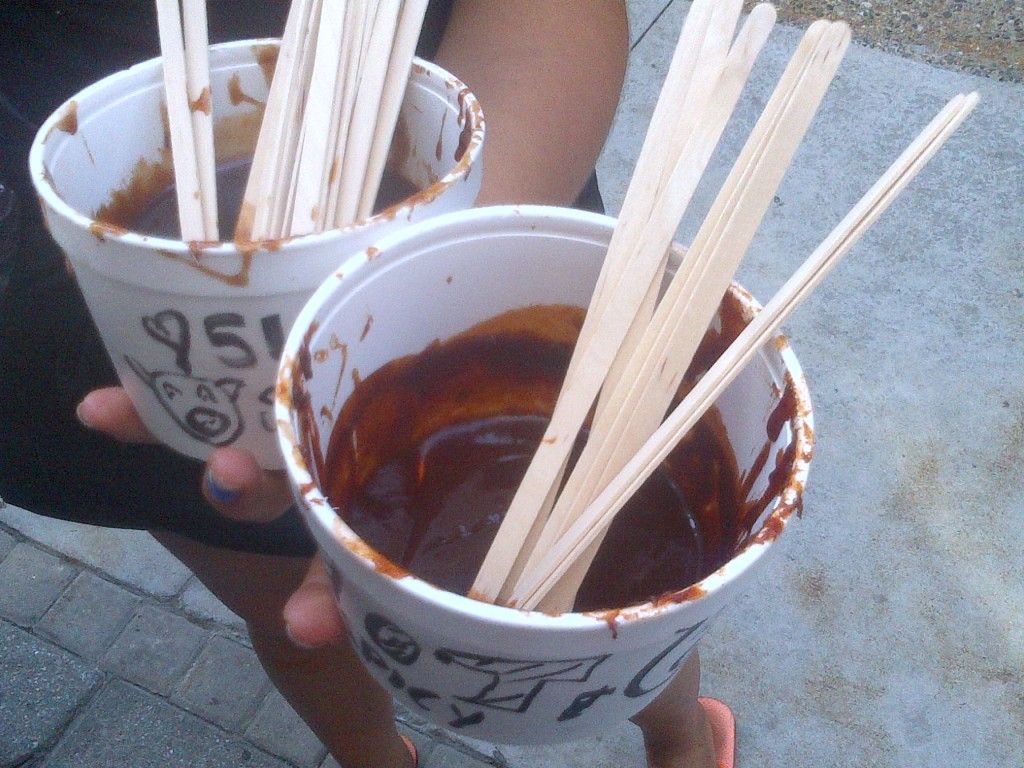 As I was lined-up, a Hawgs' staffer was coming down the line to get folks to sample their sauces – the Hot and the Sweet.  Hmmmm. Nothing like sauce on a stick.
The Hot sauce had a good kick to it. You could taste the chili peppers, there was no kidding around, but the heat level was totally palatable.  Would be great on pork, for sure.
The Sweet sauce was very sweet, with a touch of sourness. To me  it was a little too sweet, though I think it could work with chicken.
The choice of Hawgs Gone Wild was also a good one, speed wise. The line was moving quickly.
I ordered a pound of pulled pork, and as a bonus, two side orders of Hawgs' Hash.
For good measure, I squirted a good helping of BBQ sauce on each side of the pork – the hot on the left, the sweet on the right.   I should have squirted more, I've got to say.
I had some leftover buns and we used them to make some delicious sandwiches.  The pulled pork was tender but could have been shredded better. It was a tad bit on the oily side, however.  And as expected, the hot sauce worked better with the pork than the sweet sauce.  However, mixing the two sauces together also worked.
As for the hash, well, it is a nice addition to the usual menu.  In this case, all it was was skin-on smashed potatoes, but they were cooked properly, were fluffy and chunky. Good stuff.
Overall, Mel was pleased. And that's what mattered.
Breakfast
The first meal of the last day was had in Montréal at the Delta Centre-Ville. Like our last breakfast here, the scrambled eggs could be topped by crushed tomatoes, mushrooms and cheese. I also had Potato wedges, bacon, sausage, fruits, and a peanut butter toast!
Snack
After a mainstreeting visit to the Atwater Farmer's Market in Montreal, we hopped on the bus to head west. Along for the ride, croissants et pain au chocolat – I had a croissant somewhere on the 401.
Lunch
We stopped at the Marriott on Kingston's waterfront for filing and lunch.  Roasted Garlic and Tomato Soup, Poached Asparagus and Apple Salad with Roasted Pinenuts, Truffle Macaroni Salad, Fingerling Potato Salad with Bocconcini and White Balsamic, and a make your own sandwich station – I chose a thick brown bread, added all the cold cuts: ham, turkey, prosciutto, salami; all the veggies: tomatoes, lettuce and onions; and all the cheese: pepper jack, cheddar, aged cheddar.  And also, mayo, mustard and horseradish.
Dinner
Blitzing on the 401, we stopped in Kingston and then Oshawa. We loaded the bus with Swiss Chalet! I had a  Chicken Breast Dinner, with french fries, bbq sauce, a roll, and a garden salad with ranch dressing. After filling up, we hit the road again, towards Beaches and then Scarborough.
And so it begins!
Once again, The Waffle will record dutifully for you dear Wafflers what it is that one eats on a national election tour – on Jack Layton's tour, no less!
These posts will be short and descriptive, as I am otherwise busy. But I cannot let you down, so here we go!
Breakfast
The last breakfast with Melissa and Clara, at Wilfred's, the restaurant located at the Château Laurier, where Jack Layton would launch the NDP's 2011 campaign once the writ was dropped.
Deluxe Breakfast Buffet at $26 per person! (Yikes!)
Omelette made on order in front of my eyes: I asked for red onions, mushrooms, peppers, tomatoes, cheese. A tad disappointing.
Side of potatoes with onions, bell peppers, and sausage bits.
Sausages, salami, smoked salmon, cottage cheese.
Orange juice, berry smoothie.
Snack
We were greeted on the NDP plane with snacks before Jack Layton's 2011 Tour inaugural flight!
Fruits and a selection of sandwiches were available.  I sampled the swedish meatballs and the beef penne au gratin.
Lunch
Folks had the choice between chicken and beef for lunch.
I went with the beef, which was served in a rich gravy, with mashed potatoes, baby carrots and green beans.
On the side, a green salad with cucumbers and tomatoes, with an oil and balsamic vinaigrette.
For dessert, fresh fruits – with big blueberries!
Dinner
Dinner was catered on the plane tonight, and Subway was the main provider. A selection of 1/3rd subs were available. I decided to ignore the bread and went for a Subway chicken salad instead:
Lettuce, tomatoes, black olives, cucumbers, green peppers, pickles, processed cheese (!) and of course, chicken. Lots of black pepper on it all.  I added a balsamic vinaigrette.
Also available: pizza from Pagano.  I avoided that. I am that disciplined.
The New Democratic Party Christmas Party…  err, I'm sorry, the New Democratic Party Holiday Party is always a classy affair. (Though in french, it was still la "Réception de Noël".)
This year, it included the usual classy skit and the finale of a Movember competition, where NDP MPs Nathan Cullen and Glenn Thibeault faced off to figure out who could grow the best under-the-nose facial hair.  They ended up in a tie, which means they both lost half their moustaches and most of their dignity.
This year, a record number of 270 guests were in attendance at the fiesta, which was held at 200 West Block. This meant that gone were the convivial round tables, which New Democrats love, in favour of the more space-efficient rectangular tables, which Convention delegates love.
And so to accommodate all these people, the organizers went for the very democratic Hot & Cold Buffet, catered by the House of Commons catering services and its very capable and friendly staff.
Despite being a simple Holiday party, and despite the fact that nobody (or almost nobody) was actually on Holiday, Santa Claus was present to supervise the buffet proceeding.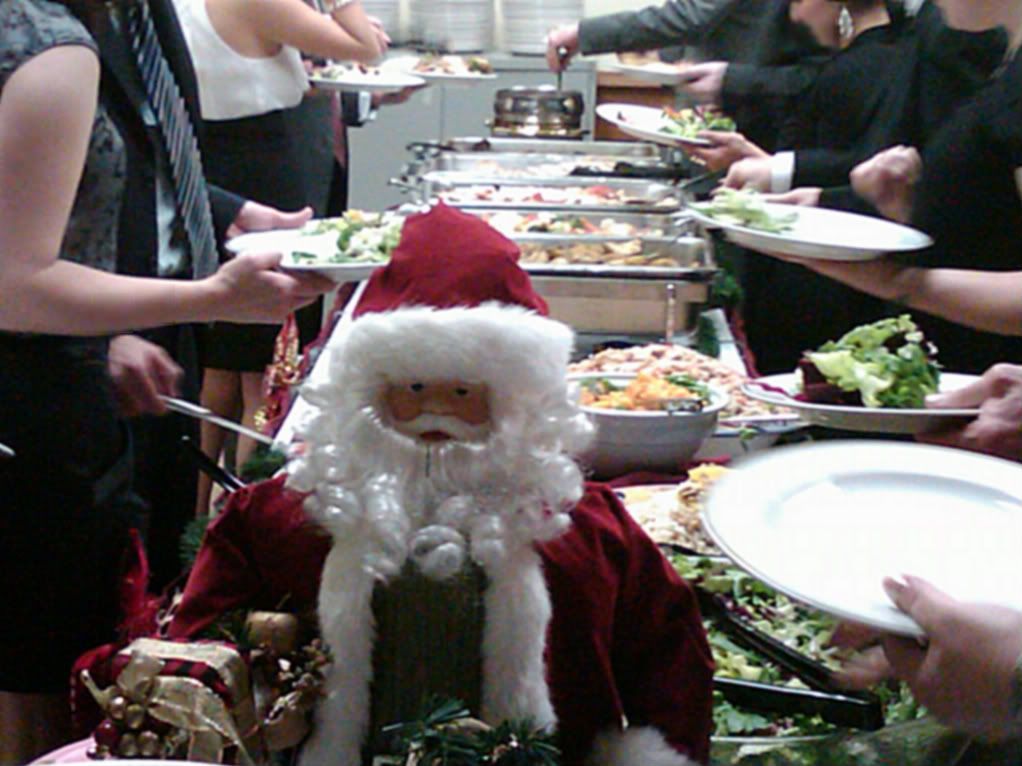 It is often said that airplane food is terrible.  It most often is.
Unless you fly First or Business class, domestic flights are indeed feeding you badly, and most often you have to pay extra for it.
But one airline does understand that a nice flight includes a nice meal – no matter where you sit.
Here is what the tray looked like when it appeared in front of me: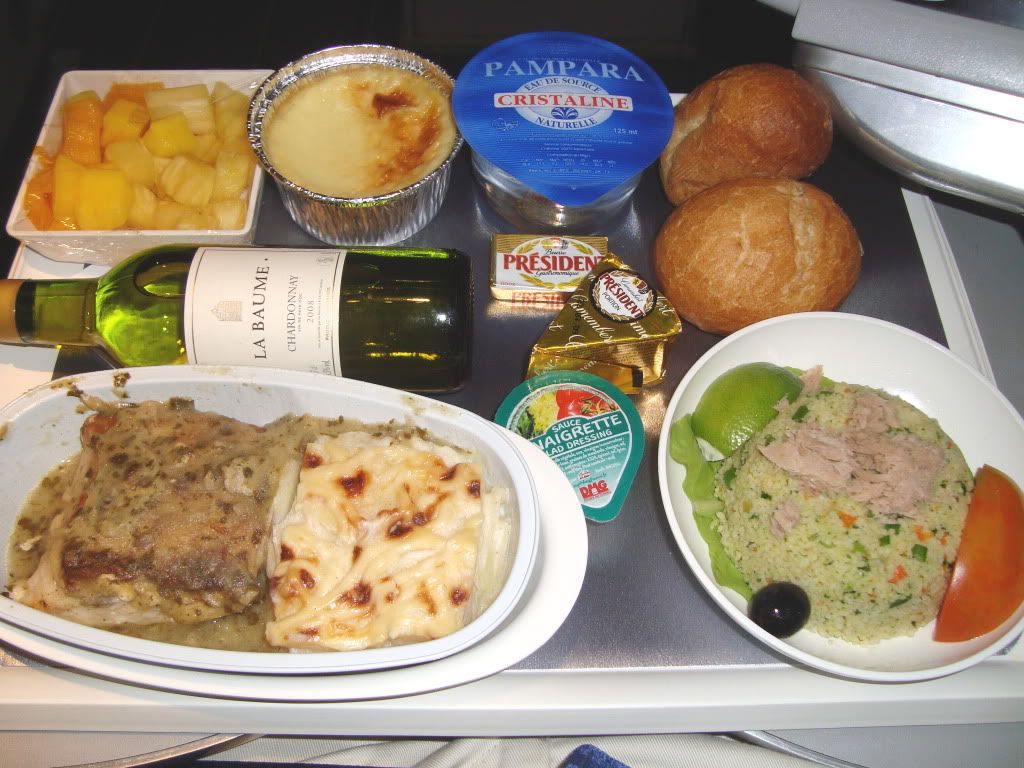 The menu was printed as follows:
Meal Service

Tabbouleh with tuna
Choice of main course
Curried chicken accompanied by rice with raisins
-or-
Filet of barracuda with sorrel and mushrooms, dauphinoise potatoes au gratin
Cheese
Fruit salad
Crème caramel
Coffee and tea
Beverages
Apéritifs
Upon request
Champagne
Jacquart Brut Mosaïque
White Wine
Vin de Pays d'Oc Chardonnay 2008 La Baume

Red Wine
Vin de Pays d'Oc Merlot Cabernet Sauvignon 2008 La Baume
Beer
Heineken
Mineral Water
Soft Drinks
Schweppes (Indian Tonic)
Schweppes (Agrum')
Pepsi
Pepsi Max
7up
Fruit Juice
Fruité
Coffee and Tea
Nescafé

Brandy and Liqueur
This was probably the best meal I've ever had on a commercial flight.
Even though the tabbouleh was low on parsely and mostly made of couscous, and the tuna was from a can, it was not bad.  The baracuda was tender and moist, the potatoes were nicely done. The cheese, a camembert from Président, was half-decent, the bread was fresh, the fruits were alright, and the crème caramel was not the worst I've ever had.
All in all, a very decent meal.
Which is a good thing, considering the long layover I had at Charles-de-Gaule. Exhausted, I could not sustain myself in the Food Court, which was closed, and could not bring myself to indulge in caviar from one of the Expensive Duty Free Stores in Terminal 2E.
I had the choice between an Illy coffee shop and an Exki outlet.  I hesitated, passing the time reading, playing some games on the courtesy PS3 machines in the terminal or on my own PSP, and even was able to get some micro-sleep. After hesitating, I finally settled for the Belgian chain.
Exki's philosophy is to serve high-qualiy fast food, "offering natural fresh produducts (sic) at all the times of the day."  Their motto? "Natural, Fresh, Ready."
Their fare is simple: salads, sandwiches, soups.  They claim not to use any additives, and some of their products are organic, such as their bread.
I decided to go with something simple, so I picked the Louise from their Vitalis selection , which was only 376 calories: homemade cooked ham and gouda cheese, served with a honey mustard dressing on an organic bread made with Malt.  The bread was of a very good quality, with nice tasty flakes of cereal.  The ham was also very good, nice and thick.  They were a bit cheap on the cheese, and they could have added more honey mustard as the sandwich was a tad dry.  Thankfully, I had a Coca-Cola to help me out.
Even by airport standards, at 9.60 Euros, this was a pricey meal.
.
I was in Conakry for 8 days at the beginning of July, at the invitation of NDI for a Retraite Politique, ahead of the scheduled Fall election.
I figured I couldn't blog much while in Guinea, and wouldn't be able to write about everything. So I decided I would do a photo-blog.
Every picture below is clickable and you can have a closer look at the food. Generally, the Guinean food is either from the sea or spicy. Lots of stews. Generally, they have a plate of hot crushed peppers available to increase the heat. Perfect. You can also find skewers and all sorts of food stands while wandering the streets of Conakry, as everybody tries to sell some food for a bit of money. But I decided to stick with restaurants, except for the food cooked in the little shack attached to Café Obama. If you plan a trip to Conakry, you may want to look at this dining guide.
Obviously, French cuisine is very present in Guinea as well as Lebanese. A couple of Chinese and Korean restaurants are there too to serve the workers who came to work in the mining or fishing industries.
Butterfly Fried Half-Chicken, fries and fried plantain, tomato and onion salad.Coté Mer
Thiebou Dienn, a fish stew served with local brown rice and boiled vegetables. 23 000 GNF. Africana
A traditional Guinean musician entertaiting the patrons at the Africana Restaurant.
Hors d'oeuvres served to the participants of the Retraite Politique at the Novotel Ghi in Conakry during the registration.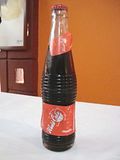 World Cola. Made in Conakry by Sobragui. Very, very sweet and low carbonation.
More hors d'oeuvres. Note the rounded-off chicken wings.
Flag Spéciale. Bière de luxe. Very popular everywhere in West Africa. Owned by Castel. A pale lager, refreshing with a hint of bitterness.
Skol. Brewed under license by Sobragui, it originates from Bermuda. Not bad – but only if cold.
Sorro.
Seafood Pizza. Late-night snack. A bit salty. 96 000 GNF.
Sorro.
Typical Guinean Fish Stew. Quite spicy. You serve on the rice.
Côté Mer.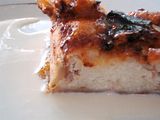 Vanilla and Brown sugar cake.
Côté Mer.
A Guiluxe by the sea. The national beer brewed by Sobragui. Smooth. 4 times cheaper than at Sorro. Only 7 000 GNF.
Café Obama.
Garlic Shrimp.
Restaurant Chinois.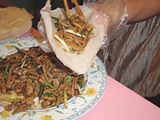 Chicken and green onion, sautéed, and served in thin crèpes.
Restaurant Chinois.
Snow Peas and Garlic. Lots of Garlic.
Restaurant Chinois.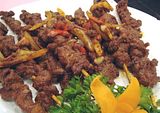 Very spicy Beef Skewers.
Restaurant Chinois.
Typical Guinean Beef Stew. You serve on rice.
Côté Mer.
Sponge Raisin Cake with papaya sauce.
Côté Mer.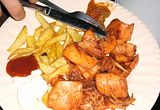 Grilled Calamari and fries. Nice big pieces, no chewiness.
Café Obama.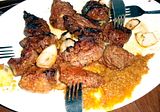 Beef skewers with hot sauce. Good meat.
Le Gentillhommière.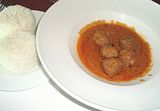 African spicy meatballs. Eaten with rice.
Côté Mer.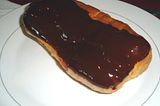 Chocolate pastry stuffed with cocoa cream.
Côté Mer.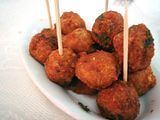 Fish Balls. Free hors d'oeuvre before the meal.
Le Rocher.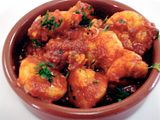 Shrimp Piri Piri. Quite spicy and rich tomato sauce.
Le Rocher.
Avocado vinaigrette. A pool of dressing.
Le Rocher.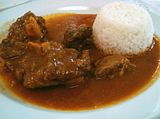 Braised Lamb African-style, with rice. Tasty, but bad cut.
Le Rocher.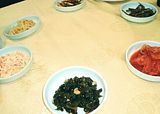 Korean appetizers, including KimChi, Sesame spinach, Green Onions with chili, etc…
Korean Restaurant.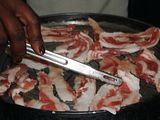 Slices of pork, coked on a hot plate.
Korean Restaurant.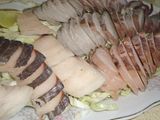 Sashimi. Raw fish in Guinea. Hmmm…
Korean Restaurant.
Sweet and Sour Spicy Chicken.
Korean Restaurant.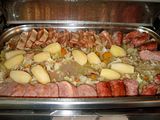 Pork meat assortment (sausages, salted pork, etc..) with boiled potatoes.
Côté Jardin Restaurant.
Kibbe. Stuffed with ground beef.
Le Cèdre.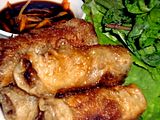 Lebanese deep fried rolls. Stuff with lamb. Very greasy.
Le Cèdre.
Merguez. Very small, very dry, very mild.
Le Cèdre.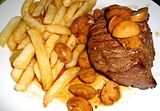 Châteaubriand. Flambée. Sautéed mushrooms. Fries. At 37 000 GNF, a fantastic bargain. Very tender meat, great cut.
Le Cèdre.
Lamb roast with mousseline potatoes.
Le Damier.
So I was invited by
NDI
to participate in their Retraite Politique in Conakry, Guinea.
They wanted me to give some classes on campaign, share my experiences, hold workshops and participate on a youth panel.
They also wanted me to be available to assist as needed in one-on-one consultations.
I have agreed to go, of course, but since it was a bit last minute, I had to scramble to get the green light from my boss, get the visa, get the vaccines and make all the other arrangements.
But I was happy to go, despite the unstable political situation, and hopefully will be able to help.
To get to Conakry, one doesn't get a direct flight.  My itinerary was as follows:
Ottawa-Chicago-Brussels-Dakar-Conakry.  19 hours of flying time, plus the layovers.
So my first layover was in O'Hare, where I had 3 hours to grab some lunch before taking off for Europe.
So I picked the O'Hare Bar & Grill – it looked like the most comfortable place to eat around Terminal 3.
Not knowing what I would face in Guinea, I decided to go for their steak dinner:
A Ceasar Salad, garlic bread, Redskins Mashed potatoes and a 12 oz Sirloin Steak.
The salad was crisp and fresh, not drenched in dressing. The potatoes were actually very tasty, full of flavour.  The bread was kind of bland.   As for the steak, it was not bad, cooked medium-rare as I asked.  It was fairly juicy, but I still ended up adding a bit of HP sauce to help it a little.
It was the most expensive thing on the menu, at 24$ US, but I somehow did not feel cheated at all and left quite satisfied, having chased it down with a couple of beers.
Then it was off to Brussels, were I landed a little bit past 8 am.  The Brussels Airport is quite modern, thanks to an influx of European money, but the Terminal to Africa, Gate T, is a tad bit empty, depleted of boutiques or restaurants.  The only thing available to travellers is a sports bar.  At 8 in the morning, after a sleepless overnight flight over the Atlantic, the possibilities seemed endless.
I love Belgium.  And I figured I would at least grab some breakfast.  A breakfast beer, that is.
And Hoegaarden seemed fully indicated.
Smooth. Creamy.  A touch of sweetness.  The perfect breakfast for a red-eyed traveller.
And hopefully, I'll sleep somewhere over Africa.
.
Last day at our HQ in DC, the Omni Shoreham.  
And today, I got to enjoy Robert's Restaurant's breakfast, featuring:The Art of Breakfast Buffet.
At $18.50, its not cheap.  But it is of a very good quality – everything is natural, meaning their meats have not been injected with anti-biotics or hormones, and they offer organic coffee and cage-free eggs.
You can also go A la carte, but why would you? The buffet includes cereal and toast sections, including bagels; fresh fruits, smoked salmon, cured meats, cheeses, oatmeal, waffles, and their hot breakfast section, which today included scrambled eggs (regular or with spinach), home fries, and an extensive selection of meat:  Thick-cut bacon, chicken maple sausages, breakfast sausages and home made corned beef hash.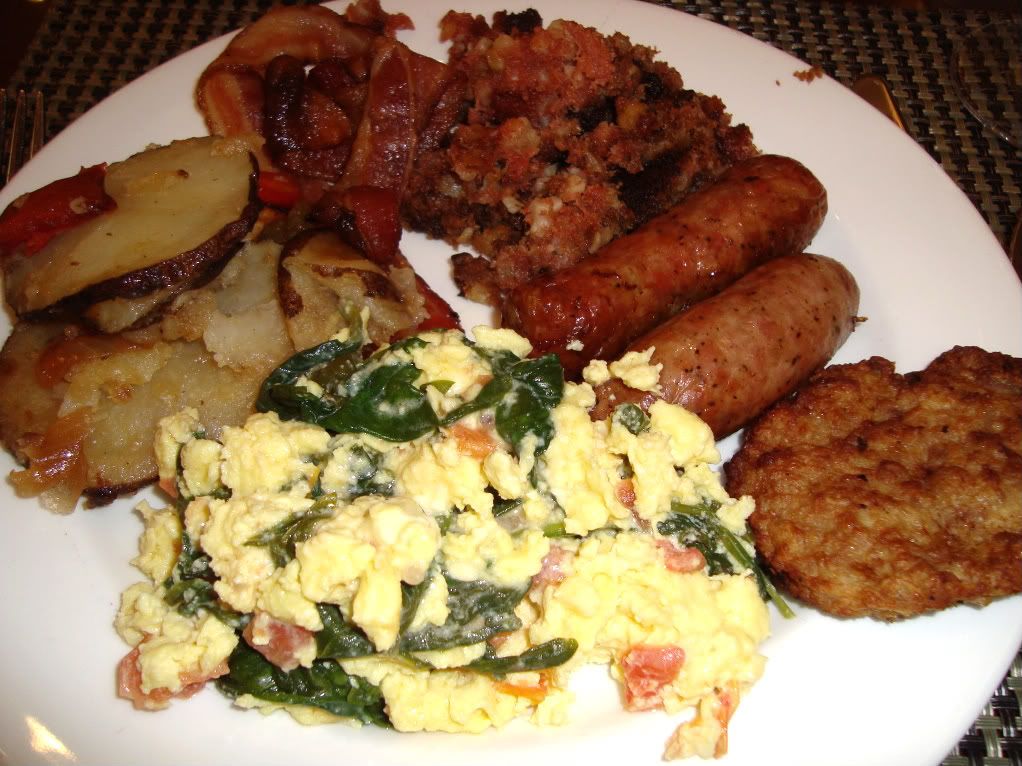 Never afraid to go all out for you, dear Wafflers, I decided to sample every type of meat offered.
The bacon was indeed thick – and therefore, it was not overdone as is often the case in buffets.
It was not too salty either, a little crispy. Well done.
I've never been a big fan of corned beef – too salty.  And this corned hash was no exception, despite cutting the meat with some bread crumbs, it was still a very salty affair.  Just not what I like.
The breakfast sausages were awesome.  Thick, juicy, spicy, they were the highlight of the meat selection.  They were fairly dense too, but they were definitely not dry.
The chicken maple sausage came in the form of a sausage patty.  Unfortunate, as the taste wasn't bad, but the texture would have been better had the meat been properly encased.  It was also a bit dry.
The potatoes were good – not deep fried, which is good – the red peppers gave them a nice touch, but I would have added more onions.  They could have been a touch crisper too, but still, they were a good side-dish.
As for the scrambled eggs, they were quite creamy and uniform – they must use liquid eggs.  So of course they are cage free eggs, it is really hard to keep liquids in a cage.  The ratio of spinach and tomatoes was just right, and with a bit of black pepper, it was a very honest performance
The restaurant's entrance is at the bottom of some stairs opening directly into the lobby, which can get pretty noisy, but it wasn't too bad, and I got to enjoy my breakfast with the USA Today as a companion.