Browsing articles tagged with " Pork"
Capital catering has a cafeteria right outside the main convention room.
The concession stand is open to all, so I decided to have an early lunch.
The daily special today was actually not bad. Carrot and herb soup to start, which was tasty but piping hot – I went for the main first to let it cool down.
The main was a sauteed pork in coconut milk with mild curry – and by mild, they meant it didn't taste like curry. Bulgur with dried fruits & diced veggetables on the side, which was correct. The maple glazed carrots & peas didn't taste very maply, but the peas had a good pop and the carrots weren't too mushy.
The doors open at 1:30 – I'm ready to roll!
I won some tickets for Richard Desjardins' Eleanor of Aquitaine after a visit at the Salon du Livre de l'Outaouais.  Yes, The Waffle is a lucky man, but mostly because his mostly anglo wife agreed to go on a date with him – as long as we had dinner before the event.
A gentleman, I even let her choose the restaurant, and she decided to go to a convenient spot – Milestones on Rideau.  Alas, she was out of luck – there was a 20 to 30 minutes wait when we arrived.  No, thank you.
I proposed to stick around anyway.  No, not the Métropolitain again.  Just across the street is Santé, a restaurant, art gallery and spa.  Woohoo – I could use a pedicure, for sure. Located on the second floor at the corner of Rideau and Sussex, you can get lucky and enjoy a  "fabulous view of Ottawa's famous Rideau and Sussex streetscapes."  We did get lucky and got a table right at the southwest corner of the restaurant, which meant a view of the Canal and the War Memorial for her; a view of the magnificient piece of Orthodox Cold War architecture, the Rideau Centre, for me.  Fantastic.
We had barely sat down and started peering at the fusion menu when the server brought us a cup of reinforced tea.
Although I do not usually drink warm beverages (notice the heat coming out of the cup!  Why would I want to burn myself?), it was a nice touch nevertheless.
I had a few sips and the beverage warmed us up, the mixture of spices was tasty yet subtle.
However, I soon went ahead and ordered a beer – no Canadian brews at Santé however, only import, and not the usual selection. In fact, when I inquired, the Maître D informed us that they never carry Canadian beers, counting on their different but select rotating selection to please their consumers.  He however pointed out that a delegation from Mongolia  was quite disappointed a day earlier when they realized that they had to go for an import.  They settled on a  Peroni Nastro Azzuro, an import from Italy and an interesting one, since usually the only Italian beer you can get is the Moretti.
I had no other choice but to follow their lead, and ordered one. The Nastro Azzurro is a typical euro lager, a clear yellow colour with some aromas of malt and yeast. A tad malty, light yeast, light hops; it has a crisp and dry finish. Enjoyable.
Melissa decide to order à la carte, but I chose to go ahead and Warm up with Spanish Wines and the table d'hôte offered for the occasion.  And by warming up, I mean a glass of spanish wine was included with the meal.
As we waited for our food, a basket of olive bread was offered, along with the classic olive oil and balsamic vinegar to dip it in. Again, a nice touch.
The bread was fresh and light, the olives were mild kalamata, not overpowering.
Interesting and different.
We were looking for something fun to do before Parliament came back – and what's better than pigging out, I thought. Thankfully, I had heard that Montana's All you can eat ribs promotion was back.  And so 4 of us decided to kick-off March with…
THE WAFFLE'S FIRST MONTANA'S ALL YOU CAN RIBS CHALLENGE!!!
Thankfully, after calling to reserve a few days before, I was informed that the promotion was extended to March 14th, which was great news – we didn't want to miss out, but we didn't want to rush into it either.
First, the rules needed to be clear – and I received the rules from Cara's Guest services department.  Then I had to clarify our own rules:
Everyone had to try every type of ribs – Pork Back, Pork Side, Beef.
Everyone had to try every type of sauce – Texas Bold, Apple Butter, Honey Garlic.
Everyone had to fill out the scorecard
Everyone had to drink beer.
So we proceeded to Montana's in South Keys, armed with our scorecards to evaluate their ribs with the following criteria:  Taste, Texture, Aroma, Temperature, Quality.
We ordered a pitcher of Rickard's Red, got the scorecards out (much to the staff's amusement) and we got down to business.  After the jump, the results of our deliberation:
Most afternoons, after a day of frolicking on the beach, or golfing, or simply sightseeing, we would enjoy drinks back at our home base, the Club Cabo Inn.
We would accompany said drinks with a light snack, most often tortilla chips with some fresh guacamole I would make.
But this one afternoon, Melissa brought back a surprise – a bag of chicharron, a typical mexican snack. What is chicharron?  Basically, it is pork rinds, covered in a batter and deep fried.
In the bag was included two little packets of hot sauce, so I tossed the pieces in a bowl with the hot sauce.
Frankly, if you have only a couple, you'd think you are having corn chips.  You don't get a strong meat flavour in these.   The texture is quite similar. It is a bit more salty, the hot sauce is a nice touch – I'm used to pork rinds with maple syrup after all. Although some pieces absorbed too much sauce, making them a little soggy.
It was interesting, but I can't say I was jumping up and down. Perhaps other brands would be better – I am not saying no to trying others. "El Calisureño" did fine, this one time.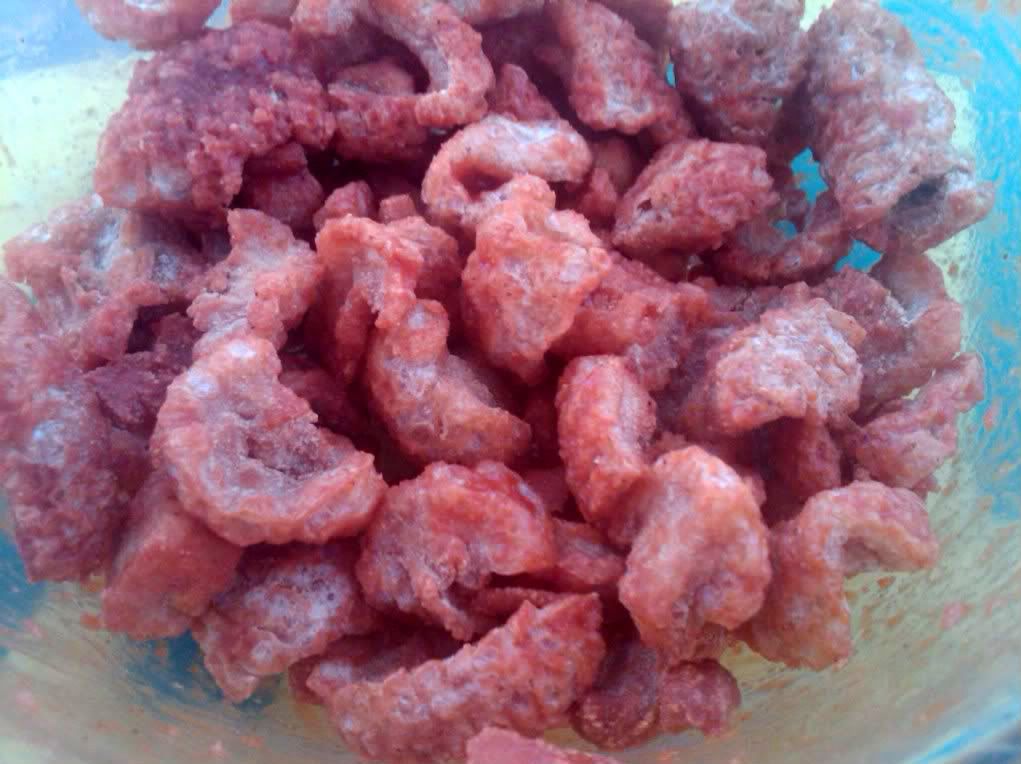 I was in Conakry for 8 days at the beginning of July, at the invitation of NDI for a Retraite Politique, ahead of the scheduled Fall election.
I figured I couldn't blog much while in Guinea, and wouldn't be able to write about everything. So I decided I would do a photo-blog.
Every picture below is clickable and you can have a closer look at the food. Generally, the Guinean food is either from the sea or spicy. Lots of stews. Generally, they have a plate of hot crushed peppers available to increase the heat. Perfect. You can also find skewers and all sorts of food stands while wandering the streets of Conakry, as everybody tries to sell some food for a bit of money. But I decided to stick with restaurants, except for the food cooked in the little shack attached to Café Obama. If you plan a trip to Conakry, you may want to look at this dining guide.
Obviously, French cuisine is very present in Guinea as well as Lebanese. A couple of Chinese and Korean restaurants are there too to serve the workers who came to work in the mining or fishing industries.
Butterfly Fried Half-Chicken, fries and fried plantain, tomato and onion salad.Coté Mer
Thiebou Dienn, a fish stew served with local brown rice and boiled vegetables. 23 000 GNF. Africana
A traditional Guinean musician entertaiting the patrons at the Africana Restaurant.
Hors d'oeuvres served to the participants of the Retraite Politique at the Novotel Ghi in Conakry during the registration.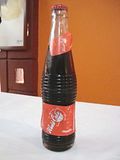 World Cola. Made in Conakry by Sobragui. Very, very sweet and low carbonation.
More hors d'oeuvres. Note the rounded-off chicken wings.
Flag Spéciale. Bière de luxe. Very popular everywhere in West Africa. Owned by Castel. A pale lager, refreshing with a hint of bitterness.
Skol. Brewed under license by Sobragui, it originates from Bermuda. Not bad – but only if cold.
Sorro.
Seafood Pizza. Late-night snack. A bit salty. 96 000 GNF.
Sorro.
Typical Guinean Fish Stew. Quite spicy. You serve on the rice.
Côté Mer.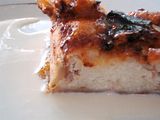 Vanilla and Brown sugar cake.
Côté Mer.
A Guiluxe by the sea. The national beer brewed by Sobragui. Smooth. 4 times cheaper than at Sorro. Only 7 000 GNF.
Café Obama.
Garlic Shrimp.
Restaurant Chinois.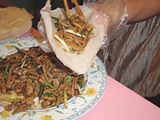 Chicken and green onion, sautéed, and served in thin crèpes.
Restaurant Chinois.
Snow Peas and Garlic. Lots of Garlic.
Restaurant Chinois.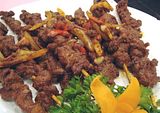 Very spicy Beef Skewers.
Restaurant Chinois.
Typical Guinean Beef Stew. You serve on rice.
Côté Mer.
Sponge Raisin Cake with papaya sauce.
Côté Mer.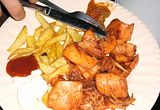 Grilled Calamari and fries. Nice big pieces, no chewiness.
Café Obama.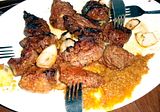 Beef skewers with hot sauce. Good meat.
Le Gentillhommière.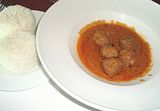 African spicy meatballs. Eaten with rice.
Côté Mer.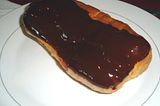 Chocolate pastry stuffed with cocoa cream.
Côté Mer.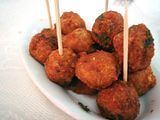 Fish Balls. Free hors d'oeuvre before the meal.
Le Rocher.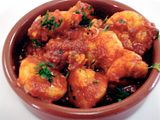 Shrimp Piri Piri. Quite spicy and rich tomato sauce.
Le Rocher.
Avocado vinaigrette. A pool of dressing.
Le Rocher.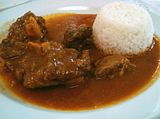 Braised Lamb African-style, with rice. Tasty, but bad cut.
Le Rocher.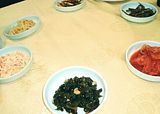 Korean appetizers, including KimChi, Sesame spinach, Green Onions with chili, etc…
Korean Restaurant.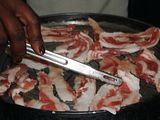 Slices of pork, coked on a hot plate.
Korean Restaurant.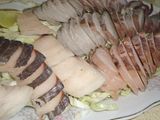 Sashimi. Raw fish in Guinea. Hmmm…
Korean Restaurant.
Sweet and Sour Spicy Chicken.
Korean Restaurant.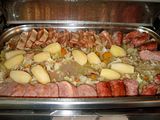 Pork meat assortment (sausages, salted pork, etc..) with boiled potatoes.
Côté Jardin Restaurant.
Kibbe. Stuffed with ground beef.
Le Cèdre.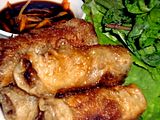 Lebanese deep fried rolls. Stuff with lamb. Very greasy.
Le Cèdre.
Merguez. Very small, very dry, very mild.
Le Cèdre.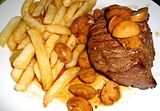 Châteaubriand. Flambée. Sautéed mushrooms. Fries. At 37 000 GNF, a fantastic bargain. Very tender meat, great cut.
Le Cèdre.
Lamb roast with mousseline potatoes.
Le Damier.
Collateral damage of the outbreak of swine influenza has been Canada's pork industry -  they are worried about the short and long term impact especially since China has imposed a ban on Canadian pork.
Canada exports over $2.7 billion of pork, from bacon to smoked ham. Pleasently, studies have estimated that Canada's 13 million pigs produce enough waste to fill Toronto's SkyDome every 25 days.
That is probably why staffers and politicians on Parliament Hill just received this timely invite :
————————————————————————–
Canadian Pork Producers
Invite you to a
"Pork BBQ"
Wednesday, May 6, 2009 11:30 a.m. to 1:30 p.m.
East Block Courtyard,
For additional information
Phone: (613) 236-9239 ext 232 E-mail: info@cpc-ccp.com
Come show your support
————————————————————————–
.
—————————————–
UPDATE 2009-05-06 9:47:57
I guess they are worried about people not showing up because of the weather. I just received a reminder:
"We have a tent."
.
I don't like papaya very much.  In fact, I think that most times, the flesh of a fresh ripe papaya tastes like vomit.
So I couldn't believe it that when I went grocery shopping at
Provigo
the other day I couldn't resist buying a jumbo green papaya.  True, it was fairly cheap, 0.99$ a pound, but still.  Vomit.
Anyway, now that I had it, I wasn't sure what to do with it.  I've had papaya in asian-style salads, often spicy, and didn't mind it but, you know…
I figured there must be a way to cook it in order to make it taste better.  And since it kinda looked like a squash, I figured that I should be able to cook it the same way.  To make sure, I looked for recipe on the internet and was confirmed in my thoughts.  While I wasn't satisfied with what I found, it was certainly enough to inspire me.  
Here
is the original recipe.
I didn't quite like the idea of ground beef and papaya. I thought the beef would be to strong of a taste for the papaya.  And I also thought it needed more exoticism. So here is what I did:

Pork Stuffed Baked Papayas Ingredients



2 jumbo green papayas


1 onion, chopped
2 tsp of garlic, finely chopped
1 lb of ground pork
 
1 Jalapeno, chopped
1 can of diced tomatoes, drained except for 1/4 cup of juice
1/2 tsp of pickapeppa sauce
1/2 tsp of tabasco sauce
1 tamarillo, diced
2 Tbs fresh lemon balm, chopped
salt
pepper
 

grated parmesan

 
Sweat onions and then add garlic in a 10-inch skillet over medium heat.  Add pork.  When almost cooked, add the jalapeno pepper, the sauces, salt and pepper to taste.  Then stir in the diced tomatoes and the tomato juice.  Finally, add the tamarillo and the lemon balm.
Slightly increase the heat, let it simmer uncovered, until most of the liquid is evaporated, about 10-15 minutes.
Pre-heat the over to 350 degrees.  Cut papayas lengthwise into halves and remove seeds.  Reserve two table spoon of the seeds and add to the stuffing preparation.  Fill up the papaya halves with the prepartion. Arrange in a shallow baking dish.  Pour hot water into dish to within 1 inch of tops of papaya halves. Bake, uncovered, at 350 degrees until papayas are very tender and hot, about 30 minutes.  Reduce heat, add parmesan cheese on top to taste, let it brown slightly.
Et voila!
I used Pickapappa sauce, which is made in Jamaica by the Pickapeppa Co. Ltd. It can be used for any jerk-style preparation, to add a very authentic twist to your caribbean meals.  I added it here because I thought it would go well with the papaya and the tamarillo.
Talking of tamarillo, it is an exotic fruit from the Andes.  It is also known as Tree Tomato for some odd reason.  It is a bit expensive, but it has a very unique flavor and I figured it would give an extra exotic twist to the dish.
When I thought about making, this dish, I first had coriander in mind.  Papaya and coriander seems to mix well. Alas, no fresh coriander at IGA when I went to get the meat today, but they did have lemon balm.  I decided to give it a try, thinking that the lemon freshness of the herb would mary well with the pepperness of the papaya.
Melissa thought it was really good and ate everything on her plate… yummy was her comment! (for the record, she did not eat everything, i.e. the skin of the papaya, but that goes without saying).
Personally, I am quite satisfied with this recipe, it could have been spicier, by adding either more jalapeno pepper or even more papaya seeds.  Or perhaps, more hot sauce. Nevertheless, it was pretty darn good!  The pork is a mild enough meat that is doesn't overpower the subtle but delicious mix of tamarillo, tomatoes and lemon balm.  But, be careful with the garlic as it is meant to add depth to the dish not to predominate. I can think of different variations, for instance, ground pork or ham and pineapple comes to mind, or ground turkey with mango.  Let me know if you experiment.
Melissa and I enjoyed this pork stuffed baked papaya with a bottle of Henri-Charles DeNoiret – an inexpensive but enjoyable table wine.  It is a dry red wine, fairly round with a good balance.
Ya ya ya.I know
this
 happened three weeks ago, but I still had to add a few thoughts about this year's ribfest.I moved to Ottawa 11 years ago, and every year at the end of June, I am looking forward not only to the end of the parliamantary session, but more importantly to the International Chicken and Rib cook-off, held on Sparks Street.
Folks often don't realize that east of Bank St., there are more bbq shacks. And usually not as busy. Carmello's patio is big, and they invited you kindly to enjoy your ribs as long as your purchase a beverage.  It is the case for most patio on Sparks Street, kudos to Carmello's and Brixton's especially, but for some reason the people at the Centretown Tavern (the trendy-ish waterhole attached to the not-so trendy Yesterday's) are stubbornly refusing to join the fiesta and are turning ribfesters away.  We were six enjoying a beer there, and we left when we realized we couldn't eat the tasty bbq treats there. Not very smart, and not good for business.  Shame.On a funny note, Jazz'oo Cafe's daily special on the Friday was ribs.  Interesting timing.
———–
Kilgore: Smell that? You smell that?
Lance: What?
Kilgore: BBQ, son. Nothing in the world smells like that.
[kneels]
Kilgore: I love the smell of BBQ in the morning. You know, one time we had a pig roasting, for 12 hours. When it was all over, I walked up. We didn't find one of 'em, not one stinkin' bone.
The smell, you know that sweet smell, the whole pig. Smelled like… victory.

———–
This year, I had the opportunity to try – in chronological order :
Uncle Sam's, Silver Bullet, Camp 31, Gator BBQ, Crabby's.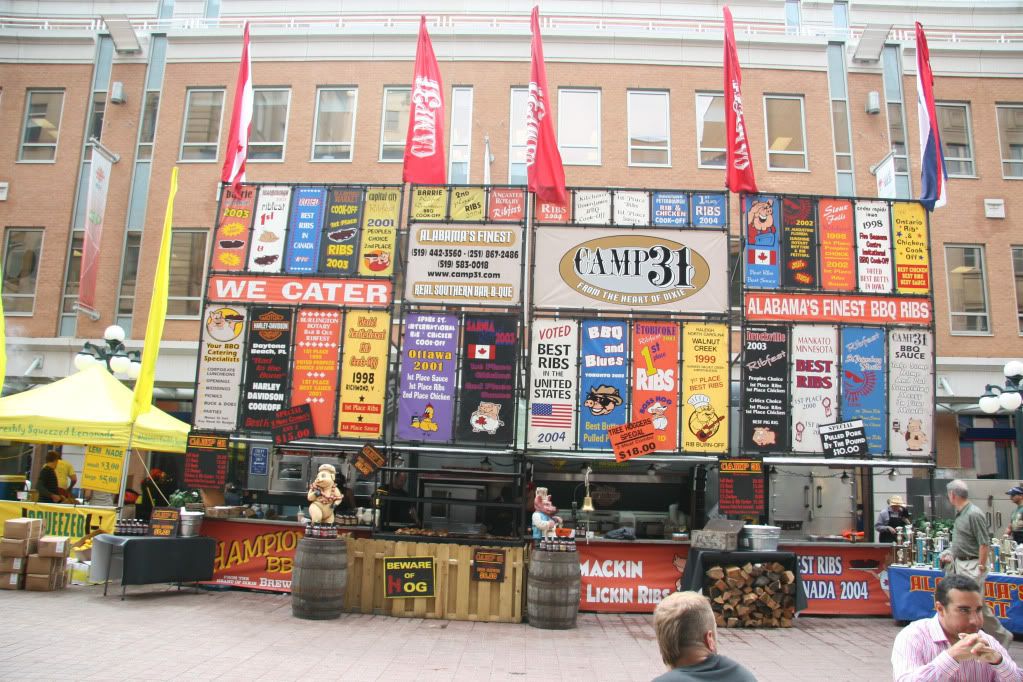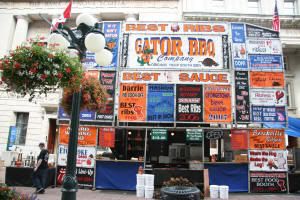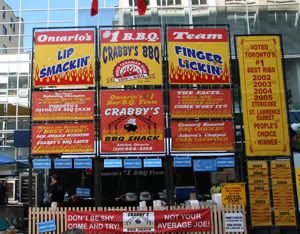 Now, I wouldn't want to upstage the stellar judges (btw, you must see the performance of Sandy Sharkey of BOB-FM), but here are my choices:
BEST RIBS:
Gator BBQ had baby back ribs, which were cooked to perfection, even though we went on Saturday morning as most of them bbq folks are still waking up.  A little citrus tangy taste to the sauce, I enjoyed them at Carmello's with a pint of lager. Great combination.
BEST CHICKEN:
I've got to go with Gator BBQ again.  The crew from Florida's chicken was tender, juicy, tasty, with none of the dryness that sometimes plague the birds at the BBQ shacks.
BEST SAUCE:
Silver Bullet, no questions asked.  Spicy, very nice heat, not too thick, it was certainly one of the highlight of this year's cook-off.  It was particulary great with the pulled pork, as the meat absorbed the flavor very well.  Not bad on the ribs as well.
BEST PULLED PORK:
Silver Bullet, I think mostly because of the sauce, but also the tenderness of the meat.  Unlike Camp 31′s pork, which was really oily and had no distinct flavor to it, the Bullet's hit the target with their slow cooked piggy meat.  No dryness to it at all, and very well pulled in small chunks as opposed to sloppy big dry pieces we could find at other locations.
BEST DEAL:
The familly deal at  Crabby's.   For 40$, you got half a chicken, full rack of ribs, a pound of pulled pork, two servings each of cole slaw and beans, and a bottle of sauce.  Sweeeeet.
.