Browsing articles tagged with " Onion Rings"
I had a lunch date with an esteemed member of the National Press Gallery, with whom I was to discuss the year that is coming to an end. Luxe Bistro had been selected for the occasion.
We were seated in the middle of the restaurant. The decor is all in subtleties: brass, dark wood, brown leather, subdued lighting and framed mirrors. The white clothes are rounding it up to a classic, upscale feel, yet still comfortable without being casual.
Located in the Byward Market, Luxe styles itself as a blend of Steakhouse and French Style Bistro. In my opinion, it is neither, especially not at lunch. Luxe does offer 6 different cuts of beef on its dinner menu, with an interesting selection of sauces and side dishes. But at lunch time, the selection is reduced to two very specific cuts:
The 8oz Beef Tenderloin or the Steak Frites – a 6 oz Striploin.
Executive Chef Alex Sang-Ho Kwon arrived at Luxe in October and hasn't yet put his personal stamp on the menu. In fact, he is the 6th chef in 6 year at Luxe Bistro, after Derek Benitz (Now at Lake City Casino in Kelowna), René Rodriguez (Navarra), Duane Keats (Shore Club), Kyle Christofferson (Brookstreet) and Steve Wall (Supply and Demand Foods & Raw Bar). The rumour has it that the Firestones, owner of the Firestone restaurant group which includes the Blue Cactus and the Stella Osteria, rely on an established formula and do not let their chefs get out of the pre-established frame much.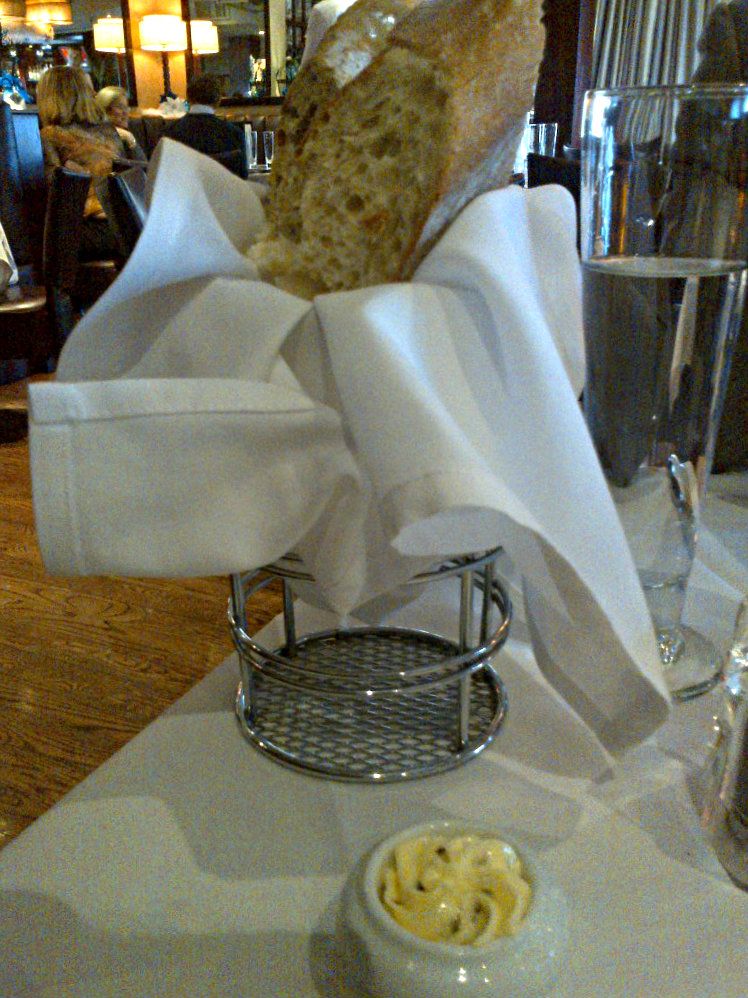 Nevermind.
We each ordered a 16 oz. glass of Okanagan Spring Pale Ale, the standard format at Luxe. My partner even got to taste a sampler before ordering his own glass – not trusting my selection yet tempted by it, the waitress offered it to him to help him make his choice. We looked at the menu, perusing the options.
A classy basket of  whole grain bread was brought to our table. Fresh, soft, with a crusty crust. Great bread, with a nice herb butter served alongside.
It didn't take long for us to decide what we wanted, and we both wanted the same thing: le Steak-Frites.
As I said, at lunch Luxe offers the 6 oz Striploin as its Steak-Frites. We both ordered it medium-rare. Our meals arrived after a few minutes wait.
Le Steak-Frites at Luxe is served with lemon & roasted garlic butter, and topped with house made onion rings.  On the side, the frites-allumettes Luxe is so proud of, served with caramelized onion mayonnaise.
The fries were very good, a nice crunch with a fluffy interior, a hint of salt.  The bowl was generous, and the mayonnaise served on the side was as well, on top of being rich and onctuous.  As for the caramelized onion, you'll find the flavour at the finish – don't expect a whole lot of punch, which was fine by me.
The steak was served pre-sliced, which I did not expect in a steak-frites. The Striploin was a thick if short cut, and the meat of a good quality. Thankfully, they did let it rest properly and there was minimal juices underneath the steak.  Still, I would have preferred it not to be sliced.
Part of the reason is the compound butter's dispersion was not optimal – it melts between the center slices without reaching the edges. Flavourwise, lemon and roasted garlic was a good combination, the garlic holding its own against the lemon.
The onion rings were disappointing.  Luxe used to serve thick, battered, hearty onion rings, but they have now opted for plain onion rings sliced paper thin.  The result is that you quickly get a mush of onion-flavoured batter instead of biting into a juicy thick onion piece.  The flavour wasn't bad, but on top of the steak like that, it only soaked up the juices from the meat and the melting butter.
Overall, for $20, le Steak-Frites de Luxe was a good choice. We both enjoyed our meat and, also importantly, the service, which was efficient and courteous.
We left Indian Lake in the morning, hitting Highway 28. Our New York State adventures were coming to an end, and we had to make the 3 and a half hour trek back to Canada.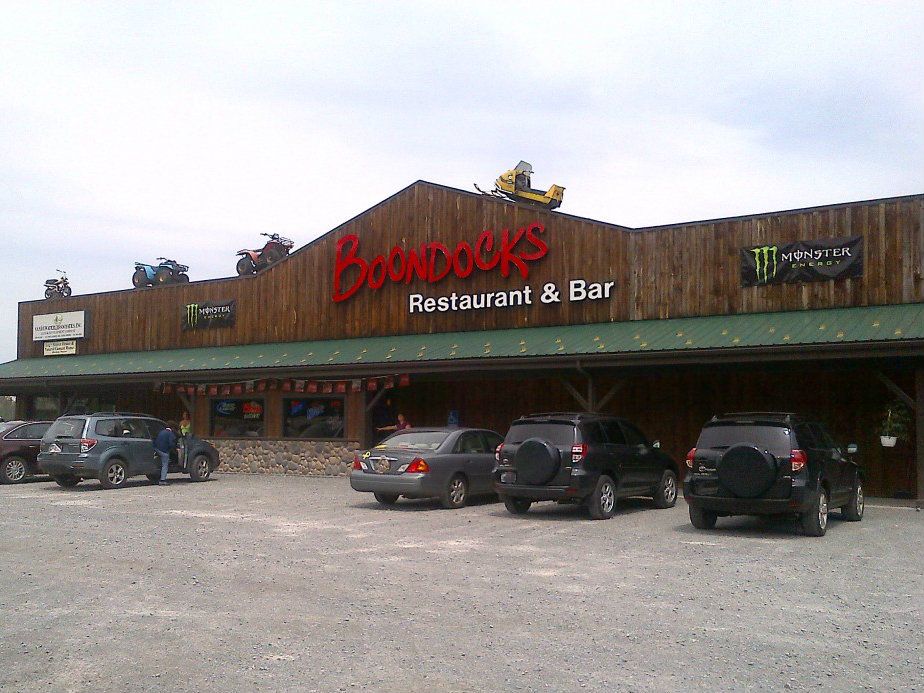 Along the way, we would stop by and admire the numerous mountains and lakes. Lake Durant. Blue Mountain Lake. Eagle Lake. Utowana Lake. Raquette Lake. Eight Lake. Seventh Lake. Sixth, Fifth, Fourth, Third, Second and First Lake. I guess they ran out of names.
About halfway to the border, we started to get hungry. Starving, in fact. But we had reached Highway 12, and options were scarce. Nothing for miles.  Until we saw a size-able establishment with a huge parking lot, with ski-doos and ATVs on the rooftop.
Welcome to Boondocks Restaurant and Bar, Lyons Falls, New York.
Walking in the place is its own adventure. They've got the rustic feel, with lots of wood everywhere. And by wood, I am not only talking about the furniture. I'm talking about the walls, that are either in wood or trying to make you feel like you are in one.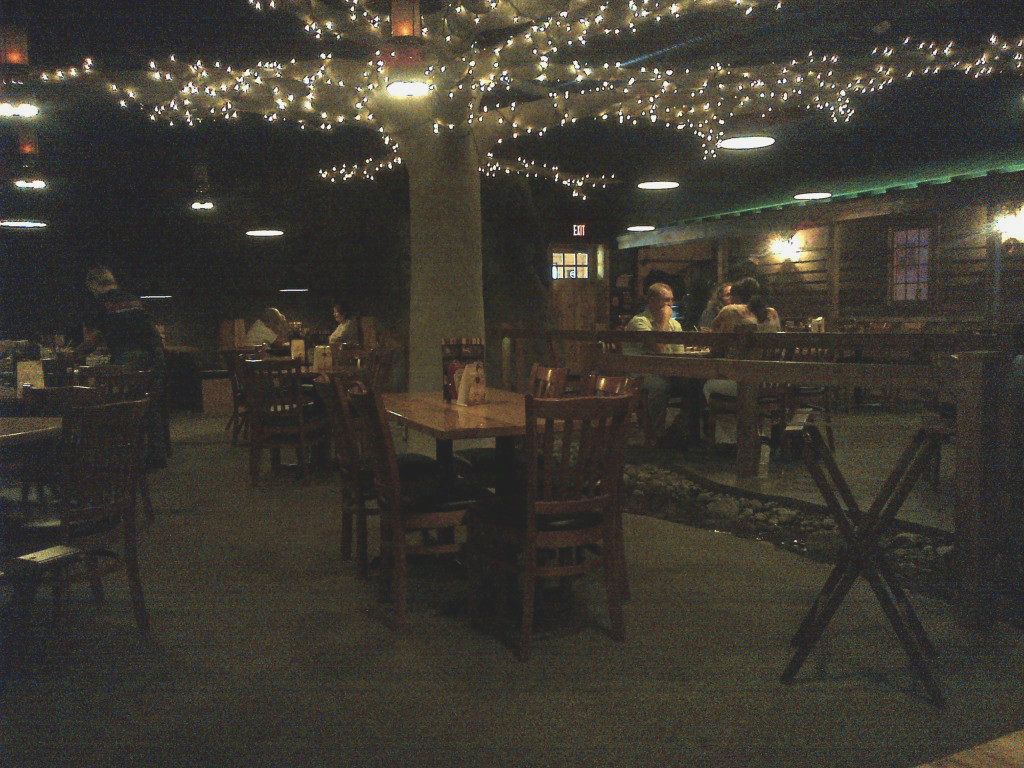 There was a gigantic tree, fitted with lights in the middle of the room. There was a waterfall coming out of rocks, with a creek crossing the room – little country bridges were allowing you to cross over.  Its a cozy Adirondack atmosphere that makes you feel as though you are dining under an open sky, all year long.
We ordered drinks to start, as we looked at the menu. I went with a Saranac Blueberry Blonde Ale from the Matt Brewing Company. I poured it in a frosty pint glass. It had a nice golden color and a significant white foamy head.  The blueberry aroma was strong, the flavour was interestingly fruity, like they added a shot of blueberry juice in it as opposed to a chemical concoction. A really good fruit beer, but it needs to be very cold.  Mel went with another Saranac product, their hand-crafted Root Beer. It is made in small batches and has a fresh root beer taste, with plenty of bitterness but also notes of vanilla and some licorice. Again, better served ice-cold.
The menu was filled with intriguing items. In the appetizer section, you could find deep fried stuff, like Mozzarella Triangles, but also things like Steamers (Steamed Clams) or Load of  Logs (home-made pretzels).  There was a Soups and Salads section, a Pasta section, Chicken, Ribs and Steak, Seafood.  Mel decided to pick one of their sandwiches while I explored the Burger Valley.
Bondoocks' burger valley is not very deep (only 8 different types) but it is wide (any burger is offered in a beef, veggie, or turkey version – and most of them can be made Gluten Free). I looked at the Boondocks Bleu Burger (bleu cheese, bacon, lettuce, tomato and red onion) and the Over the Edge Burger (Golden BBQ sauce, fresh chipotle coleslaw and fried onion tanglers) but finally settled and ordered the Rodeo Burger. In her part of the menu Mel ignored the Tangled Philly (shaved steak smothered with Bourbon BBQ sauce and topped with onions, peppers, mushrooms,fried onion tanglers and Swiss cheese on a toasted Hoagie roll) and the Parmesan Chicken Sandwich and ordered the Ranch BLT Sandwich – with a side of Onion Rings (at an extra cost).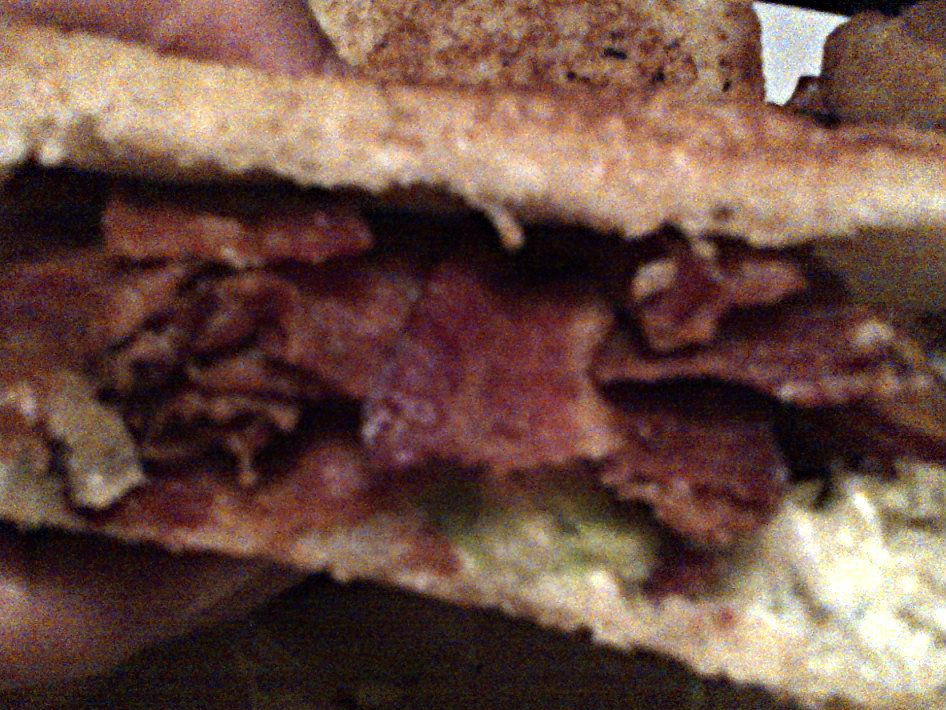 If the onion rings were palatable, the Ranch BLT Sandwich ($7.45) was not named properly. If the "l" and the "t" seemed normal, the "B" was capital. There was a truckload of bacon in that sandwich, topped with lettuce and tomato on grilled Italian bread, nicely toasted, no sogginess. But basically, this was a Bacon Sandwich. The veggies were just a small garnish barely surviving under the thickness of hog goodness – though Mel removed some of it from the sandwich, overwhelmed.  The ranch flavour came in the form of a ranch cream cheese spread, not helping the calorie count.
 Talking of calorie count, this is what my Rodeo looked like: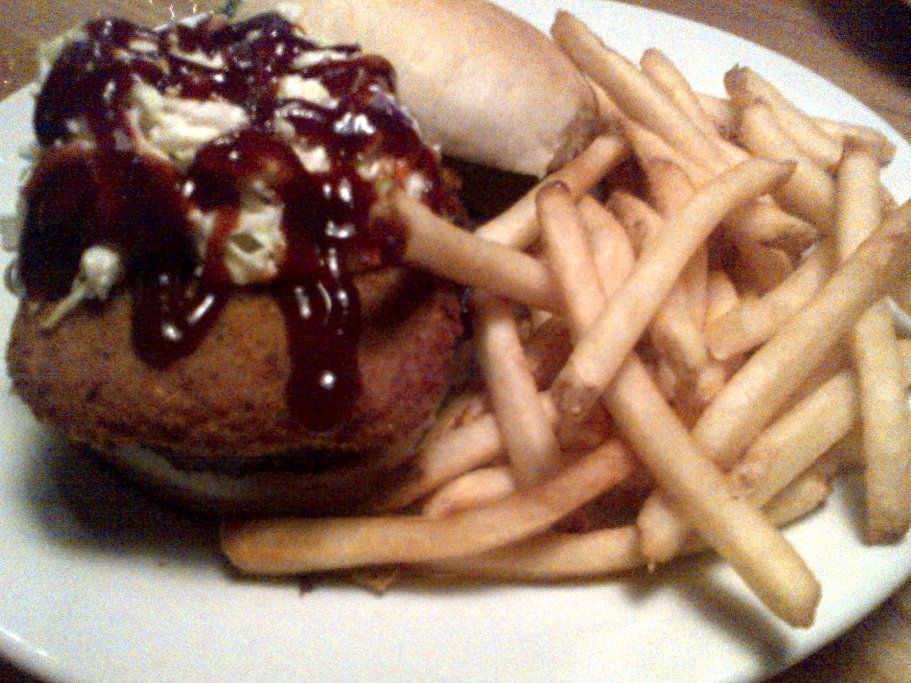 A half-pound beef burger. A huge block of  deep fried Muenster cheese. Coleslaw, piled high. Smothered with a Chipotle BBQ Sauce.
Heeee-Haaaaw!
Now, this was a decadent burger. I've had my share of cheeseburgers in my life, with multiple cheese combinations, double and triple deckers, even cheese-stuffed patties.  But this?  Unexpected. 
Muenster is an American cheese not to be confused with the French Munster.  It is a mild, smooth, soft cheese, usually with an orange tinted-rind and a white interior.
I was expecting a small slice of fried cheese, instead I got a brick of deep fried cheese, with a thick batter – no doubt to prevent the cheese from oozing into the deep fryer. On the upside, it was gooing everywhere – once you got past the crispy crust!
The beef patty was thick, juicy, cooked to medium rare. The coleslaw had a little tang to it and added a nice crunchy and creamy texture to the burger. The Chipootle BBQ sauce was spicy, but there was no chance to overheat with the amount of dairy included in the burger.  Considering the weight it was under, the bun surprisingly held together quite well.
After a while however, the burger started to feel heavy as the cheese brick was falling into my stomach.  I did finish it, but I was kind of glad that the french fries were ordinary – I might have been in trouble if I had finished my plate!
All in all, this was a neat place to stop by randomly. The food was on the outrageous side of the spectrum, but it's not like we had a long road trip ahead of us…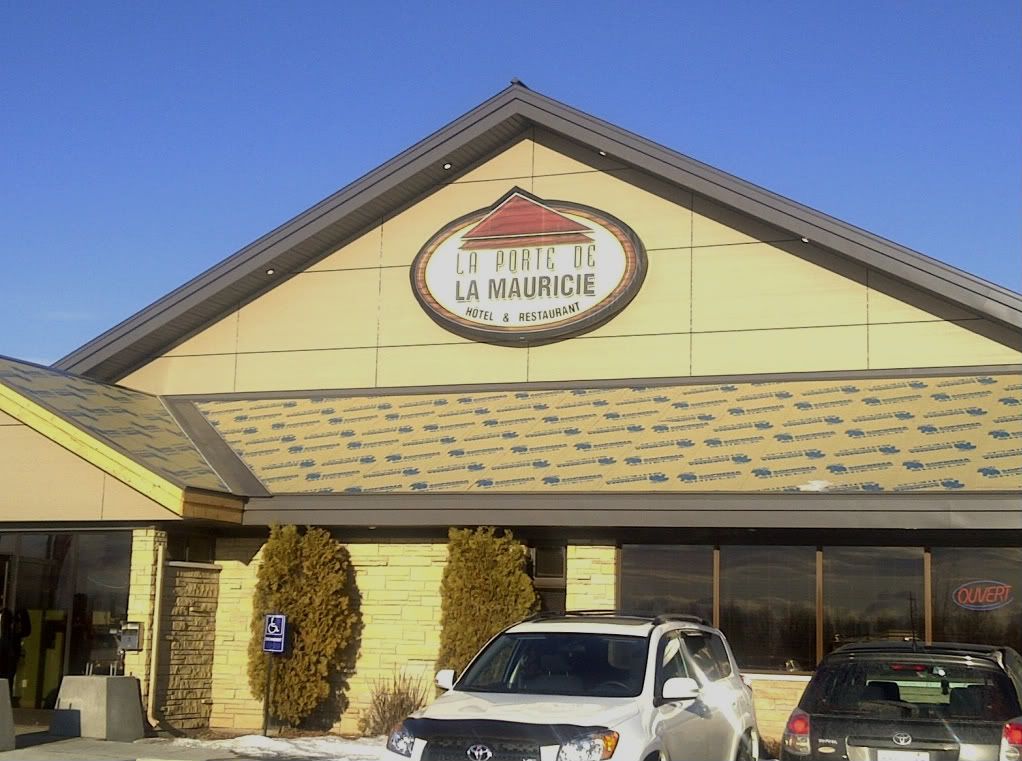 We were driving back from Quebec City and were letting the little one sleep in the back for as long as we could. Such is what you do when you are driving a lot during the holidays.
When she woke up would determine, once again, where we would eat, depending on where we were. Just how far could we go? We were on the 40 and closing in on Trois-Rivières.  Perhaps we could reach the outskirts of Montreal?
Not quite.  She woke up as we were exiting Trois-Rivières, limiting our options.  I suggested waiting until Berthierville, but was told that she wouldn't hold out that long.  We were closing on Yamachiche. The choice became obvious: la Porte de la Mauricie.
This old truck stop, which opened 30 years ago, was recently expanded and renovated. The complex now includes, on top of the original restaurant and the gas bar, a convenience store, a Thaï Express, an A&W and a 20 unit motel.  And there is more renovations planned, 1.5 million dollars having been announced to refresh the outside and to increase the restaurant's seating capacity to 425.
The restaurant is spacious.  They have hosted receptions and meetings of all kinds, including over 500 weddings!  And since they are beside the 40, it is quite convenient. Ain't it?  On the food side, they feature a Saturday and Sunday night buffet, a Sunday Brunch and their Wave of Seafood on Fridays.   They also serve the best prime rib in the world.  Or so they claim. I, somehow, have doubts. But it is a popular spot for the locals as well.
The menu is diversified, as is often the case for these kinds of establishments.  I felt like a Club Sandwich, which is usually a good side-of-the-highway bet.  I had the possibility of ordering a simple Sandwich Club, or going for the Super Club Sandwich ($11.99).  "What's the difference?"  I asked our server, and she responded that it was the same, but with fries AND onion rings.  Super!  I went for it. 
- "Ketchup, mayonnaise?"
- "Of course."
- "Would you like honey for your onion rings?"
- "Absolutely."
Honey to dip your rings in is a classic in Quebec, the combination of the sweetness of the honey with the salty rings is part of  the natural order of things. The service was courteous and efficient, so the food arrived promptly and so did the free Pepsi refills ($2.39) when one was needed.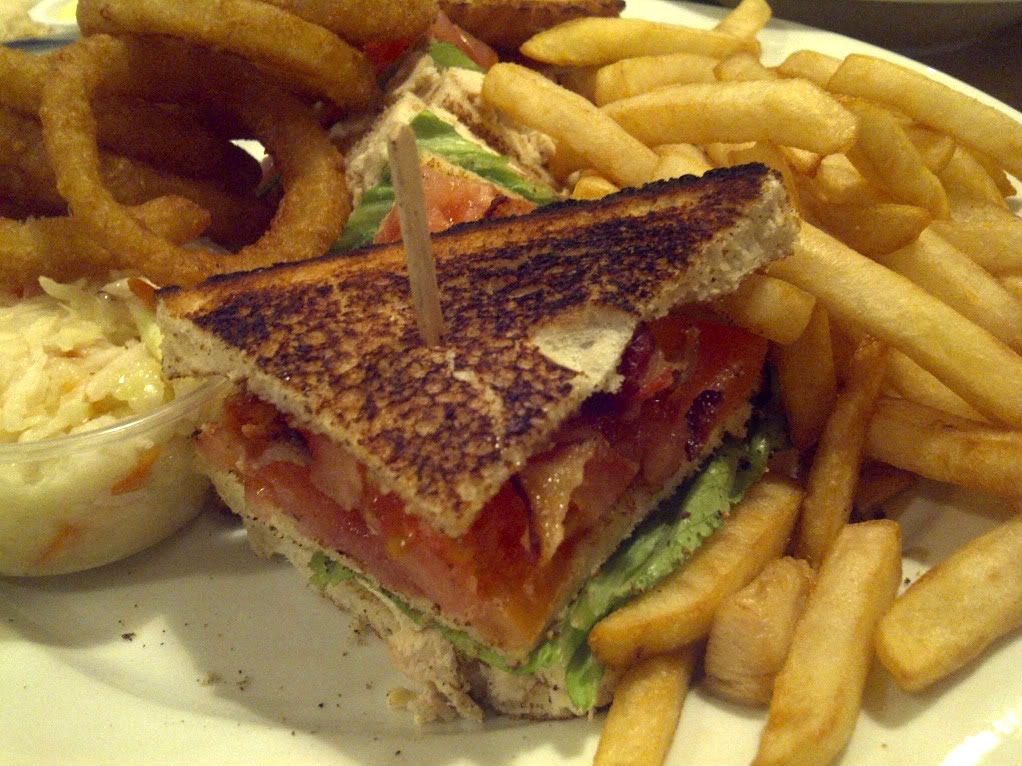 On our way back from Quebec City, we decided to stop in St-Hyacinthe for lunch. The huge Burger King sign by  Highway 20 was strangely appealing to us, and we figured since this was a road trip (well, a trip on the road), we might as well stop at the King. After all, he is the King of Burgers.
Upon arrival, we were greeted by a big sign promoting the goodness of BK's current novelty burger, The Ringmaster Whopper (along with the Angry Whopper).  The Ringmaster was re-introduced with an infamous ad campaign in Canada last August – I say re-introduced because it was available last year under its previous name, the Bourbon Whopper.
The Waffle had never tried this Whopper (the last BK Burger we reviewed in this corner was the BK Stuffed Steakhouse), so he was easily convinced by his wife to sample it.
The Ringmaster is a Whopper (with its regualr ¼ pounder patty on a sesame seed bun), topped with Onion Rings, Bacon, Processed Cheddar Cheese and finished with a Sweet & Tangy Bourbon-Flavoured Sauce.
As always, the delivered product didn't quite look like the marketing effort.  That said, the Ringmaster looked perfectly edible, and was satisfyingly sizeable.  The Rings were there, in all their golden glory…  Soon I would be the Lord of the Rings! 
First, let's deal with the skeleton:  Burger King claims that their Sesame Seed Buns are toasted.  I've got to admit, I never had the  sense that their buns were actually toasted, ever.  Not that it is a big deal, but they shouldn't claim the buns are toasted. The meat was the usual 1/4 pounder Whopper patty, a tad overcooked but with the classic grilled flavor.
Second, let's deal with the regular toppings: the lettuce (iceberg, not Boston like in the ad) was crispy but white-ish. The tomatoes weren't very fresh, and were quite small slices.  The bacon was kinda chewy, not crispy as touted. The processed cheese was melted as processed cheese should be when used, providing some gooeiness to the sandwich.  There was some mayo as well. 
Third, the former star of this burger: the Bourbon-flavoured sauce.   I've got to say that it is not a good sauce at all.  They describe it as Sweet & Tangy – not sweet, not tangy – bitter, in fact, no spices.  Not good at all. The Magpie called it vile and repulsive . Perhaps I won't go that far, but it is not good at all. Really not. And since they say it is Bourbon-flavoured and they insist on saying it is alcohol-free, let me assume that Bourbon was never anywhere near this sauce.  Except perhaps a shot after eating the burger, to digest better. No wonder BK decided to change the name – let's bury the Bourbon sauce!
Finally, the new star of the burger: the onion rings.  Now, the idea of adding onion rings as a burger topping is not new.  The concept is not bad – replace the regular raw onions with a few crunchy, deep fried rings of  the then-less pungent vegetable. Sadly, if BKs' Onion Rings are pallatable on their own, inside the burger, they become a totally flavorless mushy mush stack of industrial batter. It simply doesn't work, and it's a shame.
All in all, the Ringmaster is clearly not Master of its Domain.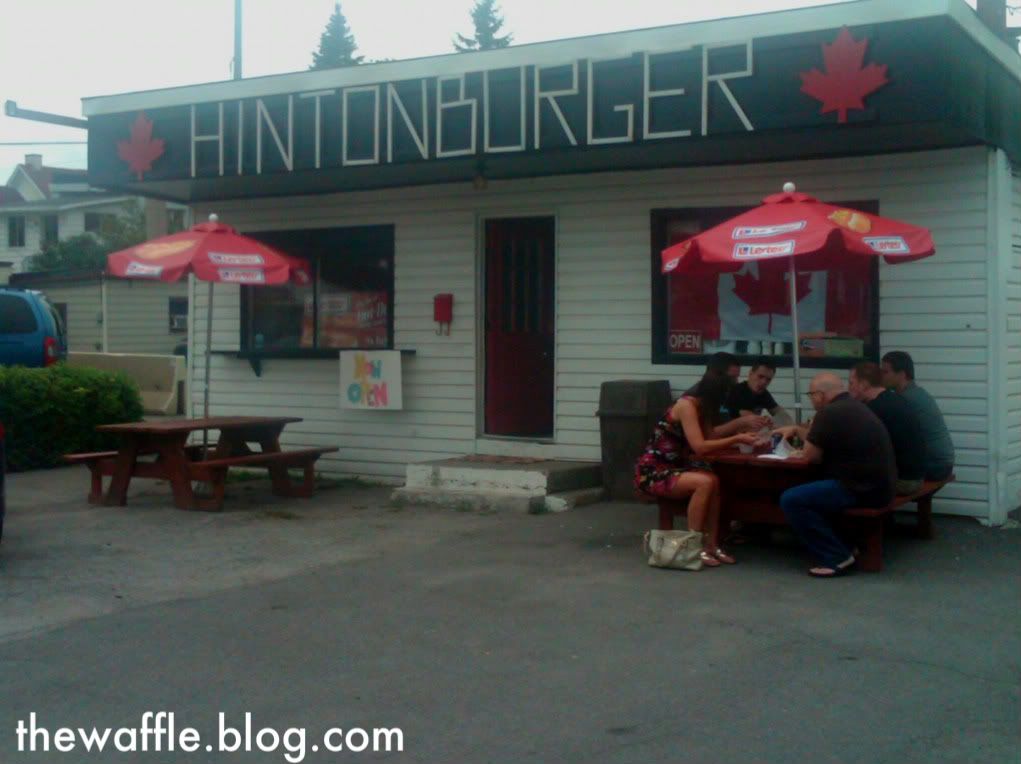 I'd heard of Hintonburger earlier this week via the Lord of the Wings who went outside his specialty with a NWR (non-wing review) to discover a new place which opened in late June on Wellington street in the area of Hintonburg. Apparently, the inhabitants are sometimes referred to as 'Hintonburgers' so the spot just took that name.
I shared that discovery with Scott, who got really excited and immediately took it upon himself to get The Waffle to experiment at the location, and he organized an excursion for Ira and I to join him there for lunch.
The place is a very small joint, with only a long counter-table, a table for four at the front and a diner-style booth in the back. Outside are a couple of picnic tables – it seems to me they have space for a few more, because the place quickly goes over-capacity.
When we got there a little after noon, Hintonburger was already fairly busy. A group was occupying one of the picnic tables outside and another group was inside. A guy was ahead of us with a take out order, and another group of 5 showed up after us – including a twenty something woman who tried to order a veggie burger – no such thing is available.  Yet.
There were three staff running the place, a young woman with two face piercing was taking orders and getting the drinks and the sides, another one dressing the burgers, and a tall sweaty guy was in the back, grilling, battering and frying. I can't imagine how hot it has been in there during the last few days, when the temperature reached 35 degrees before humidex! Oh, and there was this guy who showed up twice on a scooter with some supplies – a big pink box the first time, a bag filled with burger buns the second time. A storage issue or some early-planning kinks? We didn't ask, since Scooter guy never took his helmet off.  St-Albert also made a cheesy delivery while we were there.
The three of us lined up and studied the minimalist menu : 3 types of burgers, Lesters steamed hotdogs ($2.30), corndogs (dubbed the Fat Cat – $3.50), fries, poutine and onion rings. We had different tactics but the same idea – if they are proud enough to name it after the place, it's got to be the best – so we all ordered the Hintonburger ($6.50) over the Wellington ($5.50) and the Armstrong ($4.50).
6 oz of organic hormone-free, grain fed beef from O'Brien Farms (a fourth generation beef producer from Winchester), grilled with bbq sauce, topped with grilled bacon strips (thick cut from Tannis) and cheese from St-Albert. A nice touch: they also grill the buns.  They then add all the fixings you want – and we wanted them all – mayo, ketchup, mustard, lettuce, tomatoes, pickles, hot peppers and onions. Except for Ira who declined the onions. Shame.
………
Ira also declined to get a side (Re-Shame!) but Scott went for a large poutine and I went for a large side of onion rings. There was a bit of a wait to get our food – they cook everything to order and dress the burgers one at a time.  The grill – a small gas one – is a little small, so it's tough for them to get more than 6 going at a time. And since they cook them to order, be patient if the place is busy.
But believe us, that burger will be worth the wait.  Once the fixings are in, the meat sandwich is wrapped in parchment paper and then stuffed in an aluminum pouch.  Even though you've seen it made before your own eyes, the good folks of Hintonburger know that there is nothing like unwrapping a present, even when you know what's in it. And when you unwrap it, it's Christmas in July:
Now, that's what we are talking about.  This thing is simply screaming at you "Eat me, eat me!"  The burger looks quite big. However, there is a little catch – the buns are simple, regular-sized POM burger buns. Maybe they could go for a bigger burger bun, but I suppose it is much simpler to go with a once size fits all burger bun approach. Yet, it looked great to our little group. "Meaty and messy, exactly what a burger should be!" Ira exclaimed.
Messy and meaty it was. I actually think at some point we all had mustard somewhere on our face. The beef patty is actually not extra big – if it was a plain burger, it would fit perfectly, which I guess is the point.  Strong meat flavour, light seasoning, the bbq sauce they slather the meat with is subtle but present, a tad sweet and tangy.  The meat is clearly of good quality, with enough fat content to keep the meat moist even though it was medium-well done.
The bacon was simply fantastic.  Thick, crunchy, smoky, no chewiness at all yet some tenderness to it, it gives a nice zing to the burger. The cheese is melted on top of the meat and the cook got the timing right. Perfect consistency, nicely melted yet remaining thick and slowly making its way between the slices of bacon, balancing the saltiness of the pork and bringing everything together.
Tomatoes, onions and lettuce were fresh, straight from the Parkdale Market, although the lettuce was a little wet and could have been dried a little better after being washed. But most of it was crispy nevertheless. The pickles and the hot peppers brought a touch of acidity and were of good quality.
The onion rings were very good – especially after a healthy addition from the salt shaker.  Not too big, they held nicely together, the batter fried perfectly on the onion, crispy, no steam stuck inside. Excellent.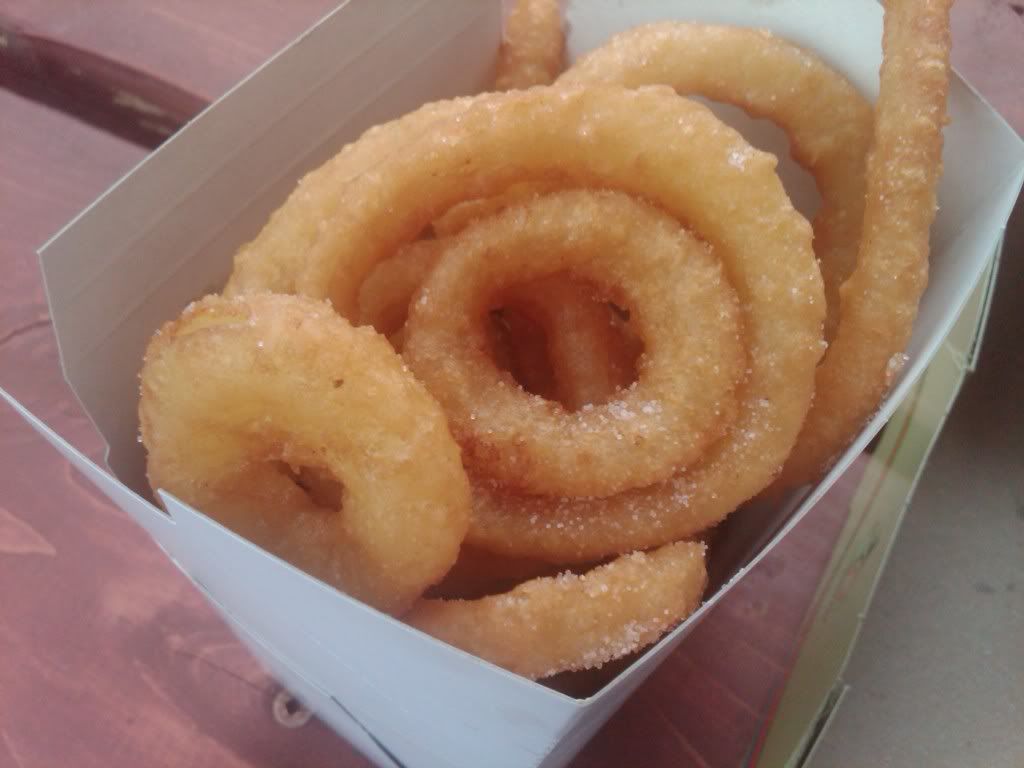 …….
The poutine was drowning in a very rich and thick gravy, which was a bit too salty according to Scott. I concur.  The fries were not super crunchy, but weren't a complete mush either – but there was a lot of gravy, so it is not surprising.  The cheese curds unfortunately, failed the "squeek-squeek" test.  But it was still good, and the gravy was certainly warm enough to slightly melt the curds.  Hintonburger's poutine is not why you'd go there, but if you have a craving, it is a correct rendering, if not spectacular.
Considering the location and the fact that it has just opened, this burger shack seems to be doing very well already. People are never afraid to go an extra mile for a great burger, so the Hintonburger will do well.  However, they have also stated on facebook their intentions to expand the menu. Hintonburger is contemplating adding a humus burger or a grilled mushroom burger to its menu in the near future. They are also looking at specialty sandwiches, wraps and salads, and possibly soft serve ice cream.
Is it sustainable? Or should they focus on doing what they are currently doing very well? The future will tell.  But for now, this burger is worth the detour.
On our way to Quebec City for the New Year, my wife had a craving for A&W. I didn't mind – I like their hamburgers and their onion rings are very good.
So we stopped at the Terrebone location (1 of 697 A&W in Canada) to grab lunch. The place was not really busy, which is always a good thing. Fast food can never come fast enough, can it?
Melissa went for a classic Teen burger. But I decided to go for their new product: Their Sirloin Baby Burger Twins, which is fairly cheap at $3.49.  My Twins were only 174 g vs the Teen's 239 g.  Carbs?  32  g for the Twins, 41 g for the Teen.  Protein? 24 for the Twins, 1 more for the Teen. Sodium? 900 mg for the Babies, 1220 mg for the Tweenie.  Calories?  500, a tie.  The healthier choice?  The Garden Greens Salad.  But who cares?
A&W launched the Twin Burgers in Canada in October as its response to the the popular culinary phenomenon sweeping restaurants across North America: the slider.
They are meant to be two identical mini-sized burgers with sirloin beef patties topped with Balderson cheddar cheese, mustard and the Chubby Mayo (Used since 2001 when A&W re-launched their Chubby Chicken.
You must have seen the advertising, and wondered as I did if any burger was actually too cute to be eaten.  Now, as with all the other A&W burgers, the Sirloin baby burger twins came in an aluminum foil bag.  Because that's how they used to do it to keep burgers warm, they decided that it was how it was going to be done. So I unpacked them, looking forward to my cute burgers…
But the ones I got were certainly not too cute. Compare what I got with the advertised Twin burgers, below.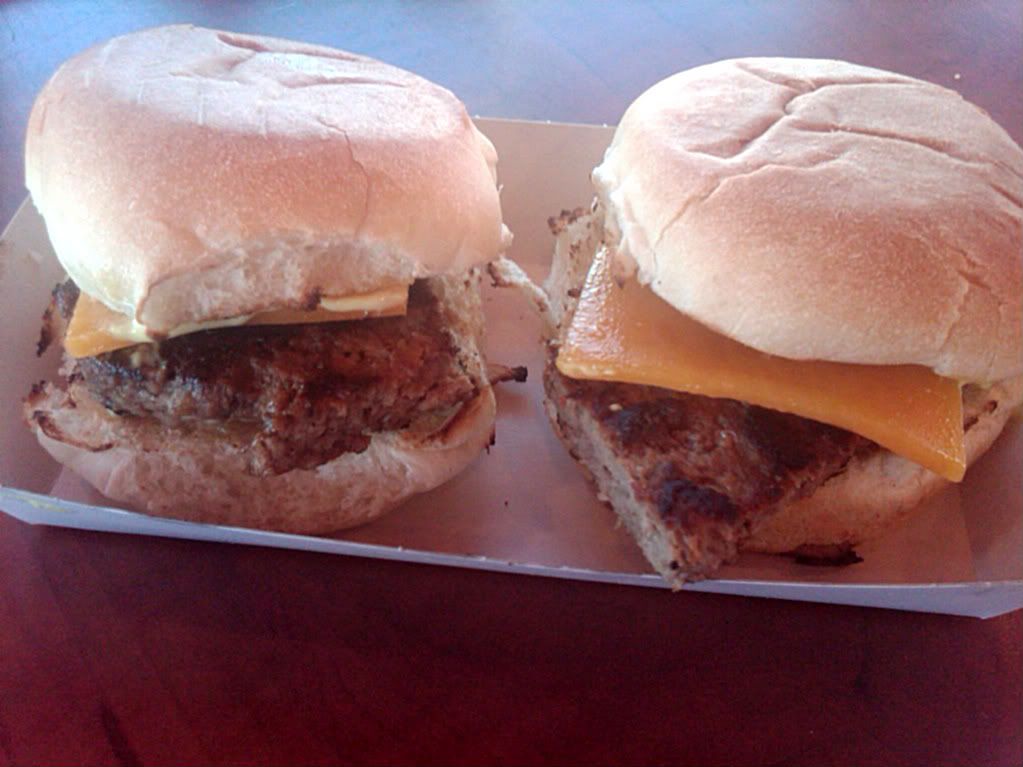 As you can see, the patties I got were not mini patties. They were regular patties cut up to fit a mini bun. What the Hell is that? They can't do that, can they? Violating the integrity of a patty with a knife?
The place got busy, so I just ate my twin burgers anyway, instead of getting up  to complain.  I will take it up with the headquarters instead.  As for taste, I thought they were a little bland. The beef seems overdone.  The mixing of the mayo with their mustard works, but there was not enough of it. Red onions to zip it up? Barely noticeable. The cheese was thick, which is a nice step up from the usual process yellow slices used in most burger chains. However, it was certainly not melted or even melting. Mostly, it was sweating.  Still, nice cheddar flavour.
At any rate, the Waffle will contact A&W and figure out if indeed the beef patties for their mini-burgers may, from time to time, be made of cut-up parts of the Uncle in the burger family.  I know it didn't happen to Cheap Appetite. I will investigate and report back shortly.
———————–
UPDATE  Jan 07 2010, 22:02:  A&W answers the Waffle

.
A new trend in sports stadiums around North America is to diversify – people are looking, apparently, for different fare than the usual hot dogs and pretzels.  I was
impressed
by the
Amway Arena
in Orlando.
So the Rogers Stadium has come to an
agreement
with
Aramark
to do just that.  So you can now find on the main concourse a very different selection, like the Muddy York Market in section 109, which is based on a "fresh market" concept showcasing fare from different Toronto communities, such as gyros and souvlakis, satays, kung pao wraps, salads, Mediterranean meze and sushi.  Who the hell wants to
eat sushi while watching baseball
?
There is also a Carvery station in section 122 – hot turkey or "
Keith's Red
" roasted beef sandwiches, this is the place to go if you like to pile it high, in bread, in meat and in dough.
Pizza Pizza
also opened a counter in section 134.  It allows you to bring back a full pizza to your seat. The selection is limited, and it is Pizza Pizza, but if that's what you are craving, worse does exist.
The Baker's Deli in section 125 serves a selection of sandwiches on different breads, such as ciabatta, pumpernickel or rye, with different meats, such as corned beef, pastrami or smoked meat.  Pickles, coleslaw or potato salad available on the side.
But what I really wanted to try was the
Quaker Steak & Lube
in section 134.  During a game, you could be a lucky fan and get a bucket of wings delivered to your seat! But luck is a tough thing to wait for when you are hungry, and hungry I was.
So I made my way slowly to the counter, peering at the game from the open concourse all the way.  Melissa had asked me to bring her something non-meaty, which I thought was a little weird, but I am not the arguing type.  Thankfully, the Quaker Steak & Lube offered some vegetarian options, including the basket of onion rings.  Perfect for her, I thought.
However, this was a bit disappointing.  Thick rings of onion, they were crisp but not overcooked, and they tasted great.  But for 6$, there was only 8 rings in the basket.  That ain't cheap.
The wings looked great. Busy people in the kitchen were tossing them in the different sauces and seasonings available. They were being offered in three sizes : single order, half a bucket or a full bucket.   I asked how many wings were in a half-bucket, and was told 25, so I thought this would be just perfect, and for 21$, it is a deal at the Rogers Stadium – a price not unlike what you would pay for wings in the outside world.  There was a lot of flavours available, and I hesitated a bit.  Louisiana Lickers sounded tempting, but the manager corrected the cashier when I asked if they were spicy – apparently, not so much.  I asked him about the BBQ Chipotle since she didn't seem to know what she was talking about, and he pointed out that this was a dust as opposed to a sauce, and that it did have some kick.  Sold!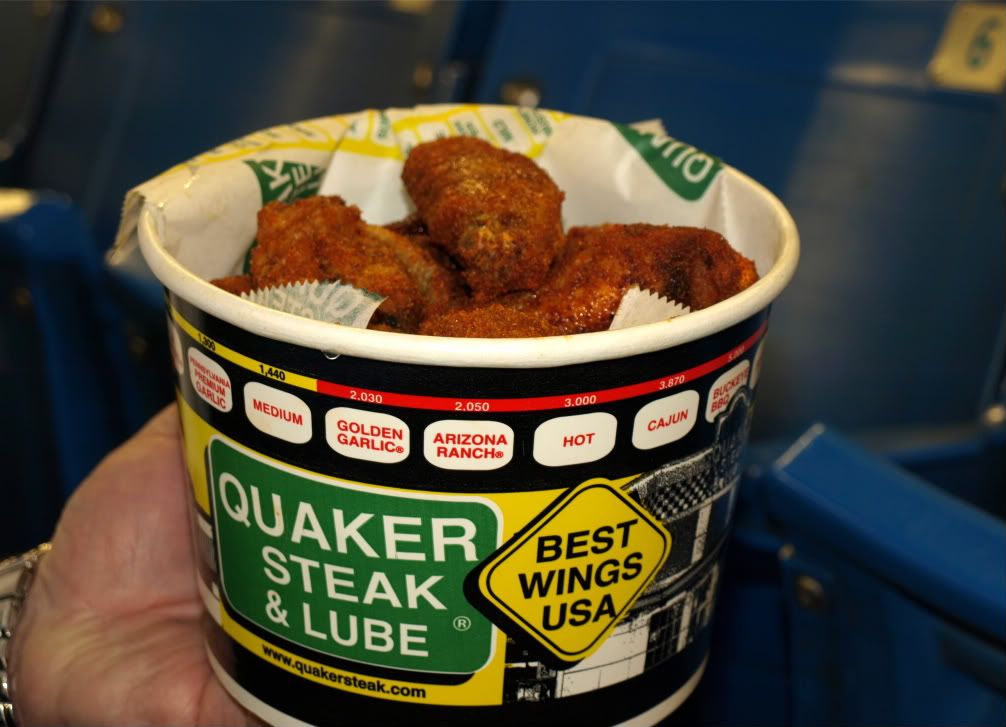 I was pleasantly surprised.  The wings were warm throughout, they were meaty, they were tender, they were well cooked, they were fully seasonned, they were simply great.  The chicken was of a good quality – it was impressive.  In a stadium, you never know what you can end up with, but these wings were just the right size.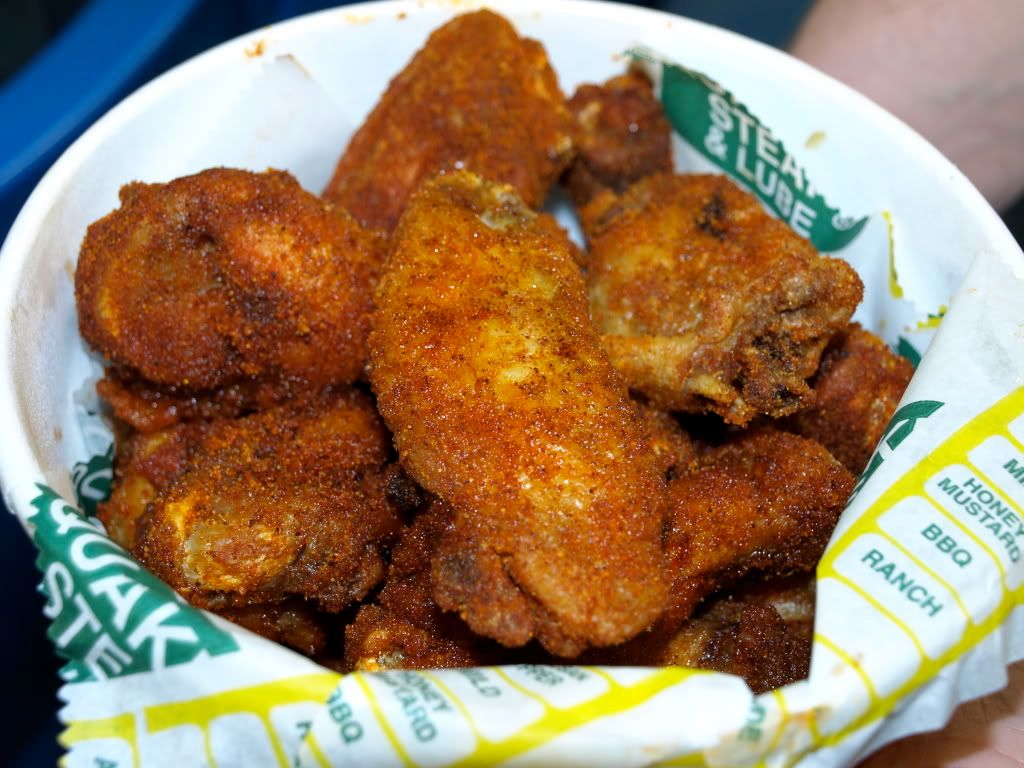 The spices were raw, and by that I mean that the chicken is not cooked with them, the spices are added after the wings are cooked.  Same goes for the sauces, and it is in fact the case in most places. Their melange was quite salty, and the overall flavor reminded me of the old style Lays Chips BBQ flavor, with more punch and a hint of chipotle.  The chipotle was much more present in the aroma then in the taste, but I didn't mind – when overpowering, you can grow tired quickly of chipotle.
I shared a few wings with my seatmates, but I still ended up quite full at the end of the bucket.  There were 19 wings in the half-bucket, less then promised, but at about 1$ a wing, it is still a valuable purchase at the Rogers Stadium.
The
game went on and on
, all the way to the 12th inning –
Lyle Overbay
hitting a 2 run walk-off homerun to give the contest to the Jays, leaving us full and satisfied.