Browsing articles tagged with " Omelette"
Today, I decided to skip the buffet and instead went for the omelet station, and ordered one all-dressed: mushrooms, tomatoes, onions, ham, peppers and cheese.

The cook sauteed the veggies and the meat first, then added liquid eggs.  Once it was a solid base, he melted the cheese on top.
On the side, I got a couple of slices of ham.
The omelette was pretty good, some fluffyness and gooeyness, but there could have been more eggs.   The ham was a bit of a disapointment, a little on the dry side.
On workdays, I usually have a light breakfast at home or, when I don't have time, I snack on fruit at the office. But from time to time, I need something more substantial to get going. When that happens, I head towards the 5th floor cafeteria in Centre Block and order the best deal on the Hill: the healthy breakfast special.
For $3.59, you get two toast (whole grain of course), your choice of an egg white omelet, scrambled or poached, a cup of cottage cheese, and a mountain of fruit (2 slices of tomato, 3 slices of honeydew, 2 slices of cantaloupe, 3 quarters of orange, 2 slices of watermelon, 1 quarter of grapefruit and a small bunch of grapes.) You also get a milk or a juice.  All that for $3.59!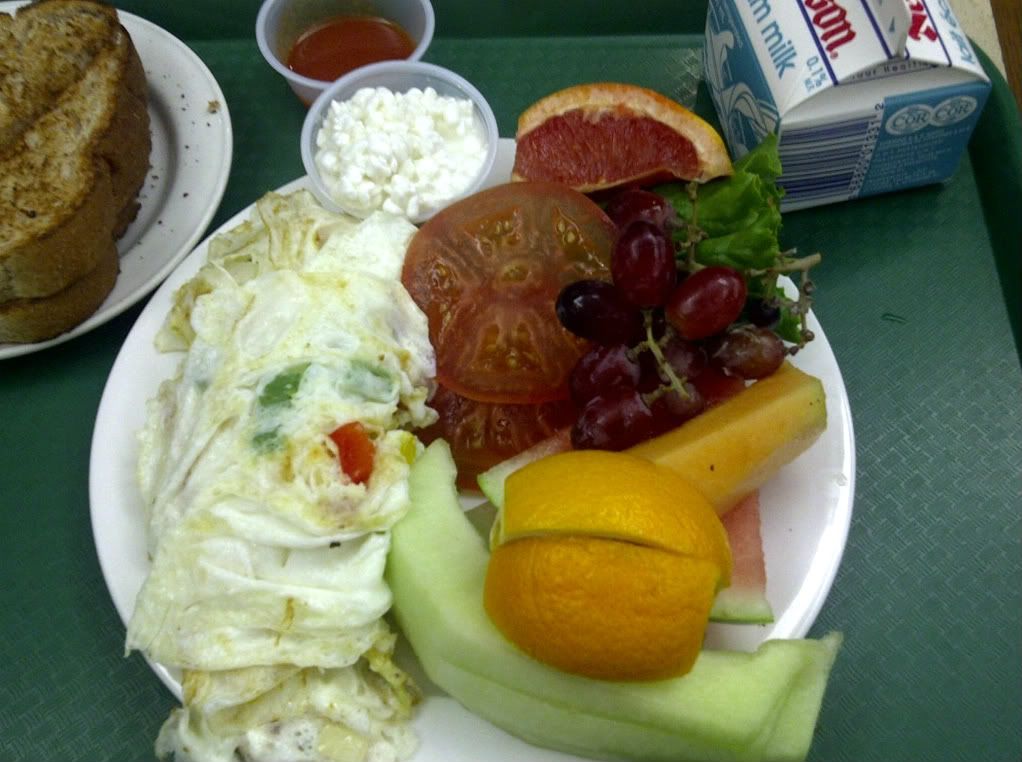 Now, of course, it is not the fanciest omelet. Pre-separated egg whites poured on the hot plaque. After a bit, addition of bell peppers and onions. Because they are added after the fact, they actually get steamed on top of the eggs as opposed to being fried. It works in a way, as the veggies remain quite crunchy and juicy. The omelet is quite size-able, too. The fruit are fresh, and as you can see, there was plenty.
Now, of course, you can go for the unhealthy breakfast special, which is the same price – but your eggs are yolky, your fruit are potatoey and your cottage cheese is meaty. 
But you know me, always a bias towards healthy.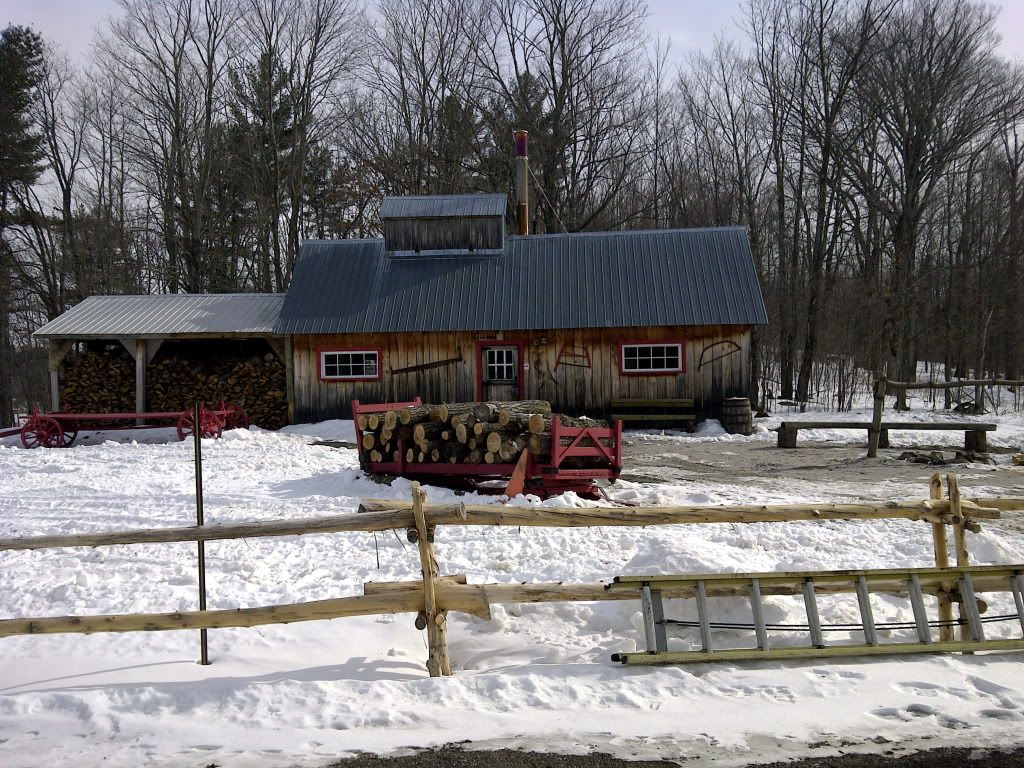 Mrs.Waffle has made it a yearly tradition – a Sugar Shack trip,with friends and family. And this year would be a special trip, as it would be the Waffle Jr.'s first trip to la Cabane.
Mel got really excited when she heard that la Sucrerie du Terroir was opening for the season, despite it still being winter.  She plotted with Miriam an early yearly trip to her favorite Sugar Shack in the Outaouais region.  We'd been there two years in a row already, and there was no avoiding a tree-peat.  Especially since la Sucrerie now has an Online Reservations Tool, making it even easier to book your spot.
Mel really, really didn't want to miss it. So she booked the first spot available on the first day la Sucrerie was open.  And so there was 8 of us who made the journey to Val-des-Monts for an early sweet breakfast – despite my half-hearted protests about the selected time of day, the cold temperature and mostly about getting served last year's Maple Syrup's production – no way you could get 2o11 vintage at this time of the year.  "I like my syrup aged", Miriam deadpanned.  I simply couldn't win this argument.
So we made the journey to the 190 acre property in Val-des-Monts. The "Sucrerie du terroir" is a trip to the old traditions. And this year, the owners have made some changes, moving the actual sugar house where the sap is boiled up the hill by the shack.  They also included a traditional, outdoor boiler system, showing how it was first down, with cauldron over a fire.  They certainly did improve on the rustic, old time decor.
As we settled at our table, we couldn't help but noticed that we were alone.  We were the first and only customers of 2011! The official opening was set for the evening, with musicians and everything – a big party.  So I guess we were their soft opening.
Moving buildings is not the only change la Sucrerie has made this year.  Their menu has changed too.  Oh, nothing too drastic, but still, worth pointing out.
The big change is their sausages. Gone are the industrial-made, pork and beef in a tube. Not that they were bad, but they've decided to go rustic and introduced their very own Country style sausages, or, as they call them in french, their Pitounes aux fines herbes (Pitounes meaning logs).
Kudos to la Sucrerie du terroir.  These skinless sausage were dense, meaty, with a very earthy flavour.  The fat content was minimal, leaving all the room for the meat to express itself.  They were quite tender, and if they weren't very juicy, they were not dry either. It is always a challenge to jump from commercial-made to house-made products – there are costs and time involved that sometimes make people go the easy way.  But it was worth it – these Herby Logs are a nice improvment on their previous sausages, and they are served on a mini-horsesleigh, just to remind us of where we are.
And, of course, it was all you can eat.
Now, according to the owner, this was the only culinary adjustment they made this year.  However, and perhaps because we were the only ones there, we got the best meal I've had of my three visits.  Being able to take their time in the kitchen, not having to rush out food to 100+ guests, it certainly paid off.  (For us, that is!)
For instance, the Omelette was an even better master piece than usual.  They just outdid themselves.
Oven baked in a cast iron pan, served hot and steamy, it was oh, so fluffy, so puffy.  Like eating an eggy cloud.
And, of course, it was all you can eat – although we ate only one.
The ham was also more interesting this year. No, they haven't moved to an all-natural, slowly smoked ham – it is still a pre-cooked Maply version.
However, the slices were thicker, it was a better quality and the ham was baked with lots and lots of cloves, an ingredient that was not discernible in years past.  But this time, it was there in force.  No fooling around, we got cloves, lots of it!
There was no avoiding it.  They were not used sparingly. And with a healthy helping of sweet and dark maple syrup, it made for a pretty good spicy piece of ham.  You had to have the syrup though – the taste of cloves without the sweety goodness would have been like a punch in the mouth. All you can eat, of course.
In fact, as per usual, everything is all you can eat.  Fruit salad, french toasts, pancakes, omelette, roasted potatoes, sausages, bacon rinds (oreilles de "crisse"!), maple ham, baked beans and of course their famous maple mousse small tarts (a new crust this year, home made) all of that for a mere 26$.  Alright, it's not that cheap. But it is a unique and fun experience. And it is cheaper for kids.  And it is all you can eat!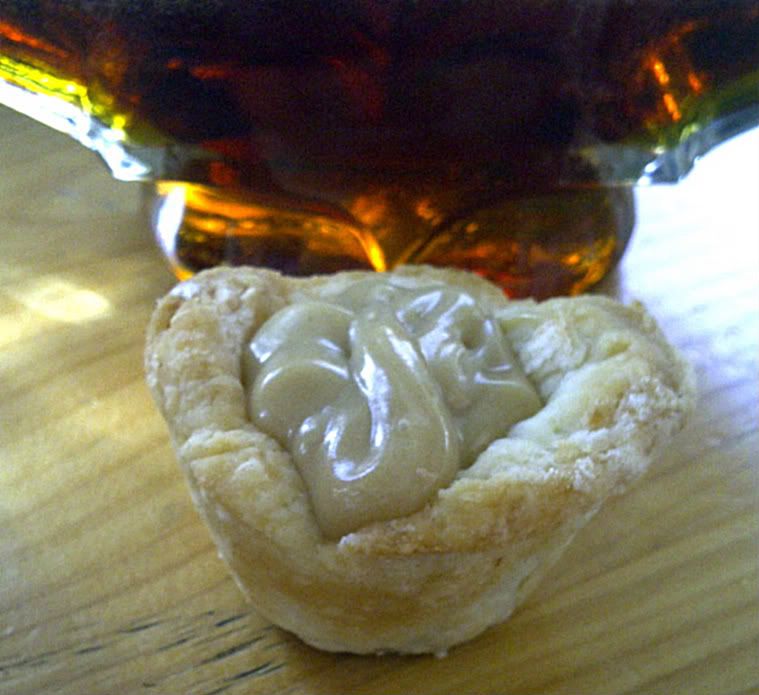 After
a night of baseball
, which included an encounter with
Kelly Gruber
and
Rance Milliniks
at Arriba (which incidentally was not broadcasting baseball but hockey games), I was in charge of finding a location for a breakfast and recovery meal.  Thankfully, I had brought along my
CheapEats Toronto
book.
Near the Skydome, there was not a lot of recommendations.  One caught my eye immediately though, the Avenue Open Kitchen on Camden Street in the Entertainment District.  It caught my eye for the location (near Queen and Spadina) and for the prices listed ($3.95 for a breakfast plate before 11 am); and it was listed as a "greasy spoon".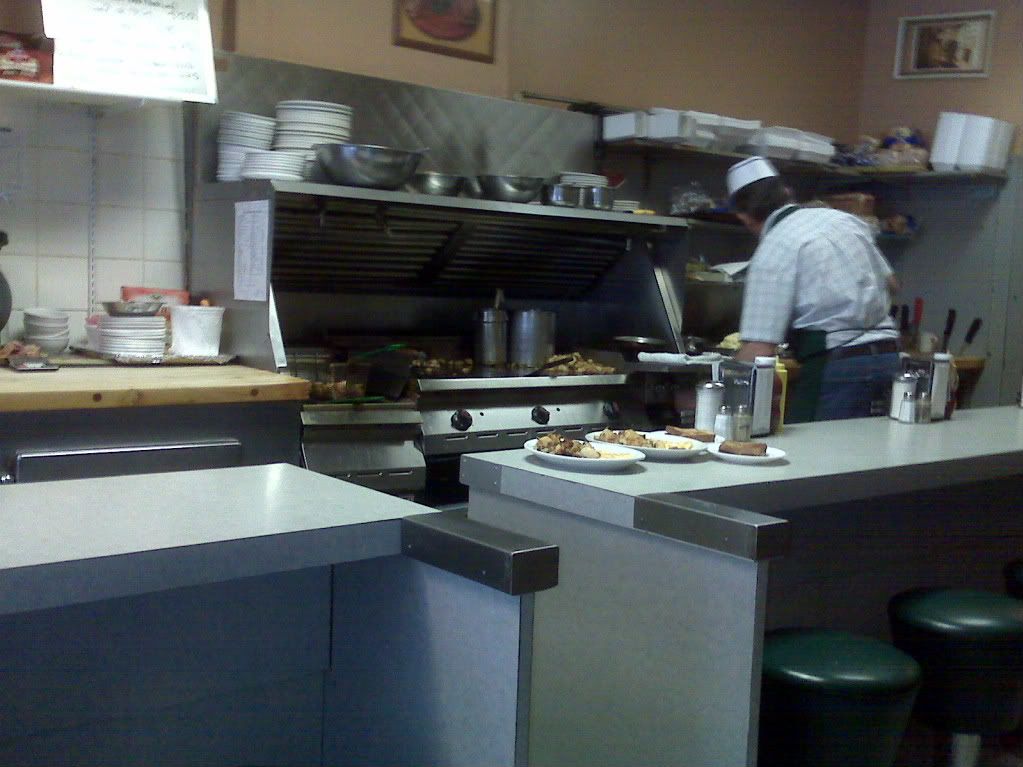 And so we ended up there.
Classic diner environment, a long and narrow room, with stools by the open kitchen and small booths by the wall, an old fridge filled with pop, newspaper clippings and old pictures hanging everywhere.  The chef is one of the owners – his face is on a couple of the photos, although he did look younger and therefore probably was when they were taken.
Cheese omelette was the way to go for the Ladies.  Great fake cheesiness was inside this nicely cooked omelette, and the ladies looked content and ate with appetite.
For my part, I had to go with the peameal bacon and scrambled eggs special.  The eggs were impressive.  Usually, in establisments of this calibre, the eggs are overcooked and dry.  Not the case here, they were great, smooth and very tasty.  Two big pieces of bacon came with, and those were just great.  Peameal is not exactly a fine cut of meat, but it was perfect to get me started for the day.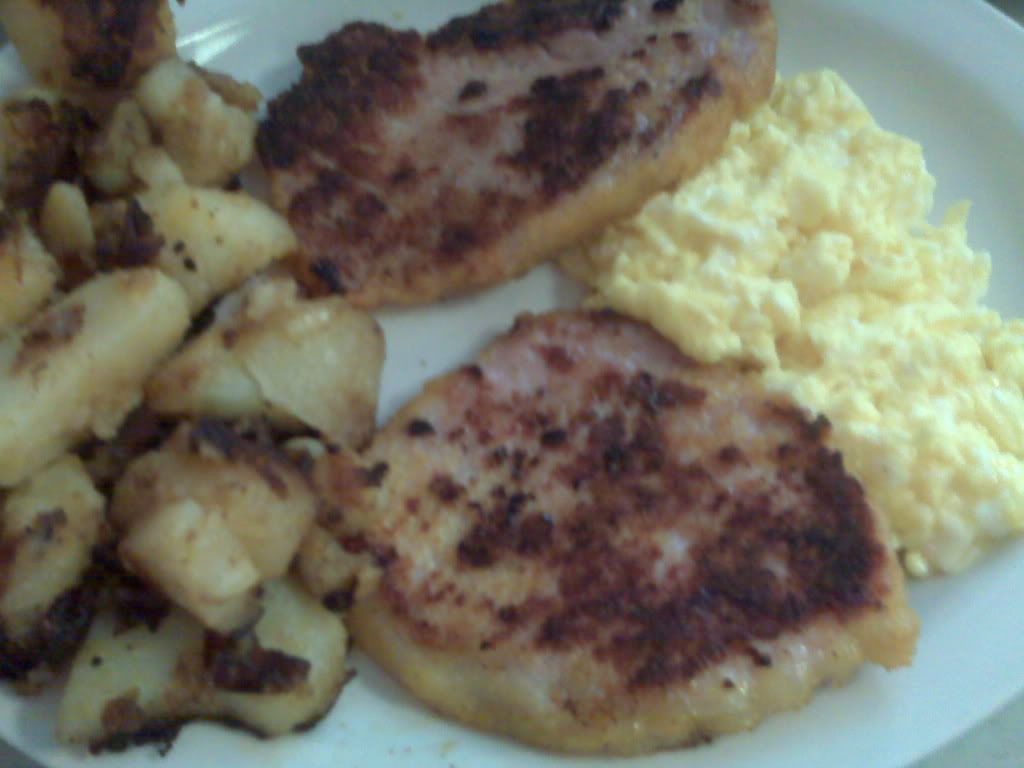 As for the home fries, now these were a real treat.  Real potatoes, nicely grilled on the plaque, with bits of onions – no deep frying, no freezing, no breading – they were fantastic.  On the negative side, the bread was not great and had too much margarine spreaded on them.
Scott read the news clipping on the wall.  A very complimentary review, claiming that "what you may not realize is that there's a fine art to making food that tastes so good but makes you feel so bad (physically and mentally). They then proceeded to highly recommend they $6 chicken fingers and fries combo – now a little over $7.  So no matter that it was only 10 am, Scott ordered the said chicken fingers.  And he was not disappointed:  thick, real chicken filet, breaded and sizzled perfectly.
The fries were not as great – nowhere near the deliciousness of the home fries.  The review on the wall did mention that the fries were overcooked back then – however, Scott had better luck and with ketchup, down they went.
But the chicken, oh, the chicken!  The fibres I could see with every bite almost made me regret my choice – but not quite: after all, I got peameal bacon!  And it cost less than $30 for the four of us!  This place may become a favorite of mine – especially since many reviews can't stop raving about the lunch daily specials.  A hidden gem.
Is there something more traditional in Quebec than a spring visit to a Sugar Shack? I don't think so.
A folkloric atmosphere, the comforting warmth of a wood stove, and the odours, from the burning logs, from the wood furniture, and especially the aromas from the kitchen.
There are a few cabanes à sucre in the National Capital Region, and this time, la Sucrerie du Terroir drew the lucky number, and 6 of us plus a baby headed over, on a sunny springy morning.
Located in Val-des-Monts, La Sucrerie du Terroir is very traditional, smaller than most shacks, making it a very cozy place. The staff was very friendly, and were wearing traditional costumes. Although they do not sell booze, you can bring your own.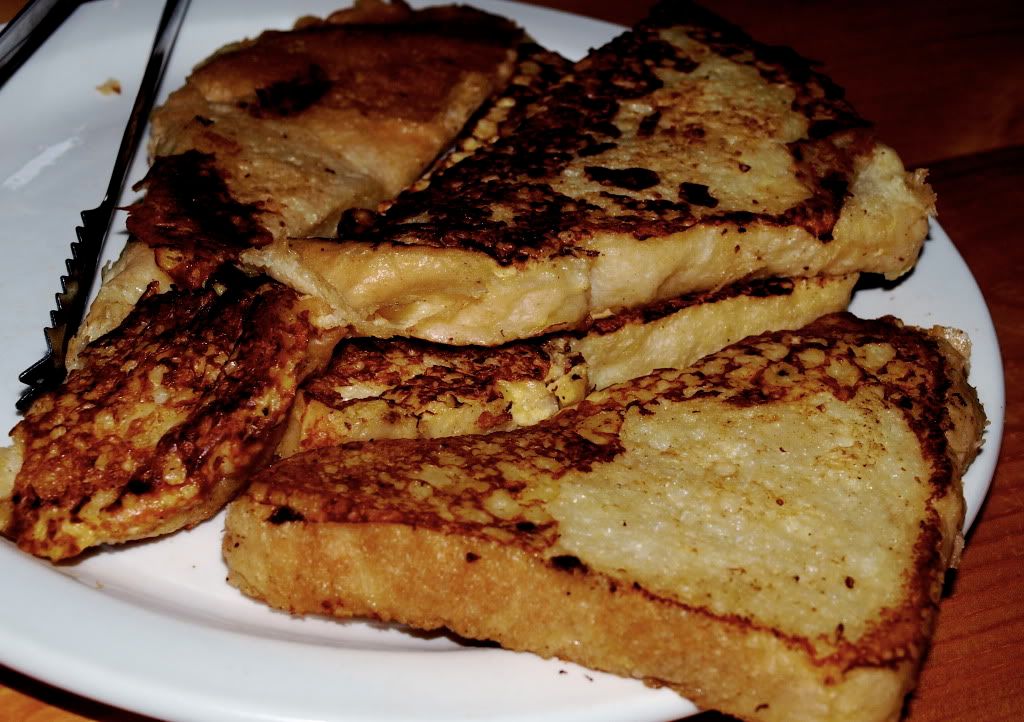 First came the French Toast.
A classic appetizer.
Nothing fancy, just some thick white bread soaked in eggs and milk and fried.
Covered with maple syrup, they sure started our meal the right way.
All you can eat.
Then came the main meal, with the beans.
They were nothing special, no meat, making it vegetarian-friendly, just plain beans baked in molasses.
The texture was nice, but it was a bit bland.
Which is why you smother them in maple syrup.
ll you can eat.
Another side dish – les oreilles de crisse – was a better hit.
Deep Fried Smoked Pork Fat – sorry, Jowls. What can be wrong with that?
Actually, they were Bacon Rinds.
They were quite dry and salty, so to re-establish the balance, you soak them into maple syrup.
All you can eat.
Of course, you need some home fries. Potatoes are a classic fare for a sugar shack meal.
These were very small, crispy, a bit greasy.
They don't go as well with maple syrup, so I focussed on ketchup.
All you can eat.
Maple Smoked Ham and country-style sausages were also on display.
The ham was a pre-cooked one, as opposed to an all-natural. Still good.
The sausage were juicy. Nothing like meat in a tube.
The meat went down with a nice touch of maple syrup.
All you can eat.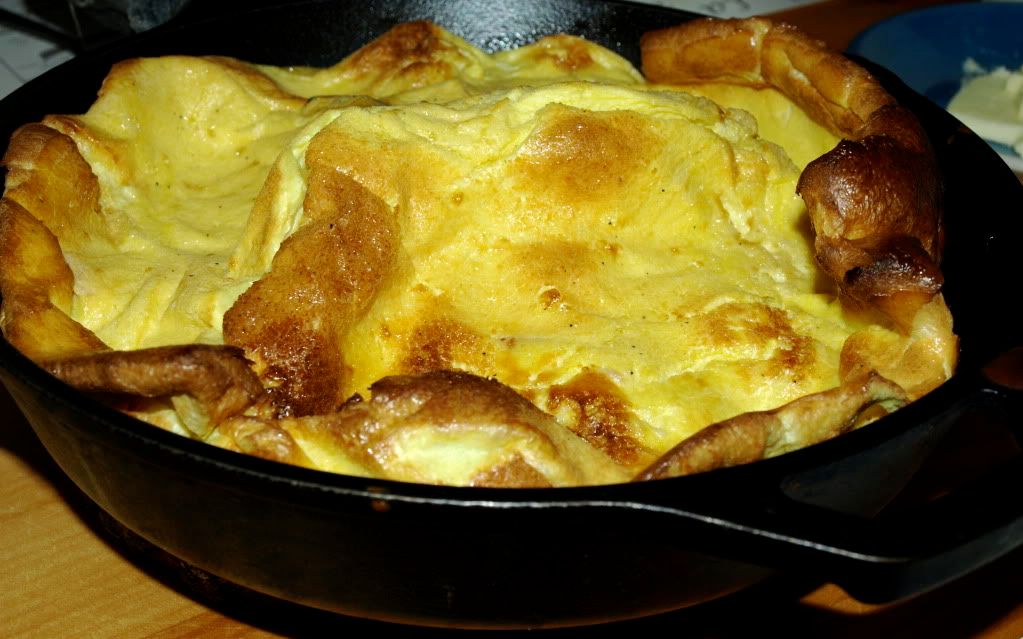 The master piece was definitely the omelette.
Oven baked in a cast iron pan, it was fluffy, with crunchy edges.
Is stayed warm throughout the brunch.
The great thing was, with maple syrup, it was melt in your mouth.
All you can eat.
For dessert, we got maple mousse tartellettes.
Some of us couldn't add any more sugar to their diet. Their loss.
The sugar maple filling was very sweet, but quite smooth.
The crust was a bit crispy, a bit moist – showing that they were not super fresh and sat in a fridge for a little while.
I sprinkled a bit of maple syrup to season them properly.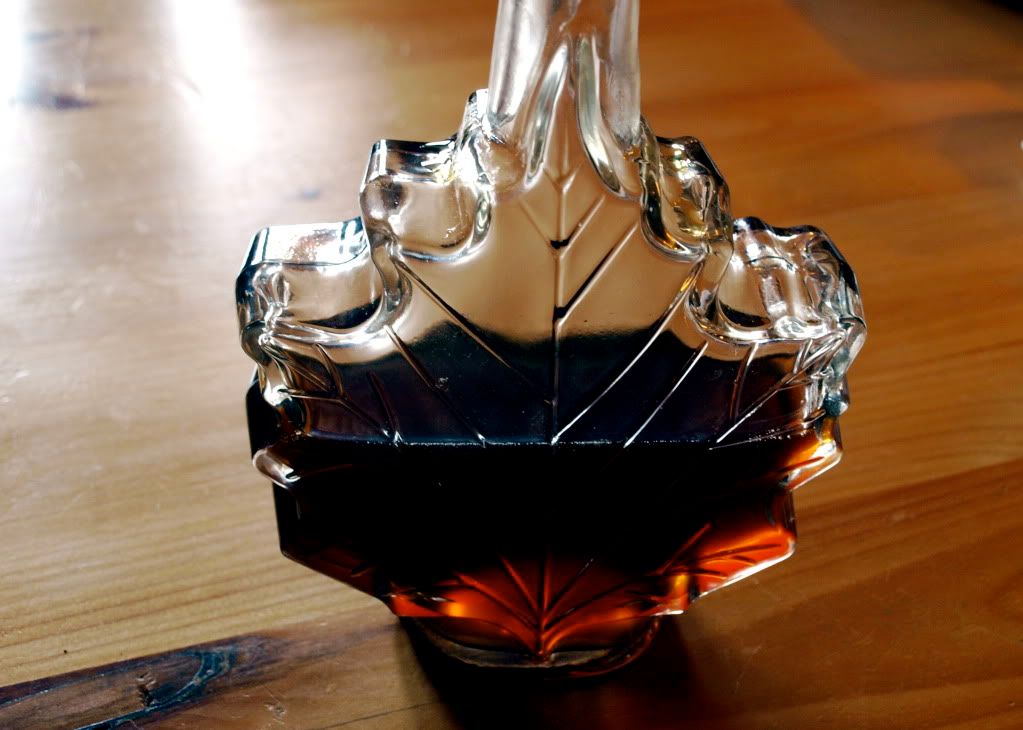 The 6 of us had a half-bottle of syrup with our meal.
I would say we were quite reasonable.
It was a good quality syrup, a nice amber, rich colour.
Grade Canada B medium.
All you can drink.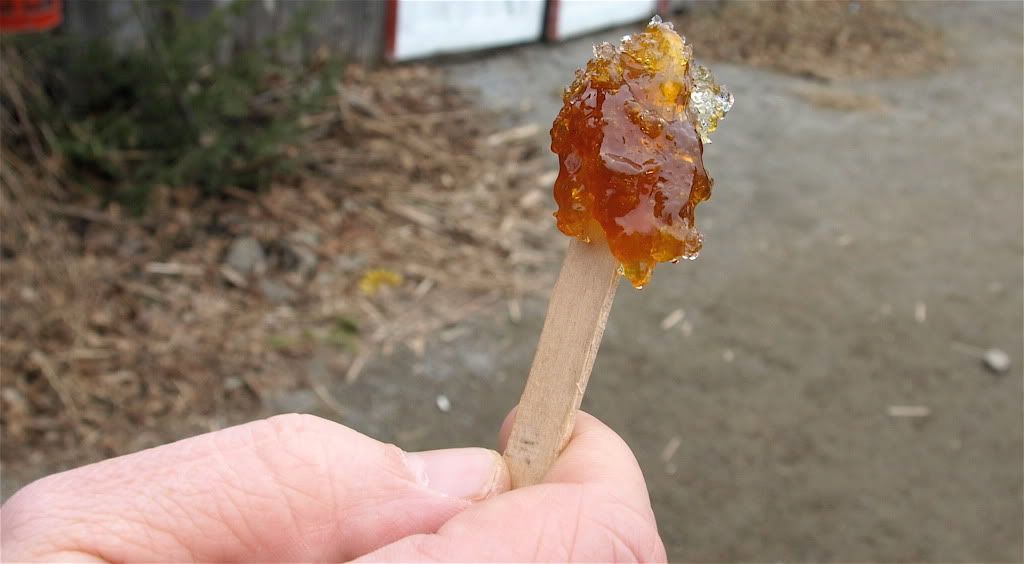 And to digest all this delicious food, nothing like maple toffee on ice.
It wasn't a cold day, and snow was getting sparse, but it was fresh enough for the delicious instant candy to solidify and remain fairly solid on the stick.
For some reason, I was the only one of our group to indulge.
I don't get it.
I did however spend the rest of the day recovering from the sugar crash.
23$ per person.
All you can eat.
Money well spent.
Before leaving Orange City for good, we had to get breakfast at a renowned local fixture: Gram's Kitchen.
There are four Gram's Kitchen in Florida, all in the same area around Orange City.  The first one opened in 1987. The owner decided that, in order to honor his grandmother, who owned restaurants in Michigan in the 50s,  he would have the same familial atmosphere as she did back then.  And since everybody was calling her Gram, well, he decided it was logical to name the whole thing Gram's Kitchen.
Located in the 1876 Heritage Inn in Orange City, Gram's Kitchen looks very attractive from outside.  Inside?  Well, not so much.  This is not a fancy place.  But I've learned not to judge the food by the looks of the place.
This looked like any corner's mom and pop shop.  It's been there for a long time and renovations are needed. The floor was in rough shape.  The ceiling wasn't very clean.  There was stuff everywhere not belonging in a restaurant, but somehow it all made sense there.
We sat down at our table, between a couple of retirees who had come for bacon n' eggs, and a couple of bikers on a road trip.
Our menus came swiftly, stained with coffee and other breakfast products.  It was quite a large menu, and we learned that they serve breakfast all day, which is nice when you are vacationing in the country and feel like breakfasting right after getting up, say around 3 PM.
Our attention was immediately focussed on Grandpa's Gourmet Omelets section.  Yes, O-me-lets. With your choice of cheese (Cheddar, Swiss or American – hmmm, American cheese!), your choice of toast (Rye, Wheat, White, Sourdough or Homemade Biscuit) and your choice of homefries OR grits.   At $6.75 each, they looked fantastic – on paper.
Mel opted for what they dubbed as their House Special: Gram's Special Omelet: Ham, Sausage, Bacon, Tomatoes, Onions and Cheese.  Minus the onions.  I went for Gram's Club Omelet, apparently their famous club sandwich on eggs:  Turkey, Country Ham, Bacon, Tomato and Cheese.
Gram's Kitchen proudly states that they are using only Grade A Extra Large Eggs, and when the Omelet showed up, we realize they weren't kidding – they were quite big.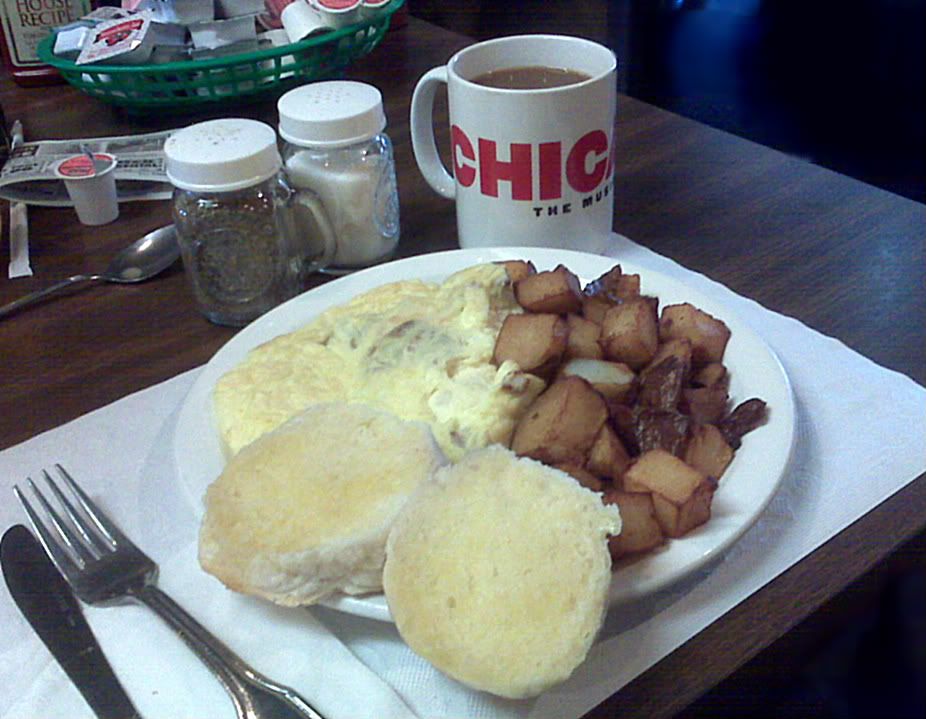 My Club Omelet was soooo juicy.  The turkey was real turkey, not processed, and it was very fresh and moist.  The country ham added an interesting touch, but wasn't really necessary.  The bacon was crisp, the tomatoes not mushy, which happens in omelets sometimes.  This was the best Club Omelet I have ever had.  Of course, it is the only one I have ever had, but if I had had others, I am very confident that this would be at the top of the list. No wonder their club is famous, although I had never heard of it before.
Mel's Omelet was quite yummy.  Cooked to perfection, there was a lot of meat in it.  If anything, she claimed that there was too much meat.  I don't think that is possible, but that's what she said. Fluffy, not heavy, despite the amount of  ingredients in them, these omelets were very tasty, and we were quite full at the end of our meal. The main problem with both omelets was the processed cheese.  No matter how hard you try, it will never live up to real cheese.
Mel ordered coffee with her breakfast, and was lucky enough to get it in CHICAGO, the musical mug. Lucky her. I settled for orange juice in a jar.  Classy, on all counts.  Coming with the meal, as previously stated, were their biscuits.  They were fairly thick, and quite heavy – they could have been the breakfast on their own.  Quite tasty, though, although they were not buttered but margarined.  Much better were their home fries: these guys were huge!  Nicely fried, quite firm and with a bit of crunchiness left, they were awesome.  Too bad their ketchup is House Recipe, a very ordinary generic brand from Sysco Corporation, the largest food distributor in North America, who has among their costumers Seattle's Best Coffee and Burger King.
We left fairly happy with our breakfast, especially considering that we got 10% off on our bill, thanks to a coupon that you can find in the multitude of coupon booklets available everywhere in Florida.  A coupon-based economy, my dream come true!  If by some weird circumstances you couldn't find any booklets while roaming Florida, Gram's Kitchen has taken care of you – you can print their on-line coupon here!
There, no excuses!
The Glen House Resort
is the Inn complex a bad drive away from Smuggler's Glen's first hole.   Or in my case, hole #3, #5, #6, #8, #11, #12, #14 and #15. It is set right on the riverfront, near Gananoque, and is offering a beautiful and peaceful setting for the guests.
We stopped there before the final and decisive round, with me trailing badly in the 6th position.
The deluxe breakfast consist of 6 stations:
A juice station, with nondescript apple and orange juice.
A continental station, include commercial cereals, yogurt, a fresh fruit salad consisting mostly of melons, and muffins.
A toast station, where you can toast your own bread or english muffin to your taste.
A waffle station, where Wendy was making fresh waffles on order, and invited patrons to top them with a choice of fresh blueberries, strawberries, bananas, whipped cream or maple syrup.
An egg station, where Sandy was making eggs to the patrons liking.  Most folks would go for the omelette, choosing their own fixtures by filing a little cup of green and red peppers, onions, mushrooms and ham.  These items are then fried before the two eggs (or three if you want to annoy the other patrons and make them wait a little more) are added and cooked to perfection, with a lot of cheese added and melted in the flipped-then-folded omelette.
A side station, where juicy breakfast pork sausages, crispy but very salty bacon, and big home fries, golden nicely but a little heavy on the garlic for morning potatoes.
It was the perfect breakfast, hearty and filing, to set you up for a great round of golf.  If you can golf, that is.  Which I obviously can't since I ended up 7th out of 8.