Browsing articles tagged with " Mussels"
Back in January, Claira Calderone, Accounts & Promotions Manager for Kinki and Mambo restaurants, invited The Waffle to come out and sample some of the new items being offered to customers in 2012. I've been to Kinki a few times, but I've always walked by Mambo, noting the loud latino music that could be heard from the street, with people dancing towards the back of the place. Not my scene, I thought.
Nevertheless, I was quite happy to accept the invitation, and a few weeks later, Mrs. Waffle and I were able to go and we met up with Claira at Mambo.
Mambo opened in the Spring of 2007, taking the spot occupied in the By Ward market by Meditheo. A little brother to Kinki, which is also owned by Marisol Somes and Zadek Ramowski, Mambo is quite different, yet has some similarities.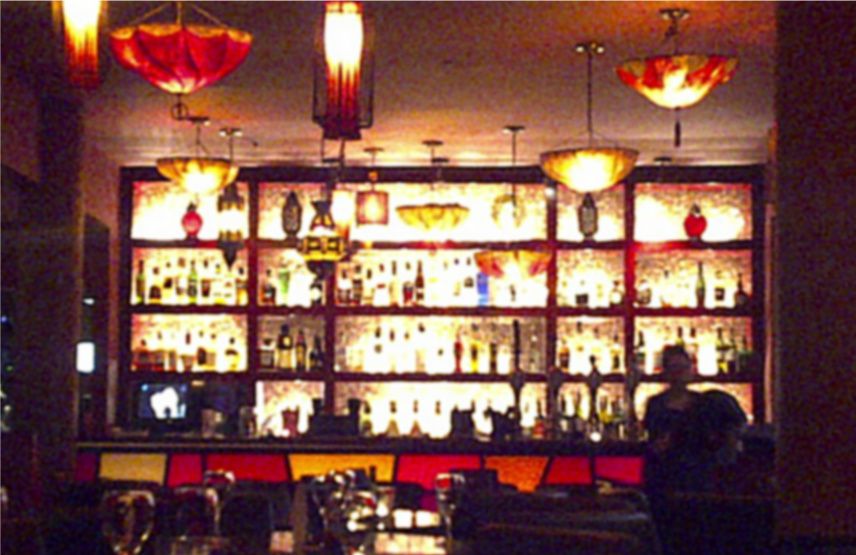 For instance, both restaurants are meant to be sexy.  Mambo's decor is an interesting combination of exposed brick walls and bold, vibrant, warm colors.  The lighting can create either a warm and intimate atmosphere or a callende party place.  At the very back of the restaurant is a very colourful, inviting bar.
There is private room on the lower level, perfect for bigger events. Mambo also has a rooftop patio which is a rarity in Ottawa and is likely worth checking out, if only to have a new perspective on the Market fauna. Even though it offers a full lunch, dinner and brunch menu, the most popular items on the menu are the tapas.  You can enjoy them with a glass of Sangria, Mojito or Margarita and during Happy Hour, you get double portion Tapas for a reduced price.
But we were here for dinner. Chef Pablo Robaina joined us at our table and sat down to talk about his food, his inspiration and the path that lead him to Mambo. Quite at ease, he generously shared his story with us and we had a great conversation as he discussed his vision of Latin Food – which is not your ordinary beans and rice Tex-Mex!  Born in Venezuela, Robaina got his passion for food from his grandmother, who raised him.  He was clasically trained at Le Cordon Bleu in Mexico before moving to Ottawa, where he notably worked at Amate, the now defunct little Mexican restaurant in Westboro.
A bowl of freshly made popcorn was brought to our table for us to munch on while chatting with our hosts.  Seasoned with a spicy-lime salt, it is a fun snack, and different than the usual bread-filling basket most restaurants bring first.  Mrs. Waffle couldn't stop herself from indulging.
Mambo is calling itself a nuevo latino restaurant, giving Chef Robaina the liberty of creating dishes with a large spectrum of influence, from South America to Mexico, from Spain to even Portugal, and perhaps even their overseas colonies.  But don't talk to Chef Robaina about fusion cuisine: "Fusion is confusion," he stated when I asked him about it.  "I am using Latin influence from all over the world to create modern dishes."
Chef Robaina created a specialty meal for us to try out, showcasing new items from their 2012 menu.  A couple of appetizers to share, followed by a different entrée for each of us. We were happy to oblige.
First up were the Camarones al Ajillo ($14), or garlic shrimp, a classic Mexican dish often served as an appetizer, and also very popular in Puerto Rico and other Latin American countries.
Here, the shrimp are served in a zesty sauce, made with garlic, paprika, parsley and guajillo pepper.
The guajillo, used regularly in Mexican cuisine, has an earthy flavour and will give some heat, somewhere between an anaheim and a  jalapeño. It gave the sauce its deep, red colour.  The shrimp were also garnished with a sprig of rosemary, more for the look than the flavour.  On the side, a couple of lemon wedges and some naan bread.
The shrimp were of a nice calibre, meaty. They were well cooked,  though one or two were a tad overdone.   The sauce was quite zesty, not too spicy. It made the dish feel very fresh on the palate. No need to add more lemon, though, there was plenty of citrus flavour in there.  The garlic does not have a very strong presence however, so if that is the dominant flavour you are looking for, you may may be disappointed.  Mel on the other hand is always looking for a citrus punch, and seemed at one point to be contemplating eating the last of the sauce with a spoon.
The naan bread is an interesting choice to go along with this dish.  It doesn't add or remove anything from the shrimp, but it is made fresh and is nice to dip in the sauce once you run out of shrimp – which will happen fast if you do share the dish.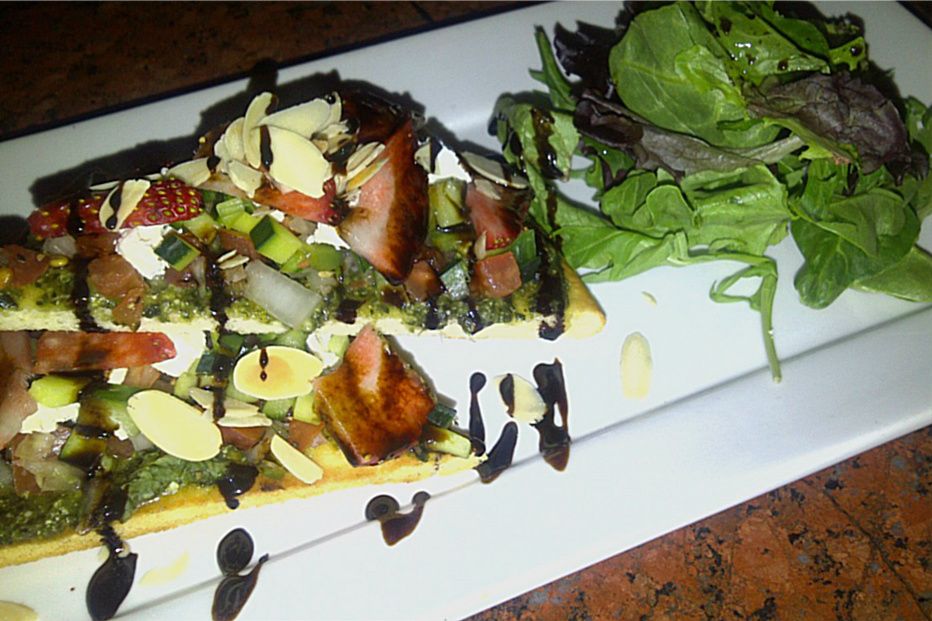 Next, the Verano Flat Bread ($12) was brought to us. Verano, as in Summer.  Summer, as in Fresh Produce.
The dish looked fantastic, and had a great combination of ingredients.  Pesto in lieu of pizza sauce, goat cheese, onions,  jalapeños, cucumbers, tomatoes.  To add even more summer to the dish: fresh strawberries, a great flash.  To garnish, some slivers of roasted almonds and a balsamic reduction.
I have to admit that I enjoyed this dish quite a lot.  Different, fresh, lots of different flavour and texture and levels.  The strawberries, very present, worked beautifully with the balsamic flavour. Simple, yet complex.  A great dish to share, or as a light meal.
Our main entrées arrived shortly after. Continue reading »
I have been living in the National Capital Region for almost 14 years now, and I have eaten at Le Café only a handful of time, mostly business lunches.  And indeed, every time I have been, the place was far from being packed. Of course, you have to know it's there, at the back of the National Art Centre, and you either have to pay attention in order not to get lost as you walk through the maze of  this bunker's corridors, or you have to know where the restaurant main doors are, behind the building as per the architect planning.  Once you are there, you will enjoy the floor to ceiling windows giving any guest a picturesque, panoramic view of the canal. The quiet atmosphere, enhanced by the dark chairs contrasting with the white linens, gives the restaurant a sophisticated feel. Le Café has a reputation of being pretentious, which it has been, and overpriced, which it can be at times.
Le Café also has one of the nicest patios in town, right on the Rideau Canal, protected by plenty of shade.  That is where I ended up for another business lunch, sitting outside on this hot summer Wednesday in Ottawa, under the cover of awnings providing some much needed shade.  Being right on the water, a nice breeze was also helping making sure we weren't overheating.  And thankfully, the construction is done at the Convention Center on the other side of the canal, so the place is relatively quiet.  Quiet because there is limited traffic noise, and quiet because despite it being noon, every other table is empty.  Ottawa's lunch crowd and patio-seeking patrons are not coming here.  But nearby patios at Milestone's, Métropolitain, 73 North and Darcy McGee's were packed. Why not Le Café?
Two years ago, Michael Blackie became executive chef of Le Café.  Born in England but raised in Montreal, Blackie has worked his way up the food chain over the past 25 years.  Before joining Le Café, Blackie was at the helm of
Perspectives
, the Brookstreet hotel's luxurious restaurant, which was awarded four diamonds by the CAA.   Now, I've never been to Perspectives, so the only opinion I had of Chef Blackie was from
Chef*Off
. A cooking competition between two chefs, broadcasted on the
Food Network
, where Chef Michael Lyon from Kelowna has to compete against Blackie, facing  challenges like using stange ingredients, cooking in weird kitchens, the rules changing halfway through, and judges who might be anyone from food experts to kids.  And the chefs have a tendency to play tricks on one another!  In most episodes, I found myself rooting for Lyon, who seemed more sympathetic than Blackie – who seemed more in it to win it.  Although, I must admit, Blackie's food seemed more appetizing, most of the time.
Yet, I was intrigued and excited to sample Blackie's menu. Le Café promises to make you rediscover the art of food, via what they call 
MB cuisine.
MB, who certainly does not lack confidence, is a non-conformist chef, who pushed the audacity to install a live
webcam
in his kitchen and to
invite
10
food
bloggers
to sample the new menu. 
(The Waffle was not invited. Shame.)
We peered at the lunch menu, which had a lot of interesting offerings : the B. A. Beef tartare ($13) and the Diver Scallop Cassoulet ($14) looked interesting in the Excite (appetizers) section.  In the  Consume section (Entrées), going through the menu, we were offered water – our choice of flat or gazefied – and our glasses were filled up regularly. Water service is so important, yet so often neglected.
Both Marc and I decided to ignore the lunch menu and go for the specials, prix fixe menu – $18 for a two course meal – $24 for a three course meal.  You can get a similar special at Dinner time, but the dishes offered are different.   To start our lunch, the choice was between a White Bean Soup or the MB Toss, which I chose.  
We boarded the Sea Mist II as the sun was starting to go down on Chester's Harbour.
This was after some mainstreeting near the docks, talking to local folks about the issues they care about.
NDP Leader Jack Layton along with NDP MLA Denise Peterson-Rafuse were joining a group of local supporters for a tour of the harbour and maybe some mackerel fishing.
Apparently mackerel is a big thing in Chester.
A big thing.
So we set off, touring the harbour and admiring the scenery.
Notably, Heisler's Marina, constructed in 1924, the Swinehamer House, circa 1800, the Old Baptist Burial Grounds, with its oldest stone dated 1761.
There Champlain Robertson House, overlooking the Back Harbour, was once owned by a descendant of Chief Powhaten, father of Pocahontas.
Everything was quite striking, but we finally set out for the sea.
The weather was perfect.  We were enjoying the breeze and the sun.  Some were trying to catch some mackerel.
And then they got the snack ready – fresh mussels, steamed with water, salt, onions and some fresh herbs.
I love mussels. They are a great source of protein and omega-3; an excellent source of selenium and vitamin B12 and a good source of zinc and folate.
There was someting quite neat about eating them as the sun was going down on the water. The salty smell of the sea was enhancing the eating experience, I ate them slowly, as the sun was slowly but surely falling in the horizon.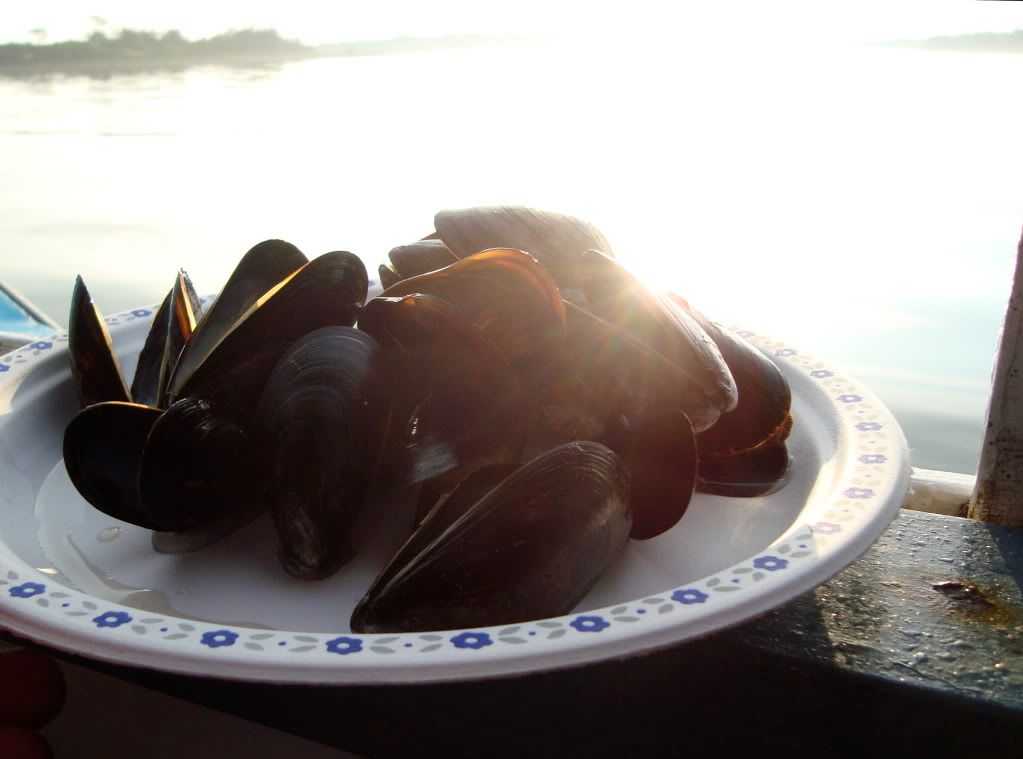 Mel and I were meeting Crystal for dinner to catch up and so on and so on.  Ever since she moved to BC, we barely see her anymore.
Mel had picked the terrace in front of the Metropolitain as a meeting point, planning to maybe wander in the Market for a place to eat.  But since I was a few minutes behind and Crystal was nowhere in sight, Mel made the executive decision to pick up one of the few remaining tables on the Met's patio.
I showed up and we ordered drinks while we waited.  Mel felt Euro-sophiticated and decided to go for an Alsatian Kiss, one of their Metro Martinis – Citron vodka, apple vodka, apple juice, simple syrup.  (Why isn't it called Lemon Vodka anyway?)  It was a well balanced drink – not too sweet, some tartness. Refreshing.   I opted for a pint of Stiegl. An Austrian beer, the Stiegl is a golden lager, with moderate yet rich malt flavours, lightly hopped, a mellow taste overall with a grassy finish.
Crystal finally showed up 30 minutes behind schedule – she wouldn't be able to choose an appetizer as, while waiting, we had decided to take advantage of the dying minutes of the Hill Hour to order Le Petit, the smallest of their seafood platters, and 25% off during the Hill Hour.
Oysters, shrimp, crab, ceviche, salmon, mussels – a nice looking platter and a good opportunity to enjoy quality seafood at a lesser price than the regular one.
As we were consuming the sea fare, we noticed some stalkers.  First, an Ottawa Citizen photographer.  Then, a guy from the Ottawa Sun.  Soon after, a CTV cameraman.  Another reporter soon joined the group.  I put my sunglasses on, hoping they weren't after me again, as they were taking shots of the patio from accross the plaza.  I looked around and noticed a growing local conservative crowd, including Tory blogger Stephen Taylor.
We waited for our food.  Mel ordered the Steamed Mussels & Frites, not quite understanding why they were Mussels & Frites as opposed to Mussels & Fries or, even better, Moules & Frites.  She unfortunetaly missed the "Hill Hour" deadline and ended up paying an extra $7 to enjoy them.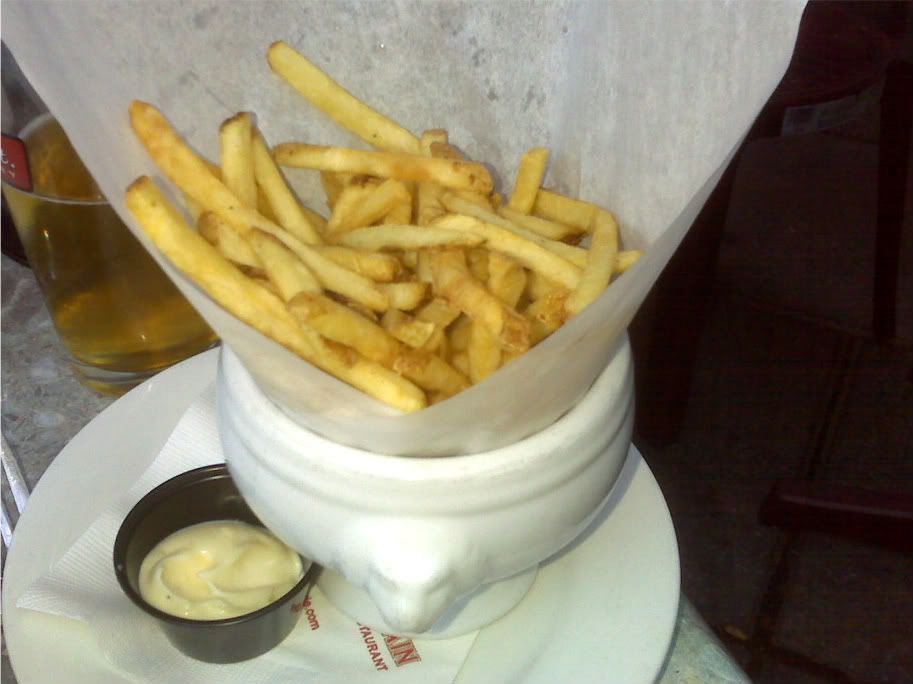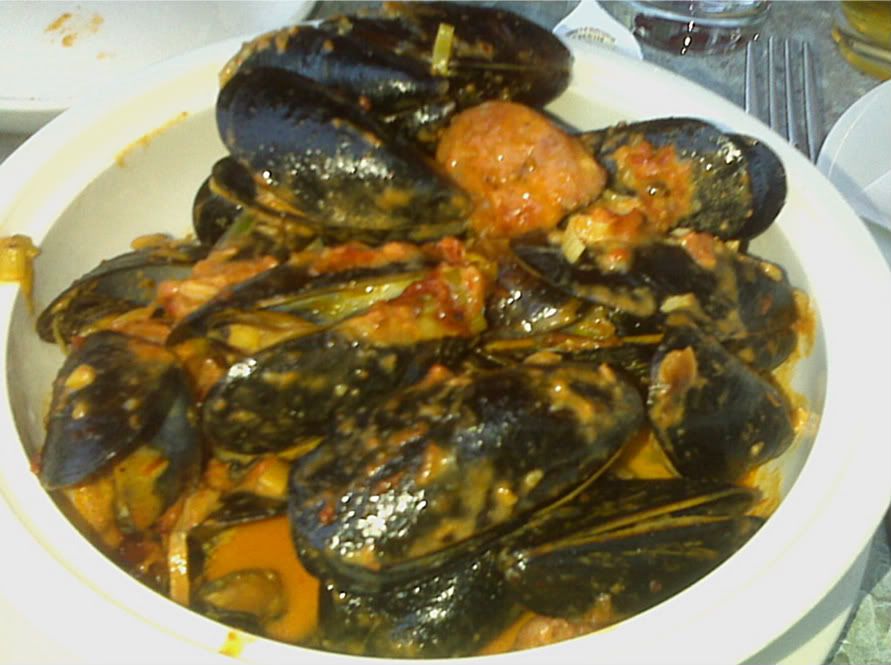 The fries at the Met are always nice, warm and crispy.  The Mussels were prepared with sundried tomatoes and spicy chorizo, they were nicely cooked and the sauce was rich and colourful, a pleasure for the palate and the eyes.
I ordered the Wednesday Special, la choucroute!  Smoked pork loin with pork belly, veal sausage, frankfurter served with sauerkraut and boiled potatoes.  At 24$, it is a stange price for a sausage special, but I could not choose anything else.
The potatoes still had their skins, adding some crisp to the dish.  Nice surprise, the sauerkraut came covered with little french cornichons, adding a fresh vinegar flavour to the fermented cabbage.  The sausages were cooked perfectly, but the smoked pork was a tad overdone and a bit on the dry side. Usually, the cabbage is very dominaut in a sauerkraut, but here, it was just an equal partner to the meat.  The portion was therefore smaller than the usual sauerkraut dish, but I did not suffer too much from it.
Finally, we realized who the crowd was waiting for – Ottawa Mayor Larry O'Brien, who lives nearby, was coming to celebrate the end of his trial.
The "Get out of Jail for Free" party was soon underway, with the Mayor's supporters, a versatile conservative crowd and even some reporters who covered, or not, the trial.
Good times.
I'm glad I had pork.
I used to hang out quite a lot at "Les Raftsmen" on St-Raymond in Hull.  Half-tavern, half-brasserie, half-night club.  It looked old, it looked rough, it smelled like beer, bands would play there, you could drink and dance and have a lot of fun very loudly.
They renovated a few years ago, and in "Les Raftsmen" building now you can find a neat little place called Le Quai Saint-Raymond.  With a menu focussing on seafood, but simple meals with no pretention, a decor focussed on Alexander Keith's accessories such as umbrellas hanging on the ceiling. It is definetely a blue collar place.  And I think Keith's is a sponsor.  Hell, even the window frames have the Keith's design on them.
You'll often see workers from neighbouring shops, hotels and even the Casino end up there for a cold one after their shift.
What I really love about Le Quai is the fact that some tables are equipped with their own beer tap!!  Cheaper than if you order it from the bar, you pay for what you pour and it is always cold!
Your beer is getting warm?  No worries, top it off! You are very thirsty?  No waiting for the waiting staff, it is right there! Careful, though, it can be dangerous…  and costly in the end.
But nevermind, it is a great concept, and of course at Le Quai, it is fresh cold Keith's that is available for you to enjoy.
I know of only one other place that does this in the National Capital Region, and it is at Le Pêle-Mêle in Old Hull.
There, however, you get to enjoy Coors Light from the tap.
We went to le Quai last night for a late dinner, and we found the place extremely busy, surprisingly so, for a Wednesday night.  Turns out, unbeknownst to us, that Le Quai was celebrating its fourth anniversary that day.  Unfortunetaly for us, it was a 5 à 7 party, and we arrived too late to enjoy the free hors-d'oeuvres, the door prizes and the free Keiths.   But fortunetaly for us, a table with a tap was open, and we seized it with great enthusiasm.


Mel ordered the Mexican Pizza.
Le Quai has only a handful of choices when it comes to pizza, and they come in individual sizes.
I have never been disappointed, their pizza is pretty good, and around $10. Nothing fancy, though a nice effort with the presentation, as you can see.
The cheese was nicely golden and caramelized on the edges. There was pepperoni and ground beef, not in enormous proportion, but the right amount.
The green peppers were nice and crispy, but the onions were not cooked enough.  It is often the case when onions are used in pizza, especially red onions.  That is why when I make pizza, I usually fry the onions a bit first, in order to make sure they are not too raw.
Mel's pizza was pretty good overall, but I am not clear on why it is called Mexican.  There was no flavour that reminded us of Mexico, no hot peppers of any kind, no salsa despite the claim of a spicy sauce.
I decided to go with the Paëlla. A new item on their menu, and at $16.95 it is one of the most expensive items on the menu.  That was a risky choice.  Paëlla is a Spanish dish, originating from the East Coast. It is cooked in a special large round shallow pan, which is called a paellera.  I somehow doubt that Le Quai has any paellera in their kitchen.
Surprise, here came the Mexican twist, as the paëlla was obvisouly cooked with corn chips sprinkled all around.
I had never seen that before.  As expected, the chips were overcooked and the flavour totally didn't work with the paëlla.  So I discarded them promptly.
Their simple but fairly generous seafood mix included mussels, scallops and shrimp.  There was also some sausage, which added a nice zip to it all. The rice was plain and  quite starchy, and the tomato flavour was strong but not too overpowering.
It was certainly not the best paëlla I've ever had, but it was nevertheless surprisingly good, considering.
I probably won't have it again, as they do other better stuff, but it was certainly not a disaster.  A meal for two, including the beer tap flowing freely, ended up costing us $40.08 before taxes and tip.