Browsing articles tagged with " Mashed Potato"
We were leaving Cutler Bay for an extra day of family vacation in Hollywood, where we had rented a room at the Westin Diplomat, right on the beach.
I set the GPS for my driver, and as we were heading north on the US1, I suggested to her that perhaps we should ignore the GPS direction and keep driving north on the Federal Highway, actually avoiding the I-95 to drive the scenic route, through downtown Miami and Fort Lauderdale, all the way up to Hollywood.  During this vacation, we drove the entire US 1 from Mile 0 to Mile 178.  Only 2199 more miles and we were in Canada. 
We figured it would take longer, giving just enough time for the Waffle Jr. to have a good nap, while not driving in heavy traffic, it being Sunday. It was a good plan and an enjoyable drive. But soon enough, we were hungry. But we had to wait for the backseat passenger to wake up. When she did, we had reached North Miami Beach and we pulled into the parking lot of the first joint we saw: Gourmet Diner.
A classic, stainless steel diner, long and narrow wagon, decorated 50s retro, with an eclectic comfort food menu mixing  Country-Style French cuisine and American Diner Traditional Fare.  
Daily specials are on a whiteboard, which the waitress will put on a chair next to your table, giving you extra options. Although many of them were the same as their regular or their special 29th anniversary menus.  Sides options would differ, you'd get a coffee or tea included, but price would be the same.  And despite it being past noon, the breakfast menu was also available.
The place, which opened in 1983, was not really busy, so our server had to come back three times (to her annoyance, despite the very polite front) before we were ready to order. So many options! Hot Dog, Cheeseburger, Brisket? Celery Root Salad, Trout Meunière, Frog Legs? Penne Veal Bolognese, Churrasco Chimichurri, Chicken Kabob? "Just Bon Cuisine"`, the menu stated, giving us a hint that perhaps the French picks were the way go. If you didn't care about grammar.
Still, tough choices to make, except for the Waffle Jr. who got a Grilled Cheese with fries ($4.95), one of her favorites.
Mel ordered the Chicken Piccata ($14.95, veal also offered), thin slices sautéed with capers in a lemon butter sauce, from the Anniversary menu, which meant she could get a soup or a salad. The soup of the day being Black Bean Soup, Mel elected to go with the Caesar Salad.
For my part, I hesitated a lot but ended up ordering the Lamb Shank ($16.95), braised in red wine with onions, carrots and tomatoes. I could pick two sides from Vegetable Soufflé, Mashed Potatoes, French Fries, Baked Sweet Potato, Basmati Rice, Sweet Potato Fires, Steamed or Grilled Broccoli or Asparagus, or Apple Sauce. 
I go to Milestones Grill + Bar from time to time, mostly the location near Parliament Hill. Not too often, as I find the faux-branché atmosphere sometimes a little on the annoying side. Milestones, which was founded in Vancouver in 1989, has grown fast since Cara bought the chain in 2002, and now has 45 locations in British-Columbia, Alberta and Ontario.
I went there for lunch with a bunch of colleagues between two meetings, and hesitated for some time as I studied the menu. Despite the "a little of everything for everyone" approach, I was really undecided. Salads, Sandwiches, Burgers and Wraps, Pasta, Asian-style, Steaks, Chicken and Seafood. They even have a Gluten-Free selection, which I assume is appreciated by those on a Gluten-Free diet.
The food is generally good, if overpriced. Which perhaps leads to the aforementioned hesitation.
After a few minutes, I settled on Milestone's version of comfort food, from their menu's urban classics section: The Kobe Style Classic Meatloaf. Apparently, meatloaf were once very popular with the urban scene.
The service was prompt and efficient (if familiar), and my meatloaf arrived promptly.
The meatloaf comes topped with lightly fried onion strings and is served over their garlic mashed potatoes, with a shiitake mushroom au jus and seasoned vegetables, in this case carrots and green beans. Fresh parsley was used as a garnish.
We were on our way back to the Fort Lauderdale airport as our vacation was coming to an end. All week, Melissa had been talking about going to Chili's. Why? I think she has been craving Chili's because of all the ads she sees when I force her to watch American Football. Which, of course,  I never do.
Founded in Dallas in 1975, Chili's has over 1400 locations in 32 countries around the world, most of them in the United States. There are 14 locations in Canada, all in Alberta except for 2 in Saskatchewan and 1 in Ontaro.
We were driving south on the I-95 and our appetites were growing, so I started looking for a Chili's location on the GPS. There are a lot of Chili's in Florida, so I had no trouble picking one – we stopped in Wellington, Florida, a well-off village in Palm Beach County.
The location was fairly large, and despite being busy, there was plenty of seats available in the dining room, and even more in the bar section. The atmosphere is meant to be very friendly, fun and carefree, marketing to families and young adults. Noisy, but not too loud. The place, with it's Southwesternish decor, was very clean and lots of staff were roaming around, double teaming tables everywhere.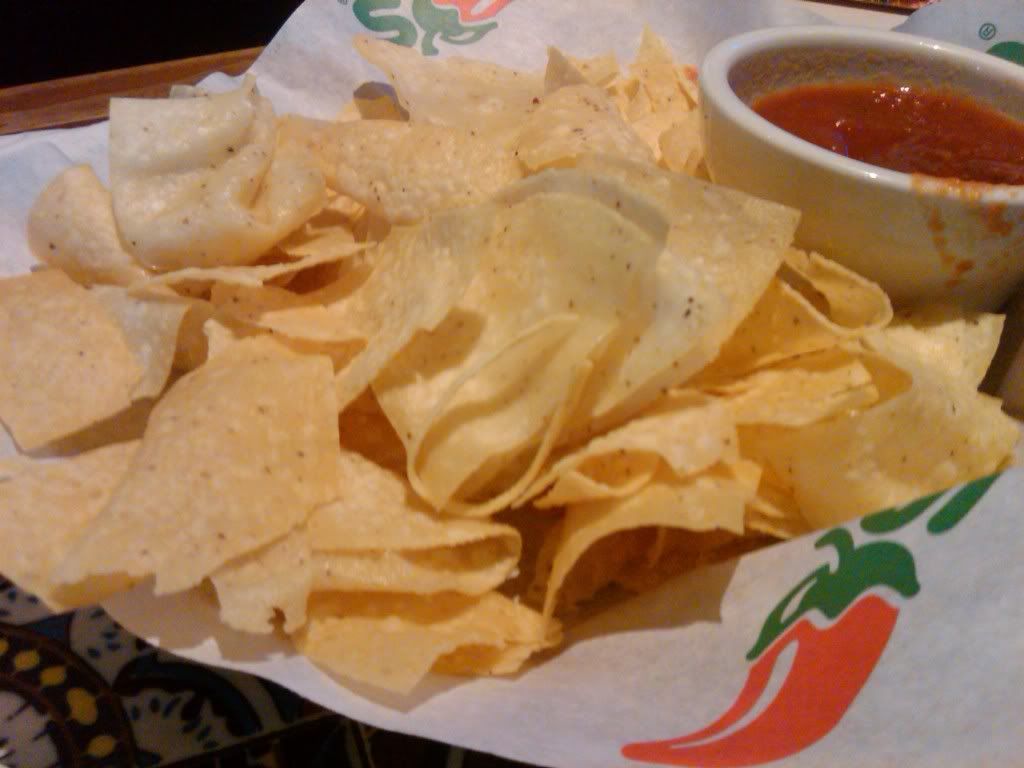 We had barely sat down in our booth when our first waitress very forcefully asked if we wanted chips and salsa. We were too afraid of her to say no and kind of hoping they would be free like at Chinco Rhino, we said yes. They weren't, but at $2.99, that's not really overpriced.
It took no time for us to receive a basket of deep fried Tostada Chips with a big bowl of salsa, which they claim is house-made.
The salsa, I have to say, impressed us.  They did not wimp out on the spices (or salt!!), it had a nice bite to it. It wasn't, however, a chunky type – it was in fact quite runny.  Nevertheless, enjoyable, mostly for the bite. (There are some copycat recipes out there that you can check out.)
The corn chips were deep fried – and some were so deep fried they were transparent. Thankfully, they weren't all like that, most of them were thin and crispy. The bowl of chips, despite being bottomless, was more than sufficient as an appetizer for the two of us, so we didn't get a refill.
To chase down the chips and the spicy salsa, I ordered Chili's signature margarita:
The Presidente.
Sauza Conmemorativo Tequila, Patrón Citrónge orange liqueur and Presidente Brandy, shaken and served in its own shaker, it was pretty good.  And there was plenty of it, therefore there was no need for me to order another one later. Respectable.
Melissa, being a good mother and a responsible driver, settled for Strawberry Lemonade. This weird concoction was bottomless, and she was even offered a refill to go as we settled the bill.
Nice.
But of course, the main attraction was the food.  We both discarded their Mild or Wild menu, Chili's current promotion. It didn't seem wild enough to deserve that qualifier, and why go mild anyway?
At first, I figured since I was at Chili's, and since there were signs everywhere stating EAT MORE CHILI and similiar slogans, I should order Chili.  Here, they call it Terlingua Chili (slow-cooked chili with beef, onions and chiles, topped with cheese), named after the famous Texas town, host of two famous chili cook-off – the Chili Appreciation Society's International Telingua Chili Championship and the Annual Original Telingua International Championship.  I got cold feet though, afraid of a disapointment, and took a pass on the chili.
I kept looking, and spotted the ribs. Ah, yes, Chili's famous babyback ribs, with it's famous "I want my babyback babyback" jingle (performed here by Nsync in 2002!). Chili's claims that their ribs are slow-smoked in-house over pecan wood. I had some doubts, and I found out later that it is not quite how they are done – the truth is that they are pressure-smoked during prep in the morning, refrigerated, and then finished on the charbroiler when ordered.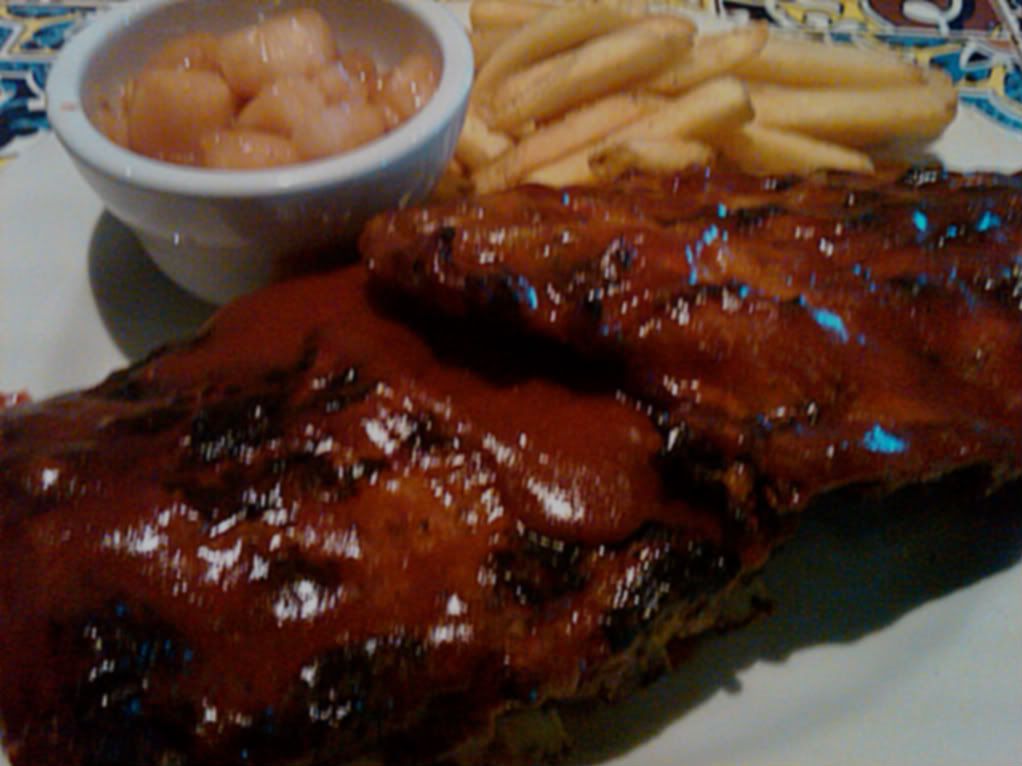 I ordered a full rack of the Original babybacks ($16.99). Other options were Honey-Chipotle, Shiner Bock BBQ Sauce or Memphis Dry Rub. But I decided to stick with the original, hoping I couldn't go wrong considering Chili's marketing of their ribs.
Yes, Chili's is very proud of their ribs, and there are a lot of copycat recipes on the web.  It was definitely a nice size rack of ribs.  The meat was falling off-the-bone, with very little effort.  The meat was very tender, but the smoke wasn't really present – it had only a subtle presence.
The ribs weren't marinated at all – it is clear that they add the flavour at the last minute, smothering the meat with the sauce.
We were in Gatineau looking for a place to eat after an appointment related to the Waffle jr., and we decided to stop at Madisons. Madisons is a new chain of restaurants which label's itself a New York City Grill & Bar. It has 12 locations, all in the Montreal area with one exception: the Gatineau establishment, located on the beautiful Maloney boulevard. It is on a prime real estate spot: the parking lot shared by Canadian Tire and Future Shop.
The concept is a little more open than Bâton Rouge if you can believe it – not a lot of quiet booths here – the atmosphere is meant for the professional crowd, with a constant buzz of professional chatter.
We sat down and peered at the menu sections – salads, pasta, ribs, chicken, fish, sandiwiches and burgers – everything for everyone just as most of these sorts of chains offer.  And of course, they offer beef, in a section they simply entitle Grill.  A short section, I should point out, because despite our pre-conceived idea of what a New York Style Grill should be, Madison's offers only 4 cuts of beef: The Prime Rib, the Rib Steak, the NYC Cut Sirloin, and the Filet Mignon.
I picked the NYC Sirloin and Mel went with the Filet Mignon.
With these steaks, Madison's offers as a starter either the soup of the day or a clam chowder or a Mykonos style Greek salad or a Caesar salad or the House salad and one of the following side dishes: fries or baked potato or garlic mashed potatoes or creamed spinach & Reggiano cheese dip or steamed vegetables.
To start, I had the Greek salad.  To be honest, I do not know why they label it Mykonos-style. It certainly had no special ingredients when compared to a regular Greek salad.
However, the ingredients were quite fresh:  vine tomatoes, green peppers, cucumbers, red onions, Kalamata olives and a block of actual imported feta cheese, all of it drizzled with herbs and olive oil.
The cheese had a nice and round sharp flavour, and the oil was also of a good quality.
The portion was great for a starter, and I was hoping the rest of the meal would be as good.
I ordered my Sirloin steak with vegetables, which were nice and warm, although a bit watery.
I chose the mushroom sauce to accompany my meat, it was not too thick but could have had more mushrooms.
The steak was a bit smaller than I expected – it looked like a small 14 oz.
Nevertheless,  the meat was nicely seasoned and nicely grilled, with a nice charred pattern on both sides of the steak.  It was cooked medium-rare, as I requested, and although it was not the best piece of meat I've ever had, it was decent.
I've had worse steak in my life, it was certainly enjoyable.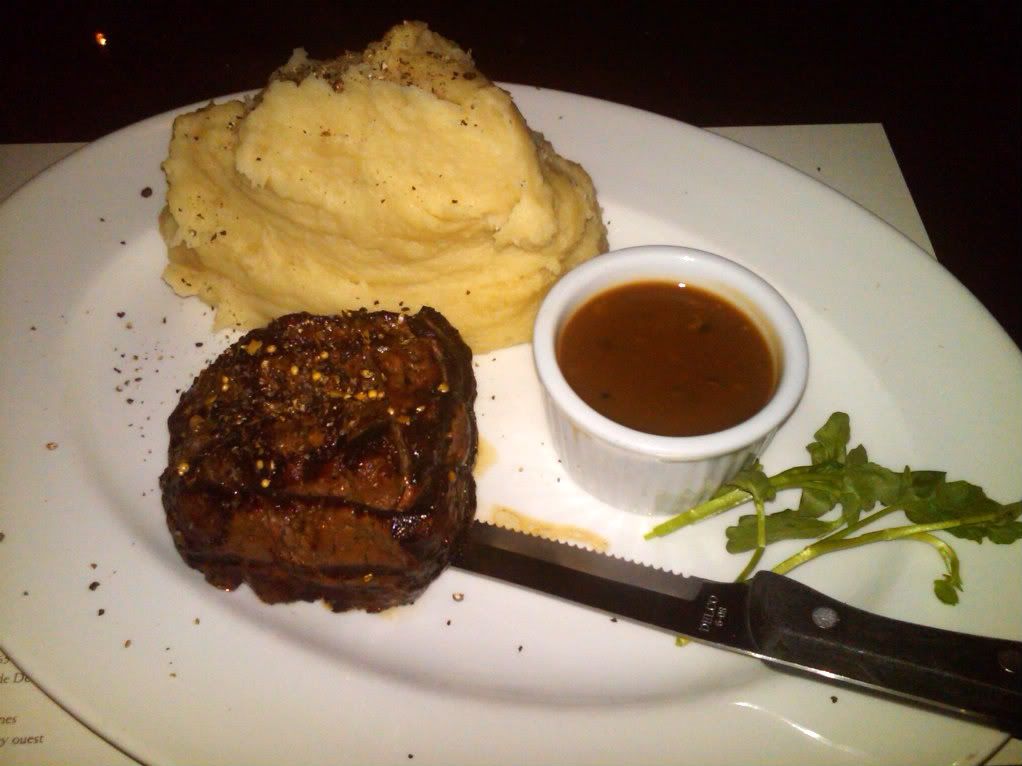 Melissa's filet mignon was an 8 oz, and it looked more or less like she got what she had asked for.
A better cut than my steak, the meat was certainly more tender than my NYC.  Same seasoning, same grill marks, it was also cooked to her liking.
She had her meat with the peppercorn sauce, which it turns out was a better sauce than my mushroom sauce. Lots of peppercorns, good consistency, a tad bit salty, it was a nice accompaniment to the meat, and they were not shy with the quantity.
But the higlight of that plate was not the meat, in Melissa's book.  In fact, I had to finish it for her.
But she wouldn't share much of…
THE MOUNTAIN OF MASHED POTATOES!!!
Let's look at the reverse angle:
This was some serious potatoes. A huge pile, Melissa was simply ecstatic. In fact, for a few seconds, she couldn't help but stare in amazement at the gigantic mass of spuds on her plate. She quickly rejected my suggestion to build something with it and dug in instead.
Warm throughout, creamy, she was eating them faster than the meat, let me tell you. And she knew there was a lot of it.  And she knew that there was only space for a small amount of meat in her stomach.  "If only I could order a 5 or 6 oz," she said.
Thankfully, I had ordered the vegetables, so I was happy to help out when the time came…
So I was invited by
NDI
to participate in their Retraite Politique in Conakry, Guinea.
They wanted me to give some classes on campaign, share my experiences, hold workshops and participate on a youth panel.
They also wanted me to be available to assist as needed in one-on-one consultations.
I have agreed to go, of course, but since it was a bit last minute, I had to scramble to get the green light from my boss, get the visa, get the vaccines and make all the other arrangements.
But I was happy to go, despite the unstable political situation, and hopefully will be able to help.
To get to Conakry, one doesn't get a direct flight.  My itinerary was as follows:
Ottawa-Chicago-Brussels-Dakar-Conakry.  19 hours of flying time, plus the layovers.
So my first layover was in O'Hare, where I had 3 hours to grab some lunch before taking off for Europe.
So I picked the O'Hare Bar & Grill – it looked like the most comfortable place to eat around Terminal 3.
Not knowing what I would face in Guinea, I decided to go for their steak dinner:
A Ceasar Salad, garlic bread, Redskins Mashed potatoes and a 12 oz Sirloin Steak.
The salad was crisp and fresh, not drenched in dressing. The potatoes were actually very tasty, full of flavour.  The bread was kind of bland.   As for the steak, it was not bad, cooked medium-rare as I asked.  It was fairly juicy, but I still ended up adding a bit of HP sauce to help it a little.
It was the most expensive thing on the menu, at 24$ US, but I somehow did not feel cheated at all and left quite satisfied, having chased it down with a couple of beers.
Then it was off to Brussels, were I landed a little bit past 8 am.  The Brussels Airport is quite modern, thanks to an influx of European money, but the Terminal to Africa, Gate T, is a tad bit empty, depleted of boutiques or restaurants.  The only thing available to travellers is a sports bar.  At 8 in the morning, after a sleepless overnight flight over the Atlantic, the possibilities seemed endless.
I love Belgium.  And I figured I would at least grab some breakfast.  A breakfast beer, that is.
And Hoegaarden seemed fully indicated.
Smooth. Creamy.  A touch of sweetness.  The perfect breakfast for a red-eyed traveller.
And hopefully, I'll sleep somewhere over Africa.
.
In the Fall of 2007, in the old Au Coq building on St-Joseph in Hull , opened Georges, a trendy-looking lounge and grill by the owner of La Station, a Gatineau deli I wrote about here.
Georges' menu is self-described as eclectic, but their specialty clearly is beef.  Prime Rib and steaks are at the heart of their offerings, but you can also find a few pasta dishes, poultry and seafood.  They even have a gourmet poutine section in their menu.
I had yet to try it – and we felt like steak tonight, so we drove over there after hesitating between Georges and le Sterling, another Gatineau steakhouse.
The place looks very nice – hard to believe this was a chicken rotisserie place.  You enter into a spacious reception area, and you have the choice of going right, into a trendy lounge area for a more casual dining experience, with electronic music and electric blue lighting behind the bar.  Trying to attract a young thirty-something crowd, they are offering 5$ Martini Night on Wednesdays and a Ladies Night on Thursdays.
To the left, the restaurant area is a more traditional, with comfortable booths and a classic dining environment, although the open kitchen concept does not make this place a quiet one, especially when it is busy because it is quite a large restaurant.
As it was my first visit, I decided to order the item named after the restaurant: The Steak Georges,  a 10 oz Angus New York sirloin, served with shrimp and scallops, topped by asparagus and béarnaise sauce.  It came with grilled vegetables and mashed potatoes.
The shrimp were a little overcooked, and so were the scallops, unfortunately, making them a tad bit chewy.  Not a catastrophe, but still.  The asparagus were nicely grilled, and went very well with the sauce.  A béarnaise is a very rich sauce, and you do not need a lot to accompany your meal, which is what was going on here.  The other vegetables, a mix of green and red peppers, zuchinni and onions, were nice and crispy, with nice char marks.  La pièce de résistance, the steak, was cooked medium-rare as I had asked, and was very good.  The cut was nice, and the meat very tender and juicy.
Melissa decided to go for the beef tenderloin filet mignon.  She chose to go for the baked potato, and ordered peppercorn sauce on the side – a little pricey at $3.50.   The beef was a 6 oz Angus grade, and was also grilled as she had asked.  The baked potato was quite big and nicely done.  As for the peppercorn sauce, I am sure glad I didn't order a side too.  A thick sauce, it was very peppery and tasted very good with the meat, but why bring a swimming pool of sauce?  We're not going to swim in it, so why not bring less, charge less, and look less ridiculous?  I had never seen anything like this before.
A weakness, their wine selection is a bit thin.  Most of the wines offered are very good, but they are also quite expensive, with very few bottles below $30.
For two, with an appéro each, our meal and a bottle of wine, we got out of there with a bill over a $100.  Still, we didn't feel cheated, which is always a good thing.
.