Browsing articles tagged with " Hot Sauce"
I like going to The Exchange. Have ever since the old Elephant and Castle, located in the Rideau Centre, was renovated and transformed into a more elegant place, targetting urban professionals to meet for lunch, dinner & drinks.
While no longer being a pub, The Exchange offers a selection of British classics (Halibut or Haddock and Chips, Guiness Meatloaf, Steak and Stout Pie) and contemporary dishes (Pancetta Stilton Burger, Jameson's Chicken, Fish Tacos) and offers a wide variety of international and local beer, wine and scotch.
I often find myself there, because it is a little less likely you will bump into Hillites than other places near the Hill – despite the fact that its across the corner from the Metropolitain.
I had another work lunch meeting, as I tend to have, and was happy to go back to The Exchange for a frank exchange of points of view. As we do most of the time, we made our way to a quiet corner in the basement.
And as we've done a few times, we decided to share a platter of Buffalo Tenders ($10.50) to start our meal.
At this price, one should admit that the portion is a tad small.  So yeah, I admit it.  The chicken filets, breaded and deep fried, are served with a side of buffalo sauce and a blue cheese dip.
The breading is quite crispy, salty and spicy.  The chicken is not dry – but it is not particularly moist either.  It is the breading that makes it, as the ridges are perfect to soak up the hot sauce and/or the blue cheese dip.  The blue cheese dip, which seems to be home made, could be sharper and chunkier, but it still alright.
For my main dish, I orderd the Chicken Pesto Sandwich on Focaccia ($11.50).  Grilled chicken with pesto mayo and onion marmelade.  On the side, I chose the garden salad instead of the french fries. Continue reading »
Here we were, in Parking Lot 3 of the Ralph Wilson Stadium, for our usual tailgate before the Buffalo Bills game. The lot, as usual, was a constant danger zone, with things being thrown around, open fires, and general mayhem.
This year, there were 12 of us – so I knew I had to deliver the goods on my legendary chili.
The kickoff  was scheduled for a 1 PM start, so 5 of us decided to head early to secure quality spots in front of the Stadium, reducing travel time between our base and the available entertainment.
We shopped the night before at  Tops, where I got basically all I needed. 
Like I did once before, I had to deal with vegetarian constraints – but a vegetarian chili can be healthy, hearty and tasty at the same time.
Here is what I used:
3 packets of whipped butter

1 medium Vidalia onion, chopped

1 green pepper, chopped

1 jalapeño pepper, chopped

1 28 oz can of diced tomatoes

1 16 oz can of dark red kidney beans

1 16 oz can of black beans

1 16 oz can of Great Northern Beans

1 15 oz can of whole kernel of sweet corn

my secret blend of herbs & spices

Water

Beer
First, I slowly melted the whipped butter (taken from the restaurant of the Adam's Mark) in a pot.
Then, I threw the chopped Vidalia onion in, cooking until transparent. The Vidalia onion, since you asked, is an unusually sweet onion grown in Georgia, a production area defined by law. The Vidalia onion was named Georgia's official state vegetable in 1990.
I then added the blend of spices (garlic flakes, smoked paprika, salt, pepper, thyme, cumin, cayenne, onion salt), to awaken their flavours. I stirred with the onions, added the peppers and let that cook for a few more minutes, until softened. 
How does one chop vegetables in parking lot, you ask? I use a small hand-powered food processor – it does a great, efficient, clean job.
Next, I added the tomatoes, a little bit of water and a sip of beer – Coors, in this case.  After all, Coors *is* the banquet beer. 
Once the tomatoes started to break down, I added the hot sauce and the chili powder, covered and let simmer on low for 20 minutes, stirring regularly.  I then added the beans, one can at a time in order to keep the chili temperature up – it was cold and windy outside the stadium. 
I then added with the corn and let the chili reduced for a while in order to concentrate the flavours and for the chili to get denser, adjusting the seasoning as needed. 
Et voilà.  Our tailgate chili was ready around 11:30, and folks could enjoy a warm bowl, topped with a mexican blend of shredded cheese, and chase it down with cold beer.
This was a pretty good chili - all of it was gone within the hour.  The corn adds a nice contrast to the beans, sweet peppers contrasting with the savoury beans.  There was a hint of smoky-ness in there, thanks no doubt to the Chioptle sauce. Thanks to the right balance of cayenne, jalapeño and hot chili powder, the result had a good kick without being too spicy.  Some added some more hot sauce, bringing the heat level a notch higher.  
Hot Dogs were also on the menu. I bought a couple of packages of Gwaltney Great Dogs, America's #1 Chicken Franks – or so they say. With 40% less fat than their regular franks, this seemed to be an obvious choices for us athletes before a football game. I decided to slowly steam the dogs, using a mix of water and beer.
Once the franks were down, some folks threw them on top of their chili bowl, others ate the sausage on its own, some had classic hot dogs, others went with chili dogs. The buns used were Schwebel's.
Gwaltney's chicken dogs were really close to real beef hot dogs – fooling a few in the crew. A large salty, juicy cylinder, with a fairly snappy skin even with the steaming process.  
At $1.99 for 8, one can't complain too much about the product, despite the ingredient list, which includes corn syrup.
Overall, the entire tailgate operation cost 5$ per guy, and there was plenty of food for all. My only regret was with the Hot Dog buns – in the cold, they lost some of their freshness and weren't holding together as well as they should have. I'll have to warm them up next year, either steaming or toasting them on the grill.
Melissa had a craving.  She'd been talking about it for a few days now.  Fajitas, she wanted. The urge was becoming too powerful to ignore, so we got ourselves a babysitter and we headed to Lone Star Texas Grill in the Byward market.
We were welcomed by very cheerful staff, who even opened the door for us, which was nice. The place was busy, but not packed, which suited us just fine.   We were seated by a table near the door, which was unfortunate – the staff was not opening the door just for us, they were doing it for everyone, letting in a cool breeze in the process.  We ain't that special.
"Dixie", in tight jeans and plaid shirt, brought us our menus and took our drink order quite promptly.  Before even coming back with our drinks, she put down on the table a complimentary basket of freshly-fried tortilla chips with a side of salsa.  A bottle of "True Texas" hot sauce was also provided – a cayenne pepper sauce not far off from Tabasco, but with much less vinegar.
There is nothing like fresh tortilla chips.  These were very crispy, a tad oily, served warm with just enough salt. They cannot be good for you but were so much better than their bagged cousins.  The salsa, also house made,  is served cool, a nice contrast to the chips.  Not a lot of bite, but nice tomato chunks, great fresh feel.  And if you go through the basket or the salsa, they'll bring you more! Nice.
Lone Star's menu is typical Tex-Mex, with Nachos, Quesadillas, Chili, Enchiladas, Tacos, Burrito, Chimichanga, etc.  They also have a Salad section, a selection of Burgers and Sandwiches, Ribs, Chicken and Steaks, including a 72 oz. Steak Challenge  - eat the  steak with all the trimmings in one hour and it's free! If you fail, it's $54.99. But to try, you've got to order it 24 hour in advance. Why?  They need to thaw the monster! Perhaps a future Waffle Challenge…
I digress. We were here for the Fajitas, weren't we?
Lone Star is really proud of their Fajitas.  They claim to have introduced Canada to fajitas in 1986, when the original Lone Star opened in Ottawa (there are now 16 Lone Star locations, all in Ontario), a claim The Waffle cannot debunk so it might be just true.
We ignored the fancy fajitas versions such as Chili Jalapeno Fire, Vegetarian (with broccoli!?!), or Buffalo Chicken, and decided to go big with the Fajita Fiesta.
Quite the Fiesta in fact, including Mesquite-grilled steak & chicken, sautéed garlic shrimp and Pork Back Ribs.  "Dixie" thought it was the best deal on the menu, and who am I to challenge her?
As we waited for our meal, the fixings appeared first, with lots of good stuff to pick from: shredded cheddar cheese, lettuce and sour cream, of course.  But also a very creamy housemade guacamole and fresh, zesty Pico de Gallo.
As the story goes, Texas cowboys starting eating fajitas after long cattle drives, when they would grill steak over a fire and wrapping them up in a flour tortilla.  But I can't imagine them cowboys carrying the trimmings with them as well. I mean, how sour can cream be?
Anyhow.
The star of the night showed up soon after.  Lone Star uses skirt steak, which they grill over real Mesquite wood imported from Texas. The beef was nicely seasoned, could have been enjoyed on its own.   White meat is the chicken you get, grilled the same way as the steak, with the same seasoning.  It was juicy, quite good.
The garlic shrimp were surprising, I was worried they would be on the dry side, but no, perfectly cooked, lots of meat, great texture, not too much garlic. Good stuff.
The quarter rack of ribs was tender, falling off the bone, nicely smoked. The sauce helped on that front, as we had picked the Smoky Chipotle Tequila sauce over the Original Texas or the Honey Garlic Jalapeño.
The meat was served on a bed of sizzling onions and peppers, as usual.  I love the aroma of sizzling fajitas.
The hot fixings were served on the side: a very ordinary and somewhat dry Mexican-style rice;  Saddle beans – not the triple re-fried beans paste we usually have at Tex-Mex places, but actual firm beans in a sauce – not drenched in it, which was good. I'm not sure why they are called Saddle beans, perhaps because of the texture? Naaah, can't be.  The beans were a little smokey, a little spicy, a very honest rendition.
But what really shines at Lone Star are the fresh flour tortillas, baked on order in a custom-made tortilla oven. Eva's Food World shows how it works:  small balls of dough placed at the top, then flattened and and baked as they slide down a ramp.  The result is fantastic, nice fluffy tortillas, so much better than the usual paper thin flat bread.  We had to order more to finish eating everything, which was A-ok from our perspective.
If you'd like to enjoy Lone Star's Fajitas, and you should, you might want to go on a Monday, when you can enjoy All-You-Can-Eat fajitas for $19.99, or on a Sunday when 4 eat family fajitas for $44.  Or really, whenever you have a fajitas craving!
So after being snubbed by Colonnade, we were left hungry, still wanting pizza and definitely wanting a patio.
Off the top of our heads, in the area, there was not a lot of selection. We could have driven down to the market and tried The Grand again, but after our first and last visit, we have yet to go back. We may yet, but not tonight.
Besides, we didn't really feel like having lots of people around, so the Market was not the best of ideas, and neither was Elgin Street.
And that's when I suggested Gabriel Pizza at Bank and Somerset, and that's where we sat down on a patio, 8:54 a Sunday Night in Ottawa.
Gabriel Pizza is an Ottawa-area chain which started delivering pizza and pasta in February of 1977, when the very first Gabriel opened in Orleans. The franchise now operates 23 takeout and delivery counters, and 6 family restaurants across the National Capital Region.
I've never had a pizza from any of the location I didn't like, so I wasn't unhappy about being here. An elderly couple was finishing up an "Heavenly Hawaïan" and a table of four typical Centretown characters were hanging around long after their meal was done – staying longer than us, in fact, providing us quality, free entertainment as they interacted with other characters passing by.
I ordered a beer from their limited tap selection and we peered down at the menu to look at the pizza selection, which was not as limited.  First thing jumping at us, they have a couple of new pizzas to offer:  Pollo Alfredo (Alfredo sauce, chicken, broccoli, red peppers, feta cheese); Steak Stampede (steak, mushrooms, red onions, green peppers, smoky BBQ sauce) and Texas Bold Em (chicken, bacon, hot peppeers, red onions, Texas wing sauce.)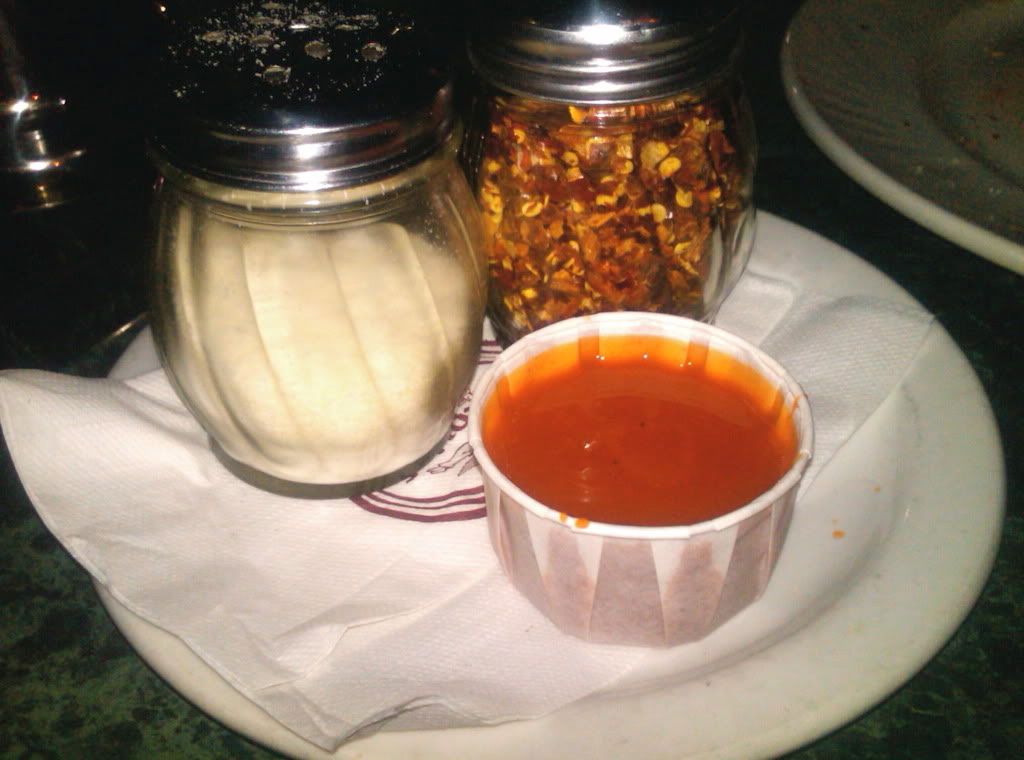 But none of these choices seemed to interest Mel.  We quickly eliminated most pies and ended up hesitating between two: Orleans Favourite (pepperoni, bacon, double cheese) and the Meatsa Pizza (pepperoni, ham, italian sausage, bacon).
Mel had the final word – despite being tempted by the double-cheese, she wanted lots of meat – so we ordered a large Meatsa.  At $25.50 for a 15″, it's not cheap (though cheaper than Colonnade – $25.95 for their Meat Lovers) but let's see if they can deliver on their slogan – "Bigger, Better Pizza".
And to be sure this would be flavourful, Mel ask for a dipping sauce – for an extra buck, we got a side of Buffalo sauce (the nice and smooth Buffalo rendition of Frank's Red Hot), which was promptly delivered with shakers of parmesan and hot pepper flakes.
The Meatsa arrived 12 minutes later: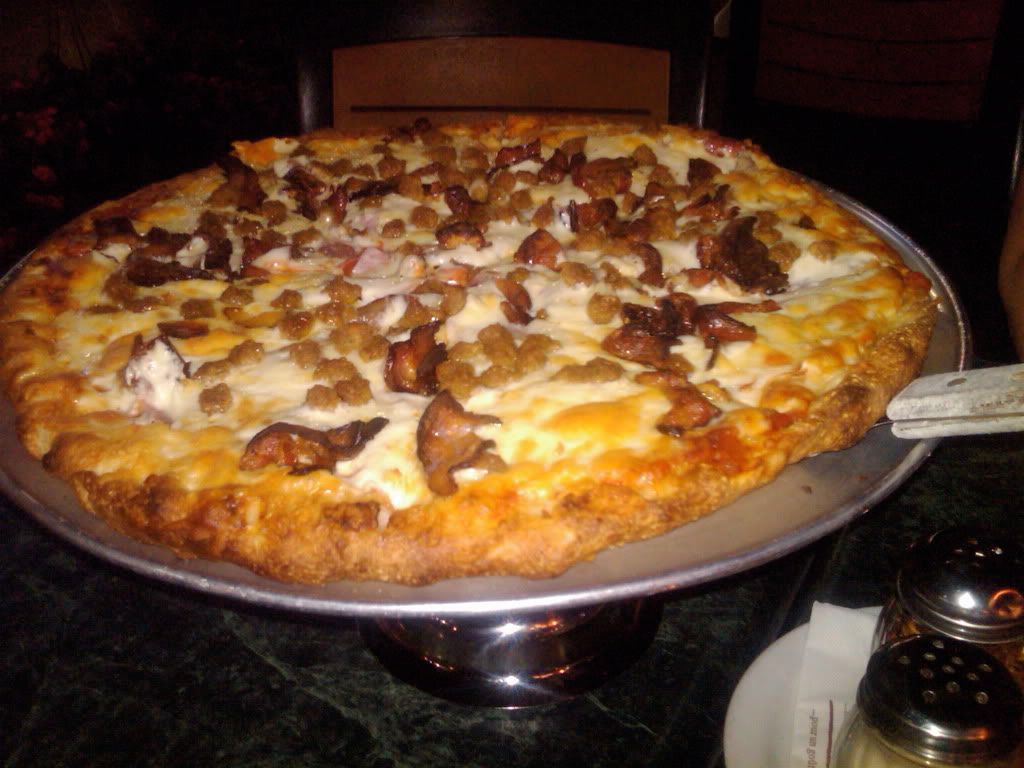 The pizza looked very appetizing.  Lots of sausage bits were evident, bacon was also easy to spot, although it was not distributed very evenly on the pie. The pepperoni and the ham were no doubt buried under the cheese, which looked like a mix of mozzarella and cheddar. The crust was nicely golden, clearly established – except for a slice-size part were it seemed a bit thin.
After we had admired it enough, we helped ourselves to a slice each.  The server hadn't deemed it necessary to do it for us, which is strange, but perhaps understandable considering she was alone taking care of the tables and the pick-up counter.
We dug in and enjoyed a very good pizza.  Let's have a closer look:
It was the mid-summer meeting of the Greater Ottawa Original Fantasy Baseball and Leisure League and most of the owners were gathered at Al's Diner for deep discussions about the value of "Holds" as a possible pitching categories and the eligibilty criterias for Starting and Relief Pitchers.
Al's Diner is a small establishment located on Clyde avenue, which caters to a blue collar crowd for breakfast or lunch.  It is open for dinner but folks mostly drop by to grab a pint and a snack after work.
The menu is diversified – sandwiches, burgers, salads, pizzas, pastas and comfort food such as Mom's Meatloaf and the Sunday Pot Roast are offered. They also have daily specials and nightly specials.
And on Monday evening, Al's diner is offering Chicken Wings at 35 cents each.
I complied and ordered some wings.
I was in Conakry for 8 days at the beginning of July, at the invitation of NDI for a Retraite Politique, ahead of the scheduled Fall election.
I figured I couldn't blog much while in Guinea, and wouldn't be able to write about everything. So I decided I would do a photo-blog.
Every picture below is clickable and you can have a closer look at the food. Generally, the Guinean food is either from the sea or spicy. Lots of stews. Generally, they have a plate of hot crushed peppers available to increase the heat. Perfect. You can also find skewers and all sorts of food stands while wandering the streets of Conakry, as everybody tries to sell some food for a bit of money. But I decided to stick with restaurants, except for the food cooked in the little shack attached to Café Obama. If you plan a trip to Conakry, you may want to look at this dining guide.
Obviously, French cuisine is very present in Guinea as well as Lebanese. A couple of Chinese and Korean restaurants are there too to serve the workers who came to work in the mining or fishing industries.
Butterfly Fried Half-Chicken, fries and fried plantain, tomato and onion salad.Coté Mer
Thiebou Dienn, a fish stew served with local brown rice and boiled vegetables. 23 000 GNF. Africana
A traditional Guinean musician entertaiting the patrons at the Africana Restaurant.
Hors d'oeuvres served to the participants of the Retraite Politique at the Novotel Ghi in Conakry during the registration.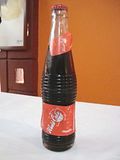 World Cola. Made in Conakry by Sobragui. Very, very sweet and low carbonation.
More hors d'oeuvres. Note the rounded-off chicken wings.
Flag Spéciale. Bière de luxe. Very popular everywhere in West Africa. Owned by Castel. A pale lager, refreshing with a hint of bitterness.
Skol. Brewed under license by Sobragui, it originates from Bermuda. Not bad – but only if cold.
Sorro.
Seafood Pizza. Late-night snack. A bit salty. 96 000 GNF.
Sorro.
Typical Guinean Fish Stew. Quite spicy. You serve on the rice.
Côté Mer.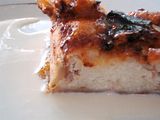 Vanilla and Brown sugar cake.
Côté Mer.
A Guiluxe by the sea. The national beer brewed by Sobragui. Smooth. 4 times cheaper than at Sorro. Only 7 000 GNF.
Café Obama.
Garlic Shrimp.
Restaurant Chinois.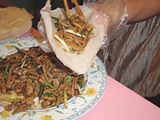 Chicken and green onion, sautéed, and served in thin crèpes.
Restaurant Chinois.
Snow Peas and Garlic. Lots of Garlic.
Restaurant Chinois.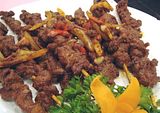 Very spicy Beef Skewers.
Restaurant Chinois.
Typical Guinean Beef Stew. You serve on rice.
Côté Mer.
Sponge Raisin Cake with papaya sauce.
Côté Mer.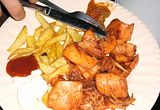 Grilled Calamari and fries. Nice big pieces, no chewiness.
Café Obama.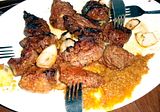 Beef skewers with hot sauce. Good meat.
Le Gentillhommière.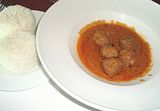 African spicy meatballs. Eaten with rice.
Côté Mer.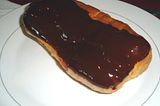 Chocolate pastry stuffed with cocoa cream.
Côté Mer.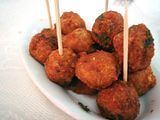 Fish Balls. Free hors d'oeuvre before the meal.
Le Rocher.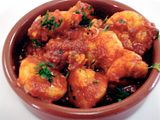 Shrimp Piri Piri. Quite spicy and rich tomato sauce.
Le Rocher.
Avocado vinaigrette. A pool of dressing.
Le Rocher.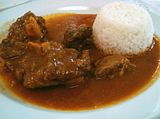 Braised Lamb African-style, with rice. Tasty, but bad cut.
Le Rocher.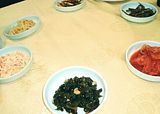 Korean appetizers, including KimChi, Sesame spinach, Green Onions with chili, etc…
Korean Restaurant.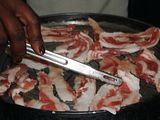 Slices of pork, coked on a hot plate.
Korean Restaurant.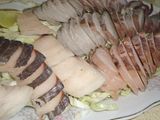 Sashimi. Raw fish in Guinea. Hmmm…
Korean Restaurant.
Sweet and Sour Spicy Chicken.
Korean Restaurant.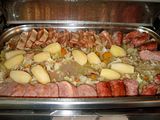 Pork meat assortment (sausages, salted pork, etc..) with boiled potatoes.
Côté Jardin Restaurant.
Kibbe. Stuffed with ground beef.
Le Cèdre.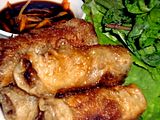 Lebanese deep fried rolls. Stuff with lamb. Very greasy.
Le Cèdre.
Merguez. Very small, very dry, very mild.
Le Cèdre.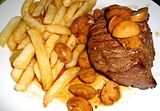 Châteaubriand. Flambée. Sautéed mushrooms. Fries. At 37 000 GNF, a fantastic bargain. Very tender meat, great cut.
Le Cèdre.
Lamb roast with mousseline potatoes.
Le Damier.
A reader, let's call him Rick, sent me a submission to review.  He thought I'd love this new product from the always creative people at President's Choice.
The PC Blue Menu The World's Best Meatless Seasoned Chicken Breasts.
According to President's Choice, we can enjoy all the tenderness, flavour and versatility of chicken with these delicious blend of vegetable and grain-based ingredients.  Stop salivating, I know you are drooling on your keyboards.
So Rick, a long-time fan of The Waffle, sent with no prior warning, his step-by-step pictures for his sandwich creations.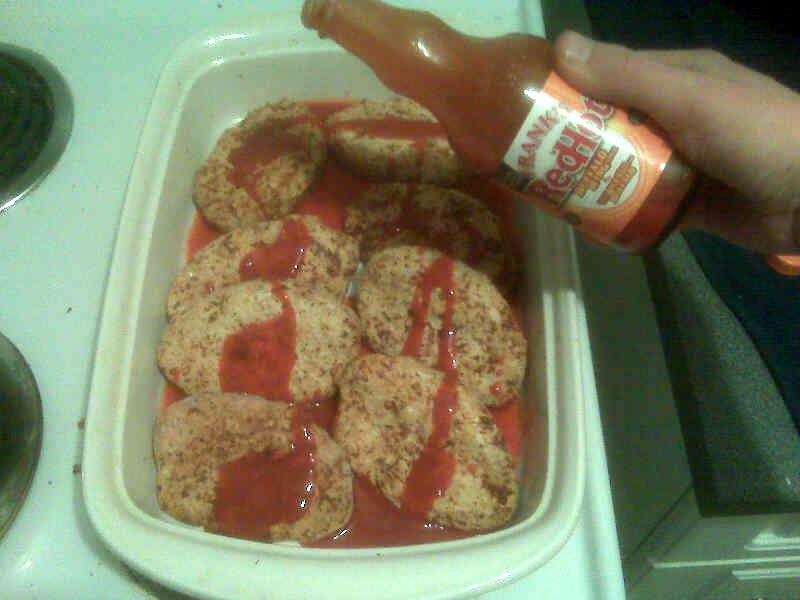 "What the Hell is that, cat food?", I yelped when I got this.
Sure, he is covering it with Frank's Red Hot Buffalo Style sauce, (which has been discontinued and replaced by this) but …  is it enough to make it pallatable?
And then, he baked them:
Here, Rick is demonstrating that when cooked, cat food patties shrink to the size of a thumb.  He had never tried this before, so I am sure we all share his disapointment.
Facing this challenge, Rick decided to make sandwiches – possibly to mask the taste?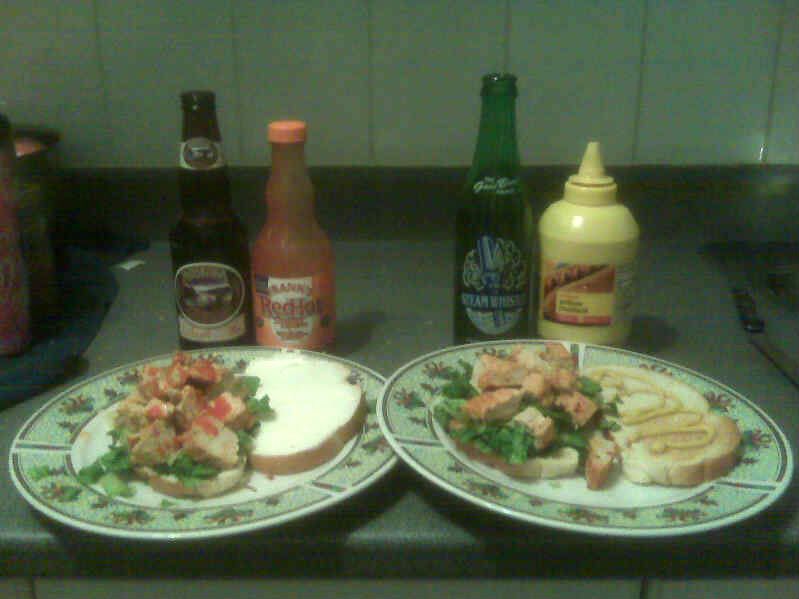 Cream cheese and hot sauce, with meatless breast pieces on a bed of lettuce.
No Name Mustard on the right, with meatless breast pieces on a bed of lettuce.
Thankfully for them, they had good brews to chase things down -
a Muskoka Organic Dark Ale and a Steamwhistle.  Good selection.
Thanks for the submission, Rick.  But I'll stick with Real Mock Chicken.
.
Buffalo is an All America City for more then one reason.  Although it is not known for its fine cuisine, Buffalo is nevertheless the epicentre of the most important sports cuisine revolution ever:  the chicken wings.
Because it is here, in 1964, in a small establishment of Main Street, Buffalo, NY, USA, that the chicken wings were born.  The blessed nativity happened at the Anchor Bar.
I've always wanted to go, but although it is on Main Street, it is still a few blocks away from downtown Buffalo.  On our annual football trip, we usually stay at the Adam's Mark, as it is walking distance from the classy night life experience one only can get in downtown Buffalo, an All America City.
Monday Night Football was changing our plans, as there was no need to enjoy said nightlife.  But it also meant we had time for an All America Lunch.  So off we went to the Anchor Bar.
If I understood the story correctly, the chicken wings were invented one Friday night in 1964, as the son of the owners, Dominic, was hanging out with a bunch of his friends at the bar.  Emptying the beer kegs, they got hungry.  Teresa Bellissimo was asked by her son to feed his friends, but it being Friday night, and it being late, and them being drunk, she didn't feel the need to feed them with fancy food.  She took the chicken wings she had reserved to make soup stock, and dunked them in a deep fryer. She then tossed them in a "secret sauce" ( A blend of cayenne pepper, vinegar, salt, garlic and margarine) and served them with a blue cheese dressing on the side to cut the heat for the sissies amongs Dominic's friends. They apparently liked the dish, ordered more beers, more wings, et voilà!  A new star was born, and the Buffalo chicken wings are now a favourite accross North America, still spreading around the world.
We arrived around 1 pm.  The parking was packed, which I assumed was pretty normal for game day.  Still, we were 7 hours away from kick-off.  The place was really busy – we lined-up in order to be part of the experience.  Ivano Toscani, the Executive Chef, was welcoming people and making sure to move people along quickly.  It took about 10 minutes before we were able to sit down in a corner table, not far from the piano.  – Yes, they have live entertainment – but not today.
Today is all about Monday Night Football.  Most of the patrons are wearing either Buffalo Bills' gear, or Cleveland Browns' apparel.  Cleveland is not that far from Buffalo, so lots of Browns' fans are in town, and lots of them are at the Anchor.
Jerry and I had a quick look at their lunch menu, but that was mostly just for show. Hell, we were here for wings, so we barely looked at the salads, soup, sandwiches, pizza and other available items to focus on the Holy Grail:  the original wings! (They also have a dinner menu, expanded to include pasta dishes and seafood.)
Anchor Bar Wings are available in five flavours:  mild, medium, hot, bar-b-que and suicide. The original version, I gather, is the medium one. We ordered 20 wings
To chase them down, I went for a pint of Genesee Cream Ale.  Funny enough, of the 29 beers available at the Anchor Bar, 1 is Irish, 1 is Dutch, 2 are Mexican, 8 are Canadian, and 17 are American.  The Genesse Cream Ale is quite clear for a Cream Ale, very pale too.  Pretty weak aroma, it is quite smooth and therefore a good beer to chase down wings.
While waiting for the wings, I went to their souvenir shop.  I bought a great chicken wing hat!!!  It would be a huge hit later, I was sure of it.  You can order a lot of the stuff on-line.
And then, the wings came.
Here they were.  The originals.  The wings to rule them all.
The smelled so good!  They looked so good! And good they were. The wings were served with plenty of celery sticks on the side (for our health – way to go Anchor Bar!) and the original blue cheese dip.  The dip wasn't bad, but I've always preferred to keep my wings un-dipped.  That's the kind of non-dipper dipper I am.
The sauce is what makes it all happen.  Because the wings themselves weren't of the best quality.  And, because of the heavy affluence I assume, they probably weren't as good as they can be.  In fact, some were a tad bit overcooked, so much so in fact that some bones would chip – I believe I did swallow a little piece.
But the sauce was divine, and it made for very tasty wings.  They were served hot, and they were clearly not microwaved as they remained hot to the last one.   I wanted to try the other sauces they had available, but that was plenty of food for now.  So I went to their store again and bought an assortment of sauces and a gallon of original sauce.
I will make another pilgrimage if I have the chance.  This place changed the world.