Browsing articles tagged with " Home Fries"
I had promised my family that we would go for our first Chelsea brunch of the year once I was done with shovelling. Its snows every day in Chelsea, it seems.
I had suggested the Chelsea Pub, feeling that the warm and cozy atmosphere would be great. We arrived at the Pub, but alas, despite two cars in the parking lot and music blasting on the outdoor sound system, the Pub was closed. Turns out, they do not open until 11 am. Bummer. We were not interested in waiting, and the staff inside was not interested in opening early.
So we hit the Old Chelsea road again, hoping another spot would be open. Thankfully, the Café Soup'Herbe just down the road was up and running.
A vegetarian restaurant, Café Soup'Herbe opened in 1996.  They are closed on Mondays, no doubt to recover from the Sunday Vegetarian Brunch, which they boast about proudly.
We walked into the restaurant, which has a rustic and cozy feel to it. The wall's paint has seen better days, and the wooden chairs and tables added to the rustic feel. It was even more rustic than usual today – the front store dimmer was broken and therefore, all the tables at the front were lit only by Mother Nature. We decided to sit at the back, with lights, enabling us to notice as we walked through the establishment a series of painting from a local artist, exposed there for all to see – and buy.
We sat at a table at the back, and almost immediately the menus and a bottle of water was brought to the table, and beverage orders were taken.
There are half-dozen main choices, most of them served with home fries and a very fresh salad.
The Waffle Jr. wanted pancakes, Mrs. Waffle went for the Basil-Tomato scrambled Eggs, and I selected the Italian Frittata.
Surprise, the kitchen made a mistake – in our favour! Well, in fact, in the Waffle Jr.'s favour. She couldn't believe her luck when she saw the adult-size stack of pancakes show up instead of the kids' version. Our friendly waitress apologized with a smile.
A pile of pancakes. A ton of blueberry sauce.  A pile of fresh strawberries, bananas and pineapple chunks. A big scoop of whipped cream.
The pancakes were then garnished with powdered sugar and some Maple Syrup on the side.
The Waffle Jr. dove in, hands first.
Mel's scrambled eggs were fine. Tomatoes are what they are at this time of the year. The use of fresh basil was however quite welcome.
Served with the scrambled eggs, a side of potatoes, a garden salad, a croissant with raspberry jam and some pieces of fruit as a garnish.
My Italian Frittata came with the exact same sides as Mel's scrambled eggs.
The Frittata was overdone, unfortunately. Golden should be the color you are looking for when making one. And here, brown was the predominant color, especially underneath. The taste confirmed what the eyes saw – the Frittata was overdone. It was palatable, mind you, but there was this slight burnt undertone, killing the more subtle flavours one was suppose to detect. The mushrooms were the best part of the Frittata, very flavourful and great texture. But if the other veggies survived ok, the rest didn't so well, and it was a little dry at times.
The accompanying salad was fresh and the home-made vinaigrette zesty and tasty. If the tomato slice on the side was what it is in January, the cucumbers were good. The potatoes were delicious. Likely blanched, then skillet-fried, they were cooked perfectly. A great combination of fluffiness and crispy edges, packed with herb flavours.   The croissant was fine, a nice change from the usual toasts you usually get in most places.
Mrs. Waffle and I finished our plates, then we moved in to help Jr., who was struggling a little to finish her adult-size pancakes.  They were thick, quite fluffy. The blueberry sauce was also thick, packed with the anti-oxydant blue wonder.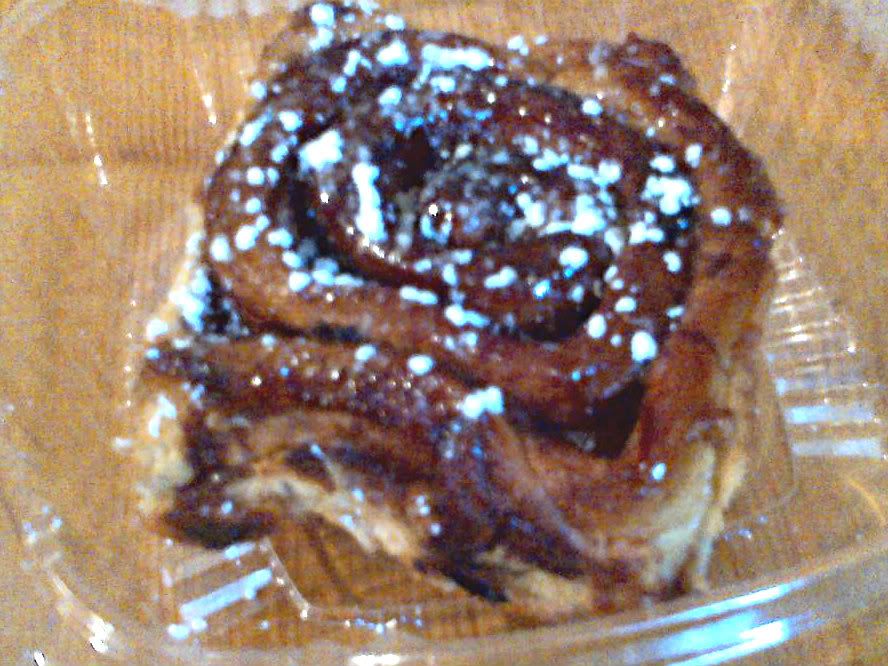 I must mention that when we ordered, we were asked if we wanted the brioche right away, or after the meal. It turns out, with every brunch main dish you order, you get a fresh brioche as an appetizer – or a dessert.  Fearing we would spoil Jr.' s appetite, we asked for it to come at the end.
We were full and done, though, so we asked for the brioche to be packed to go, for us to enjoy later that day. Although it was tempting to go for it here and now, the warm cinnamon scent being what it is, we held on, packed it up and went on our way.
The year is ending. 2012 breakfasts would soon be a thing of the past. Since our hotel was serving the same brunch as yesterday, we decided to leave on an adventure to find a suitable location.
It didn't take long – once on Henri-Bourassa, the familiar n logo soon appeared, and so Normandin would be our last breakfast destination of 2012.
Normandin is a chain of family restaurants originating from Quebec City. Their delivery service is quite popular – and noticeable, with a fleet of blinking n logos on top of red cars. It is also open late, making it a destination for the bar crowd looking for a late snack. Normandin is also sells a lot of their products at a counter, where you can get buckets of their spaghetti sauce, family size dishes such as Lasagna, Macaroni, Pâté Chinois, and savoury or sweet pies.
The first one opened in 1969 in the the Neufchâtel restaurant and was quite popular. By the 90s, there were 19 Normandin established mostly in the Quebec City region. Normandin is still expanding into other regions, and now counts 40 restaurants from Mont-Joli to the East, Sherbrooke to the South and Ste-Julie to the West. They have yet to breakthrough on the Island of Montreal.
Normandin also diversified its business, with two hotels in Quebec City, the Hôtel & Suites Normandin on Pierre-Bertrand and the N Hotel on Ste-Anne.
We settled down in our booth, and our waitress soon brought to the Waffle Jr. a coloring mat with a small bucket of Crayola crayons, and a bowl of Froot Loops, much to Mrs. Waffle's amused dismay.
We peered at the breakfast menu, which is always available, a great feature for those getting up late.
Jr. wanted pancakes, so that settled that pretty quickly. The pancakes ($4.25) came with a glass of milk, a bowl of fruit and real Maple Syrup, for which Normandin needs to be commended.
Normandin's breakfast options feature many egg options, from the casserole to the omelettes to the benedict or the standard bacon n' egg plate. Other options include bagels, pancakes, french toasts and also a Breakfast Pizza.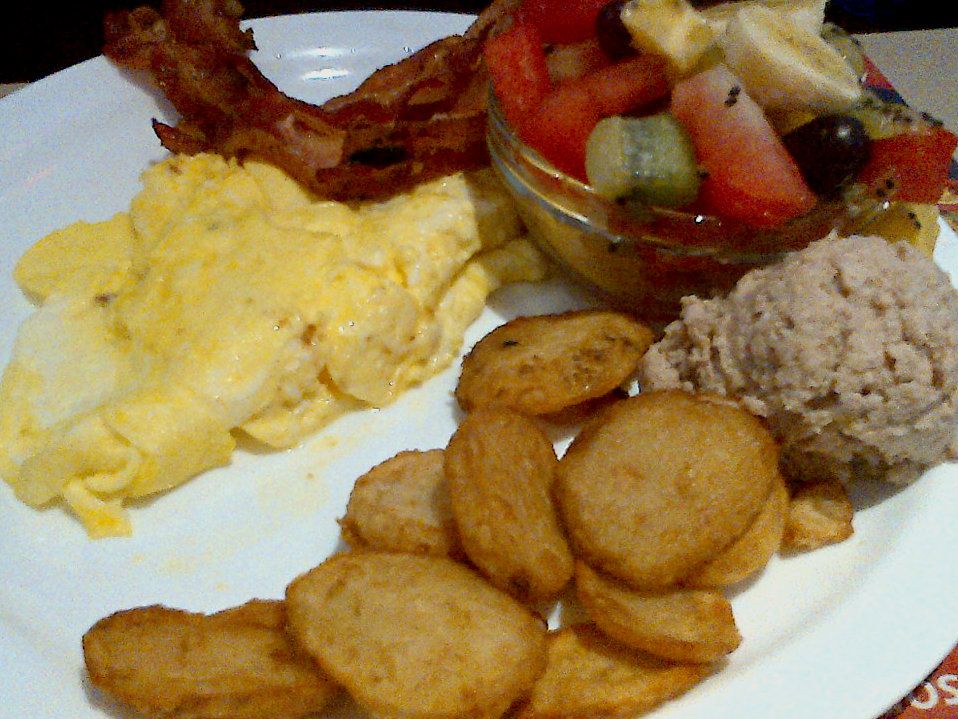 Mel felt like having a traditional breakfast, so she ordered the #5-plus ($7.55).
That would give her two eggs, her choice of meat (she picked bacon), a side of home fries, a bowl of mixed-fruit (watermelon, kiwi, bananas, grapes, oranges), toast and coffee. That's the regular #5, going for $6.10.
The plus? A scoop of Normandin's cretons (also available at take-out counter) for an extra $1.45. "I'm getting the cretons for you!", she said. Awesome!
For my part, I was kind of tempted by the Breakfast Pizza, but in the end I decided to go for a healthier option: l'Assiette Campagnarde aux Légumes ($9.95).
A casserole dish with a mix of onions, green peppers, mushrooms, brocoli, home fries, smothered in Hollandaise sauce, au gratin, and served with two eggs on top – I went with poached eggs. A few pieces of fresh fruit came as a garnish on the side.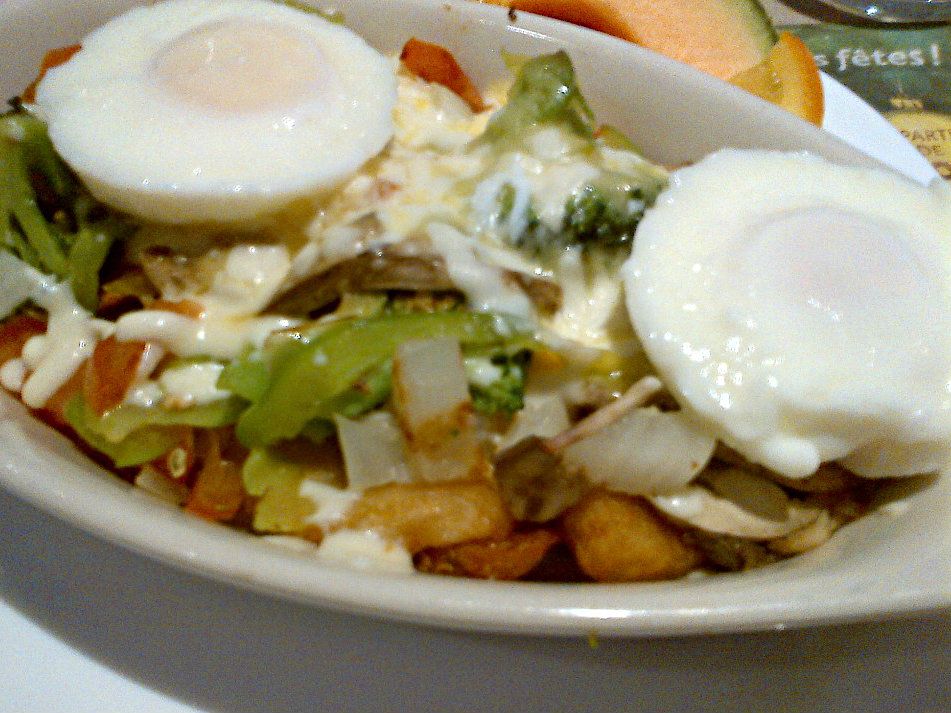 The food arrived fairly promptly. The Waffle Jr. dug into her pancake and seemed to enjoy it tremendously. The cloud of whipped cream? She mostly used it to dip her fruit in it, and the home fries she manage to scavenge from her mother's plate.
From her plate, Mel seemed to enjoy the bacon the most. Strange, isn't it? The eggs, scrambled, were cooked well. The home fries, she felt were a little dry and commercial, but not terrible, really the Waffle Jr. ate most of them anyways.  As for the mixi-fruit, she didn't like it much: "It's obviously right out of the fridge."  Though here Normandin gets points for at least going beyond the traditional melon-pineapple from a can (which is what Jr. got), the mixi-fruit is obviously prepped ahead of time and refrigerated, killing some of the freshness and flavour in the process. That is especially true for the kiwi, which doesn't support that kind of handling.
My Assiette Campagnarde was alright. On the plus side, the veggies were crunchy and juicy, and there was plenty of it – though there could have been more tomatoes. The eggs were poached as I asked them, but they were poached in a mould, removing some of that cloudyness one should get with poached eggs. On the alright side, the home fries were hit and miss. Some were crispy on the outside and fluffy inside, but some were simply mushy all around. On the down side, the Hollandaise sauce was only there in spirit – I mean, there were traces, but it's like it had evaporated. The cheese also was lacking – perhaps evaporated with the Hollandaise? You see, the point of this casserole dish is to really smother the veggies with Hollandaise sauce and to then cover the dish with cheese, in order to create a cheesy-eggy-gooeyness filled with bold flavours, supported by crunchy veggies. (Normandin also has a meaty version, but I wanted to be a good boy to end the year – and I was getting cretons!) The portion, however, was quite sufficient, especially considering the very generous scoop of cretons I was spreading on my toast. The cretons were quite smooth, but dense.  Quite good, though I prefer less creamy and more meaty.
Before tax and tip, our last breakfast of 2012 cost us $25. Without being the most amazing breakfast we ever had, it certainly did the trick, and got us ready to go for the remainder of 2012!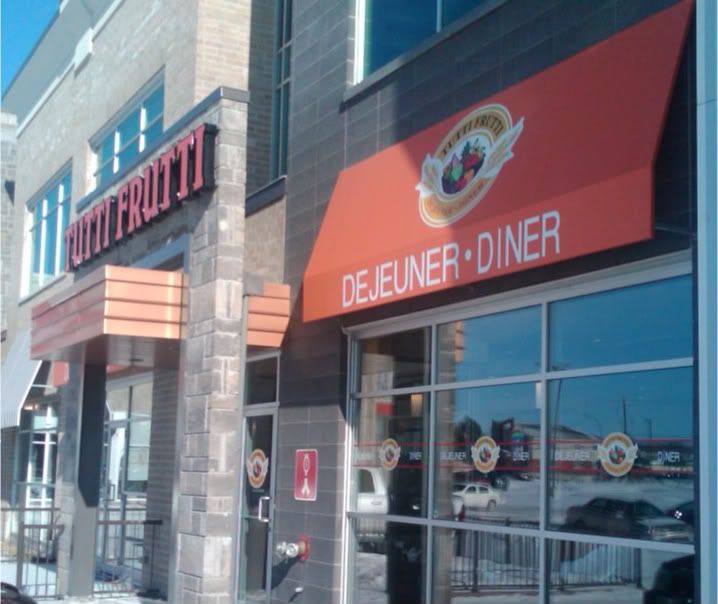 People love breakfast, and they love eating out for breakfast. You can eat for cheap, food menus are simple and therefore hard to screw up, bottomless coffee cups are offered in a lot of cases.
So it is not surprising to see more and more speacialized breakfast chains moving in to capitalize on that lucrative market.  I'm not talking Donuts shop or Fast Food chains.  I'm talking Breakfast chains like Cora (1987).  Eggspectation (1993).  Eggsquis (1995). Ben & Florentine (2008).
And Tutti Frutti, which was founded as a franchise in 1992 by the Pentefoutas family in Montreal. The chain has been growing steadily ever since, and was acquired in September 2008 by the MTY Group, the franchise giant behind 26 banners (over 1700 locations) such as Sushi Shop, Vanelli's and TCBY.
Tutti Frutti is now expanding into Ontario, after establishing themselves solidly in Quebec. Tutti Frutti has just expanded into the National Capital Region by opening a new location in Nepean (reviewed last month by Eva's Food World), adding to the first Gatineau location and most recently, a new one in Hull, high up on St-Joseph.
And that's where we decided we had to start our first Family Day together. We were attracted to the location by a coupon printed in Le Droit which gave us $5 off any of their Eggs Benedict selection. Significant deal.
We arrived around 8:30 and the place was basically empty, which I didn't particularly mind.  For some reason, the hostess, who welcomed us promptly and nicely, thought that the best table to sit the three of us at was right beside an already occupied table in an otherwise fully empty section. Strange, but oh well, it didn't really matter to us.  (But it did to the gentleman, who soon after asked if he could move "near the windows – if it's not too cold over there.  For the record, the Waffle Jr. was minding her own business.)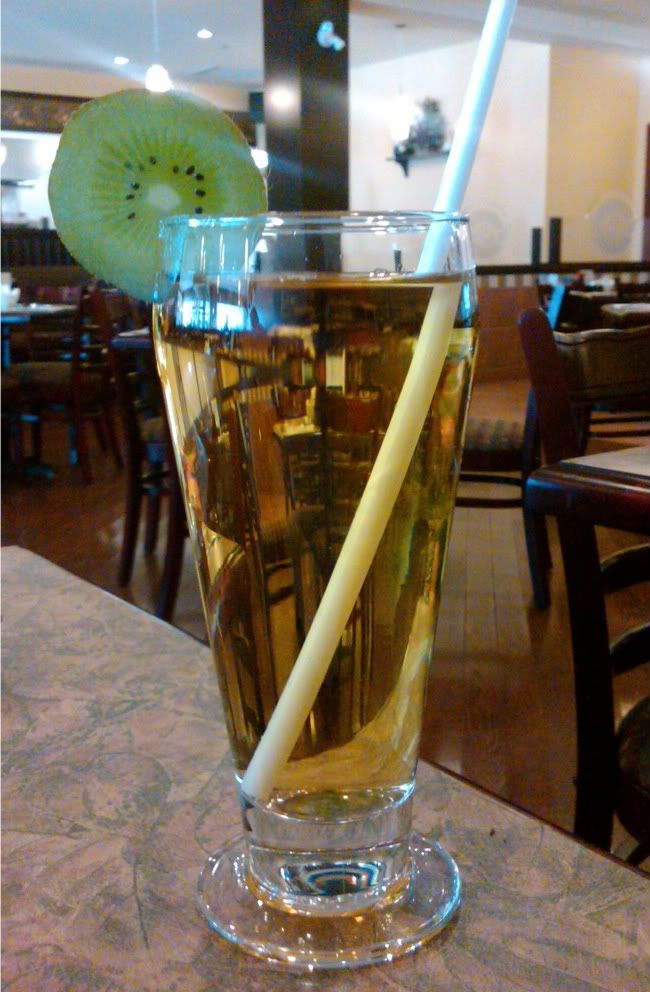 Mel wanted coffee, I ordered a large apple juice.  It came with a slice of kiwi as garnish, a simple but nice touch. However, at $3.25, it was quite pricey! No wonder their coupons are worth $5.00! Of course, the coffee was included with a breakfast, another example of non-coffee-drinker discrimination. However, if you are a coffee drinker, I should point out that the re-filling was not very prompt. "If you are a breakfast place, there is no reason to ever allow your patrons to see the bottom of their cup!" Mel informed me.  In fact, after being asked directly for more coffee, our server simply forgot about it and I had to wave her over again while to remind her of my tender-half 's need for more caffeine.
Looking around the restaurant, one could not help to notice how clean the place was. Don't let yourself be fooled by the bright orange canopy outside the restaurant  - the interior decor is warm and sober, and they get high marks for the natural light blasting in.
The open concept basically lets you peek into the open kitchen from anywhere you sit. The tables are not too close together, but I bet the place would get loud fast.  But with 6 tables occupied, not a problem.
The menu is varied, offering many types of crêpes, pancakes, French toast, omelettes, waffles, fruit platters, and of course the classic bacon n' eggs and other usual combinations (most of them available in a cheaper early-bird version). On the sides side of things, one should note the presence of cretons and of fried baloney. Tempting!
Melissa decided she would try the Eggs Benedict, and she picked the Ham version ($10.55).
Two poached eggs, served on a thin slice of ham, sitting on english muffins, covered but definitely not drowned with hollandaise sauce. Melissa did note that she was not asked how she would like the eggs cooked, which normally means (she assumed) they would be done medium (no runny stuff) but these came cooked soft (with runny stuff).  She would have rather they had been medium, but she still enjoyed the meal.
Her plate, as was mine, came with home fries and was decorated with pieces of fresh fruit. ("Why are the fruits touching my food?!" Mel cried. "I hate it when my breakfast food is contaminated by oranges," she added, as she created separation between the culprits and her eggs.)
The fruits were stacked to look like a floral bouquet but did not quite match the pictures in the menu.  Nevertheless, there was some effort put into the presentation, a nice variety of melons, citrus and apples.  The fruits were fresh, juicy, nothing to complain here. In fact, even The Waffle jr. joined in and tried her first piece of watermelon ever – and asked for more.)
I'm not really a breakfast guy, I usually have some fruit, something simple.  But when I go to a breakfast place, I like to try things that are out of the ordinary.  Three things here caught my eye:  The Three Little Pigs (breakfast sausages wrapped in buckwheat crepes and cheese), and the Tutti Frutti Special (two cinnamon buns, one covered with fruits and the other one with egg and bacon).  But the one item that was calling my name was the Tutti Mini ($11.95), three omelette sliders. How original!  How ambitious!  I had high hopes.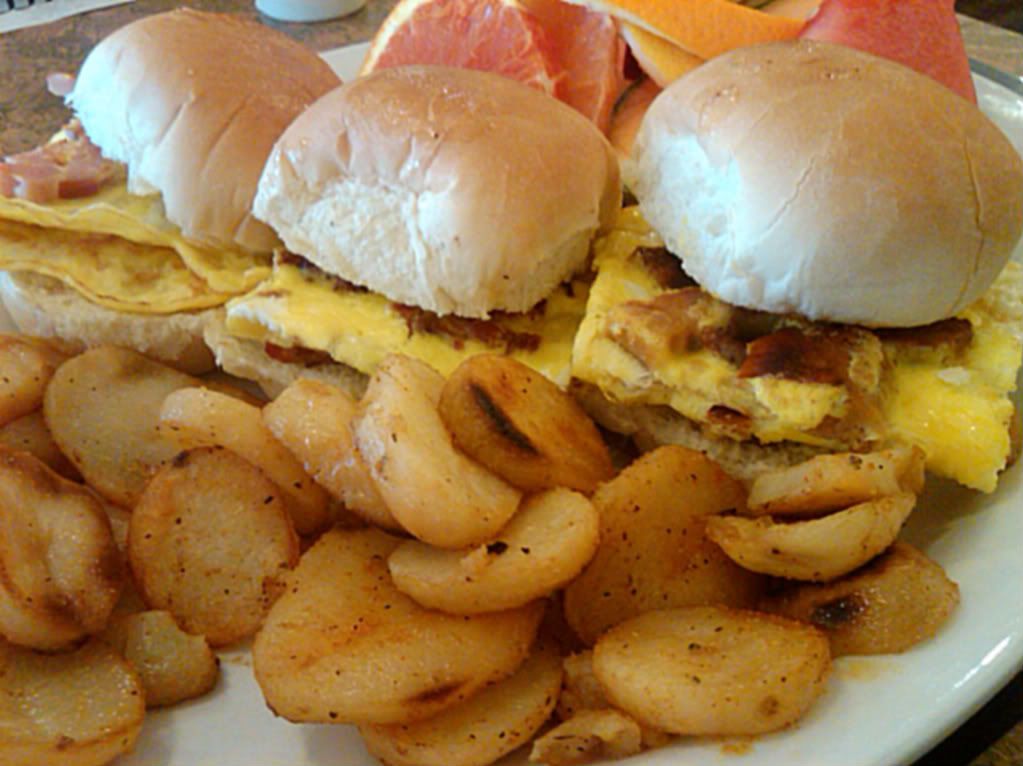 First, a word about the home fries. Real slices of potatoes, a nice change from the deep-fried frozen tatters you too often get served for breakfast, they were a tad soft but not mushy.  There was some sign of crispyness, but minimal crunch.  An honest rendition.
The sliders were the main attraction of the plate.  There was three Tutti Mini on the plate: one with sausage, one with bacon, one with ham.
The buns selected for the breakfast burgs were of a standard, non-descript industrial make. They were fresh, with almost a cake-like texture.  But sadly, they were served right out of the bag.  Not grilled, not toasted, not warmed up at all. Unfortunate.
The omelettes were pretty bland.  Just plain pre-mixed eggs  on a plaque, barely seasoned. No cheese, no veggies. Even the meat wasn't mixed in, it was simply cooked separately and added under and over the eggs as they put the sandwich together.
Talking of the meat, I really didn't like the sausage one.  It had an unpleasant aftertaste, the texture was oily,greasy, it simply wasn't good.  The bacon version fared little better – instead of a couple of nice bacon slices, I had a bunch of small bacon bits – either broken pieces they keep for this purposes or that is simply the way they plate it, but whatever the reason, it didn't work. The best of the three was the Ham version.  Again, they had the ham slice cut up into chunks, but at least the chunks had some substance to them, it had the best flavour of the pork trio, a tad salty but hey, it's ham.
The omelette slider is a great idea, but it didn't live up to my expectations. It wouldn't be hard to make this a home run. Season the eggs better, adds some onions, and finish it with melted cheese.  Toast the buns. Improve the quality of the meat and give the slider a nice finish with some garnish – maybe a hollandaise mayo or a fresh salsa to bring it together. This dish has so much potential. It should be better.
All things considered, Tutti Frutti is similar in what it delivers to other breakfast chains. Some things are good, some things not as much.  The variety and quantity of the fruits on the plate is impressive – you aren't stuck with a single slice of orange with half a strawberry on your plate.  Yet, execution is far from stellar.  As for the service, it was familiar, friendly.  The food arrived quickly, and what was meant to be warm, was warm.  The place is not cheap, though (unless you go for the Early Birds' special) as our bill, before taxes, tips and coupons, was $25.75 for two persons.  Not quite worth it, but not a total rip-off either.
I used to go to Dunn's Famous on Queen Street fairly regularly for breakfast before work. We even had a little breakfast club going, and even though we went to other spots from time to time, Dunn's was our regular hangout. In the morning, the place is usually packed  with white and blue collars alike, united in their wish to enjoy a respectable breakfast, served quickly and for very little money – and in Ottawa, they've been doing this since 1990.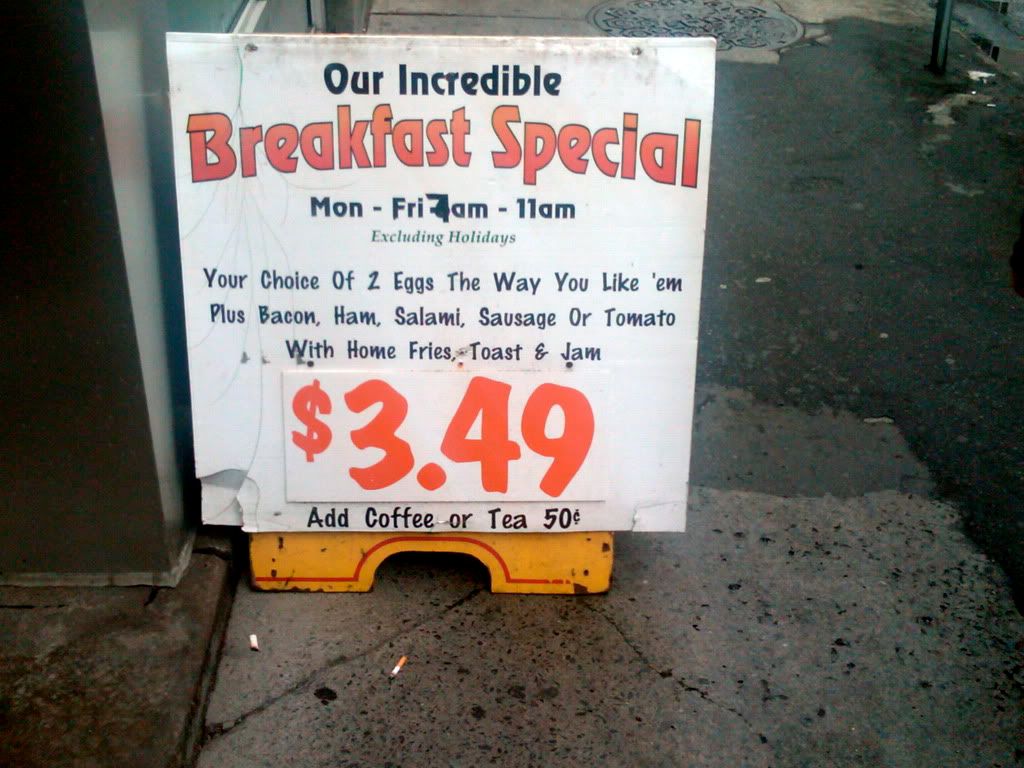 Now, very little money used to mean $1.99 for the special – 2 eggs with home fries, toast and your choice of bacon, ham, salami, sausage or tomato.
About 2 years ago, the special went up to $2.99.  And today, as I was going for breakfast with a co-worker, the sign informed me that the price had gone up again – $3.49.  And an extra 50 cents for coffee or tea, something that used to be included for free – making the special actually $3,99 for coffee drinkers.
Now, I guess this still qualifies as a cheap eat.
But the inflation has to get under control!
Nevertheless, we both disregarded the other breakfast options and settled for the special.
I'm not a big fan of runny eggs. Dunn's says you get two eggs as you like 'em, but if you like 'em poached hard, you are out of luck – they don't like to serve 'em like that. So I always settle for scrambled.
The place was not too busy and our big plates arrived quite soon after – it never takes long.
The scrambled eggs weren't too bad. I mean, don't expect anything fluffy or buttery, but at least they weren't too dry – it has happened before. But the home fries are quite good – real potatoes, fried on a hot plaque, they weren't mushy at all, not overcooked either.  Delicious with ketchup.  The sausages were nothing special, but they were done right, and were juicy enough.
Despite the inflation, what you get at Dunn's for breakfast is still good value for money.  It does the job to start the day.
During a campaign, breakfast rallies are interesting events.  Some people are barely awake.  Everybody is sitting down.  Some are eating, most are sipping coffee.  And it was the case again at the Resto-Deli Jimmy on Hochelaga Boulevard in Montreal.  Jean-Claude Rochelau was hosting NDP Leader Jack Layton, ahead of the November 11th by-election.
Owner Jimmy Stefrimitos was on site, happy to see the NDP Leader visit his establishment.  The staff, who've seen weirder stuff, kept serving, squeezing by the tables, the chairs and the orange balloons.
I ordered the workers' breakfast special:
2 eggs (scrambled), beans, home fries, french toast, pancake, sausage, bacon, ham for $5.  Quite a deal.
As far as greasy spoons go, this was half decent.  The french toast and the pancake were a bit soggy, the eggs a bit dry, the beans a bit boring.  But the meat was nicely cooked and crispy, and the home fries were warm, crisp on the outside and flaky inside.
I would go back to Jimmy if I was in the neighbourhood, and I bet it's even better at lunch.  But it is unlikely I would make a major detour to stop there.
One great thing about a night out and about is to recover the next day with brunch.
Sadly, there is a lot of uneducated restaurant owners and managers who somehow believe that brunch is just a fancy breakfast.
It isn't.
When people go for brunch, they are looking for breakfast and lunch at the same time.
BReakfast.  lUNCH. BR + UNCH = BRUNCH.
See?
A restaurant that respects its clientèle should not advertise a brunch menu if said brunch menu offers only breakfast items and variations on the same theme.  A restaurant that respects its clientèle understands that a normally constituted person cannot sustain themself until dinner with an 11 am yogurt and granola.
Fortunately for me, we ended up at a location that understands:  the Irish Embassy Pub and Grill.
Set in a splendid old bank building built in the 1800s located in the heart of the Financial District, and only minutes away from the Rogers Centre, the Irish Embassy is usually very busy with business crowds during the work week.  I have had lunch there a couple of times, and it was always buzzing.
Not so much at brunch hour.  The place opens only at 11 am, so we waited not-so-patiently for them to open their doors.  First in, we sat comfortably in a corner and ordered a couple of brunch drinks.  Cider for me.
We looked at their brunch menu, which is a real one:
Some classic breakfast items, like pancakes, eggs Benedict and of course the classic Irish Breakfast.
You could also find, randomly, salads, a burger, a wrap, a curry, crab cakes, quiches, and a stew.
I decided to open the hostilities with their soup of the day: A Corn Chowder.  I love corn, and when nicely done, this soup is very smooth, creamy, a sunny concoction with a zing.
This was a pretty good chow-daaah. There were nice chunks of corn, bits of red pepper, the zing was provided by fresh herbs and a generous helping of cracked black pepper. The portion, however, was a bit small, especially considering the 5 bucks I had to cough up for it.
I was hoping the portion would be better with my main course – the classic Steak and Eggs.
And it was sufficient.  I got my eggs scrambled, which is the only decent way to eat eggs.  Made with three fresh eggs, they were pretty good, not too dry.  They could have used more butter, but no real complaint.  The home fries were delicious – huge chunks, crispy outside, tender inside.  The steak was a AAA Angus 6oz NY striploin, grilled medium rare as I had asked.  It was very lightly seasonned, which is the thing to do when you serve it beside eggs.  The fruits were not super fresh and were kind of irrelevant.
Jean-Charles, always classy, decided to go with the Fish and Chips.  Two huge filets of Haddock arrived.
The Kilkenny battered fish were flaky, steamy, chunky.  All around well done.  The homemade tartar sauce that came with it was an excellent complement to the deep fried delicacy.
Dominic decided to go for something sweet – he ordered the Blueberry pancakes with a side of sausage.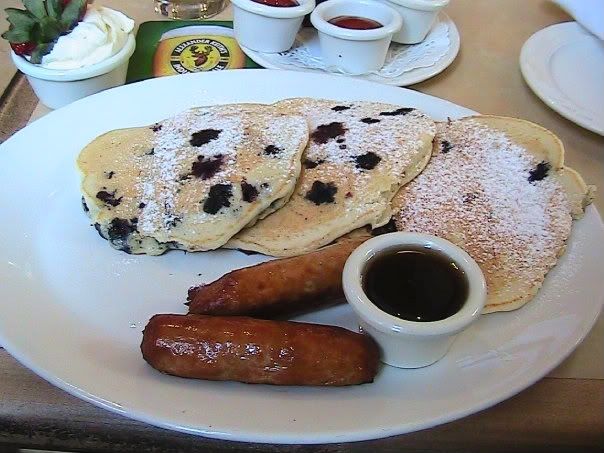 Now, Dominic had to return his pancakes.  Why?  What went wrong?  I can hear you eagerly ask.
You were not as eager to find out as the staff when we waived at them.
I'll let you read the transcript:
11:23:12  The waitress: "Don't worry, it's an honest mistake. It happens."
11:23:17  The Waffle:    "No, it doesn't happen."
11:23:21  The waitress:  "Yes, you are right, it never happened."

Hillarity ensued.  Still clueless?  Let me rewind the tape further:
11:22:44  Dominic: "I'm really sorry, I made a mistake.  I thought this was Maple Syrup and I've put it on my pancakes."

Hillarity ensued.
What?  Still confused?  Let me rewind the tape further:
11:18:23  Dominic:     "What is in the bottle?"
11:18:26  The Waffle:  "It's vinegar."
11:18:28  Dominic:      "Ah."
Hillarity soon ensued when Dominic received his pancakes and just assumed that The Waffle was either lying or simply dead wrong.  In the bottle, it must not be vinegar, he thought, but additional maple syrup for his pancakes.  Which he then happily splashed on his Blueberry pancakes.
And this is how Dominic was inducted into the Irish Embassy Hall of Shame.
If you drop by (and I encourage you to, considering the qualifty of the fare, the prime location and the quality of the beer list), and if you are served by Erin, be sure to mention the story.  We can still hear the laughter from the kitchen when she brought back the plate to the cooks and explained why.
.
After
a night of baseball
, which included an encounter with
Kelly Gruber
and
Rance Milliniks
at Arriba (which incidentally was not broadcasting baseball but hockey games), I was in charge of finding a location for a breakfast and recovery meal.  Thankfully, I had brought along my
CheapEats Toronto
book.
Near the Skydome, there was not a lot of recommendations.  One caught my eye immediately though, the Avenue Open Kitchen on Camden Street in the Entertainment District.  It caught my eye for the location (near Queen and Spadina) and for the prices listed ($3.95 for a breakfast plate before 11 am); and it was listed as a "greasy spoon".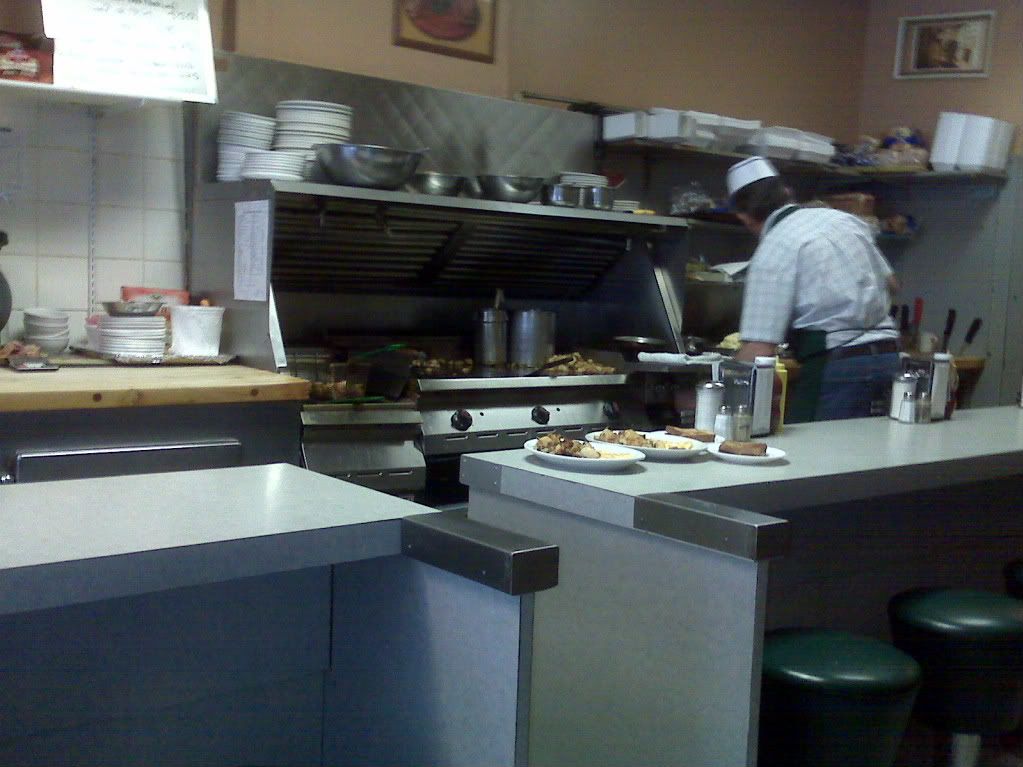 And so we ended up there.
Classic diner environment, a long and narrow room, with stools by the open kitchen and small booths by the wall, an old fridge filled with pop, newspaper clippings and old pictures hanging everywhere.  The chef is one of the owners – his face is on a couple of the photos, although he did look younger and therefore probably was when they were taken.
Cheese omelette was the way to go for the Ladies.  Great fake cheesiness was inside this nicely cooked omelette, and the ladies looked content and ate with appetite.
For my part, I had to go with the peameal bacon and scrambled eggs special.  The eggs were impressive.  Usually, in establisments of this calibre, the eggs are overcooked and dry.  Not the case here, they were great, smooth and very tasty.  Two big pieces of bacon came with, and those were just great.  Peameal is not exactly a fine cut of meat, but it was perfect to get me started for the day.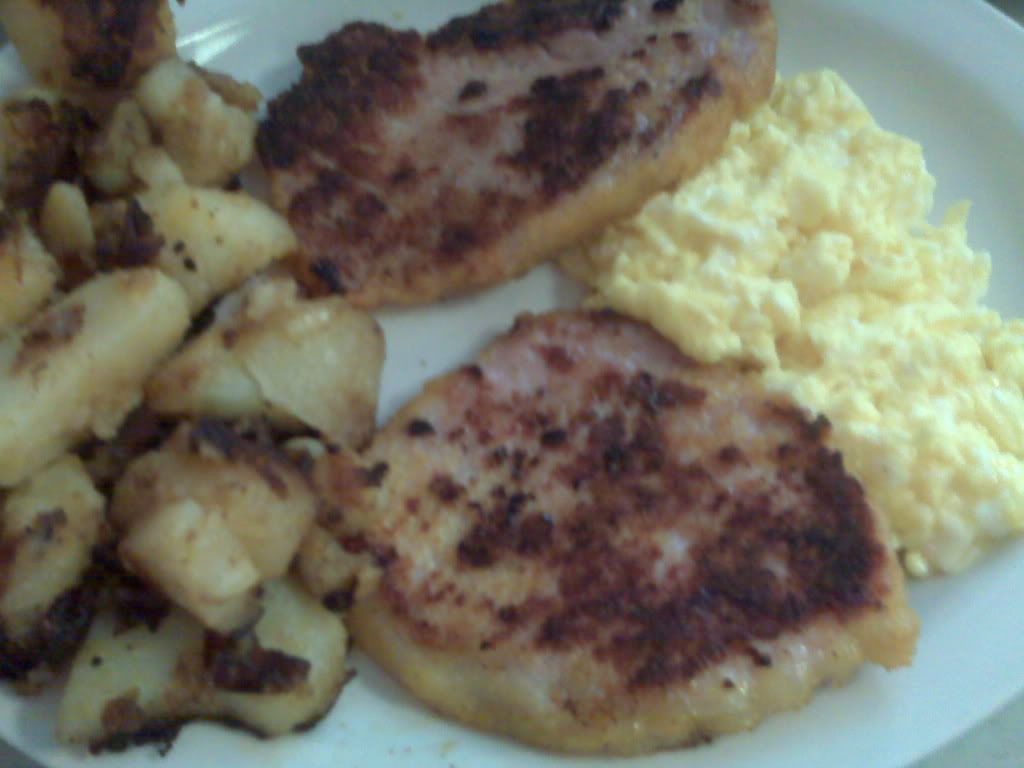 As for the home fries, now these were a real treat.  Real potatoes, nicely grilled on the plaque, with bits of onions – no deep frying, no freezing, no breading – they were fantastic.  On the negative side, the bread was not great and had too much margarine spreaded on them.
Scott read the news clipping on the wall.  A very complimentary review, claiming that "what you may not realize is that there's a fine art to making food that tastes so good but makes you feel so bad (physically and mentally). They then proceeded to highly recommend they $6 chicken fingers and fries combo – now a little over $7.  So no matter that it was only 10 am, Scott ordered the said chicken fingers.  And he was not disappointed:  thick, real chicken filet, breaded and sizzled perfectly.
The fries were not as great – nowhere near the deliciousness of the home fries.  The review on the wall did mention that the fries were overcooked back then – however, Scott had better luck and with ketchup, down they went.
But the chicken, oh, the chicken!  The fibres I could see with every bite almost made me regret my choice – but not quite: after all, I got peameal bacon!  And it cost less than $30 for the four of us!  This place may become a favorite of mine – especially since many reviews can't stop raving about the lunch daily specials.  A hidden gem.
Is there something more traditional in Quebec than a spring visit to a Sugar Shack? I don't think so.
A folkloric atmosphere, the comforting warmth of a wood stove, and the odours, from the burning logs, from the wood furniture, and especially the aromas from the kitchen.
There are a few cabanes à sucre in the National Capital Region, and this time, la Sucrerie du Terroir drew the lucky number, and 6 of us plus a baby headed over, on a sunny springy morning.
Located in Val-des-Monts, La Sucrerie du Terroir is very traditional, smaller than most shacks, making it a very cozy place. The staff was very friendly, and were wearing traditional costumes. Although they do not sell booze, you can bring your own.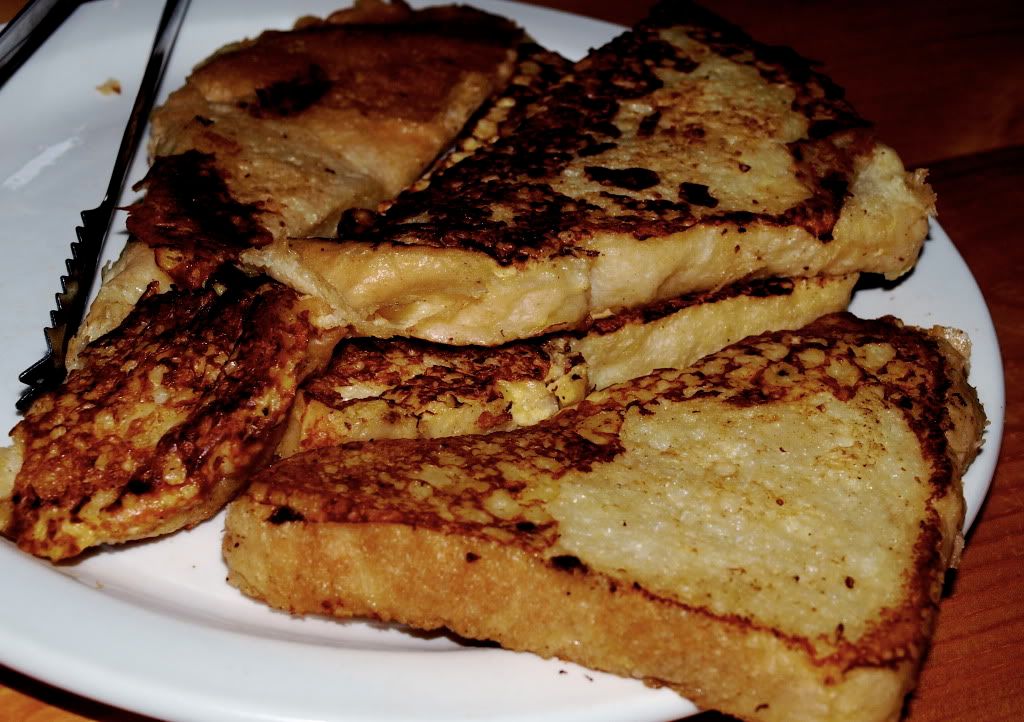 First came the French Toast.
A classic appetizer.
Nothing fancy, just some thick white bread soaked in eggs and milk and fried.
Covered with maple syrup, they sure started our meal the right way.
All you can eat.
Then came the main meal, with the beans.
They were nothing special, no meat, making it vegetarian-friendly, just plain beans baked in molasses.
The texture was nice, but it was a bit bland.
Which is why you smother them in maple syrup.
ll you can eat.
Another side dish – les oreilles de crisse – was a better hit.
Deep Fried Smoked Pork Fat – sorry, Jowls. What can be wrong with that?
Actually, they were Bacon Rinds.
They were quite dry and salty, so to re-establish the balance, you soak them into maple syrup.
All you can eat.
Of course, you need some home fries. Potatoes are a classic fare for a sugar shack meal.
These were very small, crispy, a bit greasy.
They don't go as well with maple syrup, so I focussed on ketchup.
All you can eat.
Maple Smoked Ham and country-style sausages were also on display.
The ham was a pre-cooked one, as opposed to an all-natural. Still good.
The sausage were juicy. Nothing like meat in a tube.
The meat went down with a nice touch of maple syrup.
All you can eat.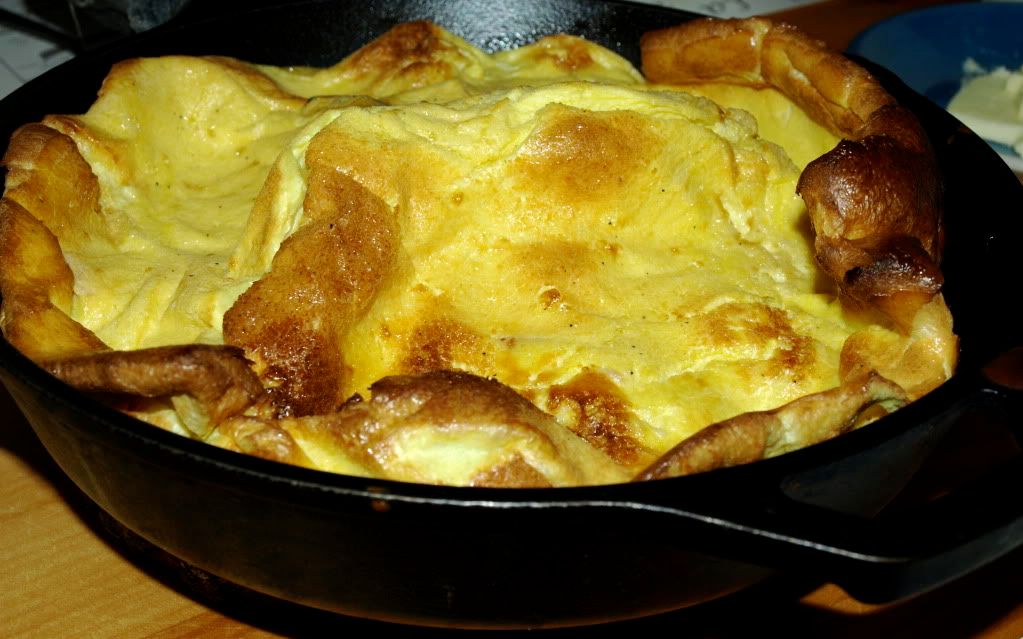 The master piece was definitely the omelette.
Oven baked in a cast iron pan, it was fluffy, with crunchy edges.
Is stayed warm throughout the brunch.
The great thing was, with maple syrup, it was melt in your mouth.
All you can eat.
For dessert, we got maple mousse tartellettes.
Some of us couldn't add any more sugar to their diet. Their loss.
The sugar maple filling was very sweet, but quite smooth.
The crust was a bit crispy, a bit moist – showing that they were not super fresh and sat in a fridge for a little while.
I sprinkled a bit of maple syrup to season them properly.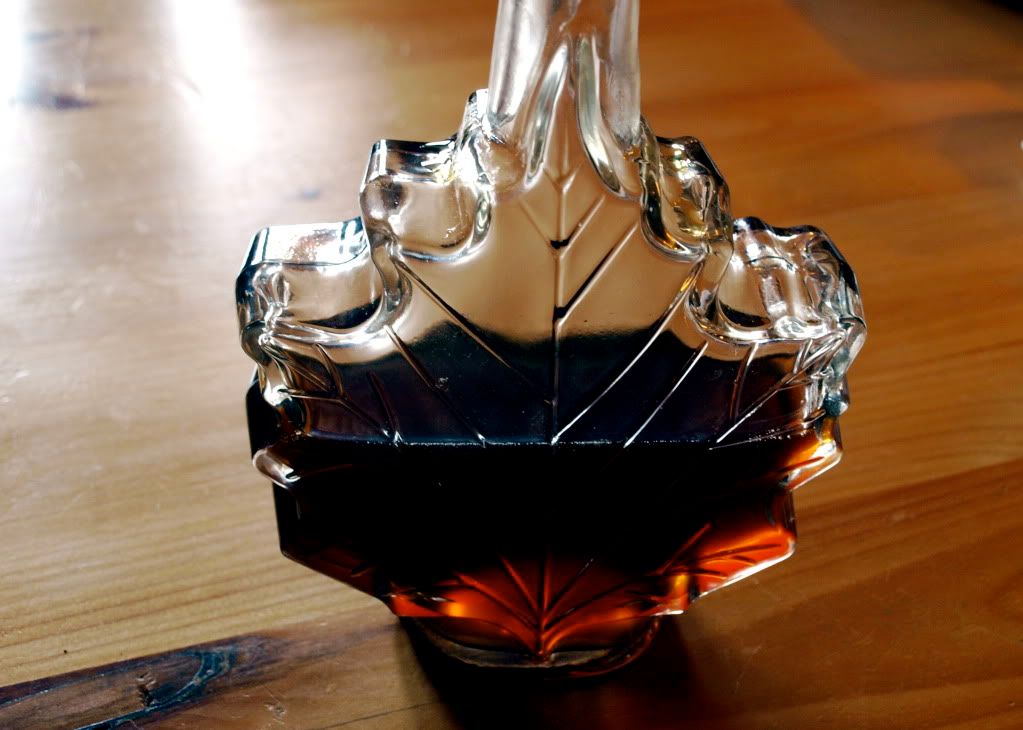 The 6 of us had a half-bottle of syrup with our meal.
I would say we were quite reasonable.
It was a good quality syrup, a nice amber, rich colour.
Grade Canada B medium.
All you can drink.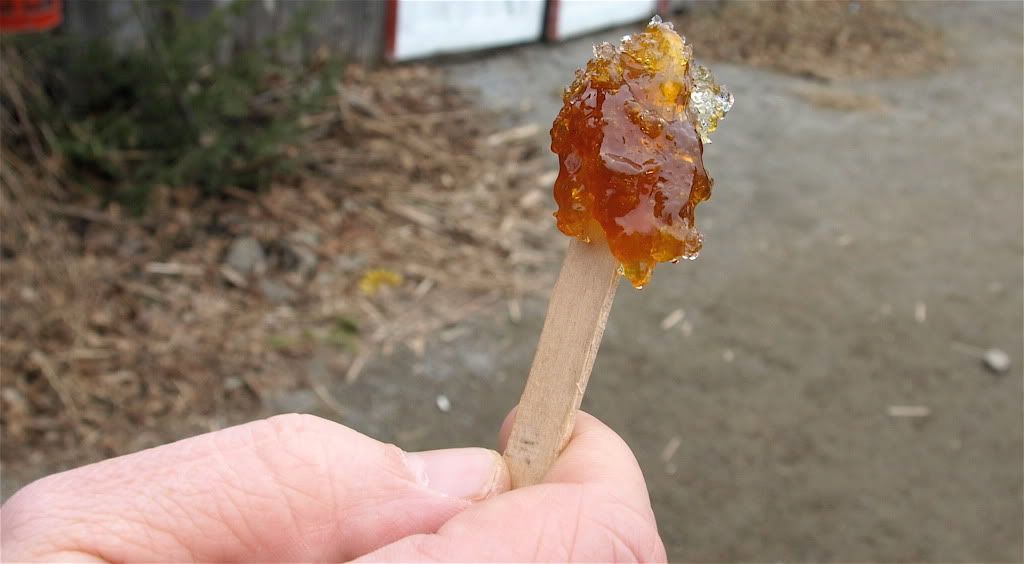 And to digest all this delicious food, nothing like maple toffee on ice.
It wasn't a cold day, and snow was getting sparse, but it was fresh enough for the delicious instant candy to solidify and remain fairly solid on the stick.
For some reason, I was the only one of our group to indulge.
I don't get it.
I did however spend the rest of the day recovering from the sugar crash.
23$ per person.
All you can eat.
Money well spent.
After a pretty successful two-day stop in Pittsburgh, we had to leave the city of steel for Buffalo, an All America City.
Considering the lack of breakfasts around the hotel, we decided to hit the road and get out of town before getting breakfast.  We also knew that the weather would get nasty near the lake, so giving ourselves some extra time wasn't a bad idea at all.
A bit less then 60 minutes out of Pittsburgh, we decided it was time to stop.  Portersville was the next exit on the I-79 North, and we followed the sign for Brown's Country Kitchen.  It was a couple of miles off the highway, but it was certainly worth it.
Portersville is a very little borough of less then 300 souls.  There was nothing much there that I could see.  But Brown's Country Kitchen was open for business, and there were a few locals having breakfast when we showed up.
The two sixty-something ladies who were operating the place were in full control, in a very efficient yet friendly fashion. One of them must have been Gretchen Brown, co-owner with Harold Brown, but I didn't ask.  It didn't matter.  What mattered: the prices were cheap, but would the food be?
Not at all.  Everything was fresh, very hearty and classic American comfort food.  Jerry went for a classic breakfast, eggs & sausage.  I decided to be a tad bit more adventurous:  Steak and Eggs.  For 8$, are you kidding?  I couldn't pass on the opportunity.  I was even more adventurous when she offered me the option between a classic strip or a Country Fried Steak, and I went for that.
I never had a country fried steak before, but I figured Brown's Country Kitchen was the perfect place to try this delicacy.  A Southern US dish, country fried steak is usually made with round or flank steak, which you tenderize before dipping in a milk and egg mixture, before breading it in seasoned flour or bread crumbs.  You then fry the steak in a skillet, although it can be deep-fried.  In fact, it is often called chicken fried steak when this technique is used.
My food arrived, and it smelled fantastic.  It was greasy, but I don't think it was deep-fried.  The meat had really been tenderized, so tender in fact it almost looked like ground beef.  The breading was slightly peppery, but not too much.  My steak was served with scrambled eggs, which were respectable, and delicious home fries, fresh, chunky and crispy.  I highly recommend you
stop by
if you are in the area – much better stuff then the fast-food breakfast you can find along the Interstate.
Well-fed, we were on our way to Buffalo, an All America City.  I had one goal in mind – make it.  The weather got nasty here and there, at some point we could only see 20 meters ahead.  But we made it, although it took us longer then expected.
Next step:  lunch!
.
The Glen House Resort
is the Inn complex a bad drive away from Smuggler's Glen's first hole.   Or in my case, hole #3, #5, #6, #8, #11, #12, #14 and #15. It is set right on the riverfront, near Gananoque, and is offering a beautiful and peaceful setting for the guests.
We stopped there before the final and decisive round, with me trailing badly in the 6th position.
The deluxe breakfast consist of 6 stations:
A juice station, with nondescript apple and orange juice.
A continental station, include commercial cereals, yogurt, a fresh fruit salad consisting mostly of melons, and muffins.
A toast station, where you can toast your own bread or english muffin to your taste.
A waffle station, where Wendy was making fresh waffles on order, and invited patrons to top them with a choice of fresh blueberries, strawberries, bananas, whipped cream or maple syrup.
An egg station, where Sandy was making eggs to the patrons liking.  Most folks would go for the omelette, choosing their own fixtures by filing a little cup of green and red peppers, onions, mushrooms and ham.  These items are then fried before the two eggs (or three if you want to annoy the other patrons and make them wait a little more) are added and cooked to perfection, with a lot of cheese added and melted in the flipped-then-folded omelette.
A side station, where juicy breakfast pork sausages, crispy but very salty bacon, and big home fries, golden nicely but a little heavy on the garlic for morning potatoes.
It was the perfect breakfast, hearty and filing, to set you up for a great round of golf.  If you can golf, that is.  Which I obviously can't since I ended up 7th out of 8.