Browsing articles tagged with " Hamburger"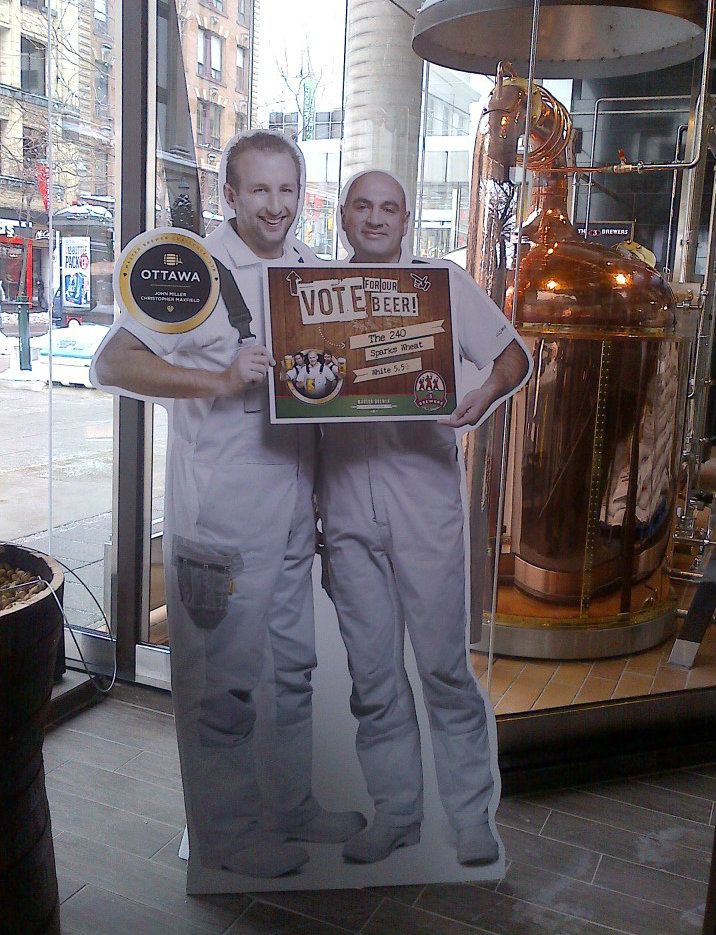 After much delays and anticipation,The 3 Brewers finally opened today in Ottawa. The place had looked ready for days, but a sign had been put on the door stating that Ottawa customers would have to be patient a few more days.
So the day has arrived, and the word spread on twitter fairly quickly.  When Marc-André suggested that we check it out for lunch, I did not hesitate.
When the noon bells rang, we made our way there, with a sense of excitement and anticipation we had not had since the last time we drank a beer. We were welcomed by a cutout of the local master-brewers, in front of the copper tanks where the beers are being brewed.
Les 3 Brasseurs, or The 3 Brewers, is a French chain of brasserie.  The 3 Brewers opened its very first microbrewery restaurant in Place de la Gare à Lille in 1986. Each year, they brew 33 000 hectolitres of beer!
There is currently 443 Brewers locations,  including 28 in France, 8 in Quebec (with another one opening soon in Quebec City), 3 in Ontario (with expansion planned in Kanata and Oakville), and 5 in the French Dom-Tom.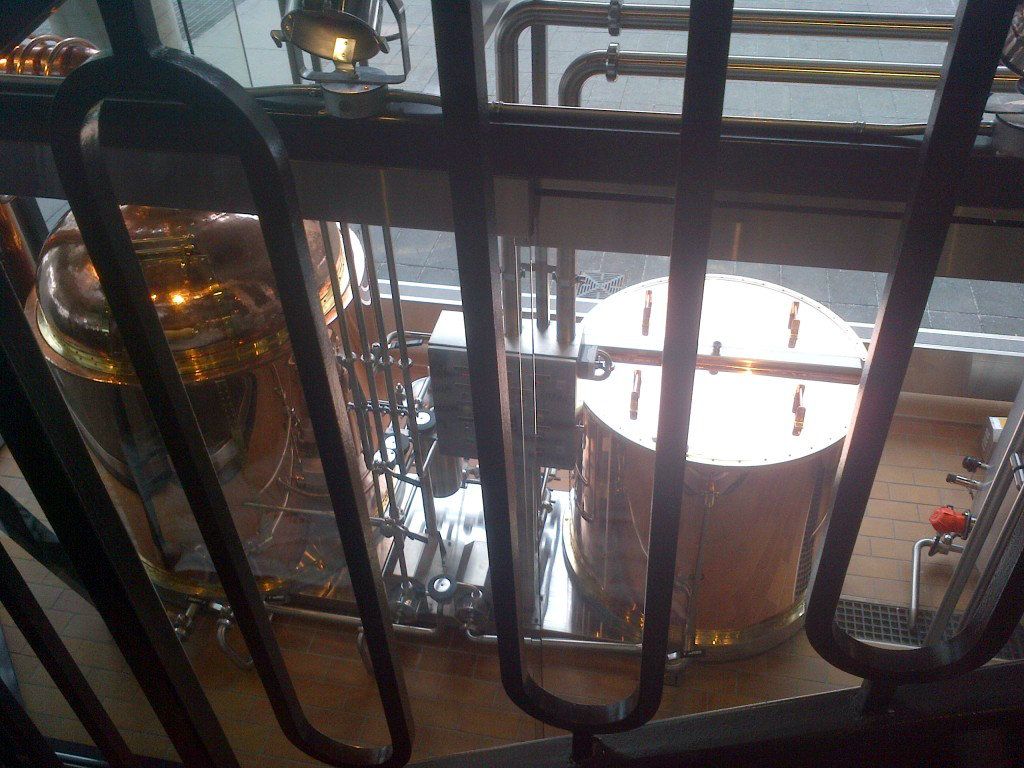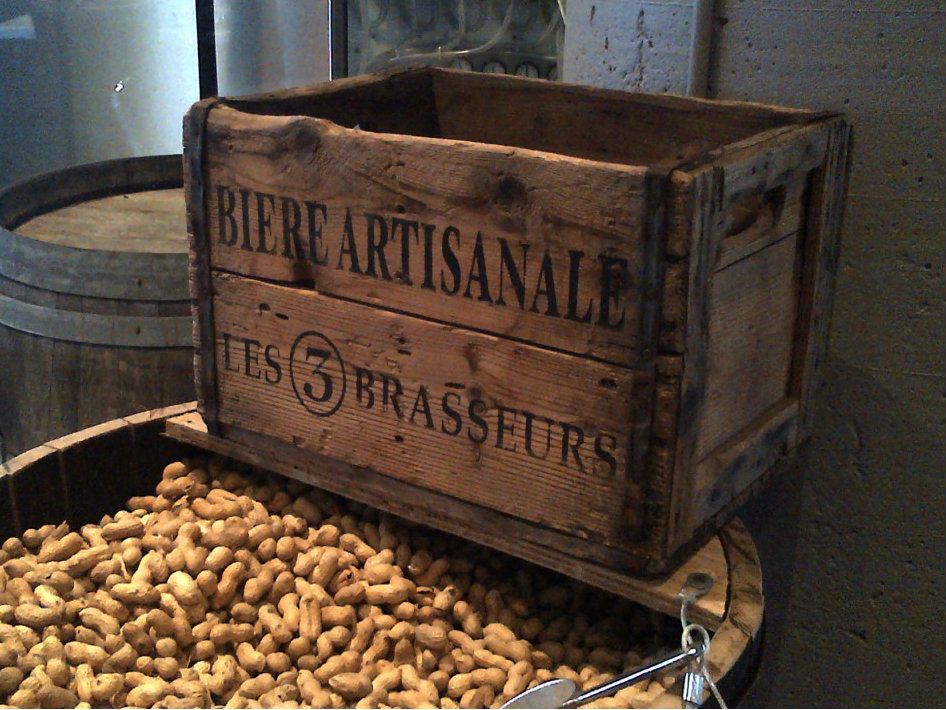 The Sparks street location is big, wide, open.  Lots of seats spread on two floors, lots of natural light with huge glass walls all around, lots of space to spread your legs, quite comfortable. There is big multi-panel TV set at the bar, but it would be difficult to watch sports from most of their tables or booths. Still, it is the type of establishment that was missing from this area of Ottawa, where most pubs and restaurants are rather small.
We were directed upstairs, where we got a better view of the brewing installations.  Wood cases of peanuts on the shell were scattered across the establishment, if you want to skip their menu and just enjoy a pint.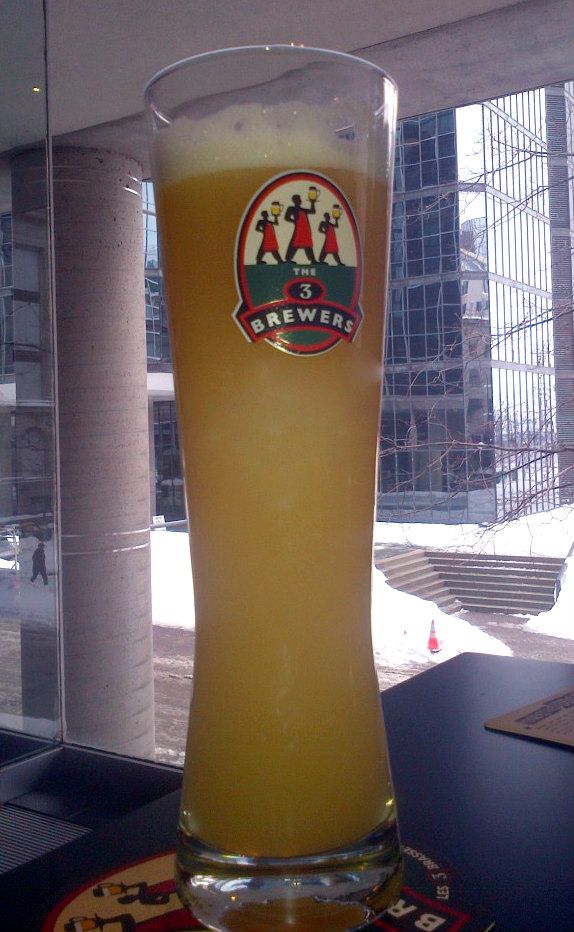 Speaking of which, the Master Brewer Challenge is on, and the Ottawa location has submitted its brand new 240 Sparks Wheat beer in the competition.
The 3 Brewers offers six beers on tap: their four regular ales, that you order by their colour: White, Blonde, Amber or Brown. They'll also have two rotating seasonal beers that will change each month. Also available in bottles, La Belle Province and La Triple.
But I felt the obligation to sample the new creation of Christopher Maxfield and John Miller, and was quite pleasantly surprised by the hepfenweise.
It poured a cloudy yellow color, quite opaque. If you didn't know it was beer, you'd almost think it was juice. Same for the taste! To the nose, it did seem more spicy than fruity, but when you drink it, you are hit by delicious grapefruit flavours, maybe even some pineapple, with a tangy hop bitterness.
Very fresh, very smooth, a little zesty, thoroughly enjoyable. I waved Brew-master John over to convey my appreciation – the real John, that is, not the cardboard version.
On the table, the Maille dijon mustard included in the basket of condiment clearly indicates that this place hails from France.
Indeed, the 3 Brewers's menu is french-inspired, simple, featuring some classic brasserie fare and bistro dishes, such as braised pork shank, lamb shank, sauerkraut, open-faced sandwiches, mussels, and beef bourguignon.  But you'll also find very North American salads, wraps, sandwiches, 8 kinds of burgers and, yes, 4 types of poutine.
But what they are really proud of is the "flammequeche" – an Alsatian-style tarte served with varied toppings. Basically, the french version of a pizza, though our server was offended when I ordered their "pizza special" – I reassured him that I knew what a flamm was.
The special in question was a soup and any flammequeche you'd like for $14.99 (except for the smoked salmon and shrimp.) The soup of the day was a vegetable soup, hard to screw up.
Still, the broth had a light tomato flavour, but was quite salty. The amount of vegetables in it was disappointing. There was a few carrots, onions, green beans, celery – at least they had some texture, some crunch. Perhaps I just got unlucky with the ladle.
The flamm I ordered was the Thai – a new addition on their selection, which also includes inspiring names such as Provençale, Alsacienne and Moulin Rouge.
The Thai flammequeche is garnished with marinated chicken in a peanut sauce and Gruyère cheese, topped with baby sprouts,  green onions, red peppers, julienne cucumbers, cilantro and almonds.
If the flavour profile was interesting, the execution was not perfect. It did look good, and flavour wise it wasn't bad. But, the chicken was not exactly starring, and it was on the dry side. The peanut flavour was subtle, and the Gruyère was barely present. The veggies were unevenly present – if you got a good crunch from the sprouts and some freshness from the cucumbers, there was no red peppers whatsoever and the green onions deserved better chopping. The almonds were chunky, and the cilantro was fresh, helping the dish somewhat. However, I did struggle with the crust – it was hard to cut through. I probably wouldn't order it again.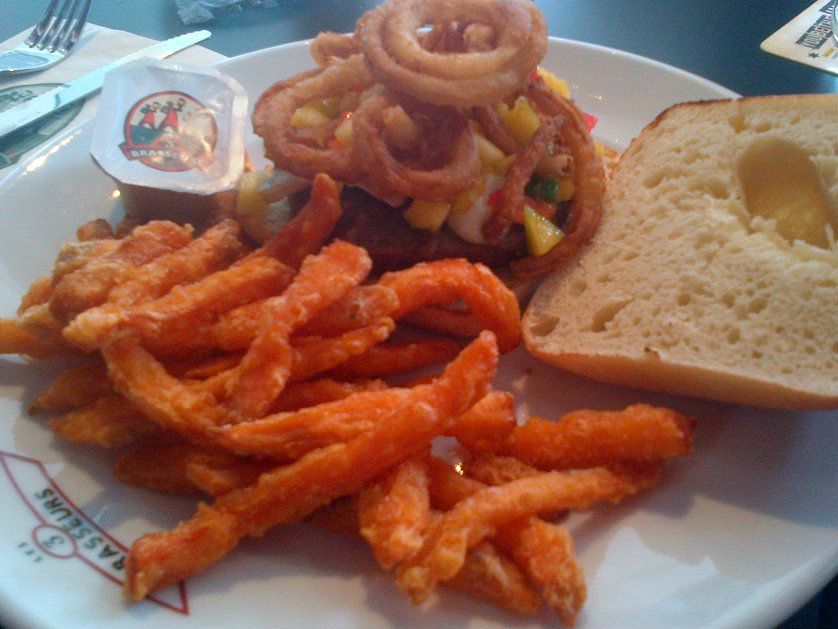 As for Marc-André, he ordered their burger special, which was topped with brie, mango salsa and onion rings, served on a ciabatta bun.
The burger was a tad overdone, and it was not garnished with any sauce or condiments – ciabatta does need that kind of help when used as a burger holder.
The burger came with sweet potato fries, thick and cripsy, and served with their (so-not-homemade) mayonnaise.
The service, if friendly and polite, was sometimes slow and and a little random, but this was opening day. Still, it wasn't packed, so if the place ever gets crowded (which I assume is their goal), hopefully they'll be able to keep up.
Lunch had arrived, and Marc-André and I needed to talk. It happens from time to time. He suggested that we head to the Mayflower on Elgin. I thought it was a good idea and I agreed. I like going to this English Pub, the food is good and the service friendly and efficient. It became an even better idea when we realized it was their Famous Burger Bonanza!
But what does it even mean?
Well, it means that on top of the four regular burgers the Mayflower offers to regulars and tourists alike, there is a whole new bonanza of burgers!
There was no trace of the Boondoggle Burger the Mayflower once offered.  But you can go with the Texas Sirloin Burger – topped with chipotle mayo, fried mushrooms and onion rings; the Mediterranean Veggie Burger – a portebello mushroom cap topped with zucchini, roasted red pepper and goat cheese; the Panini Melt – topped with zesty BBQ sauce, cheddar and swiss cheese, tomato and onions, and of course finished on the Panini grill; the Buffalo Bill Cody Burger – a buffalo patty topped with sauteed mushrooms, onions and bacon; the Brunch Burger – topped with a fried egg and marble cheddar; or the one that attracted my attention , the Bluenose Fish Burger – a fillet of Haddock panko breaded and topped with roasted red pepper tartar sauce.
And one Bluenose for me! 
Meanwhile, Marc-André elected to go with the Buffalo Bill Cody Burger.
Within a few minutes, BONANZA! Our burgers had arrived.
If you haven't been following the Juice-Jackson Baseball Extravaganza (or #jjbe12), which is on its last leg, you should check it out.
@juicegniposky and @nathanLjackson have been on a two week baseball trip, with stops in Boston, New York, Washington, Philadelphia, Pittsburgh, Cleveland, Chicago and Toronto.
On their blog, you will find the highlights of their trip,  including great reviews of the food they've encountered in and around the stadiums.
We left Indian Lake in the morning, hitting Highway 28. Our New York State adventures were coming to an end, and we had to make the 3 and a half hour trek back to Canada.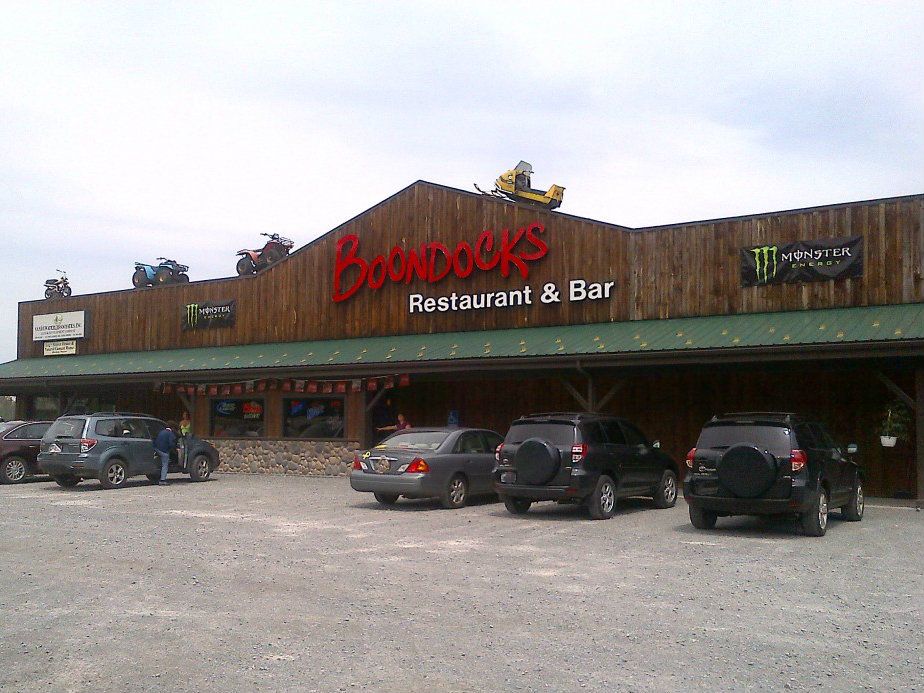 Along the way, we would stop by and admire the numerous mountains and lakes. Lake Durant. Blue Mountain Lake. Eagle Lake. Utowana Lake. Raquette Lake. Eight Lake. Seventh Lake. Sixth, Fifth, Fourth, Third, Second and First Lake. I guess they ran out of names.
About halfway to the border, we started to get hungry. Starving, in fact. But we had reached Highway 12, and options were scarce. Nothing for miles.  Until we saw a size-able establishment with a huge parking lot, with ski-doos and ATVs on the rooftop.
Welcome to Boondocks Restaurant and Bar, Lyons Falls, New York.
Walking in the place is its own adventure. They've got the rustic feel, with lots of wood everywhere. And by wood, I am not only talking about the furniture. I'm talking about the walls, that are either in wood or trying to make you feel like you are in one.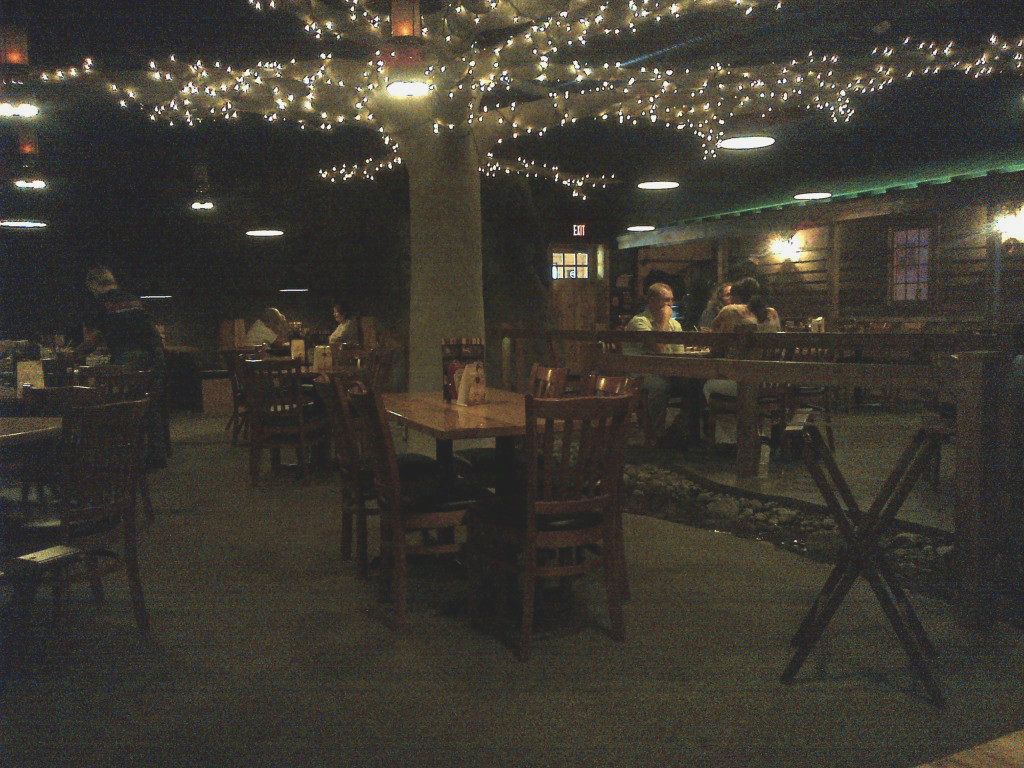 There was a gigantic tree, fitted with lights in the middle of the room. There was a waterfall coming out of rocks, with a creek crossing the room – little country bridges were allowing you to cross over.  Its a cozy Adirondack atmosphere that makes you feel as though you are dining under an open sky, all year long.
We ordered drinks to start, as we looked at the menu. I went with a Saranac Blueberry Blonde Ale from the Matt Brewing Company. I poured it in a frosty pint glass. It had a nice golden color and a significant white foamy head.  The blueberry aroma was strong, the flavour was interestingly fruity, like they added a shot of blueberry juice in it as opposed to a chemical concoction. A really good fruit beer, but it needs to be very cold.  Mel went with another Saranac product, their hand-crafted Root Beer. It is made in small batches and has a fresh root beer taste, with plenty of bitterness but also notes of vanilla and some licorice. Again, better served ice-cold.
The menu was filled with intriguing items. In the appetizer section, you could find deep fried stuff, like Mozzarella Triangles, but also things like Steamers (Steamed Clams) or Load of  Logs (home-made pretzels).  There was a Soups and Salads section, a Pasta section, Chicken, Ribs and Steak, Seafood.  Mel decided to pick one of their sandwiches while I explored the Burger Valley.
Bondoocks' burger valley is not very deep (only 8 different types) but it is wide (any burger is offered in a beef, veggie, or turkey version – and most of them can be made Gluten Free). I looked at the Boondocks Bleu Burger (bleu cheese, bacon, lettuce, tomato and red onion) and the Over the Edge Burger (Golden BBQ sauce, fresh chipotle coleslaw and fried onion tanglers) but finally settled and ordered the Rodeo Burger. In her part of the menu Mel ignored the Tangled Philly (shaved steak smothered with Bourbon BBQ sauce and topped with onions, peppers, mushrooms,fried onion tanglers and Swiss cheese on a toasted Hoagie roll) and the Parmesan Chicken Sandwich and ordered the Ranch BLT Sandwich – with a side of Onion Rings (at an extra cost).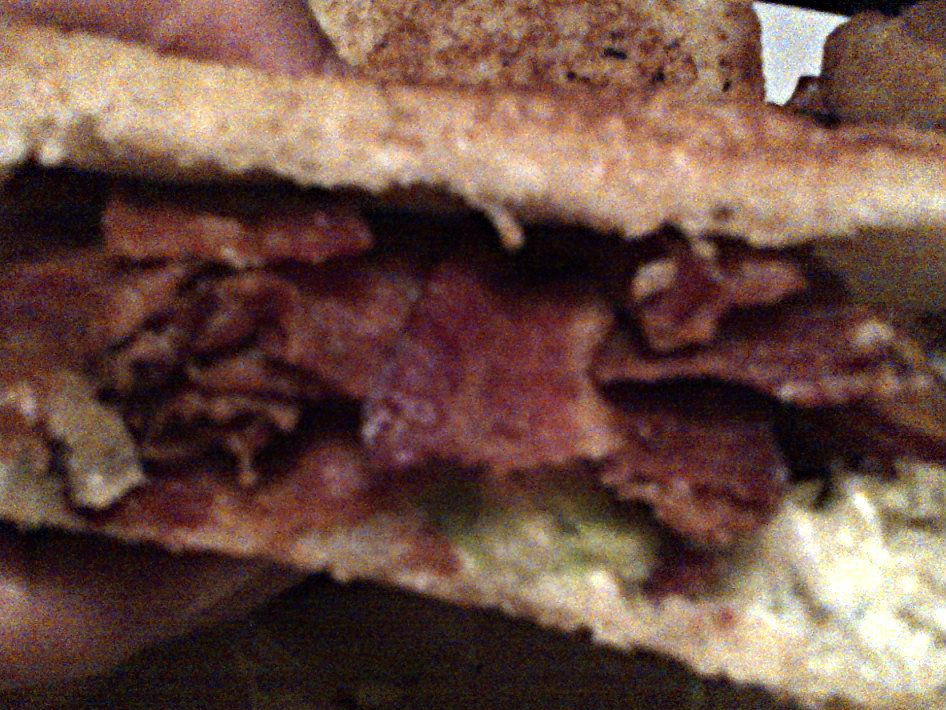 If the onion rings were palatable, the Ranch BLT Sandwich ($7.45) was not named properly. If the "l" and the "t" seemed normal, the "B" was capital. There was a truckload of bacon in that sandwich, topped with lettuce and tomato on grilled Italian bread, nicely toasted, no sogginess. But basically, this was a Bacon Sandwich. The veggies were just a small garnish barely surviving under the thickness of hog goodness – though Mel removed some of it from the sandwich, overwhelmed.  The ranch flavour came in the form of a ranch cream cheese spread, not helping the calorie count.
 Talking of calorie count, this is what my Rodeo looked like: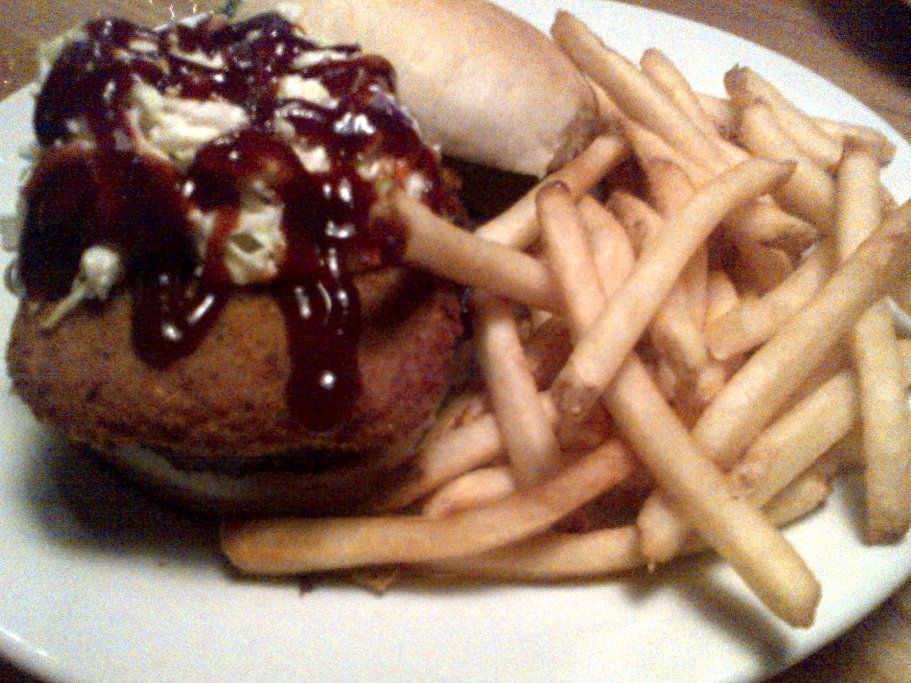 A half-pound beef burger. A huge block of  deep fried Muenster cheese. Coleslaw, piled high. Smothered with a Chipotle BBQ Sauce.
Heeee-Haaaaw!
Now, this was a decadent burger. I've had my share of cheeseburgers in my life, with multiple cheese combinations, double and triple deckers, even cheese-stuffed patties.  But this?  Unexpected. 
Muenster is an American cheese not to be confused with the French Munster.  It is a mild, smooth, soft cheese, usually with an orange tinted-rind and a white interior.
I was expecting a small slice of fried cheese, instead I got a brick of deep fried cheese, with a thick batter – no doubt to prevent the cheese from oozing into the deep fryer. On the upside, it was gooing everywhere – once you got past the crispy crust!
The beef patty was thick, juicy, cooked to medium rare. The coleslaw had a little tang to it and added a nice crunchy and creamy texture to the burger. The Chipootle BBQ sauce was spicy, but there was no chance to overheat with the amount of dairy included in the burger.  Considering the weight it was under, the bun surprisingly held together quite well.
After a while however, the burger started to feel heavy as the cheese brick was falling into my stomach.  I did finish it, but I was kind of glad that the french fries were ordinary – I might have been in trouble if I had finished my plate!
All in all, this was a neat place to stop by randomly. The food was on the outrageous side of the spectrum, but it's not like we had a long road trip ahead of us…
Sometimes, life sucks.  And when it does, you need to make it better. And today, life sucked. And one way to make it better, is to go for comfort food.  Mel and I were both in need of comfort food, and, good thing was, lunch time had arrived.  I asked her what she would like and she said she could use a good burger.  
Now, I know that Mel is not keen on fast food chains such as Burger King or Wendy's.  She doesn't mind Harvey's or A&W but will reject McDonald's 99% of the time.   This wasn't what she needed anyway.  I thought of The Works, I thought of Hintonburger…  But something else popped up in my mind: Five Guys - Burgers and Fries. Ever since their arrival in Ottawa was pointed out to me by reader Bruce, I meant to try it.  This was a perfect opportunity.
Five Guys was founded in 1986 in Arlington, Virginia by Jerry Murrell and his family. Jerry and his sons, the "Five Guys", opened a few more locations in Virginia before the restaurant's popularity convinced the Murrells to franchise the stores. In 25 years, Five Guys has grown to over 900 locations in 46 American states and 6 Canadian provinces. The company has plans to open another 1500 units! Ambitious. Maybe you've never heard of it, which wouldn't be a surprise considering the chain doesn't advertise, issue coupons or any other promotions. But they do have an online store.
But one of the main reasons for my failure to sample one of their burgers is the location of their outlets. The little burger chain is growing in the nation's capital: they first opened on Hazeldean Road in Kanata,  followed by one on Greenbank Road in Barrhaven.  The third one opened this fall at the Train Yards Centre and and a fourth is due to open in Orleans on Innes Road.  So not central, I'd say.  There is talk about Five Guys opening two more locations, one in downtown Ottawa, and one in the Hunt Club area
For some reason, we picked the Greenbank Road location.  If was a beautiful day, there was no traffic and we soon pulled into the Village Square Mall parking lot.  The bright red letters on the brand new building were like a lighthouse in a sea of parked cars.
First thing that hits you when you walk into Five Guys:  there are 50 lbs bags of Idaho Famous Potatoes and boxes of peanuts forming a cordon to handle traffic.  Free peanuts on the shell while you wait!
Talking of peanuts, Five Guys is clearly allergic to any concerns about peanut allergies – along with the large supply of fresh peanuts, they also fry their potatoes in peanut oil. The rest of the decor is all red and white, with framed newspaper reviews from all over the place hanging all around the restaurant.
Once you get to the menu, you notice how simple it is: Hamburger. Cheeseburger. Bacon Burger. Bacon Cheeseburger.  And "Mini" versions of them.  (A regular burger has two patties, a mini only one.) They also have Hot Dogs. A few veggie options: Veggie Sandwich, Cheese Veggie Sandwich and Grilled Cheese (Note that their veggie sandwich is not a veggie burger, it is a burger bun filled with as many toppings as you would like. And since one grilling station is reserved for vegetables, those grilled onions and mushrooms are meat-free.)  Two types of fries, regular or cajun-style, in two sizes. Coca-Cola products.  That's it.  No milkshake, no chili, no chicken tenders-fingers-nuggets-burgers.  When you don't use freezers, you have to keep your menu simple, and that is what Five Guys has done.
There is a long list of toppings, all free of charge, as many as you want! You can garnish your burgers with mayonnaise, lettuce, tomatoes, grilled onions, grilled mushrooms, ketchup, mustard, relish, raw onions, jalapeno peppers, green peppers, A1 steak sauce, Bar-B-Q sauce, and hot sauce.  Nice. 
So we lined up to order. The place was busy, but not packed. But you had to wait in line a few minutes before ordering, which gave us the time to wonder which of the 250,000 possible topping combinations we would select.  Mel ordered a Mini Bacon Cheeseburger ($5.49) with lettuce, pickles, tomatoes, ketchup, mustard and jalapenos.  I went with a Cheeseburger ($7.49) with mayonnaise, lettuce, tomatoes, grilled onions, grilled mushrooms, ketchup, mustard, and A1 steak sauce.  After thinking about it, we decided to share a large order of fries ($4.59) rather than getting a regular one each. Soft drinks are self-serve once you purchase the cup, and you get free unlimited refills, so there is no point in getting a big one if you are planning to dine-in.
The kitchen is open-concept so you can watch your order being made.   Two hot plaques were the fresh, never frozen hand-made patties are being grilled.  Deep-fryers were the potatoes, hand-cut every morning, become fries in peanut oil.  And of course the assembly station, where you can monitor how your burgers are being made.  It is handy if a topping is forgotten, you see it right away – which was the case for a couple in front of me who reminded the teenage staffer that bacon was part of their burger order.  It is not as interactive as Harvey's, where you direct the assembly yourself, but it is nevertheless a cool concept.
Once our burgers were ready, they wrapped them up in classic aluminum wrap paper and put them in a bag. They then filled up our regular size fries container, put it in the bag and added a big scoop of fries on top of it, directly in the bag!
 All meals come the same way — in a brown paper bag. There are no plastic trays, which I think is a downside. It is probably cheaper and employees don't have to collect and clean trays, but it doesn't make it easy for the customers. Especially for someone who orders for his family – and also once you are done and you are trying to clean up your table.
The fries were very good.  They are thick, fresh, nicely golden and crispy. And they are served almost immediately after being fried, so they are pipping hot!  You do get the home-made feel they are trying to achieve. Skin is on, but it doesn't dry out the fries. Much better than regular fast food fries, by a mile.
I left my burgers wrapped a little bit as I noticed that the processed cheese was not placed on the patties while they were cooking.  I knew that a few minutes in the foil would melt that cheese nicely.  Once I opened my package, the burger appeared in all its glory:
On our way back from Quebec City, we decided to stop in St-Hyacinthe for lunch. The huge Burger King sign by  Highway 20 was strangely appealing to us, and we figured since this was a road trip (well, a trip on the road), we might as well stop at the King. After all, he is the King of Burgers.
Upon arrival, we were greeted by a big sign promoting the goodness of BK's current novelty burger, The Ringmaster Whopper (along with the Angry Whopper).  The Ringmaster was re-introduced with an infamous ad campaign in Canada last August – I say re-introduced because it was available last year under its previous name, the Bourbon Whopper.
The Waffle had never tried this Whopper (the last BK Burger we reviewed in this corner was the BK Stuffed Steakhouse), so he was easily convinced by his wife to sample it.
The Ringmaster is a Whopper (with its regualr ¼ pounder patty on a sesame seed bun), topped with Onion Rings, Bacon, Processed Cheddar Cheese and finished with a Sweet & Tangy Bourbon-Flavoured Sauce.
As always, the delivered product didn't quite look like the marketing effort.  That said, the Ringmaster looked perfectly edible, and was satisfyingly sizeable.  The Rings were there, in all their golden glory…  Soon I would be the Lord of the Rings! 
First, let's deal with the skeleton:  Burger King claims that their Sesame Seed Buns are toasted.  I've got to admit, I never had the  sense that their buns were actually toasted, ever.  Not that it is a big deal, but they shouldn't claim the buns are toasted. The meat was the usual 1/4 pounder Whopper patty, a tad overcooked but with the classic grilled flavor.
Second, let's deal with the regular toppings: the lettuce (iceberg, not Boston like in the ad) was crispy but white-ish. The tomatoes weren't very fresh, and were quite small slices.  The bacon was kinda chewy, not crispy as touted. The processed cheese was melted as processed cheese should be when used, providing some gooeiness to the sandwich.  There was some mayo as well. 
Third, the former star of this burger: the Bourbon-flavoured sauce.   I've got to say that it is not a good sauce at all.  They describe it as Sweet & Tangy – not sweet, not tangy – bitter, in fact, no spices.  Not good at all. The Magpie called it vile and repulsive . Perhaps I won't go that far, but it is not good at all. Really not. And since they say it is Bourbon-flavoured and they insist on saying it is alcohol-free, let me assume that Bourbon was never anywhere near this sauce.  Except perhaps a shot after eating the burger, to digest better. No wonder BK decided to change the name – let's bury the Bourbon sauce!
Finally, the new star of the burger: the onion rings.  Now, the idea of adding onion rings as a burger topping is not new.  The concept is not bad – replace the regular raw onions with a few crunchy, deep fried rings of  the then-less pungent vegetable. Sadly, if BKs' Onion Rings are pallatable on their own, inside the burger, they become a totally flavorless mushy mush stack of industrial batter. It simply doesn't work, and it's a shame.
All in all, the Ringmaster is clearly not Master of its Domain.
We were coming back from Barry's Bay, and we had to stop somewhere along the road for lunch. We were kind of schnitzeled-out (we had had our fair share in the past few days), so stopping at the Rocky Mountain House was out of the equation. I was tempted by the signs advertising the Calabogie Blues and Ribfest but it seemed like it could be time consuming and perhaps crowded.  No, we needed to find something else.
We pulled into Renfrew and hoped we would find something. Mel had spotted an Irish Pub on the GPS, in which I was only mildly interested, but failing deep knowledge of Renfrew's food scene, I was prepared to go there.
As we were closing in on the location, I was on the lookout for a parking spot. I found one, almost right in front of what became a different option: the Santa Fe Southwestern Grill.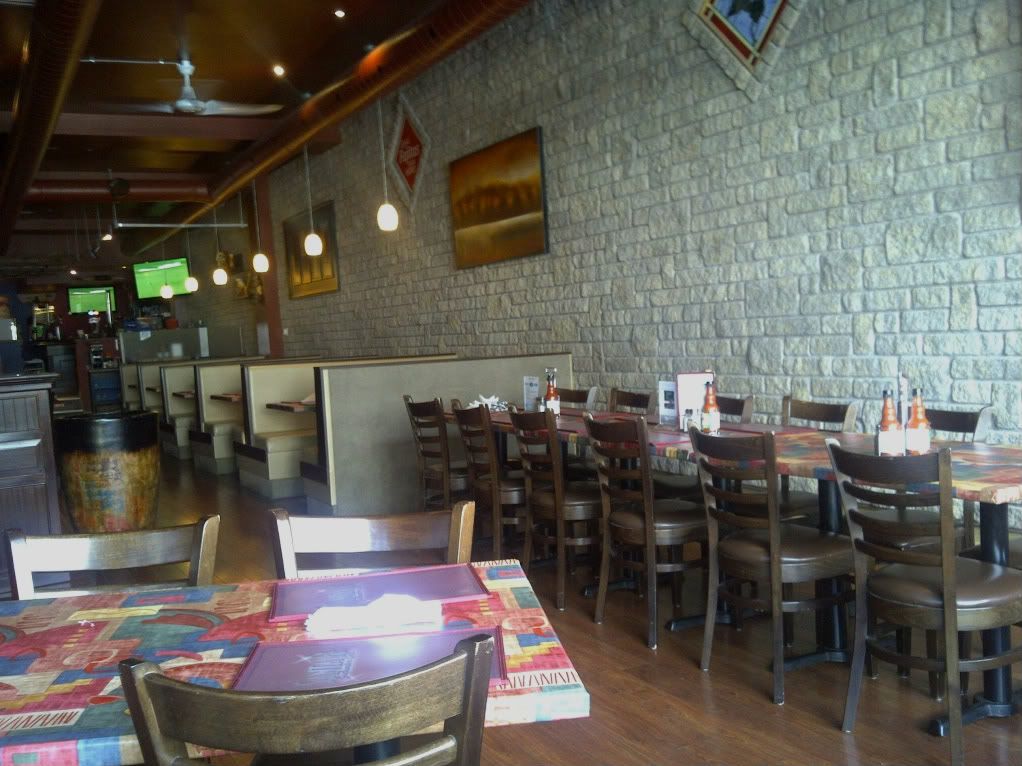 We walked into an empty restaurant, which was not surprising since we were in the middle of the afternoon, and this was Renfrew after all.
The decor was tex-mex like, but sober considering the excess this could lead to.  A few frames, a few accesorries, colourful tablecloths. There was a nice brick wall on one side of the restaurant, the floor and ceilings created a warm atmosphere.  There were also a few tvs at the back, where the bar was, which were showing some golf tournament. The place is recent, felt clean, comfortable. 
Our waitress came right away with menus and a bowl of complimentary chips and salsa, and took our drink orders. (They have drink specials everyday!)  
The salsa was simple and spicy, the chips were quite salty. And we were hungry, so looked at the menu with interest:
Amongst the traditional nachos, empenadas, chilis, fajitas (their house specialty), quesadillas, enchiladas, burritos and tacos, there was a few surprising items, like the Southwestern Spring Rolls or the Corona Battered Fish & Chips; and a few bizarre ones, like the entire Pasta section (featuring Pesto Primavera Angel Hair and Grilled Chicken and Mushroom Alfredo Linguine) or the Atlantic Grilled Salmon. Must be the Southwestern Atlantic.
When one travels from airport to airport, one must know where you can grab a bite. And when one travels with Westjet from Ottawa to Vancouver, with a stop in Toronto, one must grab a bite.
Westjet flies out of Terminal 3 at Pearson's International Airport. This means that food choices are limited – especially if you'd like to have a rest and enjoy a sit-down meal. There is a Swiss Chalet, a couple of food counters, 2 small bar and grills. And since last December, there is a Fionn MacCool's.
Part of the Prime Pubs family and opened in partnership with HMSHost, this is the second airport location for Prime Pubs, the first one being a Darcy McGee's at MacDonald-Cartier in Ottawa. At the same time, Prime Pubs announced the opening of another Fionn MacCool's – this time in Orangeville – making MacCool's the leading brand of the company with 8 restaurants.
The Pearson MacCool's menu is more limited than their other locations, but you can find the usual Irish-inspired dishes, such as a Guinness Steak and Mushroom Crock or Shepherd's Pie, as well as other Prime Pubs favorites such as the Prime Rib Burger, the Chicken Curry and the Chicken Tikka Masala. 
Located at Gate C-25, Fionn MacCools is open every day, from 5 am until the last flight.  On our way to the NDP Convention in Vancouver, our Westjet flight stopped for a 3 hour layover in Toronto. I knew where we had to go.  And so, followed by NDP MPs Bevington, Dusseault and Brosseau, and their entourage,  I lead our small delegation to the Irish Pub.
Walking in, you get the usual atmosphere one gets in these establisments – once you pass HMSHost's 'grab and go' counter, which looks out of place. The pub features a nice, long oak bar, well stocked, and a comfortable seating area. We sat towards the back, in a partial booth. From the windows, we had a great view of the different jumbo jets pulling in and out of their gates. The number of seats near the windows are scarce, however, so you'll need a little luck to sit by it. Continue reading »
Burger King is once again trying to bring some heat to their burger line (to their Steakhouse XT line to be specific), this time in the form of a jalapeños and cheddar stuffed pattie, the basis of their new BK Stuffed Steakhouse.
Jalapeños and Cheddar.
In it, not on it, says Burger King.


The stuffed burger was introduced in Canada on February 24th, 2011, 6 weeks after first bringing it south of the border.  This new menu addition is available across Canada for a limited time  at a suggested retail price of $4.99.
Here is how the King is describing their new creation:
"When you take a flame-broiled patty, stuff it with jalapeños and processed cheddar cheese on the inside, top it with creamy poblano sauce, ripe tomato and crisp iceberg lettuce, and put it all inside a toasted, corn-dusted bun … well, you've got yourself a fire hazard.
What we're saying is we had to get the fire marshal's permission to sell this thing."
Well, if the Fire Marshal gave his permission, surely it must be good.  The Waffle had to find out, and did so as a reward for clearing the driveway after Winter returned this Sunday.
And so I ordered it.  And so I tried it.
First impression, looking at it: well, it looked nothing like the picture in the ad. Of course.  You could see a few bright green bits and a few yellow ones too, but I had to have a closer look, so I flipped the burger, and yes, here they were.  Significant number of jalapeños and processed cheddar cheese bits sprinkled within the beef patty.  I guess "Stuffed Steakhouse" is better marketing than "Sprinkled Steakhouse", but nobody can really cry foul for false advertising.
The 5 ounce beef patty, nicely charred, with the usual smoke flavour, was thicker than I expected, much thicker than a Whopper for instance.
The jalapeños certainly helped to keep the meat juicy and tender.  There was a subtle peppery flavour to the meat, nothing powerful. The heat from the peppers was present - but no need to call the Fire Marshal, that's for sure.
As for the cheese, well, it is processed cheese. In my opinion, it is mostly there for colour, because the patty was not cheesy in flavour nor in texture. Real cheddar would go a long way to make this happen.
BK claims that the Stuffed Steakhouse is "complemented with creamy poblano sauce, ripe tomatoes and crisp lettuce on a premium bakery bun".
The "premium bakery bun was fresh, fluffy. The corn flour added a different touch, something else than your usual fast-food sesame seed bun.
The sandwich did have a (very!) light touch of a mayo-based poblano sauce on the bottom of the top bun.  It was barely noticeable, texture-wise and taste-wise.  The poblano is a mild chile (one level below the jalapeño on the Scoville scale); it wouldn't really add anything to the heat level, so why so little?  More sauce and more poblano would add moisture and maybe help bring out the heat from the patty.  If you are to try this burger, I would recommend asking for extra sauce. I ended up adding some ketchup to my sandwich – but then again, I love ketchup on my burgers.
The lettuce was chopped watery white iceberg, crunchy but nothing spectacular, and certainly not as green as the Boston lettuce they used in their ad. As for the tomatoes, well, it is winter, so the slices were not very juicy and they were quite small, but at least they weren't mealy.
Overall, the Stuffed Steakhouse was better than I expected.  The concept is interesting, the execution could be better (overlooking of course the fact that I stuff, err, sprinkle and form my own patties with all kinds of ingredients in there all the time). For sure, the meatloaf/fruitcake look wasn't overly appealing at first, especially as it looks in the promo shot.  But the burger was alright. They could get rid of the cheese in the patty and put a slice on it, because as it stands, it is simply buried. Then the burger would look and taste better, in my opinion.
As first
reported by the Waffle in May
, McDonald's is moving forward with a new burger in Canada.  In fact, they are moving forward with three new burgers.
Back in the Spring,
McDonald's
was doing marketing research about a potential new burger.
Possible names for the burger were tested: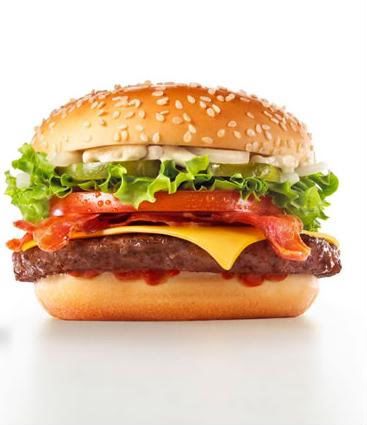 Quarter Pounder BLT with Smokey BBQ sauce
BLT with Smokey BBQ sauce
BLT Deluxe
Smokey BBQ Hamburger
The Waffle humbly suggested the Quarter Pounder Deluxe would be a better name, and perhaps his suggestion was heard, as McDonald's has introduced the Quarter Pounder Deluxe in Western and Atlantic Canada to really test drive it.  Lettuce, tomato and bacon are the new enhancements featured in the Deluxe. Gone is the Smokey BBQ sauce which McDonald's taste engineers wanted to include with the new Quarter Pounder – until the first tests run by Cossette revealed that people are loyal to the Quarter Pounder and don't want it to be tampered with.  So they decided to build on the classic by keeping it simple.  
You can get it for $4.99.
The Quarter Pounder Deluxe is being heavily promoted in BC – for example, CIFM Kamloops is giving away $25 McDonald's Gift Cards during their morning show this week, for people who call in and tell them what they are doing to make things better this summer – just as McDonald's did with the Quarter Pounder. Ahem.
Let me point out that the Smokey sauce is not really gone – it has been exiled. McDonald's is testing a different new burger in Ontario – behold the Smokehouse Deluxe:  a quarter-pound beef patty topped with crispy onions, smokey barbecue sauce, bacon, lettuce and mayo.  The Smokehouse Deluxe goes for between 5 and 6 bucks depending on location.
What about La Belle Province?  McDonald's is also testing a new burger there – the Angus Third Pounder.  The Angus Third Pounder was first launched in Califonia in 2007 and is slowly making it's way across the chain.  In the States, there are now four types of Angus Third Pounders – the Deluxe (cheese, red onions, tomatoes, lettuce, pickles, mustard, and mayonnaise); the Mushroom and Swiss (sautéed mushrooms, Swiss cheese and mayonnaise); the Bacon and Cheese (bacon, cheese, red onions, mustard, ketchup and pickles) and the Chipotle BBQ Bacon (lettuce, tomatoes, pickles, cheese, bacon and chipotle BBQ sauce).  The first three ATP have been reviewed by GrubGrade and the Chipotle BBQ Bacon has been reviewed by Brand Eating.
All three burgers will be available until Labour Day.  McDonald's will then decide which of the burgers pass the test and will be introduced nationally. The Waffle cannot guarantee he'll be able to test them all to provide his esteemed opinion.