Browsing articles tagged with " Ham"
Today, I decided to skip the buffet and instead went for the omelet station, and ordered one all-dressed: mushrooms, tomatoes, onions, ham, peppers and cheese.

The cook sauteed the veggies and the meat first, then added liquid eggs.  Once it was a solid base, he melted the cheese on top.
On the side, I got a couple of slices of ham.
The omelette was pretty good, some fluffyness and gooeyness, but there could have been more eggs.   The ham was a bit of a disapointment, a little on the dry side.
I have been living in the National Capital Region for almost 14 years now, and I have eaten at Le Café only a handful of time, mostly business lunches.  And indeed, every time I have been, the place was far from being packed. Of course, you have to know it's there, at the back of the National Art Centre, and you either have to pay attention in order not to get lost as you walk through the maze of  this bunker's corridors, or you have to know where the restaurant main doors are, behind the building as per the architect planning.  Once you are there, you will enjoy the floor to ceiling windows giving any guest a picturesque, panoramic view of the canal. The quiet atmosphere, enhanced by the dark chairs contrasting with the white linens, gives the restaurant a sophisticated feel. Le Café has a reputation of being pretentious, which it has been, and overpriced, which it can be at times.
Le Café also has one of the nicest patios in town, right on the Rideau Canal, protected by plenty of shade.  That is where I ended up for another business lunch, sitting outside on this hot summer Wednesday in Ottawa, under the cover of awnings providing some much needed shade.  Being right on the water, a nice breeze was also helping making sure we weren't overheating.  And thankfully, the construction is done at the Convention Center on the other side of the canal, so the place is relatively quiet.  Quiet because there is limited traffic noise, and quiet because despite it being noon, every other table is empty.  Ottawa's lunch crowd and patio-seeking patrons are not coming here.  But nearby patios at Milestone's, Métropolitain, 73 North and Darcy McGee's were packed. Why not Le Café?
Two years ago, Michael Blackie became executive chef of Le Café.  Born in England but raised in Montreal, Blackie has worked his way up the food chain over the past 25 years.  Before joining Le Café, Blackie was at the helm of
Perspectives
, the Brookstreet hotel's luxurious restaurant, which was awarded four diamonds by the CAA.   Now, I've never been to Perspectives, so the only opinion I had of Chef Blackie was from
Chef*Off
. A cooking competition between two chefs, broadcasted on the
Food Network
, where Chef Michael Lyon from Kelowna has to compete against Blackie, facing  challenges like using stange ingredients, cooking in weird kitchens, the rules changing halfway through, and judges who might be anyone from food experts to kids.  And the chefs have a tendency to play tricks on one another!  In most episodes, I found myself rooting for Lyon, who seemed more sympathetic than Blackie – who seemed more in it to win it.  Although, I must admit, Blackie's food seemed more appetizing, most of the time.
Yet, I was intrigued and excited to sample Blackie's menu. Le Café promises to make you rediscover the art of food, via what they call 
MB cuisine.
MB, who certainly does not lack confidence, is a non-conformist chef, who pushed the audacity to install a live
webcam
in his kitchen and to
invite
10
food
bloggers
to sample the new menu. 
(The Waffle was not invited. Shame.)
We peered at the lunch menu, which had a lot of interesting offerings : the B. A. Beef tartare ($13) and the Diver Scallop Cassoulet ($14) looked interesting in the Excite (appetizers) section.  In the  Consume section (Entrées), going through the menu, we were offered water – our choice of flat or gazefied – and our glasses were filled up regularly. Water service is so important, yet so often neglected.
Both Marc and I decided to ignore the lunch menu and go for the specials, prix fixe menu – $18 for a two course meal – $24 for a three course meal.  You can get a similar special at Dinner time, but the dishes offered are different.   To start our lunch, the choice was between a White Bean Soup or the MB Toss, which I chose.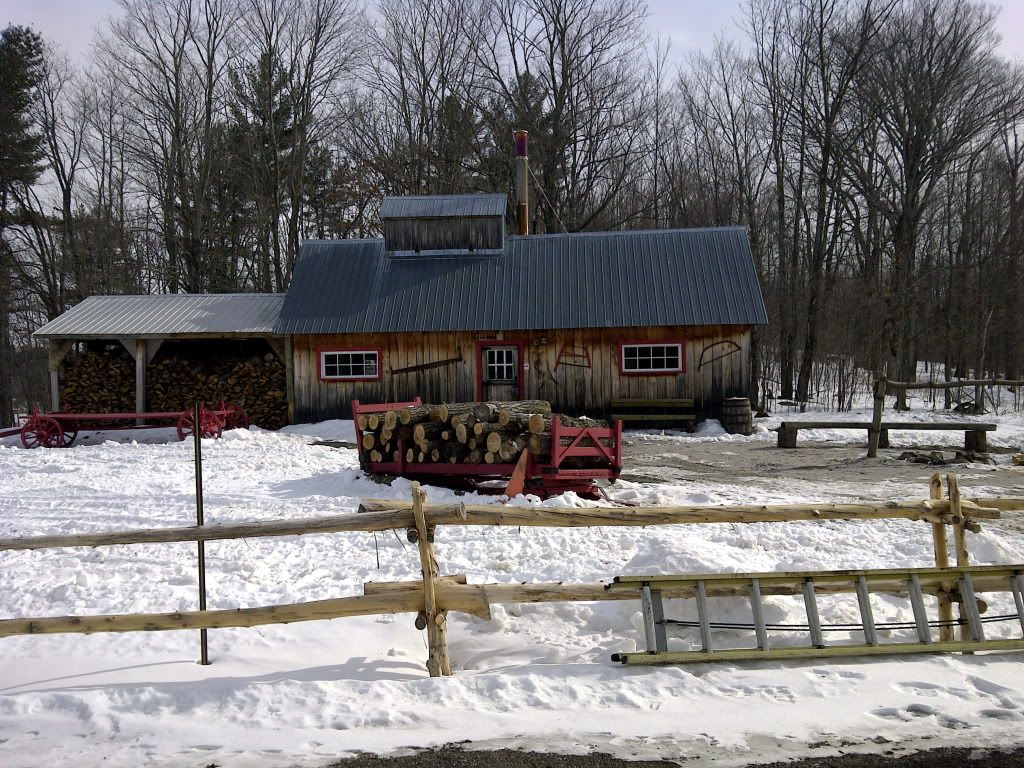 Mrs.Waffle has made it a yearly tradition – a Sugar Shack trip,with friends and family. And this year would be a special trip, as it would be the Waffle Jr.'s first trip to la Cabane.
Mel got really excited when she heard that la Sucrerie du Terroir was opening for the season, despite it still being winter.  She plotted with Miriam an early yearly trip to her favorite Sugar Shack in the Outaouais region.  We'd been there two years in a row already, and there was no avoiding a tree-peat.  Especially since la Sucrerie now has an Online Reservations Tool, making it even easier to book your spot.
Mel really, really didn't want to miss it. So she booked the first spot available on the first day la Sucrerie was open.  And so there was 8 of us who made the journey to Val-des-Monts for an early sweet breakfast – despite my half-hearted protests about the selected time of day, the cold temperature and mostly about getting served last year's Maple Syrup's production – no way you could get 2o11 vintage at this time of the year.  "I like my syrup aged", Miriam deadpanned.  I simply couldn't win this argument.
So we made the journey to the 190 acre property in Val-des-Monts. The "Sucrerie du terroir" is a trip to the old traditions. And this year, the owners have made some changes, moving the actual sugar house where the sap is boiled up the hill by the shack.  They also included a traditional, outdoor boiler system, showing how it was first down, with cauldron over a fire.  They certainly did improve on the rustic, old time decor.
As we settled at our table, we couldn't help but noticed that we were alone.  We were the first and only customers of 2011! The official opening was set for the evening, with musicians and everything – a big party.  So I guess we were their soft opening.
Moving buildings is not the only change la Sucrerie has made this year.  Their menu has changed too.  Oh, nothing too drastic, but still, worth pointing out.
The big change is their sausages. Gone are the industrial-made, pork and beef in a tube. Not that they were bad, but they've decided to go rustic and introduced their very own Country style sausages, or, as they call them in french, their Pitounes aux fines herbes (Pitounes meaning logs).
Kudos to la Sucrerie du terroir.  These skinless sausage were dense, meaty, with a very earthy flavour.  The fat content was minimal, leaving all the room for the meat to express itself.  They were quite tender, and if they weren't very juicy, they were not dry either. It is always a challenge to jump from commercial-made to house-made products – there are costs and time involved that sometimes make people go the easy way.  But it was worth it – these Herby Logs are a nice improvment on their previous sausages, and they are served on a mini-horsesleigh, just to remind us of where we are.
And, of course, it was all you can eat.
Now, according to the owner, this was the only culinary adjustment they made this year.  However, and perhaps because we were the only ones there, we got the best meal I've had of my three visits.  Being able to take their time in the kitchen, not having to rush out food to 100+ guests, it certainly paid off.  (For us, that is!)
For instance, the Omelette was an even better master piece than usual.  They just outdid themselves.
Oven baked in a cast iron pan, served hot and steamy, it was oh, so fluffy, so puffy.  Like eating an eggy cloud.
And, of course, it was all you can eat – although we ate only one.
The ham was also more interesting this year. No, they haven't moved to an all-natural, slowly smoked ham – it is still a pre-cooked Maply version.
However, the slices were thicker, it was a better quality and the ham was baked with lots and lots of cloves, an ingredient that was not discernible in years past.  But this time, it was there in force.  No fooling around, we got cloves, lots of it!
There was no avoiding it.  They were not used sparingly. And with a healthy helping of sweet and dark maple syrup, it made for a pretty good spicy piece of ham.  You had to have the syrup though – the taste of cloves without the sweety goodness would have been like a punch in the mouth. All you can eat, of course.
In fact, as per usual, everything is all you can eat.  Fruit salad, french toasts, pancakes, omelette, roasted potatoes, sausages, bacon rinds (oreilles de "crisse"!), maple ham, baked beans and of course their famous maple mousse small tarts (a new crust this year, home made) all of that for a mere 26$.  Alright, it's not that cheap. But it is a unique and fun experience. And it is cheaper for kids.  And it is all you can eat!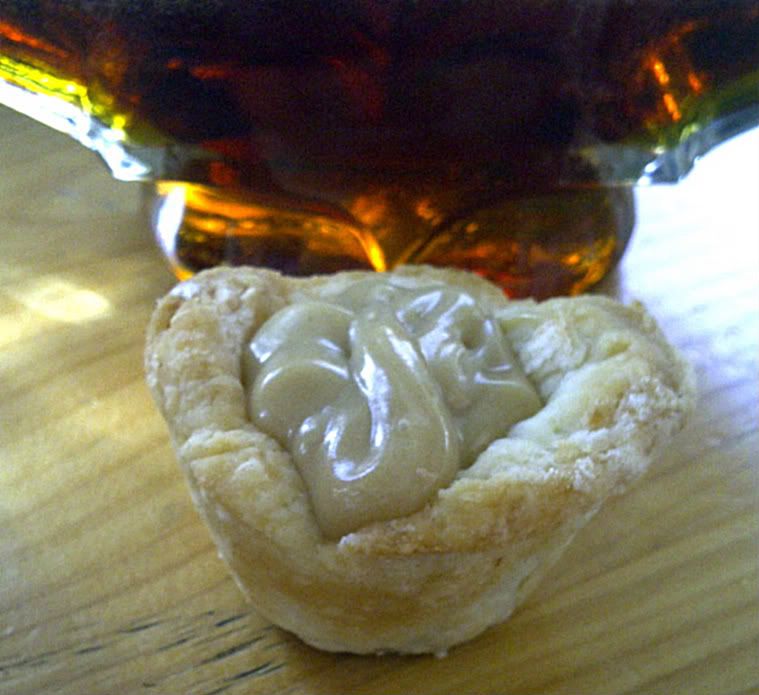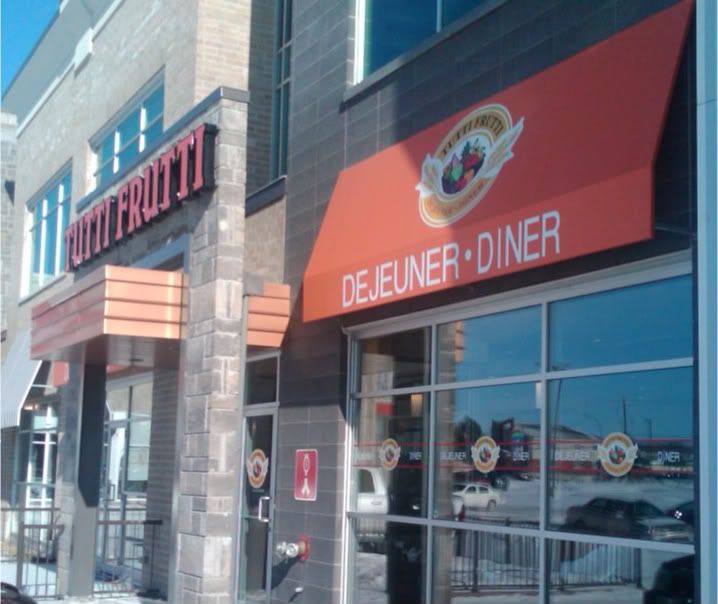 People love breakfast, and they love eating out for breakfast. You can eat for cheap, food menus are simple and therefore hard to screw up, bottomless coffee cups are offered in a lot of cases.
So it is not surprising to see more and more speacialized breakfast chains moving in to capitalize on that lucrative market.  I'm not talking Donuts shop or Fast Food chains.  I'm talking Breakfast chains like Cora (1987).  Eggspectation (1993).  Eggsquis (1995). Ben & Florentine (2008).
And Tutti Frutti, which was founded as a franchise in 1992 by the Pentefoutas family in Montreal. The chain has been growing steadily ever since, and was acquired in September 2008 by the MTY Group, the franchise giant behind 26 banners (over 1700 locations) such as Sushi Shop, Vanelli's and TCBY.
Tutti Frutti is now expanding into Ontario, after establishing themselves solidly in Quebec. Tutti Frutti has just expanded into the National Capital Region by opening a new location in Nepean (reviewed last month by Eva's Food World), adding to the first Gatineau location and most recently, a new one in Hull, high up on St-Joseph.
And that's where we decided we had to start our first Family Day together. We were attracted to the location by a coupon printed in Le Droit which gave us $5 off any of their Eggs Benedict selection. Significant deal.
We arrived around 8:30 and the place was basically empty, which I didn't particularly mind.  For some reason, the hostess, who welcomed us promptly and nicely, thought that the best table to sit the three of us at was right beside an already occupied table in an otherwise fully empty section. Strange, but oh well, it didn't really matter to us.  (But it did to the gentleman, who soon after asked if he could move "near the windows – if it's not too cold over there.  For the record, the Waffle Jr. was minding her own business.)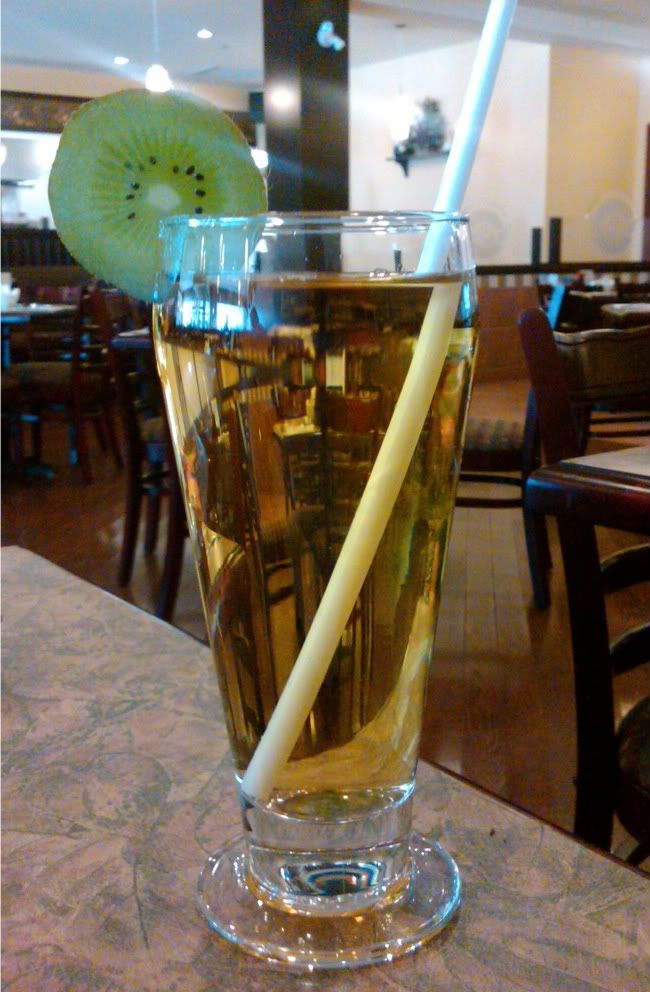 Mel wanted coffee, I ordered a large apple juice.  It came with a slice of kiwi as garnish, a simple but nice touch. However, at $3.25, it was quite pricey! No wonder their coupons are worth $5.00! Of course, the coffee was included with a breakfast, another example of non-coffee-drinker discrimination. However, if you are a coffee drinker, I should point out that the re-filling was not very prompt. "If you are a breakfast place, there is no reason to ever allow your patrons to see the bottom of their cup!" Mel informed me.  In fact, after being asked directly for more coffee, our server simply forgot about it and I had to wave her over again while to remind her of my tender-half 's need for more caffeine.
Looking around the restaurant, one could not help to notice how clean the place was. Don't let yourself be fooled by the bright orange canopy outside the restaurant  - the interior decor is warm and sober, and they get high marks for the natural light blasting in.
The open concept basically lets you peek into the open kitchen from anywhere you sit. The tables are not too close together, but I bet the place would get loud fast.  But with 6 tables occupied, not a problem.
The menu is varied, offering many types of crêpes, pancakes, French toast, omelettes, waffles, fruit platters, and of course the classic bacon n' eggs and other usual combinations (most of them available in a cheaper early-bird version). On the sides side of things, one should note the presence of cretons and of fried baloney. Tempting!
Melissa decided she would try the Eggs Benedict, and she picked the Ham version ($10.55).
Two poached eggs, served on a thin slice of ham, sitting on english muffins, covered but definitely not drowned with hollandaise sauce. Melissa did note that she was not asked how she would like the eggs cooked, which normally means (she assumed) they would be done medium (no runny stuff) but these came cooked soft (with runny stuff).  She would have rather they had been medium, but she still enjoyed the meal.
Her plate, as was mine, came with home fries and was decorated with pieces of fresh fruit. ("Why are the fruits touching my food?!" Mel cried. "I hate it when my breakfast food is contaminated by oranges," she added, as she created separation between the culprits and her eggs.)
The fruits were stacked to look like a floral bouquet but did not quite match the pictures in the menu.  Nevertheless, there was some effort put into the presentation, a nice variety of melons, citrus and apples.  The fruits were fresh, juicy, nothing to complain here. In fact, even The Waffle jr. joined in and tried her first piece of watermelon ever – and asked for more.)
I'm not really a breakfast guy, I usually have some fruit, something simple.  But when I go to a breakfast place, I like to try things that are out of the ordinary.  Three things here caught my eye:  The Three Little Pigs (breakfast sausages wrapped in buckwheat crepes and cheese), and the Tutti Frutti Special (two cinnamon buns, one covered with fruits and the other one with egg and bacon).  But the one item that was calling my name was the Tutti Mini ($11.95), three omelette sliders. How original!  How ambitious!  I had high hopes.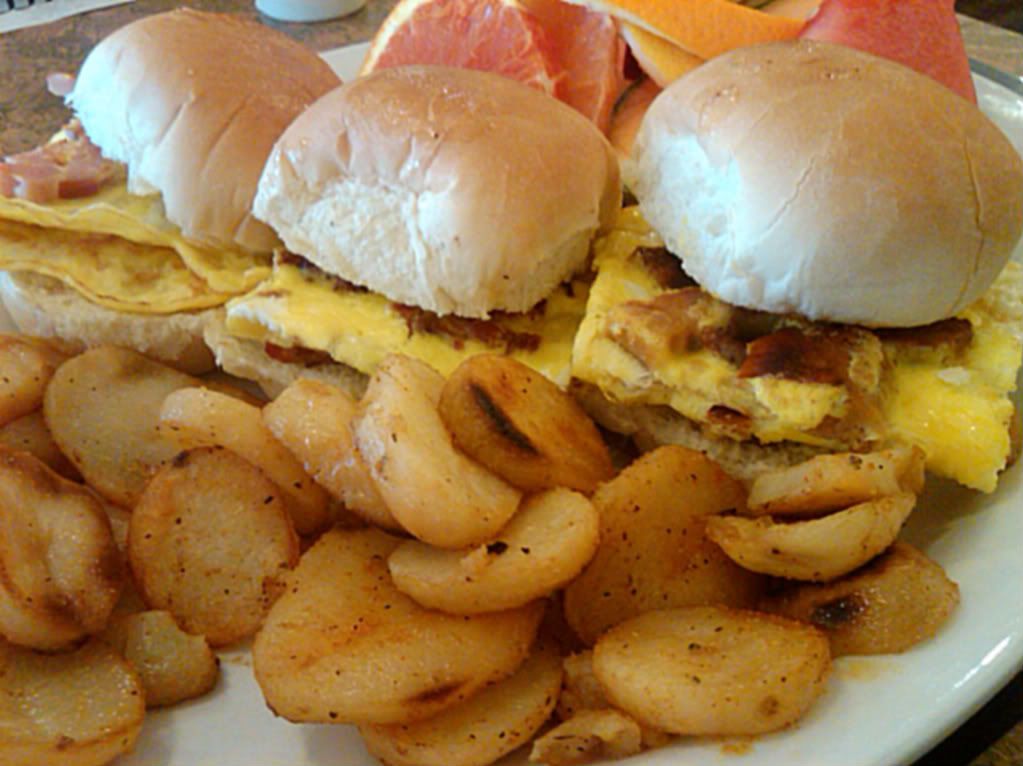 First, a word about the home fries. Real slices of potatoes, a nice change from the deep-fried frozen tatters you too often get served for breakfast, they were a tad soft but not mushy.  There was some sign of crispyness, but minimal crunch.  An honest rendition.
The sliders were the main attraction of the plate.  There was three Tutti Mini on the plate: one with sausage, one with bacon, one with ham.
The buns selected for the breakfast burgs were of a standard, non-descript industrial make. They were fresh, with almost a cake-like texture.  But sadly, they were served right out of the bag.  Not grilled, not toasted, not warmed up at all. Unfortunate.
The omelettes were pretty bland.  Just plain pre-mixed eggs  on a plaque, barely seasoned. No cheese, no veggies. Even the meat wasn't mixed in, it was simply cooked separately and added under and over the eggs as they put the sandwich together.
Talking of the meat, I really didn't like the sausage one.  It had an unpleasant aftertaste, the texture was oily,greasy, it simply wasn't good.  The bacon version fared little better – instead of a couple of nice bacon slices, I had a bunch of small bacon bits – either broken pieces they keep for this purposes or that is simply the way they plate it, but whatever the reason, it didn't work. The best of the three was the Ham version.  Again, they had the ham slice cut up into chunks, but at least the chunks had some substance to them, it had the best flavour of the pork trio, a tad salty but hey, it's ham.
The omelette slider is a great idea, but it didn't live up to my expectations. It wouldn't be hard to make this a home run. Season the eggs better, adds some onions, and finish it with melted cheese.  Toast the buns. Improve the quality of the meat and give the slider a nice finish with some garnish – maybe a hollandaise mayo or a fresh salsa to bring it together. This dish has so much potential. It should be better.
All things considered, Tutti Frutti is similar in what it delivers to other breakfast chains. Some things are good, some things not as much.  The variety and quantity of the fruits on the plate is impressive – you aren't stuck with a single slice of orange with half a strawberry on your plate.  Yet, execution is far from stellar.  As for the service, it was familiar, friendly.  The food arrived quickly, and what was meant to be warm, was warm.  The place is not cheap, though (unless you go for the Early Birds' special) as our bill, before taxes, tips and coupons, was $25.75 for two persons.  Not quite worth it, but not a total rip-off either.
During a campaign, breakfast rallies are interesting events.  Some people are barely awake.  Everybody is sitting down.  Some are eating, most are sipping coffee.  And it was the case again at the Resto-Deli Jimmy on Hochelaga Boulevard in Montreal.  Jean-Claude Rochelau was hosting NDP Leader Jack Layton, ahead of the November 11th by-election.
Owner Jimmy Stefrimitos was on site, happy to see the NDP Leader visit his establishment.  The staff, who've seen weirder stuff, kept serving, squeezing by the tables, the chairs and the orange balloons.
I ordered the workers' breakfast special:
2 eggs (scrambled), beans, home fries, french toast, pancake, sausage, bacon, ham for $5.  Quite a deal.
As far as greasy spoons go, this was half decent.  The french toast and the pancake were a bit soggy, the eggs a bit dry, the beans a bit boring.  But the meat was nicely cooked and crispy, and the home fries were warm, crisp on the outside and flaky inside.
I would go back to Jimmy if I was in the neighbourhood, and I bet it's even better at lunch.  But it is unlikely I would make a major detour to stop there.
It is often said that airplane food is terrible.  It most often is.
Unless you fly First or Business class, domestic flights are indeed feeding you badly, and most often you have to pay extra for it.
But one airline does understand that a nice flight includes a nice meal – no matter where you sit.
Here is what the tray looked like when it appeared in front of me: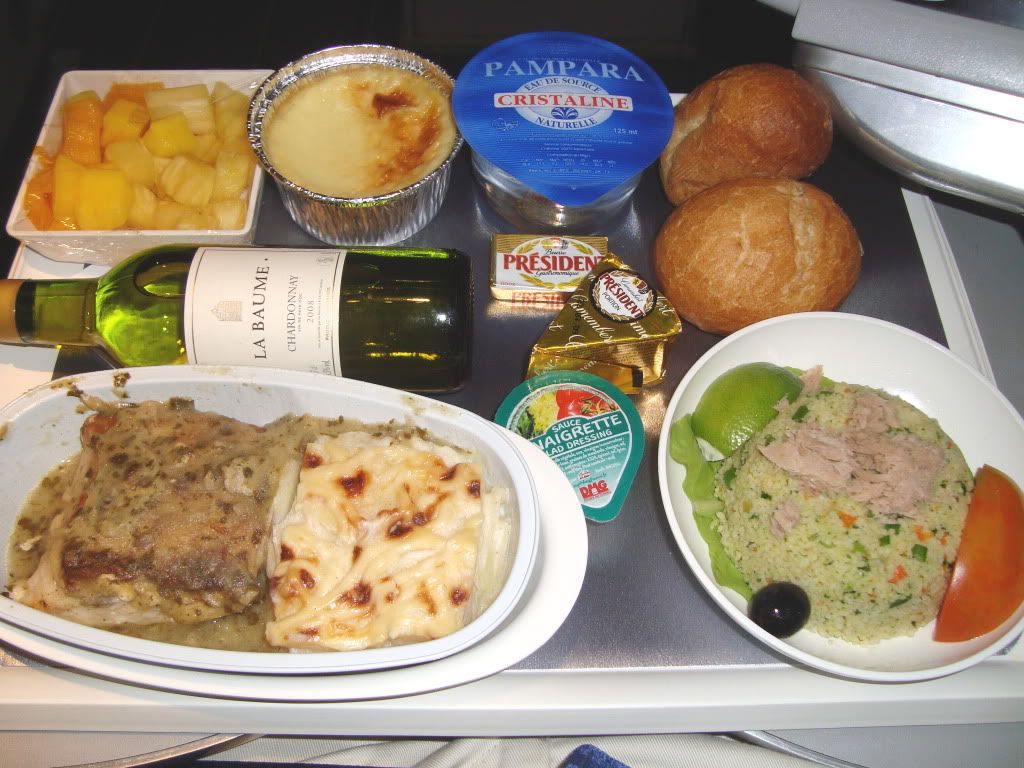 The menu was printed as follows:
Meal Service

Tabbouleh with tuna
Choice of main course
Curried chicken accompanied by rice with raisins
-or-
Filet of barracuda with sorrel and mushrooms, dauphinoise potatoes au gratin
Cheese
Fruit salad
Crème caramel
Coffee and tea
Beverages
Apéritifs
Upon request
Champagne
Jacquart Brut Mosaïque
White Wine
Vin de Pays d'Oc Chardonnay 2008 La Baume

Red Wine
Vin de Pays d'Oc Merlot Cabernet Sauvignon 2008 La Baume
Beer
Heineken
Mineral Water
Soft Drinks
Schweppes (Indian Tonic)
Schweppes (Agrum')
Pepsi
Pepsi Max
7up
Fruit Juice
Fruité
Coffee and Tea
Nescafé

Brandy and Liqueur
This was probably the best meal I've ever had on a commercial flight.
Even though the tabbouleh was low on parsely and mostly made of couscous, and the tuna was from a can, it was not bad.  The baracuda was tender and moist, the potatoes were nicely done. The cheese, a camembert from Président, was half-decent, the bread was fresh, the fruits were alright, and the crème caramel was not the worst I've ever had.
All in all, a very decent meal.
Which is a good thing, considering the long layover I had at Charles-de-Gaule. Exhausted, I could not sustain myself in the Food Court, which was closed, and could not bring myself to indulge in caviar from one of the Expensive Duty Free Stores in Terminal 2E.
I had the choice between an Illy coffee shop and an Exki outlet.  I hesitated, passing the time reading, playing some games on the courtesy PS3 machines in the terminal or on my own PSP, and even was able to get some micro-sleep. After hesitating, I finally settled for the Belgian chain.
Exki's philosophy is to serve high-qualiy fast food, "offering natural fresh produducts (sic) at all the times of the day."  Their motto? "Natural, Fresh, Ready."
Their fare is simple: salads, sandwiches, soups.  They claim not to use any additives, and some of their products are organic, such as their bread.
I decided to go with something simple, so I picked the Louise from their Vitalis selection , which was only 376 calories: homemade cooked ham and gouda cheese, served with a honey mustard dressing on an organic bread made with Malt.  The bread was of a very good quality, with nice tasty flakes of cereal.  The ham was also very good, nice and thick.  They were a bit cheap on the cheese, and they could have added more honey mustard as the sandwich was a tad dry.  Thankfully, I had a Coca-Cola to help me out.
Even by airport standards, at 9.60 Euros, this was a pricey meal.
.
We were having a few friends over for Easter brunch, and I had been thinking about trying something I had never tried before.  Well, yes, I do know it is wrong to try new stuff on unsuspecting guests, but I had to do it:  a ham on the BBQ!
I went to the
Byward Market
looking for the right piece of meat, and
Aubrey's
seemed like the place to go.  After all, they have been around since 1908. 
After looking at their selection, and being stopped from buying a half-pig, I settled on a quarter ham. Surely, it would be enough for 6 people.  Well, 5 really since one of them is vegetarian.  But you never know, she might be tempted, I thought.  
First, I brined the ham in salted water overnight, after bringing the ham to a boil and letting it cool down.  In the morning, I basted my ham with a sauce made of maple syrup, wholegrain mustard and
St-Ambroise beer mustard
 for an extra zip.
And hop, on the barbecue!
I grilled it slowly on low heat, with some wood chips to add smoke, for about three hours, basting it regularly.  The result was a very tender, very tasty ham, and the combination of maple syrup and the two mustards worked great.  I served it with scrambled eggs and some real home fries.
When folks arrived, the ham wasn't quite ready in my opinion. But I had prepared some hors d'oeuvres (crackers, red pepper jelly, bocconcini, fresh basil) and a nice fruit plate for people to eat while they waited.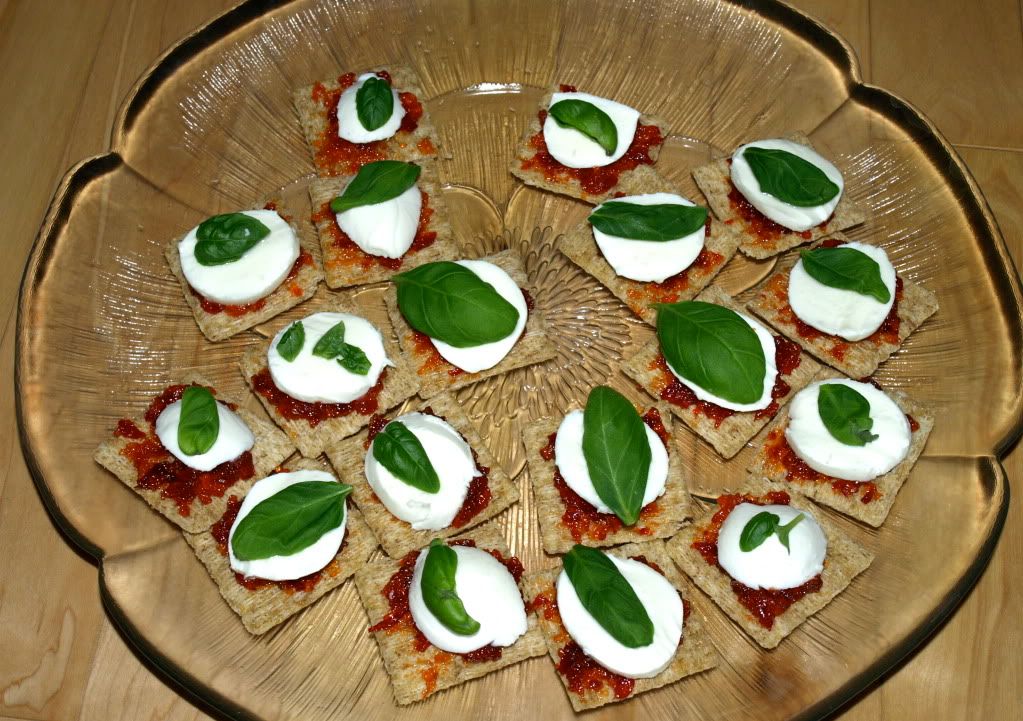 For the finish, Melissa had something special and, frankly, very pleasant to the eye.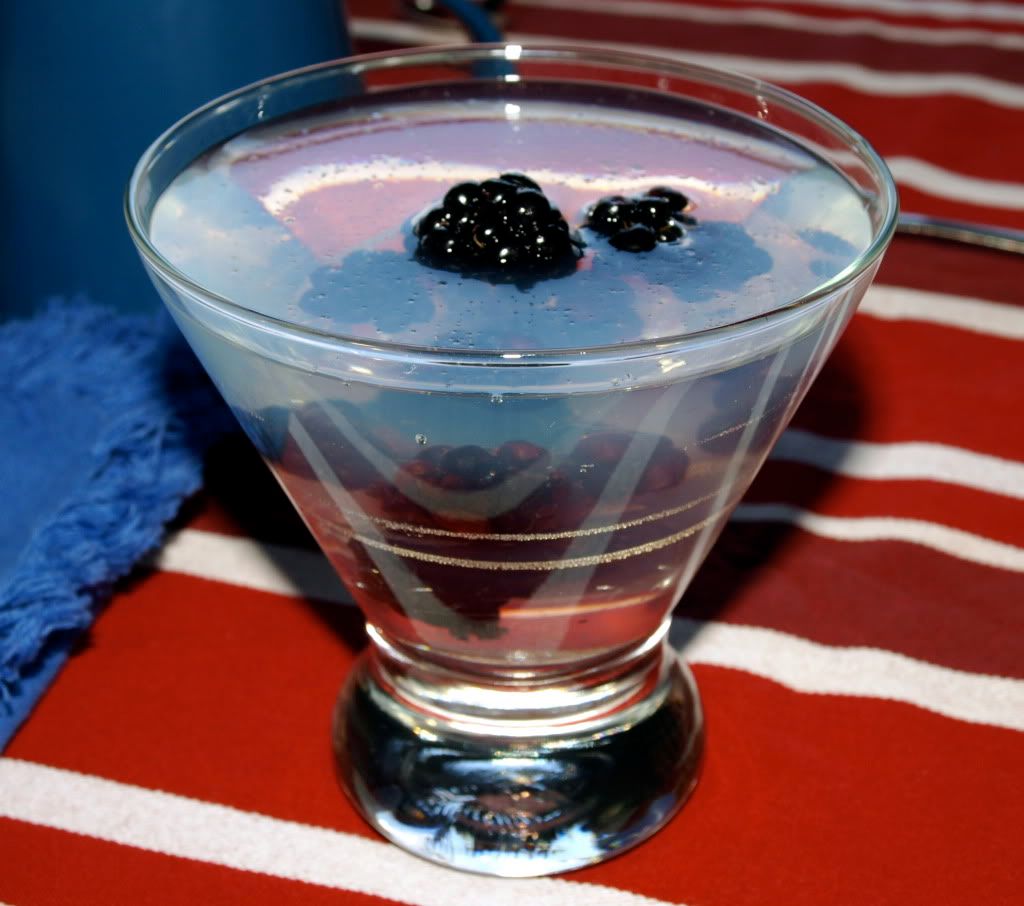 Sparkling water, rose water, gelatin, blackberries.  A nice and refreshing dessert, quite filling but lovely.
Is there something more traditional in Quebec than a spring visit to a Sugar Shack? I don't think so.
A folkloric atmosphere, the comforting warmth of a wood stove, and the odours, from the burning logs, from the wood furniture, and especially the aromas from the kitchen.
There are a few cabanes à sucre in the National Capital Region, and this time, la Sucrerie du Terroir drew the lucky number, and 6 of us plus a baby headed over, on a sunny springy morning.
Located in Val-des-Monts, La Sucrerie du Terroir is very traditional, smaller than most shacks, making it a very cozy place. The staff was very friendly, and were wearing traditional costumes. Although they do not sell booze, you can bring your own.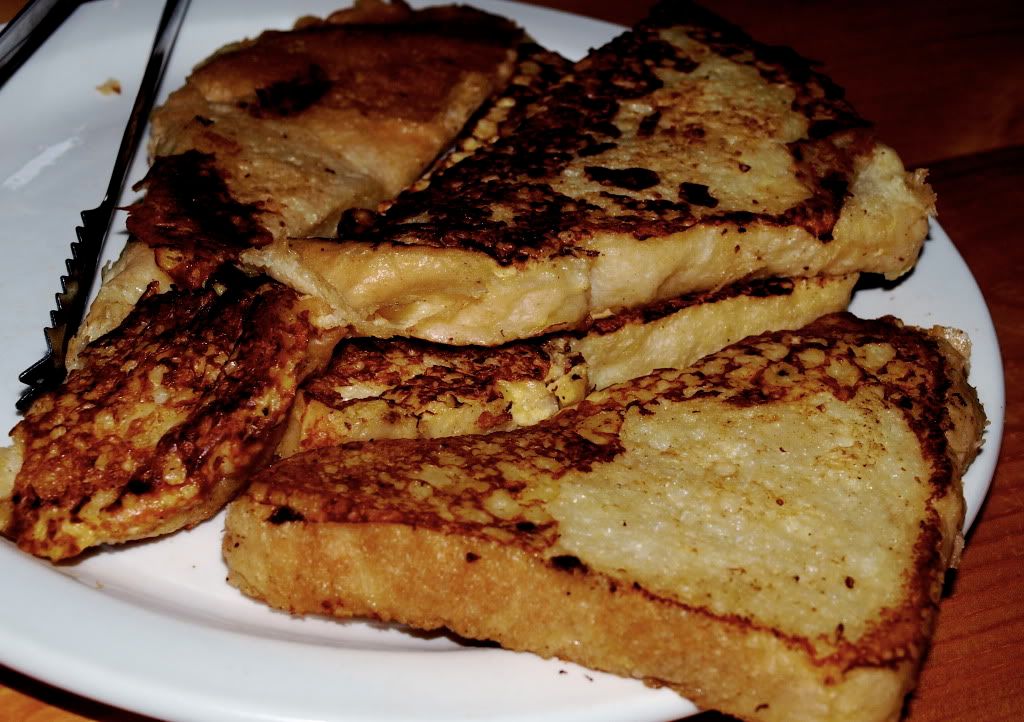 First came the French Toast.
A classic appetizer.
Nothing fancy, just some thick white bread soaked in eggs and milk and fried.
Covered with maple syrup, they sure started our meal the right way.
All you can eat.
Then came the main meal, with the beans.
They were nothing special, no meat, making it vegetarian-friendly, just plain beans baked in molasses.
The texture was nice, but it was a bit bland.
Which is why you smother them in maple syrup.
ll you can eat.
Another side dish – les oreilles de crisse – was a better hit.
Deep Fried Smoked Pork Fat – sorry, Jowls. What can be wrong with that?
Actually, they were Bacon Rinds.
They were quite dry and salty, so to re-establish the balance, you soak them into maple syrup.
All you can eat.
Of course, you need some home fries. Potatoes are a classic fare for a sugar shack meal.
These were very small, crispy, a bit greasy.
They don't go as well with maple syrup, so I focussed on ketchup.
All you can eat.
Maple Smoked Ham and country-style sausages were also on display.
The ham was a pre-cooked one, as opposed to an all-natural. Still good.
The sausage were juicy. Nothing like meat in a tube.
The meat went down with a nice touch of maple syrup.
All you can eat.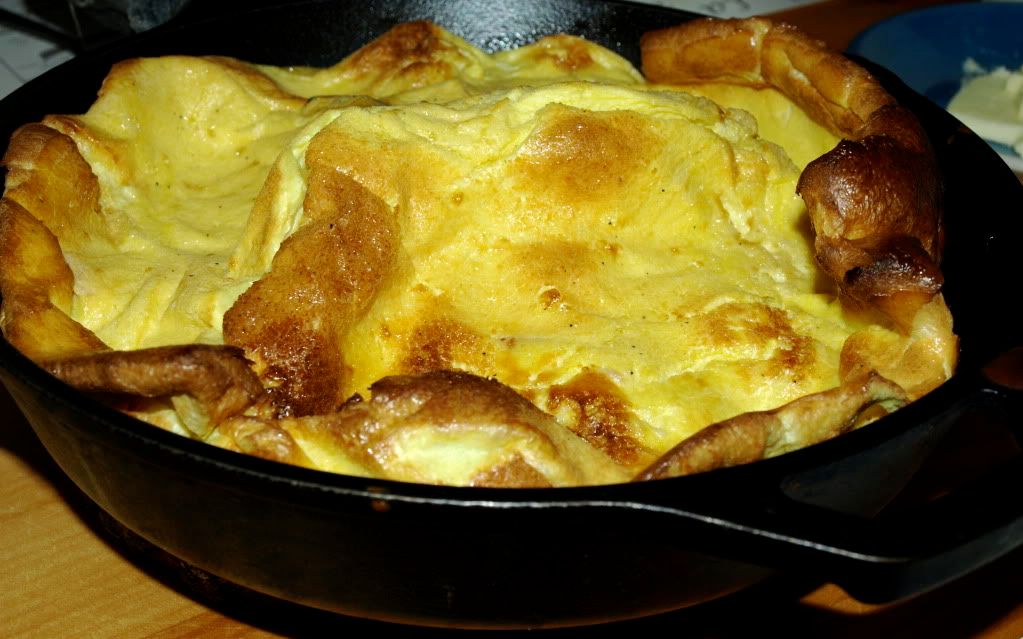 The master piece was definitely the omelette.
Oven baked in a cast iron pan, it was fluffy, with crunchy edges.
Is stayed warm throughout the brunch.
The great thing was, with maple syrup, it was melt in your mouth.
All you can eat.
For dessert, we got maple mousse tartellettes.
Some of us couldn't add any more sugar to their diet. Their loss.
The sugar maple filling was very sweet, but quite smooth.
The crust was a bit crispy, a bit moist – showing that they were not super fresh and sat in a fridge for a little while.
I sprinkled a bit of maple syrup to season them properly.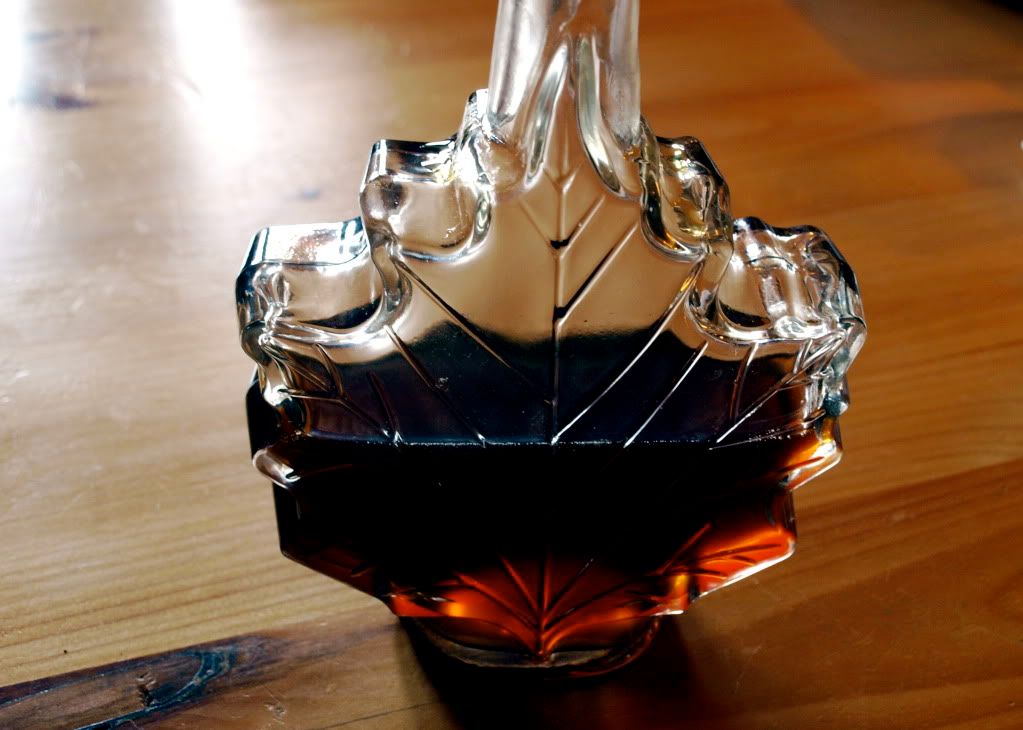 The 6 of us had a half-bottle of syrup with our meal.
I would say we were quite reasonable.
It was a good quality syrup, a nice amber, rich colour.
Grade Canada B medium.
All you can drink.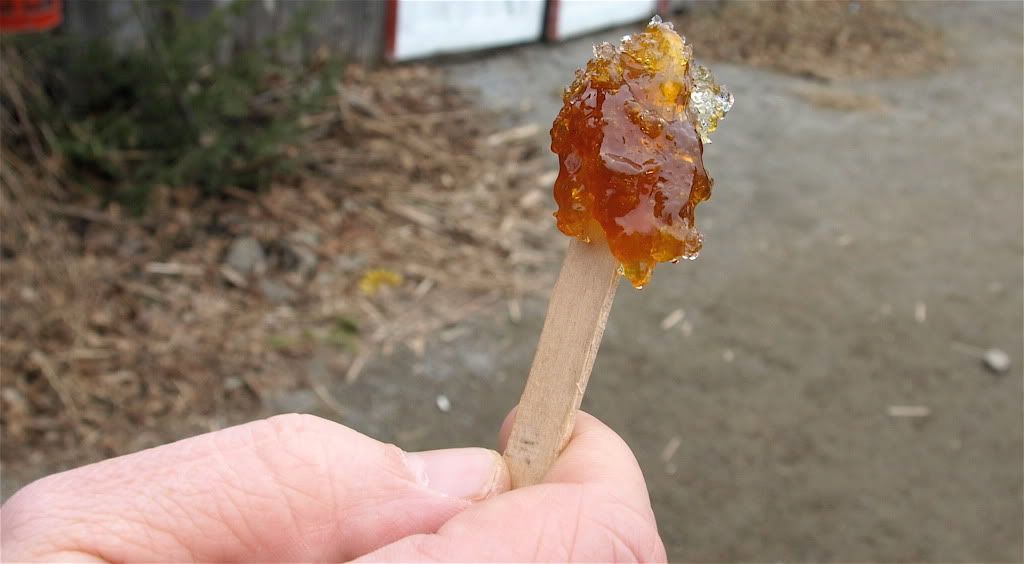 And to digest all this delicious food, nothing like maple toffee on ice.
It wasn't a cold day, and snow was getting sparse, but it was fresh enough for the delicious instant candy to solidify and remain fairly solid on the stick.
For some reason, I was the only one of our group to indulge.
I don't get it.
I did however spend the rest of the day recovering from the sugar crash.
23$ per person.
All you can eat.
Money well spent.
Its hard to eat well when you work on a by-election, away from home.It's also hard to keep a blog updated.
At any rate, here is what my first week looked like -
Monday, August 11 2008: 
Lunch: I reviewed my visit at the Terrazza Trattorria & Case da Carlo here.Dinner: I wanted to get an an update on Westmount-Ville Marie, so I went with Jerry to the Bâton Rouge near the Bell Centre, in the old Moe's Deli building.  We shared a Louisiana Spinach Dip before I digged in a grilled sirloin salad.    The dip was warm and creamy and came with sides of salsa and sour cream.  There was tons of chips, tons of dip, its a good think we shared.  As for the salad, it was made of mixed greens, grilled zucchini and roasted red pepper. The 7 oz sirloin was topped with warm walnuts and very lightly-flavored blue cheese. I asked for the blue cheese dressing to be on the side in order not to ruin the salad.  It was pretty good I thought.
Tuesday, August 12 2008:
Lunch: I engulfed a Baconator at Wendy's.  Too dry.  It needs some bbq sauce to round it up.
Six strips of bacon, though.  Remarkable.
Dinner: I grabbed a few beers with a lightning strike survivor at L'Île Noire, then we went to Les Trois Brasseurs on St-Denis for some choucroute.  The sauerkraut at Les Trois Brasseurs is not anything special, but it is usually alright, and can feed an army.  I had the Royale, which included a frankfurter, ham and some pork shank.  The ham was ordinary, the frankfurter much better, and the pork shank very tasty – although you have to be careful not to eat all the fat or skin.   Les went for the 3 Brasseurs one, below, which included a frankfurter, grilled ham, a smoked sausage and potatoes.  He could barely finish it, which is rare for him, he said.  They served their own beer too, which had to the whole choucroute experience.
Wednesday, August 13 2008:
Lunch: I went to the Suite 701 for a chat with a columnist.  We shared some crab cakes, which were smallish but lightly and nicely oven-fried.  We then both went for the Lobster Club, which was interesting as it came on a flavourful bread.  The side sald was fresh and crispy.
Dinner: I crossed the Champlain bridge to Verdun to meet a friend at le Garage Café in Verdun.  I had the turbo burger while she enjoyed the semi-automatic. My burger was made of lamb, nicely cooked, with a tasty mix of very nicely melted cheese, ementhal and gruyere.  The french fries were also quite tasty, and there was soooooooooooo much.
Thursday, August 14 2008:
Lunch: I forced the local campaign team to go to La Brasserie Renaud.  More about it here.
Dinner: We went for a few beers at Le St-Ciboire, but the food came from The House of Reggae next door.

Friday, August 15 2008
Lunch: We went back to see Manon at La Brasserie Renaud.  Why not?
Dinner: Had a very late dinner at Fresco before going to see Star Wars.  We actually went there because Dominic and I wanted to grad dinner before the 11:30pm showing of The Clone Wars at the Mega-Plex Lacordaire 16.  We looked around, but there wasn't much else that was grabbing our attention.  We were surprised by the quality of the offerings, and we both went for the Lobster Linguine, which was served with half a lobster, mussels, shrimps and scallops in a crushed tomato sauce.  Quite tasty, although the lobsters were a tad bit overcooked.  As an appetizers, I picked the smoked salmon, which was very nice and well accompanied, while Dom selected the snails, served gratted with lots of butter and garlic.

Saturday, August 16 2008
Lunch: I grabbed a sandwich at Cavallaro Westmount. The place is a neat little Italian grocery/deli/bakery place, and I got Genoa Salami sandwich with an extra grilled pepper to give it a bit of a zip.  They made it fresh before my eyes, asking what I wanted on it along the way.  I enjoyed it with a can of Brio Chinotto.
Dinner: I went with Anne-Marie to L'Académie as everyone else had gone AWOL that evening. As she filled me in on the action in Westmount, we both decided to go for la table d'hôte of the evening. The vegetable cream they served first wasn't really inspired, but wasn't despicable.  I went for the Lamb chops, served with a rosemary sauce and it was pretty good.  The meat wasn't of the best quality I had ever seen, but it was cooked perfectly and very tasty.  AM went for a steak, which she ordered blue.  Well, it was blue, but it was also cold, which is a sign that they keep the meat in the fridge (freezer?) too long before cooking it, or that the fridge is too cold.  Too bad
After a night of enjoying Alexandria Bay's lively nightlife, our eightsome was in need of a greasy breakfast before hitting the alleys of the Thousand Islands Country Club. And we certainly could not find a greasy spoon quite like Beefer's.
A breakfast buffet family restaurant, it is located on the State Route 12 just on the way out of Alexandria Bay, Beefer's is open six days a week until at least 11h30 or until later if they are busy.  It is closed on Tuesdays, for some strange reason.
And, what do you know, the original "Beefer's" is back, as Bobby Williams decided that the breakfast business in Alexandria Bay was too good to stay out of any longer.  He apparently "renovated everything and built a new state-of-the-art buffet area that is designed to impress."  Well, some might be easily impressed, so good job Bobby W. Perhaps you could spend a little more time upgrading the bathrooms, though.  Just a thought.
The buffet is quite diversified for a breakfast-only place, but it certainly doesn't have the quality you can find in upper scale hotels. It consisted of scrambled eggs – with or without onions and peppers, home fries - with or without onions and peppers, hashbrowns, pancakes – regular or blueberries, French toasts, pastries, muffins, a toast station, english muffins,  biscuits, fresh fruits, bacon, ham, corn beef hash,  sausages, sausage gravy. Yes, sausage gravy.
I don't know about you, but that item,  I didn't even go near it.  I was actually afraid something would jump out of the grey slime and grab me. Oh, and there was a chocolate fondue fountain too!
For all-you-can-eat, you pay 9.99$, plus an extra 2.00$ for a bottomless drink.  I don't drink coffee, so I ordered a Sierra Mist, Pepsi's response to Sprite and 7 Up.  I have to admit it is a very good lemon-lime soft drink, quite refreshing and not too sweet, perfect to balance the fat I was about to consume.
I choose both my home fries and my scrambled eggs with peppers and onions.  The eggs were not bad, considering the mass production, and the veggies added a nice twist to the eggs.  It didn't worked as well for the home fries, which were way too soft and way to soggy to be enjoyable.  Some of them were even burned, but yet not crunchy.  How that can happen is beyond me.
The corn beef hash were also soggy, but in that case it kind of worked – the moisture coming from the corn beef fat and not exclusively from steam.  The bacon was crisp and not overcooked, and was the highlight of my meal.  Not too salty either.  The sausages were small and a little dry by moment.  Not exquisite, not juicy enough, but nevertheless edible.  The ham was overcooked and chewy because of it.
I cleaned my palate with a serving of strawberries, bananas and pineapple.  No chocolate, I abstained on that one, so I can't really tell you about it. But it was a very popular items with the kids, I can tell you that much. And, in the end, I survived Beefer's Gorilla Buffet.  And I got the t-shirt to prove it.

.