Browsing articles tagged with " Club Sandwich"
Sometimes, you make bad decisions.  And sometimes, even though you know you are making a bad decision, you stick with it.
The evening had gone well enough. The weather was great in downtown Miami.  Earlier, we had enjoyed  walking around the Bayside Market, enjoying the scenery, doing a bit of leche-vitrine . We had seen a good basketball game – well, 3 good quarters at least – that saw King James and the Heat beat the Sacramento Kings.
We decided that the weather was nice enough for us to hang out an extra hour downtown, let the game traffic dissipate. So we headed back to Bayside, where the crowd was thinning and some of the  shops were closing.  We looked for a good spot to have a drink and grab a bite to eat.  We decided to skip the Bubba Gump, Chili's, Hooters and the Hard Rock Cafe and picked an independant tourist trap: Latin American.
We had walked by a couple of times, and the place was busy with a good vibe. The spot has a patio on the water front, with a nice view of the Marina and of the Port Boulevard Bridge, which was nicely lit in blue.  A local band was playing at Bayside's stage lower down.  We grabbed a quiet table and start peering at the menu, hoping to prolong the evening for the best.
Our Latin American server was at the table soon enough to take our drink orders.
"I think I'm going to try this beer", I said pointing at a Polar beer ad in the menu.
"Sorry, we don't carry it.  It's just an ad", he responded.
Why would anyone print an ad for a product they don't sell in their menu is beyond me.
But what could I do?
Puzzled, I let Bruce take the initiative.  "We'll just have a pitcher of draught beer." 
Fine, I thought.  Let's do that.
"Er, sorry, this shouldn't be on the menu.  I don't know why it is there, we have not sold draught beer in years."
The selection was getting limited.  Our server kept suggesting we go for one of their specialty drinks instead: mojito, margarita and other daiquiris.
But after an evening at the American Airlines Arena, I was eager for a cheap beer (As opposed to the $13.50 Corona which I reluctantly paid for over there.) The selection was limited to a handful of bottles, and I went for a Dominican Republic product I hadn't had in years: A Presidente.
Melissa and Bruce followed my lead, but Lindsey elected to drink a Virgin Strawberry Daiquiri.
Our waiter was back shortly.
"We are out of Presidente, I am sorry."
You got to be kidding me.  I gave up, and ordered a Pina Colada.
"You have that, right?" I asked to make sure.
Our waiter smiled feebly and went on his way to fetch our drinks.
Needless to say I was very glad to see my cocktail show up at the table.
This  should have been our first clue.
But how worse could it go?
Well, much worse.
But for the moment, I was enjoying the view and my Pina Colada, which was decent, cool, had plenty of rhum and a big, fresh slice of pineapple to boot.  Bonus, I get to keep the plastic glass!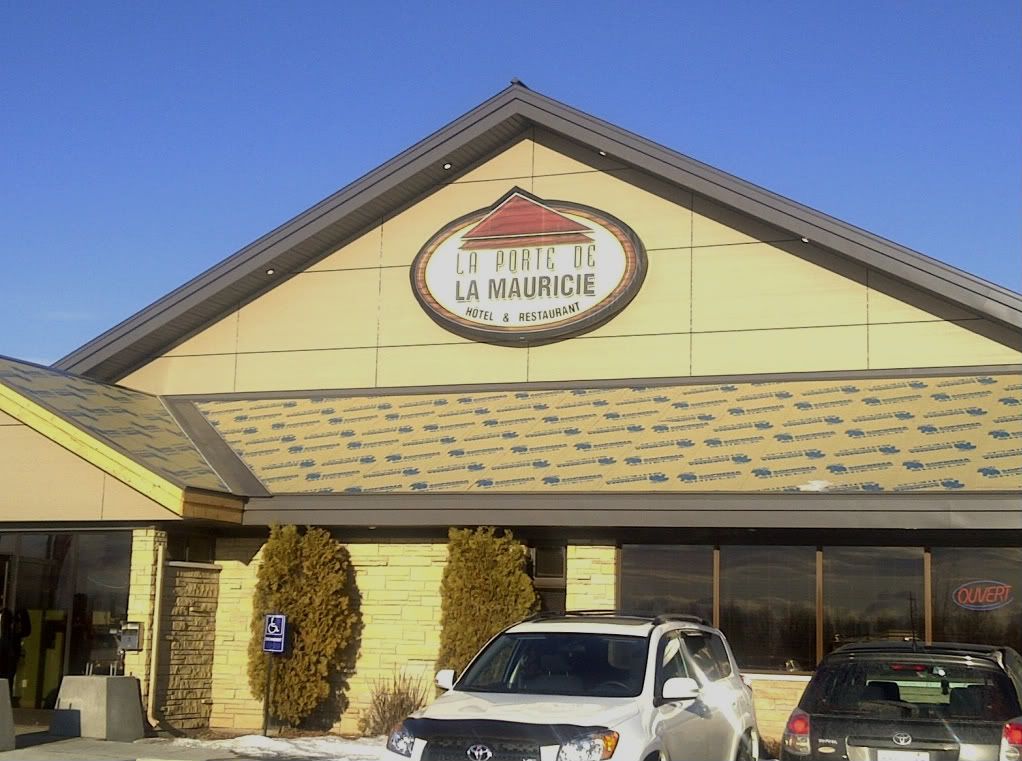 We were driving back from Quebec City and were letting the little one sleep in the back for as long as we could. Such is what you do when you are driving a lot during the holidays.
When she woke up would determine, once again, where we would eat, depending on where we were. Just how far could we go? We were on the 40 and closing in on Trois-Rivières.  Perhaps we could reach the outskirts of Montreal?
Not quite.  She woke up as we were exiting Trois-Rivières, limiting our options.  I suggested waiting until Berthierville, but was told that she wouldn't hold out that long.  We were closing on Yamachiche. The choice became obvious: la Porte de la Mauricie.
This old truck stop, which opened 30 years ago, was recently expanded and renovated. The complex now includes, on top of the original restaurant and the gas bar, a convenience store, a Thaï Express, an A&W and a 20 unit motel.  And there is more renovations planned, 1.5 million dollars having been announced to refresh the outside and to increase the restaurant's seating capacity to 425.
The restaurant is spacious.  They have hosted receptions and meetings of all kinds, including over 500 weddings!  And since they are beside the 40, it is quite convenient. Ain't it?  On the food side, they feature a Saturday and Sunday night buffet, a Sunday Brunch and their Wave of Seafood on Fridays.   They also serve the best prime rib in the world.  Or so they claim. I, somehow, have doubts. But it is a popular spot for the locals as well.
The menu is diversified, as is often the case for these kinds of establishments.  I felt like a Club Sandwich, which is usually a good side-of-the-highway bet.  I had the possibility of ordering a simple Sandwich Club, or going for the Super Club Sandwich ($11.99).  "What's the difference?"  I asked our server, and she responded that it was the same, but with fries AND onion rings.  Super!  I went for it. 
- "Ketchup, mayonnaise?"
- "Of course."
- "Would you like honey for your onion rings?"
- "Absolutely."
Honey to dip your rings in is a classic in Quebec, the combination of the sweetness of the honey with the salty rings is part of  the natural order of things. The service was courteous and efficient, so the food arrived promptly and so did the free Pepsi refills ($2.39) when one was needed.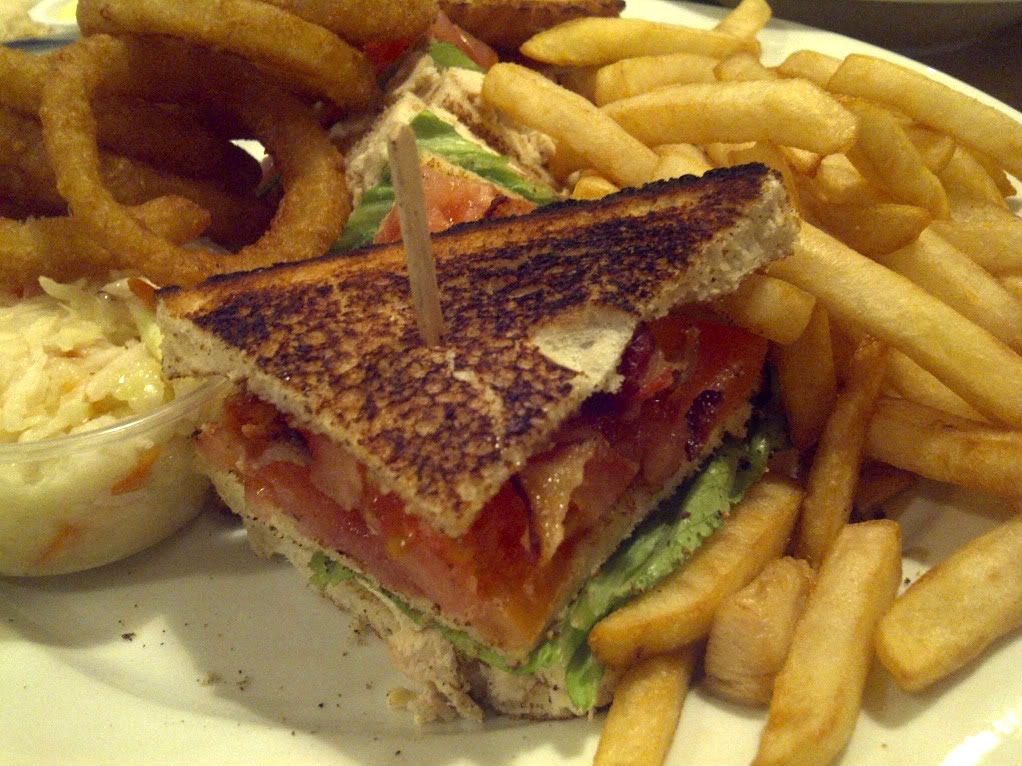 I continue my review of my by-election food aventure.
Here is what my second week looked like -
Sunday, August 17 2008: Lunch:
Nothing fancy, I went to 
St-Hubert
for a chicken breast.  I love St-Hubert.  I could drink the sauce.  Eeer.  I do, most times.  The fries were quite tasty, fairly crispy, and the chicken was succulent.  Their coleslaw wasn't as vinegary as it should have been, though.  I love St-Hubert.
Dinner: I enjoyed some Jazz at Les Jardins Nelson in Montreal with my friend Marika.  We shared their breaded calamari strips, which they bake.  They were golden and crispy, nicely done. Not a greasy ball of breading, as we often see.  We followed with Pizza, Si Si Si – I picked the Gambari, she went for La Charcutière.  They were fine, but nothing exceptionnal.  Nancy Martinez was the guest star for the night, and she clearly loves singing.  Too bad the crowd was barely noticing her and her band.
Monday, August 18 2008: Breakfast: Had breakfast with Richard Marois and Jean-Claude Rocheleau, NDP candidate in Hochelaga-Maisonneuve, at Le Petit Québec.  It was huge, the scrambled eggs were not overcooked, and there was tons of meat.

Lunch: I had lunch with a prominent Montreal columnist at Les Belles Soeurs on Le Plateau. I had not been there in years. He had an omelette, but I couldn't resist going for the Belles Soeurs burger, with their excellent fries.  Although I was reasonable and had only half a serving, the other half was a salad.

Dinner: I ordered some pizza from Jacques Cartier in Longueil, a meat lovers and an all-dressed.  It was 2 for 1, so no choice.  The meat wasn't overcooked, the bacon not too salty.  Not too bad.  However, it took them over an hour to deliver.  At 10 pm on a Monday night, that is uncalled for.
Tuesday, August 19 2008: Lunch: The NDP Leader was in St-Lambert for a Transit announcement and we had a working lunch at Les Cigales with members of the Chamber of Commerce.  Their fish soup was excellent, classic.  I followed it with a very nice bavette de boeuf, I just love that french cut.  I wish the schedule hadn't been as tight in order to really enjoy the great french cuisine.

Dinner: Left over pizza.
Wednesday, August 20 2008:
Lunch: Grabbed some fruits and nuts at the campaign office.
Dinner: Went to La Piazetta in St.Lambert with a Radio-Canada reporter.  I enjoyed their cannelloni al'emiliana as an appetizer and then went for La Diabola pizza. The cannelloni were a bit flat, probably because there was so much – too much – cheese on top.  La Diabola was good, but could have been spicier.
Thursday, August 21 2008:
Lunch: A very late lunch at Le Claremont after a successfull press conference in Westmount where Jack Layton and Anne Lagacé Dowson received the support of Charles Taylor, Julius Grey and other prominents Montrealers. I picked the quesadillas, I added some hot sauce to hit.  Their salsa was home made, but too young. The mango inside the tortillas gave it a nice twist.  My co-worker went for a salad, which looked very fresh.  It is a trendy Westmount bistro with a friendly and tatooed service.
Dinner: Left over pizza. Ya, I know.

Friday, August 22 2008
Lunch: ND and I grabbed a Club Sandwich to go from St-Hubert.  Did I ever mention that I love St-Hubert?  The sandwich was succulent.  But the fries do not travel as well as the meat and were a bit soggy, which is often the case with fries when you don't eat in!
Dinner: Hot Dogs at Richard Marois' campaign office!  We had a nice bbq going, I ended up on the grill.  We served six dozen nicely grilled sausages in crispy buns.  A big hit!

Saturday, August 23 2008
Dinner: Nice view of the river and the South Shore from the Verses Sky rooftop patio in Old Montreal.  Ordered a vodka-tonic upon arrial.  There was a bunch of us, and we all enjoyed a very nice meal.  I went for the Grilled Tuna, which was a tad small but nicely cooked, and served with crispy vegetables, which were actually the same for most of the entrees folks ordered.  the atmosphere was great, the weather perfect.
Sunday, August 24 2008
Lunch: Grabbed a junior cheeseburger at Burger King. Had to get back to Ottawa and was in a bit of a rush.  No time to sit down, had it in the car.
Its hard to eat well when you work on a by-election, away from home.It's also hard to keep a blog updated.
At any rate, here is what my first week looked like -
Monday, August 11 2008: 
Lunch: I reviewed my visit at the Terrazza Trattorria & Case da Carlo here.Dinner: I wanted to get an an update on Westmount-Ville Marie, so I went with Jerry to the Bâton Rouge near the Bell Centre, in the old Moe's Deli building.  We shared a Louisiana Spinach Dip before I digged in a grilled sirloin salad.    The dip was warm and creamy and came with sides of salsa and sour cream.  There was tons of chips, tons of dip, its a good think we shared.  As for the salad, it was made of mixed greens, grilled zucchini and roasted red pepper. The 7 oz sirloin was topped with warm walnuts and very lightly-flavored blue cheese. I asked for the blue cheese dressing to be on the side in order not to ruin the salad.  It was pretty good I thought.
Tuesday, August 12 2008:
Lunch: I engulfed a Baconator at Wendy's.  Too dry.  It needs some bbq sauce to round it up.
Six strips of bacon, though.  Remarkable.
Dinner: I grabbed a few beers with a lightning strike survivor at L'Île Noire, then we went to Les Trois Brasseurs on St-Denis for some choucroute.  The sauerkraut at Les Trois Brasseurs is not anything special, but it is usually alright, and can feed an army.  I had the Royale, which included a frankfurter, ham and some pork shank.  The ham was ordinary, the frankfurter much better, and the pork shank very tasty – although you have to be careful not to eat all the fat or skin.   Les went for the 3 Brasseurs one, below, which included a frankfurter, grilled ham, a smoked sausage and potatoes.  He could barely finish it, which is rare for him, he said.  They served their own beer too, which had to the whole choucroute experience.
Wednesday, August 13 2008:
Lunch: I went to the Suite 701 for a chat with a columnist.  We shared some crab cakes, which were smallish but lightly and nicely oven-fried.  We then both went for the Lobster Club, which was interesting as it came on a flavourful bread.  The side sald was fresh and crispy.
Dinner: I crossed the Champlain bridge to Verdun to meet a friend at le Garage Café in Verdun.  I had the turbo burger while she enjoyed the semi-automatic. My burger was made of lamb, nicely cooked, with a tasty mix of very nicely melted cheese, ementhal and gruyere.  The french fries were also quite tasty, and there was soooooooooooo much.
Thursday, August 14 2008:
Lunch: I forced the local campaign team to go to La Brasserie Renaud.  More about it here.
Dinner: We went for a few beers at Le St-Ciboire, but the food came from The House of Reggae next door.

Friday, August 15 2008
Lunch: We went back to see Manon at La Brasserie Renaud.  Why not?
Dinner: Had a very late dinner at Fresco before going to see Star Wars.  We actually went there because Dominic and I wanted to grad dinner before the 11:30pm showing of The Clone Wars at the Mega-Plex Lacordaire 16.  We looked around, but there wasn't much else that was grabbing our attention.  We were surprised by the quality of the offerings, and we both went for the Lobster Linguine, which was served with half a lobster, mussels, shrimps and scallops in a crushed tomato sauce.  Quite tasty, although the lobsters were a tad bit overcooked.  As an appetizers, I picked the smoked salmon, which was very nice and well accompanied, while Dom selected the snails, served gratted with lots of butter and garlic.

Saturday, August 16 2008
Lunch: I grabbed a sandwich at Cavallaro Westmount. The place is a neat little Italian grocery/deli/bakery place, and I got Genoa Salami sandwich with an extra grilled pepper to give it a bit of a zip.  They made it fresh before my eyes, asking what I wanted on it along the way.  I enjoyed it with a can of Brio Chinotto.
Dinner: I went with Anne-Marie to L'Académie as everyone else had gone AWOL that evening. As she filled me in on the action in Westmount, we both decided to go for la table d'hôte of the evening. The vegetable cream they served first wasn't really inspired, but wasn't despicable.  I went for the Lamb chops, served with a rosemary sauce and it was pretty good.  The meat wasn't of the best quality I had ever seen, but it was cooked perfectly and very tasty.  AM went for a steak, which she ordered blue.  Well, it was blue, but it was also cold, which is a sign that they keep the meat in the fridge (freezer?) too long before cooking it, or that the fridge is too cold.  Too bad
In 1995, in an old Red Lobster that went under, opened an old-style, old-fashionned deli-bar.
La Station became an institution in Hull, specializing in smoked meat and other delicatessen delicacy. It quickly became a popular hang-out, especially for the twentysomething and thirtysomething crowd, but not exclusively.  It wasn't rare to see a 20 mins line-up at breakfast time during the week-end.  And, for the party-goers and the bar-closers crowd, the place was open 24 hours from Thursdays to Saturdays, the only restaurant doing so in Hull.  The place was also hosting different community events for charity purposes, such as "Le déjeuner du Commandant", where SQ officers served breakfast to raise money for La Fondation Québécoise du Cancer.
But it all went up in smoke on the 5th of February 2007 as a fire destroy the place.  The owners, who also own La Cage aux Sports in Hull and Georges Lounge and Grill , a trendy steakhouse in the old Au Coq building, promised to re-open quickly.  They did so in the fall, with a bigger building, a 100 more seats and a new wood oven.
Yesterday was my second visit to the new Station.  I had been disapointed by my first visit after the re-opening, but I decided to give it another try because I did enjoy the old Station very much.
So I went yesterday with my lady and another lady friend for a late night dinner.  And, again, the old Station I remember so fondly is long gone.  The ambiance used to be quite warm and friendly, with all kind of old school memorabilia, signs, posters, items of all kinds hanging around, giving it a very cool retro look and feel.  All gone. The fire is to blame of course, but the owners could have found some items to decorate.  Instead of the good old deli feel we had back then, we now walk in a cold and very noisy place without a soul.  No need to believe me – here is how our young waitress described the new place: "It's like working in a big cafeteria!" she said.  No kidding.  You are drowned by loud hip-hop music and the very high ceiling and open-space concept does carry people's conversations and kitchen noises.  And the crowd is now much younger then it used to be.  Or is it me that is getting much older?
Anyway, now about the food.  I ordered the deli club sandwich, a thick serving of their delicious smoked meat, topped with crispy bacon, cheese, tomatoes and lettuce.  It's a nice twist of an old classic, and I added some dijon mustard to complete it.  It was very filling, to say the least.  It came with french fries, the battered and breaded kind which were alright, and with a side of a very boring and watery coleslaw.
My partners in crime last night went for simpler items - neither were disapointed.  The all-dressed pizza was very tasty, with a zippy tomato sauce and fresh toppings.  Cooked in the oven wood, it had a fabulous crispiness.   The italian poutine was a very filling serving of their fries, topped with their thick and meaty spaghetti sauce and fresh cheese curds.  The sauce could have been warmer to help the melting of the cheese, but it was still very well done.
With a pitcher of beer, we chipped in about 20$ each.  Not bad, but I sorely miss the old Station.
.