Browsing articles tagged with " Chili"
After a Gargoyles' game, the boyz usually end up at Whisper's, in Westboro.
However, it being Westfest, the team's social convener decided that it was a no-go tonight and suggested we head towards James Street to hang out on the James Street Pub patio, the biggest on Bank Street.
So we did.
And instead of munching on our regular team wings and team nachos, it was each their own.
I simply couldn't bring myself to order chicken wings – at $13, it seemed expensive, and considering the small baskets that came for some of my more foolish teammates, it was the right decision.
But what to do instead?
I pondered that as the team was quenching it's thirst with a variety of beverages, notably the $20 Buckets of Labatt 50, Budweiser or Bud light on special on Sundays at JSP.
Despite being part of the Heart and Crown family since 2007, the James Street Pub is not at all Irish. In fact, it's a bit all over the world map, as JSP offers Quesadillas, Poutine (Traditional or Pulled Pork), Seafood Chowder, Baked Penne, Chicken Curry, Cheesesteak, Shepherd's Pie, Canadian Bison Burger, Buffalo Chicken Wrap, and so on.
But I spotted something a little more unusual, and you know me, I like unusual things.
So I ordered the Chili Cheese Dog: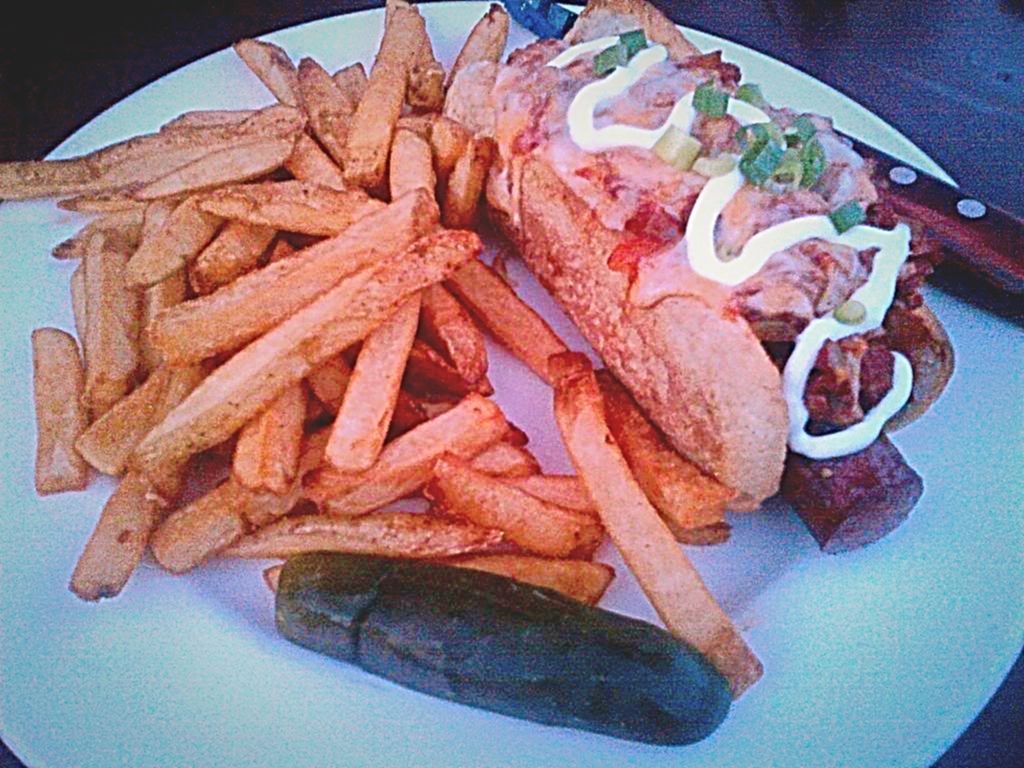 Even though I could have gone very unusual by adding a side of Rice Pilaf, Mashed Potatoes, Garden Salad or Soup – I decided I should stick with the actual item that made sense: french fries.
The fries were quite decent.  They seemed to be fresh-cut, were crispy on the outside and fluffy inside.
The prize, though, was the Chili Cheese Dog.  I've got to admit this was a good effort.
First, the bun was toasted, which I appreciated – you need to build a bit of a wall if you are to avoid getting a mushy bun.  Second, the frank was all Beef, had a good snap, good spices and a very good chew.  On top, the Beef and Bean Chili was not bad, though I like it more spicy.  The Beans to Beef ratio was adequate.  A Tex-Mex shredded cheese blend was added on top, and the Dog went under the broiler before being garnished with a squirt of Sour Cream and some green onions.
The biggest problem was that the bun basically split at the bottom after the second bite – perhaps a sign that the bun wasn't handled gently and that it had been stuffed a little too hard.  That said, rarely do these style of hot dogs sustain the volume of toppings added to it.
For $11, it was one of the cheapest items on the menu and it is something I could see myself ordering again.
Here we were, in Parking Lot 3 of the Ralph Wilson Stadium, for our usual tailgate before the Buffalo Bills game. The lot, as usual, was a constant danger zone, with things being thrown around, open fires, and general mayhem.
This year, there were 12 of us – so I knew I had to deliver the goods on my legendary chili.
The kickoff  was scheduled for a 1 PM start, so 5 of us decided to head early to secure quality spots in front of the Stadium, reducing travel time between our base and the available entertainment.
We shopped the night before at  Tops, where I got basically all I needed. 
Like I did once before, I had to deal with vegetarian constraints – but a vegetarian chili can be healthy, hearty and tasty at the same time.
Here is what I used:
3 packets of whipped butter

1 medium Vidalia onion, chopped

1 green pepper, chopped

1 jalapeño pepper, chopped

1 28 oz can of diced tomatoes

1 16 oz can of dark red kidney beans

1 16 oz can of black beans

1 16 oz can of Great Northern Beans

1 15 oz can of whole kernel of sweet corn

my secret blend of herbs & spices

Water

Beer
First, I slowly melted the whipped butter (taken from the restaurant of the Adam's Mark) in a pot.
Then, I threw the chopped Vidalia onion in, cooking until transparent. The Vidalia onion, since you asked, is an unusually sweet onion grown in Georgia, a production area defined by law. The Vidalia onion was named Georgia's official state vegetable in 1990.
I then added the blend of spices (garlic flakes, smoked paprika, salt, pepper, thyme, cumin, cayenne, onion salt), to awaken their flavours. I stirred with the onions, added the peppers and let that cook for a few more minutes, until softened. 
How does one chop vegetables in parking lot, you ask? I use a small hand-powered food processor – it does a great, efficient, clean job.
Next, I added the tomatoes, a little bit of water and a sip of beer – Coors, in this case.  After all, Coors *is* the banquet beer. 
Once the tomatoes started to break down, I added the hot sauce and the chili powder, covered and let simmer on low for 20 minutes, stirring regularly.  I then added the beans, one can at a time in order to keep the chili temperature up – it was cold and windy outside the stadium. 
I then added with the corn and let the chili reduced for a while in order to concentrate the flavours and for the chili to get denser, adjusting the seasoning as needed. 
Et voilà.  Our tailgate chili was ready around 11:30, and folks could enjoy a warm bowl, topped with a mexican blend of shredded cheese, and chase it down with cold beer.
This was a pretty good chili - all of it was gone within the hour.  The corn adds a nice contrast to the beans, sweet peppers contrasting with the savoury beans.  There was a hint of smoky-ness in there, thanks no doubt to the Chioptle sauce. Thanks to the right balance of cayenne, jalapeño and hot chili powder, the result had a good kick without being too spicy.  Some added some more hot sauce, bringing the heat level a notch higher.  
Hot Dogs were also on the menu. I bought a couple of packages of Gwaltney Great Dogs, America's #1 Chicken Franks – or so they say. With 40% less fat than their regular franks, this seemed to be an obvious choices for us athletes before a football game. I decided to slowly steam the dogs, using a mix of water and beer.
Once the franks were down, some folks threw them on top of their chili bowl, others ate the sausage on its own, some had classic hot dogs, others went with chili dogs. The buns used were Schwebel's.
Gwaltney's chicken dogs were really close to real beef hot dogs – fooling a few in the crew. A large salty, juicy cylinder, with a fairly snappy skin even with the steaming process.  
At $1.99 for 8, one can't complain too much about the product, despite the ingredient list, which includes corn syrup.
Overall, the entire tailgate operation cost 5$ per guy, and there was plenty of food for all. My only regret was with the Hot Dog buns – in the cold, they lost some of their freshness and weren't holding together as well as they should have. I'll have to warm them up next year, either steaming or toasting them on the grill.
 Mrs. Waffle did some research before our road trip vacation in New York State.  And once I convinced her that Cooperstown was a must stop, she insisted that dinner happened at Dimaggio's Cooperstown Hot Grill.
So first we visited the Baseball Hall of Fame. And then we set out for Dimaggio's.
"The best food in town. Cooperstown, that is." says their website.
DiMaggio's is owned and run by the DiMaggio family, (yes, cousin to Joe) and is located on Route 28, directly across from the Cooperstown Dreams Park - bringing them hungry customers by the busload.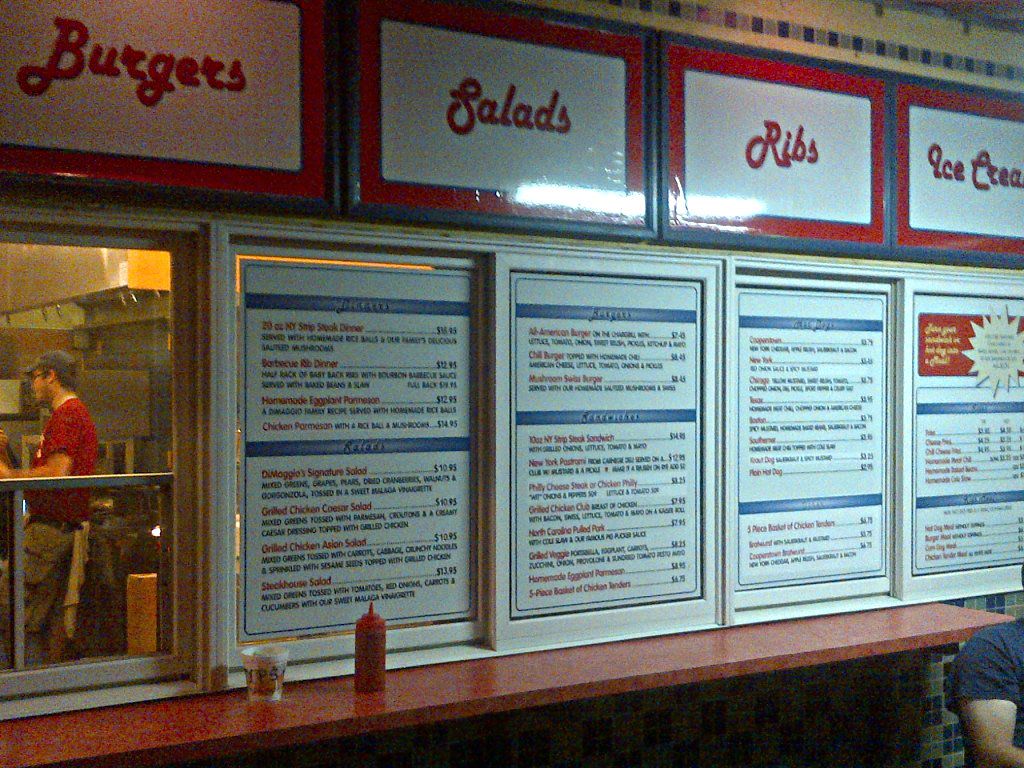 DiMaggio's is obviously targeting families. Leaving aside their ice cream section, with their sundaes selection (banana split, chocolate chip cookie, strawberry shortcake and hot fudge brownie), their menu offers many options: New York Strip Steaks, Baby Back Ribs and all kinds of specialty salads, sandwiches and burgers.
Apparently, DiMaggio's Eggplant Parmesan and Rice Ball are the talk of the town – but I was in town, and nobody mentioned it. Go figure.
But we were there for something else – we were there for Hot Dogs. Nothing goes with baseball better than Hot Dogs, and the Hall of Fame visit built up our appetites. And since Dimaggio's logo is a hot dog, we had high expectations.
We studied the menu posted outside, right by the take-out window.
Dimaggio's Hot Dogs come in 6 all-beef variations:  The New York (red onion sauce and spicy mustard), the Chicago (yellow mustard, sweet relish, tomato, chopped onions, dill pickle, sport pepper and celery salt), the Texas (chili, chopped onions, American cheese), the Boston (spicy mustard, baked beans, sauerkraut and bacon), the Southerner (chili and coleslaw), nd the Cooperstown (cheddar, apple relish, sauerkraut and bacon).  They also have two Bratwurst options, one with sauerkraut and mustard and the other one à la Cooperstown.  You could also get a plain dog. But why would you?
When I said we had built our appetites, I wasn't kidding.  My plan was to sample two dogs, Mel was to go for one. But suddenly, Mel decided that she needed a little more and also went for an American classic: the Cheese Fries.
I was not going to argue. We walked in. You are hit immediately by the bright colours, the smell of french fries and the sound of a pre-teen baseball teams having a blast.  I went to the counter to order, no line-ups.
A medium order of Cheese Fries ($5.25), one New York ($3.45), one Cooperstown ($3.75), one Texas ($3.95), and a pop – with free refills, which is always great!  The staff told me I could go and pick a table, and they would bring our order out.  Awesome.
We decided to sit outside – to enjoy some fresh air and a quieter environment. Across Route 38 the bright lights of  Cooperstown Dream Parks were shining.  Lots of kids having lots of fun dreaming about a not so distant future where, maybe, they could become baseball superstars.  Just like kids like Bryce Harper, Matt Garza and David Price before them.
Lost in my dreams of my future Major League career, I was awoken by the arrival of our food. Mel was about to get up to get a refill, but the friendly staffer told her to enjoy the food – he would be right back with it.  I've got to give them kudos for service, it was great, much better than one might expect in this kind of joint – and certainly putting fast food chains to shame.
The medium basket of cheesy fries was huge.  I was so glad I had resisted the temptation to go for the bigger size. There was a good scoop of a gooey-cheese like substance, but the fries weren't swimming in cheese sauce. Therefore,  the fries were not mushy and were holding up firmly. Of course, the cheesy goo was very salty, but kind of addictive. I guess that's the idea, isn't it?
But we were not distracted by the sideshow.
We soon dug into the line-up.
The Cooperstown: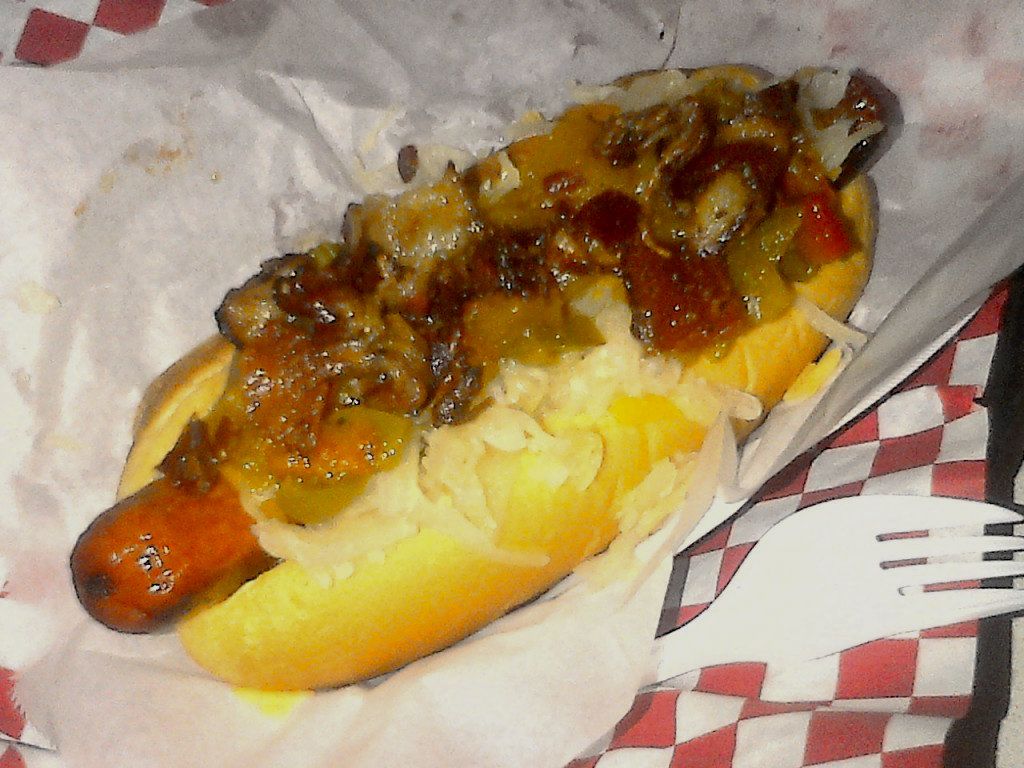 Now, this is truly a one-of-a-kind hot dog. The apple relish is not overly sweet, it is totally different and refreshing. The rest of the toppings bring you back to more traditional dog flavours, acting as a bridge between the New York Cheddar, which of course goes well with apple, and the tangy sauerkraut, which mellows with the relish.  The bacon came in big extras-crispy chunks, they couldn't go wrong there.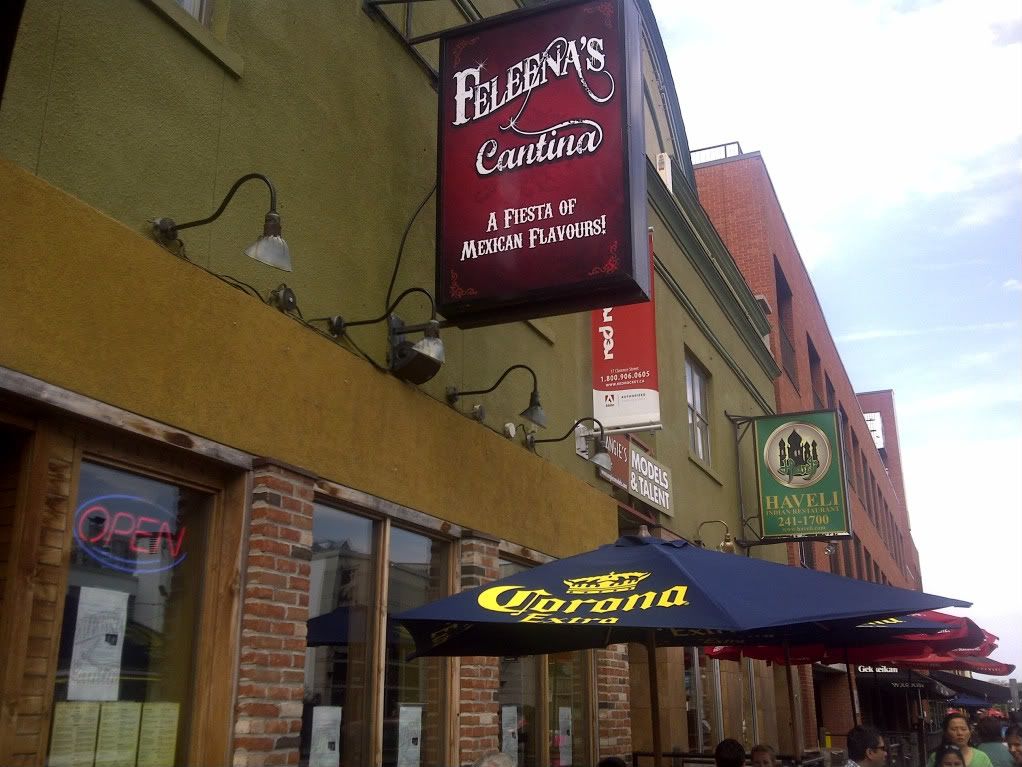 Si, señor & señorita!  Mexicali Rosa's is no more – in Ontario, at least.  
That is what The Waffle found out as he brought his familly to the establishment formerly located on Clarence Street, which is now called Feleena's Cantina.  (No link to Feleena's on Bank that I can see.)
Rebranding? Upscaling? Another failed Market adventure?
I was curious, and since we still wanted Mexican-style food, the name-change didn't deter us. We walked in a little before 2PM looking to enjoy the Mexican-fare and the air conditionning on this hot Sunday of July. The place was empty, which made for great, friendly and attentive service throughout our time there!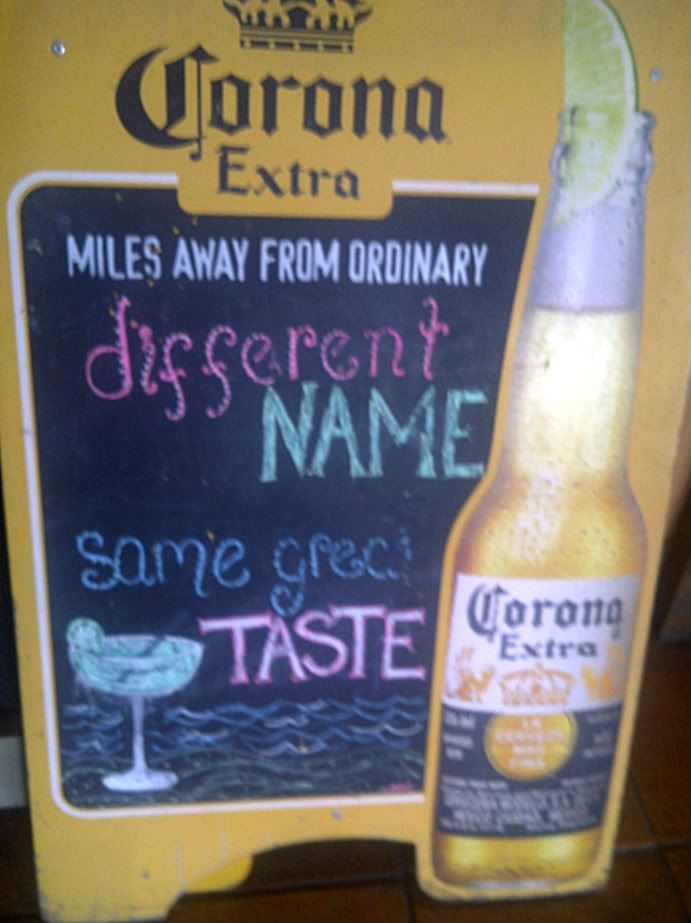 We were greeted by a sign that announced that the changes may only be cosmetic at this point.  "Different name, same great taste" it said. Well, Mexicali has never been a high-end establishment, so we would have to judge for ourselves if that statement is a good or a bad thing.
The first Mexicali Rosa's opened in 1979 and soon became a popular franchised chain of casual resto-bars serving Mexican-style food with Texas and California influences. 
At one point, Mexicali Rosa's had about 30 establishments, having expanded from it's Ontario-base into Quebec, New Brunswick and Nova Scotia.  In each restaurant,  you could find a releaxed and familiar atmosphere and decor of a franchise, but at the same time without it being all the same.  The formula was quite simple and quite unique, and Mexicali was the largest Mexican-themed restaurant chain in Canada. 
In 2002, the franchise company was sold, and what was once a very solid franchise started to have problems. Indeed, towards the end of the decade, the number of Mexicali Rosa's restaurants had been reduced to half of what it was.   "The franchise company misallocated its resources…" analysed Jon Bryan in 2009, when he abandoned Mexicali Rosa's and transformed his Peterborough restraurant into Johnny Eh's. 
I know, I was just there, but we had to stop somewhere for lunch on the way back from Buffalo, didn't we?
So we did!  Dinosaur Bar-B-Que welcomed us for lunch. It being Monday, the place was not as busy as it had been on Saturday. But it was still very busy.
We sat down in a corner, a little tired from the week-end, a little anxious to get home.
We looked at the menu quickly.  Ribs were ordered, Fried Green Tomatoes too. I went for the BBQ Prime Rib Smothered Sandwich. Then Patrick ordered the Bacon Cheeseburger. That's when it began:
"How would you like your burger?" our server asked.
"What?" replied Patrick.
"How would you like it cooked?"
"What?"
"How would you like your burger cooked?"
"Cooked?"
That when I intervened: "Yes, cooked.  Rare, medium-rare, you know? Cooked."
Patrick still looked confused, but ordered medium-rare.  His confusion is hard to explain, but it probably has something to do with the fact that almost no restaurant in Canada offers a cooking doneness for their burgers.  Most often, you have no choice but to have it medium to medium-well – if not well-done.
Of course, as Patrick slowly understood what he had done, he had second thoughts. So he got up to change his order to medium.
That episode over, we were soon enjoying our food.
With my sandwich, I ordered the Mac & Cheese – I felt I had no choice considering how much the guys enjoyed it last time. It was very good – creamy, cheesy, a little spicy.  And, for good measure, I had the A.K. Chili as my second side.  It was not bad, but I had to add some hot sauce to bring it to the desired level of heat.  It was not super meaty, but at least had a good consistency.
As for the Sandwich, the Autopsy is after the jump… Continue reading »
Here we were, in Parking Lot C of Ralph Wilson Stadium, for a quick tailgate before the Patriots-Bills game.
I say quick because it was a 1 PM start, so it reduces the available time before the game, especially considering the night before.
I planned ahead this time, and brought some equipment and supplies, including a propane stove to cook our pre-game meal.  For food, we went to Tops, which usually has everything one can need.
Not this time, though – one having self-imposed vegetarian constraints, we looked for veggie burgers or dogs.  No luck in downtown Buffalo.  But I was already planning a vegetarian chili.
Butter

1 small red onion

1 green pepper

1 can of crushed tomatoes

1 can of red kidney beans

1 can of black kidney beans

1 can of corn

salt

pepper

my secret blend of chili spices
I used a small hand-powered food processor to chop the onion and the green pepper. I melted the butter (picked up at Jim's Steakout yesterday), then I lightly browned the onion.  I followed with the green pepper, and a good helping of salt and pepper. After a few minutes,  I threw in the can of tomatoes, heating at low.  Once it was simmering, I added my special blend (garlic powder, onion powder, morrocan paprika, black pepper, and Club House's Chili Powder), then the beans and the corn.  I let simmer for a while in order for the chili to get denser, et voilà.
This was a pretty good chili, as far as non carne goes.  I usually do not add corn to my chili, but I thought it would be a good substitute for beef and add a nice colour and texture to the dish.  It was not too spicy, but the hot sauce gave it a nice bite.  I've got to admit that I did like that sauce – it is great for cooking.  But I can see why some might not like it on its own.  In the chili, however, it worked very nicely.
Steak sandwiches were also on the menu.  I toasted some buns, I quickly pan-fried some minute-steaks, finishing them with some of the Original Dinosaur BBQ sauce  - the Sensuous Slathering sauce – that I had picked up at the joint in Syracuse (More on that soon).  A great BBQ flavour, with smokiness, it has a dark honey colour.  Fairly thick, this sauce needed to be reduced a bit.  Although tomato is the main ingredient, the main flavours comes from the mustard and brown sugar. A little bit of a kick at the finish, a nice cayenne touch.
The sandwiches were a success, as you can see below (left). So much so that even the vegetarian joined in – no worries, he replaced the meat with a healthy helping of vegetarian chili (right).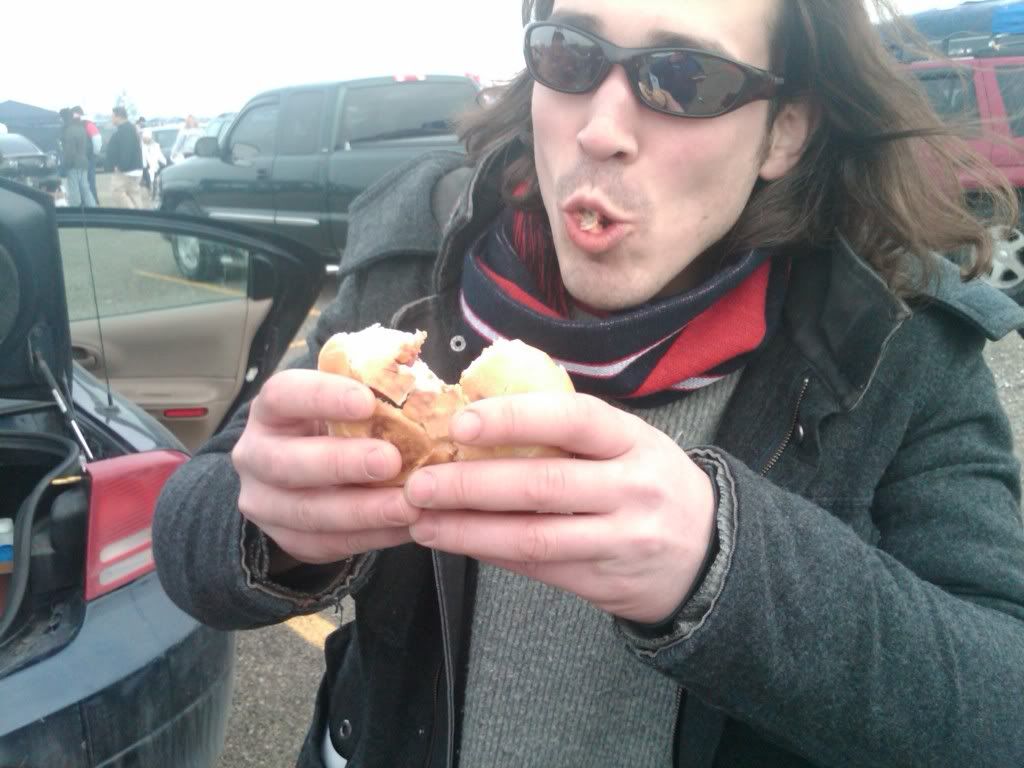 The Bills however did not do so well, but at least they were in it until the end. But nevermind.
I had chili for lunch.  Third time this week (first for the Super Bowl at my friend Norm's place, second at Brixton's yesterday for their Consumer Appreciation Party), so I figured I would go for the chili hat-trick.
Some time ago, I got a coupon for a can of Stagg Chili. Can't remember how I got it, but I did buy a can, and it's been sitting in my cupboard for a while.  But no longer.
Stagg Foods was established in 1956 as Rocking K Foods. The company first manufactured its products in Sante Fe Springs, California, but then moved production to Hillsboro, Oregon. In 1980, the company's name was changed to Stagg Foods. In October of 1996, Stagg Foods was acquired by Hormel, the creator of the real Spam – the luncheon meat that is.
I never had a can of Stagg chili before. They have 12 varieties, from vegetarian (which I'm told is quite good) to beef, chicken or turkey. But the one I had to try was their Dynamite Hot.  Beef, tomatoes and pink beans are the main ingredients, and the spices include chili seasoning, jalapeno peppers and dehydrated habanero peppers.  Apparently, this variety is cathing fire with chili lovers everywhere! 
I was actually pleasantly surprised with the heat. This was quite hot.  I wouldn't quite call it dynamite, but the heat was definetely much higher then I was expecting.  It is a fact that most corporations and restaurants are shy on the heat, in order not to offend anyone.  But with 12 varieties, I guess they could afford to ignite this version a little, and it made for a pretty good chili, all considering.  At first, you open the can and it kinds of smell like Chef Boy-ar-dee.  The chili flavour and aroma are released when you heat your meal.  It is a fairly thick chili, beef-generous, but with no real veggetables in it.  Ther level of bean is not bad either.
Most of Stagg's Chili are low in fat, but a can of Dynamite will add 29g of fat to your intake, or 44% of the recommended daily intake.  Only one other variety, the Steak House, has more fat then the Dynamite.
As expected, it was also quite salty.  Which makes this thing very tasty.  I'd recommend it as a quick and easy lunch, but it won't beat my homemade chili.  Or
Obama's
.
I made Obama's chili last night, as promised.
So here is the step-by-step Obama Chili familial recipe.
Here are the ingredients:
>
Saute onions, green pepper and garlic in olive oil until soft.
Add ground meat and brown.
Combine spices together into a mixture, then add to ground meat.
Add red wine vinegar.
Add tomatoes and let simmer, until tomatoes cook down.
Add kidney beans…
and cook for a few more minutes.
Serve over white or brown rice. Garnish with grated cheddar cheese, onions and sour cream.
It is not a bad recipe.  I think it is a bit light on spices, especially considering how little tomatoes I had in there, and considering I was using turkey, not beef.  It was fairly thick too, which I don't mind at all.  A chili is a chili, not a soup.  But there was no sinuses clearing experience, contrary to Obama's claim. 
Nevertheless, a good recipe for a very mild chili, tasty but not spicy.
The winds of change…
A defining moment…
A promise of hope…
A proud day for America…
A long time coming…
History in the making…Alright. Now that we've dealt with
Barrack Obama
's victory, let's get down to business and the challenges he will face.
Buying a dog for his kids
A financial crisis
The Iraq Quagmire
A trillion dollar deficit
The Afghanistan Quagmire
Staffing the West Wing
Getting the White House chef to make a proper chili. 
That's right.
A proper chili.  
To celebrate Obama's victory, let's all make it for dinner tonight:
Obama Family Chili Recipe
1 large onion, chopped
1 green pepper, chopped
Several cloves of garlic, chopped
1 tablespoon olive oil
1 pound ground turkey or beef
1/4 teaspoon ground cumin
1/4 teaspoon ground oregano
1/4 teaspoon ground turmeric
1/4 teaspoon ground basil
1 tablespoon chili powder
3 tablespoons red wine vinegar
Several tomatoes, depending on size, chopped
1 can red kidney beans
Saute onions, green pepper and garlic in olive oil until soft.
Add ground meat and brown.
Combine spices together into a mixture, then add to ground meat.
Add red wine vinegar.
Add tomatoes and let simmer, until tomatoes cook down.
Add kidney beans and cook for a few more minutes.
Serve over white or brown rice. Garnish with grated cheddar cheese, onions and sour cream.
Let's hope the Chef at 1600 Pennsylvania Avenue can figure this out quickly in order to keep his job.
Here is what the President elect had to say about this delicacy, a recipe he has been using since his days at Harvard:
"If you make it right, it's just got the right amount of bite, the right amount of oomph in it," Obama said. "It doesn't scald your tongue, but it will give a little perspiration on your brow and it will clear your sinuses." "You know, I could probably (recite the ingredients) off the top of my head, but if I got the proportions wrong, it could spoil the whole recipe. It's an excellent recipe."
But is it really or is this another empty electoral promise? 
You can read Gut Check's special investigation here. 
Zoe made it last night at her Election Results Watching party and I've got to say it was pretty good.  I have no idea if she followed the recipe correctly.  But her rendition was nicely done, with a nice thickness.  There seems to be lots of flexibility with the recipe here, but it is certainly a good base.
Zoe also made Maverick Mac and Cheese, Chicken Right and Left Wings, Condoleezza Rice Krispies Squares, and Heck of a Job Brownie's. Oh, and a Baked Alaska, with a view on Russia.
Obama shared his chili recipe with ABC first, via Good Morning America. 
You can also find McCain's ribs there.
————————————
UPDATE  6-11-2008 @ 7:35 AM
You can look at my step-by-step attempt to make Obama's Chili here.