Browsing articles tagged with " Wings"
The location were the infamous Waffle 1st Wild Wing Challenge was held last year has been permanently closed, according to Urbanspoon.
The Waffle is saddened by the heart-breaking news that Wild Wing has closed its Ottawa South location.
So many memories!
So many empty buckets filled up!
Thankfully, there are 3 other Wild Wing locations not too far away – in Ottawa East, in Kanata and the newest one on Hog's Back.  Which may mean that this was actually a move, rather than a closure.
Still, the location on McCarthy was convenient, with its proximity to the airport and the Park N' Fly lot.  It was my favorite one in Ottawa, there was always space available and the service was usually friendly and efficient.
We shall move on to another location for our next adventures.
The email came from Jack at 6:26 PM exactly. At first, I just thought Jack was going to watch the Sens' game at the Pot.  Like we did so often over the years, after I joined the NDP Windsro/Glue Pot Hockey Pool in 1997.  The plaque hangs proudly on the wall.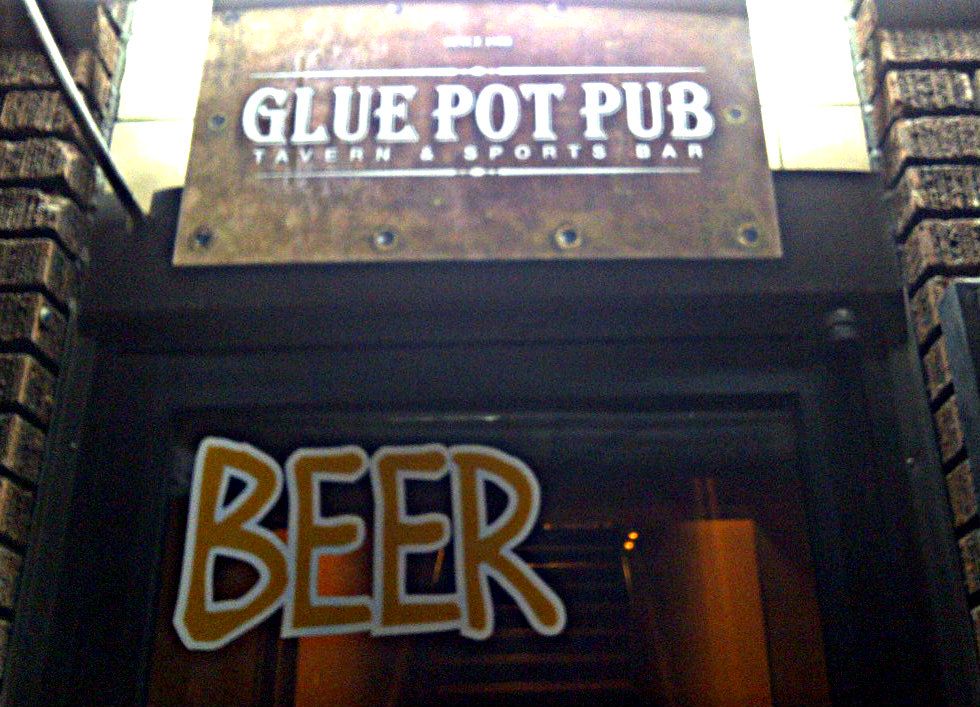 "Heading down to the GPP for the game tonight. Rumour has it that it is the last night the GPP will be open."
Say what?  Hard to believe. Jack must be joking. I didn't really believe him, thinking that perhaps he was trying to get people to tag along with him.  "Grab the plaque, then!" I joked.  Nicole decided to show up, and she confirmed by sending an email at 8:59 PM:
"The rumour is true. The Glue Pot Pub is closing tonight forever.
The plaque is secure."
Oh man.  I wish I had known ahead of time.
I expressed my sadness on twitter:
"The Waffle is really sorry to hear that the Glue Pot Pub will close its doors tonight. Forever. I've been going there for 15 years."
Reactions were immediate, from all over the country:
@northwesternlad : BOOOO!!!! That is terrible news
@michaelgendron : That sucks, any idea why?
@MrsPremise4 : Had my first beer as Hill staffer at The Glue Pot in 1989.
@paulvieira : what's replacing Glue Pot? Why Glue Pot closing?
@sfharris : We should buy it and re-open it. Nothing could go wrong!
@onammio : I am devastated by news of the Glue Pot's untimely demise.
@RoddieGilbert : Triste
@_E_And : Nooooooooooo!!!!!!!!!!!!
@JairusKhan : Isn't that whole block getting demolished to make room for the new library?
So many questions, so little answers.  Why, dear God, Why?
The Sens' were battling the Rangers, and I wanted to watch that game.   At the same time, so many memories at the Glue Pot Pub. I had to go.  Once the third period was over and the game was pushed into overtime, I jumped in my car and went down to the Pot, one last time.
The Glue Pot Pub is located in a building that once was the first Coca-Cola bottling plant in Canada. The building also houses the Adult entertainment establishment known as Barbarella's Diamonds, and a neat Italian café known as Zucchero (Which took over from the famous Dill Pickle Restaurant a few years ago).  The Glue Pot Pub opened in 1988, some kind of a cross-over between a tavern and a sports bar. Over the years, it showcased live music, karaoke and trivia nights. 
The Glue Pot was written up on September 1989 as the place where the research staff of the NDP got together on Fridays to map out what great issues their bosses would tackle the following week.  And talk hockey, as soon NDP staffers and friends also used the location as an excuse to gather, make bad trades, and trash talk their competitors while watching some games. 
There is a copper-topped bar, black tin ceilings and old, worn wood tables and chairs and booths.  Over the past few years, however, they have done a good job modernizing their screens, and now, everywhere you look, there's a TV, so no matter where you sit you can watch the game comfortably.
Just before walking in the Glue Pot, a guy in a suit, likely an out-of-towner on a business trip, asked about my advice - should he go to the Glue Pot Pub or should he go to Bâton Rouge? "Depends what you are looking for, Pal. Do you want cheap beers, pub fare and a rowdy atmosphere, or  are you looking for a good steak in a quiet, upscale casual restaurant?"
He went up the stairs to the Glue Pot.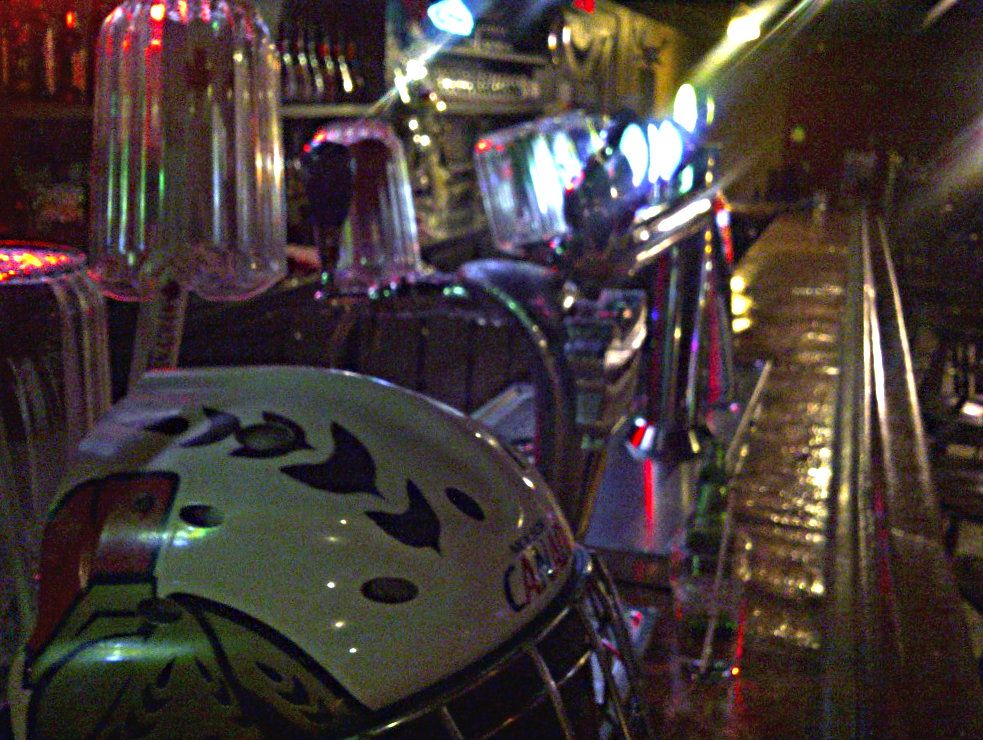 I got in in time, before the OT started and was soon overwhelmed. 
Oh, there was a decent crowd -
but it wasn't exactly packed the way it should have been for a playoff night.
Nevertheless, it wasn't dead.
Yet, the Glue Pot Pub was indeed closing. 
The taps were drying.
Empty pitchers were put over the taps as one by one, the kegs were pouring their last pints.
The popcorn machine was silenced, empty.
No more over-salted yellow popped corns prepared to make you oh, so thirsty.
We would never fill those baskets again.
We would never again try to hit a glass across the table with one.
We would never again throw a fist load of it against an owner taking advantage of a lubricated opponent to make a one-sided deal.
Nicole was still there, Jerry was also there.
Jack had come and gone, securing the plaque. 
I sat down, kind of sad.
It being Wednesday, the Glue Pot was offering its usual Wild Wednesday' specials, one last time.  You could get a personal pitcher of domestic draft for $6.99 and a pound of chicken wings for $7.99.  I'll drink some beers, but I'll skip the wings.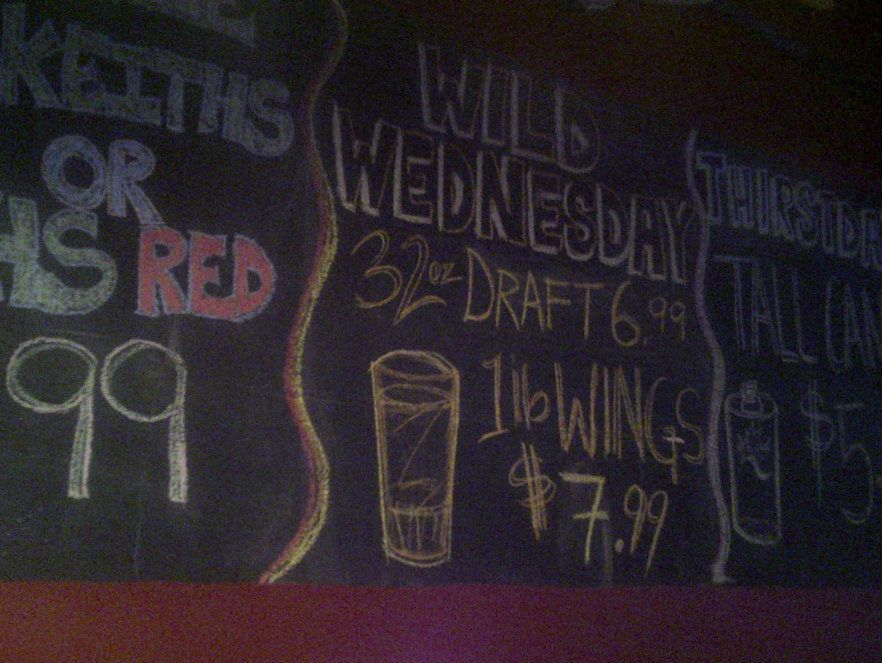 Nicole got up and to get a small pitcher of the only beer still available – Keith's Red.  
The three of us watched the game, talking very little as the Senators and the Rangers were going up and down the ice.
It didn't last long!  Kyle Turris scored after less than 3 minutes and the Glue Pot errupted in cheers! Like the Good Old Days….
Ottawa tied its Eastern Conference quarter-final series 2-2, with Game 5 on Saturday in New York. But you won't be able to watch it at the Pot.
One of the waitresses on staff, who seemed in a good mood despite the fact she was losing her job tonight, told me that the current management of the Glue Pot Pub thought the rent was getting too steep, so they didn't want to renew the lease with the property owner. Hence the closing. Staff found out 2 days before. Rumour has it that there are plans to build condos on that corner, though nothing seemed to be firmed up.
The crowd thinned out quickly after the Sens game was done, most customers not being very interested in the Blues-Sharks game that followed.  We stayed, watching the game, talking about our memories of the place and, oh horror, trying to figure out what our next meeting point would be.
We kept drinking from the drying tap.  A few new customers arrived, looking for a late snack.  Most ordered chicken wings, and after a while, their scent was too tempting.  I flagged another waitress, whom I have known for years, and who seemed a little more distraught by her employment situation.  Even though I shouldn't indulge, I wanted wings. "Oh, I think he is closing the kitchen.  They are running out of food anyway.  But let me see what I can do for you."  The staff had always been very friendly at the Glue Pot.
"You are getting the last order," I was told.
Yay.
I guess.
It took a little longer than usual. They were not super hot, either.  But here they were:  the last Glue Pot Pub Chicken Wings. Ever.
And clearly, I got more than a pound. 
I was glad.  None were left behind.
The wings were crispy, yet not dry. Not very meaty, though, but they have never been at the Glue Pot.  I had asked for their hot ones, and they were nicely heated, good hot sauce flavour, the wings were nicely coated yet they were not bathing in a hot sauce pool at the bottom of the basket.   But more importantly, they were very, very comforting.
It seems we have come full circle - one of my first food entries was about the Glue Pot – and it wasn't on this blog, but rather  in the restaurant guide Cheap Eats Ottawa where I stated matter of factly, about the Glue Pot Pub,  that "although they have modified their menu and you can no longer choose any toppings on your pizza, it is still quite good and quite cheap.  Their burgers are also good, but their fries are overcooked."
But it doesn't matter now.
Glue Pot, I shall miss you.
——————————————
UPDATE  25-04-2012 @ 21:18 PM
Sources are telling us that the Gluepot, or a version of it, is set to re-open soon.  
Greg tells us that someone else has apparently stepped in and taken the lease.  We shall see. 
In other news, there is indeed a long term plan for condos to be built, but we are likely still years away before they close the aging brick complex.  It should be a heritage building, really.  It seems that the plan would be to preserve the brick facade as part of the deal to build the condos.  It's a new trend in the National Capital Region, and it can be nice if the architects do their homework, but it didn't work so well for the Duke of Somerset, did it?
——————————————
UPDATE 23-05-2012 @ 8:44 PM
The Waffle has heard through reliable sources that the Gluepot is re-opening tomorrow, at 11:00 AM. Apparently, management from Barbarella's have decided to take over from the previous management, who left in a huff… It is not the first time that folks from downstairs have owned and operated the Glue Pot. The big problem with leaving the Glue Pot closed is that they share the kitchen, which is actually located on the Gluepot's premise. This in itself may explain why they made the move, in order to keep having access to the kitchen.
A last minute decision to accept Rod's offer to go see the Ottawa Senators' game against the New Jersey Devils meant that dinner wouldn't be super healthy tonight.
So be it.
We walked into the Scotiabank Place, and pondered what to do.  Time was limited, but perhaps because this is basically the last day of the Holidays, there wasn't that many people in the concourse.
We stopped by the Club Red to peer at the menu, and thought that a pricey fine dining experience was probably not what we needed.
Walking towards the concessions, we noticed that Frank Finnigan's was pretty much empty – which suited us just fine.
Born in Shawville, QC, Frank "The Shawville Express" Finnigan played 10 seasons for the Ottawa Senators in the 20s and 30s, and was captain of the team for two seasons.  He scored 115 goals and accumulated 203 points in 553 NHL games, winning the Stanley Cup with the 1927 edition.
Finnigan was part of the 'Bring Back The Senators' campaign, but he died before the new Senators took the ice. The Senators honoured him by retiring his #8 jersey. Finnigan's number was retired 58 years after he finished his NHL career – the longest wait for a player to have their number retired. The street in front of the main entrance to the Scotiabank Place is also named Frank Finnigan Way.
We found two spots at Frank Finnigan's bar, and after a few painful minutes of being ignored by the not-so-busy staff, we finally were able to get some service. We ordered a couple of beers (had to settle for a Canadian – they were out of Rickard's Blonde, my first pick) and we got some menus to look at.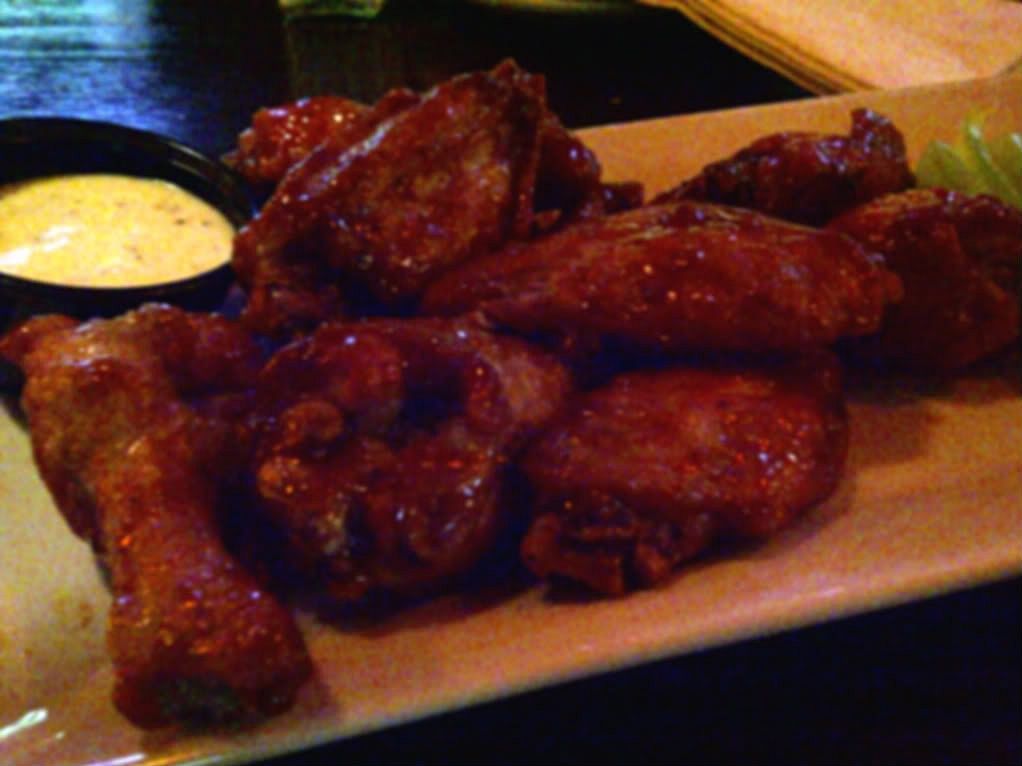 Finnigan's menu, although limited, is what you expect for a sports bar. Chicken tenders, smoked meat, a couple of different sandwiches, wrap and burgers.  There is also a recent addition of fish and chips and a few salads and there you have it.  All entrées are under $20 in this casual establishment.  Their doors open at 4:30 p.m. on game days.
And, oh, of course, Chicken Wings. Finnigan's wings come in 5 declinations: mild, medium, hot, BBQ & honey garlic. We decided to share an order, and since Rod is a sensitive guy, we ordered the BBQ wings.
They arrived promptly, which was good, as the clock was ticking and game time was nearing.
There were 9 wings on our plate, accompanied by 3 celery sticks and a blue cheese dipping sauce.  The wings were medium-sized.  They were served warm throughout.  The BBQ sauce was a little tangy, a little sweet.  Nothing special, but not terrible.  The wings weren't drenched in the sauce, which is good, just a nice coating. Without being super moist and juicy, I can't say they were dry either.
As promised, the Waffle hosted it's 1st Wild Wing Challenge at the McCarthy Road location.
The Challenge was thrown to all who had shown interest, especially those who bragged about their capacity to indulge.  Cedric, Marc-André, Jordan, Patrick and Youssef were challenged.  Patrick and Youssef were nowhere to be found, no doubt hiding in a chicken coop.  Jordan, who had been bragging about her wing-indulging capacity for two weeks, tried to back out, only to come back in once Scott said he was in too.  But Scott got cold feet and chickened out five minutes after accepting the challenge – he had just remembered his last trip to the chicken wing eatery…  Jordan used that excuse to back out again – definitely gone was the bravado.  As the competitors were getting ready mentally for a 3 way challenge, a dark horse emerged, a fierce competitor courageous enough to take a last-minute stand, Justin the Eating Polish.
On the last day of the All-You-Can-Eat-Wings promotion, which it turns out was part of a contest where you could win a trip for two to Las Vegas to attend the UFC 132 event where Roy "Big Country" Nelson was NOT scheduled to perform. We had limited interest in either the contest or why "Big Country" was on the poster, but we all had an unlimited appetite for chicken wings.  Or did we?
The Rules were as follow:
1 – The flavour ordered must be the same for all
                     – participants will nominate in rotation. 
2- The number of wings consumed must be tabulated loudly as we go.
3- No one can go to the bathroom alone once the contest has begun.
4- The last one standing wins.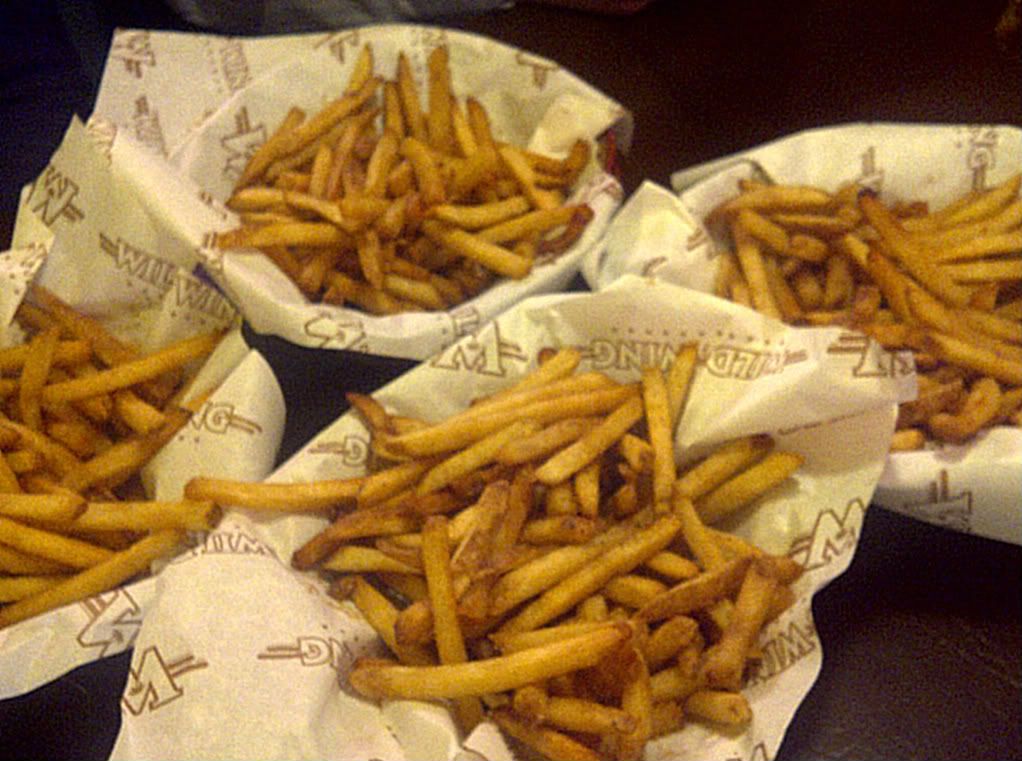 Simple enough. 
We all ordered a beer (the promotion was all-you-can-eat wings for $18.99 with purchase of a beverage.  No doggybags allowed.) and got to work. 
(4 basket of fries were delivered – a trap one must not fall in.)
Anyone who reads this blog semi-regularly knows I love chicken wings, and that I do enjoy the never-frozen, double-deep-fried ones served by the Wild Wing establishments.
And so when Mel suggested that we go there for lunch as an enticement to go shopping at Ikea and DeBoers (the latter opening its doors for one last time), I couldn' t say no.
So we ended up at the Eagleson road location, where we sat on the patio – and were the only ones to do so, even though it was a beautiful day. It is true that, like most Wild Wing restaurants, this one is also located in a small non-descript mall with a superb view of a parking lot.  Nevertheless, the sun was shining, the breeze was refreshing, and we would sit outside.
The first thing I noticed: Inside the menu, which still features 101 kinds of chicken wings, was an insert (well, two of the same in fact, they really didn`t want us to miss it) featuring new Daily Specials.  WW use to offer specials here and there, but now, there is one every day!
Let's review them quickly:
Mammoth Mondays: Sampler Special for $24.99
Fat Tuesdays: 1½ pounds of wings for the price of 1
Twice-Over Wednesdays: 2 pounds and a pitcher for $29.99
Thirsty Thursdays: Pint & Pound for $12.99
Fish Fridays: Fish & Chips &  Pint for $11.99
Slick Saturday: One Appetizer & Pitcher for $19.99
Family Sunday: 3 Appetizers & half order of fries for $19.99
Now, it being Saturday, we decided to jump on the opportunity. Continue reading »
Breakfast
E-Day!  Time to vote for the NDP Leader, who was going to cast his ballot for NDP Candidate Olivia Chow.  As we made our way to the voting station in Trinity-Spadina, I grabbed an Apple & Cinnamon Nutri-Grain Bar from the back of the bus.
Lunch
My father-in-law came all the way from Mitchell to bask in the expected NDP glory and he came down early, hoping he'd be able to buy me a beer. Why, thank you! It was getting late already, somewhere around 2 pm after a series of meetings, so we ended up somewhere between the Hyatt Regency (our Toronto home base) and the Convention Centre (where the NDP's Victory Party was to be held).  We walked into Gabby's on King.  I picked the Quesadillas, baked with a filling of cheese, salsa and seasoning. Gabby's offers 3 varieties: Traditional Chicken, Steak  and Vegetarian Style. Not knowing what Vegetarian style was, I ordered it. Somehow, there was chicken in my tortillas.  I guess that's why they say it's Vegetarian style as opposed to simply vegetarian. The quesadillas were served with home-made salsa, sour cream and guacamole.
It being Monday, I took the opportunity to also order some Chicken Wings – on Mondays and Wednesdays at Gabby's, they are $0.49 each!  Flavours offered are Bold BBQ, General Tao, Honey garlic, Sweet chili thai, Medium,  Hot and made on-site Suicide sauce.  I decided to go with the last option on the side.  The wings were overcooked and quite dry, and the sauce did not deserves its label. They came with celery and carrot sticks.
Dinner
Dinner for staff was served at the Convention Center during the pre-game show.  On the menu was roasted chicken, and it came with numerous sides – roasted peppers and onions, white rice and peas, cucumber salad and a garden salad.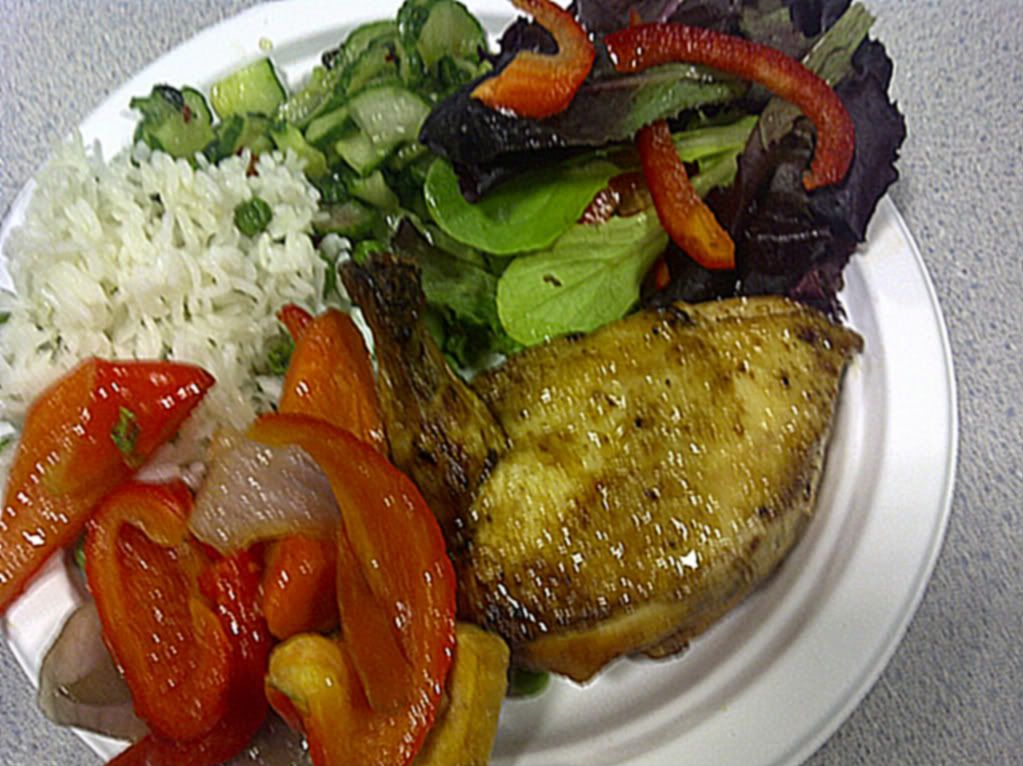 And for dessert, some kind of spongy lemon cake.
And this is it, folks! The election is over, the polls have closed, and History will be made.
Hope you have enjoyed this latest edition of my Election Food Diary.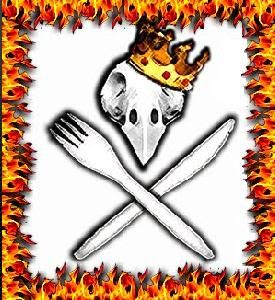 Talk about a nerve racking experience!
The table is turned, and The Waffle is reviewed by the Lord of the Wings himself as part of his World Wide Web Wacky Wing Wednesday (WWWWWW) series.
This is when LOTW takes the time to surf the Web and find other people talking about chicken wings. Obviously, I do from time to time – so I was targeted by Ottawa's Chicken Wings Reviewer Extraordinaire.
And The Waffle did rather well, gathering a double wowsers!
And, to boot, the Lord is asking the Waffle out on a chicken wing bucket date!
No doubt, dear Wafflers, that you will read about that in the near future!
It was the mid-summer meeting of the Greater Ottawa Original Fantasy Baseball and Leisure League and most of the owners were gathered at Al's Diner for deep discussions about the value of "Holds" as a possible pitching categories and the eligibilty criterias for Starting and Relief Pitchers.
Al's Diner is a small establishment located on Clyde avenue, which caters to a blue collar crowd for breakfast or lunch.  It is open for dinner but folks mostly drop by to grab a pint and a snack after work.
The menu is diversified – sandwiches, burgers, salads, pizzas, pastas and comfort food such as Mom's Meatloaf and the Sunday Pot Roast are offered. They also have daily specials and nightly specials.
And on Monday evening, Al's diner is offering Chicken Wings at 35 cents each.
I complied and ordered some wings.

What to do to refuel and keep going after an afternoon of tailgaiting, drinking, and football in Buffalo?
The best place to go is The Anchor Bar.
So I dragged the gang there, hoping that they would deliver as they did the last time I was there.
The matronne was there, blowing kisses as usual, promising to deliver steamy tasty chicken wings for all.
We sat in the bar area, catching Sunday Night Football. 
Near us, Boston Globe reporter Dan Shaughnessy was chatting loudly with a Buffalo scribe about today's game at Orchard Park.
Of course, let's not forget we had a vegetarian with us.  Turns out – he believes fish are veggies, because he ordered the fish and chips.
The Anchor Bar calls their fish & chips the "Fish Fry Everyday".
Rick got a gigantic piece of Icelandic Haddock, served with a healthy serving of crispy french fries and some coleslaw on the side.
The fish was flaky, nicely fried, not greasy at all.
"It was very good fish", Rick said. "If only they would smother it in chicken wings sauce".
All in all, Rick seemed to enjoy his vegetables.
But the rest of us were focussed on more serious matters: chicken wings.
After all, this was why I was able to attract them here.  But, a little skeptical, they decided to go easy to start:  we only ordered a bucket of wings.  I pledged for hot – after all, that's how they were meant to be eaten.
The wings didn't came in a bucket.  There was no chicken bucket.  But there were about 50 on the plate, nicely glowing after being tossed in the original hot sauce, with half that number of celery sticks and 4 cups of the blue cheese sauce on the side. But it was no wing bucket.
Now, these are good wings. It had been a long day already, but it seemed to me they were even better than the last time I had them. Medium sized, they were tender and crispy, not dry at all, the sauce was coating them very nicely. The heat was present, cooled down nicely by the blue cheese dip if needed.
As I expected, we ran out quickly – we had to order another bucketless bucket.  This time, at Patrick's insistance, we ordered the medium.  Unfortunate mistake – with no sauce to speak of, the second batch was much dryer and definitely not as flavourful.
Next time, we won't listen to Patrick.
The first sporting event of this Buffalo trip was the Sabres taking on the Penguins at theHSBC arena a very nice and modern building.  Opened in 1996, it's seating capacity is 18 690 persons. They are proposing a makeover, but I actually think no major changes are really needed.
We got there using the Buffalo light train, cruising through downtown Buffalo with other hockey-goers. We walked into a grand foyer, welcomed by a gigantic Labatt Blue Zone neon sign. (Labatt Blue is the Official Canadian Import Beer of the Buffalo Sabres! Yay!) We got up to our seats (thank you, Last-Row-Deverow) through very wide corridors. We did not feel cramped anywhere, not even in the Souvenir shop, nicely stocked, and the line-ups at the many concessions were very short.
When it's time to eat, there are many options at HSBC. In fact, Sports Road Trip ranks it #4 in the NHL. The Harbour Club is the posh area, with banquet facilities for 800, with a view of both the arena floor and the Buffalo waterfront. There, you can find organic meals. You can also go to the Pepsi Headlines Bar – a classic sports bar with classic sports food or for a busier environment, the Tops Food Court with games and the Buffalo Sports Hall of Fame (which we skipped for some odd reason).
Concessions include the "Caliente Corner" with Mexican fare (100-level, Aisle 5); The "Pile High" deli features carved roast turkey and other sandwiches (100-level, Aisle 8); The "Pour Man's Aud Club" (behind section 111) also specializes in carved meat sandwiches. Beef on Weck is a popular selection.