Browsing articles tagged with " Cheese"
The NDP Caucus strategy session was coming to an end, and before the last part began, we had some free time for lunch. Where should we go to enjoy this freetime? To the Freehouse, of course!
The Freehouse was established by a Saskatchewan consortium that includes several New Democrats, most notably former NDP MP Lorne Nystrom. There are two successful locations in Saskatchewan, the Cathedral Freehouse which opened in 1996 in Regina and the Spadina Freehouse which opened in 2002 in Saskatoon. The consortium tried to expand to Winnipeg, but sadly, the Osborne Village Freehouse didn't last very long.
The Spadina Freehouse is located strategically in the heart of downtown Saskatoon, across from the Delta and adjacent to the Sheraton, guaranteeing an influx of travellers attracted by convenience and the large patio. Despite the inviting bright interior, Steve, Karine and I decided to sit outside – until the sun came out and we realized there was no shade anywhere to offer cover to the patrons. My fair skin couldn't take it, and thankfully the staff happily obliged and set us up inside, despite the fact that we had already ordered our drinks.
They've got a nice looking pizza oven burning in the back where they woodfire cook their thin crust pizza. The Freehouse menu is eclectic, a bit all over the place.  For instance, the appetizers' origins are all over the map: Red Pepper Hummus, Korean Rolls, Tandoori Tenders, Empanadas.  The rest of the menu is similar: Kasmiri Chicken, Sicilian Linguini, Red Curry Mango Penne, Chipotle Back Ribs, Chocolate Chili Lamb Shank, Tarragon Citrus Halibut and a selection of sandwiches, burgers and salads. There are also lots of vegetarian and/or gluten-free menu items if you're looking for those things.
But we had heard all week the good reviews about their pizzas, and that seemed the way to go.
All Freehouse pizzas are 10" pies, offered at a 17$ flatrate (2$ extra for gluten-free dough.)  The selection is limited yet interesting:  Classic Greek (spinach, tomatoes, spanish (!) onions, black olives, mozzarella and feta on a basil pesto base), Tandoori Chicken (mango chutney, cilantro, chicken, red peppers, onions, mozzarella on a tandoori masala and yogurt sauce), Bruschetta, Fungi, and Spicy BBQ Chicken (chicken, onions, mandarin oranges, three cheese blend on a BBQ sauce) are among the choices.  We decided to order three different pizzas and share, so Steve went with the Pulled Pork and Apple pizza, Karine picked the Cappicola & Roast Roma and I went with the Carnivore.
It took a little while to get our pizzas but once they came, they were warm and glowing with flavour:
Steve's Pulled Pork & Apple was the most intriguing.  A healthy serving of pulled pork with slivers of granny smith apples on a chipotle adobo BBQ sauce, topped with a blend of three cheeses.
This one was delicious. There was a healthy amount of very tender pulled pork. The sauce was sweet and spicy, indeed a good heat level, and it went very well with the pork.  But what made it was the fresh explosion of tart and sweet apples – in fact, there could have been a little more.  A great combination. I thought there could have been more cheese, though.
Karine's Cappicola & Roast Roma was the most traditional of the bunch.   Cappicola ham, roasted tomatoes, red onions and provolone cheese on a basil pesto base.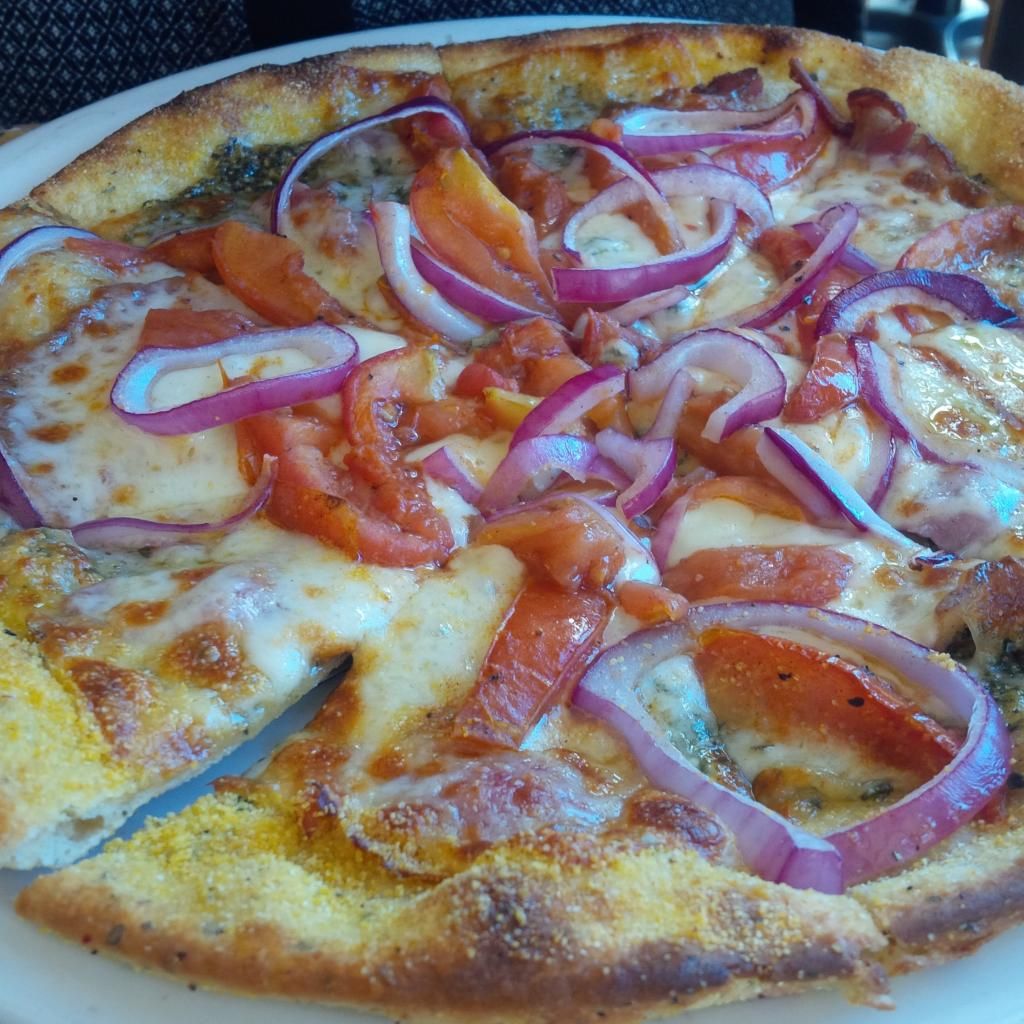 This pizza was my least favourite.  The tomatoes were kind of mushy and the onions were basically raw.  The Cappicola was good, spicy, but its presence was masked under the pile of onions.  Karine discarded a bunch of them and there was a noticeable pile on her plate when we were done. The provolone was fine, mildly  sweet, helping the pesto base to shine. The pesto base was indeed fine, but it seems to me they should have gone with a tomato-based sauce for this one.
As for the Carnivore, it was different than the usual meat lovers offered by pizza joints.  Here, you had chorizo sausage, cappicola and pulled pork on a house made classic pizza sauce topped with mozzarella.

Now, that's what I called a hearty pizza!  There was loads of meat on it.  The same pulled pork as the other pie – but its own flavour was more present, not absorbed by the BBQ sauce.  It was a good contrast with the chorizo, spicy and texturally pleasant.  Contrary to the Pulled Pork and Apple, this had no cheese blend, but just pure mozza.  I thought that the cheese combo was kind of non-descript - this was more like it, cheesy and stringy but with caramelized bits here and there.
The crust was crispy and crunchy, thanks to the wood fired oven. It held the toppings together nicely, and was cooked perfectly.  But at 17$, these seemed a bit pricey – and once we got our food, our server disappeared - but it is worth pointing out that we were all sated and satisfied with our meal. That must be worth something.
After a Gargoyles' game, the boyz usually end up at Whisper's, in Westboro.
However, it being Westfest, the team's social convener decided that it was a no-go tonight and suggested we head towards James Street to hang out on the James Street Pub patio, the biggest on Bank Street.
So we did.
And instead of munching on our regular team wings and team nachos, it was each their own.
I simply couldn't bring myself to order chicken wings – at $13, it seemed expensive, and considering the small baskets that came for some of my more foolish teammates, it was the right decision.
But what to do instead?
I pondered that as the team was quenching it's thirst with a variety of beverages, notably the $20 Buckets of Labatt 50, Budweiser or Bud light on special on Sundays at JSP.
Despite being part of the Heart and Crown family since 2007, the James Street Pub is not at all Irish. In fact, it's a bit all over the world map, as JSP offers Quesadillas, Poutine (Traditional or Pulled Pork), Seafood Chowder, Baked Penne, Chicken Curry, Cheesesteak, Shepherd's Pie, Canadian Bison Burger, Buffalo Chicken Wrap, and so on.
But I spotted something a little more unusual, and you know me, I like unusual things.
So I ordered the Chili Cheese Dog: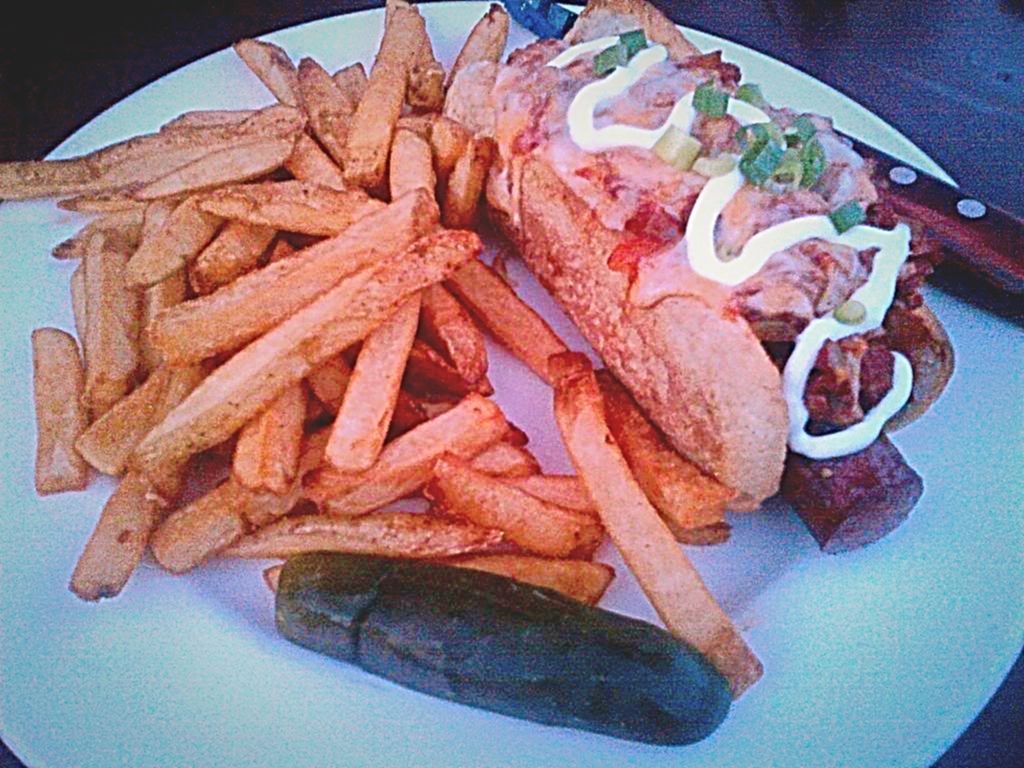 Even though I could have gone very unusual by adding a side of Rice Pilaf, Mashed Potatoes, Garden Salad or Soup – I decided I should stick with the actual item that made sense: french fries.
The fries were quite decent.  They seemed to be fresh-cut, were crispy on the outside and fluffy inside.
The prize, though, was the Chili Cheese Dog.  I've got to admit this was a good effort.
First, the bun was toasted, which I appreciated – you need to build a bit of a wall if you are to avoid getting a mushy bun.  Second, the frank was all Beef, had a good snap, good spices and a very good chew.  On top, the Beef and Bean Chili was not bad, though I like it more spicy.  The Beans to Beef ratio was adequate.  A Tex-Mex shredded cheese blend was added on top, and the Dog went under the broiler before being garnished with a squirt of Sour Cream and some green onions.
The biggest problem was that the bun basically split at the bottom after the second bite – perhaps a sign that the bun wasn't handled gently and that it had been stuffed a little too hard.  That said, rarely do these style of hot dogs sustain the volume of toppings added to it.
For $11, it was one of the cheapest items on the menu and it is something I could see myself ordering again.
 Ms. Waffle had been chewing my ear all week about her keen desire to chew on pizza. I had reluctantly ignored her all week, for our own good. But I finally relented and suggested we try a new spot for lunch.
We tossed a few names around until I suggestd ZaZaZa.
ZaZaZa was created by Ion Aimers, founder of the successful Ottawa burger chain The Works. The first location opened in 2010 on Putman Avenue, which was the original The Works location before it outgrew the tiny space and moved out. After hosting The Fraser Café for a year and a half, it became ZaZaZa. The Ottawa gourmet pizza chain is now bringing "pizza with pizazz" in three different Ottawa neighbourhoods – and according to Aimers, 3 or 4 more locations could still open.
The location on Putman is tiny, maybe twenty seats. We at first thought it could be a good idea to eat on the patio, but figured that with the kids, it would be easier inside.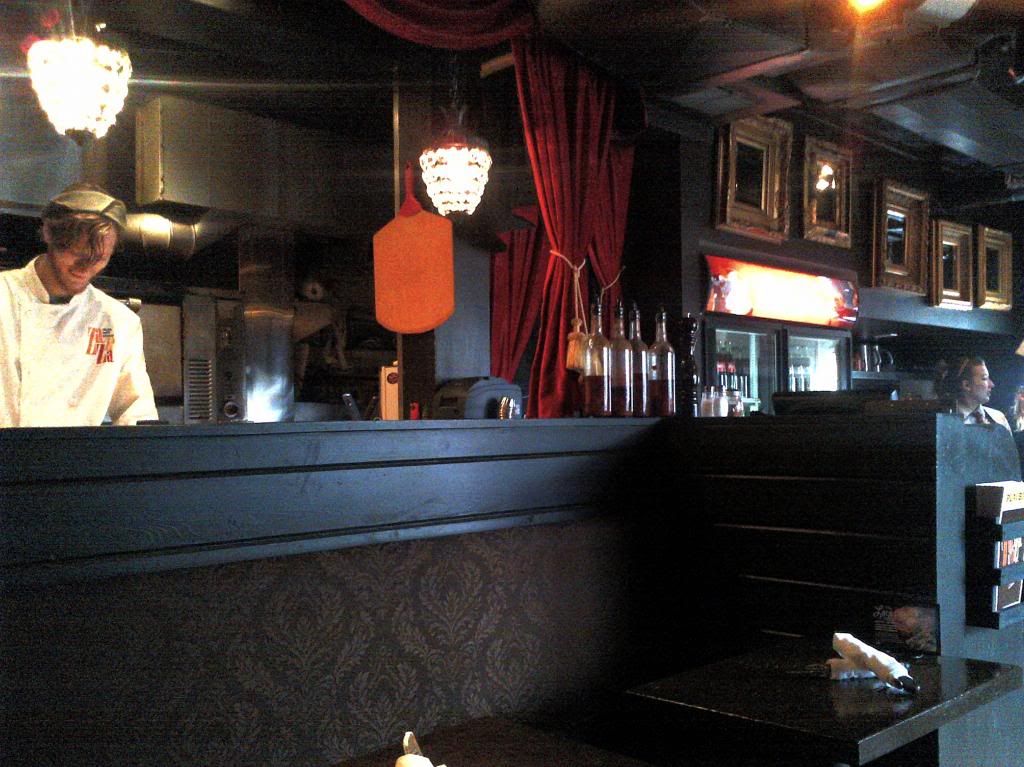 At the back of the restaurant, you have the pizza oven in the left corner, where the pizzaioli are busy making the pies.  In the right corner, the take-out counter.
The spot wasn't really busy, despite the nice weather, with only three tables occupied.  Still, the staff seems to be trained to ask about reservations - likely, it does get busy in there – and you may get cramped if that's the case.
We were brought to a table in a corner and started to look at the menu.
The choice is totally different, quite interesting. ZaZaZa has over 25 gourmet pizzas, with your choice of three different daily-made crusts: cornmeal white, honey oat, and gluten-free made with chickpea flour. For some reason, the pricing is unconventional – from $13.66 to $17.92. Apparently, the most popular is the Crazy Horse (spinach, chicken, pine nuts, caramelized onions and mushrooms on pesto sauce – $16.97). But there were a lot of other interesting options, such as the Cajun Cowboy (tomato chipotle sauce, caramelized onions, chicken, spicy havarti, chorizo, corn – $16.56), the Hot Hot Hot (hot tomato sauce, mozzarella, banana peppers, jalapenos, spicy havarti, hot Italian sausage), the Shangri-La-Di-Da (tomato tandoori sauce, sweet peppers, goat cheese, corn, snow peas, honey drizzle – $13.66), etc.  It was a bit overwhleming.
So while we were trying to make our mind up, we decided to order their appetizer special they call the Lace up: Sweet Potato Cross-Cuts topped with three goat cheese balls served with a dip.  I could say that what convinced us was the fact that a portion of the money for every Lace Up sold goes to the Canadian Diabetes Association, and that would be partly true; but the real truth would be that at $8.49, it was a good deal compared to the price of these appetizers ordered individually ($4.97 for the Sweet Potato Cross-Cuts, $6.41 for the Goodness Gracious Goat Balls of Fire.)
By the time we received it, actually served in a Converse running shoe, we were ready to order our pizzas – Mel went for Erin's Baked Again ($14.90) and I went with the Bleekinator ($15.91). But more pressing business had arrived:
Our server had graciously offered us to try each one of their dipping sauce since it was our first time at ZaZaZa. They were Chipotle Chip, Honey 'n Spice, Lumpy Feta and Hot Mama.  My favorite was the Hot Mama, but I can't say any of them were bad.
The year is ending. 2012 breakfasts would soon be a thing of the past. Since our hotel was serving the same brunch as yesterday, we decided to leave on an adventure to find a suitable location.
It didn't take long – once on Henri-Bourassa, the familiar n logo soon appeared, and so Normandin would be our last breakfast destination of 2012.
Normandin is a chain of family restaurants originating from Quebec City. Their delivery service is quite popular – and noticeable, with a fleet of blinking n logos on top of red cars. It is also open late, making it a destination for the bar crowd looking for a late snack. Normandin is also sells a lot of their products at a counter, where you can get buckets of their spaghetti sauce, family size dishes such as Lasagna, Macaroni, Pâté Chinois, and savoury or sweet pies.
The first one opened in 1969 in the the Neufchâtel restaurant and was quite popular. By the 90s, there were 19 Normandin established mostly in the Quebec City region. Normandin is still expanding into other regions, and now counts 40 restaurants from Mont-Joli to the East, Sherbrooke to the South and Ste-Julie to the West. They have yet to breakthrough on the Island of Montreal.
Normandin also diversified its business, with two hotels in Quebec City, the Hôtel & Suites Normandin on Pierre-Bertrand and the N Hotel on Ste-Anne.
We settled down in our booth, and our waitress soon brought to the Waffle Jr. a coloring mat with a small bucket of Crayola crayons, and a bowl of Froot Loops, much to Mrs. Waffle's amused dismay.
We peered at the breakfast menu, which is always available, a great feature for those getting up late.
Jr. wanted pancakes, so that settled that pretty quickly. The pancakes ($4.25) came with a glass of milk, a bowl of fruit and real Maple Syrup, for which Normandin needs to be commended.
Normandin's breakfast options feature many egg options, from the casserole to the omelettes to the benedict or the standard bacon n' egg plate. Other options include bagels, pancakes, french toasts and also a Breakfast Pizza.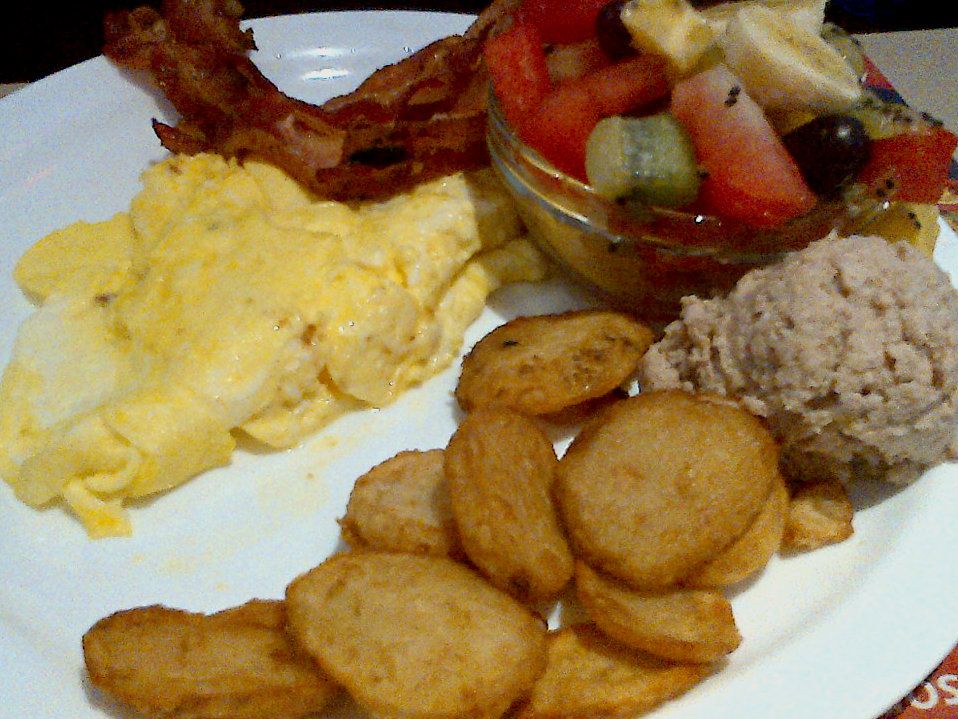 Mel felt like having a traditional breakfast, so she ordered the #5-plus ($7.55).
That would give her two eggs, her choice of meat (she picked bacon), a side of home fries, a bowl of mixed-fruit (watermelon, kiwi, bananas, grapes, oranges), toast and coffee. That's the regular #5, going for $6.10.
The plus? A scoop of Normandin's cretons (also available at take-out counter) for an extra $1.45. "I'm getting the cretons for you!", she said. Awesome!
For my part, I was kind of tempted by the Breakfast Pizza, but in the end I decided to go for a healthier option: l'Assiette Campagnarde aux Légumes ($9.95).
A casserole dish with a mix of onions, green peppers, mushrooms, brocoli, home fries, smothered in Hollandaise sauce, au gratin, and served with two eggs on top – I went with poached eggs. A few pieces of fresh fruit came as a garnish on the side.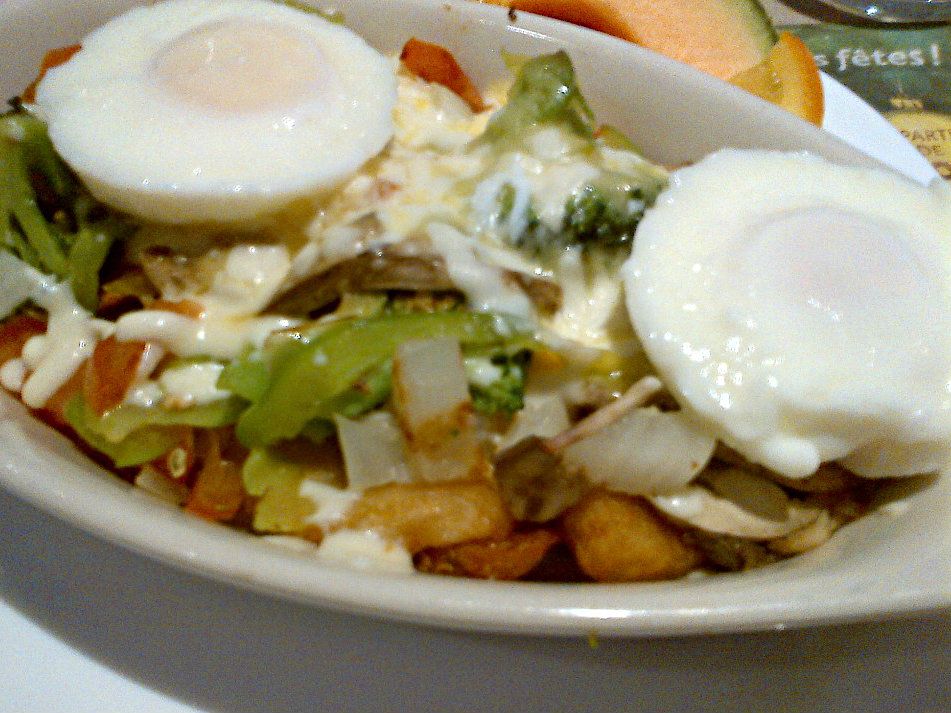 The food arrived fairly promptly. The Waffle Jr. dug into her pancake and seemed to enjoy it tremendously. The cloud of whipped cream? She mostly used it to dip her fruit in it, and the home fries she manage to scavenge from her mother's plate.
From her plate, Mel seemed to enjoy the bacon the most. Strange, isn't it? The eggs, scrambled, were cooked well. The home fries, she felt were a little dry and commercial, but not terrible, really the Waffle Jr. ate most of them anyways.  As for the mixi-fruit, she didn't like it much: "It's obviously right out of the fridge."  Though here Normandin gets points for at least going beyond the traditional melon-pineapple from a can (which is what Jr. got), the mixi-fruit is obviously prepped ahead of time and refrigerated, killing some of the freshness and flavour in the process. That is especially true for the kiwi, which doesn't support that kind of handling.
My Assiette Campagnarde was alright. On the plus side, the veggies were crunchy and juicy, and there was plenty of it – though there could have been more tomatoes. The eggs were poached as I asked them, but they were poached in a mould, removing some of that cloudyness one should get with poached eggs. On the alright side, the home fries were hit and miss. Some were crispy on the outside and fluffy inside, but some were simply mushy all around. On the down side, the Hollandaise sauce was only there in spirit – I mean, there were traces, but it's like it had evaporated. The cheese also was lacking – perhaps evaporated with the Hollandaise? You see, the point of this casserole dish is to really smother the veggies with Hollandaise sauce and to then cover the dish with cheese, in order to create a cheesy-eggy-gooeyness filled with bold flavours, supported by crunchy veggies. (Normandin also has a meaty version, but I wanted to be a good boy to end the year – and I was getting cretons!) The portion, however, was quite sufficient, especially considering the very generous scoop of cretons I was spreading on my toast. The cretons were quite smooth, but dense.  Quite good, though I prefer less creamy and more meaty.
Before tax and tip, our last breakfast of 2012 cost us $25. Without being the most amazing breakfast we ever had, it certainly did the trick, and got us ready to go for the remainder of 2012!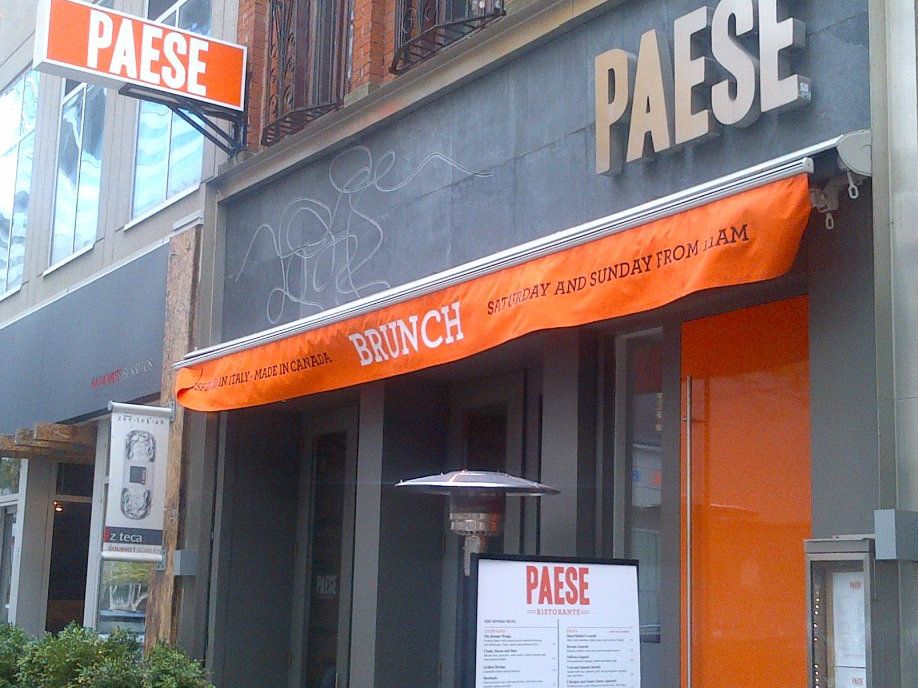 I was on a business trip to Toronto, and my scheduled lunch appointment was cancelled. Which meant I was on my own for lunch, and that suited me fine. I walked out of my home base, the Hyatt on King Street, looking for a new experience. Plenty of choices in the area, in the heart of the Entertainment Theater District.
Across the street from the Hyatt, a couple of restaurants I had been to before, Verona Ristorante (fine Italian cuisine) and Z-Teca (gourmet burritos). Squeezed between the two, in the location formerly known at the Bistro 333, you can find Paese. With its slick orange banners and a massive custom-built bright orange front door, this second Paese location (in addition to the original on Bathurst, established in 1989 by Tony Loschiavo) is a component of the L-Eat group. The King Street location opened in 2010.
Inspired in Italy, Made in Canada, says the banner (which also prominently features their brunch). I walked in.  A modern yet cozy, rich interior, with reclaimed brick walls and walnut tabletops and bar counter, with cool jazz music to create a relaxing atmosphere.  The place wasn't very busy, only half a dozen tables were occupied, leaving most of the ninety-odd-seats unoccupied.  Yet, I decided to sit at the bar, an informal seating location which reduces the awkwardness of eating alone in a public place.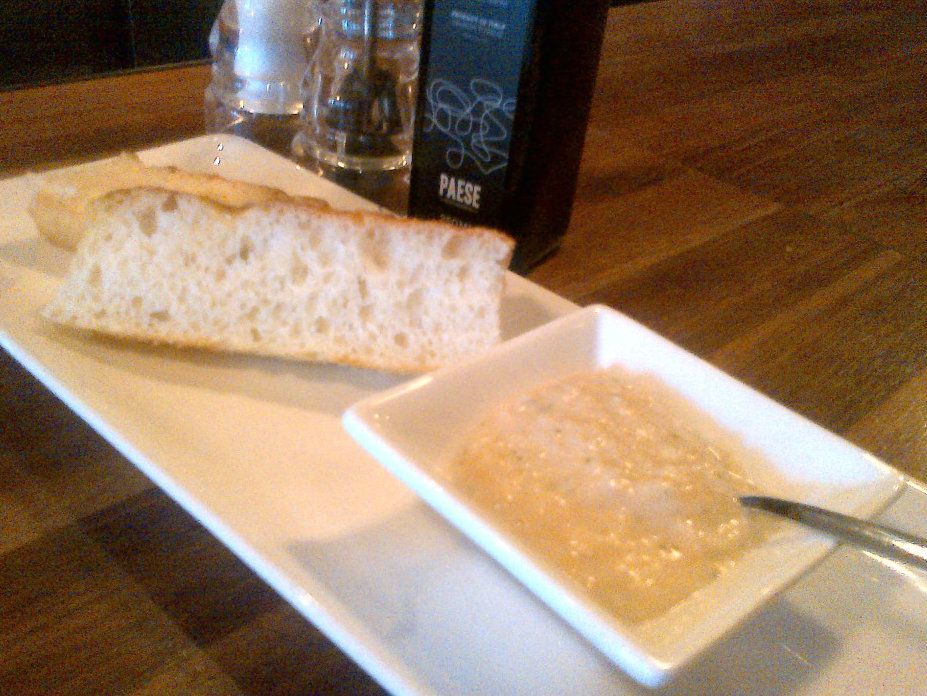 As I peered the lunch menu, I was offered an amuse-bouche, a chick pea and horseradish purée with fresh Italian bread to spread it on. Refreshing. At hand, sea salt, pepper mill and a bottle of extra virgin olive oil.
Paese has a bunch of different menus, and each location offers something different. On the King Street lunch menu, you'll get to choose from a selection of Antipasto (Clams, Bacon and Beer; Grilled Shrimp with Cannellini beans and gremolata; Veal and Pork Meatballs; Grilled Octopus and escarole), Salads (Roasted Chicken Salad; with green apple, toasted hazelnuts and gorgonzola; Chopped Italian Salad with fontina, salami, olives, soft boiled egg), Panini (Ham and Cheese; Grilled Chicken; Veal), Pasta and Polenta (Cavatelli with slow cooked tomato sauce and ricotta di bufala; Ricotta Gnocci with roasted chicken, sweet peas and mascarpone sauce; Saffron Linguini with pork and fennel sausage and rapini in a tomato sauce), Pizza (Margherita; Funghi; Genova; Capicollo Bianca; Grande Fumo with smoked trout). Continue reading »
After an afternoon at Wrigley, what should guys do but spend the evening on the other side of the city, and watch more baseball? That is exactly what we did as, for a rare occasion, both the Cubs and the White Sox were in town during the week-end.
The game at Wrigley lasted 4 hours, so we went directly to the U.S. Cellular Field. Once you get out of the CTA station, you notice how the atmosphere is totally different. The crowd is different. The vibe is different. We could be in another city, and it would make as much sense.
US Cellular is built on the lot immediately across from where Comiskey Park used to be. Old Comiskey's home plate is a marble plaque on the sidewalk next to the Cell and the foul lines are painted in what is now a parking lot.
We slowly walked up the ramps to the Upper Deck concourse, admiring the views of Chicago and soaking in the experience. To test our limits, we even threw some balls monitored by radar . No scouts stuck around to watch.

Once in the concourse, I started checking out the food options.  At the 500 level, you could find the usual baseball fare -  Hot Dogs, Pretzels, Pizza, Burgers, Fries, Ice Cream; but also a few other options, Funnel Cakes, Loaded Baked Potatoes, Chicken Wings, Cevapcici, Elotes, Tacos, Nachos and Fajitas.  There is also a Kid-sized concession stand serving peanut butter and jelly sandwiches!
But if you want something really different, like steamed bun filled with chicken or pork, mongolian barbecue or chicken terryaki, then you are at the wrong level. But there is no access to the 100 level from the Upper Deck, so nothing exciting was going to happen.
Unless…  Wait a minute.
What does this sign say, right there at the South Side Hitmen Grille?
I got closer.
Is this even possible?
Cheese curds???
Cheese curds in a Major League baseball park?
We're not at the Big "O", are we?
Indeed.
Cheese Curds are sold. Right here.
Don't expect to be able to order a poutine, though.
"Try our beer-battered cheese curds" the sign said.
Why, yes!
I got myself an order of the delicacy: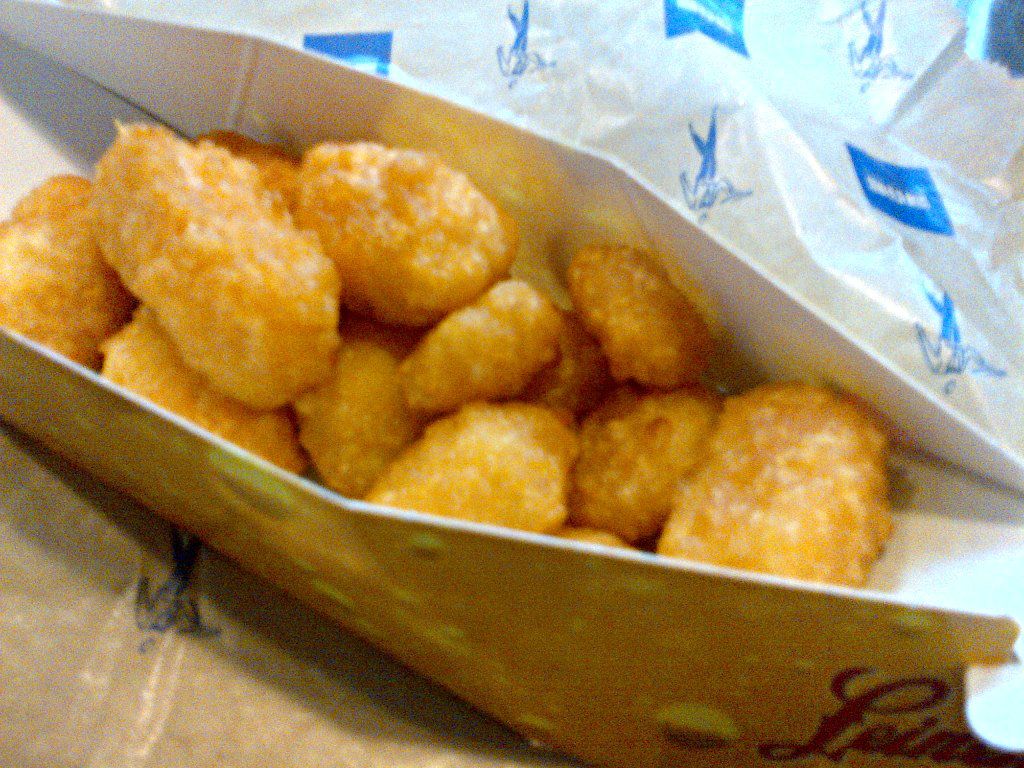 I had to try it.
I had had deep fried cheese curds once before, and it was so tasty I had to try it again.
They arrived in a hot dog cardboard container, tightly wrapped in wax paper.
There were only a dozen curds, which makes it pricey at $4.50. Continue reading »
We left Indian Lake in the morning, hitting Highway 28. Our New York State adventures were coming to an end, and we had to make the 3 and a half hour trek back to Canada.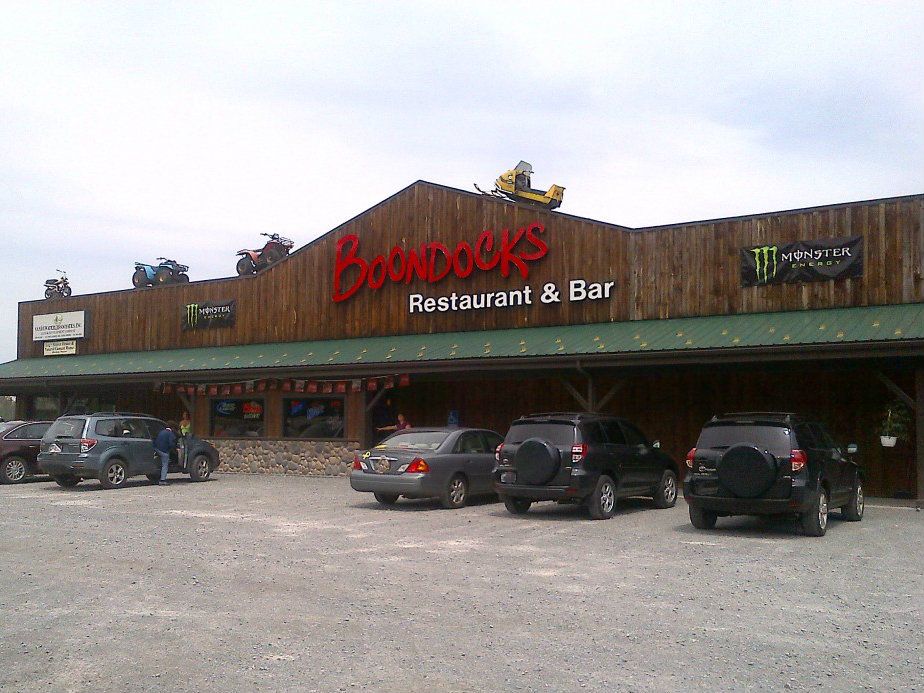 Along the way, we would stop by and admire the numerous mountains and lakes. Lake Durant. Blue Mountain Lake. Eagle Lake. Utowana Lake. Raquette Lake. Eight Lake. Seventh Lake. Sixth, Fifth, Fourth, Third, Second and First Lake. I guess they ran out of names.
About halfway to the border, we started to get hungry. Starving, in fact. But we had reached Highway 12, and options were scarce. Nothing for miles.  Until we saw a size-able establishment with a huge parking lot, with ski-doos and ATVs on the rooftop.
Welcome to Boondocks Restaurant and Bar, Lyons Falls, New York.
Walking in the place is its own adventure. They've got the rustic feel, with lots of wood everywhere. And by wood, I am not only talking about the furniture. I'm talking about the walls, that are either in wood or trying to make you feel like you are in one.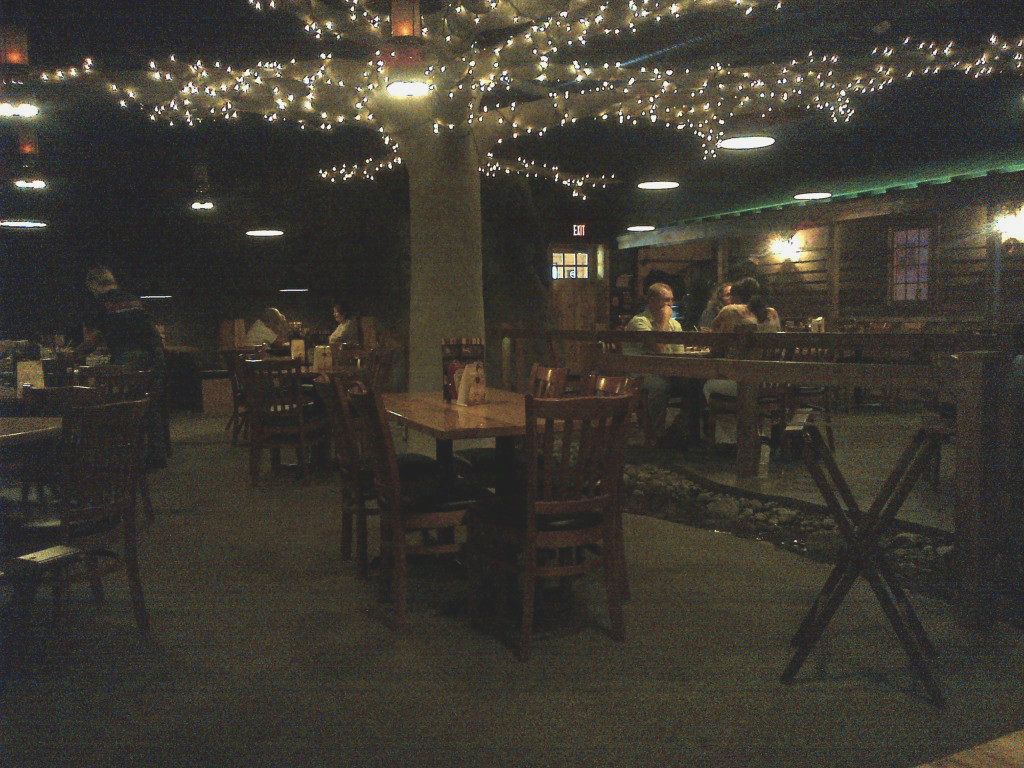 There was a gigantic tree, fitted with lights in the middle of the room. There was a waterfall coming out of rocks, with a creek crossing the room – little country bridges were allowing you to cross over.  Its a cozy Adirondack atmosphere that makes you feel as though you are dining under an open sky, all year long.
We ordered drinks to start, as we looked at the menu. I went with a Saranac Blueberry Blonde Ale from the Matt Brewing Company. I poured it in a frosty pint glass. It had a nice golden color and a significant white foamy head.  The blueberry aroma was strong, the flavour was interestingly fruity, like they added a shot of blueberry juice in it as opposed to a chemical concoction. A really good fruit beer, but it needs to be very cold.  Mel went with another Saranac product, their hand-crafted Root Beer. It is made in small batches and has a fresh root beer taste, with plenty of bitterness but also notes of vanilla and some licorice. Again, better served ice-cold.
The menu was filled with intriguing items. In the appetizer section, you could find deep fried stuff, like Mozzarella Triangles, but also things like Steamers (Steamed Clams) or Load of  Logs (home-made pretzels).  There was a Soups and Salads section, a Pasta section, Chicken, Ribs and Steak, Seafood.  Mel decided to pick one of their sandwiches while I explored the Burger Valley.
Bondoocks' burger valley is not very deep (only 8 different types) but it is wide (any burger is offered in a beef, veggie, or turkey version – and most of them can be made Gluten Free). I looked at the Boondocks Bleu Burger (bleu cheese, bacon, lettuce, tomato and red onion) and the Over the Edge Burger (Golden BBQ sauce, fresh chipotle coleslaw and fried onion tanglers) but finally settled and ordered the Rodeo Burger. In her part of the menu Mel ignored the Tangled Philly (shaved steak smothered with Bourbon BBQ sauce and topped with onions, peppers, mushrooms,fried onion tanglers and Swiss cheese on a toasted Hoagie roll) and the Parmesan Chicken Sandwich and ordered the Ranch BLT Sandwich – with a side of Onion Rings (at an extra cost).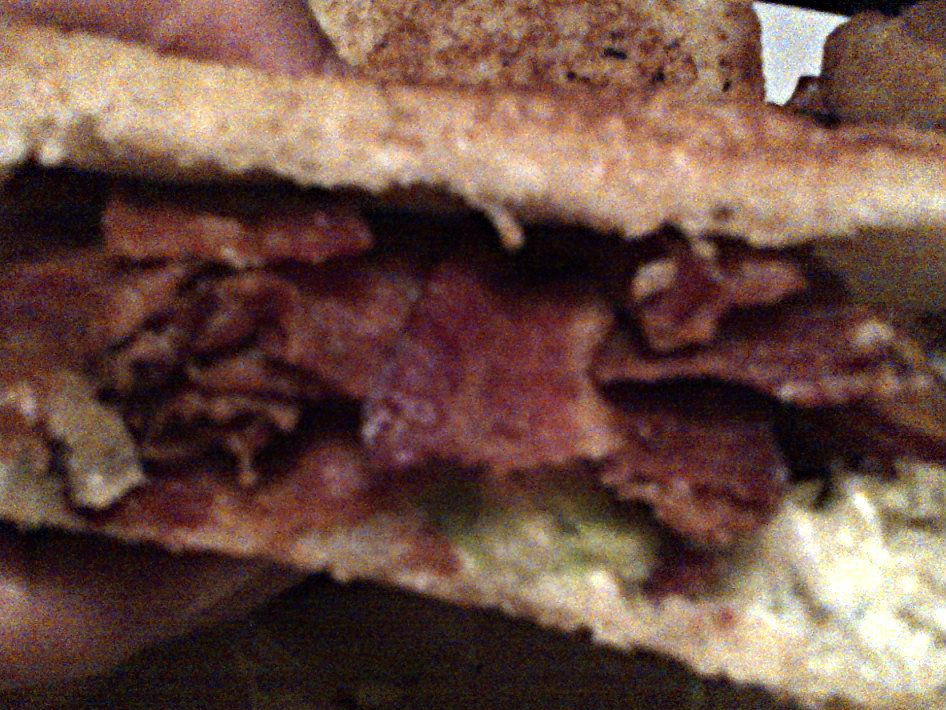 If the onion rings were palatable, the Ranch BLT Sandwich ($7.45) was not named properly. If the "l" and the "t" seemed normal, the "B" was capital. There was a truckload of bacon in that sandwich, topped with lettuce and tomato on grilled Italian bread, nicely toasted, no sogginess. But basically, this was a Bacon Sandwich. The veggies were just a small garnish barely surviving under the thickness of hog goodness – though Mel removed some of it from the sandwich, overwhelmed.  The ranch flavour came in the form of a ranch cream cheese spread, not helping the calorie count.
 Talking of calorie count, this is what my Rodeo looked like: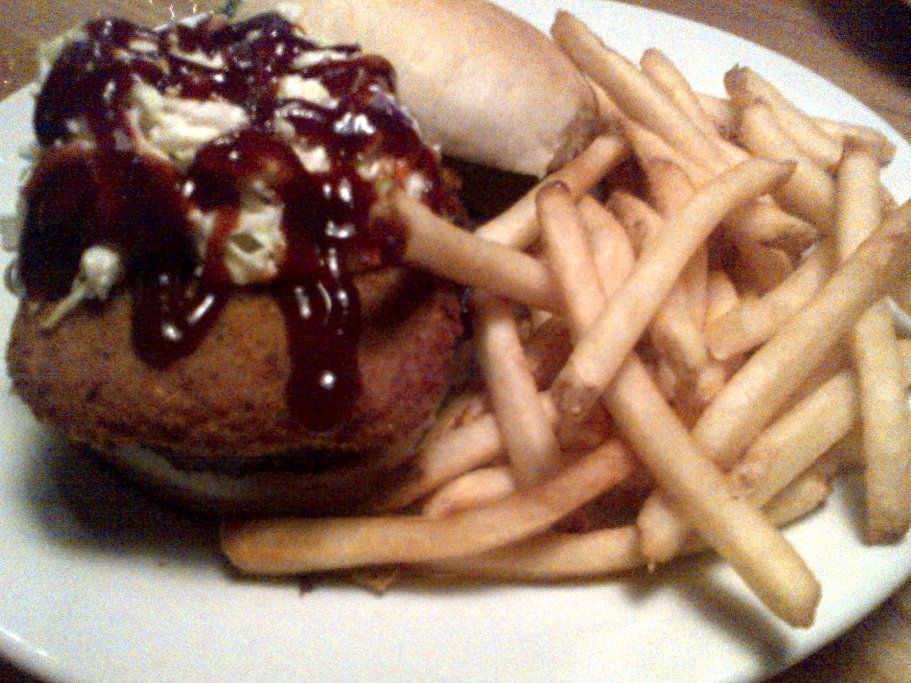 A half-pound beef burger. A huge block of  deep fried Muenster cheese. Coleslaw, piled high. Smothered with a Chipotle BBQ Sauce.
Heeee-Haaaaw!
Now, this was a decadent burger. I've had my share of cheeseburgers in my life, with multiple cheese combinations, double and triple deckers, even cheese-stuffed patties.  But this?  Unexpected. 
Muenster is an American cheese not to be confused with the French Munster.  It is a mild, smooth, soft cheese, usually with an orange tinted-rind and a white interior.
I was expecting a small slice of fried cheese, instead I got a brick of deep fried cheese, with a thick batter – no doubt to prevent the cheese from oozing into the deep fryer. On the upside, it was gooing everywhere – once you got past the crispy crust!
The beef patty was thick, juicy, cooked to medium rare. The coleslaw had a little tang to it and added a nice crunchy and creamy texture to the burger. The Chipootle BBQ sauce was spicy, but there was no chance to overheat with the amount of dairy included in the burger.  Considering the weight it was under, the bun surprisingly held together quite well.
After a while however, the burger started to feel heavy as the cheese brick was falling into my stomach.  I did finish it, but I was kind of glad that the french fries were ordinary – I might have been in trouble if I had finished my plate!
All in all, this was a neat place to stop by randomly. The food was on the outrageous side of the spectrum, but it's not like we had a long road trip ahead of us…
 Mrs. Waffle did some research before our road trip vacation in New York State.  And once I convinced her that Cooperstown was a must stop, she insisted that dinner happened at Dimaggio's Cooperstown Hot Grill.
So first we visited the Baseball Hall of Fame. And then we set out for Dimaggio's.
"The best food in town. Cooperstown, that is." says their website.
DiMaggio's is owned and run by the DiMaggio family, (yes, cousin to Joe) and is located on Route 28, directly across from the Cooperstown Dreams Park - bringing them hungry customers by the busload.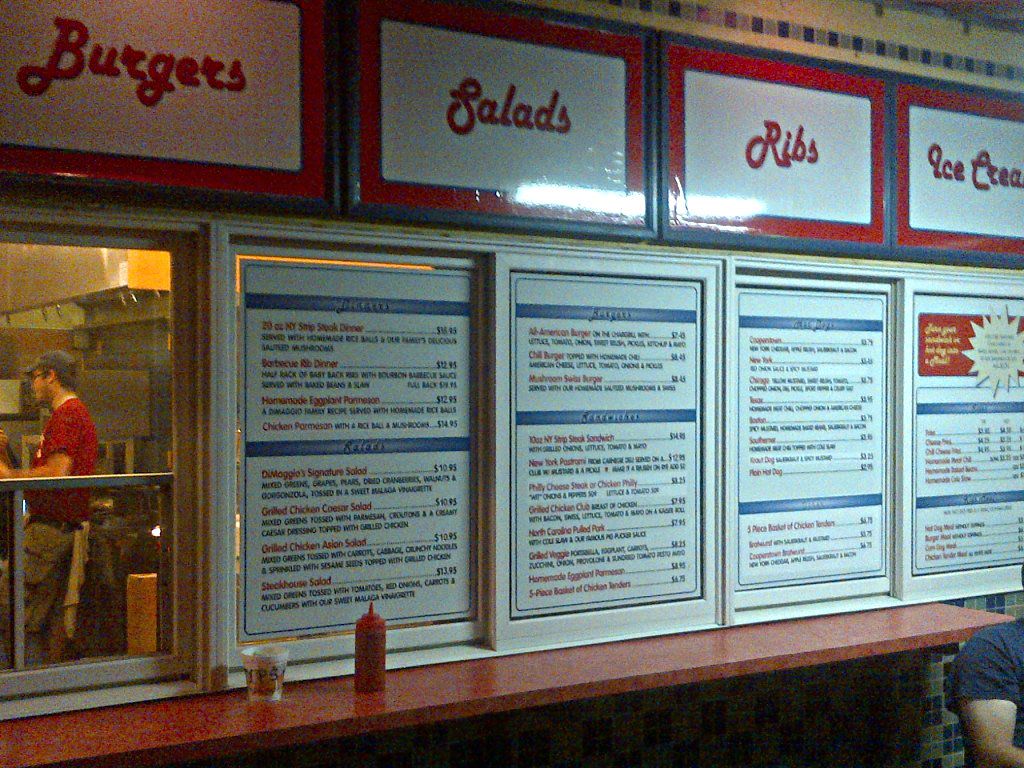 DiMaggio's is obviously targeting families. Leaving aside their ice cream section, with their sundaes selection (banana split, chocolate chip cookie, strawberry shortcake and hot fudge brownie), their menu offers many options: New York Strip Steaks, Baby Back Ribs and all kinds of specialty salads, sandwiches and burgers.
Apparently, DiMaggio's Eggplant Parmesan and Rice Ball are the talk of the town – but I was in town, and nobody mentioned it. Go figure.
But we were there for something else – we were there for Hot Dogs. Nothing goes with baseball better than Hot Dogs, and the Hall of Fame visit built up our appetites. And since Dimaggio's logo is a hot dog, we had high expectations.
We studied the menu posted outside, right by the take-out window.
Dimaggio's Hot Dogs come in 6 all-beef variations:  The New York (red onion sauce and spicy mustard), the Chicago (yellow mustard, sweet relish, tomato, chopped onions, dill pickle, sport pepper and celery salt), the Texas (chili, chopped onions, American cheese), the Boston (spicy mustard, baked beans, sauerkraut and bacon), the Southerner (chili and coleslaw), nd the Cooperstown (cheddar, apple relish, sauerkraut and bacon).  They also have two Bratwurst options, one with sauerkraut and mustard and the other one à la Cooperstown.  You could also get a plain dog. But why would you?
When I said we had built our appetites, I wasn't kidding.  My plan was to sample two dogs, Mel was to go for one. But suddenly, Mel decided that she needed a little more and also went for an American classic: the Cheese Fries.
I was not going to argue. We walked in. You are hit immediately by the bright colours, the smell of french fries and the sound of a pre-teen baseball teams having a blast.  I went to the counter to order, no line-ups.
A medium order of Cheese Fries ($5.25), one New York ($3.45), one Cooperstown ($3.75), one Texas ($3.95), and a pop – with free refills, which is always great!  The staff told me I could go and pick a table, and they would bring our order out.  Awesome.
We decided to sit outside – to enjoy some fresh air and a quieter environment. Across Route 38 the bright lights of  Cooperstown Dream Parks were shining.  Lots of kids having lots of fun dreaming about a not so distant future where, maybe, they could become baseball superstars.  Just like kids like Bryce Harper, Matt Garza and David Price before them.
Lost in my dreams of my future Major League career, I was awoken by the arrival of our food. Mel was about to get up to get a refill, but the friendly staffer told her to enjoy the food – he would be right back with it.  I've got to give them kudos for service, it was great, much better than one might expect in this kind of joint – and certainly putting fast food chains to shame.
The medium basket of cheesy fries was huge.  I was so glad I had resisted the temptation to go for the bigger size. There was a good scoop of a gooey-cheese like substance, but the fries weren't swimming in cheese sauce. Therefore,  the fries were not mushy and were holding up firmly. Of course, the cheesy goo was very salty, but kind of addictive. I guess that's the idea, isn't it?
But we were not distracted by the sideshow.
We soon dug into the line-up.
The Cooperstown: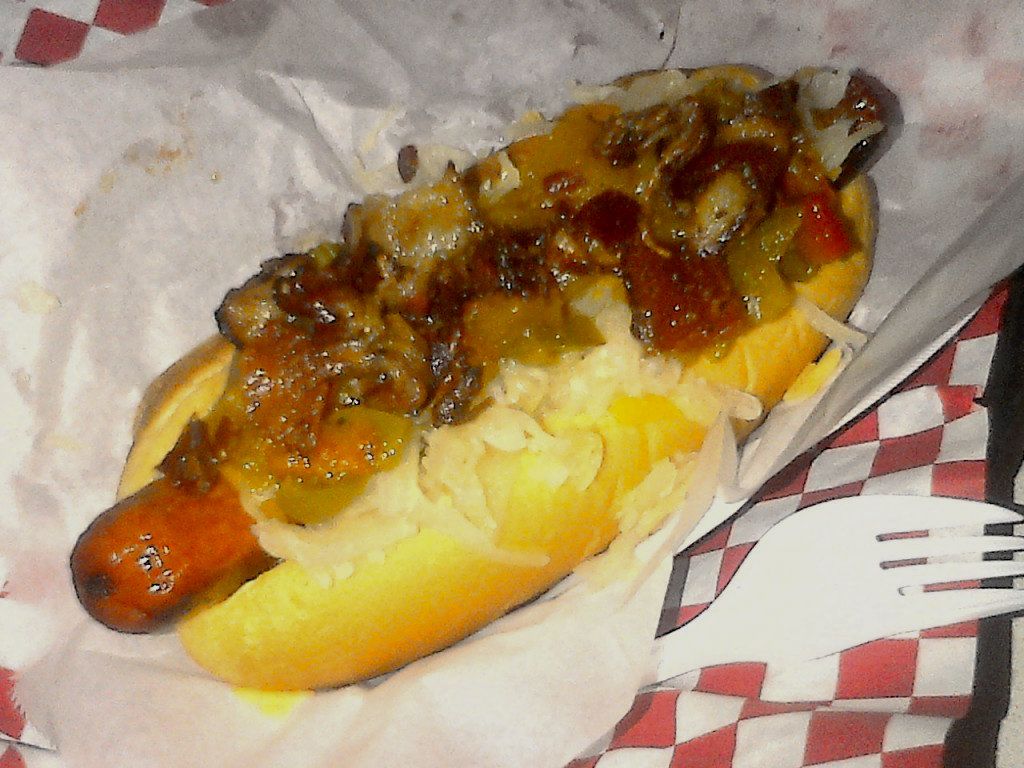 Now, this is truly a one-of-a-kind hot dog. The apple relish is not overly sweet, it is totally different and refreshing. The rest of the toppings bring you back to more traditional dog flavours, acting as a bridge between the New York Cheddar, which of course goes well with apple, and the tangy sauerkraut, which mellows with the relish.  The bacon came in big extras-crispy chunks, they couldn't go wrong there.
Mrs. Waffle had a craving.
She wanted horrid, greasy, salty pizza.
Why?
It all started by a complaint from @JuiceGnipoksy, who really wishes that Pizza Hut and Swiss Chalet would open up shop in downtown Ottawa.
He has a point.  Pizza Hut, founded in Wichita in 1958 and now a subsidiary of Yum!, (the world's largest restaurant company who also owns KFC and Taco Bell), has about 12,000 Pizza Hut restaurants in the world.
But in Ottawa, the closest Pizza Hut from downtown is in the Glebe, on Bank @ Fifth, about 3 kms from Parliament Hill. The closest Swiss Chalet is on Carling @ Kirkwood, about 7 kms from the Hill.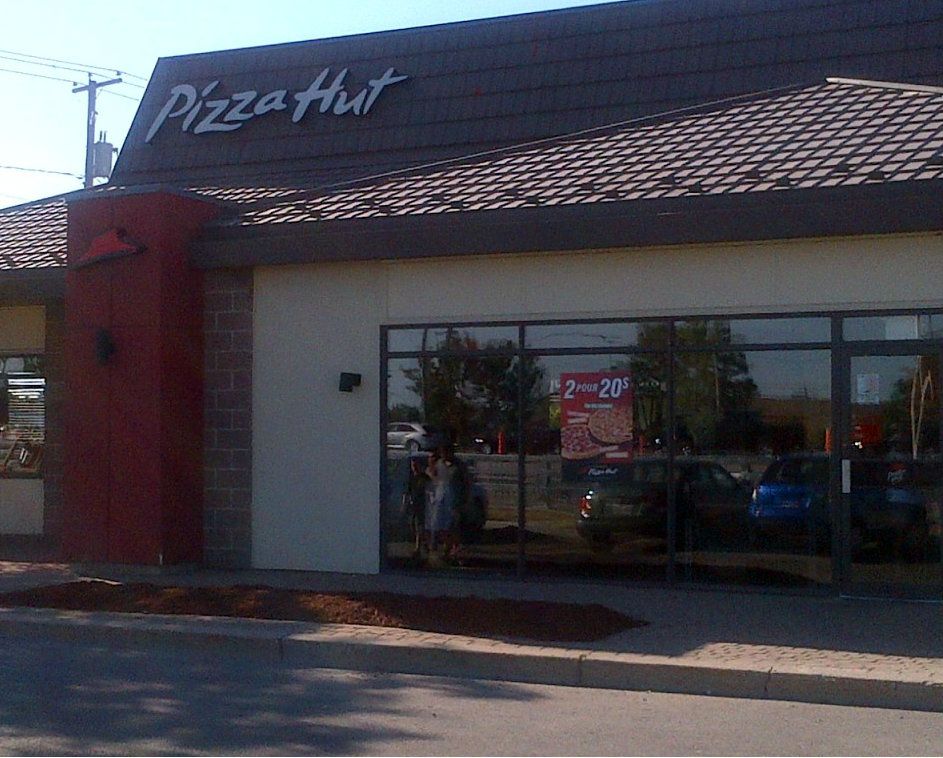 Still, there are 9 Swiss Chalet in Ottawa and 9 Pizza Hut as well.  Swiss Chalet gave up on its Chalet Suisse Quebec locations years ago, but Pizza Hut is quite present and has one franchise in Gatineau, on Gréber @ Maloney.
And that is where we ended up, to satisfy Mrs. Waffle.
We got there around 5:45. The place was not super busy, but it wasn't empty either. In fact, it got busier. Still, the service could have been more efficient – our pop took forever to arrive.  At least it's all you can drink. But I digress.
Good news, kids eat dinner for free all summer, until September 2nd.  The meal includes a beverage, dessert, and your choice of a 6″ Pizza, Fettuccini Alfredo Pasta, Mac N' Cheese, Spaghetti with Meat Sauce or Chicken Boneless Bites.
The Waffle Jr. doesn't like garlic, so Alfredo was out, we were going to get pizza so no need to order one for her either. Spaghetti meat sauce sounded like a messy idea, the Boneless Bites are packing a whooping 1620 mg of sodium.  So we settled for the Mac N' Cheese.
Not a lot of cheese, pretty watery sauce, no colour – I know it's the kids' menu, but they could make an effort. Sad.
Since Mel was hungry NOW, she ordered a ceasar salad as an appetizer. The small salad arrived promptly. The lettuce was fresh and crispy, and was not too drenched in the commercial dressing. There was plenty of croutons, shaved Parmesan, tomatoes (!) and some bacon bits. On the side, a slice of lemon to garnish. We've seen worse.
But as you know, we were here for horrid, greasy, salty pizza.
First, we had to pick the crust.
In Canada, you can  go for the Classic, the Multigrain, the Thin N' Crispy, the Pan or the Stuffed Crust. No matter which one you choose, you will get a nice shiny finish, thanks to the mystery green spray can they use right before bringing you the pizza.
At any rate, we felt that the Classic was probably the best choice, but figured we might as well go big or go home. We chose the Stuffed Crust.  I've never had it and figured I should try it before I could then go on to explore deeper into outerspizza and sample the likes of Ultimate Stuffed Crust, the Cheesy Bites Crust, the Cheeseburger Crust or even the Hot Dog Stuffed Crust…
The menu had 20 different pre-selected toppings. Multiply that by 5 types of crust, and you get a 100 different types of pizza to choose from.  Our search didn't go very deep: Mel selected the very first listed by Pizza Hut, a favourite of hers: the Meat Lovers.
What's not to like?  Pepperoni, beef topping (what?), Italian sausage, mild sausage, ham, bacon crumble and mozzarella cheese.
Glorious. No?
I mean, it did look good.  The crust was puffy, bits of cheese were oozing out.  On top, you could see lots of meat and the cheese had a great colour.  And it smelled fantastic.
Back in May, the trendy OZ Kafé on Elgin introduced its Sunday Hangover Brunch. The owner confided in The Waffle that the goal was to attract the same branché clientèle who visited them the night before and who enjoyed a few "Pretty in Pinks" too many – a signature martini at OZ, which, I must add, was invented years ago by my wife and her then roomate Tara.
So OZ's Hangover Brunch is offered starting at 2:30 PM: "We do not want to compete with the places offering the traditional brunch on Elgin, we want to offer something different," added Oz herself. Hence, people are invited to get brunchfaced, all the way to 9:00 PM – which means, of course, that if you do not want to get brunchfaced, you shouldn't go on Sundays as their regular menu is not available.
Whitout having had the pleasure of visiting Oz Kafé the night before, I still followed the "Pretty in Pink" inventors in their mid-afternoon brunch adventures with some Halifax' come-from-aways.
The place was busy but not packed, so we were able to grab a quiet corner in the back. The owner seemed genuinely happy to see us and made sure we were comfortable, coming to check on us regularly. The Hangover Brunch menu is limited but varied: you've got your fench toast (with pork), your steak & eggs, your pancake (with smoked trout), your fritatta and some tacos.
Tacos?  Yes, tacos. Two Tacos, in fact, which were calling my name. Tara ordered them first, and then claimed that I couldn't order the same thing someone else had already ordered. I somehow managed to ignore her.  Joel, attracted by the Smoked Trout, went with the Korean Potato Pancake, despite Mel's warning that the chant of the Trout Siren was hiding Kimchi, which is, as she put it, a cabbage left to rot underground, "but that's surely not how they did it here". Surely not. 
Mel and Shauna ordered the Pig on a Mattress.(Above).  The Mattress in question is  a French Toast, the Pig in question is pulled pork and two slices of thick bacon. The dish is completed with drapes of cinnamon yogurt and, of course, maple syrup.
The pulled pork was tasty, the bacon thick, smoky and not too salty.  Mel said that it was very yummy, especially the pulled pork mixing with the syrup.