Browsing articles tagged with " Calamari"
I was looking for a new place for lunch, and I came across this video where "Skipper Dave" and "First Mate Cat" were introducing us to the delicacies served at Cat's Fish & Chips.  Fish & Chips is a great lunch item – so that's what I suggested to Mel and we made our way to Vanier.
Cat's Fish & Chips opened in May 2012 and rapidly made their mark, winning Metro's Choice Awards for Best Fish & Chips and Best Takeout in December.
The building, located at St-Laurent and Hemlock and previously housing the Rockliff Bistro, is newly renovated and repainted in a nice sky blue colour, with a nautical-theme décor. The spot is laid back and doesn't take itself too seriously.
Inside, Emerald was waiting for us, telling us we had to wait to be seated.
Directions for the Poop deck were clear and straightforward.
The place wasn't busy yet, and we had our choice of seats – we elected to sit outside.
Yes, outside, where a lobster trap had caught a big yellow can.
There is nothing quite like a fresh yellow can!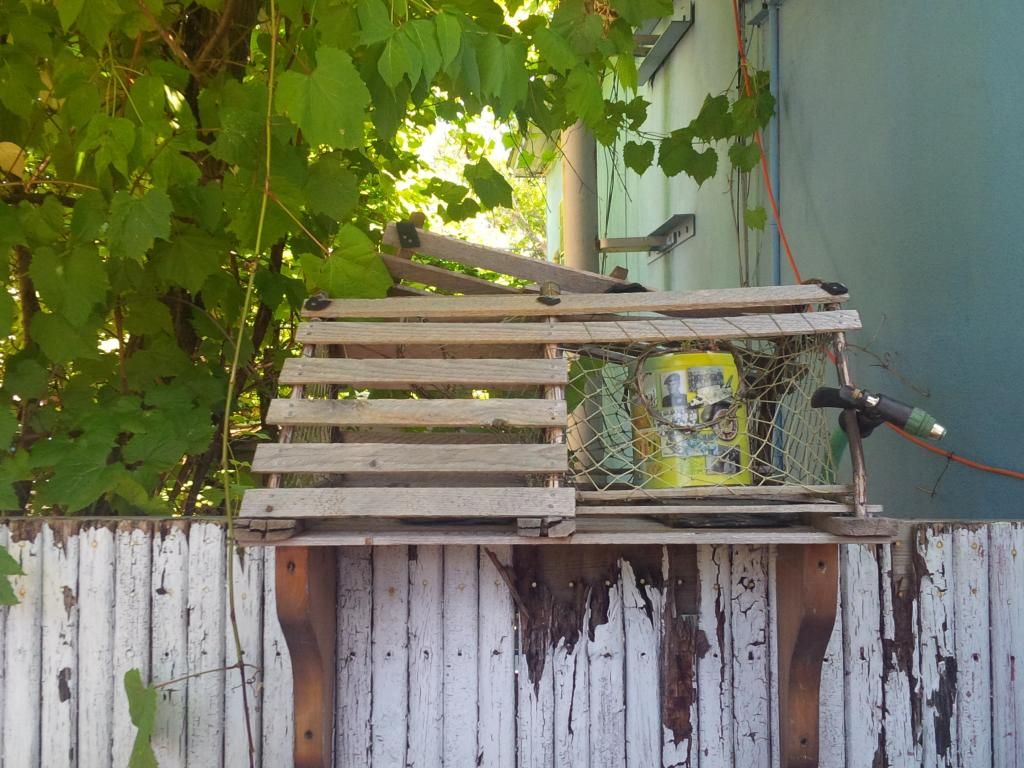 We perused the menu. Fish, of course, and all kinds of seafood dishes
But obviously, Cat's Fish and Chips is boasting about it's Fish and Chips.   We were a bit surprised by the lack of options here, as they only offer Cutlass Haddock.   It would be nice to have a couple of options, like Cod and Pollock, or maybe even Catfish. Cat's Catfish and chips.  Now, that would be marketing.  The Haddock is offered either breaded or beer-battered, your pick. They also have gluten free version if you are so inclined.  A bonus, a dollar from every order of fish and chips goes to the Dave Smith Youth Treatment Center.
And that's what we were here for.  Mel got the one piece with the Spicy Plank shavings ($13.52) while I went for the two pieces ($20.12) with their Fresh Cut Chips. But first, First Mate Cat convinced us to get an order of Rings By The Sea ($8.94) – their seasoned calamari, fresh cut and flash fried. She had us at "fresh." 
While we waited for our food, we enjoyed a cold one on the deck.  Mel went for a Magner's – she got excited when she saw the advertisement on the billboard.  I decided to go all in on the East Coast Experience and I ordered a pint of Moosehead.
Our calamari arrived very promptly, which is normal considering it is flash fried.  The Rings by the Sea were served in a little blue rowing boat, with a Sweet Chili dipping sauce at the stern and a wedge of lemon at the bow. Continue reading »
Sparks Street was once the commercial and financial centre of Ottawa.   There was a streetcar until 1959, when it was removed.  The decline began soon after, and Sparks Street was transformed into a pedestrian mall in 1961 in an attempt to revitalize the area,  The street still has many imposing old banks and insurance company buildings – I still like the potential.
But outside office hours, Sparks Street often turns into Wasteland, despite having all the attributes needed to make it a vibrant quarter.  It is downtown, close to Parliament, has hotels nearby – including the Marriott and the Delta right  on Sparks.  There are plenty of offices, condos and shops – though maybe a few too many souvenir shops.
Yes, there are a few pubs and restaurants, but let's just say you won't find a lot of people there on a Saturday evening, people seem to desert Sparks for the Market or Elgin street.   So business is tough – as the owners of Jazz'oo found out.
But at lunch, or right after work, lots of places can be very busy.  Choice is limited however, and quality is not the priority for everyone.  In the summer, having a patio is an obvious advantage.
And the best one is located on Block 5 – Carmello's.
The patio is wide. It has shade.  You never feel cramped. And the food is pretty good.
I had a lunch date with a member of the Press Gallery, and funny enough, she had never heard of the place.
She discovered the closest thing to Italy's soul there is on Sparks Street.
I ordered a Pale Ale, she ordered a glass of rosée.
Soon after we ordered, our drinks arrived, with a basket of fresh made bread.
"This bread taste like cake!" she stated.
Indeed, it did.  Soft and moist, a hint of sweetness, we both struggled not to engulfed the basket.  Nothing good can come out of bread that tastes like cake!  A bottle of balsamic vinegar was on the table for us to pour in a plate and dip the cake-bread in – but their pourer needed some fixing as the vinegar was leaking in what could have been a messy incident - something they should check from time to time.
Carmello's lunch menu is simple, yet diversified.  Antipasti, of course (Zuppa, mussels, bruschetta, salads), old world and new world pizza, and a selection of pasta (many options within the four sauces offered – Pomodoro, Pomodoro Cremoso, Alla Panna or Aglio e Olio).
There are also daily specials, creations that are not on their regular menu which are often interesting.  Like the pork, pear and caramelized onion pizza I ordered.
This was quite interesting.  Obviously, the pork loink, shaved thinly, is not your usual pizza topping,  but the sweet barbecue flavour it was cooked with married very well with the mild pears and the caramalized onions. The mariage with the tomato sauce, however, was odd, the sweetness of the toppings not going full well with it. It just wasn't right, and despite the cheese's best effort to balance the dish, I think the pork should have been more herby than sweet. Overall though, it was still interesting - but this pie needs a little work.
My date ordered the Calamari Alla Griglia, a simple dish of grilled calamari on a bed of market greens and served with fresh lemon
Calamari is too often destroyed in a thick breading and deep fried too long, so it's nice when a spot offers it grilled.  The flavour is much more powerful, much more "au naturel", but the challenge to deliver is much stronger.
Carmello's did well.  The plate arrived, and despite the fact that the dish was in the antipasti section, my date couldn't believe how many molluscs were on the bed of fresh green mix (lettuce, mesclun, endive).  The plate was quite appealing, and she forced me to take a few pieces.  The calamari was served with a thin line of pesto sauce, which was really there to look nice and didn't really add anything to it.  The squid was grilled nicely - although the mantle was a tad chewy at times – a sign it was almost being overcooked.  Still, the result was quite respectable and is certainly a dish I can recommend.
My press gallery friend was quite happy about the discovery, and announced promptly that this was her new favorite patio on Sparks.  I'm glad. Because despite being geographically challenged, Carmello's is worth the detour.
So our Honeymoon was set for Malta.
Why Malta, you may ask?
Well, we wanted something different, with nice weather and historic things to visit.  Located in the middle of the Meditaranean Sea, Malta seemed perfect. And it was relatively easy to get to, Ottawa-Frankfurt-Malta and hop!
Food in Malta is not renowned as gourmet cuisine, but it is reasonably priced and there are plenty of locations to choose from. Foreign influences still play a major role in the local cuisine. The islands' proximity to Sicily leads inevitably to many pasta dishes and pizzerias; the Brits also left their mark – fish and chips, obviously.  The Mediterranean stamp is there, with olive oil being omnipresent, and fresh vegetables, such as tomatoes and green peppers, are commonly used. Fresh fish is easily found and proudly offered.  Abundant, it comes poached, steamed, braised or grilled.
The national  dish of Malta is fried rabbit. But you can also find rabbit in stews and in pasta. Interestingly enough, we failed to see any rabbits around the islands. Another regional meat dish is bragioli. It is made with thin slices of beef wrapped round a minced meat, egg and bacon stuffing.
Other local delicacies include Gbejna, a sheep's milk cheese, served either fresh or half-dried. It comes from Gozo, it looks like boccocinni, but it is much more firm. Also, the Maltese bread, called Hobz, is very crusty on the outside and soft on the inside, and is heavily consumed on the islands. Ftira is another bread, higher end, denser.
After visiting Malta's National War Museum and walking around the city, it was time for lunch.  We picked Cocopazzo, a small place, located on Triq Nofs in-Nhar, which was recommended in our guidebooks. We were not disappointed.  We were hungry early, so the place was not really busy.  Colourful, cozy, unpretentious, with great service and great food.

From left to right:  Cocopazzo's cozy atmosphere; complimentary bread pieces, oven-toasted with herbs and olive oil; we shared some delicious rabbit stuffed ravioli to start; I went for the mixed fish grill (red snapper filet, tuna filet, swordfish, shrimp – quite dense) served with fresh vegetables, 20€ ; Melissa went for the fried calamari on a bed of greens, fresh and tender, 13€; and it all came with a side of steamed vegetables, more food than we could consume.  The total bill was 56€, before tip.
Our second meal out, the next day, was after a 10 km walk, from Sliema's waterfront back to Valletta, through Gzira, Ta' Xbiex, Msida, Pieta', Hamrun and Floriana.  It was a long walk under the baking sun of Malta, and we were ready for something civilized. We just happened to end up in front of Valetta's 5 star hotel, the Phoenicia, so we went in to enjoy lunch on The Phoenix's terrace, which had a nice view of  some of Valletta's fortification system.
I went for the classic Maltese Ftira, left, another local bread. Totally mediterranean,  with tuna, onions, capers, tomatoes and black olives.  Plenty of olive oil to bring everything together.  It came with a little basket of potato chips and a mini-salad, for 7€.  Melissa picked the Chicken Baguette, garnished with bacon and smoked cheddar.  It was served with a mediterranean salad for 8.50€.  Despite the 5 stars, and sharing the terrace with Ladies and Gentleman directly out of Falcon Crest, this was a nice lunch and not too pricey.
I was in Conakry for 8 days at the beginning of July, at the invitation of NDI for a Retraite Politique, ahead of the scheduled Fall election.
I figured I couldn't blog much while in Guinea, and wouldn't be able to write about everything. So I decided I would do a photo-blog.
Every picture below is clickable and you can have a closer look at the food. Generally, the Guinean food is either from the sea or spicy. Lots of stews. Generally, they have a plate of hot crushed peppers available to increase the heat. Perfect. You can also find skewers and all sorts of food stands while wandering the streets of Conakry, as everybody tries to sell some food for a bit of money. But I decided to stick with restaurants, except for the food cooked in the little shack attached to Café Obama. If you plan a trip to Conakry, you may want to look at this dining guide.
Obviously, French cuisine is very present in Guinea as well as Lebanese. A couple of Chinese and Korean restaurants are there too to serve the workers who came to work in the mining or fishing industries.
Butterfly Fried Half-Chicken, fries and fried plantain, tomato and onion salad.Coté Mer
Thiebou Dienn, a fish stew served with local brown rice and boiled vegetables. 23 000 GNF. Africana
A traditional Guinean musician entertaiting the patrons at the Africana Restaurant.
Hors d'oeuvres served to the participants of the Retraite Politique at the Novotel Ghi in Conakry during the registration.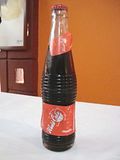 World Cola. Made in Conakry by Sobragui. Very, very sweet and low carbonation.
More hors d'oeuvres. Note the rounded-off chicken wings.
Flag Spéciale. Bière de luxe. Very popular everywhere in West Africa. Owned by Castel. A pale lager, refreshing with a hint of bitterness.
Skol. Brewed under license by Sobragui, it originates from Bermuda. Not bad – but only if cold.
Sorro.
Seafood Pizza. Late-night snack. A bit salty. 96 000 GNF.
Sorro.
Typical Guinean Fish Stew. Quite spicy. You serve on the rice.
Côté Mer.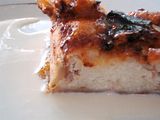 Vanilla and Brown sugar cake.
Côté Mer.
A Guiluxe by the sea. The national beer brewed by Sobragui. Smooth. 4 times cheaper than at Sorro. Only 7 000 GNF.
Café Obama.
Garlic Shrimp.
Restaurant Chinois.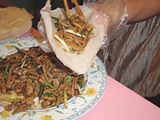 Chicken and green onion, sautéed, and served in thin crèpes.
Restaurant Chinois.
Snow Peas and Garlic. Lots of Garlic.
Restaurant Chinois.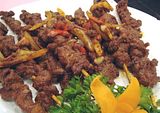 Very spicy Beef Skewers.
Restaurant Chinois.
Typical Guinean Beef Stew. You serve on rice.
Côté Mer.
Sponge Raisin Cake with papaya sauce.
Côté Mer.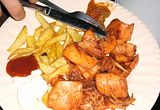 Grilled Calamari and fries. Nice big pieces, no chewiness.
Café Obama.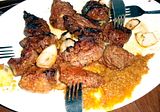 Beef skewers with hot sauce. Good meat.
Le Gentillhommière.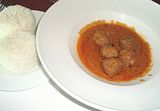 African spicy meatballs. Eaten with rice.
Côté Mer.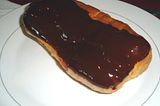 Chocolate pastry stuffed with cocoa cream.
Côté Mer.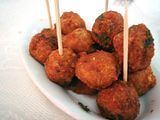 Fish Balls. Free hors d'oeuvre before the meal.
Le Rocher.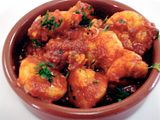 Shrimp Piri Piri. Quite spicy and rich tomato sauce.
Le Rocher.
Avocado vinaigrette. A pool of dressing.
Le Rocher.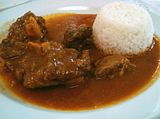 Braised Lamb African-style, with rice. Tasty, but bad cut.
Le Rocher.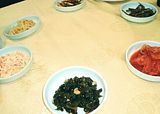 Korean appetizers, including KimChi, Sesame spinach, Green Onions with chili, etc…
Korean Restaurant.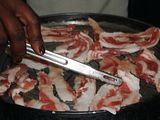 Slices of pork, coked on a hot plate.
Korean Restaurant.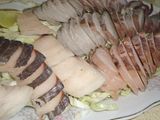 Sashimi. Raw fish in Guinea. Hmmm…
Korean Restaurant.
Sweet and Sour Spicy Chicken.
Korean Restaurant.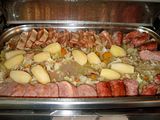 Pork meat assortment (sausages, salted pork, etc..) with boiled potatoes.
Côté Jardin Restaurant.
Kibbe. Stuffed with ground beef.
Le Cèdre.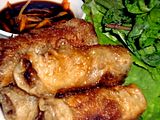 Lebanese deep fried rolls. Stuff with lamb. Very greasy.
Le Cèdre.
Merguez. Very small, very dry, very mild.
Le Cèdre.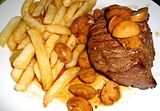 Châteaubriand. Flambée. Sautéed mushrooms. Fries. At 37 000 GNF, a fantastic bargain. Very tender meat, great cut.
Le Cèdre.
Lamb roast with mousseline potatoes.
Le Damier.
We went to the
ByWard Market
, wandering and wondering where to go for dinner.  Buskers were performing on the William Street Mall, and the laughter and applause from the crowd attracted our attention to the area.  That is when we noticed that
Oregano's
successor was finally open.
Oregano's Pasta Market had been there for almost 30 years, and was very popular with tourists, with its red-and-white checkered table cloths, and its inoffensive if uninspired Italian comfort food cuisine.  I did enjoy Oregano's lasagna, I admit.  
But the owners of the popular
Empire Grill
and
Metropolitain
 (I talked about the Met
here
and
here
) wanted to expand their branché empire in the Market, and they
took over Oregano's lease
in August. Nine months letter, Gary Thompson, John Borsten and Dave Mangano gave birth to their new baby:
The Grand
.   Appartently, they named the baby in honour of The Grand Hotel, which was the original occupant, in the late 1800s. 
We walked in around 7:30PM, and unbeknownst to us, tonight was opening night for The Grand.  So we walked in, and were told a table for two would be ready in 5 or 10 minutes.  There was room at the bar, so we decided to have a beer while waiting.
The Grand has an interesting if limited beer selection.  The usual
Stella Artois
,
Grolsch
, and pretty much everything the
Mill Street Brewery
has to offer.  I ordered a Tankhouse ale (reviewed
here
) and was flabbergasted when the barmaid pulled a pitcher from under the counter to fill up my pint.  I must have looked aghast, because she asked after noticing I was starring at my pint if I minded.  "I'll give it a try," I enunciated, stunned and not wanting to waste beer.  But at 7.40$ a pint, you should expect better.  Strike one.
Melissa ordered a Mill St. Organic Ale, a very light and crisp lager.  She was very disappointed by the quality of the pour – the pint arrived with a 2 inch head.  The attendee was a newbie and clearly had not mastered the art of pouring a beer from a tap.  Strike two. 
Mel was wondering aloud if she should ask for a top-up, as the head was quickly disappearing and leaving a 5/6th of a pint in the glass.  I told her to drop it.  Huge mistake:  the beer suddenly splashed all over the counter, all over her, and a tad bit on myself.  I thought she had actually dropped it, when I realized that she was still holding the top half! The friggin' glass had litterally BROKEN IN HALF!!!  Strike Three.   
Drenched in beer, stunned, and still holding the glass, Mel was in shock.  So were the people sharing the counter with us.  "Is this your first date?" a worried mustache-wearing man asked.  Mel went to the washroom to clean up and dry herself (no mirrors in there yet), and the staff replaced her pint with a fresh one, which, I might add, was a much better pour.  Perhaps we should have left then, but we were hungry, and our table was ready.  So we stuck with it, and left the bar.  A barman told me not to worry about the beers.
We sat at our table – a two-seater, in a corner.  Mel had a view – the George Street patio, empty despite the line-up now forming at the door.  I asked, and apparently, they were a bit overwhelmed and decided to close it in order to handle the customers properly.  For the record, the restaurant can hold about 150 inside and perhaps another 150 outside.  
I also had a view – the computer and the total chaos surrounding it.  Servers were just piling up there to punch in orders (turns out some of the server's handheld device were not working properly) and print bills, and some of them appeared confused by the software.  Mayhem would ensue, and, at times, up to 10 servers, and the manager, would pile up in the area, basically surrounding us and mostly squeezing Mel further in her corner.  But she had a view.  And so did I, which made it easy to notice the staff's dress code:  blue jeans, black top, red accessories.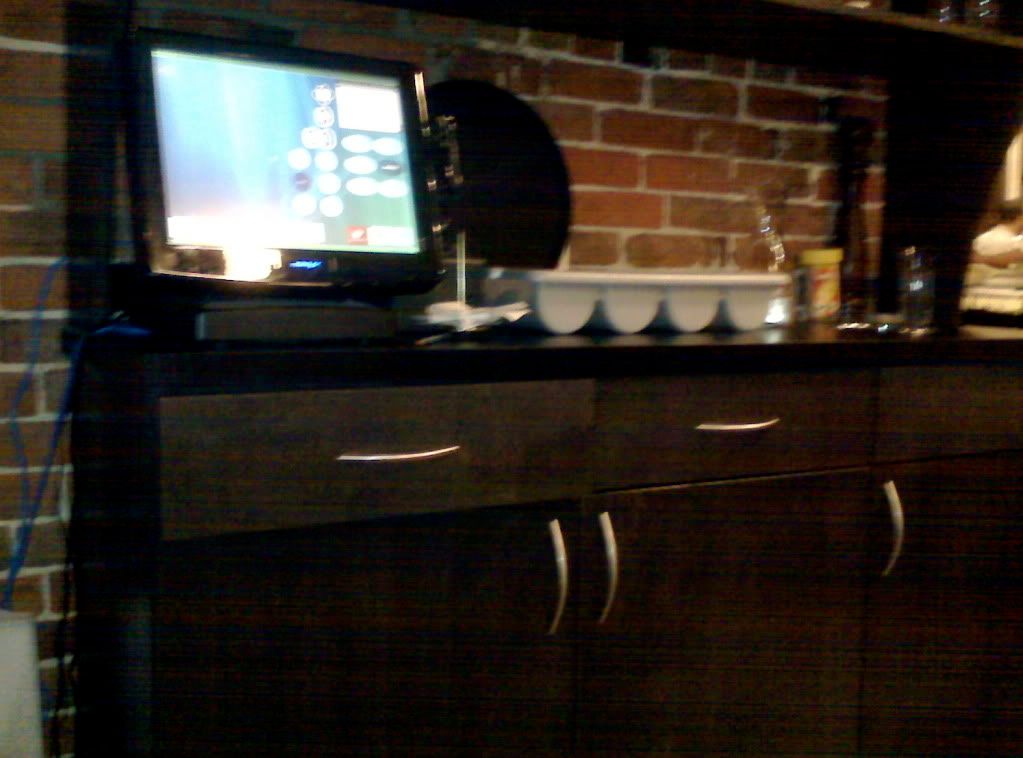 We looked at the menu, which is minimal and shows a willingness to do little, but to do it well.  So far, it had not been so Grand, but perhaps things would turn around at this point?  Italian cured meats and cheese, antipasti, salads, pannini (lunch only), pasta and pizza. 
We decided to go with a starter, and after hesitating between the grilled and the fried calamari, my arguments for a healthier selection prevailed and we went for the grilled ones.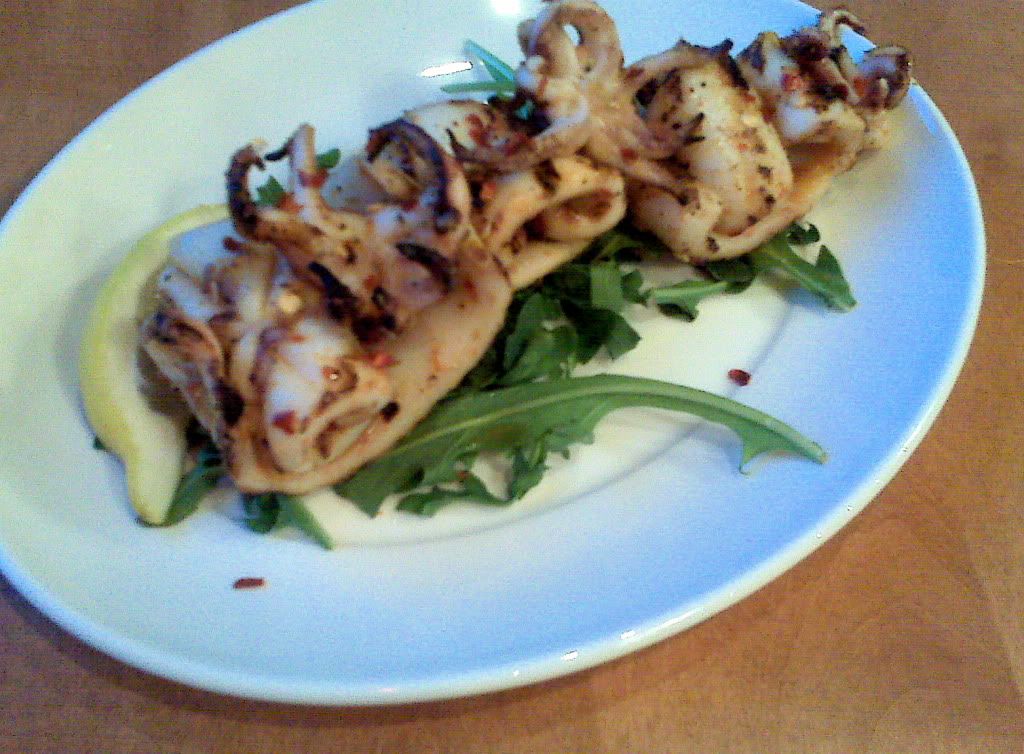 Now, this was well done.  The calamari were fresh, tender, drizzled with oil and hot pepper flakes.  It was also a very nice portion, with a good mix of body and tentacles.
For a main, Melissa ordered the Papardelle alla Simi.  Tomato sauce (they use 100% 
San Marzano
 DOP certified – considered the best of the best tomatoes by many), cherry tomatoes, fresh ricotta, parmigiano, sausage and basil.  
I went for The Grand pizza.  If you name it after your restaurant, it has to be the best you can offer, in my opinion.  Tomato sauce, mozzarella, scamorza (which is basically smoked mozarella), fresh basil and prosciutto di parma. 
Melissa's dish arrived before my pizza.  Unfortunately for Melissa, it was the wrong dish.  They had brought the Papardelle a Casa, with mushrooms and black olives – not something she would order. Ever. Strike one.   She returned it.  Our friendly server, Brenda, came back with the menu, stating that what was brought was indeed what was ordered.  Melissa showed the item in the menu, and Brenda realized that there had been in fact a mistake.
My pizza arrived 15 minutes later.  We had been warned that there was a bit of delay for the pizzas, despite the brand new, state of the art, metallic wood oven.  The Grand is going for the Napoletana style pizza.  They will try to get certified from the Associazione Verace Pizza Napoletana,  the official non-profit association whose goal is to safeguard and promote the culture of the real Neapolitan pizza worldwide.  The specifications are numerous, but the basics are that the dough must be made with hand pressed Italian flour, the sauce is made with Italian tomatoes and is spread thinly on the pie in a spiral motion, and the mozzarella has to be made from water buffalo produced in the region between Naples and Rome.
Melissa's dish arrived about 5 minutes after my pizza.  Melissa didn't say a word, just pointed at the dish.  "Oh my God!" said Branda, taking the Parpadelle a Casa back once again.  Strike two
So we shared the pizza while waiting for her Parpadelle.  The Grand is going all-out on authenticity – the pizza is not even pre-sliced.  The cheese combination was very tasty, nicely caramelized.  The subtle smokiness of the scarmoza is present, but not over-powering.  The prosciutto was of a nice quality, but could be sliced a tad bit thicker to make it easier to slice the pizza.  As for the basil, I do not know why they bother listing it as an ingredient ahead of the prosciutto.  Nevertheless, it is a minor problem and the end-result was very good, if you like this style of pizza as opposed to the american-style.  Drizzled with the flavored olive oil, it was quite enjoyable.
Mel's dish finally arrived after another 10 minutes, and it was a homerun.
"This is the best pasta I've ever had in Ottawa," she categorically stated.  Their pastas are made daily, with fresh eggs, which explains the quality. They were cooked "al dente", the texture was rich, the taste was deep, and the freshness of the tomatoes and the basil gave the dish a very refreshing balance to the mild italian sausage.  Well executed, but strangely there was little evidence of any actual tomato sauce as described in the menu.
With our meal, we slowly drank a bottle of
Gabbiano
Chianti 2007.  At 30$, it is one of the cheaper wine on
The Grand's wine list
(most bottles are around 60$), the Gabbiano Chianti is an honest, down-to-earth wine from the Tuscan winery.  It is a simple wine, with some notes of dark berries and some cherry.  Some spice flavours too.  Not as dry as other Chianti, it did work well with our food. You can get it from the
LCBO
at 13.95$ or for 14.65$ at the
SAQ
.
The bill arrived, as I was pondering aloud the title for this post. A not so Grand opening, A Grand Disaster, The Grand Crashing…  Some of the waiting staff smiled approvingly when they heard me. That was the saving grace – despite everything that happened, the chaos and the problems, the staff, and especially Brenda, was very pleasant usually smiling and laughing.  The manager, on the other end, was sweating and stressing a little more in the face of all the problems arising.
On the bill, my Tankhouse was still there so I asked why, since I was told not to worry about the beers.  The manager explained to me what the barman meant by "beers":  Mel's first and second!  We proceeded to tell him about our entire evening, and he gave us some gift certificates for our next visit to make up for it.  Funnily enough, I had seen him distribute some earlier.  I wonder why… 
We ended up coughing 93.86$ before the tip for our excellent adventure.
—————————————–
UPDATE 2009-05-16 9:49:59
I continue my review of my by-election food aventure.
Here is what my second week looked like -
Sunday, August 17 2008: Lunch:
Nothing fancy, I went to 
St-Hubert
for a chicken breast.  I love St-Hubert.  I could drink the sauce.  Eeer.  I do, most times.  The fries were quite tasty, fairly crispy, and the chicken was succulent.  Their coleslaw wasn't as vinegary as it should have been, though.  I love St-Hubert.
Dinner: I enjoyed some Jazz at Les Jardins Nelson in Montreal with my friend Marika.  We shared their breaded calamari strips, which they bake.  They were golden and crispy, nicely done. Not a greasy ball of breading, as we often see.  We followed with Pizza, Si Si Si – I picked the Gambari, she went for La Charcutière.  They were fine, but nothing exceptionnal.  Nancy Martinez was the guest star for the night, and she clearly loves singing.  Too bad the crowd was barely noticing her and her band.
Monday, August 18 2008: Breakfast: Had breakfast with Richard Marois and Jean-Claude Rocheleau, NDP candidate in Hochelaga-Maisonneuve, at Le Petit Québec.  It was huge, the scrambled eggs were not overcooked, and there was tons of meat.

Lunch: I had lunch with a prominent Montreal columnist at Les Belles Soeurs on Le Plateau. I had not been there in years. He had an omelette, but I couldn't resist going for the Belles Soeurs burger, with their excellent fries.  Although I was reasonable and had only half a serving, the other half was a salad.

Dinner: I ordered some pizza from Jacques Cartier in Longueil, a meat lovers and an all-dressed.  It was 2 for 1, so no choice.  The meat wasn't overcooked, the bacon not too salty.  Not too bad.  However, it took them over an hour to deliver.  At 10 pm on a Monday night, that is uncalled for.
Tuesday, August 19 2008: Lunch: The NDP Leader was in St-Lambert for a Transit announcement and we had a working lunch at Les Cigales with members of the Chamber of Commerce.  Their fish soup was excellent, classic.  I followed it with a very nice bavette de boeuf, I just love that french cut.  I wish the schedule hadn't been as tight in order to really enjoy the great french cuisine.

Dinner: Left over pizza.
Wednesday, August 20 2008:
Lunch: Grabbed some fruits and nuts at the campaign office.
Dinner: Went to La Piazetta in St.Lambert with a Radio-Canada reporter.  I enjoyed their cannelloni al'emiliana as an appetizer and then went for La Diabola pizza. The cannelloni were a bit flat, probably because there was so much – too much – cheese on top.  La Diabola was good, but could have been spicier.
Thursday, August 21 2008:
Lunch: A very late lunch at Le Claremont after a successfull press conference in Westmount where Jack Layton and Anne Lagacé Dowson received the support of Charles Taylor, Julius Grey and other prominents Montrealers. I picked the quesadillas, I added some hot sauce to hit.  Their salsa was home made, but too young. The mango inside the tortillas gave it a nice twist.  My co-worker went for a salad, which looked very fresh.  It is a trendy Westmount bistro with a friendly and tatooed service.
Dinner: Left over pizza. Ya, I know.

Friday, August 22 2008
Lunch: ND and I grabbed a Club Sandwich to go from St-Hubert.  Did I ever mention that I love St-Hubert?  The sandwich was succulent.  But the fries do not travel as well as the meat and were a bit soggy, which is often the case with fries when you don't eat in!
Dinner: Hot Dogs at Richard Marois' campaign office!  We had a nice bbq going, I ended up on the grill.  We served six dozen nicely grilled sausages in crispy buns.  A big hit!

Saturday, August 23 2008
Dinner: Nice view of the river and the South Shore from the Verses Sky rooftop patio in Old Montreal.  Ordered a vodka-tonic upon arrial.  There was a bunch of us, and we all enjoyed a very nice meal.  I went for the Grilled Tuna, which was a tad small but nicely cooked, and served with crispy vegetables, which were actually the same for most of the entrees folks ordered.  the atmosphere was great, the weather perfect.
Sunday, August 24 2008
Lunch: Grabbed a junior cheeseburger at Burger King. Had to get back to Ottawa and was in a bit of a rush.  No time to sit down, had it in the car.
There is a castle in Alexandria Bay. Cavallario's is an Italian Steak and Seafood House located on Church street in A-Bay.  An institution near the waterfront, it caters mostly to tourists in the Summer season.  Cavallario's facade is made to ressemble a castle and the walls inside are covered with items inspired by the Medieval era.  Especially Medieval is one of Don Cherry's plaid jacket hanging near the entrance.
Having experienced one of the best Bloody Caesar at the Thousand Islands Country Club (extra horseradish, a bit pricy at 7.00$), most of us decided to see if it was an A-Bay area specialty.  Although decent, it was not quite as tasty as it was at the golf club, but it was also half the price.  (Talking of gold, our round today was postponed and then definitely cancelled after 12 holes for cause of thunderstorm accompanied by lightning that fell too close for comfort.)
Cavallario's menu is quite diversified, which makes it tricky to figure out what is actually worth paying for and what is there just to make sure everybody finds something to order.
I didn't feel really hungry, so I decided to go for a lighter fare tonight.  Especially since they kept bringing more of their delicious bread, a softy warm loaf covered with garlic butter.
I started with their BBQ Shrimp, stuffed with horseradish and wrapped in bacon, and served with a tangy bbq sauce with a very good kick.  Unfortunately, only four shrimp were on my plate, fairly big ones but still, you expect a couple more for 8.00$. James also went for shrimp as an appetizer, choosing the Shrimp Cocktail Supreme.  Again, four shrimp only, so I guess the supreme would be the price.  Brian decided to go for the Fried Calamari, a good pick once again this year as they were lightly battered and perfectly fried, and there was more then four – (no worries, I didn't actually count them).  A few others ordered the French Onion Soup, and I heard no complaints about the very cheesy plate they were served.
A cup of a cream of potato was included with my entree.  It was actually quite well done, not heavy at all, which is rare for a cream of potato.  There was no chunks of potatoes however, but instead nice and crunchy green beans, which gave some depth to the soup.
Where is life without love or a dinner without wine?
That is the question Cavallario's is asking on top of their wine list.  I suppose they are right, so we ordered a couple of bottles of the Cabernet Sauvignon 7 Oaks from J. Lohr's winery in California, a well balanced wine, with dark cherry flavour and underlying black currant.
As I said, I wasn't really hungry, so I ordered the baked manicotti.  Manicotti is a preshaped tubullar pasta, stuffed and baked most often with a blend of cheese.  The Manicotti I got where no longer tubular – they looked like crepes.  That is because the blend of cheese inside (ricotta and parmesan) was too soft for the heavy mozzarella they topped it on.  Unfortunate.  The pasta was served with a nice and rich marinara sauce,  and the blend of herbs and cheese inside the manicotti was very good.  The mozzarella however was a bit chewy, and could have been cut with something lighter.
In a previous trip, I had the Diablo Chicken, a spicy breast served on penne pasta and topped with hot peppers.  It was quite good last year, but Mike told me that it wasn't as spicy this year, although still good.
Norm had the Roast Rack of Lamb.  The chops were juicy and well marinated with herbs.  And with eight bones, they were a good deal at 26.00$.  They came with an industrial mint jelly, uninspiring and unworthy of the meat.
As for Kenny, I could have sworn he had actually ordered half a cow when his King Cut of Roast Prime Rib arrived. Although it was pegged at somewhere around 16 oz by our very professional server – who sounded like Reese Witherspoon at times – there is no way that beast could have been less then 20 oz.  Cavallario's is roasting their beef piece every day, and consumers are warned that it is available only until it last as it is the house specialty.  The meat was very tender and juicy, despite the thickness of the cut.  The horseradish that came with it was unfortunately too mild and almost watery.
Everybody was full at the end of this copious meal, and once again Cavallario's is showing why it's been around for so long. Attentive and fast service (except perhaps when ordering bar items – which we of course barely did…) made this a very enjoyable meal.
We all skipped dessert.