Browsing articles tagged with " Bread"
I had a lunch date with an esteemed member of the National Press Gallery, with whom I was to discuss the year that is coming to an end. Luxe Bistro had been selected for the occasion.
We were seated in the middle of the restaurant. The decor is all in subtleties: brass, dark wood, brown leather, subdued lighting and framed mirrors. The white clothes are rounding it up to a classic, upscale feel, yet still comfortable without being casual.
Located in the Byward Market, Luxe styles itself as a blend of Steakhouse and French Style Bistro. In my opinion, it is neither, especially not at lunch. Luxe does offer 6 different cuts of beef on its dinner menu, with an interesting selection of sauces and side dishes. But at lunch time, the selection is reduced to two very specific cuts:
The 8oz Beef Tenderloin or the Steak Frites – a 6 oz Striploin.
Executive Chef Alex Sang-Ho Kwon arrived at Luxe in October and hasn't yet put his personal stamp on the menu. In fact, he is the 6th chef in 6 year at Luxe Bistro, after Derek Benitz (Now at Lake City Casino in Kelowna), René Rodriguez (Navarra), Duane Keats (Shore Club), Kyle Christofferson (Brookstreet) and Steve Wall (Supply and Demand Foods & Raw Bar). The rumour has it that the Firestones, owner of the Firestone restaurant group which includes the Blue Cactus and the Stella Osteria, rely on an established formula and do not let their chefs get out of the pre-established frame much.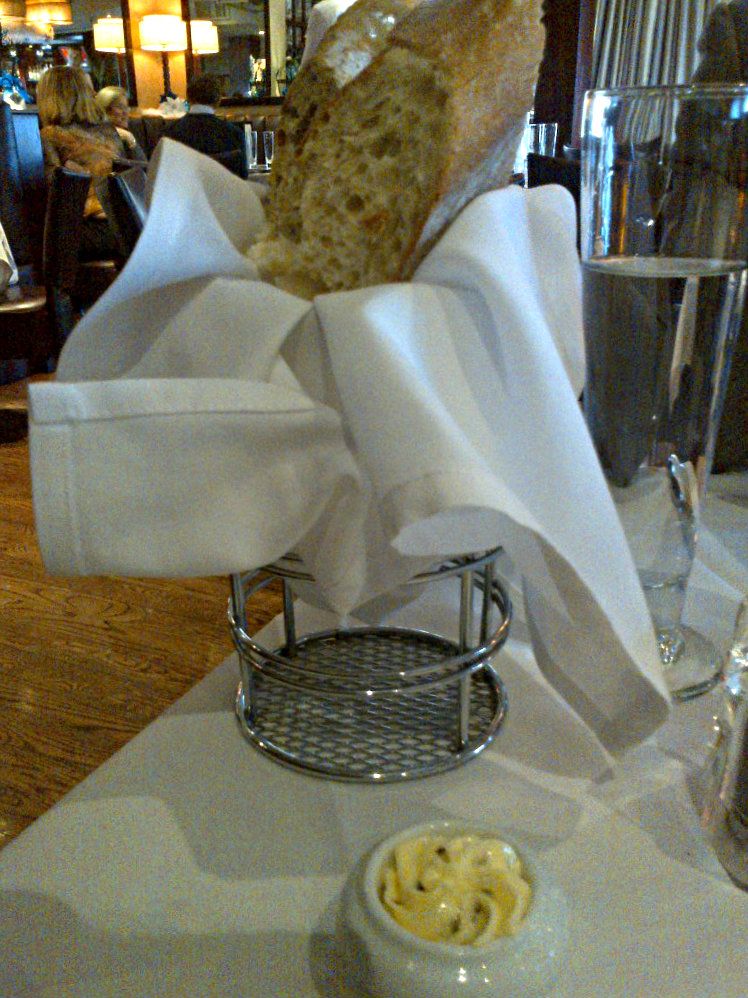 Nevermind.
We each ordered a 16 oz. glass of Okanagan Spring Pale Ale, the standard format at Luxe. My partner even got to taste a sampler before ordering his own glass – not trusting my selection yet tempted by it, the waitress offered it to him to help him make his choice. We looked at the menu, perusing the options.
A classy basket of  whole grain bread was brought to our table. Fresh, soft, with a crusty crust. Great bread, with a nice herb butter served alongside.
It didn't take long for us to decide what we wanted, and we both wanted the same thing: le Steak-Frites.
As I said, at lunch Luxe offers the 6 oz Striploin as its Steak-Frites. We both ordered it medium-rare. Our meals arrived after a few minutes wait.
Le Steak-Frites at Luxe is served with lemon & roasted garlic butter, and topped with house made onion rings.  On the side, the frites-allumettes Luxe is so proud of, served with caramelized onion mayonnaise.
The fries were very good, a nice crunch with a fluffy interior, a hint of salt.  The bowl was generous, and the mayonnaise served on the side was as well, on top of being rich and onctuous.  As for the caramelized onion, you'll find the flavour at the finish – don't expect a whole lot of punch, which was fine by me.
The steak was served pre-sliced, which I did not expect in a steak-frites. The Striploin was a thick if short cut, and the meat of a good quality. Thankfully, they did let it rest properly and there was minimal juices underneath the steak.  Still, I would have preferred it not to be sliced.
Part of the reason is the compound butter's dispersion was not optimal – it melts between the center slices without reaching the edges. Flavourwise, lemon and roasted garlic was a good combination, the garlic holding its own against the lemon.
The onion rings were disappointing.  Luxe used to serve thick, battered, hearty onion rings, but they have now opted for plain onion rings sliced paper thin.  The result is that you quickly get a mush of onion-flavoured batter instead of biting into a juicy thick onion piece.  The flavour wasn't bad, but on top of the steak like that, it only soaked up the juices from the meat and the melting butter.
Overall, for $20, le Steak-Frites de Luxe was a good choice. We both enjoyed our meat and, also importantly, the service, which was efficient and courteous.
We left our hotel at 8:00 AM.  Plenty of time to make the trek to the Fort Lauderdale-Hollywood International Airport, drop the rental car, check-in, go through security and relax before our 11:10 Air Canada flight 925 to Montreal. 
About 15 minutes after we arrived, around 9:00 AM, the announcement came.  Flight AC925 was delayed until 2:15 PM.  Damn. Worse:  they wouldn't check in passengers for flight AC925 before 11:00.   So here we were, with a toddler wanting to run around and 7 bags in tow, stuck at Terminal 2′s check-in area for another 2 hours before we could be processed.  It seems that the policy at Terminal 2 is not to process bags until 2 hours before check-in for lack of storage space. So passengers kept arriving in waves, getting off their cruise ships and being shuttled in.  Other flights were delayed too, and there was nowhere to go for the stranded passengers. It was soon pandemonium, with people piling up with bags and kids and strollers and wheelchairs, as Air Canada decided it was better to process flights one at a time. 
Thankfully, Mel had come prepared.  A bag of PC Whole Wheat Cheddar Little Penguins Snack Crackers, a bag of apple pieces, a bag of Heritage O's Cereal, a bag of Publix's cheese strings and a bag of Bugles.  I didn't know for the life of me why she was bringing that much food, but I sure was thankful she had.  We also had a couple of bottles of cranberry juice and water.
Because Terminal 2 is not exactly an oasis of food choices, pre-security. 
There is Tropical Treats, a Confectionnary selling mostly candies of all kinds.  There is a combined Casa de Fresco – Dunkin Donut's to-go counter, offering bagels, donuts, and pre-packaged sandwiches and salads.  And coffee of course. There is a 5 stool bar called the Cruzan Estate Bar & Lounge, whose name sounds more promising than what you can get. And another counter called Chef Allen's 2 Go –again with packaged snacks and sandwiches.  The biggest piece of real estate is the Newslink newsstand.  In short, nowhere to sit down, relax and eat a nice meal.  Which would have come in handy, since the check-in time was pushed back to 12:30 and the flight to 3:00 PM.  By the time we were through security, we had exhausted all liquids, the Bugles were all gone, so were the apples.  A few Os were left and a bunch of penguins. 
Once one the other side, it was time to look for real food.  Options are also limited post-security: There is another Casa de Fresco counter, something call Miami Subs Plus  featuring subs plus burgers, cheese steaks, hot dogs  and salads.  Another Dunkin Donuts Express. And a Sushi Maki counter. 
There is a grab N' go counter from Sbarro called La Cucina, offering pizza, pasta, salads, grilled Panini sandwiches and other snacks.  Right next to it is another Cruzan Estate Bar & Lounge, with actual tables and chairs!  Not an actual restaurant, but at least you can sit down at a table and relax, grab food and drinks at the bar.  And that's where the three of us squeezed in to wait for our flight.
The menu at Cruzan Estate is limited and most of it comes from La Cucina:   Mozzarella / Roast Beef and Greek Platters, Garden or Chicken Caesar Salads, Sandwiches.  The one item that seems to be taken care of directly at the bar is the "Big City Reds" Grilled Beef Hot Dog.
Mel didn't know what to eat, so she asked me to surprise her. I decided to get her a Portofino sandwich (Grilled Zucchini, Eggplant, Yellow Squash with Roasted Red Pepperss and Mozzarella) but alas, La Cucina was out. Instead, I picked the Italiano, made with Genoa Salami, Italian Ham and Provolone ($7.95).  Personally, I couldn't resist the "Big City Reds" hot dog ($5.00).  To go with our food, I got Mel a Blue Moon and a Pepsi for myself.  Good points here for Cruzan Estate as you can get free pop refills.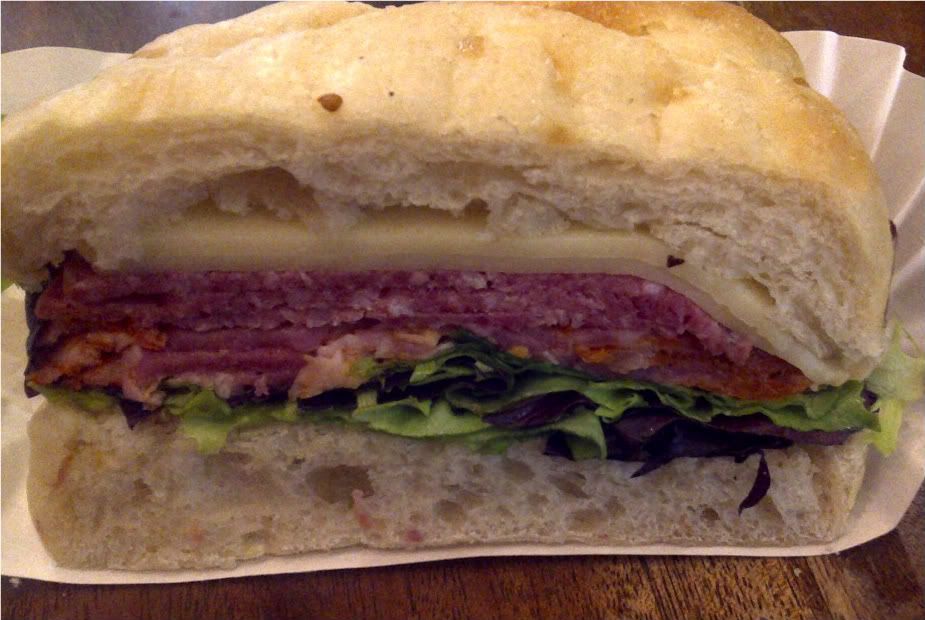 Mel's sandwich looked pretty good, even though it was a pre-packaged sandwich picked up in La Cucina's fridge by the barman. Of course, if you pick it up directly at La Cucina, you can get it grilled. However, the bread was fresh enough, the lettuce too, so there wasn't any extra moisture. 
There was a thick layer of the deli meats, giving the sandwich some texture to balance the thickness of the panini bun.  There was also a fairly thick layer of cheese. 
There was no sauce, no mayo, no mustard, but some was available at the bar. Mel added some mustard. Without being the sandwich of the year, it was correct, if on the expensive side of things.
Originating from Chicago,  Big City Reds is a brand of sausage owned by American Food Group. They specialize in all beef hot dog franks and Polish sausages. You can find them in some NFL stadiums and MLB ballparks across the United States, but mostly in random hot dog stands. Big City Reds proudly claim they are not using any artificial flavors, dyes, MSG, Sorbitol, wheat, hydrolyzed soy or vegetable protein, binders such as sodium phosphate or mustard in their franks. They do however use dextrose and water. Big City Reds sausages are handcrafted in small batches and naturally wood smoked.  
Big City Reds gets its beef exclusively from the Northern Rim – the Dakotas, Minnesota, Wisconsin and bordering Canadian provinces. They claim they are doing so because that is where the cattle are larger, heavier and leaner than anywhere else in the world. The beef is then processed fresh at their Yankton, South Dakota plant.
That said, it is a relatively small operation, and they have not really broken through as a major brand. Folks at Roadfood.com aren't really impressed.
At Cruzan Estate, the dogs are cooked on one of those automated hot dog rollers, not exactly grilled as advertised. They are served on a fresh, untouched bun right from the bag. You garnish as you please: I went for mustard, relish, mayo and ketchup, as in every condiment on offer.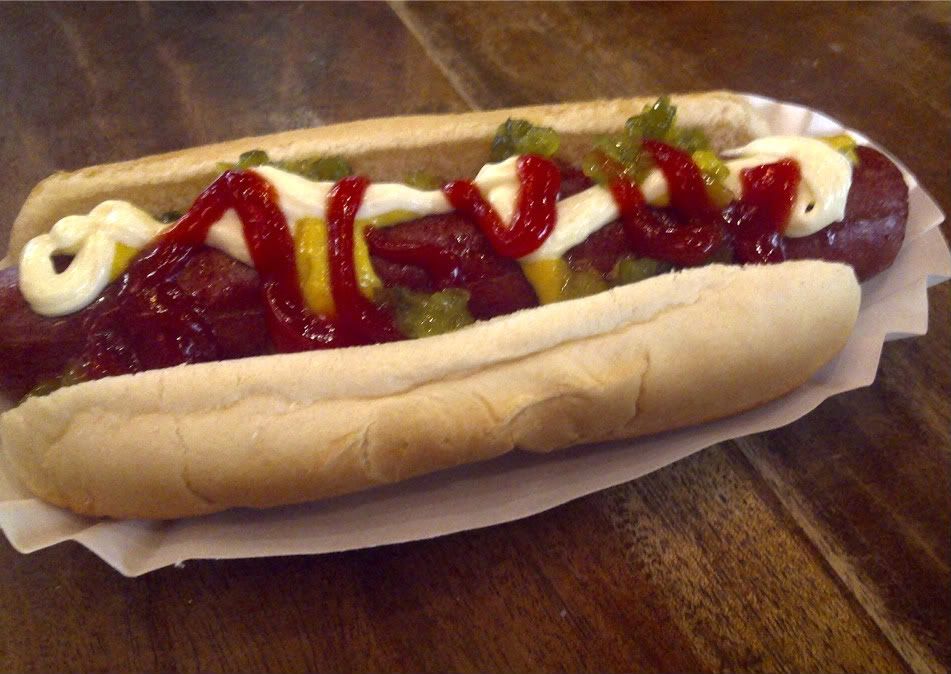 On workdays, I usually have a light breakfast at home or, when I don't have time, I snack on fruit at the office. But from time to time, I need something more substantial to get going. When that happens, I head towards the 5th floor cafeteria in Centre Block and order the best deal on the Hill: the healthy breakfast special.
For $3.59, you get two toast (whole grain of course), your choice of an egg white omelet, scrambled or poached, a cup of cottage cheese, and a mountain of fruit (2 slices of tomato, 3 slices of honeydew, 2 slices of cantaloupe, 3 quarters of orange, 2 slices of watermelon, 1 quarter of grapefruit and a small bunch of grapes.) You also get a milk or a juice.  All that for $3.59!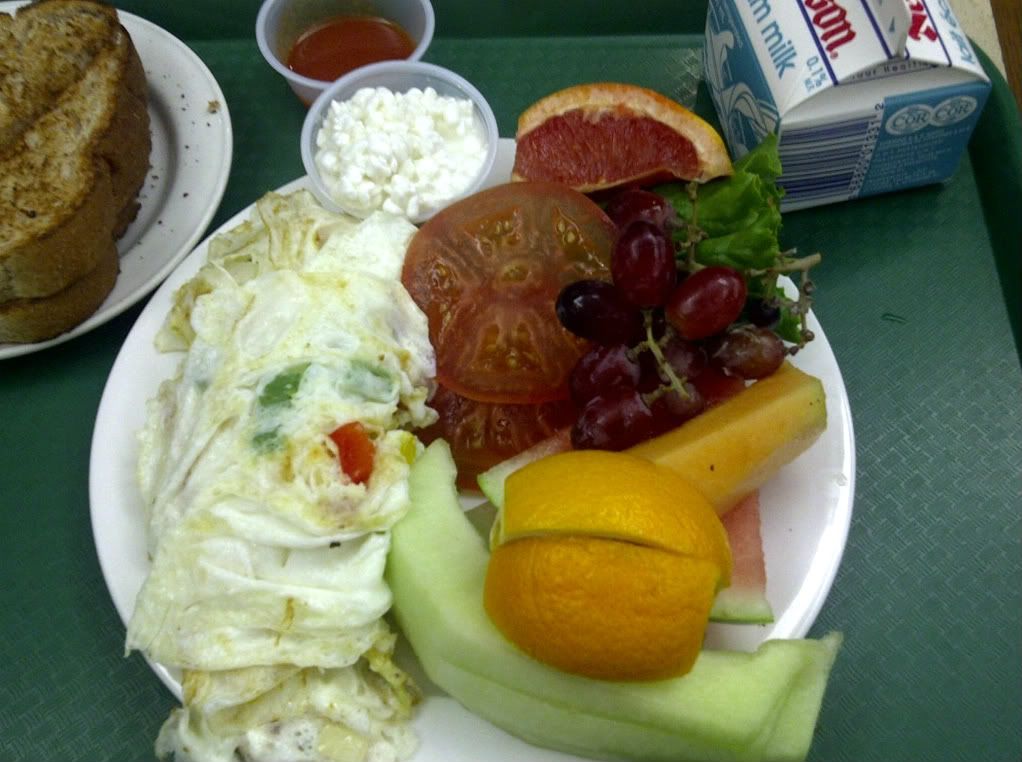 Now, of course, it is not the fanciest omelet. Pre-separated egg whites poured on the hot plaque. After a bit, addition of bell peppers and onions. Because they are added after the fact, they actually get steamed on top of the eggs as opposed to being fried. It works in a way, as the veggies remain quite crunchy and juicy. The omelet is quite size-able, too. The fruit are fresh, and as you can see, there was plenty.
Now, of course, you can go for the unhealthy breakfast special, which is the same price – but your eggs are yolky, your fruit are potatoey and your cottage cheese is meaty. 
But you know me, always a bias towards healthy.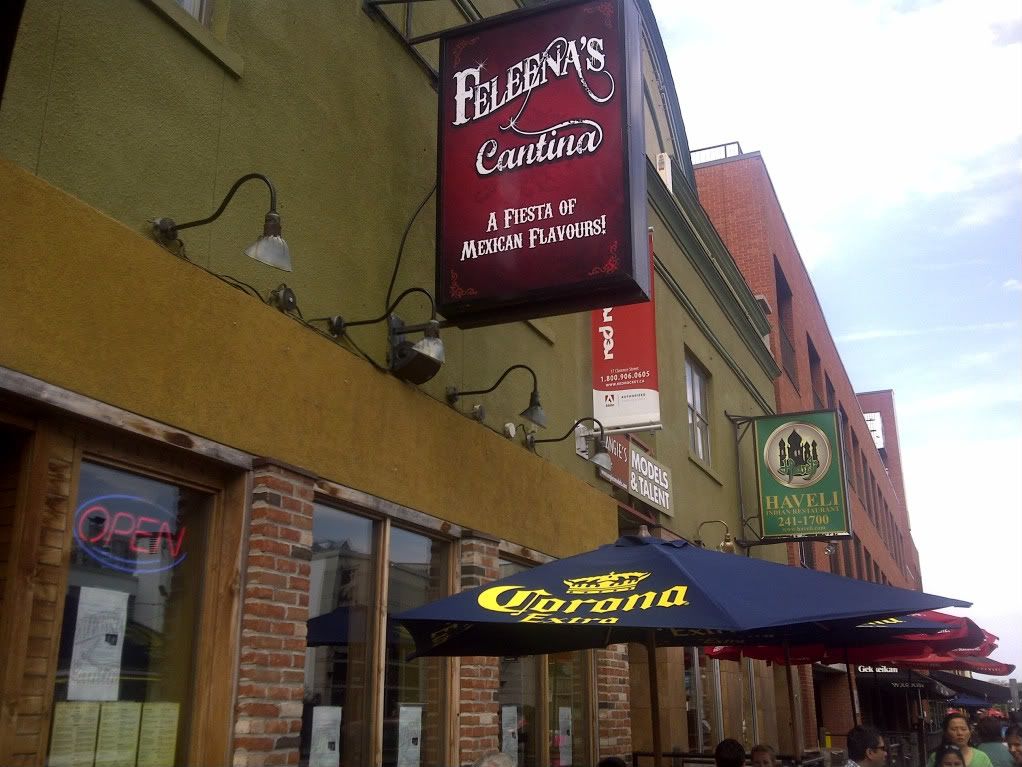 Si, señor & señorita!  Mexicali Rosa's is no more – in Ontario, at least.  
That is what The Waffle found out as he brought his familly to the establishment formerly located on Clarence Street, which is now called Feleena's Cantina.  (No link to Feleena's on Bank that I can see.)
Rebranding? Upscaling? Another failed Market adventure?
I was curious, and since we still wanted Mexican-style food, the name-change didn't deter us. We walked in a little before 2PM looking to enjoy the Mexican-fare and the air conditionning on this hot Sunday of July. The place was empty, which made for great, friendly and attentive service throughout our time there!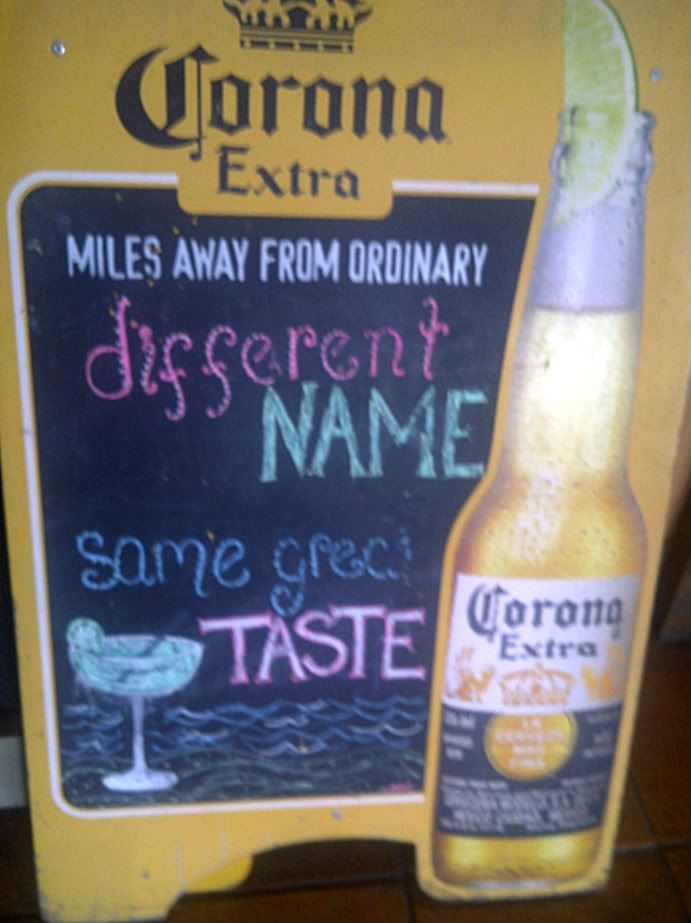 We were greeted by a sign that announced that the changes may only be cosmetic at this point.  "Different name, same great taste" it said. Well, Mexicali has never been a high-end establishment, so we would have to judge for ourselves if that statement is a good or a bad thing.
The first Mexicali Rosa's opened in 1979 and soon became a popular franchised chain of casual resto-bars serving Mexican-style food with Texas and California influences. 
At one point, Mexicali Rosa's had about 30 establishments, having expanded from it's Ontario-base into Quebec, New Brunswick and Nova Scotia.  In each restaurant,  you could find a releaxed and familiar atmosphere and decor of a franchise, but at the same time without it being all the same.  The formula was quite simple and quite unique, and Mexicali was the largest Mexican-themed restaurant chain in Canada. 
In 2002, the franchise company was sold, and what was once a very solid franchise started to have problems. Indeed, towards the end of the decade, the number of Mexicali Rosa's restaurants had been reduced to half of what it was.   "The franchise company misallocated its resources…" analysed Jon Bryan in 2009, when he abandoned Mexicali Rosa's and transformed his Peterborough restraurant into Johnny Eh's. 
I had to work late and really didn't feel like cooking.  Mel was meeting some friends in the area, so she was certainly willing to look into having a nice dinner.
I suggested the Market, and since she is a sucker for pasta, I decided to bring her to Mezzanotte, a restaurant which incidentally she didn't know anything about. This Italian restaurant is located in the heart of the Byward market, in the same building as Le Droit and the Empire Grill. However, it is on the Murray street side and can be easily forgotten. I, in fact, had not been there for years.
Which is really too bad.  Because the food was excellent and the staff very attentive. The place is quite nice, a warm and lovely atmosphere created by dark woods complimented by white leather furniture.  The restaurant is fairly big, I'd say about a 100 seats, but it was not too crowded except for a civil servant's retirement party.
We sat down and peered at the trendy Italian bistro menu. Pasta, of course, but also a couple of fish, chicken, veal and beef  dishes. Their wine list focusses on Italian wines, of course, but you can find a few French bottles.
Soon after we ordered, incredible multi-grain buns were served to us with olive oil, mixed at the table with a combination of sundried tomatoes, garlic, peper flakes, basil and other herbs - thankfully, we had not ordered appetizers!
The mixture was rich, spicy, different, delicious.
It was an explosion of sunny flavours. Seeing our waiter mix everything in front of us was a nice touch, and they were quite generous with it.
The buns were served very, very warm – yet quite fresh and soft.
I ordered the Pepe Ripienne ($19.95), a red pepper stuffed with a porcini risotto, with pancetta and ricotta cheese over a melted asiago and a sundried tomato basil pesto sauce.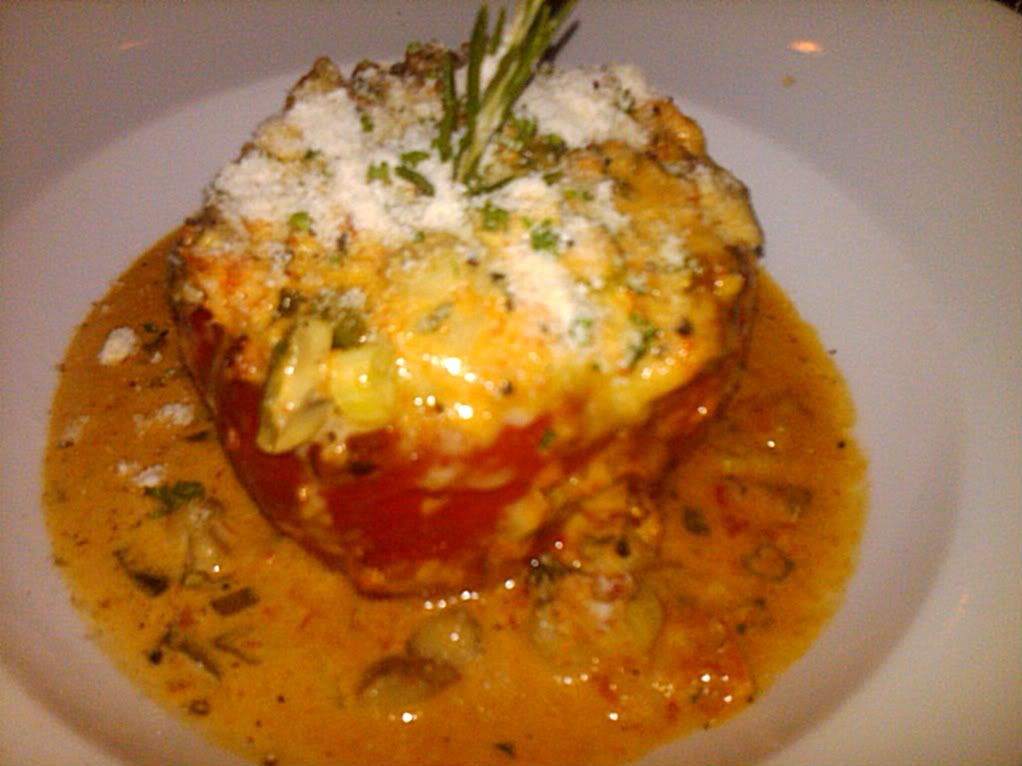 I usually do not order vegetarian dishes, but this was actually inspiring.  And yes, I know pancetta is not a vegetable, but it's not meat either, is it?  Either way, it's delicious, and I enjoy it very much when used as part of a dish.
And this was a nice looking dish. The risotto was creamy and dense, as it should be, and the mushroom flavour was strong. The red pepper was cooked perfectly – it was not overcooked and stayed together nicely. It made each bite even more enjoyable.
The sauce was a nice complement to the dish, the pesto being a little subtle, no doubt to strike the balance needed for the risotto.  The melted asiago was a great touch, especially with the addition of a healthy helping of fresh grated parmesan to smooth things out.
The dish was quite filling – lots of cheese and rice do that – yet it was light and fluffy and I felt like having another one.  But I didn't.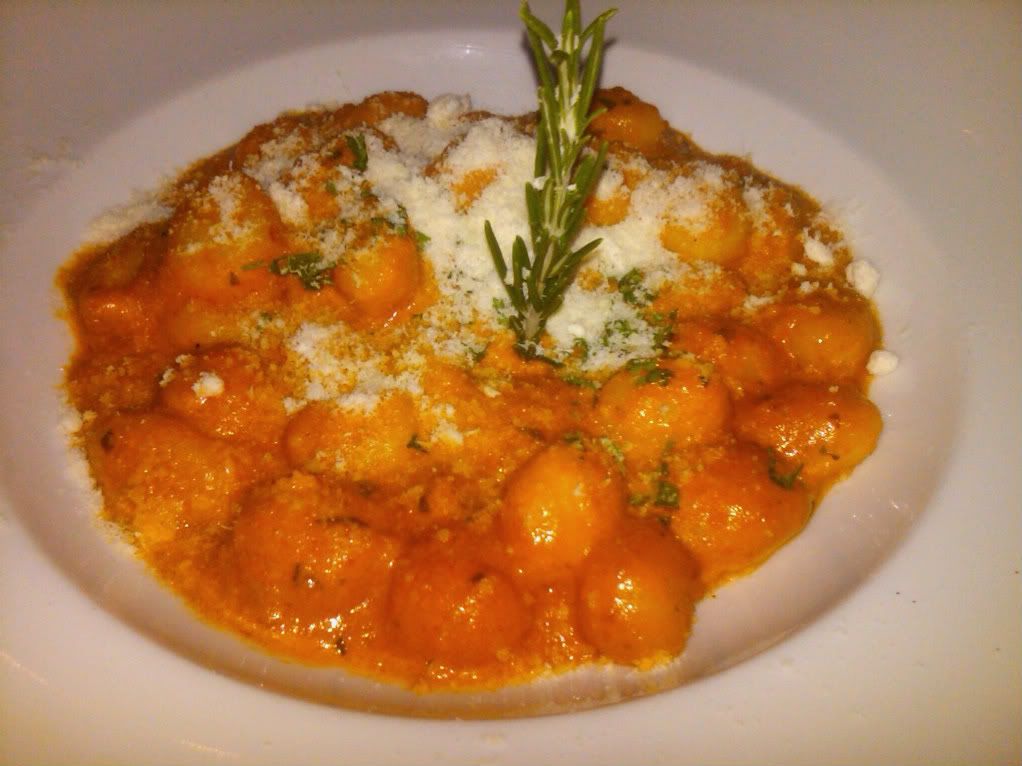 Melissa ordered their Pasta alla Mafalda ($16.95), which were gnocchi in a basic tomato sauce.
Although Melissa has a major weak spot for pasta, she has an even weaker spot for potatoes. Not surprisingly, wannabe-pasta potatoes are a favorite of hers as well as an Italian classic.
The gnocchi here were quite simply prepared – but this simple dish brought everything back to the essence of the gnocchi – great texture, cooked perfectly, and served with a simple and efficient tomato sauce.  A classic.
Mel enjoyed them – but they were quite filling, as they tend to be, and she had to bring half of it home with her.
Needless to say, we skipped dessert.
On a final note, let me point out that the service was incredible. Our waiter was very attentive and extremely pleasant. I certainly won't wait as long this time to go back to Mezzanote.
I won some tickets for Richard Desjardins' Eleanor of Aquitaine after a visit at the Salon du Livre de l'Outaouais.  Yes, The Waffle is a lucky man, but mostly because his mostly anglo wife agreed to go on a date with him – as long as we had dinner before the event.
A gentleman, I even let her choose the restaurant, and she decided to go to a convenient spot – Milestones on Rideau.  Alas, she was out of luck – there was a 20 to 30 minutes wait when we arrived.  No, thank you.
I proposed to stick around anyway.  No, not the Métropolitain again.  Just across the street is Santé, a restaurant, art gallery and spa.  Woohoo – I could use a pedicure, for sure. Located on the second floor at the corner of Rideau and Sussex, you can get lucky and enjoy a  "fabulous view of Ottawa's famous Rideau and Sussex streetscapes."  We did get lucky and got a table right at the southwest corner of the restaurant, which meant a view of the Canal and the War Memorial for her; a view of the magnificient piece of Orthodox Cold War architecture, the Rideau Centre, for me.  Fantastic.
We had barely sat down and started peering at the fusion menu when the server brought us a cup of reinforced tea.
Although I do not usually drink warm beverages (notice the heat coming out of the cup!  Why would I want to burn myself?), it was a nice touch nevertheless.
I had a few sips and the beverage warmed us up, the mixture of spices was tasty yet subtle.
However, I soon went ahead and ordered a beer – no Canadian brews at Santé however, only import, and not the usual selection. In fact, when I inquired, the Maître D informed us that they never carry Canadian beers, counting on their different but select rotating selection to please their consumers.  He however pointed out that a delegation from Mongolia  was quite disappointed a day earlier when they realized that they had to go for an import.  They settled on a  Peroni Nastro Azzuro, an import from Italy and an interesting one, since usually the only Italian beer you can get is the Moretti.
I had no other choice but to follow their lead, and ordered one. The Nastro Azzurro is a typical euro lager, a clear yellow colour with some aromas of malt and yeast. A tad malty, light yeast, light hops; it has a crisp and dry finish. Enjoyable.
Melissa decide to order à la carte, but I chose to go ahead and Warm up with Spanish Wines and the table d'hôte offered for the occasion.  And by warming up, I mean a glass of spanish wine was included with the meal.
As we waited for our food, a basket of olive bread was offered, along with the classic olive oil and balsamic vinegar to dip it in. Again, a nice touch.
The bread was fresh and light, the olives were mild kalamata, not overpowering.
Interesting and different.
We had a loaf of bread which wasn't getting any fresher.
The week before, we had bought a loaf of chocolate and coffee bread made with egg dough. From Artisan Baker Grains de Vie in St-André-Avelin, it is made with half-sweetened black chocolate and reina michim fair trade coffee. At 5.50$ a loaf, it is not cheap, but it is a very dense bread. Toasted, with butter, it is perfect.
As you can imagine, we didn't want to waste it.
So I had the idea of making a Quebec classic: a bread pudding.
It is simple and delicious.
Ingredients
Half a loaf of bread, roughly diced
750 ml of milk
250 ml of brown sugar
 5 eggs
 A few drops of vanilla extract
 Butter
Warm milk in a pot, then dissolve brown sugar in it;
Distribute the bread pieces evenly in a baking dish;
Remove milk from heat, whisk the eggs into the milk, add vanilla;
Cover the bread with the milk mixture, make sure all bread pieces are moist;
Add butter to taste on top of the bread;
Bake in oven for about an hour at 350°F .
Et voilà!  Traditionnaly, in Québec, bread pudding is served with maple syrup.  But you can serve warm with ice cream too.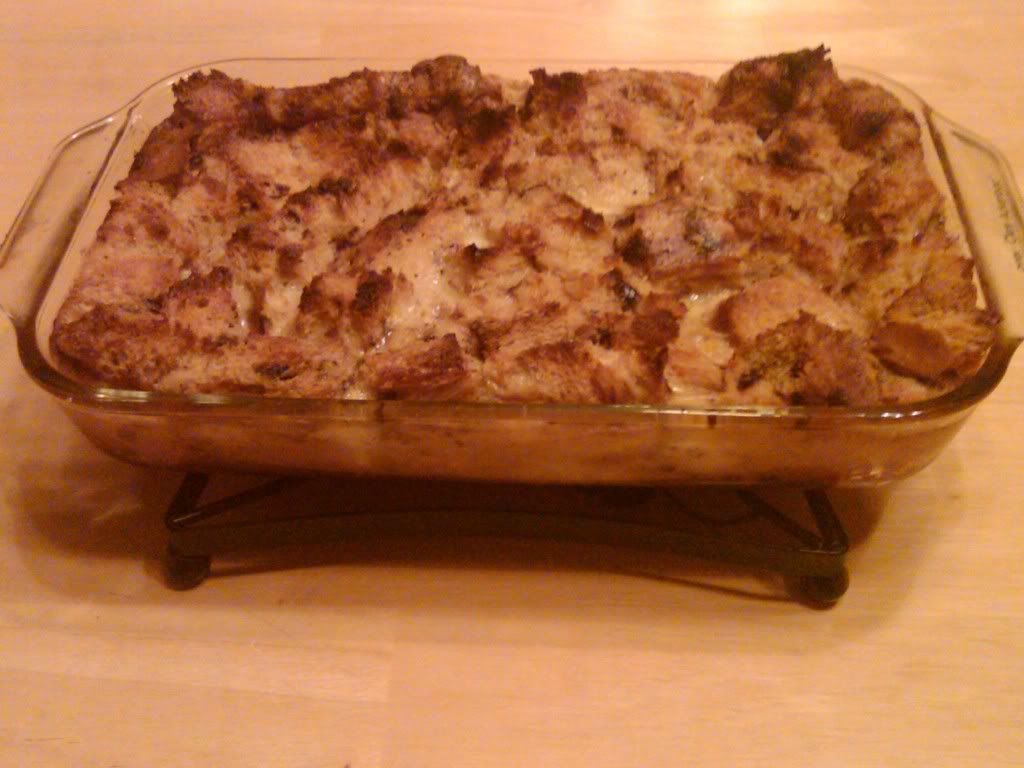 Our trip to Malta included a lay-over in Frankfurt.  The same was true on the way back, so I picked our flight in order to spend some time in Germany, almost 24 hours in fact.
We had picked the City Hotel Frankfurt, on Allerheiligenstrasse in the Cultural Quarter, on the Main's northern bank.  After checking in, we soon found ourselves wandering down Zeil, a pedestrian street from two major plazas – Hauptwache to Konstablerwache.  Since the end of the last century, it has been the city's major shopping street.  The "Golden mile", it is lined with well-known department stores.  It used to be known for its grand buildings but most of them were destroyed during World War II and were not rebuilt.   In fact, most of the city was destroyed, it seems. Konstablerwache was the plaza closest to our hotel, and it is where we encountered a buzy public market, around 4 pm, as we were starting our exploration.
During our time in Malta, Euronews broadcasted a report about the opening of the Currywurst Museum in Berlin.  I had never heard of this dish before, but I was quite excited about going to Germany so soon after the opening of a museum celebrating a post-war delicacy:
Wurst. Grilled. Sliced.
Ketchup.
Curry powder. Lots of it.
After flying over the Mediterannean Sea, and over half Europe, I was quite hungry. And quite happy to find, in the public market, many Germans enjoying some sausage and beer after a hard day's work.
I've got to admit that it was surprisingly delicious.  The wurst was dense, juicy, warm throughout.  The ketchup was kept warm and poured over the wurst.  They were not shy on the curry powder, which partly diluted in the warm tomato sauce.  The snack came with a roll, which was fine, but was oh so overshadowed by this Berlin-born mixture.  I must try to do this at home.
After our snacks (well, mine ), we had to fill Mel's appetite for shopping along the Zeil.  Truth is, Frankfurt is no Malta, and if I was happy with the 15° C, Mel was in a dire need of a sweater.  After finally finding something at one of the two H and Ms on the Zeil we wandered around for a while, walking through Franfurt, crossing the Main, watching the barges slowly making their way up the river.
All this walking made us hungry, it was getting late, so we set out to look for a place to have dinner. The heart of Frankfurt is the Römerberg, with it's 13th-century cathedral of St Bartholomäus and the gables of the Römerplatz. And it is on the Römerberg that we looked for dinner, hoping that, despite the tourist trap feel of the place, we would be okay.  And so we picked the Zum Standesämtchen, at the "Römer" straight across the city hall.
The restaurant, open since 1983, is located in an historical building which was rebuilt after the war. An original pillar from 1543 is still standing, and the whole interior gives a very warm and restful vibe.  It was a quiet night, but you could almost hear the clashing of the Steins, the singing and the laughter of the F rankfurters into the night.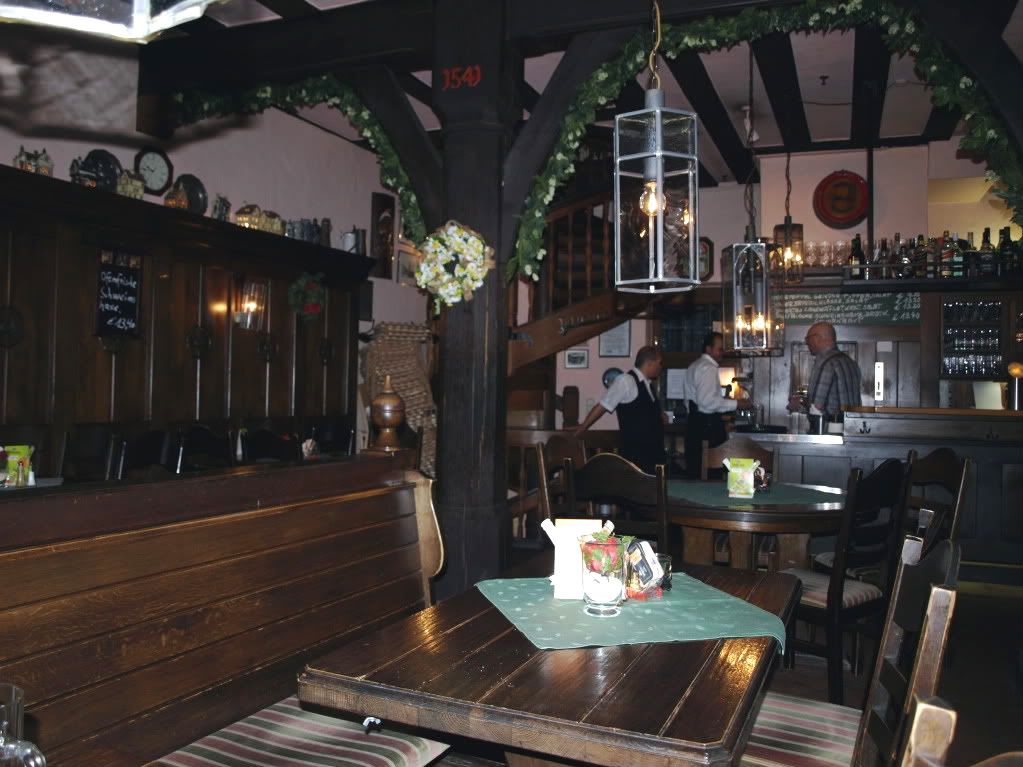 We ordered a couple of German beers with a name I couldn`t pronouce sober, and  I didn't improve throughout the evening.
We peered at the menu for appetizers – we were quite hungry. I spotted the Weinkäse mit Musik right away, and I encouraged Melissa to order it, despite the protest of the owner. Local soft cheese, onions, vinegar. What is not too like? For my part, I ordered a hearty Kartoffelsuppe, a potato soup.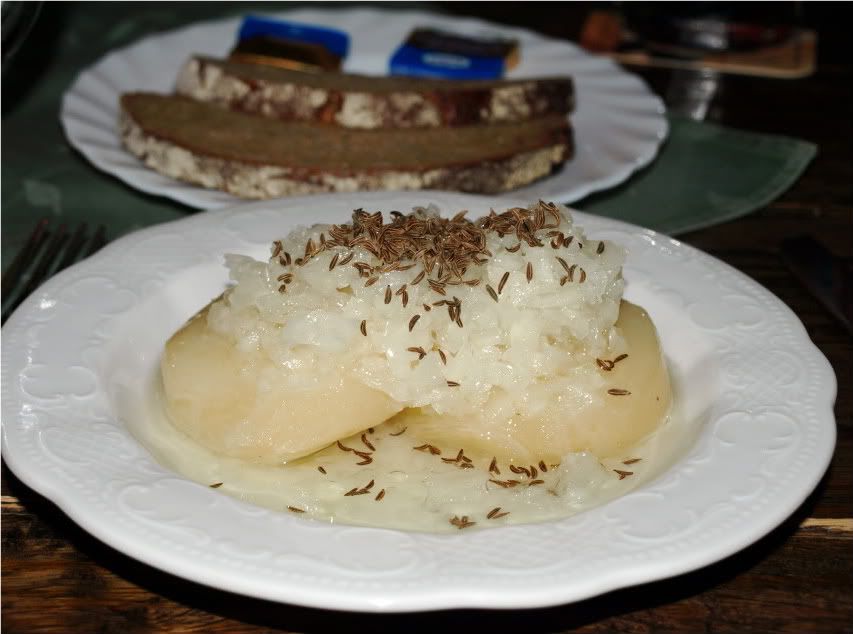 Mel felt that she should have listened to the German food expert as opposed to the French-Canadian poutine expert.  The cheese was quite soft, milky, light.  It was covered with marinated raw onions and herbs, and generously drenched in vinegar.  The onions were, in my opinion, tasty, if you like marinated vinegary onions.  But there was a lot – a hell of a lot – of it.
The soup was very flavourful.  With chicken stock and bacon as a base, there was lots of potatoes, obviously, but also carrots, onions, herbs (a bit heavy on fresh parsley). The final product was very rich, but thankfully the potatoes were not too starchy, and the texture was great.  Mel was eyeing it, and since she was blaming me for her poor choice of appetizer, I did share my soup with her, much to her content.
That behind us, we were able to focus on our main target in Germany, something she had been focussed on ever since we had landed in Frankfurt:  Schnitzel.
Schnitzel means a cutlet without bones. It is a traditional dish and is a popular part of German cuisine. Usually, it is thin slices of veal coated in breadcrumbs and fried, though other types of meat are now sometimes used.
Mel picked the classic Wiener Schnitzel but I picked the Jägerschnitzel – in her honour.
Now, I have already pointed out that this place had the feel of a tourist trap, and some had bad experiences here. But the place was empty, and therefore the cook could take his time – these schnitzels were the best we've ever had.
Mel's veal was lightly breaded and nicely golden, tender and juicy.  The traditional piece of lemon was there in lieu of any sauce, giving the meat an appetizing zest.  Her dish also included small fried potatoes and a side of green beans sauteed with lardons.
My Hunter schnitzel was served with ordinary french fries and a small garden salad.  Nothing to talk about.  Served with a dark mushroom gravy and lots of mushrooms, it was dense, rich.  Very woody, touches of rosemary and parsley, I was left begging for more – and finish the sauce with bits of Mel's schnitzel.  I do enjoy the variety in the sides, completing each dish differently.
After our meal, we were too full to move.  So we had to order more beers, and drank them while exchanging pleasantries with the owner, who was happy to be able to take some time to actually talk to some international consumers, instead of only taking their money.  Talking of money, the bill amounted to 70 Euros, 8 beers and tax included.
.
One of the great things about our trip to Malta was our apartment.  Located in Valletta on Old Theatre Lane, it had a great view of the Marsamxett harbour and a well equipped kitchen.  So we were able to save money while having romantic dinners, relaxing and enjoying the views that were offered to us.
Mel loves pasta, and I was happy to oblige. Here, I made Spaghetti with a very simple tomato-basil sauce. On the side, bread with a cheddar gratin. To accompany our meal, we had a bottle of Corvo Vendemmia 2006, a very nice wine from Sicily, smooth and light in tanin.
In the background, Manoel Island and its Fort, which was built in the XVIII century and was a strong defensive position all the way to World War II, when anti-aircraft guns were deployed in and around the fort.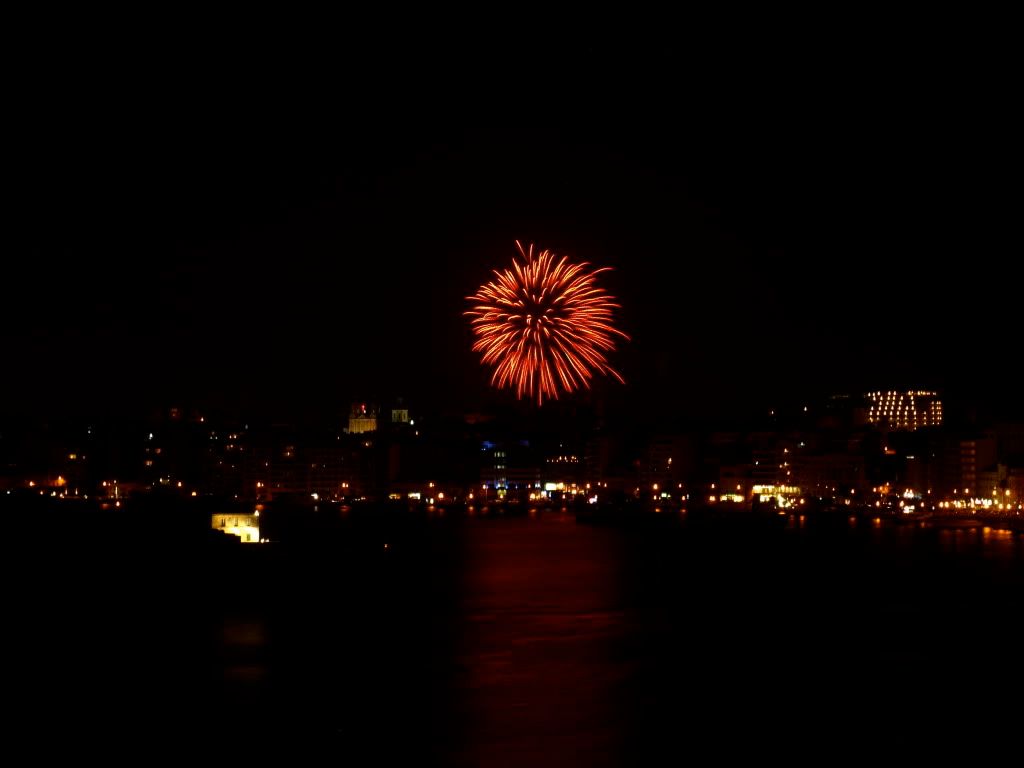 Another Spaghetti dish, this time I decided to be more creative. I first roasted some garlic in olive oil, then added some lardon. When everything was nicely golden, I tossed in some oregano and bits of Ġbejniet. Ġbejniet is a cheese, originating from Gozo. When you buy it, it looks like a ball of Mozzarella. Made from sheep milk, but originally from goat milk, it has a smooth texture and a subtle, creamy flavour. I was hoping it would melt a little like Mozzarella, but it remained much firmer. A bottle of Medina Sangiovese was the wine du jour. Very soft tannins, but a little acidic. It did worked with the dish, however.
Malta is a very Catholic country, and they take their Saints very seriously. Our stay began a few days before the Feast of St. Julian. So every night in the leadup to the feast, there were fireworks, from two, sometimes three different locations. Every night. And on the Saturday before the feast, the spectacle lasted for well over two hours.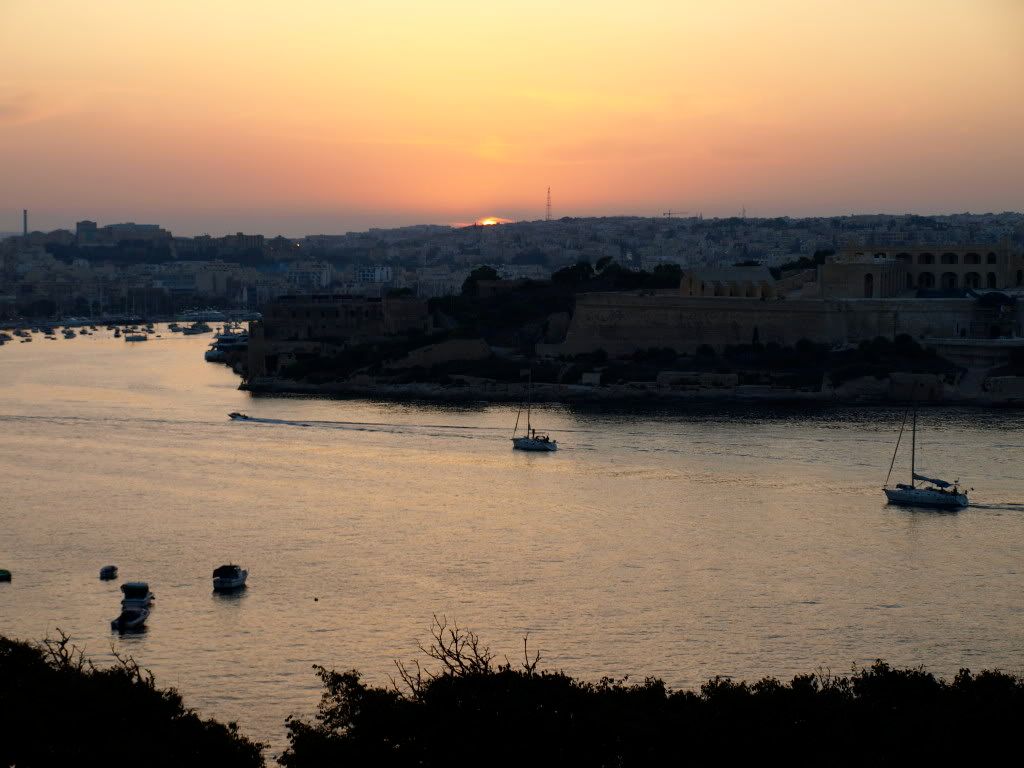 For this meal, even though I decided to stick with pasta, I mixed it up a bit, going for penne this time.  The sauce is a tomato-chili base, with garlic and oregano.  I topped the dish with lardons and fresh green peppers.  Vegetables were easy to find in Valletta, and all kinds of little outlets were offering them in fairly wide varieties.
We enjoyed our penne with a bottle of Cape Quarter, a Shiraz Pinotage from South Africa, as the sun was setting on the islands and numerous boats were coming back to  the harbour. I had never had a South African wine before, and this one was quite pleasant, lots of dark berry flavours including blackcurrant.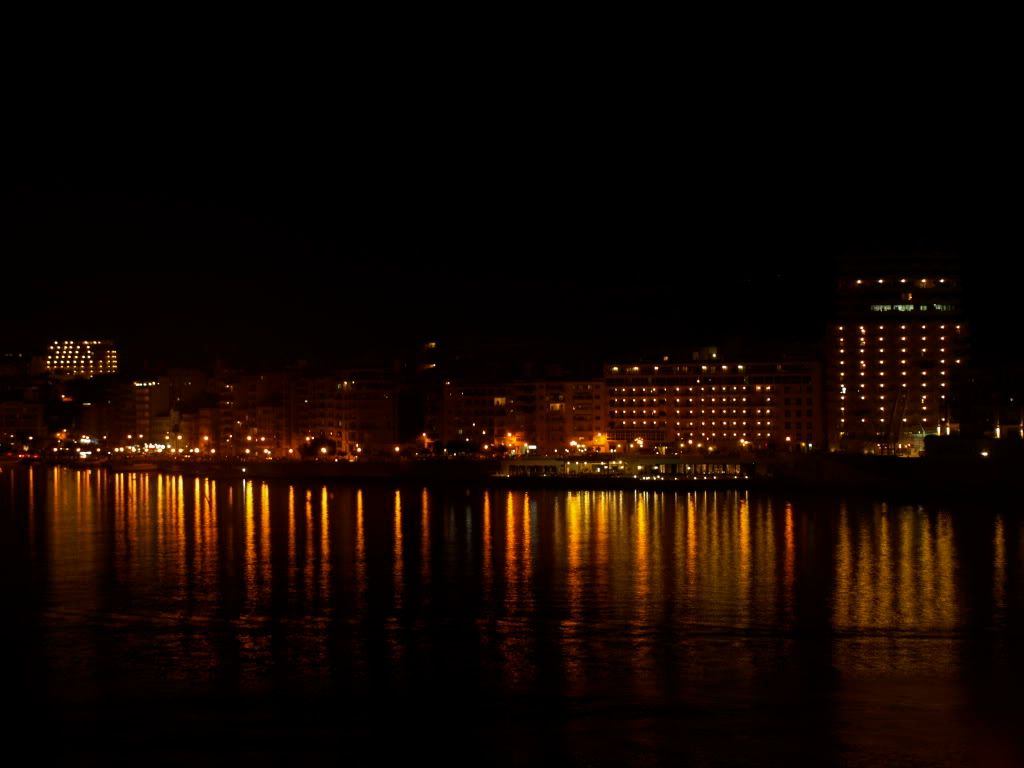 Right in front of the Grand Master's Palace is Valletta's covered market, the Is-Suq, which has various stands and stalls where you will find fresh vegetables, fish, groceries, meat, herbs and spices.  It is quite busy in the morning, as is the rest of merchant street.  However, the longer you wait, the less merchants there are .  We wandered there a few times, especially when we were craving meat. We got two huge steaks – the Suq's butcher basically had half a cow on the counter, and asked us how thick.
I cooked the meat in olive oil, adding just a few spices as I wanted to maximize the pure meat flavour.  Then, I reserved it, and caramalized some shallots and garlic in the jus. When that was done, I deglazed with some red wine.  The meat was not the most tender I have ever eaten, but the meat was oh! so fresh.  Obviously, they had not aged it 30 days here, and the taste was very powerful.  On the side, we have yellow courgettes, baked with fresh tomatoes, herbs, and finished with a blend of fresh cheese.
The view at night was spectacular.  The lights from the more modern buildings and hotels from Sliema were reflecting on the water, making our dinner even more enjoyable.  The wine, a Bacchus Cabernet Sauvignon 2007, was bold enough to go well with our meat, but again, this Maltese Winery can only improve with time.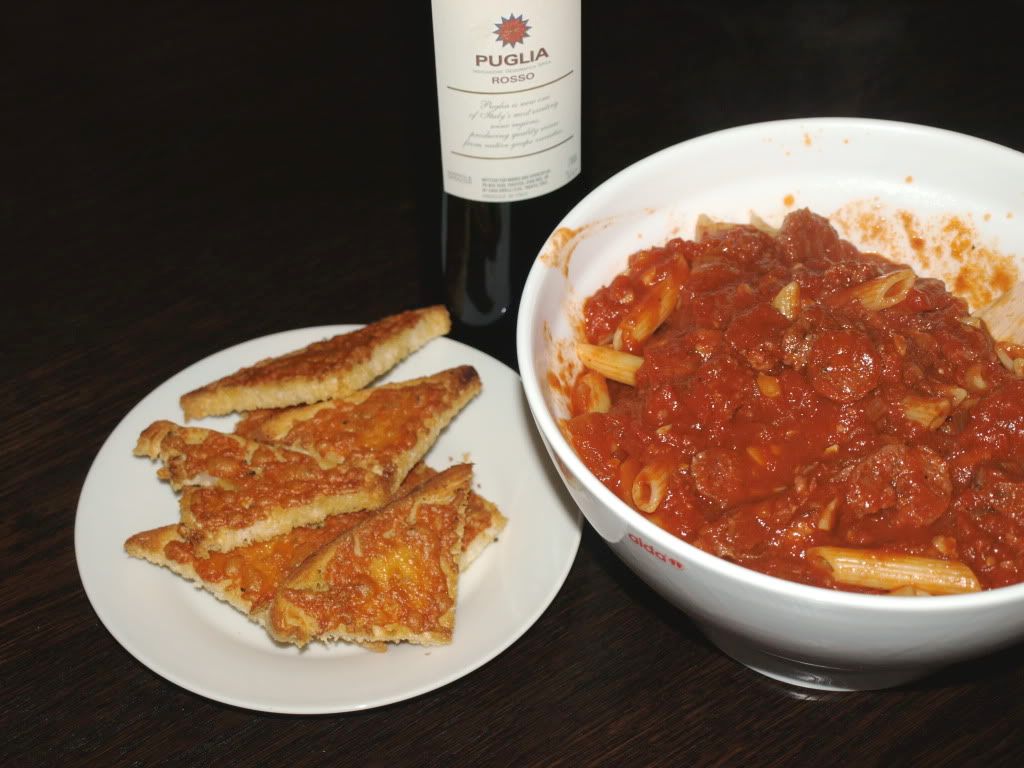 One could think we would have gotten tired of pasta, but the atmosphere just was right for more and more.  With cheese bread on the side, it was simple enough not to take too much time, but I could find a twist everyday to make every meal very different.   This time, I picked three fresh maltese sausages.  Maltese sausage are made from minced pork, mixed with spices and herbs. They are air cured and are often served and eaten raw. Melissa was unpleasantly surprised when she was served some with a platter of Maltese Antipasto at Giannni – but I personally didn't mind it, though the texture is somewhat strange. So I fried them slowly, sliced them, and served them with penne and a spicy tomato sauce.  Fried like that, they were quite tasty, but gone was the mushy raw meat texture.  And Mel was happy, so much so that she didn't realize they were the same.  In fact she stated that this was the best pasta meal I made in Malta, and thankfully I made them before our escapade to Sicily.
We had a bottle of Rosso di Puglia with this meal, a solid, full bodied Italian wine. We finished it under one of the most spectacular sunsets yet, where pink and red colours were brought out by the clouds, which were present more than normal. Just spectacular.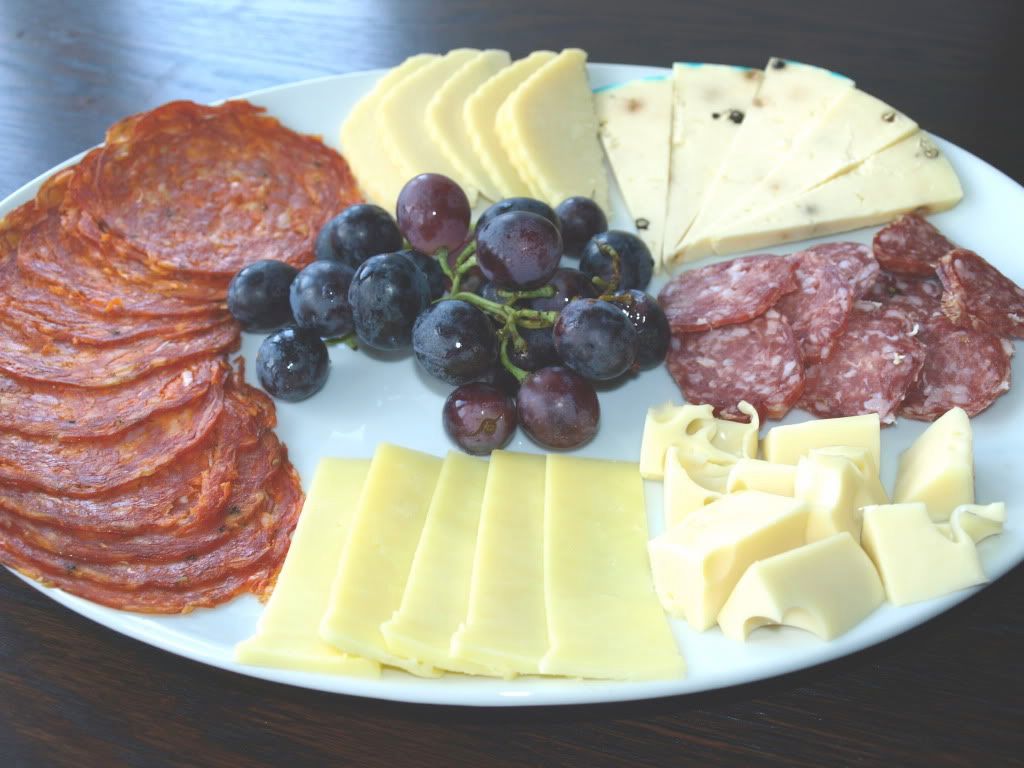 We usually had lunch away from home, but from time to time we would have a light lunch at the appartment. Or sometimes, we would come back early from an afternoon of touristing, and we would put together a nice snack platter.  Cured meats and cheese are easily available in Malta, lots of varieties, some local made, some imported, but everything very fresh.  Add to that a fresh bunch of grapes, a cool bottle of white wine, (and, quite frankly, very cool AC!!) and there you have it! A Maltese snack at its best. We would eat slowly, enjoying the different flavours, the spices, the aromas, the textures, while looking at the ferry go back and forth in the harbour…
.
So our Honeymoon was set for Malta.
Why Malta, you may ask?
Well, we wanted something different, with nice weather and historic things to visit.  Located in the middle of the Meditaranean Sea, Malta seemed perfect. And it was relatively easy to get to, Ottawa-Frankfurt-Malta and hop!
Food in Malta is not renowned as gourmet cuisine, but it is reasonably priced and there are plenty of locations to choose from. Foreign influences still play a major role in the local cuisine. The islands' proximity to Sicily leads inevitably to many pasta dishes and pizzerias; the Brits also left their mark – fish and chips, obviously.  The Mediterranean stamp is there, with olive oil being omnipresent, and fresh vegetables, such as tomatoes and green peppers, are commonly used. Fresh fish is easily found and proudly offered.  Abundant, it comes poached, steamed, braised or grilled.
The national  dish of Malta is fried rabbit. But you can also find rabbit in stews and in pasta. Interestingly enough, we failed to see any rabbits around the islands. Another regional meat dish is bragioli. It is made with thin slices of beef wrapped round a minced meat, egg and bacon stuffing.
Other local delicacies include Gbejna, a sheep's milk cheese, served either fresh or half-dried. It comes from Gozo, it looks like boccocinni, but it is much more firm. Also, the Maltese bread, called Hobz, is very crusty on the outside and soft on the inside, and is heavily consumed on the islands. Ftira is another bread, higher end, denser.
After visiting Malta's National War Museum and walking around the city, it was time for lunch.  We picked Cocopazzo, a small place, located on Triq Nofs in-Nhar, which was recommended in our guidebooks. We were not disappointed.  We were hungry early, so the place was not really busy.  Colourful, cozy, unpretentious, with great service and great food.
From left to right:  Cocopazzo's cozy atmosphere; complimentary bread pieces, oven-toasted with herbs and olive oil; we shared some delicious rabbit stuffed ravioli to start; I went for the mixed fish grill (red snapper filet, tuna filet, swordfish, shrimp – quite dense) served with fresh vegetables, 20€ ; Melissa went for the fried calamari on a bed of greens, fresh and tender, 13€; and it all came with a side of steamed vegetables, more food than we could consume.  The total bill was 56€, before tip.
Our second meal out, the next day, was after a 10 km walk, from Sliema's waterfront back to Valletta, through Gzira, Ta' Xbiex, Msida, Pieta', Hamrun and Floriana.  It was a long walk under the baking sun of Malta, and we were ready for something civilized. We just happened to end up in front of Valetta's 5 star hotel, the Phoenicia, so we went in to enjoy lunch on The Phoenix's terrace, which had a nice view of  some of Valletta's fortification system.
I went for the classic Maltese Ftira, left, another local bread. Totally mediterranean,  with tuna, onions, capers, tomatoes and black olives.  Plenty of olive oil to bring everything together.  It came with a little basket of potato chips and a mini-salad, for 7€.  Melissa picked the Chicken Baguette, garnished with bacon and smoked cheddar.  It was served with a mediterranean salad for 8.50€.  Despite the 5 stars, and sharing the terrace with Ladies and Gentleman directly out of Falcon Crest, this was a nice lunch and not too pricey.