Browsing articles tagged with " Beer"
Since we moved to Chelsea, our habits have changed somewhat. And we are starting to have our habits at the Chelsea Pub, on Old Chelsea road.
Basically, it is our new locale. And indeed, on Saturday afternoon, after running a few errands at Broue-Ha-Ha and at the Meredith Centre, I asked my better half if there was somewhere else that we needed to go. She answered negatively. If rephrased – was there somewhere else she would like to go.
And indeed, we ended up at the Chelsea Pub.
I first wrote about the Chelsea Pub during the 2011 election, but I've been going more often lately.
The spot is cozy, kid friendly (most of the time!), offers an interesting menu and a great selection of beers on tap.
Today, we decided that we would have a couple of drinks while the Waffle Jr. would enjoy the dinner of her choice. As she does most of the time, she picked the animal-shaped Chicken Nuggets.  Their kids' menu offers a choice of French Fries or veggies and ranch dip – this time, we chose for her and went for the veggies.
Mrs. Waffle ordered the McAuslan Cider (she fell for it at a previous visit, not too sweet, not too carbonated) while I got a pint of C, the Sloven-style Pilsner from Brasseurs Illimités.
Here I had a honey-colored brew with a light orange tint, with a thick bubbly white head.  A subtle honeyed nose, some flowers and hops. A little more bitter than your usual Pilsner, yet well balanced.  Enjoyable.
We ordered the Spinach and Artichoke Dip ($11).  It came after a short while in a hot cast-iron baking dish. The top was nicely golden, and it was surrounded by assorted toasts.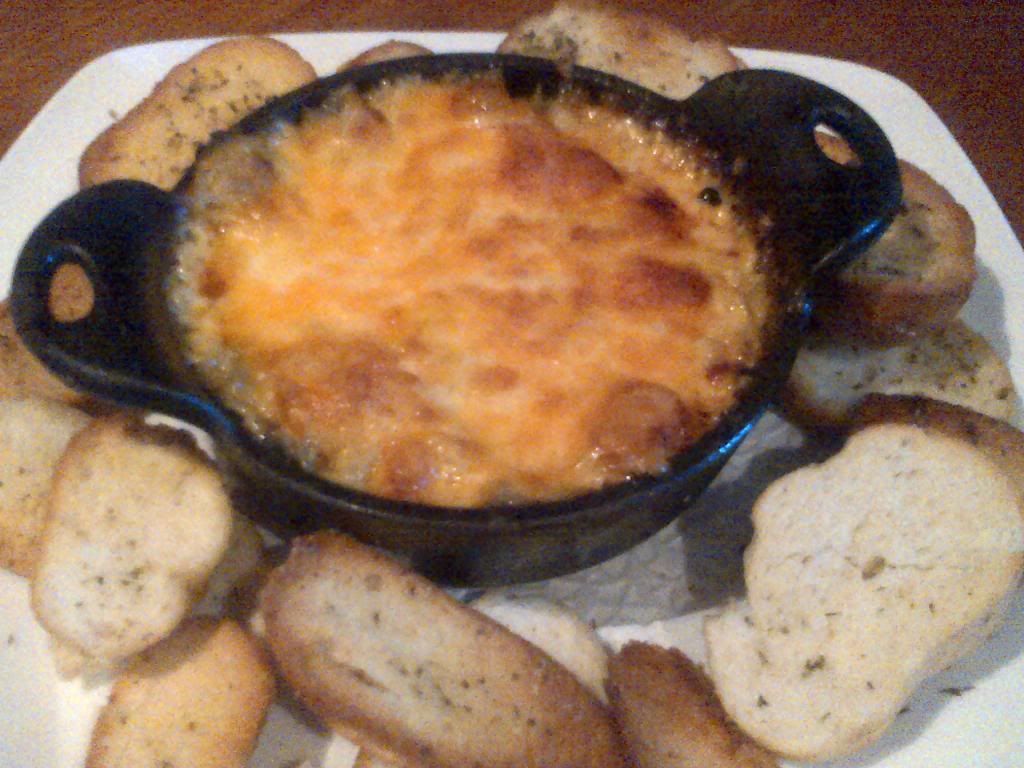 Obviously, this is a classic, very simple to make and hard to fumble.  As long as you have the right proportion of cream cheese, spinach and artichokes, anyone should be able to pull it off.  And here, the Chelsea Pub did pull it off.  I've got to admit that making it Au Gratin is a great touch - but we had to be careful, as the mixture underneath was bubbling hot! It had the right balance of tangy, creamy and chewy.  The herby toasts, home made, did the scooping job nicely – they were thick enough to resist and not crack into our hands. Continue reading »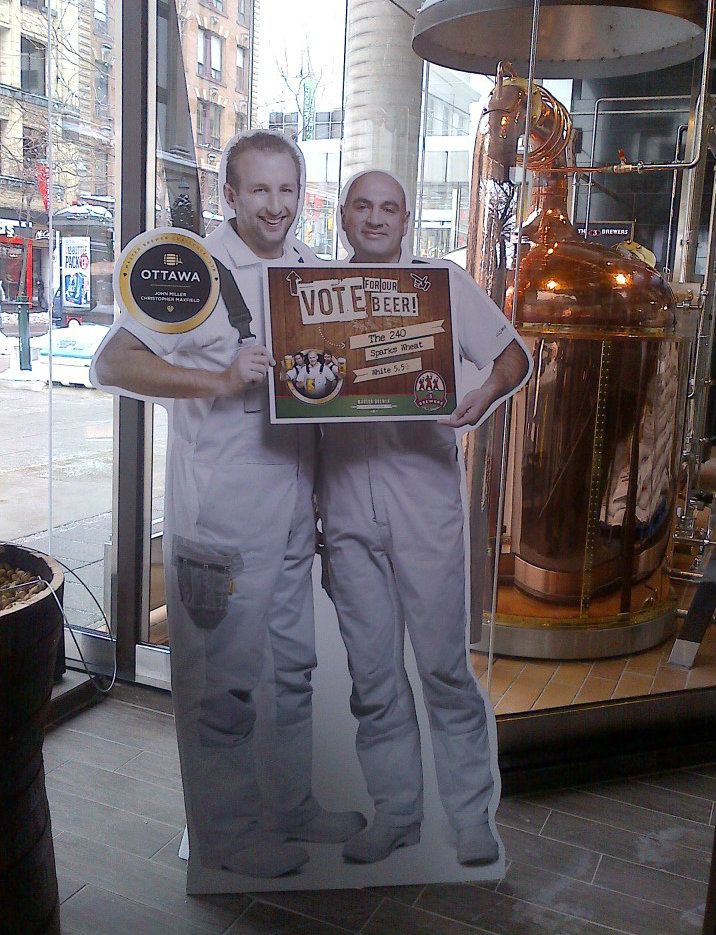 After much delays and anticipation,The 3 Brewers finally opened today in Ottawa. The place had looked ready for days, but a sign had been put on the door stating that Ottawa customers would have to be patient a few more days.
So the day has arrived, and the word spread on twitter fairly quickly.  When Marc-André suggested that we check it out for lunch, I did not hesitate.
When the noon bells rang, we made our way there, with a sense of excitement and anticipation we had not had since the last time we drank a beer. We were welcomed by a cutout of the local master-brewers, in front of the copper tanks where the beers are being brewed.
Les 3 Brasseurs, or The 3 Brewers, is a French chain of brasserie.  The 3 Brewers opened its very first microbrewery restaurant in Place de la Gare à Lille in 1986. Each year, they brew 33 000 hectolitres of beer!
There is currently 443 Brewers locations,  including 28 in France, 8 in Quebec (with another one opening soon in Quebec City), 3 in Ontario (with expansion planned in Kanata and Oakville), and 5 in the French Dom-Tom.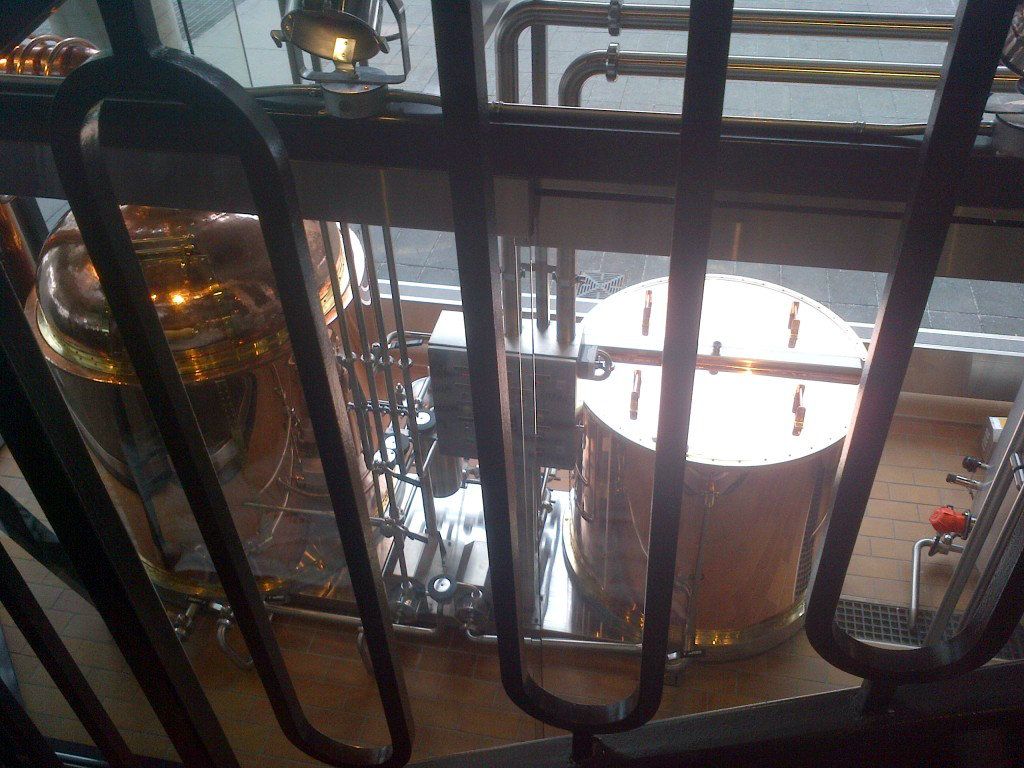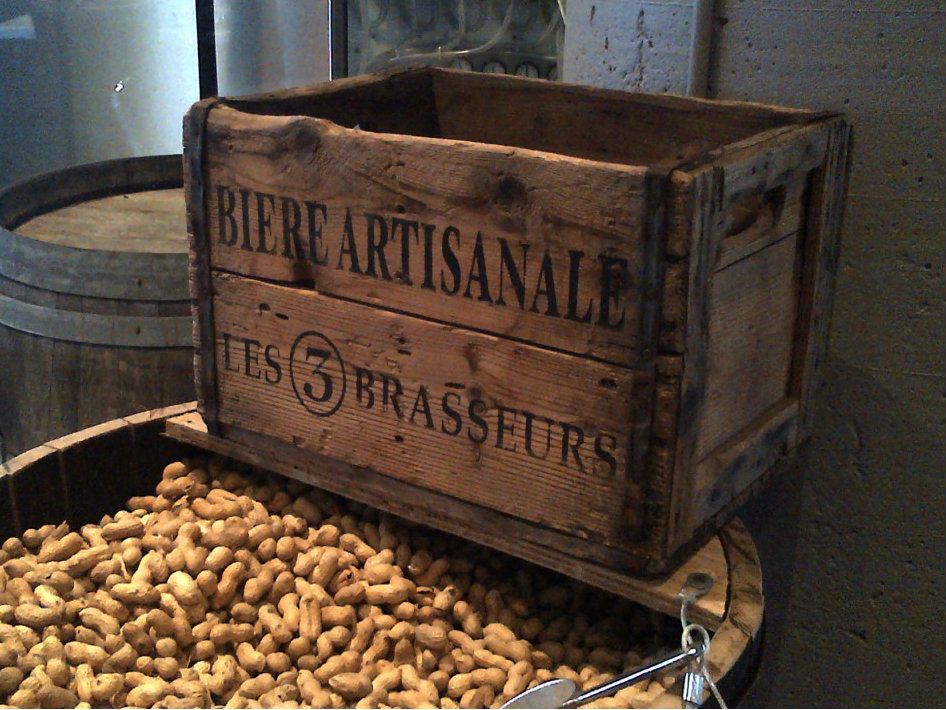 The Sparks street location is big, wide, open.  Lots of seats spread on two floors, lots of natural light with huge glass walls all around, lots of space to spread your legs, quite comfortable. There is big multi-panel TV set at the bar, but it would be difficult to watch sports from most of their tables or booths. Still, it is the type of establishment that was missing from this area of Ottawa, where most pubs and restaurants are rather small.
We were directed upstairs, where we got a better view of the brewing installations.  Wood cases of peanuts on the shell were scattered across the establishment, if you want to skip their menu and just enjoy a pint.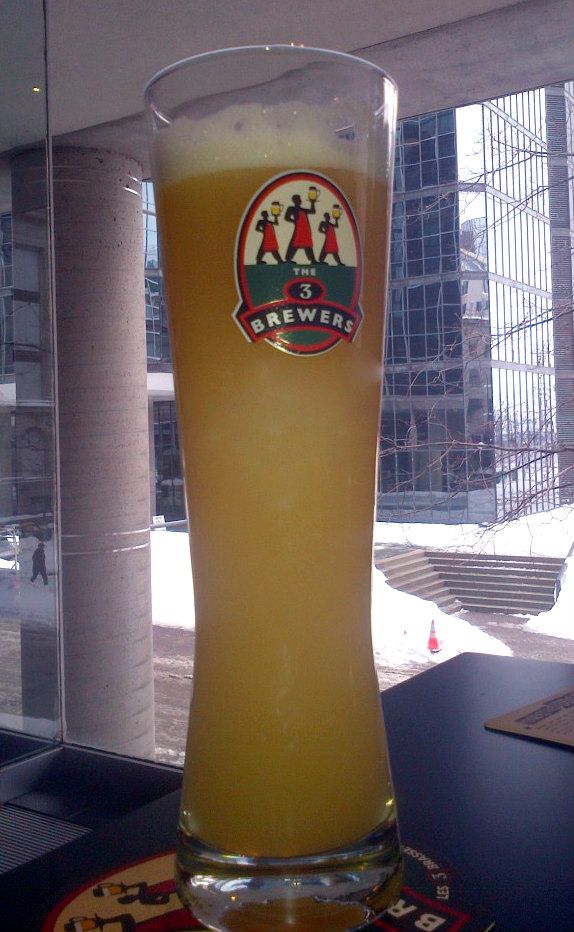 Speaking of which, the Master Brewer Challenge is on, and the Ottawa location has submitted its brand new 240 Sparks Wheat beer in the competition.
The 3 Brewers offers six beers on tap: their four regular ales, that you order by their colour: White, Blonde, Amber or Brown. They'll also have two rotating seasonal beers that will change each month. Also available in bottles, La Belle Province and La Triple.
But I felt the obligation to sample the new creation of Christopher Maxfield and John Miller, and was quite pleasantly surprised by the hepfenweise.
It poured a cloudy yellow color, quite opaque. If you didn't know it was beer, you'd almost think it was juice. Same for the taste! To the nose, it did seem more spicy than fruity, but when you drink it, you are hit by delicious grapefruit flavours, maybe even some pineapple, with a tangy hop bitterness.
Very fresh, very smooth, a little zesty, thoroughly enjoyable. I waved Brew-master John over to convey my appreciation – the real John, that is, not the cardboard version.
On the table, the Maille dijon mustard included in the basket of condiment clearly indicates that this place hails from France.
Indeed, the 3 Brewers's menu is french-inspired, simple, featuring some classic brasserie fare and bistro dishes, such as braised pork shank, lamb shank, sauerkraut, open-faced sandwiches, mussels, and beef bourguignon.  But you'll also find very North American salads, wraps, sandwiches, 8 kinds of burgers and, yes, 4 types of poutine.
But what they are really proud of is the "flammequeche" – an Alsatian-style tarte served with varied toppings. Basically, the french version of a pizza, though our server was offended when I ordered their "pizza special" – I reassured him that I knew what a flamm was.
The special in question was a soup and any flammequeche you'd like for $14.99 (except for the smoked salmon and shrimp.) The soup of the day was a vegetable soup, hard to screw up.
Still, the broth had a light tomato flavour, but was quite salty. The amount of vegetables in it was disappointing. There was a few carrots, onions, green beans, celery – at least they had some texture, some crunch. Perhaps I just got unlucky with the ladle.
The flamm I ordered was the Thai – a new addition on their selection, which also includes inspiring names such as Provençale, Alsacienne and Moulin Rouge.
The Thai flammequeche is garnished with marinated chicken in a peanut sauce and Gruyère cheese, topped with baby sprouts,  green onions, red peppers, julienne cucumbers, cilantro and almonds.
If the flavour profile was interesting, the execution was not perfect. It did look good, and flavour wise it wasn't bad. But, the chicken was not exactly starring, and it was on the dry side. The peanut flavour was subtle, and the Gruyère was barely present. The veggies were unevenly present – if you got a good crunch from the sprouts and some freshness from the cucumbers, there was no red peppers whatsoever and the green onions deserved better chopping. The almonds were chunky, and the cilantro was fresh, helping the dish somewhat. However, I did struggle with the crust – it was hard to cut through. I probably wouldn't order it again.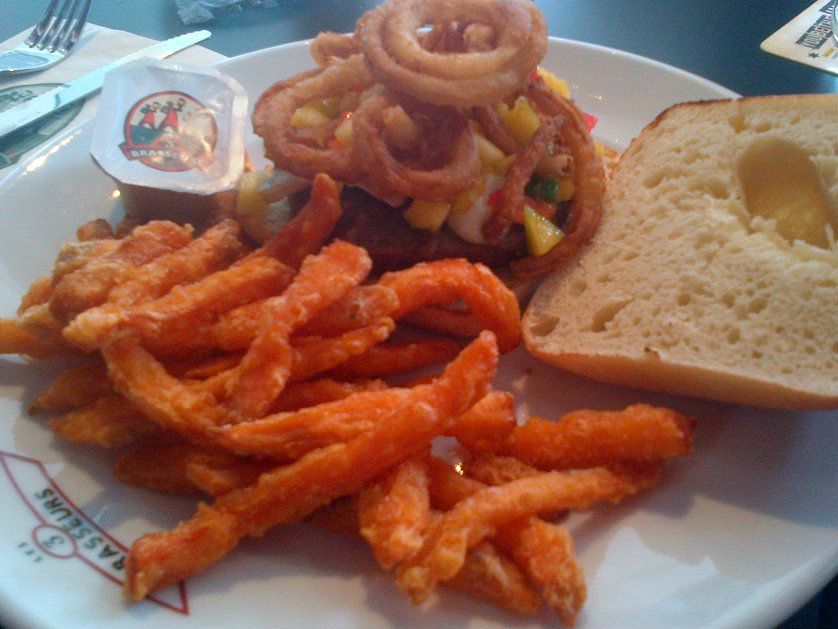 As for Marc-André, he ordered their burger special, which was topped with brie, mango salsa and onion rings, served on a ciabatta bun.
The burger was a tad overdone, and it was not garnished with any sauce or condiments – ciabatta does need that kind of help when used as a burger holder.
The burger came with sweet potato fries, thick and cripsy, and served with their (so-not-homemade) mayonnaise.
The service, if friendly and polite, was sometimes slow and and a little random, but this was opening day. Still, it wasn't packed, so if the place ever gets crowded (which I assume is their goal), hopefully they'll be able to keep up.
We left Indian Lake in the morning, hitting Highway 28. Our New York State adventures were coming to an end, and we had to make the 3 and a half hour trek back to Canada.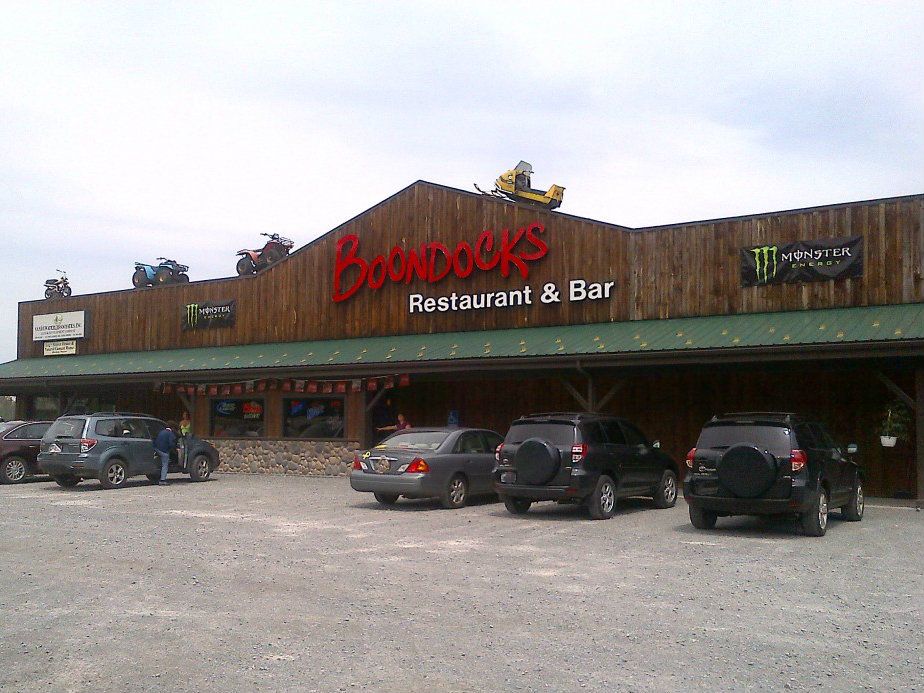 Along the way, we would stop by and admire the numerous mountains and lakes. Lake Durant. Blue Mountain Lake. Eagle Lake. Utowana Lake. Raquette Lake. Eight Lake. Seventh Lake. Sixth, Fifth, Fourth, Third, Second and First Lake. I guess they ran out of names.
About halfway to the border, we started to get hungry. Starving, in fact. But we had reached Highway 12, and options were scarce. Nothing for miles.  Until we saw a size-able establishment with a huge parking lot, with ski-doos and ATVs on the rooftop.
Welcome to Boondocks Restaurant and Bar, Lyons Falls, New York.
Walking in the place is its own adventure. They've got the rustic feel, with lots of wood everywhere. And by wood, I am not only talking about the furniture. I'm talking about the walls, that are either in wood or trying to make you feel like you are in one.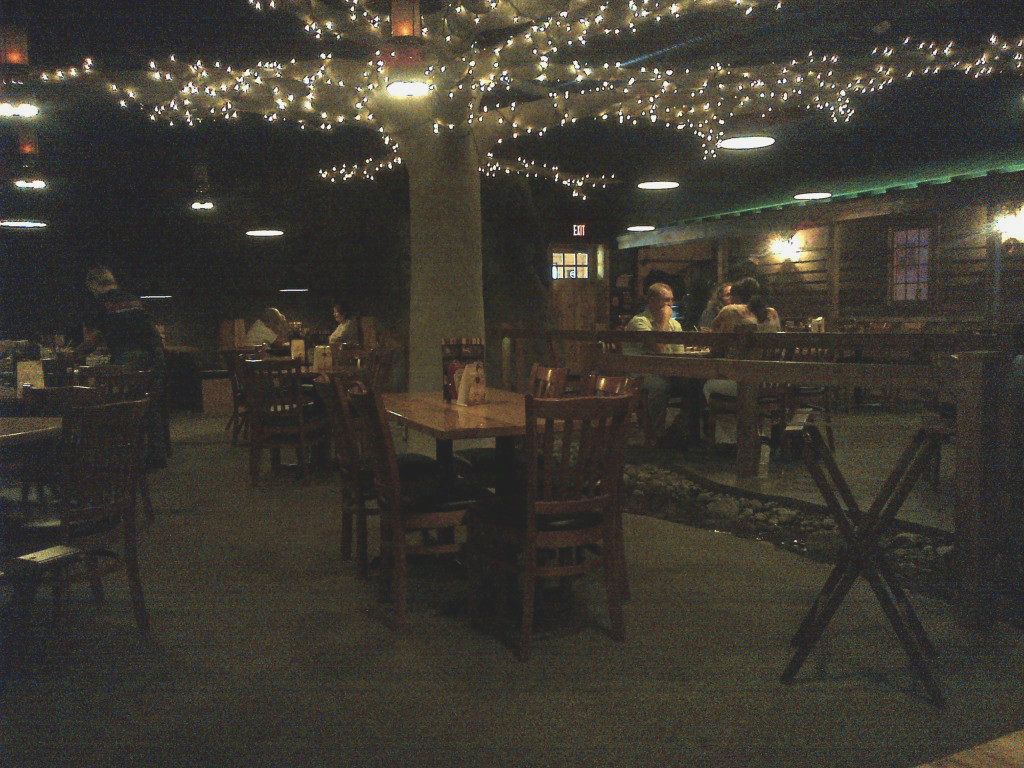 There was a gigantic tree, fitted with lights in the middle of the room. There was a waterfall coming out of rocks, with a creek crossing the room – little country bridges were allowing you to cross over.  Its a cozy Adirondack atmosphere that makes you feel as though you are dining under an open sky, all year long.
We ordered drinks to start, as we looked at the menu. I went with a Saranac Blueberry Blonde Ale from the Matt Brewing Company. I poured it in a frosty pint glass. It had a nice golden color and a significant white foamy head.  The blueberry aroma was strong, the flavour was interestingly fruity, like they added a shot of blueberry juice in it as opposed to a chemical concoction. A really good fruit beer, but it needs to be very cold.  Mel went with another Saranac product, their hand-crafted Root Beer. It is made in small batches and has a fresh root beer taste, with plenty of bitterness but also notes of vanilla and some licorice. Again, better served ice-cold.
The menu was filled with intriguing items. In the appetizer section, you could find deep fried stuff, like Mozzarella Triangles, but also things like Steamers (Steamed Clams) or Load of  Logs (home-made pretzels).  There was a Soups and Salads section, a Pasta section, Chicken, Ribs and Steak, Seafood.  Mel decided to pick one of their sandwiches while I explored the Burger Valley.
Bondoocks' burger valley is not very deep (only 8 different types) but it is wide (any burger is offered in a beef, veggie, or turkey version – and most of them can be made Gluten Free). I looked at the Boondocks Bleu Burger (bleu cheese, bacon, lettuce, tomato and red onion) and the Over the Edge Burger (Golden BBQ sauce, fresh chipotle coleslaw and fried onion tanglers) but finally settled and ordered the Rodeo Burger. In her part of the menu Mel ignored the Tangled Philly (shaved steak smothered with Bourbon BBQ sauce and topped with onions, peppers, mushrooms,fried onion tanglers and Swiss cheese on a toasted Hoagie roll) and the Parmesan Chicken Sandwich and ordered the Ranch BLT Sandwich – with a side of Onion Rings (at an extra cost).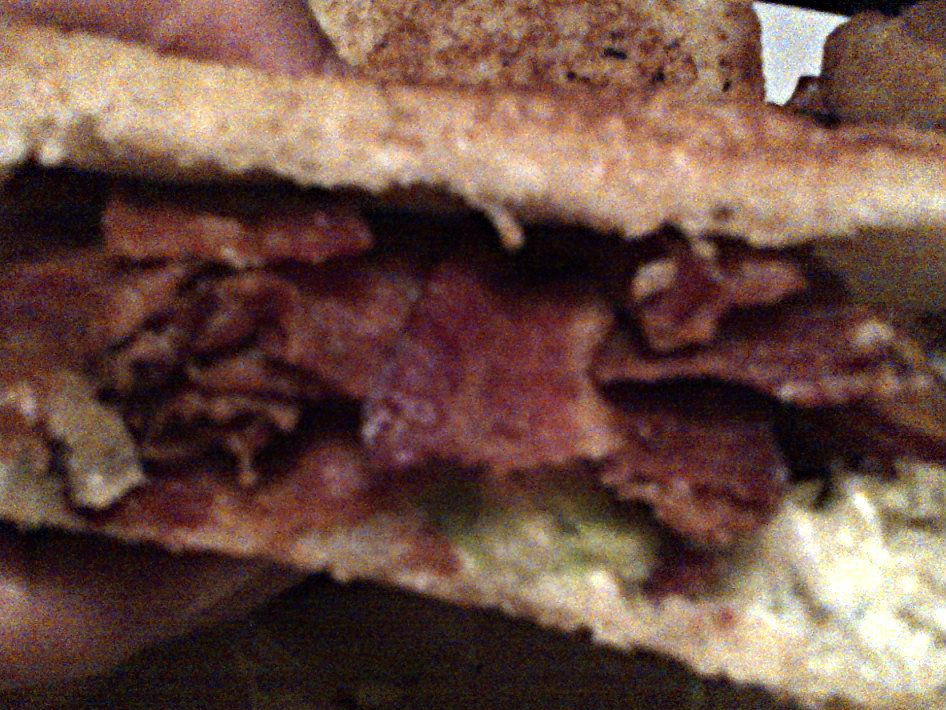 If the onion rings were palatable, the Ranch BLT Sandwich ($7.45) was not named properly. If the "l" and the "t" seemed normal, the "B" was capital. There was a truckload of bacon in that sandwich, topped with lettuce and tomato on grilled Italian bread, nicely toasted, no sogginess. But basically, this was a Bacon Sandwich. The veggies were just a small garnish barely surviving under the thickness of hog goodness – though Mel removed some of it from the sandwich, overwhelmed.  The ranch flavour came in the form of a ranch cream cheese spread, not helping the calorie count.
 Talking of calorie count, this is what my Rodeo looked like: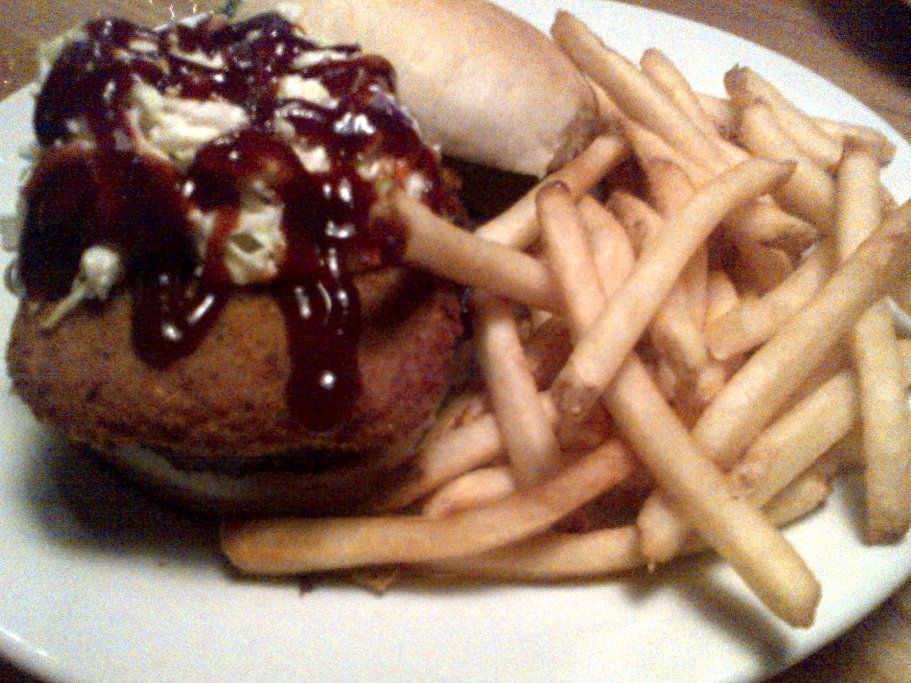 A half-pound beef burger. A huge block of  deep fried Muenster cheese. Coleslaw, piled high. Smothered with a Chipotle BBQ Sauce.
Heeee-Haaaaw!
Now, this was a decadent burger. I've had my share of cheeseburgers in my life, with multiple cheese combinations, double and triple deckers, even cheese-stuffed patties.  But this?  Unexpected. 
Muenster is an American cheese not to be confused with the French Munster.  It is a mild, smooth, soft cheese, usually with an orange tinted-rind and a white interior.
I was expecting a small slice of fried cheese, instead I got a brick of deep fried cheese, with a thick batter – no doubt to prevent the cheese from oozing into the deep fryer. On the upside, it was gooing everywhere – once you got past the crispy crust!
The beef patty was thick, juicy, cooked to medium rare. The coleslaw had a little tang to it and added a nice crunchy and creamy texture to the burger. The Chipootle BBQ sauce was spicy, but there was no chance to overheat with the amount of dairy included in the burger.  Considering the weight it was under, the bun surprisingly held together quite well.
After a while however, the burger started to feel heavy as the cheese brick was falling into my stomach.  I did finish it, but I was kind of glad that the french fries were ordinary – I might have been in trouble if I had finished my plate!
All in all, this was a neat place to stop by randomly. The food was on the outrageous side of the spectrum, but it's not like we had a long road trip ahead of us…
As first reported by Apt 613 in August 2011, les 3 Brasseurs, or shall we say The 3 Brewers, are coming to Ottawa.
Apt 613 pointed to this menu, which lists two Ottawa locations to open soon.  The French brewery appears set to expand and open on Sparks Street (Fall 2012) and in Kanata (Spring 2013).
I've been to 3 of the 3 Brasseurs locations in Montreal, finding the food decent and their beer interesting.  And they serve it by the litre – or, as they call it, the Varlet.  Their arrival in the Nation's Capital, especially in that area near Parliament Hill, will be most welcomed from this corner. The Waffle wrote a brief review back in the summer of 2008.
Open File found some hard evidence (Via OttawaStart) as Les 3 Brasseurs has placed an ad looking for a brewer for their new location.
The 3 Brewers opened its very first microbrewery restaurant in Place de la Gare à Lille in 1986.
And the first physical evidence of The 3 Brewers setting foot in Ottawa has now appeared, with a gigantic sign at 240 Sparks St, at Bank, – the C.D. Howe building.
We can't wait.
The email came from Jack at 6:26 PM exactly. At first, I just thought Jack was going to watch the Sens' game at the Pot.  Like we did so often over the years, after I joined the NDP Windsro/Glue Pot Hockey Pool in 1997.  The plaque hangs proudly on the wall.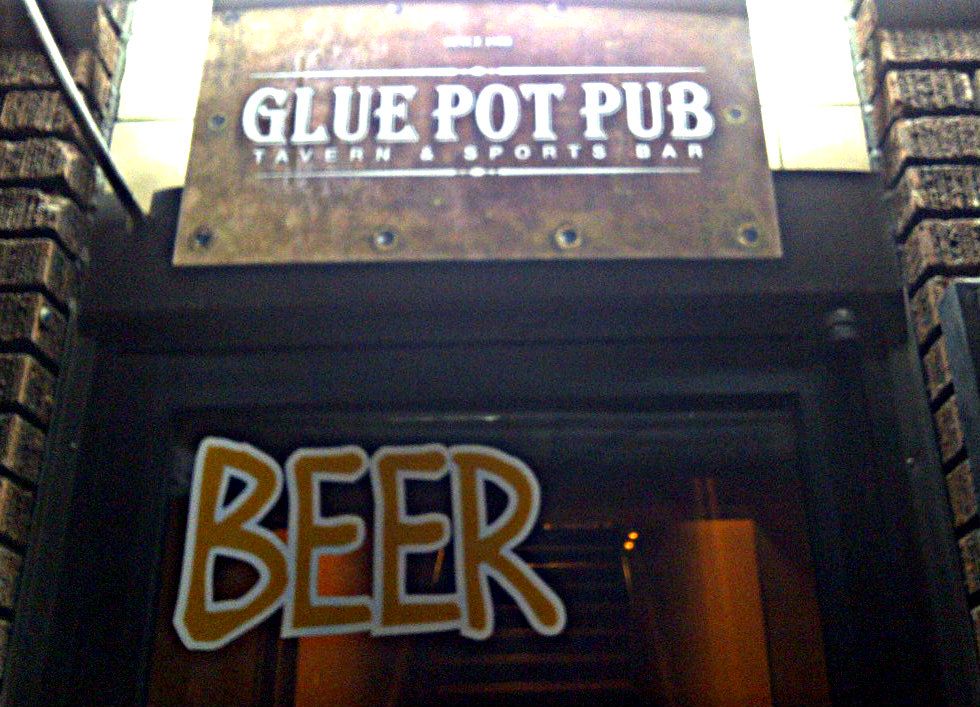 "Heading down to the GPP for the game tonight. Rumour has it that it is the last night the GPP will be open."
Say what?  Hard to believe. Jack must be joking. I didn't really believe him, thinking that perhaps he was trying to get people to tag along with him.  "Grab the plaque, then!" I joked.  Nicole decided to show up, and she confirmed by sending an email at 8:59 PM:
"The rumour is true. The Glue Pot Pub is closing tonight forever.
The plaque is secure."
Oh man.  I wish I had known ahead of time.
I expressed my sadness on twitter:
"The Waffle is really sorry to hear that the Glue Pot Pub will close its doors tonight. Forever. I've been going there for 15 years."
Reactions were immediate, from all over the country:
@northwesternlad : BOOOO!!!! That is terrible news
@michaelgendron : That sucks, any idea why?
@MrsPremise4 : Had my first beer as Hill staffer at The Glue Pot in 1989.
@paulvieira : what's replacing Glue Pot? Why Glue Pot closing?
@sfharris : We should buy it and re-open it. Nothing could go wrong!
@onammio : I am devastated by news of the Glue Pot's untimely demise.
@RoddieGilbert : Triste
@_E_And : Nooooooooooo!!!!!!!!!!!!
@JairusKhan : Isn't that whole block getting demolished to make room for the new library?
So many questions, so little answers.  Why, dear God, Why?
The Sens' were battling the Rangers, and I wanted to watch that game.   At the same time, so many memories at the Glue Pot Pub. I had to go.  Once the third period was over and the game was pushed into overtime, I jumped in my car and went down to the Pot, one last time.
The Glue Pot Pub is located in a building that once was the first Coca-Cola bottling plant in Canada. The building also houses the Adult entertainment establishment known as Barbarella's Diamonds, and a neat Italian café known as Zucchero (Which took over from the famous Dill Pickle Restaurant a few years ago).  The Glue Pot Pub opened in 1988, some kind of a cross-over between a tavern and a sports bar. Over the years, it showcased live music, karaoke and trivia nights. 
The Glue Pot was written up on September 1989 as the place where the research staff of the NDP got together on Fridays to map out what great issues their bosses would tackle the following week.  And talk hockey, as soon NDP staffers and friends also used the location as an excuse to gather, make bad trades, and trash talk their competitors while watching some games. 
There is a copper-topped bar, black tin ceilings and old, worn wood tables and chairs and booths.  Over the past few years, however, they have done a good job modernizing their screens, and now, everywhere you look, there's a TV, so no matter where you sit you can watch the game comfortably.
Just before walking in the Glue Pot, a guy in a suit, likely an out-of-towner on a business trip, asked about my advice - should he go to the Glue Pot Pub or should he go to Bâton Rouge? "Depends what you are looking for, Pal. Do you want cheap beers, pub fare and a rowdy atmosphere, or  are you looking for a good steak in a quiet, upscale casual restaurant?"
He went up the stairs to the Glue Pot.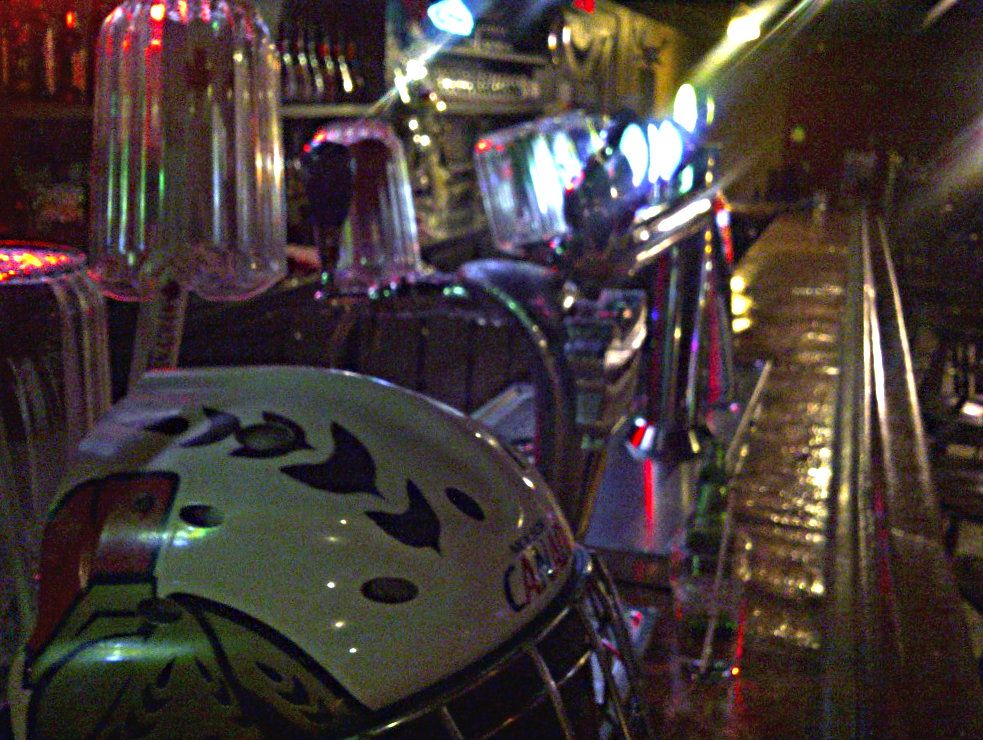 I got in in time, before the OT started and was soon overwhelmed. 
Oh, there was a decent crowd -
but it wasn't exactly packed the way it should have been for a playoff night.
Nevertheless, it wasn't dead.
Yet, the Glue Pot Pub was indeed closing. 
The taps were drying.
Empty pitchers were put over the taps as one by one, the kegs were pouring their last pints.
The popcorn machine was silenced, empty.
No more over-salted yellow popped corns prepared to make you oh, so thirsty.
We would never fill those baskets again.
We would never again try to hit a glass across the table with one.
We would never again throw a fist load of it against an owner taking advantage of a lubricated opponent to make a one-sided deal.
Nicole was still there, Jerry was also there.
Jack had come and gone, securing the plaque. 
I sat down, kind of sad.
It being Wednesday, the Glue Pot was offering its usual Wild Wednesday' specials, one last time.  You could get a personal pitcher of domestic draft for $6.99 and a pound of chicken wings for $7.99.  I'll drink some beers, but I'll skip the wings.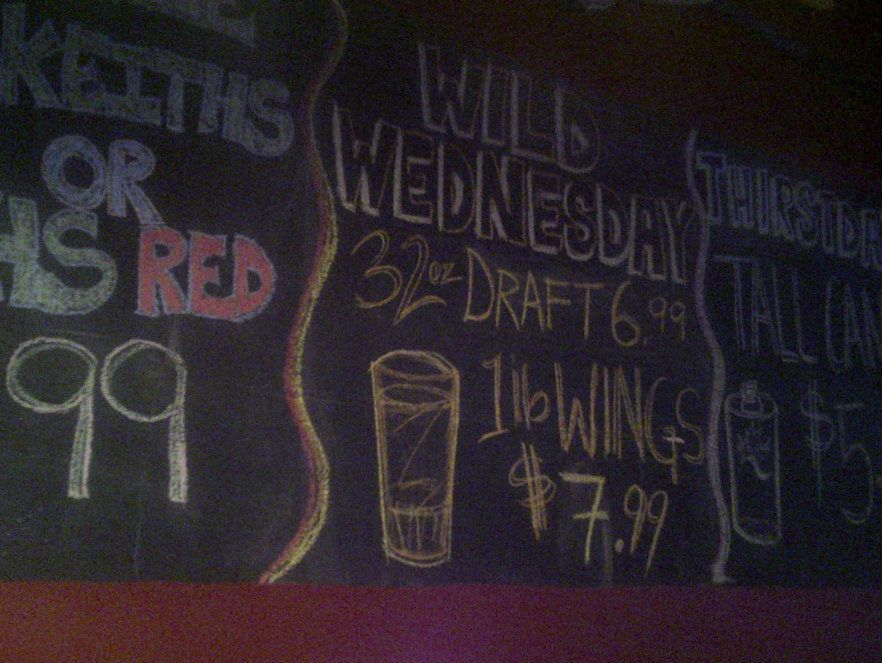 Nicole got up and to get a small pitcher of the only beer still available – Keith's Red.  
The three of us watched the game, talking very little as the Senators and the Rangers were going up and down the ice.
It didn't last long!  Kyle Turris scored after less than 3 minutes and the Glue Pot errupted in cheers! Like the Good Old Days….
Ottawa tied its Eastern Conference quarter-final series 2-2, with Game 5 on Saturday in New York. But you won't be able to watch it at the Pot.
One of the waitresses on staff, who seemed in a good mood despite the fact she was losing her job tonight, told me that the current management of the Glue Pot Pub thought the rent was getting too steep, so they didn't want to renew the lease with the property owner. Hence the closing. Staff found out 2 days before. Rumour has it that there are plans to build condos on that corner, though nothing seemed to be firmed up.
The crowd thinned out quickly after the Sens game was done, most customers not being very interested in the Blues-Sharks game that followed.  We stayed, watching the game, talking about our memories of the place and, oh horror, trying to figure out what our next meeting point would be.
We kept drinking from the drying tap.  A few new customers arrived, looking for a late snack.  Most ordered chicken wings, and after a while, their scent was too tempting.  I flagged another waitress, whom I have known for years, and who seemed a little more distraught by her employment situation.  Even though I shouldn't indulge, I wanted wings. "Oh, I think he is closing the kitchen.  They are running out of food anyway.  But let me see what I can do for you."  The staff had always been very friendly at the Glue Pot.
"You are getting the last order," I was told.
Yay.
I guess.
It took a little longer than usual. They were not super hot, either.  But here they were:  the last Glue Pot Pub Chicken Wings. Ever.
And clearly, I got more than a pound. 
I was glad.  None were left behind.
The wings were crispy, yet not dry. Not very meaty, though, but they have never been at the Glue Pot.  I had asked for their hot ones, and they were nicely heated, good hot sauce flavour, the wings were nicely coated yet they were not bathing in a hot sauce pool at the bottom of the basket.   But more importantly, they were very, very comforting.
It seems we have come full circle - one of my first food entries was about the Glue Pot – and it wasn't on this blog, but rather  in the restaurant guide Cheap Eats Ottawa where I stated matter of factly, about the Glue Pot Pub,  that "although they have modified their menu and you can no longer choose any toppings on your pizza, it is still quite good and quite cheap.  Their burgers are also good, but their fries are overcooked."
But it doesn't matter now.
Glue Pot, I shall miss you.
——————————————
UPDATE  25-04-2012 @ 21:18 PM
Sources are telling us that the Gluepot, or a version of it, is set to re-open soon.  
Greg tells us that someone else has apparently stepped in and taken the lease.  We shall see. 
In other news, there is indeed a long term plan for condos to be built, but we are likely still years away before they close the aging brick complex.  It should be a heritage building, really.  It seems that the plan would be to preserve the brick facade as part of the deal to build the condos.  It's a new trend in the National Capital Region, and it can be nice if the architects do their homework, but it didn't work so well for the Duke of Somerset, did it?
——————————————
UPDATE 23-05-2012 @ 8:44 PM
The Waffle has heard through reliable sources that the Gluepot is re-opening tomorrow, at 11:00 AM. Apparently, management from Barbarella's have decided to take over from the previous management, who left in a huff… It is not the first time that folks from downstairs have owned and operated the Glue Pot. The big problem with leaving the Glue Pot closed is that they share the kitchen, which is actually located on the Gluepot's premise. This in itself may explain why they made the move, in order to keep having access to the kitchen.
Aaaaah, Florida.  The Sun. The Heat. The good excuses to refresh yourself. 
The State of Florida, being the third largest beer market in the country, what would a trip there be without taking the opportunity to drink a few ice cold beers, brewed locally if possible? Well, that's what Mel thought when she returned from a trip to what she called 'the freaking biggest liqour store in the world!' with an interesting selection of Southern Suds – a very big South…
KEY WEST SUNSET ALE
First, the beer that became my beer of choice during this trip. The Key West Sunset Ale is a medium-bodied Amber Ale which actually hails from Melbourne, which is halfway between Daytona and West Palm Beach on Florida's East Coast.
Originally founded in 1996 as the Indian River Brewing Company, the company was reorganized in August 2003 and now does business as the Florida Beer Company.
The beer pours a nice dark golden, copper color, with very little head. Not as bright as a sunset, though. Thankfully.
Aroma is slightly sweet, hints of honey and caramel. It is lightly hoppy.
It drinks surprisingly tart compared to the aroma, however not in a negative way. The first sip just had a little bit more bite than I expected, perhaps grapefruit.
It actually tastes like a moderately bittered amber ale with medium fruity malt flavours and very little hop presence.
All around a good beer. Not too sweet, but not too bitter. Easy to drink. A good beer to enjoy at sunset, let's say, on a Key West quay? (Which we did!)
RAISON D'ÊTRE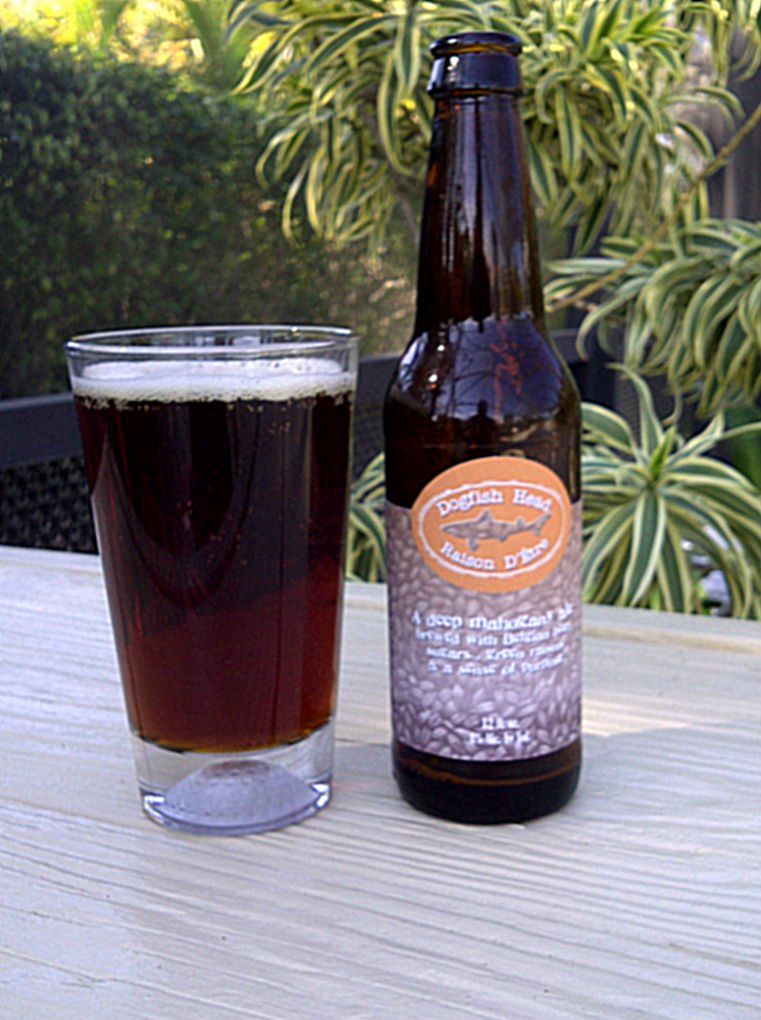 My first experiment was actually hailing from Delaware : Raison d'Être from Dogfish Head Craft Brewed Ales.
Dogfish Head opened in 1995 and claims to offer off-centered ales for off-centered people (Mel laughingly thought this would be perfect for me, I failed to see the humor).  I have had some encounters with their products in the past, and I can confirm that Dogfish Head does brew hard.
Hard as this Belgian-Style Strong Brown Ale, with it's 8% ABV. The Raison d'Être is brewed with beet sugars and green raisins.  That's right. Green.
Dogfish began brewing it in 1996 and bottling it in 1998 as the answer to the question, "What beer should I enjoy with a wood-grilled steak?"  I can see why.  Here is a tasty, complex beer.
A dark brown color with ruby edges,  which explains why it is referred to as mahogany. A  thick light beige head with small bubbles. 
The smell is powerful, a sweet and sour aroma where you can actually distinguish the raisins. Interesting.
The Raison d'Être offers a smooth, clean taste, notes of raisins, dates, caramel - perhaps even rhum – no doubt that to the high alcohol level. A fine beer.
STEELHEAD EXTRA PALE ALE
Despite being in Florida, we jump all across the continent for the next beer, which hails from the town of Blue Lake in Northern California: The Steelhead Extra Pale Ale from the Mad River Brewing Company. This 5.6% brew, is seen as the flagship of Mad River Brewing.
Here we have a bright golden ale, a little hazy likely because of the unfiltered nature.
A nice fluffy white head, which settles and sticks around.
The Steelhead EPA has a medium body with a spicy and floral hop nose.
To taste, there is some light spicy hops to start, but then it becomes a pale malt show. A bit of a doughy, bready flavor.
All along there's a general fruitiness to taste and then a very mild bitter finish.
Fairly highly carbonated, yet very drinkable, but nothing bold or unexpected.
Not a bad beer, but I'm not sure if it fits its Extra Pale Ale label. It would need a little more bitterness to qualify.
The Waffle has learned that the Clocktower Brew Pub will open a new establishment, its fourth one, in the Westboro area in the next few months.  The new Clocktower will be located on the first floor of the Phase II of the  Westboro Station, a Condo Project located on Richmond Road.
The rumour first surfaced last September on SkyScrapperPage's forum, (one of the most active skyscraper enthusiast communities on the web!) where a user claimed that: "According to someone in the sales office, tenants for the Phase I and II of Westboro Station include TD Canada Trust, Shoppers Drugmart and Clocktower Pub!".  Ottawa Foodies were soon looking for a confirmation, to no avail.
The Waffle can confirm today that The Clocktower Westboro has applied for a Liquor Sales Licence (indoor and outdoor area) with the Alcohol and Gaming Commission of Ontario (AGCO) in accordance with the Liquor Licence Act, to operate at 430 Richmond Road.  Ottawa residents who want to comment on the applications can do so in writing to the Commission by March 22nd.
As far as I can tell, the Clocktower is applying for a simple Liquor Sales Licence.  The holder of a sales licence may sell and serve beverage alcohol in a licensed establishment where light meals are available.  According to the AGCO, "Light meals are not snacks which target cravings (nuts, chips, pretzels, etc). Lights meals are made up of more than one food element, such as soup and sandwich, or hamburger with fries, or salad with more than lettuce, which deals with appetite or hunger."
And the Clocktower can deal with appetite and hunger.  Mussels Night on Mondays. Wing Night on Tuesdays. Appetizers at half price for Happy Hour. Their menu is diversified and the food is usually alright, but it is a tad pricey – and service can be spotty, and is often unrelated to how busy the place is – or not.  If you go for the food alone, you may be disappointed.
If you are going to try one of their brews, however, you have a better chance to leave happy. Folks at the Clocktower do offer fresh, great tasting, full flavored beers, using no preservatives, no additives & brewing them only in small batches.  This approach has its downside, as too often one or more of their handcrafted beers are not available. Their regular selection consists of the Kölsch, a light blonde ale; a Rasperry wheat; the Wishart's bitter, which is an ESB (my favourite, nice copper-colour with a nice malty profile); the Fenian red, which is an Irish red ale; and the Bytown brown, heavy on coffee and chocolate flavors. They also offer Seasonal Brews in rotation, beers such as an IPA, a Vienna Spring Ale, a Porter, a Pumpkin Ale, etc.
And the good people of Westboro will soon be able to enjoy them in their own neighborhood!
Les Brasseurs du Temps are confirming that the upstart Gatineau micro-brewery will start bottling some of its products Monday, the Waffle has learned.
Located on Montcalm at the corner of Papineau in Gatineau, les Brasseurs du Temps opened two years ago as a restaurant/micro-brewery.  The location quickly became popular, thanks to the quality of their beer crafstmanship. After some adjustments that were needed to improve the service and for the menu to match the quality of the beers, this unique spot on the Outaouais side of the river has found it's rythm on both fronts.  So much so that BDT now wants to find some room in connoiseurs' beer fridges.
Many beer lovers in the region will be pleased with the news, because the hand-crafted beers are currently only available at BDT. Selected beers can also be found on tap at L'Autre Oeil in Aylmer,  les 4 Jeudis in Hull, the Blacksheep in Wakefield and at the Ottawa-Gatineau Four Points Sheraton Lounge.
Asked while he was showcasing his products during a reception held by the Maison du Québec à Ottawa, Alain Geoffroy, President and Communications Director of BDT, confirmed to the Waffle that production was starting on Monday.
I was lucky enough to be invited to the traditionnal Cocktail organized by the Bureau du Québec à Ottawa, one of numerous "embassy-light" offices the Quebec government has in Canada and around the world.
The mandate of these offices is to represent Québec in its relations with other governments. Thus, they maintain and develop relations with the main institutions, governments and key players in the political, economic, tourism, social and cultural sectors.
The event was held on the second floor the Capital Infocentre, across from Parliament. The view was fanto-tastic because it was snowing in Canada's Capital. The light and the heavy snow gave the building a ghostly glow. Politicians, staffers, journalists, diplomats and bureaucrats were greeted by the Head of the Ottawa Bureau, Mr. Roch Cholette, a former Quebec Liberal MNA. Mr. Cholette made the judicious call to to showcase Quebec products to his guests.
As you walked in, you were greeted by the team from Les Brasseurs du Temps. Alain Geoffroy and Marc Godin were there to offer guests their hand-crafted beers.
Guests had the choice between two of BDT's brew: Le Bouillon de la Chaudière, a spicy wheat beer with a notes of ginger, more suited to a summer patio than a winter reception; and the 1821, a typical Extra Special Bitter which is a tribute to the founder of Hull, Philemon Wright, who also operated a brewery that gave BDT's adjacent Creek its name le ruisseau de la brasserie.
The 1821 is a good beer, typical ESB – a dry hoppy flavour, a nice cloudy copper color and a hint of sweetness. Good balance.
'Tis the Season – and some restaurants are taking advantage of it to offer a traditional Christmas fare to their clientèle.
It is the case of the Mayflower on Elgin street, an English-Style Pub which opened in the '70s.  And it just happened to be where Marc-André and George, despite being off work, decided it was a worthy place to have a Christmas lunch with their favorite manager.
The place was not as busy as I expected – to be fair, the dining room was full but we were in the more cozy and warm atmosphere of the pub section, which is located at the back of the establishment.   Some would qualify the decor as old and outdated – I would say it is typical and traditional.
We sat down and peered at the menu, waiting for the pint of Guinness we each had ordered, the main motivator for all of us being the free Guinness Glass we were getting to bring home. No matter that they have close to 20 types of beer on tap.
The Mayflower Seasons Satinés include a Roast Turkey Dinner, served with dressing, vegetables and mashed potatoes and accompanied by a rich gravy and cranberry sauce. Classic ($16.95). Or you could go with the Baked Ham, with a bourbon and molasses glaze and served with mashed potatoes and vegetables ($13.45).
I elected to have the Tourtière – an old fashioned homemade meat pie (beef and pork), topped with gravy and served with french fries or a garden salad ($12.95). Now, the purist will point out that a real tourtière is not a simple meat pie – and they might have a point.  A traditional part of the French-Canadian réveillons, every family has its own "original" recipe, passed down through the generations – my mother's recipe was ground beef and pork with potatoes, onions and secret seasoning.  But in the Saguenay-Lac-Saint-Jean area, the North Shore and Eastern Quebec, a tourtière would never be confused with a meat pie -  we are talking here about a slow-cooked deep-dish made with vegetables and various animals cut into small cubes as opposed to groud meats.
Anyway, here we had a more simple dish – but still solid-looking comfort food I was willingly going to try. I ordered mashed potatoes and salad with it – but despite assurances that it was ok, my tourtière came with fries and salad.  I didn't object – after all, I *tried* to be good.
The tourtière was simple, but well done.  The portion occupied a little less than a third of the plate – reasonable.  The crust was flaky, golden, and held together nicely despite the rich beefy gravy that was topping it. A nice touch, it was garnished with fresh parsley, making it even more appealing.
Thankfully, there was not too much gravy - this is more of an anglo thing I think – we traditionally used ketchup as a condiment to accompany the pie.  The filing had a nice seasoning, not too salty, some onions and a hit of garlic. It could have used some more texture, but it was compact and yet juicy.
On the side, the hand-cut french fries were good, golden and crisp outside and fluffy inside.  Correct. The salad could have been more appealing, the lettuce was passable, there were some carrots, cabbaage and a lonely piece of cucumber.  It came with a commercial red pepper dressing. Continue reading »