Browsing articles tagged with " Beef"
And the NDP Convention is a wrap! After hours of debates, votes and speeches, NDP delegates will leave Montreal excited at the Party's prospect of forming the first ever Federal NDP government under the leadership of Tom Mulcair!
The time had come for me to enjoy my last lunch as provided by Capital catering.
I'd like to point out that, despite the huge attendance – this was the biggest NDP policy convention ever – the lines always moved quickly and I never had to wait very long to get to my food. There could have been more space for folks to sit down near them, however.
Capital catering's last daily special was first, a cream of mushroom – which wasn't terrible, except for the rubbery mushrooms and other lumps.
As a main, a BBQ-style beef stew – which had nothing to do with BBQ – big beef cubes, fairly tender, in a rich sauce. On the side, Mixed Californian Vegetables, which had seen better days, and Barley Pilaf with Diced Vegetables.
I enjoy barley, but usually in soup. Here, I was pleasantly surprised – but then again, I like barley.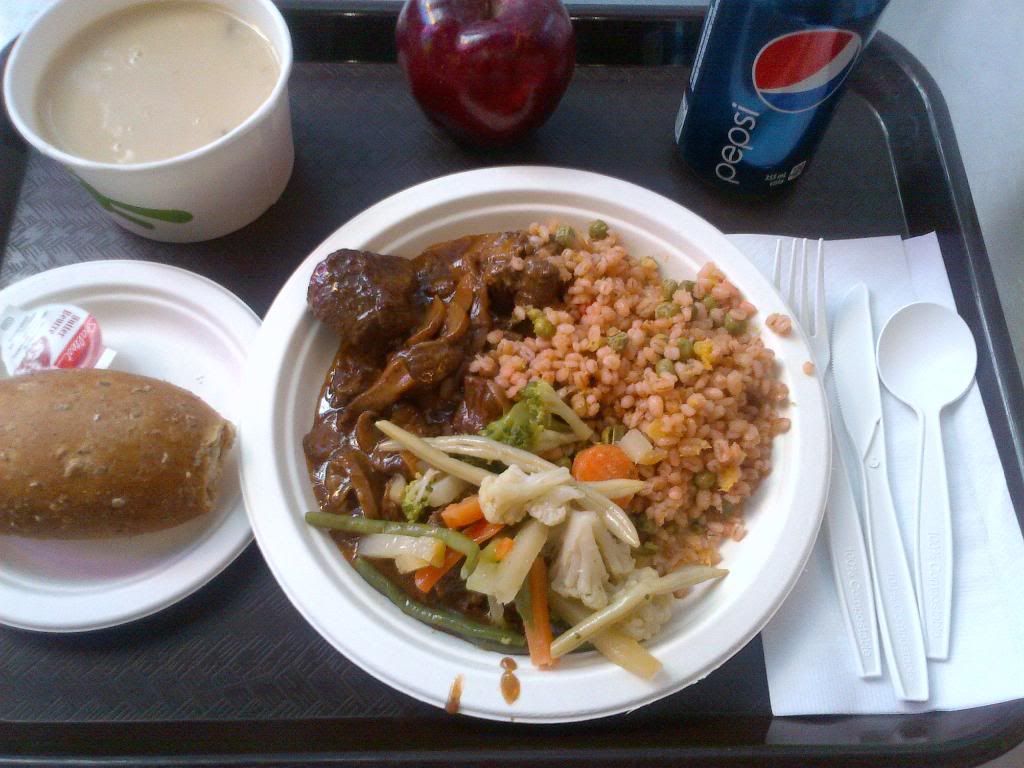 Back in January, Claira Calderone, Accounts & Promotions Manager for Kinki and Mambo restaurants, invited The Waffle to come out and sample some of the new items being offered to customers in 2012. I've been to Kinki a few times, but I've always walked by Mambo, noting the loud latino music that could be heard from the street, with people dancing towards the back of the place. Not my scene, I thought.
Nevertheless, I was quite happy to accept the invitation, and a few weeks later, Mrs. Waffle and I were able to go and we met up with Claira at Mambo.
Mambo opened in the Spring of 2007, taking the spot occupied in the By Ward market by Meditheo. A little brother to Kinki, which is also owned by Marisol Somes and Zadek Ramowski, Mambo is quite different, yet has some similarities.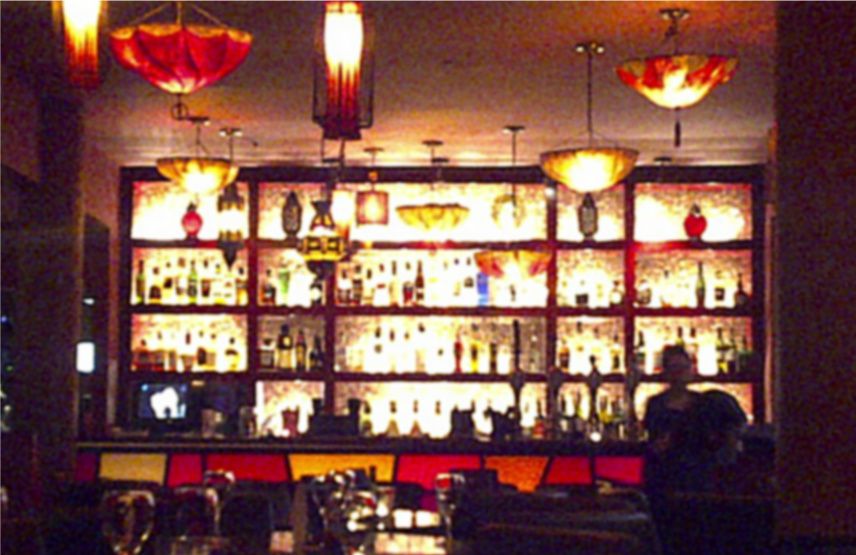 For instance, both restaurants are meant to be sexy.  Mambo's decor is an interesting combination of exposed brick walls and bold, vibrant, warm colors.  The lighting can create either a warm and intimate atmosphere or a callende party place.  At the very back of the restaurant is a very colourful, inviting bar.
There is private room on the lower level, perfect for bigger events. Mambo also has a rooftop patio which is a rarity in Ottawa and is likely worth checking out, if only to have a new perspective on the Market fauna. Even though it offers a full lunch, dinner and brunch menu, the most popular items on the menu are the tapas.  You can enjoy them with a glass of Sangria, Mojito or Margarita and during Happy Hour, you get double portion Tapas for a reduced price.
But we were here for dinner. Chef Pablo Robaina joined us at our table and sat down to talk about his food, his inspiration and the path that lead him to Mambo. Quite at ease, he generously shared his story with us and we had a great conversation as he discussed his vision of Latin Food – which is not your ordinary beans and rice Tex-Mex!  Born in Venezuela, Robaina got his passion for food from his grandmother, who raised him.  He was clasically trained at Le Cordon Bleu in Mexico before moving to Ottawa, where he notably worked at Amate, the now defunct little Mexican restaurant in Westboro.
A bowl of freshly made popcorn was brought to our table for us to munch on while chatting with our hosts.  Seasoned with a spicy-lime salt, it is a fun snack, and different than the usual bread-filling basket most restaurants bring first.  Mrs. Waffle couldn't stop herself from indulging.
Mambo is calling itself a nuevo latino restaurant, giving Chef Robaina the liberty of creating dishes with a large spectrum of influence, from South America to Mexico, from Spain to even Portugal, and perhaps even their overseas colonies.  But don't talk to Chef Robaina about fusion cuisine: "Fusion is confusion," he stated when I asked him about it.  "I am using Latin influence from all over the world to create modern dishes."
Chef Robaina created a specialty meal for us to try out, showcasing new items from their 2012 menu.  A couple of appetizers to share, followed by a different entrée for each of us. We were happy to oblige.
First up were the Camarones al Ajillo ($14), or garlic shrimp, a classic Mexican dish often served as an appetizer, and also very popular in Puerto Rico and other Latin American countries.
Here, the shrimp are served in a zesty sauce, made with garlic, paprika, parsley and guajillo pepper.
The guajillo, used regularly in Mexican cuisine, has an earthy flavour and will give some heat, somewhere between an anaheim and a  jalapeño. It gave the sauce its deep, red colour.  The shrimp were also garnished with a sprig of rosemary, more for the look than the flavour.  On the side, a couple of lemon wedges and some naan bread.
The shrimp were of a nice calibre, meaty. They were well cooked,  though one or two were a tad overdone.   The sauce was quite zesty, not too spicy. It made the dish feel very fresh on the palate. No need to add more lemon, though, there was plenty of citrus flavour in there.  The garlic does not have a very strong presence however, so if that is the dominant flavour you are looking for, you may may be disappointed.  Mel on the other hand is always looking for a citrus punch, and seemed at one point to be contemplating eating the last of the sauce with a spoon.
The naan bread is an interesting choice to go along with this dish.  It doesn't add or remove anything from the shrimp, but it is made fresh and is nice to dip in the sauce once you run out of shrimp – which will happen fast if you do share the dish.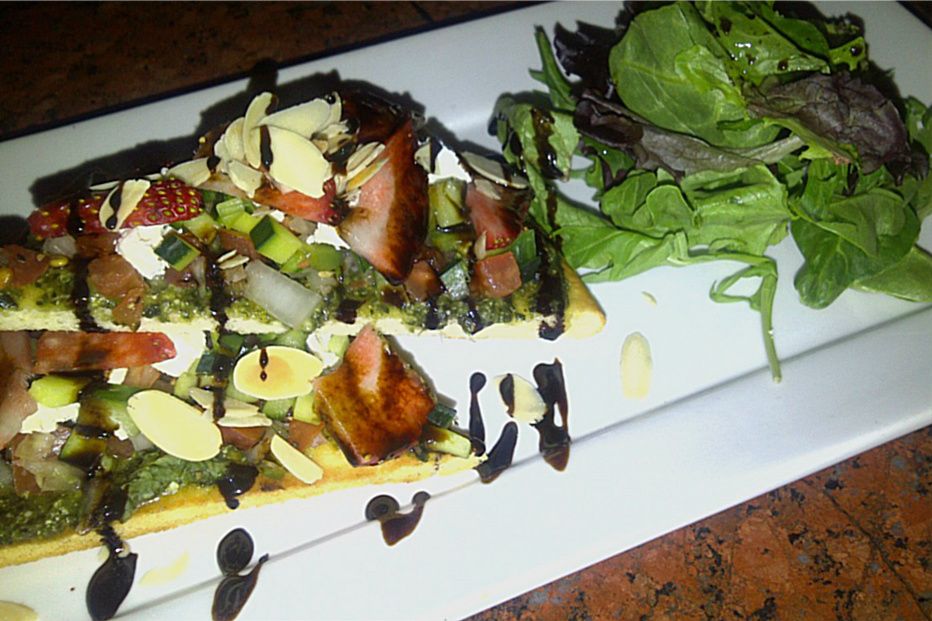 Next, the Verano Flat Bread ($12) was brought to us. Verano, as in Summer.  Summer, as in Fresh Produce.
The dish looked fantastic, and had a great combination of ingredients.  Pesto in lieu of pizza sauce, goat cheese, onions,  jalapeños, cucumbers, tomatoes.  To add even more summer to the dish: fresh strawberries, a great flash.  To garnish, some slivers of roasted almonds and a balsamic reduction.
I have to admit that I enjoyed this dish quite a lot.  Different, fresh, lots of different flavour and texture and levels.  The strawberries, very present, worked beautifully with the balsamic flavour. Simple, yet complex.  A great dish to share, or as a light meal.
Our main entrées arrived shortly after. Continue reading »
I go to Milestones Grill + Bar from time to time, mostly the location near Parliament Hill. Not too often, as I find the faux-branché atmosphere sometimes a little on the annoying side. Milestones, which was founded in Vancouver in 1989, has grown fast since Cara bought the chain in 2002, and now has 45 locations in British-Columbia, Alberta and Ontario.
I went there for lunch with a bunch of colleagues between two meetings, and hesitated for some time as I studied the menu. Despite the "a little of everything for everyone" approach, I was really undecided. Salads, Sandwiches, Burgers and Wraps, Pasta, Asian-style, Steaks, Chicken and Seafood. They even have a Gluten-Free selection, which I assume is appreciated by those on a Gluten-Free diet.
The food is generally good, if overpriced. Which perhaps leads to the aforementioned hesitation.
After a few minutes, I settled on Milestone's version of comfort food, from their menu's urban classics section: The Kobe Style Classic Meatloaf. Apparently, meatloaf were once very popular with the urban scene.
The service was prompt and efficient (if familiar), and my meatloaf arrived promptly.
The meatloaf comes topped with lightly fried onion strings and is served over their garlic mashed potatoes, with a shiitake mushroom au jus and seasoned vegetables, in this case carrots and green beans. Fresh parsley was used as a garnish.
Melissa had a craving.  She'd been talking about it for a few days now.  Fajitas, she wanted. The urge was becoming too powerful to ignore, so we got ourselves a babysitter and we headed to Lone Star Texas Grill in the Byward market.
We were welcomed by very cheerful staff, who even opened the door for us, which was nice. The place was busy, but not packed, which suited us just fine.   We were seated by a table near the door, which was unfortunate – the staff was not opening the door just for us, they were doing it for everyone, letting in a cool breeze in the process.  We ain't that special.
"Dixie", in tight jeans and plaid shirt, brought us our menus and took our drink order quite promptly.  Before even coming back with our drinks, she put down on the table a complimentary basket of freshly-fried tortilla chips with a side of salsa.  A bottle of "True Texas" hot sauce was also provided – a cayenne pepper sauce not far off from Tabasco, but with much less vinegar.
There is nothing like fresh tortilla chips.  These were very crispy, a tad oily, served warm with just enough salt. They cannot be good for you but were so much better than their bagged cousins.  The salsa, also house made,  is served cool, a nice contrast to the chips.  Not a lot of bite, but nice tomato chunks, great fresh feel.  And if you go through the basket or the salsa, they'll bring you more! Nice.
Lone Star's menu is typical Tex-Mex, with Nachos, Quesadillas, Chili, Enchiladas, Tacos, Burrito, Chimichanga, etc.  They also have a Salad section, a selection of Burgers and Sandwiches, Ribs, Chicken and Steaks, including a 72 oz. Steak Challenge  - eat the  steak with all the trimmings in one hour and it's free! If you fail, it's $54.99. But to try, you've got to order it 24 hour in advance. Why?  They need to thaw the monster! Perhaps a future Waffle Challenge…
I digress. We were here for the Fajitas, weren't we?
Lone Star is really proud of their Fajitas.  They claim to have introduced Canada to fajitas in 1986, when the original Lone Star opened in Ottawa (there are now 16 Lone Star locations, all in Ontario), a claim The Waffle cannot debunk so it might be just true.
We ignored the fancy fajitas versions such as Chili Jalapeno Fire, Vegetarian (with broccoli!?!), or Buffalo Chicken, and decided to go big with the Fajita Fiesta.
Quite the Fiesta in fact, including Mesquite-grilled steak & chicken, sautéed garlic shrimp and Pork Back Ribs.  "Dixie" thought it was the best deal on the menu, and who am I to challenge her?
As we waited for our meal, the fixings appeared first, with lots of good stuff to pick from: shredded cheddar cheese, lettuce and sour cream, of course.  But also a very creamy housemade guacamole and fresh, zesty Pico de Gallo.
As the story goes, Texas cowboys starting eating fajitas after long cattle drives, when they would grill steak over a fire and wrapping them up in a flour tortilla.  But I can't imagine them cowboys carrying the trimmings with them as well. I mean, how sour can cream be?
Anyhow.
The star of the night showed up soon after.  Lone Star uses skirt steak, which they grill over real Mesquite wood imported from Texas. The beef was nicely seasoned, could have been enjoyed on its own.   White meat is the chicken you get, grilled the same way as the steak, with the same seasoning.  It was juicy, quite good.
The garlic shrimp were surprising, I was worried they would be on the dry side, but no, perfectly cooked, lots of meat, great texture, not too much garlic. Good stuff.
The quarter rack of ribs was tender, falling off the bone, nicely smoked. The sauce helped on that front, as we had picked the Smoky Chipotle Tequila sauce over the Original Texas or the Honey Garlic Jalapeño.
The meat was served on a bed of sizzling onions and peppers, as usual.  I love the aroma of sizzling fajitas.
The hot fixings were served on the side: a very ordinary and somewhat dry Mexican-style rice;  Saddle beans – not the triple re-fried beans paste we usually have at Tex-Mex places, but actual firm beans in a sauce – not drenched in it, which was good. I'm not sure why they are called Saddle beans, perhaps because of the texture? Naaah, can't be.  The beans were a little smokey, a little spicy, a very honest rendition.
But what really shines at Lone Star are the fresh flour tortillas, baked on order in a custom-made tortilla oven. Eva's Food World shows how it works:  small balls of dough placed at the top, then flattened and and baked as they slide down a ramp.  The result is fantastic, nice fluffy tortillas, so much better than the usual paper thin flat bread.  We had to order more to finish eating everything, which was A-ok from our perspective.
If you'd like to enjoy Lone Star's Fajitas, and you should, you might want to go on a Monday, when you can enjoy All-You-Can-Eat fajitas for $19.99, or on a Sunday when 4 eat family fajitas for $44.  Or really, whenever you have a fajitas craving!
And so it begins!
Once again, The Waffle will record dutifully for you dear Wafflers what it is that one eats on a national election tour – on Jack Layton's tour, no less!
These posts will be short and descriptive, as I am otherwise busy. But I cannot let you down, so here we go!
Breakfast
The last breakfast with Melissa and Clara, at Wilfred's, the restaurant located at the Château Laurier, where Jack Layton would launch the NDP's 2011 campaign once the writ was dropped.
Deluxe Breakfast Buffet at $26 per person! (Yikes!)
Omelette made on order in front of my eyes: I asked for red onions, mushrooms, peppers, tomatoes, cheese. A tad disappointing.
Side of potatoes with onions, bell peppers, and sausage bits.
Sausages, salami, smoked salmon, cottage cheese.
Orange juice, berry smoothie.
Snack
We were greeted on the NDP plane with snacks before Jack Layton's 2011 Tour inaugural flight!
Fruits and a selection of sandwiches were available.  I sampled the swedish meatballs and the beef penne au gratin.
Lunch
Folks had the choice between chicken and beef for lunch.
I went with the beef, which was served in a rich gravy, with mashed potatoes, baby carrots and green beans.
On the side, a green salad with cucumbers and tomatoes, with an oil and balsamic vinaigrette.
For dessert, fresh fruits – with big blueberries!
Dinner
Dinner was catered on the plane tonight, and Subway was the main provider. A selection of 1/3rd subs were available. I decided to ignore the bread and went for a Subway chicken salad instead:
Lettuce, tomatoes, black olives, cucumbers, green peppers, pickles, processed cheese (!) and of course, chicken. Lots of black pepper on it all.  I added a balsamic vinaigrette.
Also available: pizza from Pagano.  I avoided that. I am that disciplined.
I won some tickets for Richard Desjardins' Eleanor of Aquitaine after a visit at the Salon du Livre de l'Outaouais.  Yes, The Waffle is a lucky man, but mostly because his mostly anglo wife agreed to go on a date with him – as long as we had dinner before the event.
A gentleman, I even let her choose the restaurant, and she decided to go to a convenient spot – Milestones on Rideau.  Alas, she was out of luck – there was a 20 to 30 minutes wait when we arrived.  No, thank you.
I proposed to stick around anyway.  No, not the Métropolitain again.  Just across the street is Santé, a restaurant, art gallery and spa.  Woohoo – I could use a pedicure, for sure. Located on the second floor at the corner of Rideau and Sussex, you can get lucky and enjoy a  "fabulous view of Ottawa's famous Rideau and Sussex streetscapes."  We did get lucky and got a table right at the southwest corner of the restaurant, which meant a view of the Canal and the War Memorial for her; a view of the magnificient piece of Orthodox Cold War architecture, the Rideau Centre, for me.  Fantastic.
We had barely sat down and started peering at the fusion menu when the server brought us a cup of reinforced tea.
Although I do not usually drink warm beverages (notice the heat coming out of the cup!  Why would I want to burn myself?), it was a nice touch nevertheless.
I had a few sips and the beverage warmed us up, the mixture of spices was tasty yet subtle.
However, I soon went ahead and ordered a beer – no Canadian brews at Santé however, only import, and not the usual selection. In fact, when I inquired, the Maître D informed us that they never carry Canadian beers, counting on their different but select rotating selection to please their consumers.  He however pointed out that a delegation from Mongolia  was quite disappointed a day earlier when they realized that they had to go for an import.  They settled on a  Peroni Nastro Azzuro, an import from Italy and an interesting one, since usually the only Italian beer you can get is the Moretti.
I had no other choice but to follow their lead, and ordered one. The Nastro Azzurro is a typical euro lager, a clear yellow colour with some aromas of malt and yeast. A tad malty, light yeast, light hops; it has a crisp and dry finish. Enjoyable.
Melissa decide to order à la carte, but I chose to go ahead and Warm up with Spanish Wines and the table d'hôte offered for the occasion.  And by warming up, I mean a glass of spanish wine was included with the meal.
As we waited for our food, a basket of olive bread was offered, along with the classic olive oil and balsamic vinegar to dip it in. Again, a nice touch.
The bread was fresh and light, the olives were mild kalamata, not overpowering.
Interesting and different.
Two days earlier, I kicked myself for not taking advantage of the On Course Combo at the Raven – 3 drinks and 1 snack for 10$ US.
So today, I wouldn't miss it. And when the time came, I ordered a beef burrito. It arrived 4 holes later, on #11.  In the plastic container, two big burritos with smalls cups of sour cream, guacamole and salsa.
I unwrapped the steamed flour tortillas to add the toppings, which is not an easy thing to do in a golf cart, and I took a bite. Juices flowed everywhere – perhaps Burritos are not well adapted to golf carts?  It was mildly irritating, yet completely predictable – so at least I did not put sauce all over my clothes.
The beef was great. It was not ground beef, as we usually see in Canada, but instead it was tender chunks of beef. Very flavourful, very juicy, very saucy. In fact, it made parts of the burritos a bit soggy – the tortillas had been steamed, to make them soft, but also more fluid-friendly.  There was not much else in the filling, obviously they had used onions, chilis and herbs, but that was it.  Very simple, very tasty.  Very not made to be eaten on a golf course.
We were visiting our friends Mary and Cameron in Georgetown, ON, and we arrived shortly after 6 PM – nothing like crossing Toronto on the 401 at rush hour.
As usual, Cam suggested Thai food.  It seems that everytime we are anywhere near Cam, we end up having Thai food.  Here is a prime example.
So the four of us made our way to Georgetown Thai Cuisine, in their newish location on Main street, having moved recently from a tiny place down the road.  The place seems very popular – it was packed as we walked in around 8 pm.  They offered us to wait at the bar, which we did.   While waiting, 3 of us ordered a Singha, the classic imported beer offered in most Thai restaurants.
Singha is the dominant brand in Thailand.  A lager, it has very subtle aromas, some spices, no hoppiness at all. It is quite smooth, maltier than most Asian beers, with some sweetness and a hint of bitterness at the end.
A nice touch here, it came with a frosty mug.  In fact, every single new one we ordered came with a new frosty mug.
We didn't wait for long to get a table – and we ordered the appetizer assortment platter as we perused through the menu, which was, in typical thai fashion, offering hundreds of choices.
Two Chicken Satay – nicely done, flavourful, great with the peanut sauce; two Fresh Rolls – chicken bits, with carrots julienne, mango, basil and mint leaves, they were fresh and left us wanting more; two Porpia-Tod – deep fried thai spring rolls, they were ok, kind of bland; two Goong-Haw, deep-fried rolls stuffed with tiger shrimp, seasoned with garlic and pepper – the shrimp were huge, great texture and flavour, the garlic was not overpowering; and some Plamuk-Tod, deep fried calamari, frehsly made, that Mary first mistook for onion rings. The platter was served with sweet and sour sauce, which was not bad, but overshadowed by the peanut sauce, thick, heavy in flavour and chunks, nicely done. Too bad there was not enough of either.
I know, I was just there, but we had to stop somewhere for lunch on the way back from Buffalo, didn't we?
So we did!  Dinosaur Bar-B-Que welcomed us for lunch. It being Monday, the place was not as busy as it had been on Saturday. But it was still very busy.
We sat down in a corner, a little tired from the week-end, a little anxious to get home.
We looked at the menu quickly.  Ribs were ordered, Fried Green Tomatoes too. I went for the BBQ Prime Rib Smothered Sandwich. Then Patrick ordered the Bacon Cheeseburger. That's when it began:
"How would you like your burger?" our server asked.
"What?" replied Patrick.
"How would you like it cooked?"
"What?"
"How would you like your burger cooked?"
"Cooked?"
That when I intervened: "Yes, cooked.  Rare, medium-rare, you know? Cooked."
Patrick still looked confused, but ordered medium-rare.  His confusion is hard to explain, but it probably has something to do with the fact that almost no restaurant in Canada offers a cooking doneness for their burgers.  Most often, you have no choice but to have it medium to medium-well – if not well-done.
Of course, as Patrick slowly understood what he had done, he had second thoughts. So he got up to change his order to medium.
That episode over, we were soon enjoying our food.
With my sandwich, I ordered the Mac & Cheese – I felt I had no choice considering how much the guys enjoyed it last time. It was very good – creamy, cheesy, a little spicy.  And, for good measure, I had the A.K. Chili as my second side.  It was not bad, but I had to add some hot sauce to bring it to the desired level of heat.  It was not super meaty, but at least had a good consistency.
As for the Sandwich, the Autopsy is after the jump… Continue reading »
The New Democratic Party Christmas Party…  err, I'm sorry, the New Democratic Party Holiday Party is always a classy affair. (Though in french, it was still la "Réception de Noël".)
This year, it included the usual classy skit and the finale of a Movember competition, where NDP MPs Nathan Cullen and Glenn Thibeault faced off to figure out who could grow the best under-the-nose facial hair.  They ended up in a tie, which means they both lost half their moustaches and most of their dignity.
This year, a record number of 270 guests were in attendance at the fiesta, which was held at 200 West Block. This meant that gone were the convivial round tables, which New Democrats love, in favour of the more space-efficient rectangular tables, which Convention delegates love.
And so to accommodate all these people, the organizers went for the very democratic Hot & Cold Buffet, catered by the House of Commons catering services and its very capable and friendly staff.
Despite being a simple Holiday party, and despite the fact that nobody (or almost nobody) was actually on Holiday, Santa Claus was present to supervise the buffet proceeding.