Browsing articles tagged with " Bacon"
 Ms. Waffle had been chewing my ear all week about her keen desire to chew on pizza. I had reluctantly ignored her all week, for our own good. But I finally relented and suggested we try a new spot for lunch.
We tossed a few names around until I suggestd ZaZaZa.
ZaZaZa was created by Ion Aimers, founder of the successful Ottawa burger chain The Works. The first location opened in 2010 on Putman Avenue, which was the original The Works location before it outgrew the tiny space and moved out. After hosting The Fraser Café for a year and a half, it became ZaZaZa. The Ottawa gourmet pizza chain is now bringing "pizza with pizazz" in three different Ottawa neighbourhoods – and according to Aimers, 3 or 4 more locations could still open.
The location on Putman is tiny, maybe twenty seats. We at first thought it could be a good idea to eat on the patio, but figured that with the kids, it would be easier inside.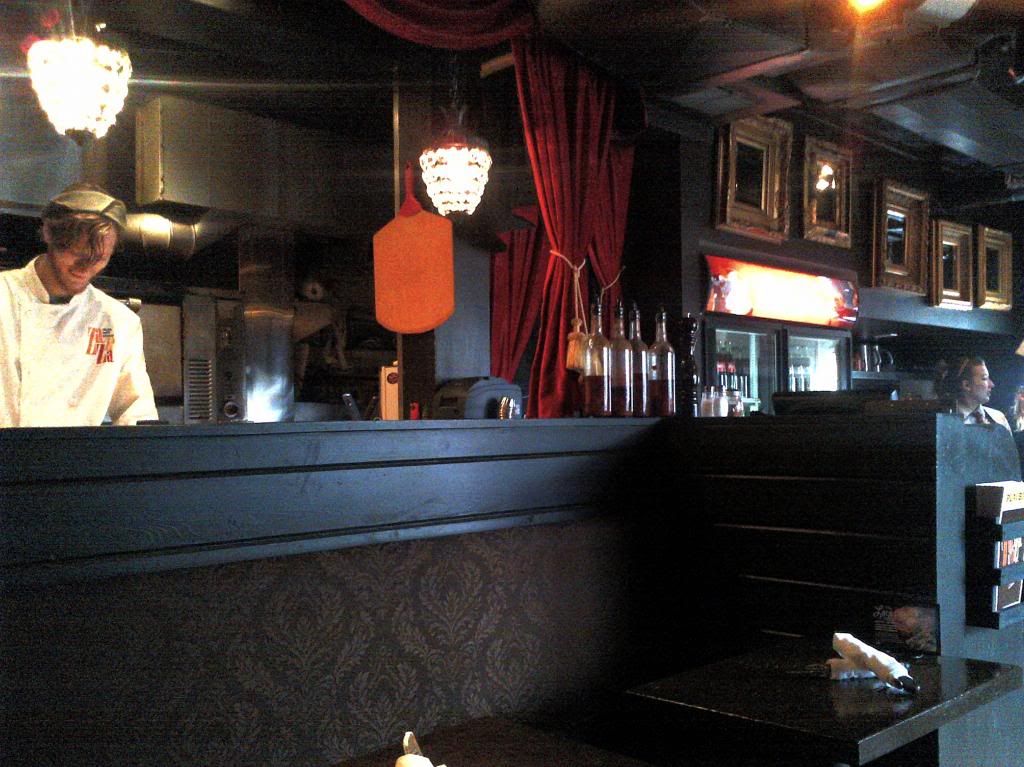 At the back of the restaurant, you have the pizza oven in the left corner, where the pizzaioli are busy making the pies.  In the right corner, the take-out counter.
The spot wasn't really busy, despite the nice weather, with only three tables occupied.  Still, the staff seems to be trained to ask about reservations - likely, it does get busy in there – and you may get cramped if that's the case.
We were brought to a table in a corner and started to look at the menu.
The choice is totally different, quite interesting. ZaZaZa has over 25 gourmet pizzas, with your choice of three different daily-made crusts: cornmeal white, honey oat, and gluten-free made with chickpea flour. For some reason, the pricing is unconventional – from $13.66 to $17.92. Apparently, the most popular is the Crazy Horse (spinach, chicken, pine nuts, caramelized onions and mushrooms on pesto sauce – $16.97). But there were a lot of other interesting options, such as the Cajun Cowboy (tomato chipotle sauce, caramelized onions, chicken, spicy havarti, chorizo, corn – $16.56), the Hot Hot Hot (hot tomato sauce, mozzarella, banana peppers, jalapenos, spicy havarti, hot Italian sausage), the Shangri-La-Di-Da (tomato tandoori sauce, sweet peppers, goat cheese, corn, snow peas, honey drizzle – $13.66), etc.  It was a bit overwhleming.
So while we were trying to make our mind up, we decided to order their appetizer special they call the Lace up: Sweet Potato Cross-Cuts topped with three goat cheese balls served with a dip.  I could say that what convinced us was the fact that a portion of the money for every Lace Up sold goes to the Canadian Diabetes Association, and that would be partly true; but the real truth would be that at $8.49, it was a good deal compared to the price of these appetizers ordered individually ($4.97 for the Sweet Potato Cross-Cuts, $6.41 for the Goodness Gracious Goat Balls of Fire.)
By the time we received it, actually served in a Converse running shoe, we were ready to order our pizzas – Mel went for Erin's Baked Again ($14.90) and I went with the Bleekinator ($15.91). But more pressing business had arrived:
Our server had graciously offered us to try each one of their dipping sauce since it was our first time at ZaZaZa. They were Chipotle Chip, Honey 'n Spice, Lumpy Feta and Hot Mama.  My favorite was the Hot Mama, but I can't say any of them were bad.
Here I am in Montreal, for the biggest policy convention the NDP has ever held.Before I headed down to the Palais des Congrès, I stopped by Saveur, the restaurant at the Hyatt Regency, for a quick breakfast.
I went straight for the warm buffet.
I filled my (small) plate with Scrambled eggs, sausages, bacon, and taters.
Of all that was on my plate, the taters were the most disapointing – not very warm, not as crispy as I expected.  The eggs were creamy, the sausages had a good snap though the bacon could have been a little more crispy.
For good measure, I finished with a bowl of litchi. Now ready to go for day 1!
We left Indian Lake in the morning, hitting Highway 28. Our New York State adventures were coming to an end, and we had to make the 3 and a half hour trek back to Canada.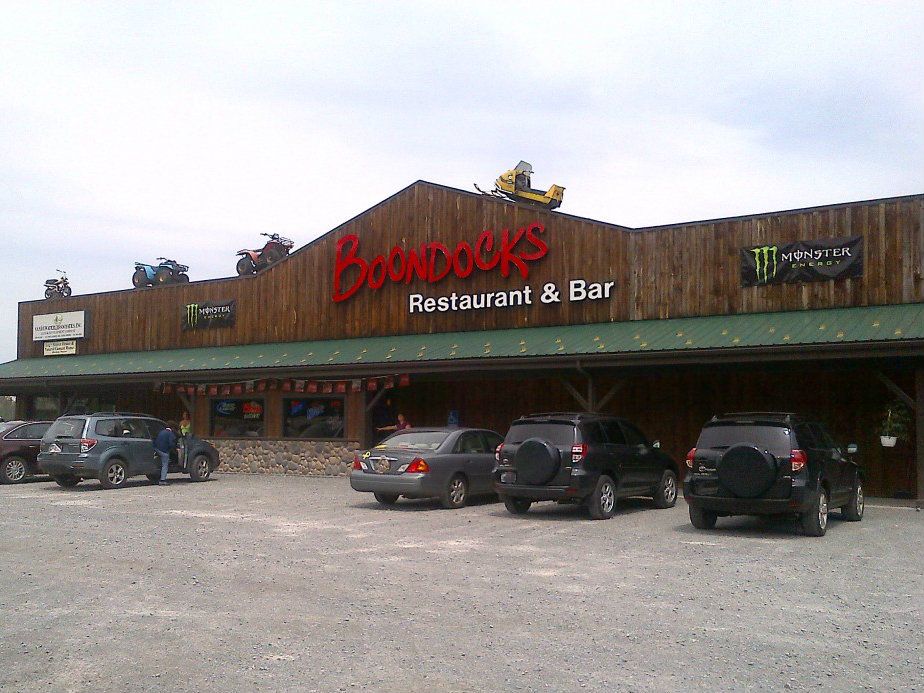 Along the way, we would stop by and admire the numerous mountains and lakes. Lake Durant. Blue Mountain Lake. Eagle Lake. Utowana Lake. Raquette Lake. Eight Lake. Seventh Lake. Sixth, Fifth, Fourth, Third, Second and First Lake. I guess they ran out of names.
About halfway to the border, we started to get hungry. Starving, in fact. But we had reached Highway 12, and options were scarce. Nothing for miles.  Until we saw a size-able establishment with a huge parking lot, with ski-doos and ATVs on the rooftop.
Welcome to Boondocks Restaurant and Bar, Lyons Falls, New York.
Walking in the place is its own adventure. They've got the rustic feel, with lots of wood everywhere. And by wood, I am not only talking about the furniture. I'm talking about the walls, that are either in wood or trying to make you feel like you are in one.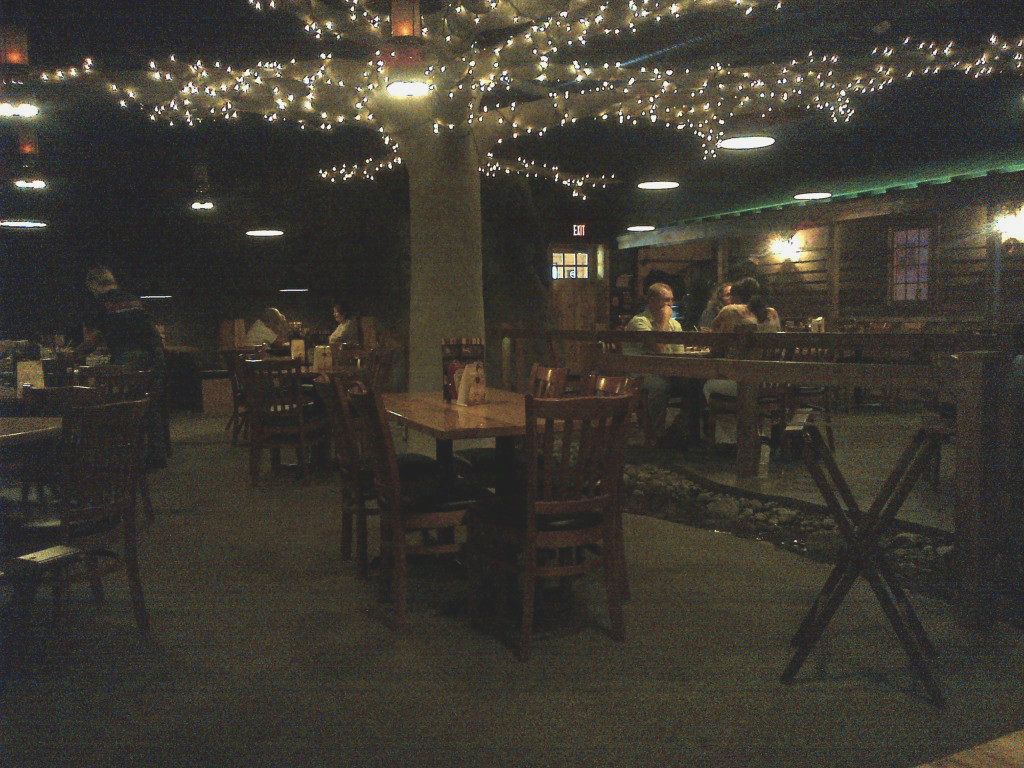 There was a gigantic tree, fitted with lights in the middle of the room. There was a waterfall coming out of rocks, with a creek crossing the room – little country bridges were allowing you to cross over.  Its a cozy Adirondack atmosphere that makes you feel as though you are dining under an open sky, all year long.
We ordered drinks to start, as we looked at the menu. I went with a Saranac Blueberry Blonde Ale from the Matt Brewing Company. I poured it in a frosty pint glass. It had a nice golden color and a significant white foamy head.  The blueberry aroma was strong, the flavour was interestingly fruity, like they added a shot of blueberry juice in it as opposed to a chemical concoction. A really good fruit beer, but it needs to be very cold.  Mel went with another Saranac product, their hand-crafted Root Beer. It is made in small batches and has a fresh root beer taste, with plenty of bitterness but also notes of vanilla and some licorice. Again, better served ice-cold.
The menu was filled with intriguing items. In the appetizer section, you could find deep fried stuff, like Mozzarella Triangles, but also things like Steamers (Steamed Clams) or Load of  Logs (home-made pretzels).  There was a Soups and Salads section, a Pasta section, Chicken, Ribs and Steak, Seafood.  Mel decided to pick one of their sandwiches while I explored the Burger Valley.
Bondoocks' burger valley is not very deep (only 8 different types) but it is wide (any burger is offered in a beef, veggie, or turkey version – and most of them can be made Gluten Free). I looked at the Boondocks Bleu Burger (bleu cheese, bacon, lettuce, tomato and red onion) and the Over the Edge Burger (Golden BBQ sauce, fresh chipotle coleslaw and fried onion tanglers) but finally settled and ordered the Rodeo Burger. In her part of the menu Mel ignored the Tangled Philly (shaved steak smothered with Bourbon BBQ sauce and topped with onions, peppers, mushrooms,fried onion tanglers and Swiss cheese on a toasted Hoagie roll) and the Parmesan Chicken Sandwich and ordered the Ranch BLT Sandwich – with a side of Onion Rings (at an extra cost).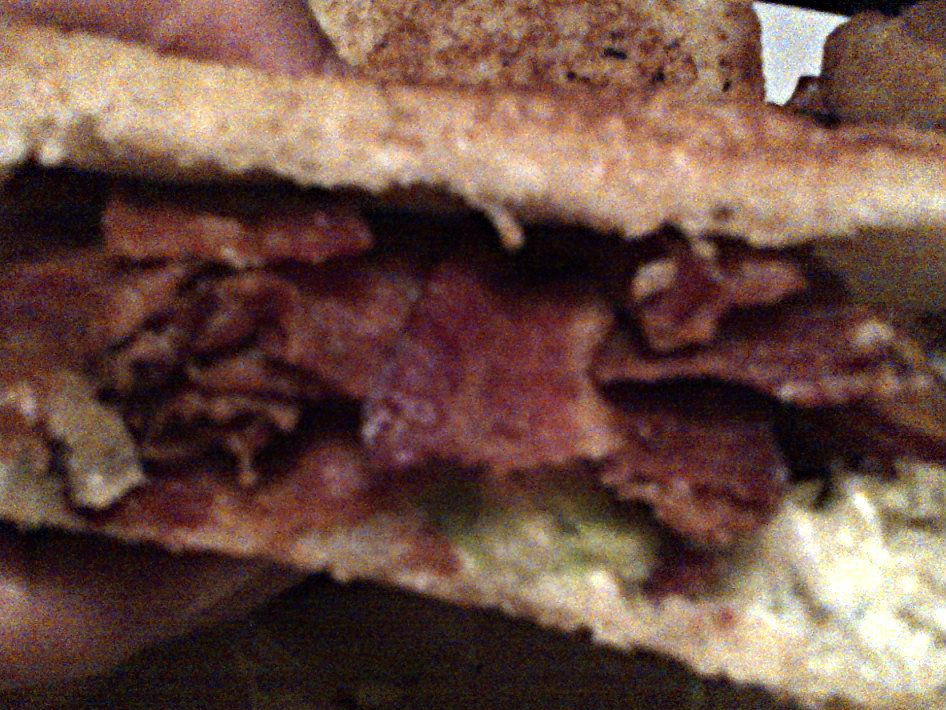 If the onion rings were palatable, the Ranch BLT Sandwich ($7.45) was not named properly. If the "l" and the "t" seemed normal, the "B" was capital. There was a truckload of bacon in that sandwich, topped with lettuce and tomato on grilled Italian bread, nicely toasted, no sogginess. But basically, this was a Bacon Sandwich. The veggies were just a small garnish barely surviving under the thickness of hog goodness – though Mel removed some of it from the sandwich, overwhelmed.  The ranch flavour came in the form of a ranch cream cheese spread, not helping the calorie count.
 Talking of calorie count, this is what my Rodeo looked like: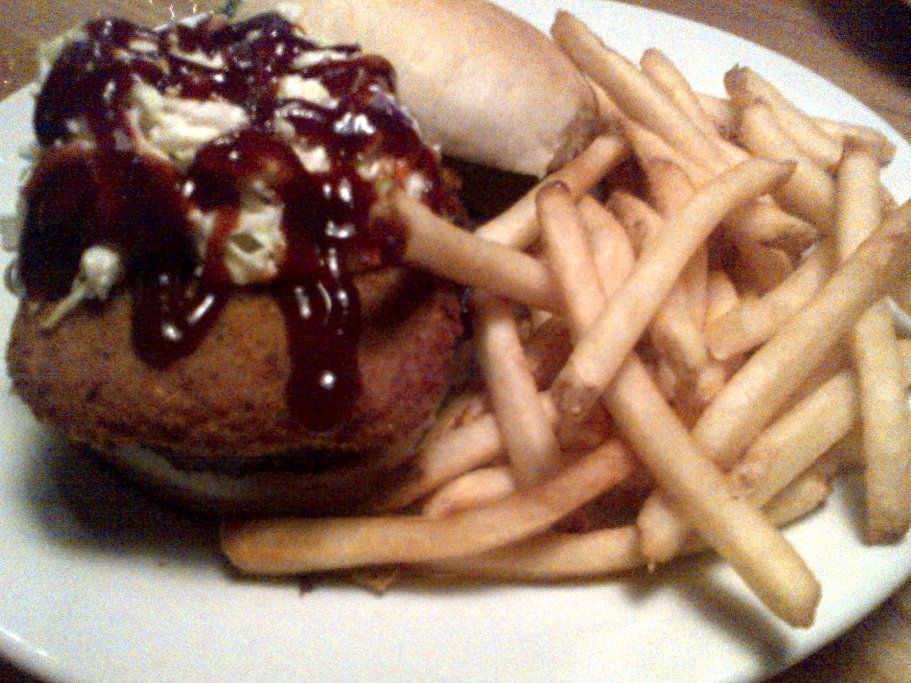 A half-pound beef burger. A huge block of  deep fried Muenster cheese. Coleslaw, piled high. Smothered with a Chipotle BBQ Sauce.
Heeee-Haaaaw!
Now, this was a decadent burger. I've had my share of cheeseburgers in my life, with multiple cheese combinations, double and triple deckers, even cheese-stuffed patties.  But this?  Unexpected. 
Muenster is an American cheese not to be confused with the French Munster.  It is a mild, smooth, soft cheese, usually with an orange tinted-rind and a white interior.
I was expecting a small slice of fried cheese, instead I got a brick of deep fried cheese, with a thick batter – no doubt to prevent the cheese from oozing into the deep fryer. On the upside, it was gooing everywhere – once you got past the crispy crust!
The beef patty was thick, juicy, cooked to medium rare. The coleslaw had a little tang to it and added a nice crunchy and creamy texture to the burger. The Chipootle BBQ sauce was spicy, but there was no chance to overheat with the amount of dairy included in the burger.  Considering the weight it was under, the bun surprisingly held together quite well.
After a while however, the burger started to feel heavy as the cheese brick was falling into my stomach.  I did finish it, but I was kind of glad that the french fries were ordinary – I might have been in trouble if I had finished my plate!
All in all, this was a neat place to stop by randomly. The food was on the outrageous side of the spectrum, but it's not like we had a long road trip ahead of us…
Back in May, the trendy OZ Kafé on Elgin introduced its Sunday Hangover Brunch. The owner confided in The Waffle that the goal was to attract the same branché clientèle who visited them the night before and who enjoyed a few "Pretty in Pinks" too many – a signature martini at OZ, which, I must add, was invented years ago by my wife and her then roomate Tara.
So OZ's Hangover Brunch is offered starting at 2:30 PM: "We do not want to compete with the places offering the traditional brunch on Elgin, we want to offer something different," added Oz herself. Hence, people are invited to get brunchfaced, all the way to 9:00 PM – which means, of course, that if you do not want to get brunchfaced, you shouldn't go on Sundays as their regular menu is not available.
Whitout having had the pleasure of visiting Oz Kafé the night before, I still followed the "Pretty in Pink" inventors in their mid-afternoon brunch adventures with some Halifax' come-from-aways.
The place was busy but not packed, so we were able to grab a quiet corner in the back. The owner seemed genuinely happy to see us and made sure we were comfortable, coming to check on us regularly. The Hangover Brunch menu is limited but varied: you've got your fench toast (with pork), your steak & eggs, your pancake (with smoked trout), your fritatta and some tacos.
Tacos?  Yes, tacos. Two Tacos, in fact, which were calling my name. Tara ordered them first, and then claimed that I couldn't order the same thing someone else had already ordered. I somehow managed to ignore her.  Joel, attracted by the Smoked Trout, went with the Korean Potato Pancake, despite Mel's warning that the chant of the Trout Siren was hiding Kimchi, which is, as she put it, a cabbage left to rot underground, "but that's surely not how they did it here". Surely not. 
Mel and Shauna ordered the Pig on a Mattress.(Above).  The Mattress in question is  a French Toast, the Pig in question is pulled pork and two slices of thick bacon. The dish is completed with drapes of cinnamon yogurt and, of course, maple syrup.
The pulled pork was tasty, the bacon thick, smoky and not too salty.  Mel said that it was very yummy, especially the pulled pork mixing with the syrup.
Breakfast
The first meal of the last day was had in Montréal at the Delta Centre-Ville. Like our last breakfast here, the scrambled eggs could be topped by crushed tomatoes, mushrooms and cheese. I also had Potato wedges, bacon, sausage, fruits, and a peanut butter toast!
Snack
After a mainstreeting visit to the Atwater Farmer's Market in Montreal, we hopped on the bus to head west. Along for the ride, croissants et pain au chocolat – I had a croissant somewhere on the 401.
Lunch
We stopped at the Marriott on Kingston's waterfront for filing and lunch.  Roasted Garlic and Tomato Soup, Poached Asparagus and Apple Salad with Roasted Pinenuts, Truffle Macaroni Salad, Fingerling Potato Salad with Bocconcini and White Balsamic, and a make your own sandwich station – I chose a thick brown bread, added all the cold cuts: ham, turkey, prosciutto, salami; all the veggies: tomatoes, lettuce and onions; and all the cheese: pepper jack, cheddar, aged cheddar.  And also, mayo, mustard and horseradish.
Dinner
Blitzing on the 401, we stopped in Kingston and then Oshawa. We loaded the bus with Swiss Chalet! I had a  Chicken Breast Dinner, with french fries, bbq sauce, a roll, and a garden salad with ranch dressing. After filling up, we hit the road again, towards Beaches and then Scarborough.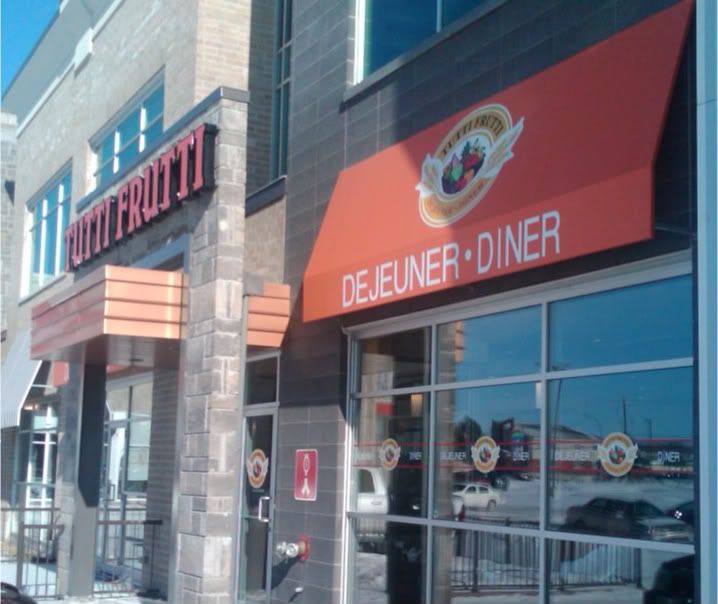 People love breakfast, and they love eating out for breakfast. You can eat for cheap, food menus are simple and therefore hard to screw up, bottomless coffee cups are offered in a lot of cases.
So it is not surprising to see more and more speacialized breakfast chains moving in to capitalize on that lucrative market.  I'm not talking Donuts shop or Fast Food chains.  I'm talking Breakfast chains like Cora (1987).  Eggspectation (1993).  Eggsquis (1995). Ben & Florentine (2008).
And Tutti Frutti, which was founded as a franchise in 1992 by the Pentefoutas family in Montreal. The chain has been growing steadily ever since, and was acquired in September 2008 by the MTY Group, the franchise giant behind 26 banners (over 1700 locations) such as Sushi Shop, Vanelli's and TCBY.
Tutti Frutti is now expanding into Ontario, after establishing themselves solidly in Quebec. Tutti Frutti has just expanded into the National Capital Region by opening a new location in Nepean (reviewed last month by Eva's Food World), adding to the first Gatineau location and most recently, a new one in Hull, high up on St-Joseph.
And that's where we decided we had to start our first Family Day together. We were attracted to the location by a coupon printed in Le Droit which gave us $5 off any of their Eggs Benedict selection. Significant deal.
We arrived around 8:30 and the place was basically empty, which I didn't particularly mind.  For some reason, the hostess, who welcomed us promptly and nicely, thought that the best table to sit the three of us at was right beside an already occupied table in an otherwise fully empty section. Strange, but oh well, it didn't really matter to us.  (But it did to the gentleman, who soon after asked if he could move "near the windows – if it's not too cold over there.  For the record, the Waffle Jr. was minding her own business.)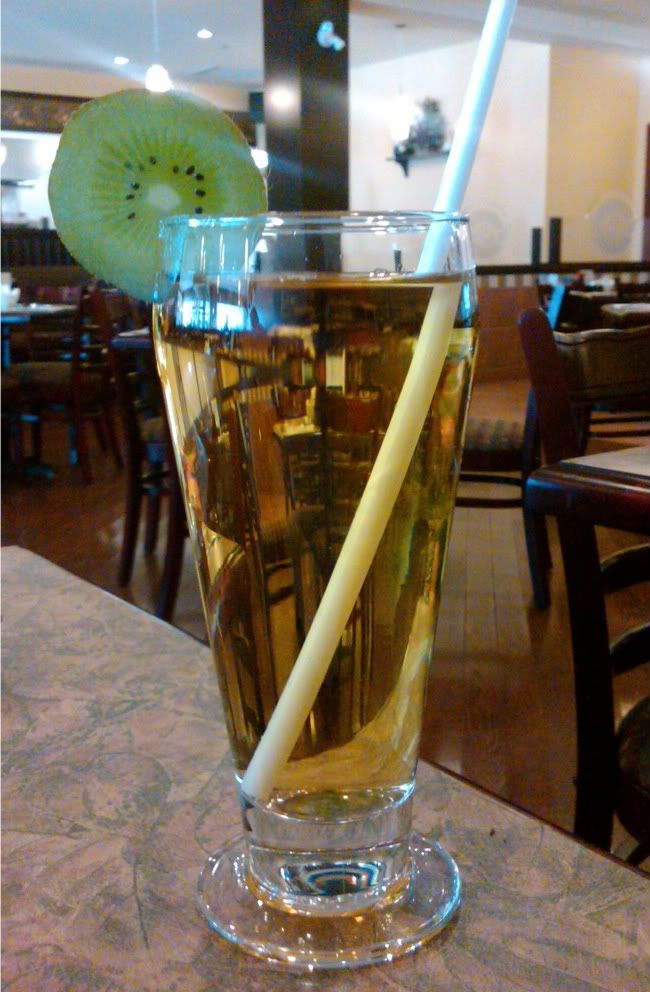 Mel wanted coffee, I ordered a large apple juice.  It came with a slice of kiwi as garnish, a simple but nice touch. However, at $3.25, it was quite pricey! No wonder their coupons are worth $5.00! Of course, the coffee was included with a breakfast, another example of non-coffee-drinker discrimination. However, if you are a coffee drinker, I should point out that the re-filling was not very prompt. "If you are a breakfast place, there is no reason to ever allow your patrons to see the bottom of their cup!" Mel informed me.  In fact, after being asked directly for more coffee, our server simply forgot about it and I had to wave her over again while to remind her of my tender-half 's need for more caffeine.
Looking around the restaurant, one could not help to notice how clean the place was. Don't let yourself be fooled by the bright orange canopy outside the restaurant  - the interior decor is warm and sober, and they get high marks for the natural light blasting in.
The open concept basically lets you peek into the open kitchen from anywhere you sit. The tables are not too close together, but I bet the place would get loud fast.  But with 6 tables occupied, not a problem.
The menu is varied, offering many types of crêpes, pancakes, French toast, omelettes, waffles, fruit platters, and of course the classic bacon n' eggs and other usual combinations (most of them available in a cheaper early-bird version). On the sides side of things, one should note the presence of cretons and of fried baloney. Tempting!
Melissa decided she would try the Eggs Benedict, and she picked the Ham version ($10.55).
Two poached eggs, served on a thin slice of ham, sitting on english muffins, covered but definitely not drowned with hollandaise sauce. Melissa did note that she was not asked how she would like the eggs cooked, which normally means (she assumed) they would be done medium (no runny stuff) but these came cooked soft (with runny stuff).  She would have rather they had been medium, but she still enjoyed the meal.
Her plate, as was mine, came with home fries and was decorated with pieces of fresh fruit. ("Why are the fruits touching my food?!" Mel cried. "I hate it when my breakfast food is contaminated by oranges," she added, as she created separation between the culprits and her eggs.)
The fruits were stacked to look like a floral bouquet but did not quite match the pictures in the menu.  Nevertheless, there was some effort put into the presentation, a nice variety of melons, citrus and apples.  The fruits were fresh, juicy, nothing to complain here. In fact, even The Waffle jr. joined in and tried her first piece of watermelon ever – and asked for more.)
I'm not really a breakfast guy, I usually have some fruit, something simple.  But when I go to a breakfast place, I like to try things that are out of the ordinary.  Three things here caught my eye:  The Three Little Pigs (breakfast sausages wrapped in buckwheat crepes and cheese), and the Tutti Frutti Special (two cinnamon buns, one covered with fruits and the other one with egg and bacon).  But the one item that was calling my name was the Tutti Mini ($11.95), three omelette sliders. How original!  How ambitious!  I had high hopes.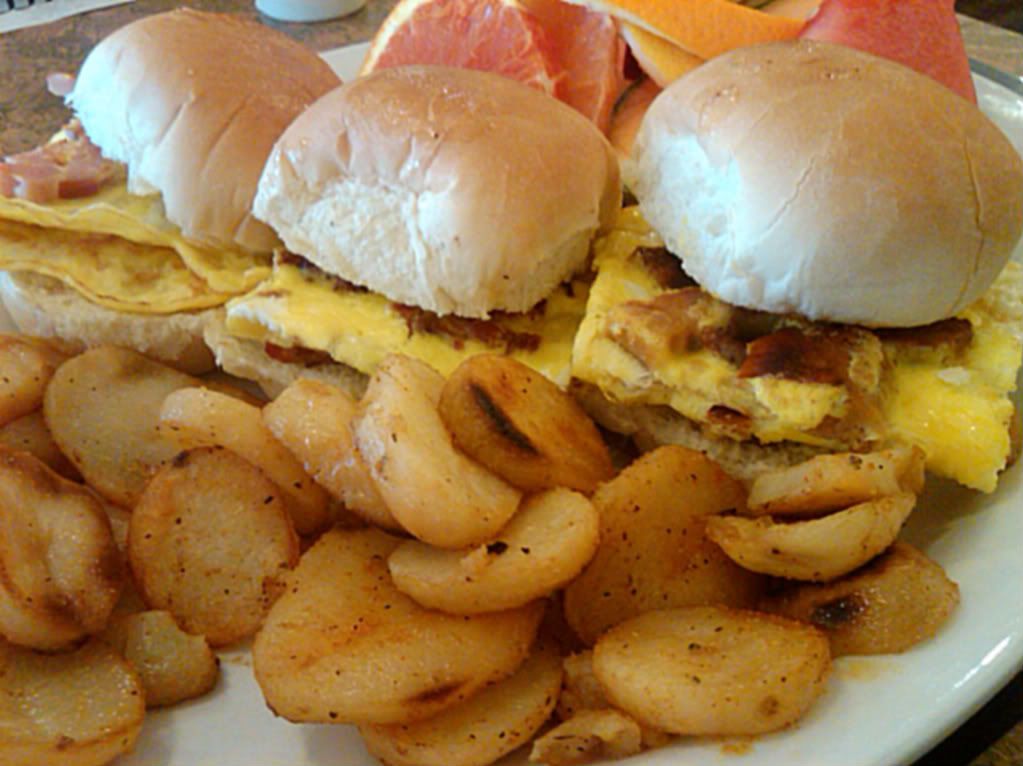 First, a word about the home fries. Real slices of potatoes, a nice change from the deep-fried frozen tatters you too often get served for breakfast, they were a tad soft but not mushy.  There was some sign of crispyness, but minimal crunch.  An honest rendition.
The sliders were the main attraction of the plate.  There was three Tutti Mini on the plate: one with sausage, one with bacon, one with ham.
The buns selected for the breakfast burgs were of a standard, non-descript industrial make. They were fresh, with almost a cake-like texture.  But sadly, they were served right out of the bag.  Not grilled, not toasted, not warmed up at all. Unfortunate.
The omelettes were pretty bland.  Just plain pre-mixed eggs  on a plaque, barely seasoned. No cheese, no veggies. Even the meat wasn't mixed in, it was simply cooked separately and added under and over the eggs as they put the sandwich together.
Talking of the meat, I really didn't like the sausage one.  It had an unpleasant aftertaste, the texture was oily,greasy, it simply wasn't good.  The bacon version fared little better – instead of a couple of nice bacon slices, I had a bunch of small bacon bits – either broken pieces they keep for this purposes or that is simply the way they plate it, but whatever the reason, it didn't work. The best of the three was the Ham version.  Again, they had the ham slice cut up into chunks, but at least the chunks had some substance to them, it had the best flavour of the pork trio, a tad salty but hey, it's ham.
The omelette slider is a great idea, but it didn't live up to my expectations. It wouldn't be hard to make this a home run. Season the eggs better, adds some onions, and finish it with melted cheese.  Toast the buns. Improve the quality of the meat and give the slider a nice finish with some garnish – maybe a hollandaise mayo or a fresh salsa to bring it together. This dish has so much potential. It should be better.
All things considered, Tutti Frutti is similar in what it delivers to other breakfast chains. Some things are good, some things not as much.  The variety and quantity of the fruits on the plate is impressive – you aren't stuck with a single slice of orange with half a strawberry on your plate.  Yet, execution is far from stellar.  As for the service, it was familiar, friendly.  The food arrived quickly, and what was meant to be warm, was warm.  The place is not cheap, though (unless you go for the Early Birds' special) as our bill, before taxes, tips and coupons, was $25.75 for two persons.  Not quite worth it, but not a total rip-off either.
First, it was invented.
Next, it crossed the border.
Then, it created a political storm.
Then, Pretend challengers showed up.
Finally, The Waffle got his hands on one.
Once I arrived at the Rideau Centre location, I hesitated. Perhaps I should go for a healthier choice, like the Chicken Caesar Salad.
Alas, it was sold out.
Apparently, it is a very popular item at KFC. Only 190 calories. Only 8 grams of fat. Only 830 mg of sodium. But that's before the croutons. But again, it was sold out!
I had no choice but to go back to the original quest:
the Double Down.
The breadless sandwich was offered on it's own for $6.99 – or as part of  a trio, with french fries and a pop for $8.99.
Scared by the amount of sodium, I ordered the trio – not for the fries and their 770 mg of extra sodium – but for the Super Size Pepsi I thought I would need in order to down the Double Down.
A few minutes after I ordered it, I witnessed a kitchen staff preparing it for me.  Not that it's really made to order, but at least they assemble it to order.
A piece of fried chicken.
A piece of processed cheese.
Two slices of bacon.
A piece of processed cheese.
A few squirts of sauce.
A piece of fried chicken.
Once I got it, I was amazed at how delicate it looked.
Yes, delicate.
It was much smaller than I expected. The entire sandwich didn't quite fill up the small cardboard box it came in. Although I did know that the filet was removed from the breast – I didn't realize they had removed the breast from the breast.
Perhaps I should have ordered two, I thought. Because at first bite, it's pretty good.  The classic recipe spices do go well with the chicken.
It turns out that I won't need to go on a shopping trip in order to enjoy the new sandwich sensation from KFC.
Many readers (thanks to J-F for sharing healthzone.ca's analysis and Laura for sharing treehugger's article, and to all others who were afraid I would miss this culinary event.)
Two Original Recipe chicken breasts (filet removed), two pieces of bacon, two slices of processed pepper jack cheese, and of course, the Colonel's Sauce.  What's not to like?
One acute observer would note that the american recipe calls for two melted slices of Monterey Jack and pepper jack cheese – which sounds better than the processed pepper jack cheese announced in Canada.
Other differences:  the American version is 540 calories, 32 grams of fat 1,380 milligrams of sodium while the Canadian version is also 540 calories, but only 30 grams of fat.  Oh, and a paltry 1,740 milligrams of sodium.
I guess Canadians like salt more than Americans - although Health Canada's recommended daily sodium intake ranges from 1000 mg per day to 1500 mg per day.
Also, the healthier grilled version of the Double Down, available in the USA, is not offered up North.
The Waffle will most certainly try it out for you, dear Wafflers - but he'll have to hurry, as the breadless sandwich is available only until November 14th.
McDonald's is currently studying the possibility of launching a new Quarter Pounder hamburger to complement it's current line of Quarter Pounder sandwiches. Information obtained by The Waffle shows that the hamburger chain is currently testing the hamburger with potential customers.
The investigative investigation investigated by The Waffle has found that McDonald's is currently describing its newest creation as a 1/4lbs of 100% pure Canadian beef (what else?) lightly seasoned with pepper and salt (a regular Quarter Pounder contains 630 mg of sodium, the same with cheese you increase the sodium content to 1110mg!) topped with crisp leaf lettuce, juicy tomatoes, onion crisps (whatever that is), hickory-smoked bacon, processed cheese, creamy mayonnaise and smokey BBQ sauce on a freshly toasted sesame seed bun (a toasted burger bun?  That would be different from Ronald's crew).
The survey, conducted online, is also testing possible names for the new hamburger, including:
BLT Deluxe
BLT with Smokey BBQ sauce
Quarter Pounder BLT with Smokey BBQ sauce
Smokey BBQ Hamburger
It seems clear that McDonald's is keen to have the BLT label associated with the new hamburger, no doubt trying to create a perception of freshness and crispiness in the customers' mind. However, the actual BLT sandwich currently  on McDonald's menu is not a hamburger – it has no beef and is served on a ciabatta bun.  It is definitely interesting that McDonald's is considering calling "Deluxe" the addition of beef to its BLT – one would think that the "Deluxe" label should apply to the fixings (ie bacon, lettuce, tomatoes) as opposed to what made McDonald's what it is – the beef patty.
In fact, it seems to us at The Waffle that McDonald's should simply call it the Quarter Pounder Deluxe. Just by looking at it, it's obvious. The Quarter Pounder has always been a favorite of this corner.  The hamburger was invented by Al Bernardin in 1971, when he was a franchise owner in Fremont. His prophetic slogan, "Today Fremont, tomorrow the world," was bang on. Mr. Bernardin died earlier this year.
Refreshing this classic line of higher-ratio-of-meat-to-bun burgers with a 5th version would be most welcome.  The Quarter Pounder Deluxe would be instantly recognized by customers for what it is – a Quarter Pounder with the works.
Now of course, McDonald's is commercializing a Quarter Pounder Deluxe already – but only in South Africa and it has nothing to do with what McDonald's is considering here.
So here it is, in all it's pre-marketing splendor:
The Quarter Pounder Deluxe
————————-
UPDATE Aug 15, 2010 @ 15:18 :   The Quarter Pounder Deluxe has arrived!!
My wife knows how to convince me.
She obvisoulsy had a plan in mind when she sent me a story about Kentucky Fried Chicken's hot new item, launched on April 12th, the Double Down Sandwich.
Two boneless pieces of KFC's famous fried chicken in place of the buns. In between the replacement buns, two slices of Monterey Jack and Pepper Jack cheese, two slices of bacon, and some of the Colonel's Sauce – albeit not the original one.
All  that for only 540 calories, 32 grams of fat.
Oh, and a paltry 1,380 milligrams of sodium.  
"Sadly, it is not available in Canada, I understand," I pointed out.
She quickly replied: "yeah…. wanna go do some duty-free shopping across the border in New York? "
 So there you have it, folks.
The Waffle may be soon on a mission to explore the next frontier of sandwich making.
A sandwich so good, there is no room for the buns.
And with the dollar at par, how could I say no?
.