Browsing articles in "Restaurant"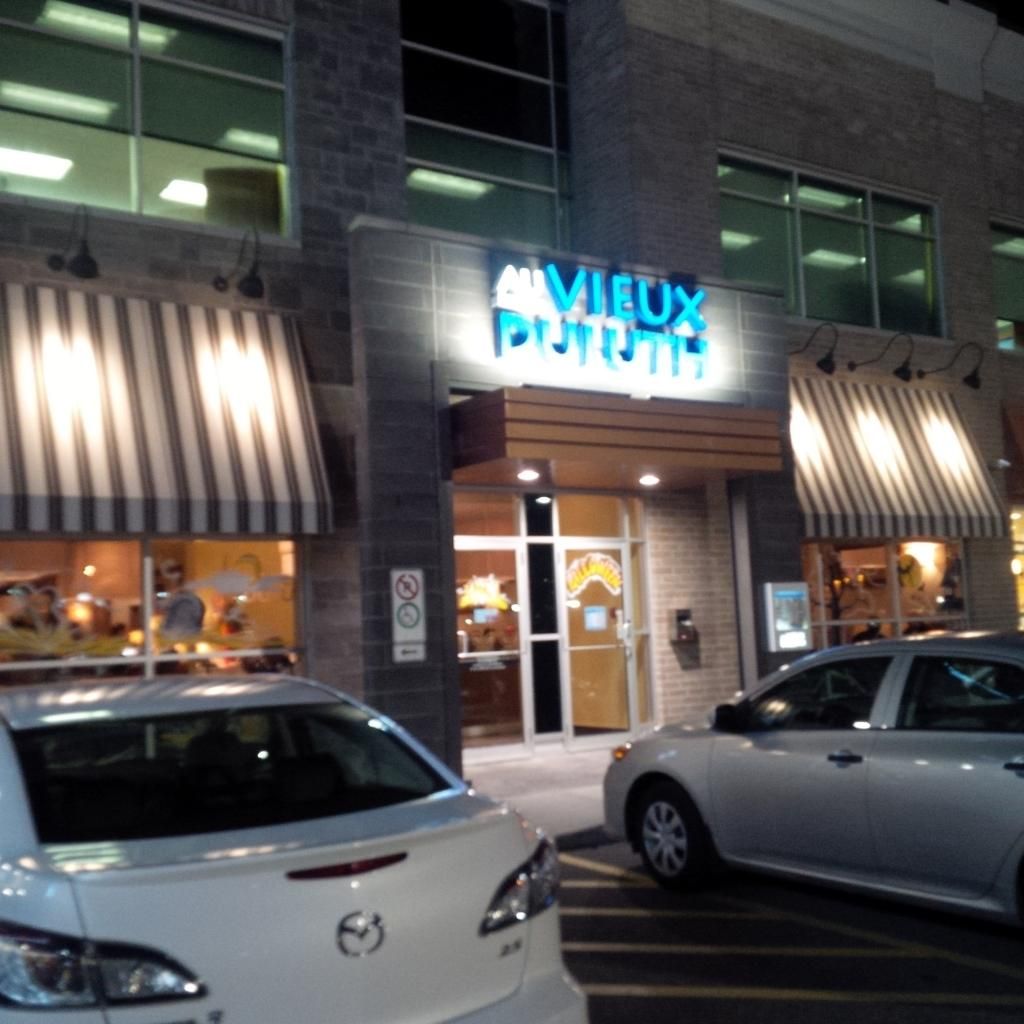 Sunday night, coming back from a very successful scouting trip at the Conservative Convention in Calgary, I couldn't say no when the Waffle Jr. asked to go to a restaurant. Interestingly enough, we have some gift certificates to use Au Vieux Duluth, and that is where we headed.
Au Vieux Duluth is a chain of 34 Greek-style restaurants hailing from Montreal. The first Vieux Duluth opened its doors on February 1982 on Duluth street in Montréal.  Au Vieux Duluth's winning formula focusses on grilled specialties and seafood dishes, generous portions and of course, the bring-your-own-Wine-and-Beer formula.
The Hull location has moved north recently, and is now conveniently located in a new mini-mall, which includes an SAQ store.
The place was really busy, as it usually is on Sunday evenings. Thankfully, there was space, and we were given a large 6-seat booth for the 4 of us. We were in the middle of the action, with birthday parties left and right – the place was really noisy, which got the kids a bit agitated.  This wouldn't be a relaxing meal, it felt like.
We peered at the menu, which features different combinations of chicken, beef, fish and seafood.
I wasn't really hungry, so I decided to keep it simple and ordered their Chicken Brochette ($15.95). Mel decided to go for the Chicken breast and Butterfly shrimp ($22.95). Both dishes are served with home-fried potatoes, rice and house salad. Meanwhile, for some reason, the Waffle Jr. wanted the Tzatzki ($5.95),  Creamy yogurt, cucumbers and garlic mixture served with toasted pita bread and marinated peppers. And of course, French Fries.
Despite signalling to our server that the Tzatziki was our daughter's entrée. it was brought to our table right away. Nothing exceptionnal here, the highlight was the pita bread.
The rest of the food followed after a little while. The plates were the classic Vieux Duluth presentation: a healthy portion of their House Salad, 3 Potato Wedges, a ball of Rice and the meat. You'd like to get your salad in a separate dish?  That'll cost you extra.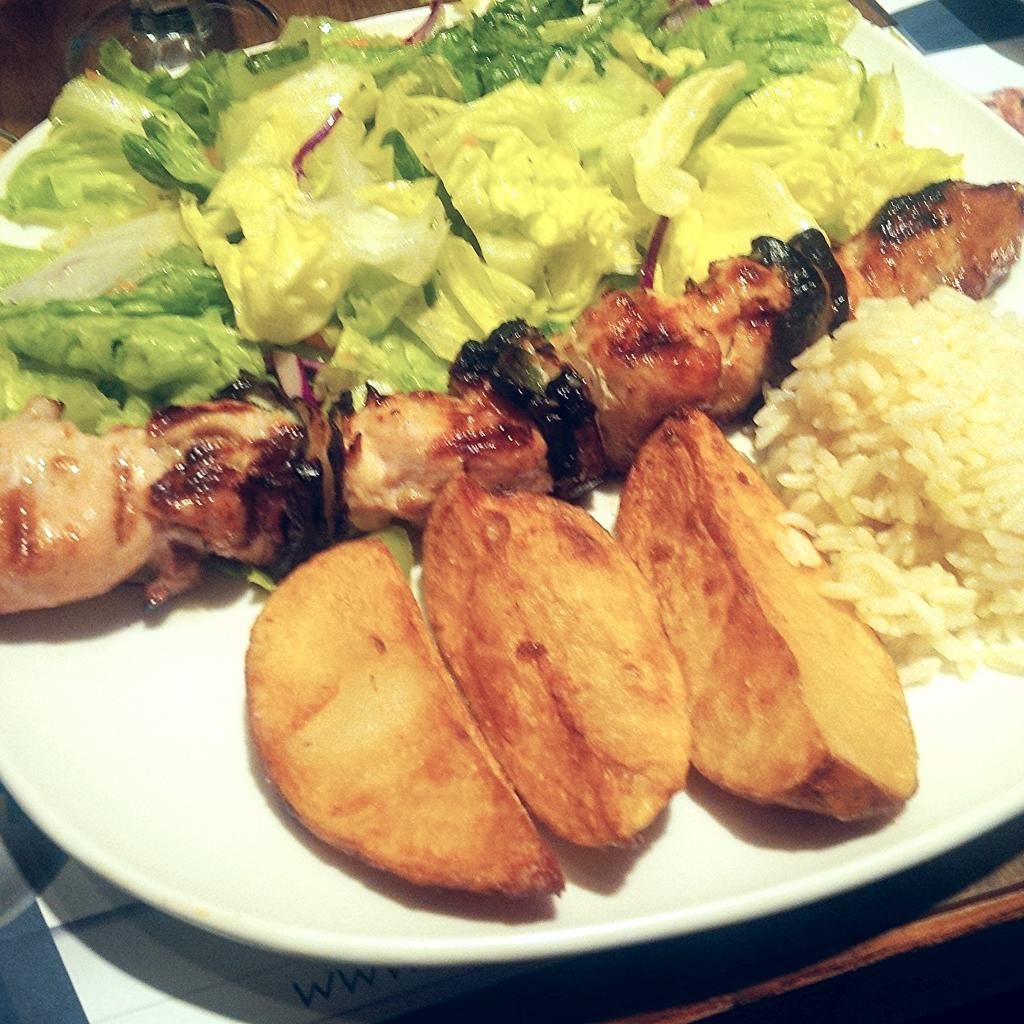 The salad was a little too wet with dressing, but the iceberg was fresh and crunchy, and the dressing interesting. The potatoes were dense, a little dry. The rice was texturally pleasant, but a little bland.  The highlight was defintely the chicken: Here we had skewered marinated chicken with onions and green peppers.  The chicken was tender, juicy, a little zesty.  The veggies had charred edges, but were nicely caramelized in the middle.  The pieces could have been thicker, I thought.
Melissa's plate was similarly presented – except she had two types of animals on her plate, and a small bucket of garlic butter.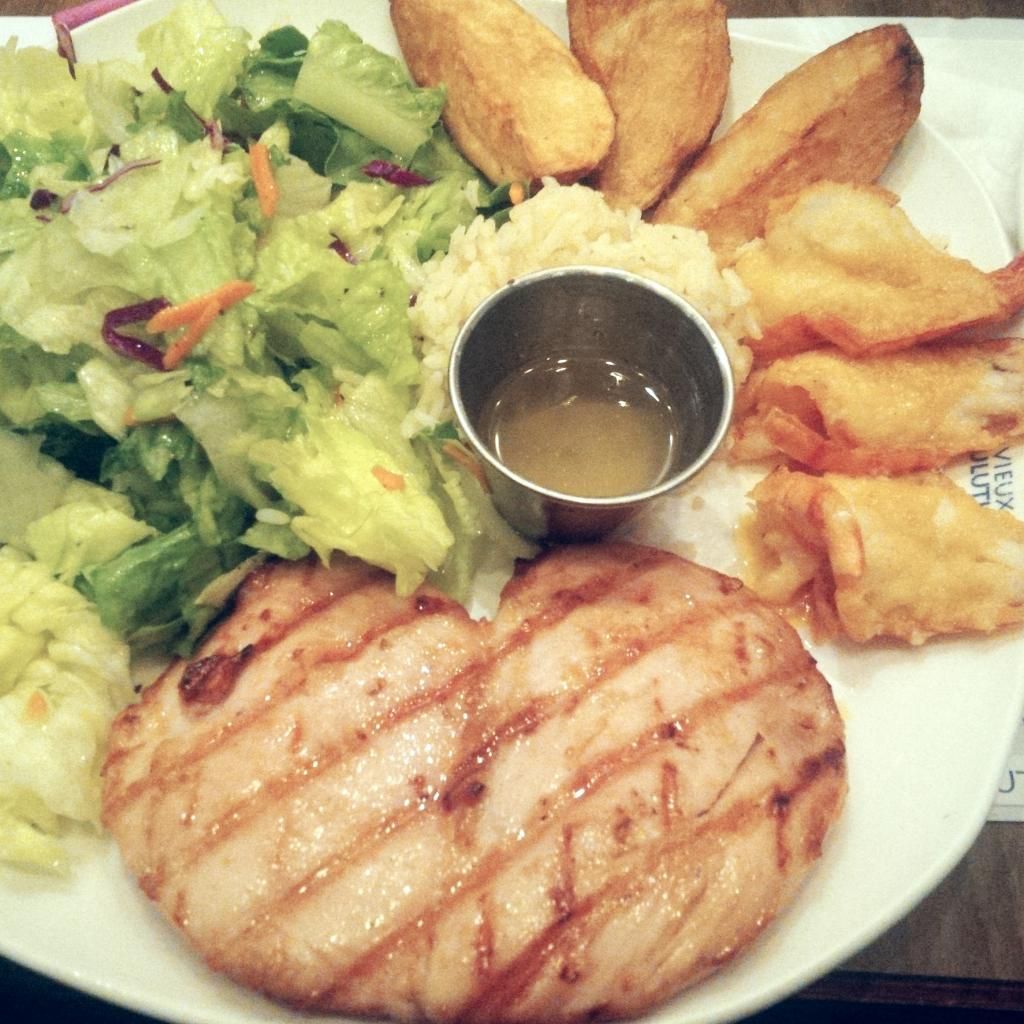 If the 9 oz butterflied chicken breast was grilled nicely, was tender and juicy, thanks to the zesty marinade, the butterfly shrimp were a major dispointment – the breading was soggy and the shellfish a little chewy. Thankfully, there was garlic butter!
The place was really busy and really noisy, and the waiting staff couldn't possibly be attentative despite their best efforts. The prices were reasonable, but more expensive than what you should really pay – not serving alcohol does come with a price. Still, it was a night out with the familly – and that was what made my day.
The NDP Caucus strategy session was coming to an end, and before the last part began, we had some free time for lunch. Where should we go to enjoy this freetime? To the Freehouse, of course!
The Freehouse was established by a Saskatchewan consortium that includes several New Democrats, most notably former NDP MP Lorne Nystrom. There are two successful locations in Saskatchewan, the Cathedral Freehouse which opened in 1996 in Regina and the Spadina Freehouse which opened in 2002 in Saskatoon. The consortium tried to expand to Winnipeg, but sadly, the Osborne Village Freehouse didn't last very long.
The Spadina Freehouse is located strategically in the heart of downtown Saskatoon, across from the Delta and adjacent to the Sheraton, guaranteeing an influx of travellers attracted by convenience and the large patio. Despite the inviting bright interior, Steve, Karine and I decided to sit outside – until the sun came out and we realized there was no shade anywhere to offer cover to the patrons. My fair skin couldn't take it, and thankfully the staff happily obliged and set us up inside, despite the fact that we had already ordered our drinks.
They've got a nice looking pizza oven burning in the back where they woodfire cook their thin crust pizza. The Freehouse menu is eclectic, a bit all over the place.  For instance, the appetizers' origins are all over the map: Red Pepper Hummus, Korean Rolls, Tandoori Tenders, Empanadas.  The rest of the menu is similar: Kasmiri Chicken, Sicilian Linguini, Red Curry Mango Penne, Chipotle Back Ribs, Chocolate Chili Lamb Shank, Tarragon Citrus Halibut and a selection of sandwiches, burgers and salads. There are also lots of vegetarian and/or gluten-free menu items if you're looking for those things.
But we had heard all week the good reviews about their pizzas, and that seemed the way to go.
All Freehouse pizzas are 10" pies, offered at a 17$ flatrate (2$ extra for gluten-free dough.)  The selection is limited yet interesting:  Classic Greek (spinach, tomatoes, spanish (!) onions, black olives, mozzarella and feta on a basil pesto base), Tandoori Chicken (mango chutney, cilantro, chicken, red peppers, onions, mozzarella on a tandoori masala and yogurt sauce), Bruschetta, Fungi, and Spicy BBQ Chicken (chicken, onions, mandarin oranges, three cheese blend on a BBQ sauce) are among the choices.  We decided to order three different pizzas and share, so Steve went with the Pulled Pork and Apple pizza, Karine picked the Cappicola & Roast Roma and I went with the Carnivore.
It took a little while to get our pizzas but once they came, they were warm and glowing with flavour:
Steve's Pulled Pork & Apple was the most intriguing.  A healthy serving of pulled pork with slivers of granny smith apples on a chipotle adobo BBQ sauce, topped with a blend of three cheeses.
This one was delicious. There was a healthy amount of very tender pulled pork. The sauce was sweet and spicy, indeed a good heat level, and it went very well with the pork.  But what made it was the fresh explosion of tart and sweet apples – in fact, there could have been a little more.  A great combination. I thought there could have been more cheese, though.
Karine's Cappicola & Roast Roma was the most traditional of the bunch.   Cappicola ham, roasted tomatoes, red onions and provolone cheese on a basil pesto base.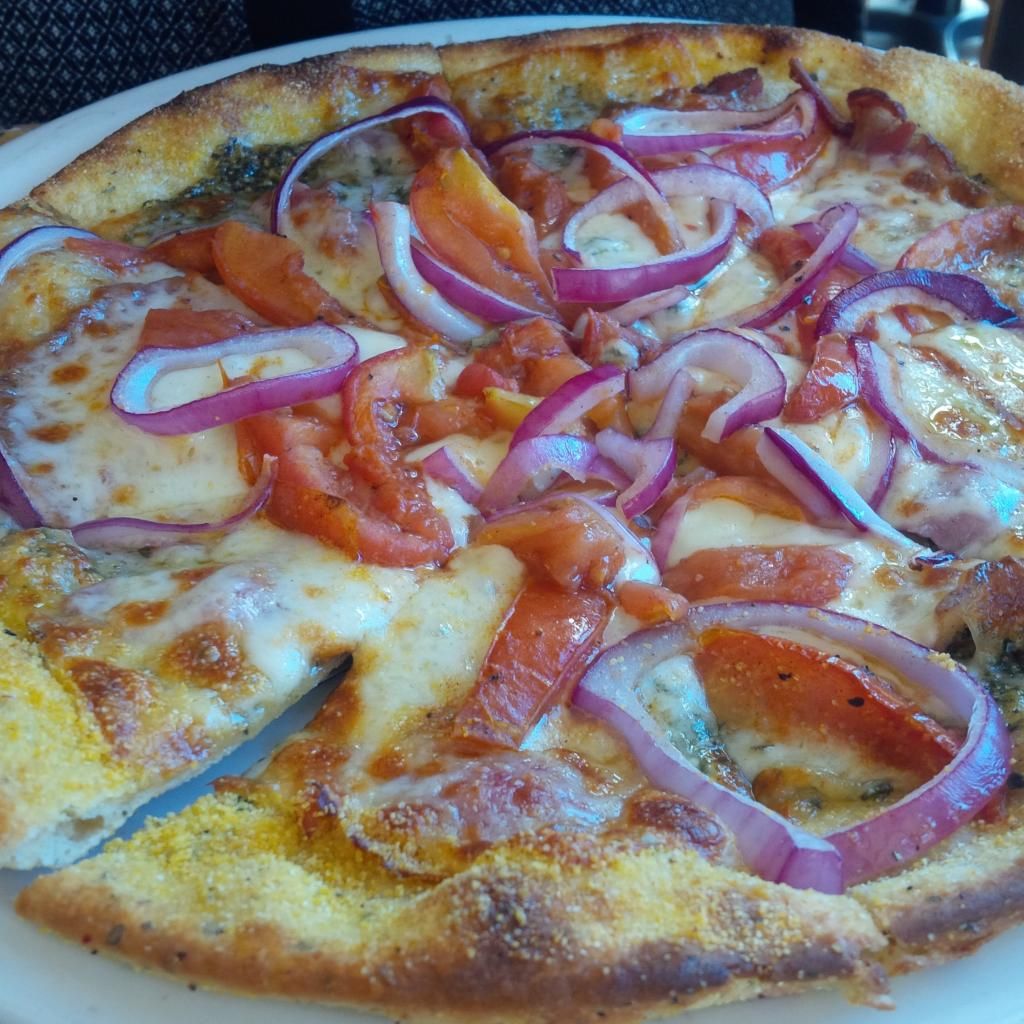 This pizza was my least favourite.  The tomatoes were kind of mushy and the onions were basically raw.  The Cappicola was good, spicy, but its presence was masked under the pile of onions.  Karine discarded a bunch of them and there was a noticeable pile on her plate when we were done. The provolone was fine, mildly  sweet, helping the pesto base to shine. The pesto base was indeed fine, but it seems to me they should have gone with a tomato-based sauce for this one.
As for the Carnivore, it was different than the usual meat lovers offered by pizza joints.  Here, you had chorizo sausage, cappicola and pulled pork on a house made classic pizza sauce topped with mozzarella.

Now, that's what I called a hearty pizza!  There was loads of meat on it.  The same pulled pork as the other pie – but its own flavour was more present, not absorbed by the BBQ sauce.  It was a good contrast with the chorizo, spicy and texturally pleasant.  Contrary to the Pulled Pork and Apple, this had no cheese blend, but just pure mozza.  I thought that the cheese combo was kind of non-descript - this was more like it, cheesy and stringy but with caramelized bits here and there.
The crust was crispy and crunchy, thanks to the wood fired oven. It held the toppings together nicely, and was cooked perfectly.  But at 17$, these seemed a bit pricey – and once we got our food, our server disappeared - but it is worth pointing out that we were all sated and satisfied with our meal. That must be worth something.
We left the Floribell Resort early Sunday afternoon to go home after having had a good time with family and friends. Frolicking on the beach, swimming in the lake, drinking a few cold ones. Life was good. Especially since yours truly became International Champion of Water Frisbee. But that's another story.
So we left Saint-Élie-de-Caxton and started looking for a place to have a quick bite.  We hit Road 351 then Road 153 before arriving in Saint-Barnabé and spotting a Casse-Croûte just off the main street.  The place didn't look busy, but there were a few cars in the parking lot.
The classic Pepsi sign told us that we were at le Casse-Croûte du Parc Vert.
Built in 2005, Casse-Croûte du Parc Vert is located downtown St-Barnabé Nord, such as it is.  It is basically about 20 minutes from Trois-Rivières,  Shawinigan and Louiseville.
They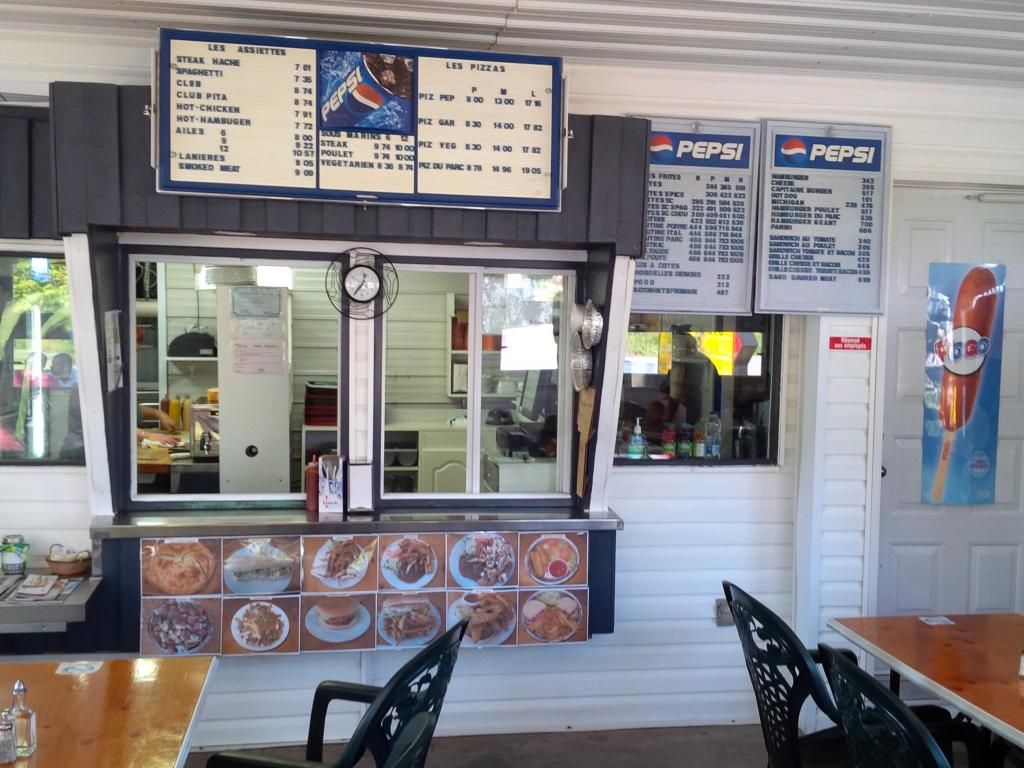 claim that everything on their menu is home made.  The spot used to be a classic snack bar hole-in-the-wall – but clearly they renovated to add indoor seatings, about 30 seats. Outside, a couple of picnic tables if you prefer.
The menu is posted on a couple of boards over the order window.  Here, you can find the usual casse-croûte fare:
French Fries, Poutines, Subs, Hamburgers and Hot Dogs; but also Chicken Wings and Pizzas.
The owner, which was operating the kitchen, was very friendly and resourceful, answering all our pre-meal requests:  high chair? booster seat? (nooooooooooooooooo, papa! I am tall now!) and even a  band-aid to cure a bébitte's bite.
The Waffle Jr. wanted chicken and they were offering nuggets by single unit – a great option - but I knew she would want French Fries from our order, so I got her the full platter ($7.83). Mrs. Waffle didn't hesitate either – she wanted an Italian Poutine – a small one ($5.96), with a tomato-bacon sandwich ($3.05) on the side. For my part, I took my time to look at the menu, asking questions.  After pondering my options, I ordered a medium Poutine du Parc ($7.83).
For drinks, they were selling juice and milk at the window – but for pop, you had to get a can from a Pepsi machine in the corner - $1.50 a pop. Mel got a Mountain Dew, me a Pepsi.
Our lunch was ready in a jiffy – except for the sandwich, which was forgotten – but it would soon be made and delivered to our table.
Mel's Italian Poutine looked good, smelled good – and tasted good. The Italian sauce had a strong, fresh tomato flavour. There were bits of carrots, but not too much - the sauce was nicely balanced, not too sweet.  "The curds squeak-squeak", she exclaimed.  Great news!  There wasn't too much sauce, the fries were holding firm and the curds weren't melting too quickly, holding their chew – and their classic sound.  A nice dish.  Mel was also satisfied with her sandwich – even though she got a Tomato-Bacon Grilled Cheese instead of what she wanted.  My bad, I guess.

The Waffle Jr. was quite excited about her plate. She didn't like the coleslaw, so I had it – it was a classic sweet and sour salad, the way coleslaw should taste, with a great crunchy texture. The French Fries were really good – probably better on their own than in the poutine, I thought. A dark golden colour, thick with a nice crisp on the outside and quite fluffy inside. Jr. would dip them in the gravy and in ketchup, alternating between the two until she decided that ketchup was much better. Of course!  The chicken nuggets, however, were quite ordinary.  A little thin, a little dry. Flavourwise, they tasted good enough for Jr. to keep at it – but I suspect that these guys are not homemade.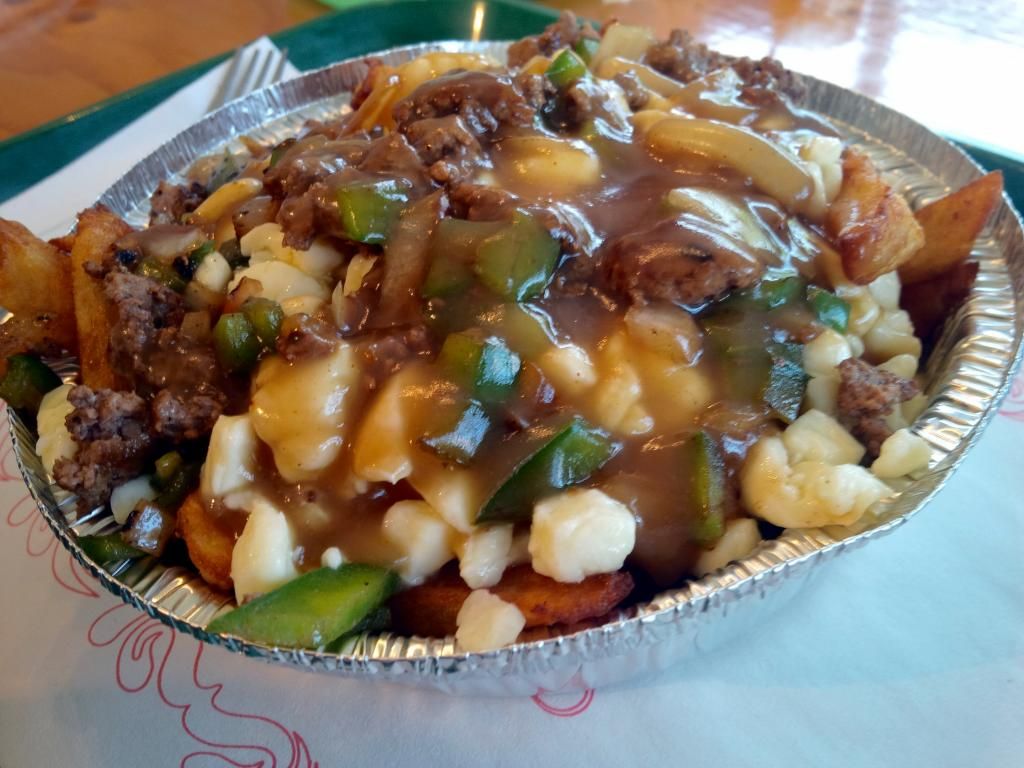 The spectacular dish of the day was my medium-sized Poutine du Parc. What a beauty! A poutine with a classic brown gravy, topped with ground beef, green peppers and onions.  It was delicious!  The gravy was served hot, covering the fries and the toppings.  It was a classic brown gravy, not too salty. It was smooth, silky, delicious. I mean, you almost wanted to drink the stuff!  Beef, onions, peppers – what a great combination.  The steak was nicely seasoned, cooked perfectly - throughout without being dry. The onions brought some sharpness while the peppers brought some sweetness.  The challenge was to get the perfect bite each time:  potato, beef, onion, pepper, cheese curd, gravy. Man, that hit the spot! And yes, medium is quite large. I was done and done.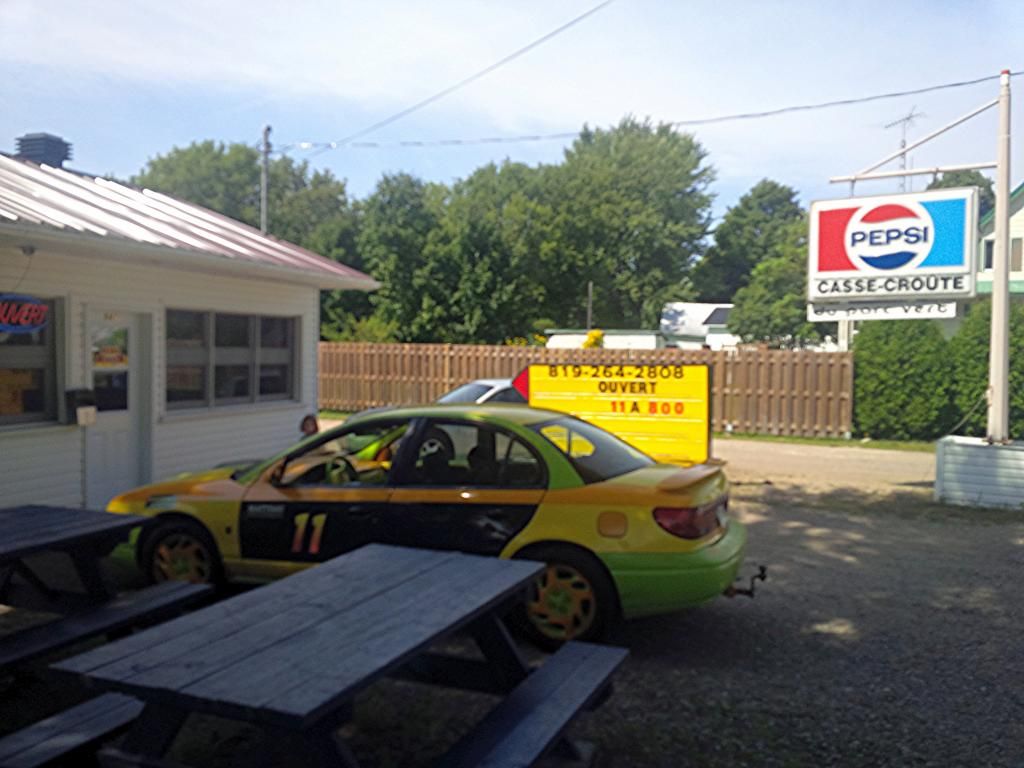 The owner, still very friendly and ressourceful, answering all our post-meal requests:  a cup to go for Jr.'s milk, a paper bag for the fries she didn't eat and wanted to keep for later.  Great service!
Right before we left, a new customer arrived.
A Green. Yellow. Black. Orange.  #11. Saturn.
You never know what you'll find when you stop for a poutine somewhere on Quebec's back roads.
I was looking for a new place for lunch, and I came across this video where "Skipper Dave" and "First Mate Cat" were introducing us to the delicacies served at Cat's Fish & Chips.  Fish & Chips is a great lunch item – so that's what I suggested to Mel and we made our way to Vanier.
Cat's Fish & Chips opened in May 2012 and rapidly made their mark, winning Metro's Choice Awards for Best Fish & Chips and Best Takeout in December.
The building, located at St-Laurent and Hemlock and previously housing the Rockliff Bistro, is newly renovated and repainted in a nice sky blue colour, with a nautical-theme décor. The spot is laid back and doesn't take itself too seriously.
Inside, Emerald was waiting for us, telling us we had to wait to be seated.
Directions for the Poop deck were clear and straightforward.
The place wasn't busy yet, and we had our choice of seats – we elected to sit outside.
Yes, outside, where a lobster trap had caught a big yellow can.
There is nothing quite like a fresh yellow can!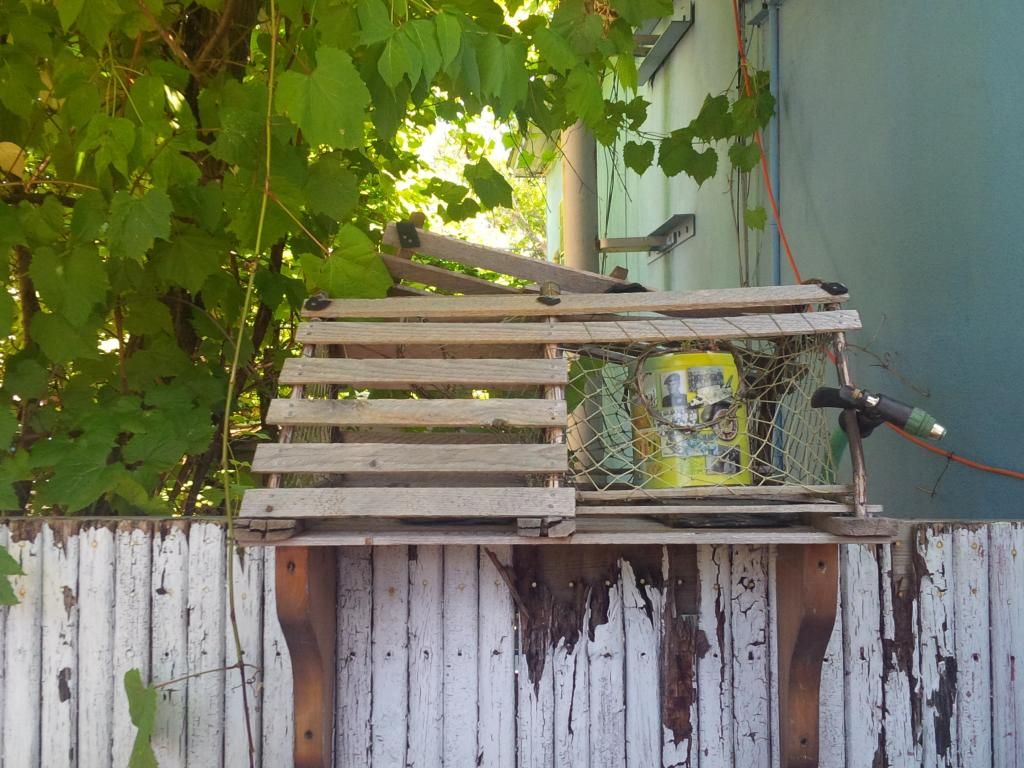 We perused the menu. Fish, of course, and all kinds of seafood dishes
But obviously, Cat's Fish and Chips is boasting about it's Fish and Chips.   We were a bit surprised by the lack of options here, as they only offer Cutlass Haddock.   It would be nice to have a couple of options, like Cod and Pollock, or maybe even Catfish. Cat's Catfish and chips.  Now, that would be marketing.  The Haddock is offered either breaded or beer-battered, your pick. They also have gluten free version if you are so inclined.  A bonus, a dollar from every order of fish and chips goes to the Dave Smith Youth Treatment Center.
And that's what we were here for.  Mel got the one piece with the Spicy Plank shavings ($13.52) while I went for the two pieces ($20.12) with their Fresh Cut Chips. But first, First Mate Cat convinced us to get an order of Rings By The Sea ($8.94) – their seasoned calamari, fresh cut and flash fried. She had us at "fresh." 
While we waited for our food, we enjoyed a cold one on the deck.  Mel went for a Magner's – she got excited when she saw the advertisement on the billboard.  I decided to go all in on the East Coast Experience and I ordered a pint of Moosehead.
Our calamari arrived very promptly, which is normal considering it is flash fried.  The Rings by the Sea were served in a little blue rowing boat, with a Sweet Chili dipping sauce at the stern and a wedge of lemon at the bow. Continue reading »
After a Gargoyles' game, the boyz usually end up at Whisper's, in Westboro.
However, it being Westfest, the team's social convener decided that it was a no-go tonight and suggested we head towards James Street to hang out on the James Street Pub patio, the biggest on Bank Street.
So we did.
And instead of munching on our regular team wings and team nachos, it was each their own.
I simply couldn't bring myself to order chicken wings – at $13, it seemed expensive, and considering the small baskets that came for some of my more foolish teammates, it was the right decision.
But what to do instead?
I pondered that as the team was quenching it's thirst with a variety of beverages, notably the $20 Buckets of Labatt 50, Budweiser or Bud light on special on Sundays at JSP.
Despite being part of the Heart and Crown family since 2007, the James Street Pub is not at all Irish. In fact, it's a bit all over the world map, as JSP offers Quesadillas, Poutine (Traditional or Pulled Pork), Seafood Chowder, Baked Penne, Chicken Curry, Cheesesteak, Shepherd's Pie, Canadian Bison Burger, Buffalo Chicken Wrap, and so on.
But I spotted something a little more unusual, and you know me, I like unusual things.
So I ordered the Chili Cheese Dog: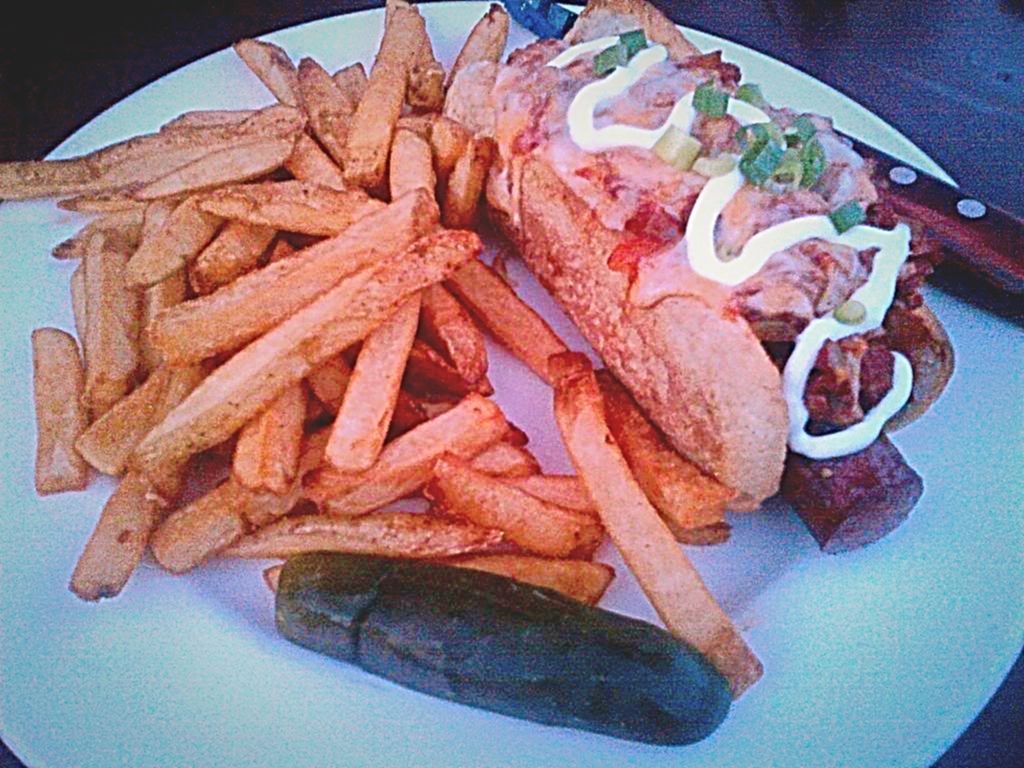 Even though I could have gone very unusual by adding a side of Rice Pilaf, Mashed Potatoes, Garden Salad or Soup – I decided I should stick with the actual item that made sense: french fries.
The fries were quite decent.  They seemed to be fresh-cut, were crispy on the outside and fluffy inside.
The prize, though, was the Chili Cheese Dog.  I've got to admit this was a good effort.
First, the bun was toasted, which I appreciated – you need to build a bit of a wall if you are to avoid getting a mushy bun.  Second, the frank was all Beef, had a good snap, good spices and a very good chew.  On top, the Beef and Bean Chili was not bad, though I like it more spicy.  The Beans to Beef ratio was adequate.  A Tex-Mex shredded cheese blend was added on top, and the Dog went under the broiler before being garnished with a squirt of Sour Cream and some green onions.
The biggest problem was that the bun basically split at the bottom after the second bite – perhaps a sign that the bun wasn't handled gently and that it had been stuffed a little too hard.  That said, rarely do these style of hot dogs sustain the volume of toppings added to it.
For $11, it was one of the cheapest items on the menu and it is something I could see myself ordering again.
 Ms. Waffle had been chewing my ear all week about her keen desire to chew on pizza. I had reluctantly ignored her all week, for our own good. But I finally relented and suggested we try a new spot for lunch.
We tossed a few names around until I suggestd ZaZaZa.
ZaZaZa was created by Ion Aimers, founder of the successful Ottawa burger chain The Works. The first location opened in 2010 on Putman Avenue, which was the original The Works location before it outgrew the tiny space and moved out. After hosting The Fraser Café for a year and a half, it became ZaZaZa. The Ottawa gourmet pizza chain is now bringing "pizza with pizazz" in three different Ottawa neighbourhoods – and according to Aimers, 3 or 4 more locations could still open.
The location on Putman is tiny, maybe twenty seats. We at first thought it could be a good idea to eat on the patio, but figured that with the kids, it would be easier inside.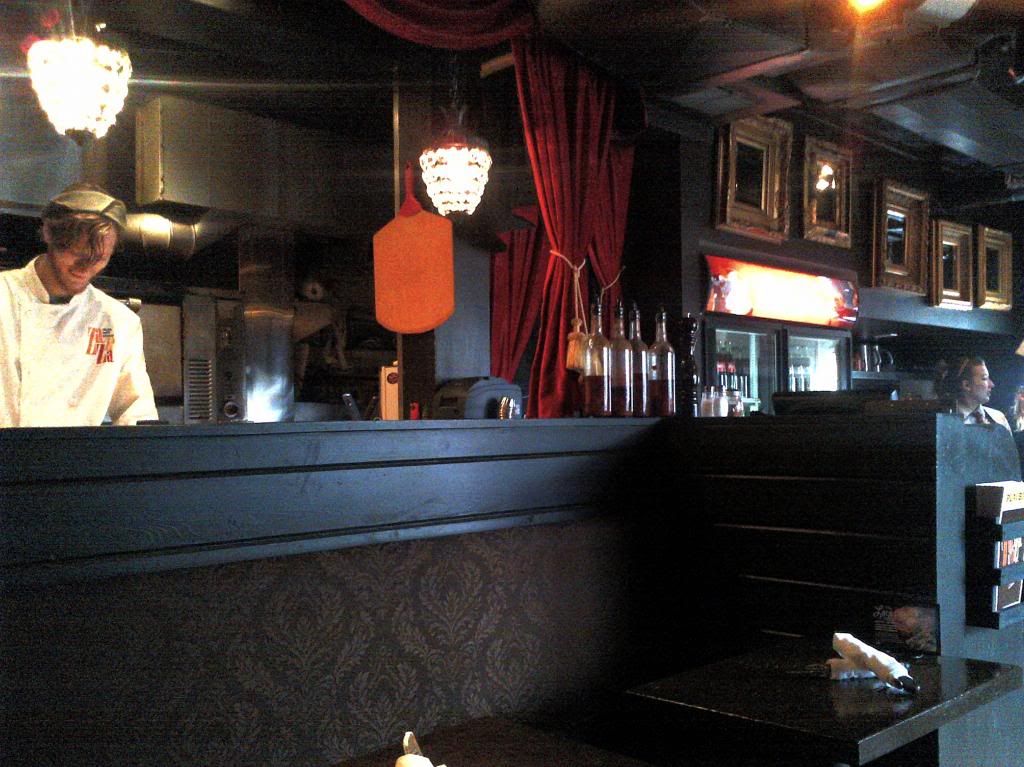 At the back of the restaurant, you have the pizza oven in the left corner, where the pizzaioli are busy making the pies.  In the right corner, the take-out counter.
The spot wasn't really busy, despite the nice weather, with only three tables occupied.  Still, the staff seems to be trained to ask about reservations - likely, it does get busy in there – and you may get cramped if that's the case.
We were brought to a table in a corner and started to look at the menu.
The choice is totally different, quite interesting. ZaZaZa has over 25 gourmet pizzas, with your choice of three different daily-made crusts: cornmeal white, honey oat, and gluten-free made with chickpea flour. For some reason, the pricing is unconventional – from $13.66 to $17.92. Apparently, the most popular is the Crazy Horse (spinach, chicken, pine nuts, caramelized onions and mushrooms on pesto sauce – $16.97). But there were a lot of other interesting options, such as the Cajun Cowboy (tomato chipotle sauce, caramelized onions, chicken, spicy havarti, chorizo, corn – $16.56), the Hot Hot Hot (hot tomato sauce, mozzarella, banana peppers, jalapenos, spicy havarti, hot Italian sausage), the Shangri-La-Di-Da (tomato tandoori sauce, sweet peppers, goat cheese, corn, snow peas, honey drizzle – $13.66), etc.  It was a bit overwhleming.
So while we were trying to make our mind up, we decided to order their appetizer special they call the Lace up: Sweet Potato Cross-Cuts topped with three goat cheese balls served with a dip.  I could say that what convinced us was the fact that a portion of the money for every Lace Up sold goes to the Canadian Diabetes Association, and that would be partly true; but the real truth would be that at $8.49, it was a good deal compared to the price of these appetizers ordered individually ($4.97 for the Sweet Potato Cross-Cuts, $6.41 for the Goodness Gracious Goat Balls of Fire.)
By the time we received it, actually served in a Converse running shoe, we were ready to order our pizzas – Mel went for Erin's Baked Again ($14.90) and I went with the Bleekinator ($15.91). But more pressing business had arrived:
Our server had graciously offered us to try each one of their dipping sauce since it was our first time at ZaZaZa. They were Chipotle Chip, Honey 'n Spice, Lumpy Feta and Hot Mama.  My favorite was the Hot Mama, but I can't say any of them were bad.
McDonald's Filet-O-Fish has always been the ugly duckling of McDonald's menu.
Yet for some reason, as I looked for a quick meal at the McDonald's on Bank at Sparks, I ended up ordering it. I can't recall the last time I did that, and can't really explain why I did. Perhaps it was the price? The Filet-O-Fish is the cheapest of McDonald's big sandwich selection. At 410 calories, it is also the, ahem, healthier choice.
The Filet-O-Fish was the first non-hamburger offered by McDonald's. It was created in 1962 in Cincinnati and at first, was offered only on Fridays to attract practicing Catholics – According to church canon, Catholics being required to abstain from meat on Fridays. Along with the Hula Burger (grilled pineapple with cheese on a cold bun), McDonald's tested the two non-meat-catholic-friendly-on-Fridays sandwiches, and clearly nobody cared much for the Hula Burger.
Yet, not a lot of people care for the Filet-O-Fish either, and McDonald's even removed the Filet-O-Fish from its menus in the United States in 1996. Surprisingly, people complained, wrote letters and signed petitions, and McDonald's brought back the Filet-O-Fish in 1998.
McDonald's describes it's Fish Sadnwich like this: "Fresh from the deep, cold waters of Alaska's Bering Sea, this light filet of Alaskan Pollock is all yours. Pure temptation on a lightly steamed bun, topped with processed cheddar cheese and tangy tartar sauce."
How can you not be tempted by pure temptation?
And this is how it looked out of the box:
Bun. One half slice of processed cheese. Fried Breaded Fish Patty. Tartar sauce. Bun.
That's it, folks. The Filet-O-Fish.
A pretty standard battered whitefish patty, very, very mild flavour. I thought the fish was surprinsingly flaky – I was expecting mushy. It could have more crunch, I'd say. I suppose they wanted their sandwich to be delicate, and light – such as it is.  I'm not quite sure why they add cheese to this, and why they only add half a slice. I suppose a full slice could be overwhelming? The tartar sauce is nothing special, a little tangy. There wasn't a lot of it, I suppose if there was more, it could be overwhelming? No lettuce, no onions, no pickles – I guess the vegetable here whatever pickle is in the tartar sauce. The buns were nice and fresh, fluffy and warm.
So all in all, not that bad.
So why does it have such bad rap? Why do you never see anyone ordering it? Why did I hide in the most obscure and isolated corner of the restaurant to eat it?
So many questions. So many mysteries.
Sometimes, things are not going your way.
When that happens, comfort food is the way to go.
Today, things weren't going my way.  So when Karine suggested that it was a day for St-Hubert BBQ, I didn't protest much.
So we made our way to the rotisserie in Hull.  The place was packed, as it often is for lunch hour – the parking was full, and the street parking spots were all taken – we had to park 3 blocks away.
But the restaurant is spacious, and they sat us down in a booth in no time.
Their Lunch & Go formula, available from Monday to Friday, 11 a.m. to 2 p.m is very popular, hence the packed parking lot, and most of the items are served in no time. You can choose from  Chicken Fillet, Ribs, Chicken Pot Pie, Hot Chicken, Half Chicken Salad Sandwich and Soup, Chicken Fillet Wrap, Lemon & Artichokes Chicken Salad, Asian Soup Meal.  But really, you go to St-Hubert for the Roasted Chicken.
We both got the Quarter Chicken Leg with Fries.   With the meal, you get All-you-can-eat coleslaw, buns and Bar-B-Q sauce.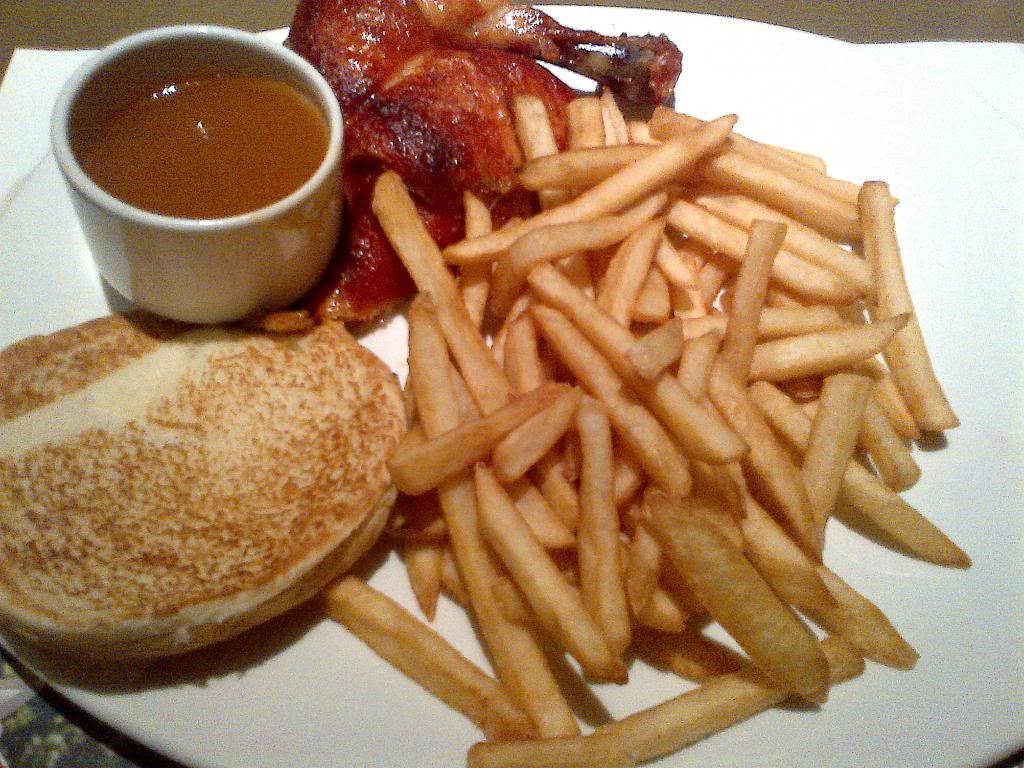 As expected, our meals arrived in no time.
The fries were nicely golden and crispy, the sauce deliciously salty, and the chicken was perfectly cooked, moist inside with a deliciously crispy skin.
It was exactly what we needed.
Since we moved to Chelsea, our habits have changed somewhat. And we are starting to have our habits at the Chelsea Pub, on Old Chelsea road.
Basically, it is our new locale. And indeed, on Saturday afternoon, after running a few errands at Broue-Ha-Ha and at the Meredith Centre, I asked my better half if there was somewhere else that we needed to go. She answered negatively. If rephrased – was there somewhere else she would like to go.
And indeed, we ended up at the Chelsea Pub.
I first wrote about the Chelsea Pub during the 2011 election, but I've been going more often lately.
The spot is cozy, kid friendly (most of the time!), offers an interesting menu and a great selection of beers on tap.
Today, we decided that we would have a couple of drinks while the Waffle Jr. would enjoy the dinner of her choice. As she does most of the time, she picked the animal-shaped Chicken Nuggets.  Their kids' menu offers a choice of French Fries or veggies and ranch dip – this time, we chose for her and went for the veggies.
Mrs. Waffle ordered the McAuslan Cider (she fell for it at a previous visit, not too sweet, not too carbonated) while I got a pint of C, the Sloven-style Pilsner from Brasseurs Illimités.
Here I had a honey-colored brew with a light orange tint, with a thick bubbly white head.  A subtle honeyed nose, some flowers and hops. A little more bitter than your usual Pilsner, yet well balanced.  Enjoyable.
We ordered the Spinach and Artichoke Dip ($11).  It came after a short while in a hot cast-iron baking dish. The top was nicely golden, and it was surrounded by assorted toasts.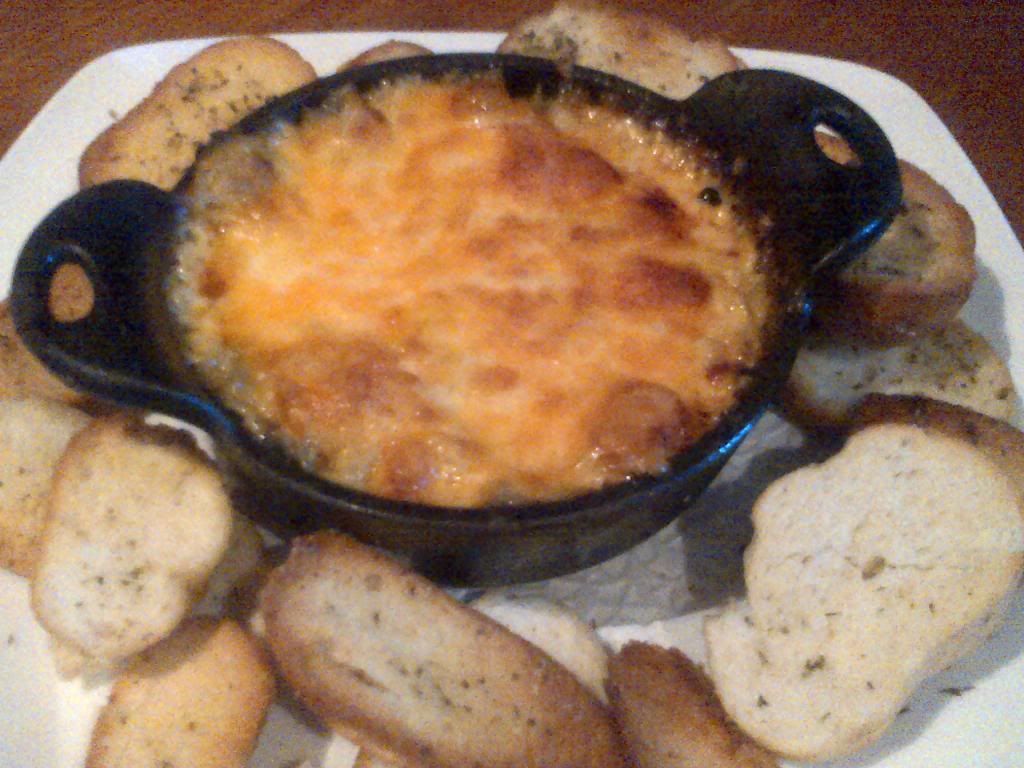 Obviously, this is a classic, very simple to make and hard to fumble.  As long as you have the right proportion of cream cheese, spinach and artichokes, anyone should be able to pull it off.  And here, the Chelsea Pub did pull it off.  I've got to admit that making it Au Gratin is a great touch - but we had to be careful, as the mixture underneath was bubbling hot! It had the right balance of tangy, creamy and chewy.  The herby toasts, home made, did the scooping job nicely – they were thick enough to resist and not crack into our hands. Continue reading »
I like going to The Exchange. Have ever since the old Elephant and Castle, located in the Rideau Centre, was renovated and transformed into a more elegant place, targetting urban professionals to meet for lunch, dinner & drinks.
While no longer being a pub, The Exchange offers a selection of British classics (Halibut or Haddock and Chips, Guiness Meatloaf, Steak and Stout Pie) and contemporary dishes (Pancetta Stilton Burger, Jameson's Chicken, Fish Tacos) and offers a wide variety of international and local beer, wine and scotch.
I often find myself there, because it is a little less likely you will bump into Hillites than other places near the Hill – despite the fact that its across the corner from the Metropolitain.
I had another work lunch meeting, as I tend to have, and was happy to go back to The Exchange for a frank exchange of points of view. As we do most of the time, we made our way to a quiet corner in the basement.
And as we've done a few times, we decided to share a platter of Buffalo Tenders ($10.50) to start our meal.
At this price, one should admit that the portion is a tad small.  So yeah, I admit it.  The chicken filets, breaded and deep fried, are served with a side of buffalo sauce and a blue cheese dip.
The breading is quite crispy, salty and spicy.  The chicken is not dry – but it is not particularly moist either.  It is the breading that makes it, as the ridges are perfect to soak up the hot sauce and/or the blue cheese dip.  The blue cheese dip, which seems to be home made, could be sharper and chunkier, but it still alright.
For my main dish, I orderd the Chicken Pesto Sandwich on Focaccia ($11.50).  Grilled chicken with pesto mayo and onion marmelade.  On the side, I chose the garden salad instead of the french fries. Continue reading »