Browsing articles in "Recipes"
Sometimes, the best dishes are the simplest.
Even when tired or squeezed by time, you can have tasty food that is home-made quality food.
Here is a very simple yet very tasty pasta dish I came up with, 24 hours after The Arrival.
Ingredients
A package of pasta
A quarter cup of parmesan cheese
Extra-virgin olive oil
Half a dozen sun-dried tomatoes
One bag of fresh spinach leaves
Goat Cheese
Salt
Pepper
Boil your pasta in salted water – al dente is best.
Meanwhile, chop the sun-dried tomatoes roughly.
Drain your pasta, reserve some of the cooking water
Put the pan back on low heat, drizzle the bottom of it with olive oil
Return the pasta to the pan, add the fresh spinach, mix until wilted
Once the spinach has wilted, add the tomatoes, fresh cracked pepper and the parmesan
Generously drizzle with olive oil and a bit of the boiling water in order for the pasta to be coated with it.
Crumble some goat cheese in the pasta, mix well, add more goat cheese when ready to serve
Simple enough.  Here is how I did.
We had a loaf of bread which wasn't getting any fresher.
The week before, we had bought a loaf of chocolate and coffee bread made with egg dough. From Artisan Baker Grains de Vie in St-André-Avelin, it is made with half-sweetened black chocolate and reina michim fair trade coffee. At 5.50$ a loaf, it is not cheap, but it is a very dense bread. Toasted, with butter, it is perfect.
As you can imagine, we didn't want to waste it.
So I had the idea of making a Quebec classic: a bread pudding.
It is simple and delicious.
Ingredients
Half a loaf of bread, roughly diced
750 ml of milk
250 ml of brown sugar
 5 eggs
 A few drops of vanilla extract
 Butter
Warm milk in a pot, then dissolve brown sugar in it;
Distribute the bread pieces evenly in a baking dish;
Remove milk from heat, whisk the eggs into the milk, add vanilla;
Cover the bread with the milk mixture, make sure all bread pieces are moist;
Add butter to taste on top of the bread;
Bake in oven for about an hour at 350°F .
Et voilà!  Traditionnaly, in Québec, bread pudding is served with maple syrup.  But you can serve warm with ice cream too.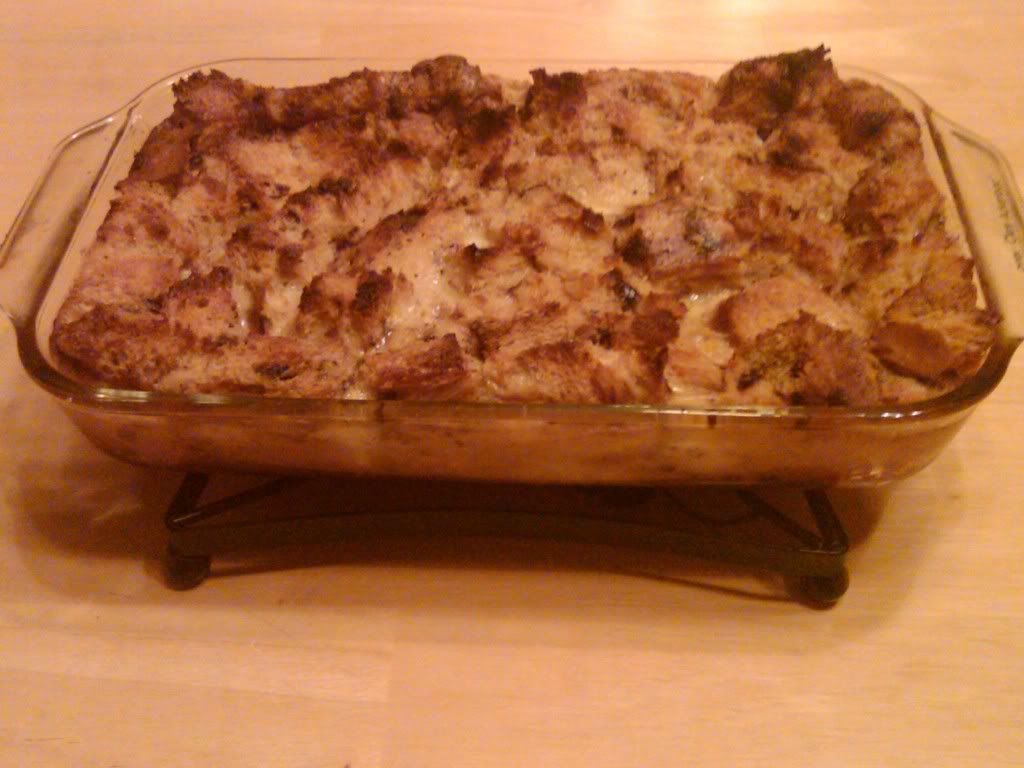 We were having a few friends over for Easter brunch, and I had been thinking about trying something I had never tried before.  Well, yes, I do know it is wrong to try new stuff on unsuspecting guests, but I had to do it:  a ham on the BBQ!
I went to the
Byward Market
looking for the right piece of meat, and
Aubrey's
seemed like the place to go.  After all, they have been around since 1908. 
After looking at their selection, and being stopped from buying a half-pig, I settled on a quarter ham. Surely, it would be enough for 6 people.  Well, 5 really since one of them is vegetarian.  But you never know, she might be tempted, I thought.  
First, I brined the ham in salted water overnight, after bringing the ham to a boil and letting it cool down.  In the morning, I basted my ham with a sauce made of maple syrup, wholegrain mustard and
St-Ambroise beer mustard
 for an extra zip.
And hop, on the barbecue!
I grilled it slowly on low heat, with some wood chips to add smoke, for about three hours, basting it regularly.  The result was a very tender, very tasty ham, and the combination of maple syrup and the two mustards worked great.  I served it with scrambled eggs and some real home fries.
When folks arrived, the ham wasn't quite ready in my opinion. But I had prepared some hors d'oeuvres (crackers, red pepper jelly, bocconcini, fresh basil) and a nice fruit plate for people to eat while they waited.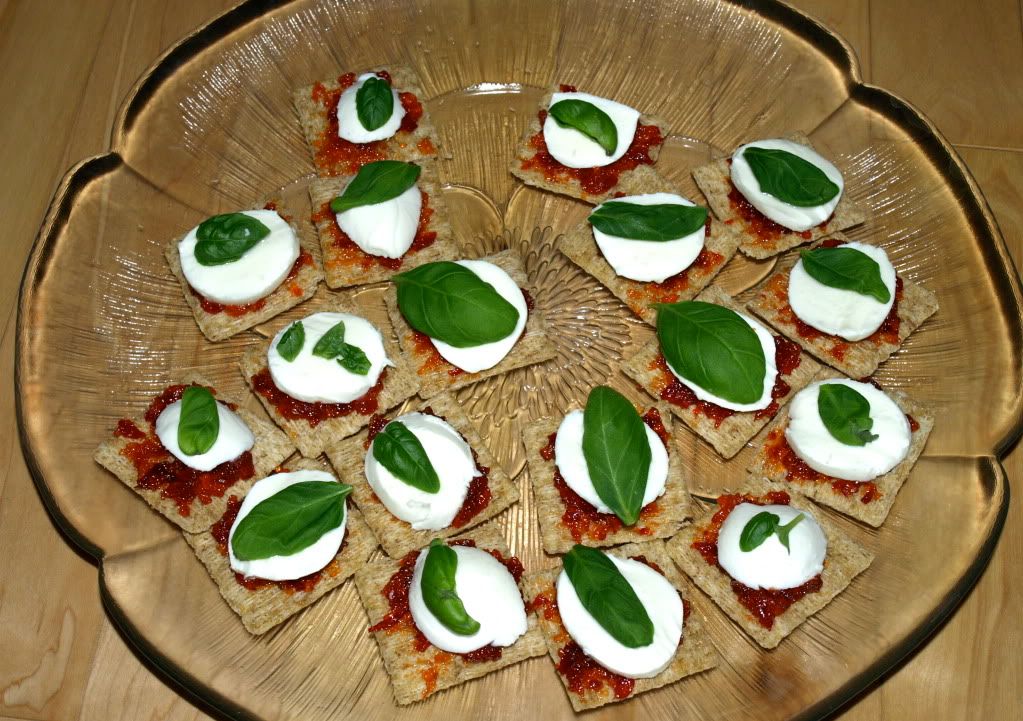 For the finish, Melissa had something special and, frankly, very pleasant to the eye.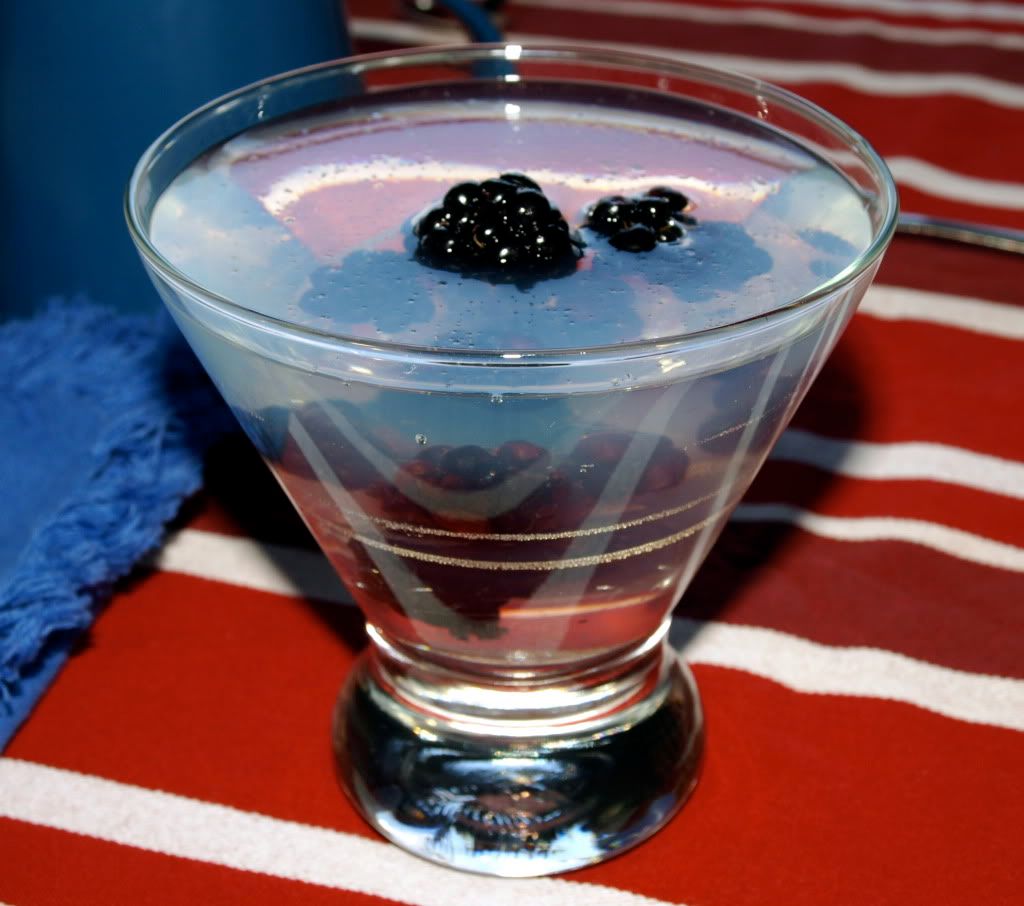 Sparkling water, rose water, gelatin, blackberries.  A nice and refreshing dessert, quite filling but lovely.
For some strange reason, Melissa wanted to try
this recipe
she found in
Chatelaine
.  So we did, but we adapted it by changing the veggies.
Beef ramen with veggetables

2

85-g pkgs beef-flavoured ramen-noodle soup mix

2 tbsp of vegetable oil

1 small onion, thinly sliced

3/4 lb top sirloin beef

1/2 cup water

2 tbsp of soy sauce

2 tsp hot chili-garlic sauce

1 tsp dark sesame oil

2 cups of chopped green and red peppers

1 cup of sliced celeri
1. Bring 4 cups (1 L) of water to a boil. Remove seasoning mix from packages and set aside. Place noodles in a large bowl. Pour boiling water overtop. Soak until tender, about 3 min. Drain and set aside.
2. Meanwhile, slice beef into small strips. Coat a large frying pan with oil and set over medium-high heat. Add onion and beef. Stir-fry until onion starts to soften, about 3 min.
3. Sprinkle in 1 packet seasoning mix. Stir to coat beef and onion. Add ½ cup (125 mL) water, soy, chili-garlic sauce and sesame oil. Stir often, uncovered, until slightly thickened, 3 to 4 min.
4. Add peppers, celeri . Cook until the vegetables are tender-crisp, 4 min.
5. Add noodles and let simmer until noodles are heated through, 2 to 4 min.
Serve and enjoy.  Its not too bad. As long as the veggies are crispy, and the beef not overcooked, it is a quick meal and perfect for lunches. No need to salt, though, as those ramen package have plenty of stuff in it.
Apparently, ramen noodles are very popular in English Canada University dorms. Not so much in Quebec, if I recall correctly, although some hippies would go for it. I was never a consumer of this stuff myself, but if I'd known about this recipe, or been smart enough to come up with something like it on my own, perhaps I would have.  Although I doubt it – I was way more into Hamburger Helper.

Makes 2 to 3 servings.
 
.
I made Obama's chili last night, as promised.
So here is the step-by-step Obama Chili familial recipe.
Here are the ingredients:
>
Saute onions, green pepper and garlic in olive oil until soft.
Add ground meat and brown.
Combine spices together into a mixture, then add to ground meat.
Add red wine vinegar.
Add tomatoes and let simmer, until tomatoes cook down.
Add kidney beans…
and cook for a few more minutes.
Serve over white or brown rice. Garnish with grated cheddar cheese, onions and sour cream.
It is not a bad recipe.  I think it is a bit light on spices, especially considering how little tomatoes I had in there, and considering I was using turkey, not beef.  It was fairly thick too, which I don't mind at all.  A chili is a chili, not a soup.  But there was no sinuses clearing experience, contrary to Obama's claim. 
Nevertheless, a good recipe for a very mild chili, tasty but not spicy.
The winds of change…
A defining moment…
A promise of hope…
A proud day for America…
A long time coming…
History in the making…Alright. Now that we've dealt with
Barrack Obama
's victory, let's get down to business and the challenges he will face.
Buying a dog for his kids
A financial crisis
The Iraq Quagmire
A trillion dollar deficit
The Afghanistan Quagmire
Staffing the West Wing
Getting the White House chef to make a proper chili. 
That's right.
A proper chili.  
To celebrate Obama's victory, let's all make it for dinner tonight:
Obama Family Chili Recipe
1 large onion, chopped
1 green pepper, chopped
Several cloves of garlic, chopped
1 tablespoon olive oil
1 pound ground turkey or beef
1/4 teaspoon ground cumin
1/4 teaspoon ground oregano
1/4 teaspoon ground turmeric
1/4 teaspoon ground basil
1 tablespoon chili powder
3 tablespoons red wine vinegar
Several tomatoes, depending on size, chopped
1 can red kidney beans
Saute onions, green pepper and garlic in olive oil until soft.
Add ground meat and brown.
Combine spices together into a mixture, then add to ground meat.
Add red wine vinegar.
Add tomatoes and let simmer, until tomatoes cook down.
Add kidney beans and cook for a few more minutes.
Serve over white or brown rice. Garnish with grated cheddar cheese, onions and sour cream.
Let's hope the Chef at 1600 Pennsylvania Avenue can figure this out quickly in order to keep his job.
Here is what the President elect had to say about this delicacy, a recipe he has been using since his days at Harvard:
"If you make it right, it's just got the right amount of bite, the right amount of oomph in it," Obama said. "It doesn't scald your tongue, but it will give a little perspiration on your brow and it will clear your sinuses." "You know, I could probably (recite the ingredients) off the top of my head, but if I got the proportions wrong, it could spoil the whole recipe. It's an excellent recipe."
But is it really or is this another empty electoral promise? 
You can read Gut Check's special investigation here. 
Zoe made it last night at her Election Results Watching party and I've got to say it was pretty good.  I have no idea if she followed the recipe correctly.  But her rendition was nicely done, with a nice thickness.  There seems to be lots of flexibility with the recipe here, but it is certainly a good base.
Zoe also made Maverick Mac and Cheese, Chicken Right and Left Wings, Condoleezza Rice Krispies Squares, and Heck of a Job Brownie's. Oh, and a Baked Alaska, with a view on Russia.
Obama shared his chili recipe with ABC first, via Good Morning America. 
You can also find McCain's ribs there.
————————————
UPDATE  6-11-2008 @ 7:35 AM
You can look at my step-by-step attempt to make Obama's Chili here.
I am discovering the joy of slow cookers.  I have got to say – it is pretty great to come home and dinner is basically ready.
As Halloween is approaching fast, I carved two pumpkins and put them out on my porch.
But instead of throwing out the carved pieces, I reserved most of it, hoping to do something with it. And I did, in this new halloween twist of an old classic.
Pumpkin & Beef à la Bourguignone
2 1/2 pounds of beef, cut into 1-inch cubs
2 cups of baby carrots
1 medium onion, cut roughly
6 potatoes, cut into chunks
4 cups of pumpkin chunks.
4 tablespoon of flour
1 cup of beef broth
2 cups of red wine
1/2 pound of small white onions
3 cloves of garlic, minced
1/2 teaspoon of thyme
1 tablespoon of tomato paste
3 bay leaves
black pepper
salt
Brown beef cubes in a large skillet.  Reserve.
Brown carrots and onions in skillet.  Transfer to slow cooker. 
Season with salt and pepper to taste.  Stir in flour, add broth and mix well.  Stir in beef and pumpkin.
Add wine, tomato paste, garlic, thyme and bay leaves.  Stir.
Cover and cook on low for 11 hours.  Add the white onions for the last 90 minutes.
.
I don't like papaya very much.  In fact, I think that most times, the flesh of a fresh ripe papaya tastes like vomit.
So I couldn't believe it that when I went grocery shopping at
Provigo
the other day I couldn't resist buying a jumbo green papaya.  True, it was fairly cheap, 0.99$ a pound, but still.  Vomit.
Anyway, now that I had it, I wasn't sure what to do with it.  I've had papaya in asian-style salads, often spicy, and didn't mind it but, you know…
I figured there must be a way to cook it in order to make it taste better.  And since it kinda looked like a squash, I figured that I should be able to cook it the same way.  To make sure, I looked for recipe on the internet and was confirmed in my thoughts.  While I wasn't satisfied with what I found, it was certainly enough to inspire me.  
Here
is the original recipe.
I didn't quite like the idea of ground beef and papaya. I thought the beef would be to strong of a taste for the papaya.  And I also thought it needed more exoticism. So here is what I did:

Pork Stuffed Baked Papayas Ingredients



2 jumbo green papayas


1 onion, chopped
2 tsp of garlic, finely chopped
1 lb of ground pork
 
1 Jalapeno, chopped
1 can of diced tomatoes, drained except for 1/4 cup of juice
1/2 tsp of pickapeppa sauce
1/2 tsp of tabasco sauce
1 tamarillo, diced
2 Tbs fresh lemon balm, chopped
salt
pepper
 

grated parmesan

 
Sweat onions and then add garlic in a 10-inch skillet over medium heat.  Add pork.  When almost cooked, add the jalapeno pepper, the sauces, salt and pepper to taste.  Then stir in the diced tomatoes and the tomato juice.  Finally, add the tamarillo and the lemon balm.
Slightly increase the heat, let it simmer uncovered, until most of the liquid is evaporated, about 10-15 minutes.
Pre-heat the over to 350 degrees.  Cut papayas lengthwise into halves and remove seeds.  Reserve two table spoon of the seeds and add to the stuffing preparation.  Fill up the papaya halves with the prepartion. Arrange in a shallow baking dish.  Pour hot water into dish to within 1 inch of tops of papaya halves. Bake, uncovered, at 350 degrees until papayas are very tender and hot, about 30 minutes.  Reduce heat, add parmesan cheese on top to taste, let it brown slightly.
Et voila!
I used Pickapappa sauce, which is made in Jamaica by the Pickapeppa Co. Ltd. It can be used for any jerk-style preparation, to add a very authentic twist to your caribbean meals.  I added it here because I thought it would go well with the papaya and the tamarillo.
Talking of tamarillo, it is an exotic fruit from the Andes.  It is also known as Tree Tomato for some odd reason.  It is a bit expensive, but it has a very unique flavor and I figured it would give an extra exotic twist to the dish.
When I thought about making, this dish, I first had coriander in mind.  Papaya and coriander seems to mix well. Alas, no fresh coriander at IGA when I went to get the meat today, but they did have lemon balm.  I decided to give it a try, thinking that the lemon freshness of the herb would mary well with the pepperness of the papaya.
Melissa thought it was really good and ate everything on her plate… yummy was her comment! (for the record, she did not eat everything, i.e. the skin of the papaya, but that goes without saying).
Personally, I am quite satisfied with this recipe, it could have been spicier, by adding either more jalapeno pepper or even more papaya seeds.  Or perhaps, more hot sauce. Nevertheless, it was pretty darn good!  The pork is a mild enough meat that is doesn't overpower the subtle but delicious mix of tamarillo, tomatoes and lemon balm.  But, be careful with the garlic as it is meant to add depth to the dish not to predominate. I can think of different variations, for instance, ground pork or ham and pineapple comes to mind, or ground turkey with mango.  Let me know if you experiment.
Melissa and I enjoyed this pork stuffed baked papaya with a bottle of Henri-Charles DeNoiret – an inexpensive but enjoyable table wine.  It is a dry red wine, fairly round with a good balance.
My friend Scott, a Rapidz fan, invented this sauce in honour of Rapidz infielder 
Jose de los Santos
.
I don't know why exactly, but there it is.
De Los Santos Sweet and Sour Sauce
————————
Half of one large white onion, finely cut
Two cloves of garlic, diced
One cup of pureed tomatoes
Half a cup of white wine vinegar
Saute garlic and onion for two to three minutes, then add diced tomatoes, pureed tomatoes and stock.
Simmer for 40 – 50 minutes.
Blend on high for one minute.
Place back on heat and add white wine vinegar and sugar, warm for 5 minutes.
Serve with chicken or pork.