Browsing articles in "Hockey"
A last minute decision to accept Rod's offer to go see the Ottawa Senators' game against the New Jersey Devils meant that dinner wouldn't be super healthy tonight.
So be it.
We walked into the Scotiabank Place, and pondered what to do.  Time was limited, but perhaps because this is basically the last day of the Holidays, there wasn't that many people in the concourse.
We stopped by the Club Red to peer at the menu, and thought that a pricey fine dining experience was probably not what we needed.
Walking towards the concessions, we noticed that Frank Finnigan's was pretty much empty – which suited us just fine.
Born in Shawville, QC, Frank "The Shawville Express" Finnigan played 10 seasons for the Ottawa Senators in the 20s and 30s, and was captain of the team for two seasons.  He scored 115 goals and accumulated 203 points in 553 NHL games, winning the Stanley Cup with the 1927 edition.
Finnigan was part of the 'Bring Back The Senators' campaign, but he died before the new Senators took the ice. The Senators honoured him by retiring his #8 jersey. Finnigan's number was retired 58 years after he finished his NHL career – the longest wait for a player to have their number retired. The street in front of the main entrance to the Scotiabank Place is also named Frank Finnigan Way.
We found two spots at Frank Finnigan's bar, and after a few painful minutes of being ignored by the not-so-busy staff, we finally were able to get some service. We ordered a couple of beers (had to settle for a Canadian – they were out of Rickard's Blonde, my first pick) and we got some menus to look at.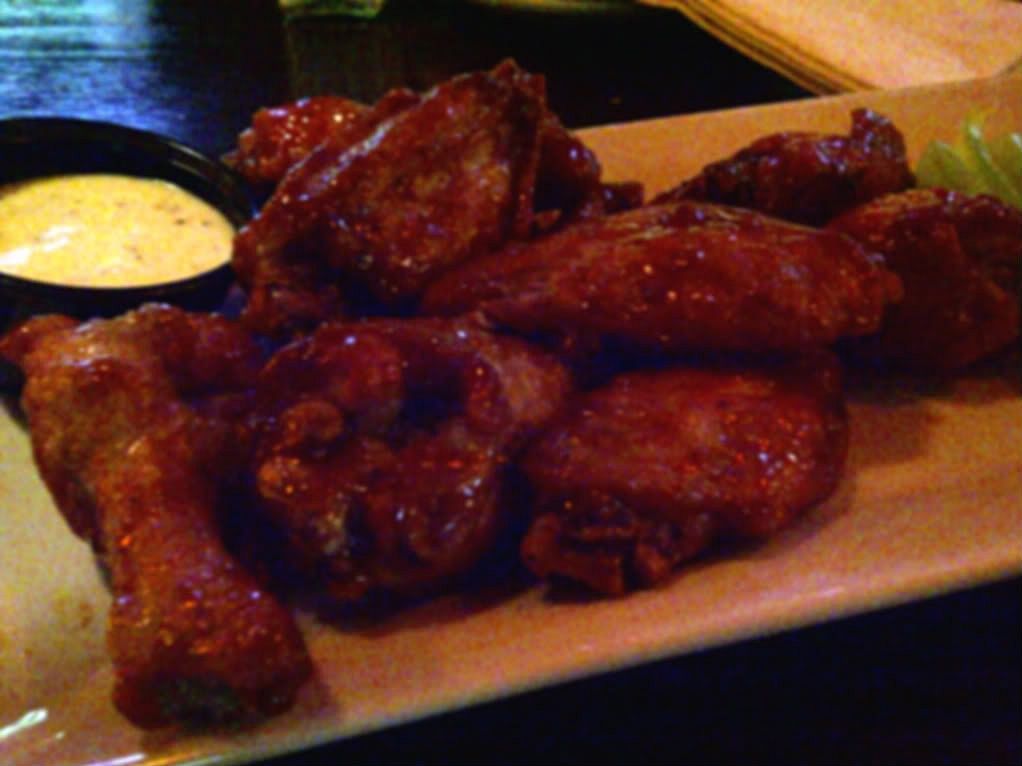 Finnigan's menu, although limited, is what you expect for a sports bar. Chicken tenders, smoked meat, a couple of different sandwiches, wrap and burgers.  There is also a recent addition of fish and chips and a few salads and there you have it.  All entrées are under $20 in this casual establishment.  Their doors open at 4:30 p.m. on game days.
And, oh, of course, Chicken Wings. Finnigan's wings come in 5 declinations: mild, medium, hot, BBQ & honey garlic. We decided to share an order, and since Rod is a sensitive guy, we ordered the BBQ wings.
They arrived promptly, which was good, as the clock was ticking and game time was nearing.
There were 9 wings on our plate, accompanied by 3 celery sticks and a blue cheese dipping sauce.  The wings were medium-sized.  They were served warm throughout.  The BBQ sauce was a little tangy, a little sweet.  Nothing special, but not terrible.  The wings weren't drenched in the sauce, which is good, just a nice coating. Without being super moist and juicy, I can't say they were dry either.
Going to a hockey game in Ottawa can be an expensive adventure.
The tickets. The parking. The food. The beer.
In fact, Ottawa is the 11th most expensive city in the NHL according to a study by Team Marketing Report.  (Toronto is the most expensive. The cheapest? Dallas. The biggest yearly hike? Chicago. I guess winning the Cup has a price!)
But it can be really affordable if you elect to go to an OHL game, which is what the 5 of us did as a prelude to the Super Bowl as the London Knights were visiting the Ottawa 67s. And it is especially affordable when you get free tickets. (Thanks Justin!)
After having a few pre-game drinks at Irene's just a block away from the Civic Center (renamed the Rona Center by the 67s, looking for some sponsor money), we made our way to the arena.  The crowd wasn't as big as the 7410 official attendees – I would argue that there was about half number present, including the 5 of us and local MP Paul Dewar.
As the 67s slowly but surely made their way towards victory, I got hungry.  I hadn't grabbed food at Irene's, unlike the others, so I had to go for something at the arena.
As in many other sports location, Aramark Sports and Entertainment is the exclusive food and beverage provider for the Ottawa Civic Centre. They have many concessions around the arena and offer full-service catering for the luxury suites holders.
Most concessions however only offer hot dogs, pretzels and popcorn. There are ice cream stands, donut stands, Pizza Pizza stands, but if you are looking for something more substantive, you have to go to the Grill behind section 11 where poutine, hamburgers, grilled chicken and other platters are offered.
I picked the chicken tenders, going for $9 – it didn't seem too outrageous, considering that a similar item goes for $12 at Irene's. But will it be as good? Any good?
I went back to my padded, dark red, movie theatre style seat in section 16 to watch the rest of the game and hopefully enjoy my food.