Browsing articles in "Golf"
Two days earlier, I kicked myself for not taking advantage of the On Course Combo at the Raven – 3 drinks and 1 snack for 10$ US.
So today, I wouldn't miss it. And when the time came, I ordered a beef burrito. It arrived 4 holes later, on #11.  In the plastic container, two big burritos with smalls cups of sour cream, guacamole and salsa.
I unwrapped the steamed flour tortillas to add the toppings, which is not an easy thing to do in a golf cart, and I took a bite. Juices flowed everywhere – perhaps Burritos are not well adapted to golf carts?  It was mildly irritating, yet completely predictable – so at least I did not put sauce all over my clothes.
The beef was great. It was not ground beef, as we usually see in Canada, but instead it was tender chunks of beef. Very flavourful, very juicy, very saucy. In fact, it made parts of the burritos a bit soggy – the tortillas had been steamed, to make them soft, but also more fluid-friendly.  There was not much else in the filling, obviously they had used onions, chilis and herbs, but that was it.  Very simple, very tasty.  Very not made to be eaten on a golf course.
Remember my pledge not to eat red meat for the month of September?
I was a last-minute addition at the Canadian Press annual golf tournament, a call-up if you will, to replace someone who was a late-scratch due to illness. 
I won't talk to much about the performance of my team or the number of balls we lost on this beautiful day at the Mont Cascades golf course.  It was for a good cause, as the Tournament was a fundraiser for the Tom Hanson Photojournalism Award in memory of the late CP photographer.  You can give here.
However, unbeknownst to me, the meal during the award ceremony after the tournament was going to be grilled steak.  I realized this was going to be the case when they started to grill some thick pieces of meat on the patio, as we were all enjoying cold beverages as the sun was setting over the Gatineau river.  I knew I would be tempted hard, and was hoping for other options in order not to fall off the wagon. 
I looked carefully.  Oh, sure, there was a couple of salads, some steamed fall vegetables, some vegetarian pasta, potatoes…  But the last station at the buffet table was the grilled steaks, dripping with flavour.  I could not stop myself as I saw, horrified, my hand present my plate to the friendly meat-provider.  Damn Canadian Press! Forcing me to eat red meat against my will!!!
Shame, I thought.
———–
UPDATE  - Sep. 20 @ 17:22 :  The wife found out, somehow.  Nothing to do with my guilty look as she was discussing my pledge with friends at a birthday party.  Not only was I stuck with the vegetarian lasagna at said party, she added 2 days of penalty to the month of September.  Off red meat until October 3rd.
.
The Glen House Resort
is the Inn complex a bad drive away from Smuggler's Glen's first hole.   Or in my case, hole #3, #5, #6, #8, #11, #12, #14 and #15. It is set right on the riverfront, near Gananoque, and is offering a beautiful and peaceful setting for the guests.
We stopped there before the final and decisive round, with me trailing badly in the 6th position.
The deluxe breakfast consist of 6 stations:
A juice station, with nondescript apple and orange juice.
A continental station, include commercial cereals, yogurt, a fresh fruit salad consisting mostly of melons, and muffins.
A toast station, where you can toast your own bread or english muffin to your taste.
A waffle station, where Wendy was making fresh waffles on order, and invited patrons to top them with a choice of fresh blueberries, strawberries, bananas, whipped cream or maple syrup.
An egg station, where Sandy was making eggs to the patrons liking.  Most folks would go for the omelette, choosing their own fixtures by filing a little cup of green and red peppers, onions, mushrooms and ham.  These items are then fried before the two eggs (or three if you want to annoy the other patrons and make them wait a little more) are added and cooked to perfection, with a lot of cheese added and melted in the flipped-then-folded omelette.
A side station, where juicy breakfast pork sausages, crispy but very salty bacon, and big home fries, golden nicely but a little heavy on the garlic for morning potatoes.
It was the perfect breakfast, hearty and filing, to set you up for a great round of golf.  If you can golf, that is.  Which I obviously can't since I ended up 7th out of 8.
The Eh! Bay Invitational Golf Tournament is in its 4th edition and I was invited back for a second year.  Organized by the Wall family, it is basically a weekend of golf, laughter and all-around fun in the Thousand Islands.  Only two foursomes are part of it, and we played Smuggler's Glen on Friday, Thousand Islands Country Club on Saturday, back to Smuggler's Glen on Sunday.
After a round of not so memorable golf at Smuggler's Glen (in my case anyway), we were off to the United States of America.
Our first meal was also not so memorable – dinner at the Dockside Pub in Alexandria Bay.
The Dockside Pub is a very small establishment on Market Street in A-Bay.  It is decorated with sports memorabilia and mostly celebrating the exploits (!) of Syracuse's teams.  It is a very casual sports bar, with friendly service but perhaps a little too familiar.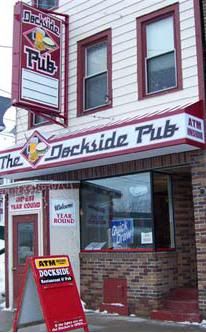 As it is a pub, I decided to opt for an 1812 as a refreshment.  The War of 1812 amber ale is the flagship beer of Sackets Harbor Brewing Company, a small microbrewery based in the state of New York.  Sackets Harbor was attacked twice by British and Canadian forces during the war of 1812, but they resisted.  I suppose they decided to name a beer after the war, disregarding the fact that they lost it in the end.  At any rate, the 1812 is a nutty amber ale, with a discreet but present bitter finish.  Not a lot of aroma, not very complex, so I figured it would work with whatever I'd ordered.
For my meal, I had the steak and blue special – a thick strip loin served on bread and topped with blue cheese. I suppose it's a variation of the famous philly cheese steak.  But first, I had a cup of chowder as an appetizer – a sad, thin, kind-of-creamy concoction with a grand total of two clams in it.   Others around me were less lucky – no clams at all. Some got potatoes though. Lucky them.
As for the main course, my steak was served with french fries, which were eaten with more or less satisfaction, and a side of vegetable macedonia likely directly taken from a can.  The meat was tender, surprisingly, and a nice medium rare. The cut was a fair size as well – quite reasonable for the 13$ they were asking for it.  But the bread was not needed, and the blue cheese was not very blue and uninspiring. So uninspiring in fact that half way through it, I jumped on the bottle of A1 sauce that one of my fellow golfer ordered to accompany his own mean.
I pledged not to go back there again – but, in all fairness, some of our eightsome ordered the fish special, a big halibut filet, which was lightly breaded and apparently very good.  It did came with the same canned veggies, though.
At any rate, I really pledged not to go back there next year.
Hopefully there is something better around the Ship Motel in Alexandria Bay, NY.