Browsing articles in "General"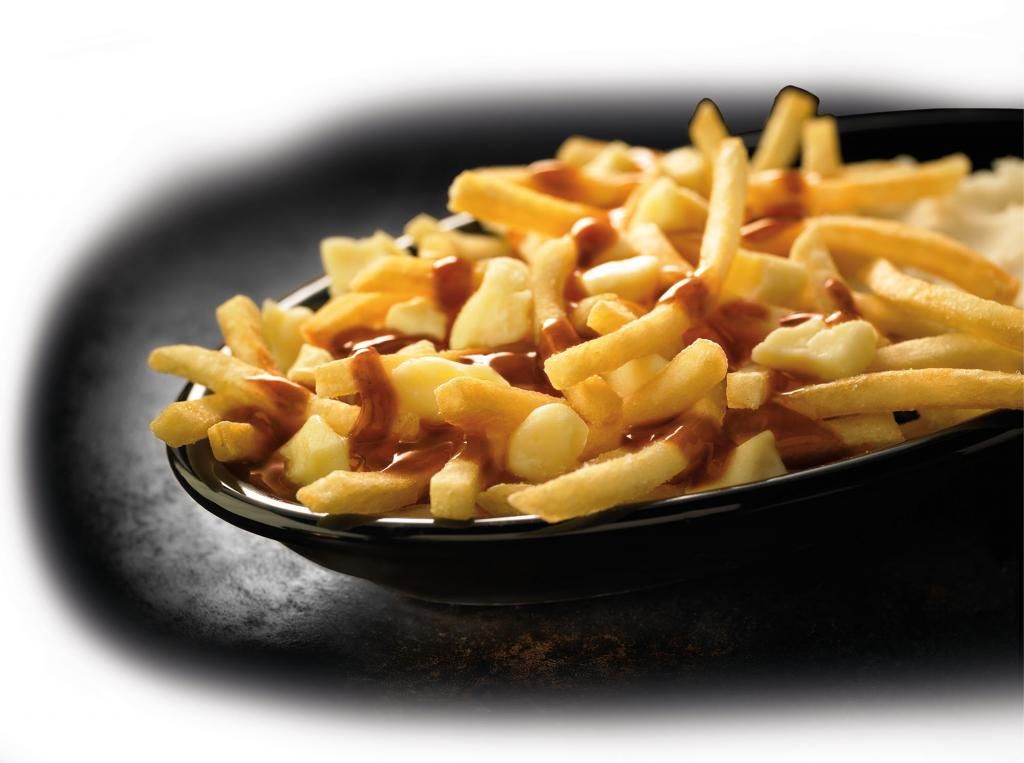 Today, McDonald's has announced that they were putting an end to their discriminatory practice of offering Poutine in Quebec only.
A popular McDonald's menu item in Quebec since 1990, the McPoutine has popped up here and there as a limited-time only menu item across Canada.
But no longer.  McDonald's will offer this Quebec favourite to their customers across Canada and it will be a permanent item.
Created more than 50 years ago, the Poutine has grown in popularity and sales represents a $79 million category in Canada.
On various blogs, social media and even McDonald's own Q&A website, customers in various regions across the country have been asking for the McPoutine.
McDonald's answer, until now: "We serve poutine but it's only available as a regional offer in Quebec, much like how the McLobster is only available in the Maritimes. That said, we're always looking to bring our regional products to other parts of Canada. Of course, we think our World Famous Fries stand up pretty well on their own!"
But it appeears McDonald's has finally listened to the poutine-loving clamour.   Priced from $3.99 plus tax, McDonald's Poutine is made with the French Fries topped with real Quebec cheese curds and gravy.  It can be had on its own or for an extra charge, it can replace the fries with Poutine in any Extra Value Meal. Or you can, like Barbara at Dose, get a poutine with a side order of poutine!
I haven't had a McPoutine in a while.  If I recall correctly, the cheese is not squeeky, the chicken-base gravy , with tomato, onion and garlic flavours is lightly drizzled and the whole thing is too salty.
But perhaps it's time for The Waffle to give it another try.
So Sparks Street had the brilliant idea to present another ribfest event. I was pleased, but until they actually set up shop yesterday, I thought might just be a dream.  Then they started smoking and they started grilling and it became real.
Mrs. Waffle wasn't as excited as I was, but she was happy enough to make her way downtown for a lunch date.  Our plan was to grab some pork delicacies and find a spot on Carmello's patio.  The weather was great, and the lines at the ribbers between Metcalfe and Bank were quite long, though not as long as they are in June.  Still, I had to go west.  All the way to the last ribber, which luckily, had no line-up at all, despite the best efforts of the grillmen to attract potential customers by shouting "RIIIIIIBS!" to the top of their lungs.  "Directly from Las Vegas, Nevada….  RIIIIIIIIBS!"
Ribs Royale had me convinced.  Who doesn't want to spin the roulette and sample Nevada's Finest Ribs?  (Ignoring for a minute that they actually are based in London, Ontario?)
Their menu is typical of what other ribbers usually offers on Sparks Street:
Ribs, Chicken, Pulled Pork. They offer combos, they offer a Vegetarian nightmare, they offer a Royale Feast.  Ribs Royale usually offers Beef Ribs and Brisket, but it didn't seem to be available – it certainly wasn't advertised or displayed.
Owner Gus Sakellis started Rib Royale BBQ in 2006. He has been competing at festivals since then, and is serving about 3,000 lbs. of meat every year. As far as I know, it is Ribs Royale's first visit to Sparks Street.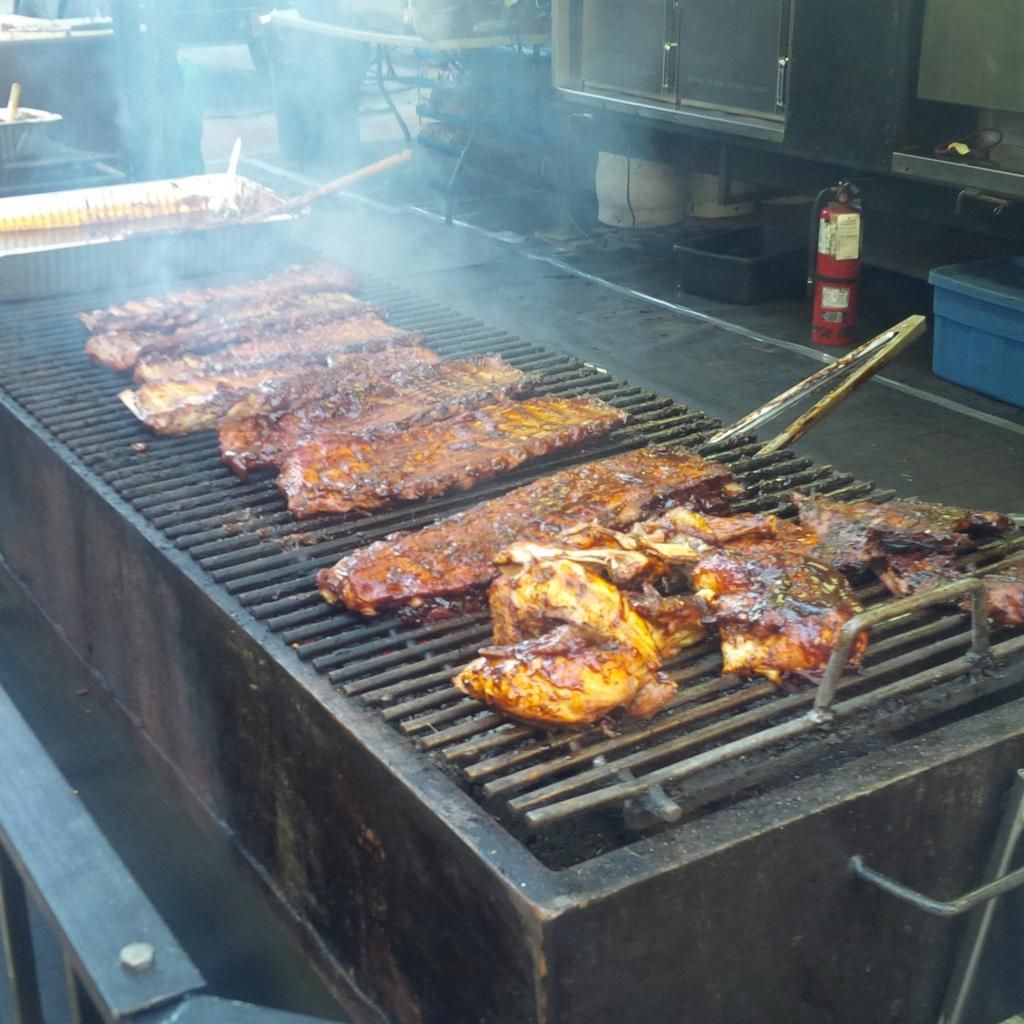 I was looking at the grillmen in action,  finishing the Ribs and the Chickens. The grill was plenty hot, with plenty of  charcoal smoke to add another layer of flavour. My mind was set: I would get a full rack of ribs ($22). It is, after all, called RIBtoberfest. Not Chickenoberfest or Pulledporkoberfest. Still, my wife wanted the pulled pork sandwich dinner, extra saucy ($10). That's just the kind of woman she is.
I ordered our food, made sure they heard I wanted extra sauce. I tipped the grillman, and, appreciative, he picked the biggest rack he had going and smothered it with a fresh layer of BBQ sauce. "Saucy, saucy, saucy!" he sang aloud. "From Las Vegas, Nevada, get your saucy Ribs right here!" Well, then.
After a few minutes, our order was ready. I picked up the compostable boxes, a few sheets of hand towels and made my way to Carmello's, where Mrs. Waffle and L'il Waffle were awaiting. We ordered a pitcher of Bavarian Lager and opened our box of goodies.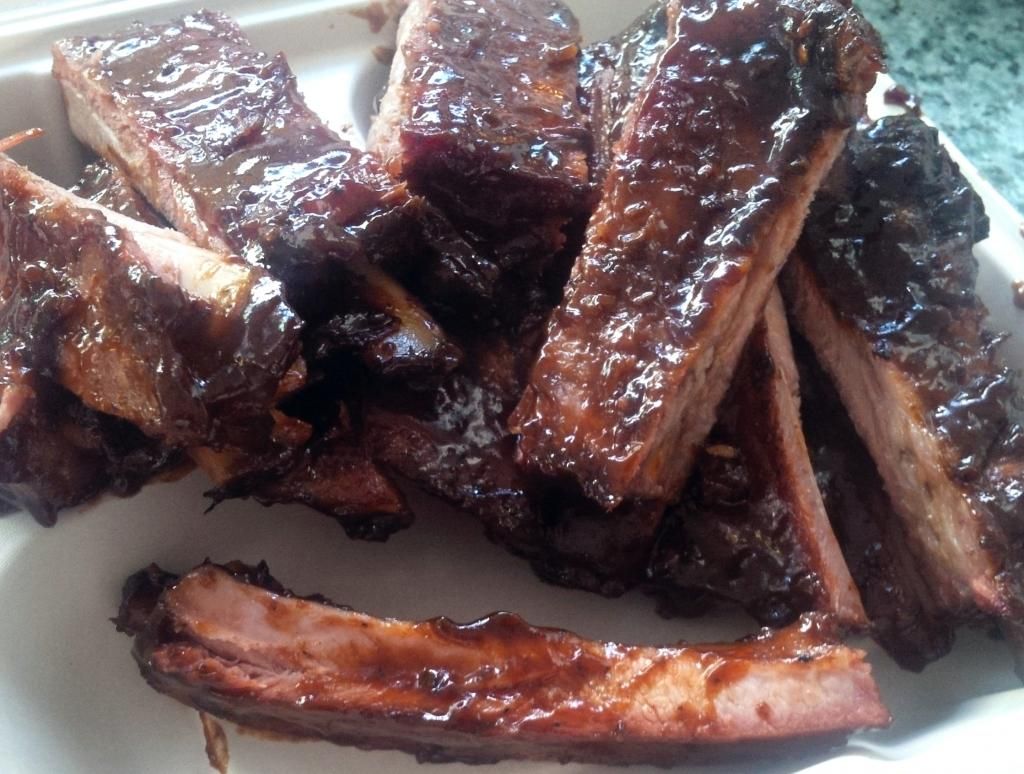 These ribs were excellent, very meaty and moist. They were tender, but not too much – there was some resistance when you pulled the meat from the bones, and it had a good chew. That's the way ribs should be cooked.  There was a nice, pink smoke ring clearly visible on the meat, produced by cherry wood with a hint of hickory.
Mel's sandwich dinner looked equally delicious.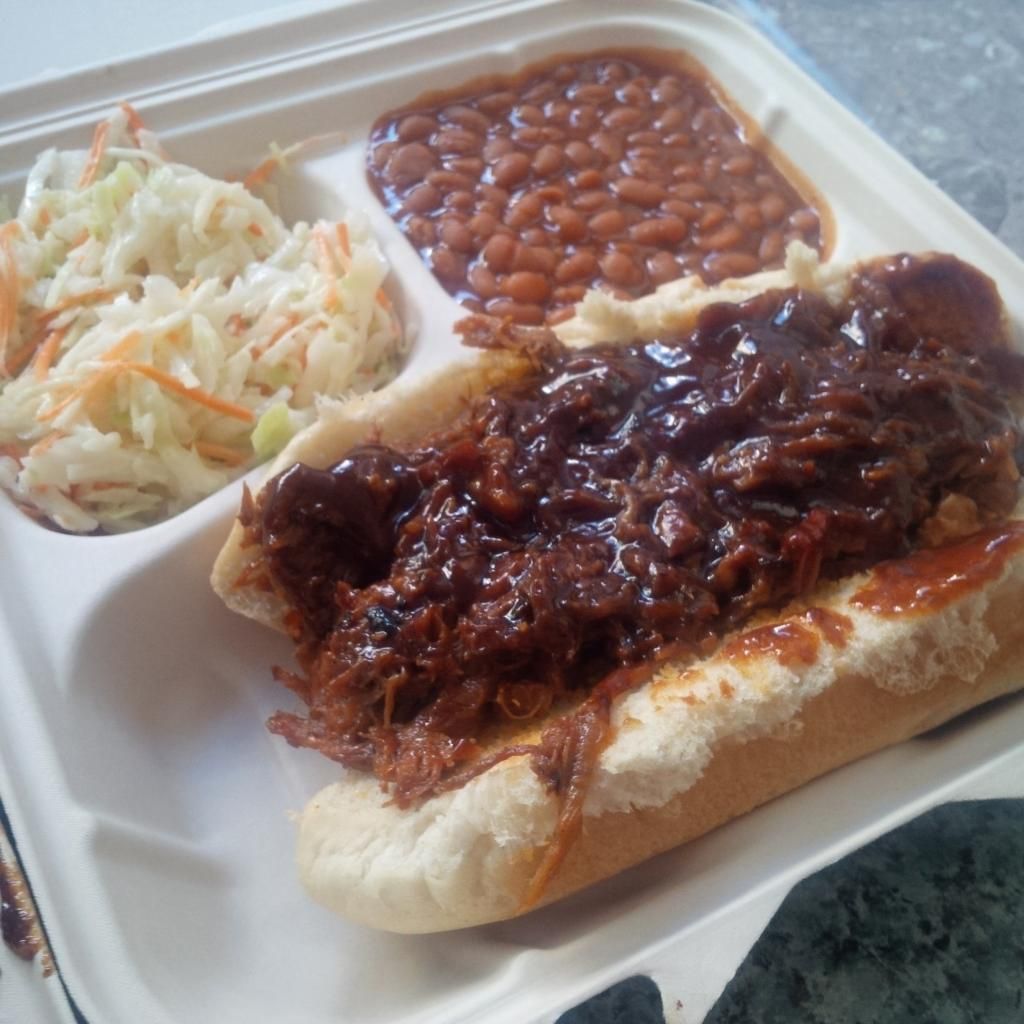 Loads of perfectly cooked Pulled Pork on a fresh bun, smothered in BBQ sauce.  The pork was very good, nice strings of goodness that after trying for the first time, L'il Waffle engulfed by the fistfull. The BBQ sauce was excellent, a great tangy-sweet balance with a smoky undertone.  You won't be surprised to know that the secret ingredient is Crown Royal, which helps round out the flavour.
The sides were uneven.  The baked beans were simple, a well executed side dish, with a tomato-based sauce that had a nice consistency and texture reminiscent of British beans.  But the coleslaw was bland, uninspiring. Neither creamy nor vinegary, barely seasoned. Unfortunate.
Nevertheless, we were quite happy with this new competitor's products.
Especially when you stick with the main event:
Ribs.
And Ribs Royale's were royally good.
Yes, it's true, folks!
The amazing sucess of Sparks Street's Summer Ribfest has generated a new episode of yumminess in Ottawa.
From October 3 to 6, Sparks Street will be illuminated by pit fires and obscurated by smoke clouds. More importantly, the aromas of Pulled Pork, Ribs, Chicken, Beef Brisket and other BBQ goodies will fill the air once again. Sticky BBQ Sauce will fill the street. Check out the map!
The Waffler nation will be familiar with classic ribbers such as Crabby's, Texas Outlaws, Bibbs, Gator BBQ, Billy Bones, Silver Bullet, Camp 31, Uncle Sam's.
Also returning to Ottawa are Hawgs Gone Wild, Sticky Fingers, Boss Hogs, Texas Rangers and Blazin' BBQ.
New comers Ribs Royale, Horn Dawgs, Bone Daddy's and Swine Fellows are also joining the fest!
Ribtoberfest is coming!
Four Glorious Days!
Seventeen Ribbers!
Oh, Joy! Oh, Happiness!
According to this CBC news story, the world could be on the verge of a significant bacon shortage.
Now might be a good time to stock up on the delicacy.
The Britain's National Pig Association said the shortage  is now "unavoidable."
Drought in the U.S. and in Canada have incresed the cost of feed and caused the size of North America's pig herd to shrink.
Life as we know and love it may be over soon.
Be prepared.
Lunch had arrived, and Marc-André and I needed to talk. It happens from time to time. He suggested that we head to the Mayflower on Elgin. I thought it was a good idea and I agreed. I like going to this English Pub, the food is good and the service friendly and efficient. It became an even better idea when we realized it was their Famous Burger Bonanza!
But what does it even mean?
Well, it means that on top of the four regular burgers the Mayflower offers to regulars and tourists alike, there is a whole new bonanza of burgers!
There was no trace of the Boondoggle Burger the Mayflower once offered.  But you can go with the Texas Sirloin Burger – topped with chipotle mayo, fried mushrooms and onion rings; the Mediterranean Veggie Burger – a portebello mushroom cap topped with zucchini, roasted red pepper and goat cheese; the Panini Melt – topped with zesty BBQ sauce, cheddar and swiss cheese, tomato and onions, and of course finished on the Panini grill; the Buffalo Bill Cody Burger – a buffalo patty topped with sauteed mushrooms, onions and bacon; the Brunch Burger – topped with a fried egg and marble cheddar; or the one that attracted my attention , the Bluenose Fish Burger – a fillet of Haddock panko breaded and topped with roasted red pepper tartar sauce.
And one Bluenose for me! 
Meanwhile, Marc-André elected to go with the Buffalo Bill Cody Burger.
Within a few minutes, BONANZA! Our burgers had arrived.
We left our hotel at 8:00 AM.  Plenty of time to make the trek to the Fort Lauderdale-Hollywood International Airport, drop the rental car, check-in, go through security and relax before our 11:10 Air Canada flight 925 to Montreal. 
About 15 minutes after we arrived, around 9:00 AM, the announcement came.  Flight AC925 was delayed until 2:15 PM.  Damn. Worse:  they wouldn't check in passengers for flight AC925 before 11:00.   So here we were, with a toddler wanting to run around and 7 bags in tow, stuck at Terminal 2′s check-in area for another 2 hours before we could be processed.  It seems that the policy at Terminal 2 is not to process bags until 2 hours before check-in for lack of storage space. So passengers kept arriving in waves, getting off their cruise ships and being shuttled in.  Other flights were delayed too, and there was nowhere to go for the stranded passengers. It was soon pandemonium, with people piling up with bags and kids and strollers and wheelchairs, as Air Canada decided it was better to process flights one at a time. 
Thankfully, Mel had come prepared.  A bag of PC Whole Wheat Cheddar Little Penguins Snack Crackers, a bag of apple pieces, a bag of Heritage O's Cereal, a bag of Publix's cheese strings and a bag of Bugles.  I didn't know for the life of me why she was bringing that much food, but I sure was thankful she had.  We also had a couple of bottles of cranberry juice and water.
Because Terminal 2 is not exactly an oasis of food choices, pre-security. 
There is Tropical Treats, a Confectionnary selling mostly candies of all kinds.  There is a combined Casa de Fresco – Dunkin Donut's to-go counter, offering bagels, donuts, and pre-packaged sandwiches and salads.  And coffee of course. There is a 5 stool bar called the Cruzan Estate Bar & Lounge, whose name sounds more promising than what you can get. And another counter called Chef Allen's 2 Go –again with packaged snacks and sandwiches.  The biggest piece of real estate is the Newslink newsstand.  In short, nowhere to sit down, relax and eat a nice meal.  Which would have come in handy, since the check-in time was pushed back to 12:30 and the flight to 3:00 PM.  By the time we were through security, we had exhausted all liquids, the Bugles were all gone, so were the apples.  A few Os were left and a bunch of penguins. 
Once one the other side, it was time to look for real food.  Options are also limited post-security: There is another Casa de Fresco counter, something call Miami Subs Plus  featuring subs plus burgers, cheese steaks, hot dogs  and salads.  Another Dunkin Donuts Express. And a Sushi Maki counter. 
There is a grab N' go counter from Sbarro called La Cucina, offering pizza, pasta, salads, grilled Panini sandwiches and other snacks.  Right next to it is another Cruzan Estate Bar & Lounge, with actual tables and chairs!  Not an actual restaurant, but at least you can sit down at a table and relax, grab food and drinks at the bar.  And that's where the three of us squeezed in to wait for our flight.
The menu at Cruzan Estate is limited and most of it comes from La Cucina:   Mozzarella / Roast Beef and Greek Platters, Garden or Chicken Caesar Salads, Sandwiches.  The one item that seems to be taken care of directly at the bar is the "Big City Reds" Grilled Beef Hot Dog.
Mel didn't know what to eat, so she asked me to surprise her. I decided to get her a Portofino sandwich (Grilled Zucchini, Eggplant, Yellow Squash with Roasted Red Pepperss and Mozzarella) but alas, La Cucina was out. Instead, I picked the Italiano, made with Genoa Salami, Italian Ham and Provolone ($7.95).  Personally, I couldn't resist the "Big City Reds" hot dog ($5.00).  To go with our food, I got Mel a Blue Moon and a Pepsi for myself.  Good points here for Cruzan Estate as you can get free pop refills.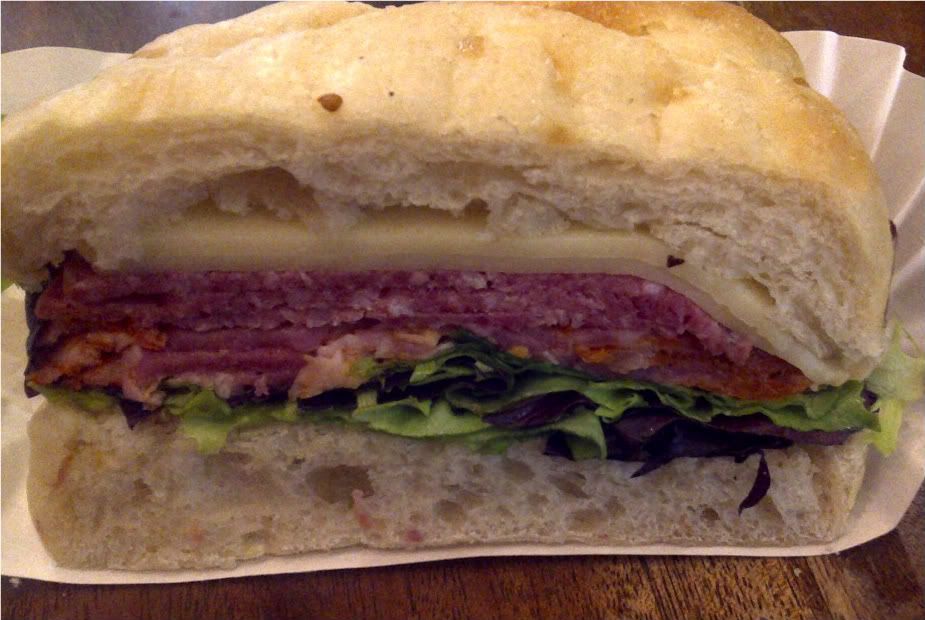 Mel's sandwich looked pretty good, even though it was a pre-packaged sandwich picked up in La Cucina's fridge by the barman. Of course, if you pick it up directly at La Cucina, you can get it grilled. However, the bread was fresh enough, the lettuce too, so there wasn't any extra moisture. 
There was a thick layer of the deli meats, giving the sandwich some texture to balance the thickness of the panini bun.  There was also a fairly thick layer of cheese. 
There was no sauce, no mayo, no mustard, but some was available at the bar. Mel added some mustard. Without being the sandwich of the year, it was correct, if on the expensive side of things.
Originating from Chicago,  Big City Reds is a brand of sausage owned by American Food Group. They specialize in all beef hot dog franks and Polish sausages. You can find them in some NFL stadiums and MLB ballparks across the United States, but mostly in random hot dog stands. Big City Reds proudly claim they are not using any artificial flavors, dyes, MSG, Sorbitol, wheat, hydrolyzed soy or vegetable protein, binders such as sodium phosphate or mustard in their franks. They do however use dextrose and water. Big City Reds sausages are handcrafted in small batches and naturally wood smoked.  
Big City Reds gets its beef exclusively from the Northern Rim – the Dakotas, Minnesota, Wisconsin and bordering Canadian provinces. They claim they are doing so because that is where the cattle are larger, heavier and leaner than anywhere else in the world. The beef is then processed fresh at their Yankton, South Dakota plant.
That said, it is a relatively small operation, and they have not really broken through as a major brand. Folks at Roadfood.com aren't really impressed.
At Cruzan Estate, the dogs are cooked on one of those automated hot dog rollers, not exactly grilled as advertised. They are served on a fresh, untouched bun right from the bag. You garnish as you please: I went for mustard, relish, mayo and ketchup, as in every condiment on offer.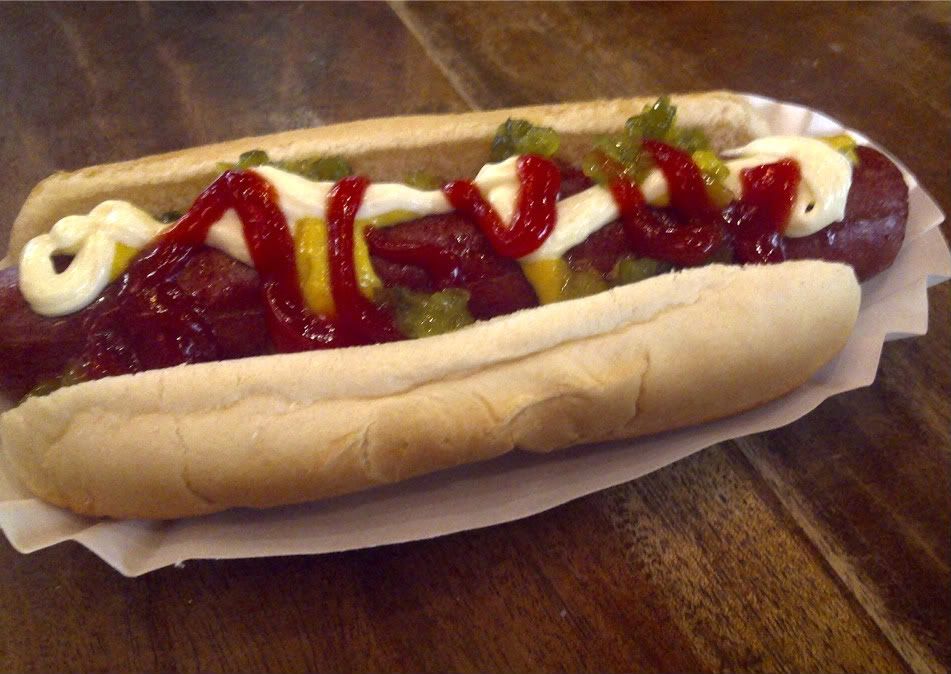 Breakfast
We started the day in Toronto, where a warm breakfast was available at our home base, the Hyatt Regency. Scrambled Eggs, Sausage, Bacon, Roasted Potatoes. You know the drill.
Breakfast #2
After a news conference with members of the ethnic media, we boarded the NDP plane with Montreal as our destination. Before we took off, we were served our second breakfast of the day. Smoked Salmon and Cream Cheese on Mini Bagels; Ham, Cheese and Egg English Muffins, and Fresh Fruits – I felt like Strawberries today.
Breakfast #3
That's right, folks on the NDP Tour are not humans, they are hobbits. It must be the case, since we got our 3rd breakfast of the day on our way to Montreal. Fresh Fruits, Yogurt with Granola and Raisins were on the menu.
Lunch
New Democrats are really popular in Quebec right now, and it showed when over 1300 people showed up to a rally in Montreal. JACK LAYTON TRIOMPHE À L'OLYMPIA, I read on twitter. After the rally, we headed to the Delta Montreal, where folks expected to have lunch. Alas, lunch was not served – it seemed that the 3rd breakfast was meant to be lunch. So we had to scramble, and order a quick and simple lunch. Fresh Vegetables (including Purple Cauliflower!), Fresh Fruits, Ham and Cheese sandwiches. There you have it.
Snack
NDP staffers and journalists boarded the plane in Montreal, with Toronto as a final destination with a pit stop in Ottawa to let some media outlets rotate their reporters and drop some staff for meetings and, in my case, 24 hours off.  I would get to see my family, so it is with a light heart that I dug into the pre-flight snack. Cheese Ravioli, Tomato Meatballs, Ceasar Salad, Baguette with your choice of Cognac or Rabbit and White Wine Pâté.
Dinner
After landing in Ottawa, the Waffle jr. got to visit the plane before we had to go. We decided that eating out was the better idea (the kitchen is not quite done yet) and so we set out to find a casual spot to eat and watch the game. We ended up at the Prescott on Preston, where after some consultations we elected to sample a few things.  Mel was told by Ed via Facebook to go for the Meatball Sandwich, so she did, and she added an Italian Poutine (no curds, shredded Brick cheese) on the side. I went fot the Meatball Platter, which consisted of a Meatball in a bowl, with a Mini Pizza of your choice. I picked the Meat Lovers. I smothered the square pizza generously with the extra meat sauce from the bowl, and we both enjoyed our meal. As for the Waffle jr., she had Turkey and Vegetable Casserole, Sweet Potatoes and Kamut Puffs.  She also stole some of my pizza crust!
It's Thanksgiving south of the border.
How do I know?
Well, there are three NFL games today, including the classic "Beat up the Detroit Lions" game.
I can tell you that the traffic on my site has increased significantly in November, and the most popular post has been Now that's a drunk turkey. This year-old post received 6 times more pageviews in November than my next most popular article this month, Downing a Double Down. In fact, the article got 25 times more hits this month than when originally posted. And 95% of these pageviews were from our American neighbours, of course.
So here are the
Top 10 American States
in love with The Waffle's Thanksgiving
1. New York
2. California
3. Illinois
4. Pennsylvania
5. Texas
6. Florida
7. Massachusetts
8. Maryland
9. Ohio
10. Virginia
Apparently, even though I'm based in Canada's capital, it is in Quebec's capital that I made it, according to MetroMarks.com.
The upstart webzine was founded by Ayden Byle and is referred to on their site as their Fearless Leader.
Here is what they had to say:
"Hello!
I'm writing to let you know that The Waffle is now being featured on MetroMarks.com  – the world's only, city-based bookmarking site. 
To view your MetroMark on our Quebec City Blog page, click here!

What can MetroMarks do for you?
MetroMarks brings together all of your favourite search engines, local news, maps, transit, events, classifieds, social sites and more… all on one site.  You can also upload your own personal bookmarks, making MetroMarks an ideal home page, particularly when travelling to other cities or using alternate computers.  MetroMarks provides fast, accurate access to the most relevant, city-specific information – no matter where you are.  We even provide direct links to the most elusive, city-based Government pages. Our goal is to have hundreds of cities launched within the next year. 
Based out of Toronto, Ontario, MetroMarks launched in beta just four months ago.  We're very encouraged by the positive feedback we are receiving, and we're especially thrilled to be receiving recommendations from many respected sites, including TechVibes, one of North America's top tech blogs. 
MetroMarks launched in Quebec City today!  We would really appreciate it if you mentioned us to your readers to help us spread the word to the online community in Quebec City.  We would also appreciate any feedback you might have about our site and are open to discussing any other ways we might work together. 
Again, congratulations on a great blog!  We look forward to sending more visitors your way. "
There you have it, folks.
I suggested to MetoMarks that perhaps The Waffle should be featured in Ottawa, but to no avail.
Oh, well.
My most assiduous readers and many casual ones as well have noticed that the Waffle has slowed down his postings in the past two months.
No doubt, the arrival of the Waffle Jr. is one of the reasons why I haven't been able to updtate regularly.
But the main reason has been my frustration with my host, Blog.com.
For over a month, Blog.com was impossible to use. Bad gateways, 502 errors, 504 errors, 505, 506…
It was frustrating at times, and I did consider moving my blog somewhere else.
Once they resolved their stability and performance problems, I was ready to resume my activities.  Unfortunately, their fix created more problems, which forced me to make some design changes in order to ensure a smooth migration of my older material. Hence, the Waffle Makeover, which didn't take as much time as a Restaurant Makeover.
There might some kinks left, but hopefully you'll be able to enjoy my posts regularly soon.  In fact, many posts were left unfinished as I couldn't save them properly, so you will see some backdated posts popping up soon.
As you can see, the Waffle has a new look.  Gone is the green and orange scheme, and for now, the Waffle is applying the No Logo rule.  The old logo may resurface again, perhaps in another form.
Many readers have asked me where these Waffles are from.  Well, I'm glad you asked.
When Mel and I were in Paris for Christmas in 2007, we decided to take a couple of side trips, one of them to Belgium.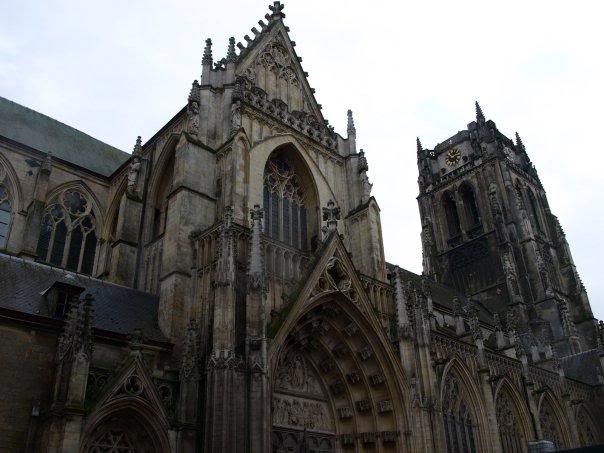 We visited Brussels, had lots of beers, mussels and chococlate and particularly enjoyed the Christmas light and sound show at the medieval Grande Place.
We made a whistle stop in Liège to admire the architecture, cross the Meuse and visit the public market.  We also went to Tongeren, the oldest town in Belgium.
Tongeren was founded in 15 BC and was an important Roman administrative centre.
Our Lady's Basilica, a massive gothic building, built in 1240, still dominates the town with it's 64 metre high bell tower.  It was undergoing major renovations and preservation work when we visited.
Nearby, the statue of Ambiorix is in the middle of the Grote Markt.  Ambriorix defeated two of Caesar's legions. Tucked behind are some  original Roman walls, dating from the  II century.
But the real gem was a little waffle shop located on Maastrichterstraat, squeezed between clothing stores, on what is probably the nicest street of the town.  We ordered these waffles, and saw them being made in front of our eyes.
And I've got to say I never had better waffles in my life.
They were small, you could hold one in your hands.  But they were fresh and warm, fluffy yet crunchy, light but dense, with cristallised sugar melting in your mouth without being too sticky. They were, no doubt, worth the trip to Belgium on their own.