Browsing articles in "Drink Experiment"
Aaaaah, Florida.  The Sun. The Heat. The good excuses to refresh yourself. 
The State of Florida, being the third largest beer market in the country, what would a trip there be without taking the opportunity to drink a few ice cold beers, brewed locally if possible? Well, that's what Mel thought when she returned from a trip to what she called 'the freaking biggest liqour store in the world!' with an interesting selection of Southern Suds – a very big South…
KEY WEST SUNSET ALE
First, the beer that became my beer of choice during this trip. The Key West Sunset Ale is a medium-bodied Amber Ale which actually hails from Melbourne, which is halfway between Daytona and West Palm Beach on Florida's East Coast.
Originally founded in 1996 as the Indian River Brewing Company, the company was reorganized in August 2003 and now does business as the Florida Beer Company.
The beer pours a nice dark golden, copper color, with very little head. Not as bright as a sunset, though. Thankfully.
Aroma is slightly sweet, hints of honey and caramel. It is lightly hoppy.
It drinks surprisingly tart compared to the aroma, however not in a negative way. The first sip just had a little bit more bite than I expected, perhaps grapefruit.
It actually tastes like a moderately bittered amber ale with medium fruity malt flavours and very little hop presence.
All around a good beer. Not too sweet, but not too bitter. Easy to drink. A good beer to enjoy at sunset, let's say, on a Key West quay? (Which we did!)
RAISON D'ÊTRE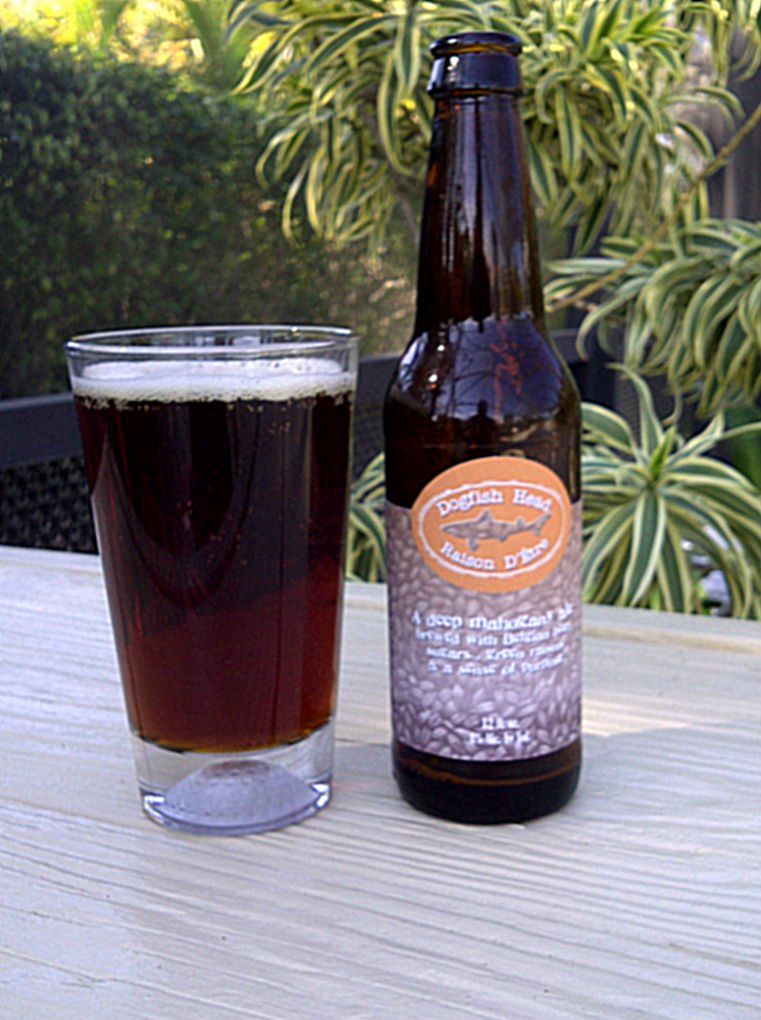 My first experiment was actually hailing from Delaware : Raison d'Être from Dogfish Head Craft Brewed Ales.
Dogfish Head opened in 1995 and claims to offer off-centered ales for off-centered people (Mel laughingly thought this would be perfect for me, I failed to see the humor).  I have had some encounters with their products in the past, and I can confirm that Dogfish Head does brew hard.
Hard as this Belgian-Style Strong Brown Ale, with it's 8% ABV. The Raison d'Être is brewed with beet sugars and green raisins.  That's right. Green.
Dogfish began brewing it in 1996 and bottling it in 1998 as the answer to the question, "What beer should I enjoy with a wood-grilled steak?"  I can see why.  Here is a tasty, complex beer.
A dark brown color with ruby edges,  which explains why it is referred to as mahogany. A  thick light beige head with small bubbles. 
The smell is powerful, a sweet and sour aroma where you can actually distinguish the raisins. Interesting.
The Raison d'Être offers a smooth, clean taste, notes of raisins, dates, caramel - perhaps even rhum – no doubt that to the high alcohol level. A fine beer.
STEELHEAD EXTRA PALE ALE
Despite being in Florida, we jump all across the continent for the next beer, which hails from the town of Blue Lake in Northern California: The Steelhead Extra Pale Ale from the Mad River Brewing Company. This 5.6% brew, is seen as the flagship of Mad River Brewing.
Here we have a bright golden ale, a little hazy likely because of the unfiltered nature.
A nice fluffy white head, which settles and sticks around.
The Steelhead EPA has a medium body with a spicy and floral hop nose.
To taste, there is some light spicy hops to start, but then it becomes a pale malt show. A bit of a doughy, bready flavor.
All along there's a general fruitiness to taste and then a very mild bitter finish.
Fairly highly carbonated, yet very drinkable, but nothing bold or unexpected.
Not a bad beer, but I'm not sure if it fits its Extra Pale Ale label. It would need a little more bitterness to qualify.
What would be a trip to Mexico whitout taking the opportunity to drink fresh margaritas, made with fresh lime, premium tequila and Orange liqueur?  It wouldn't be as fun of a trip, that's for sure, and it could make it harder to diggest the local delicacies.

First, you need good Tequila, 100% de Agave.  Do not waste Reposado or Añejo Tequila in a cocktail. I picked a bottle of Tequila Reserva 1800 Silver.  It has a very clean, silky smooth taste.Second, fresh lime, squeezed.
Third, an orange liqueur. Most use Triple Sec, some fancy ones go with Cointreau or Grand Marnier.  Here, I picked a bottle of Amaranta Triple Sec, a Mexican product.
There you have it.  2 parts Tequila, 1 part lime juice, 1 part Triple Sec.  Add sugar to taste. Blended with ice, serve immediately in a coarse salt rimmed glass.
Enjoy. Repeat.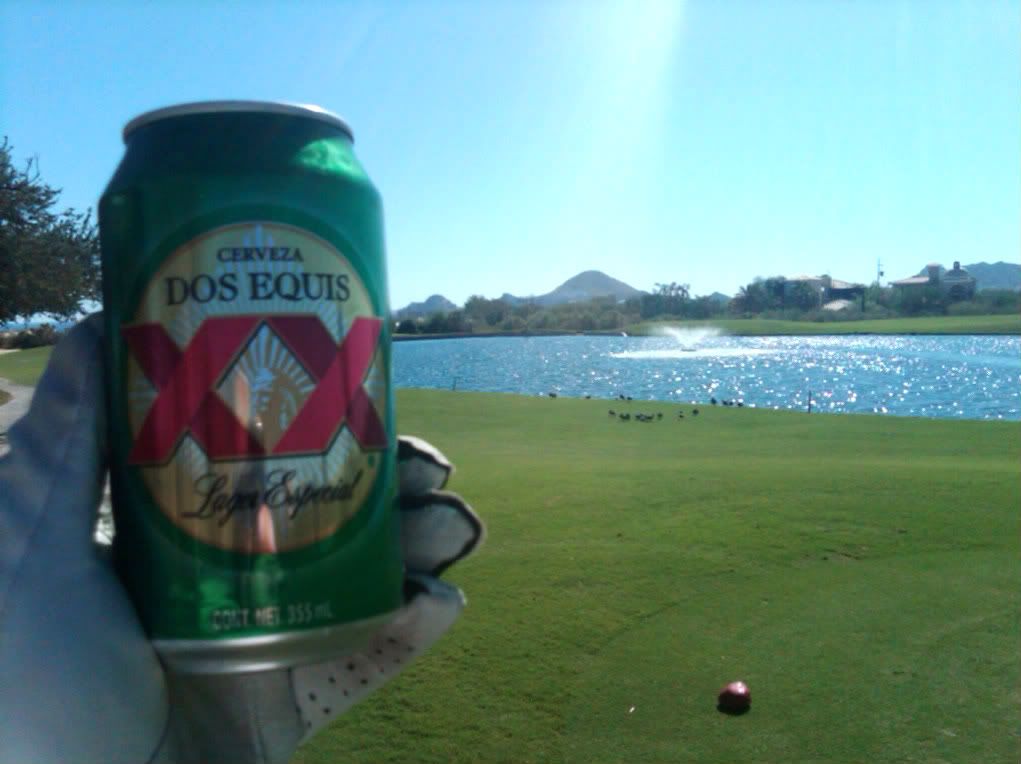 I enjoyed this Dos Equis on the Raven, now known as the Cabo San Lucas Country Club. It mostly achieved its first goal – to resfresh and help my golf game. Slightly.
Dos Equis is higly drinkable, with a watery feel and taste, and a slightly dry finish.
It has a fairly prominent corn taste and a weak malt base. Add a lime, and it will do as lime does – take over the taste of the beer to make it a very cool and refreshing brew.
I often drink beer, and when I do, I prefer not to drink Dos Equis. It won't change – but I am not opposed to having the odd one here and there.
Estralla is a pilsener beer produced in the Guadalajara Modelo plant.
Estrella was first produced in the late 19th Century by Cervecería Estrella. Grupo Modelo acquired Estrella in 1954.
A pale yellow color, the Estrella hints at being a decent pils. But only hints.
The malt flavor is kind of there, a little sweetness, heavily carbonated yet fairly light. Not offensive, but not good either.
Like most Mexican beer, lime is de rigueur.
I had this Pacifico Clara, another beer by Modelo, on the golf course.
It was served ice cold and was quite refreshing. I enjoyed it again during the trip.
It had a bright golden yellow colour with a fizzy white head that diseappeared quickly. An extremely carbonated brew.
Smells of light grain and corn, with maybe a touch of hay.
A super crisp and clean beer, the carbonation does go away when served with lime, becoming very, very smooth.
The little sister of the Pacifico, the Pacifico Light was launched in 2008 to get on the light beer bandwagon – but frankly, it's not like Mexican beers are particularly strong to start with.
It is, however, pale in comparison.
Pale straw yellow, no foam at all.
Very little aromas, a hint of malt, very little flavor, little grains and also heavy on carbonation.
Good for the beach or hot summer days as simple refreshment if served very cold with juice of half a lime.
99 cans of beer on the wall…
Tecate – a little sweet, some corn, metal, a bit skunky. Not great.
León – A dark one from Modelo, caramel, mild bitterness, coffee presence towards the end.
Montejo – A pilsener from Modelo, some maltiness and some citrus but very low on hops for a pils.
Modelo Especial –  Highly drinkable despite the high carbonation, sweet malts, official sponsor of the Super Bowl in Mexico.
Corona Extra – Well, of course.  No malt, no hop, no nothing.   But boy do Bud Light Lime still get it wrong.
Gallo Draft – Imported from Guatemala(!). A little honey sweetness, some metal aftertaste, feel free to avoid.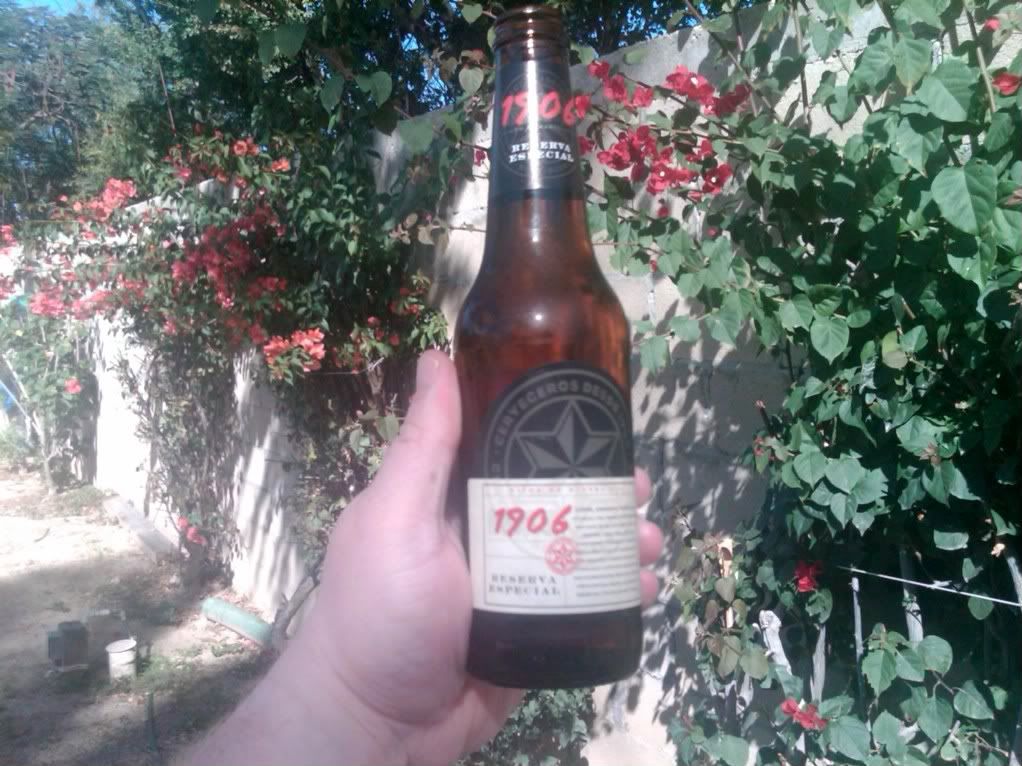 The 1906 Reserva Especial is imported from Spain and is available throughout Latin America.
It has a light and clear orange tint with a frothy white head; low carbonation.
You can smell some maltiness and some sweetness, and definitely taste the malts.
Corn is also clearly present, and the 1906 has a sweet finish.
A nice lager, but it could have used some bitterness to balance the sweet malts.
Tecate Light is what it is – brewery Cerveceria Cuauhtemoc Moctezuma's attempt to attract a different crowd. I enjoyed (HA!) it while watching the NFL playoffs at the Cabo San Lucas airport.
This brew pours a light crystal yellow color, with bright white foam that fades very quickly.
Some cereal sweetness aromas, taste was milder than the original, though the metal is still present.
Mouthful is very watery with very little appeal. Might work as a beach beer, but I would certainly drink a regular Tecate before this. And Tecate is low on my list.
The last beer I had in Mexico – and not a bad one at that. The Bohemia is another product from Moctezuma. It is a bright, clear yellow colour with a thin white head.
Malt is present, but you can smell the citrus in this one. And indeed, there is citrus in there, a little tangy, which works well when a piece of lime is added.
Not too heavy, not too thin, I could have had a few more.
But alas, they called our flight for boarding.
Adios!