Browsing articles in "Baseball"
After an afternoon at Wrigley, what should guys do but spend the evening on the other side of the city, and watch more baseball? That is exactly what we did as, for a rare occasion, both the Cubs and the White Sox were in town during the week-end.
The game at Wrigley lasted 4 hours, so we went directly to the U.S. Cellular Field. Once you get out of the CTA station, you notice how the atmosphere is totally different. The crowd is different. The vibe is different. We could be in another city, and it would make as much sense.
US Cellular is built on the lot immediately across from where Comiskey Park used to be. Old Comiskey's home plate is a marble plaque on the sidewalk next to the Cell and the foul lines are painted in what is now a parking lot.
We slowly walked up the ramps to the Upper Deck concourse, admiring the views of Chicago and soaking in the experience. To test our limits, we even threw some balls monitored by radar . No scouts stuck around to watch.

Once in the concourse, I started checking out the food options.  At the 500 level, you could find the usual baseball fare -  Hot Dogs, Pretzels, Pizza, Burgers, Fries, Ice Cream; but also a few other options, Funnel Cakes, Loaded Baked Potatoes, Chicken Wings, Cevapcici, Elotes, Tacos, Nachos and Fajitas.  There is also a Kid-sized concession stand serving peanut butter and jelly sandwiches!
But if you want something really different, like steamed bun filled with chicken or pork, mongolian barbecue or chicken terryaki, then you are at the wrong level. But there is no access to the 100 level from the Upper Deck, so nothing exciting was going to happen.
Unless…  Wait a minute.
What does this sign say, right there at the South Side Hitmen Grille?
I got closer.
Is this even possible?
Cheese curds???
Cheese curds in a Major League baseball park?
We're not at the Big "O", are we?
Indeed.
Cheese Curds are sold. Right here.
Don't expect to be able to order a poutine, though.
"Try our beer-battered cheese curds" the sign said.
Why, yes!
I got myself an order of the delicacy: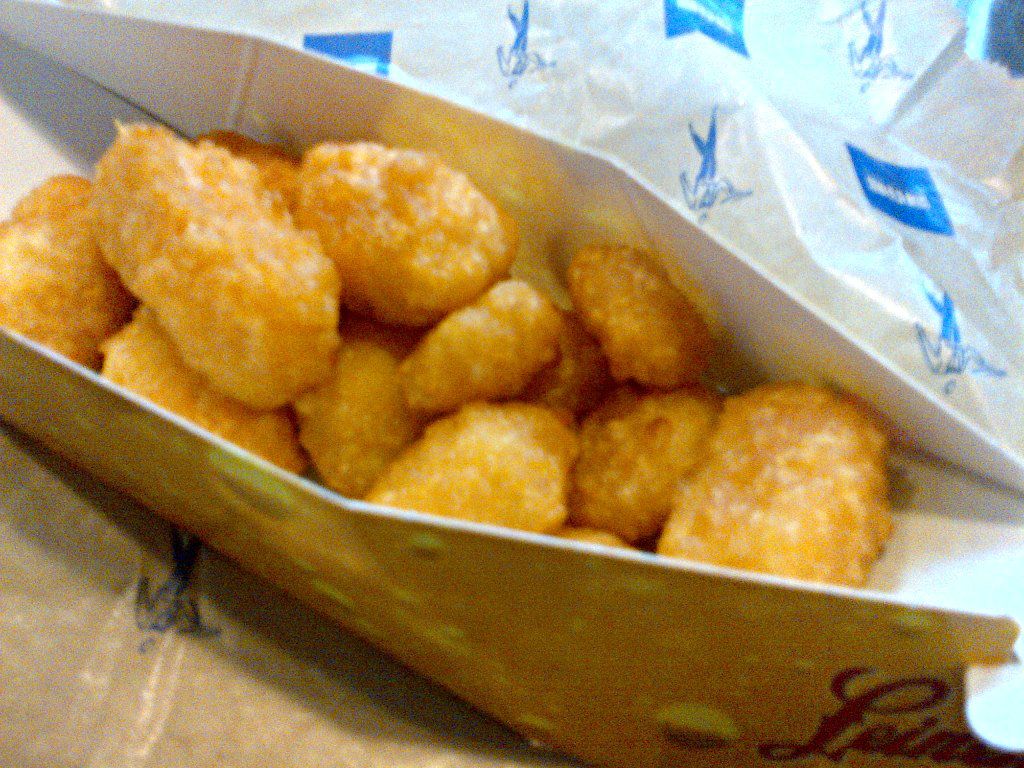 I had to try it.
I had had deep fried cheese curds once before, and it was so tasty I had to try it again.
They arrived in a hot dog cardboard container, tightly wrapped in wax paper.
There were only a dozen curds, which makes it pricey at $4.50. Continue reading »
Theo is about to get married, so to commiserate, a bunch of guys headed to Chicago for a baseball extravaganza. 3 games in 2 days.


First up, Wrigley Field, the second oldest Major League ball park.
It was a great day for baseball. The sun was shining.
Our tickets were in the bleachers, which are general admission. We found some spots in left center field.
It was a great day for baseball. The beer was cold.
At Wrigley Field, Old Style is the beer of choice, although it is no longer the official beer of the Chicago Cubs.
The lager, which has been served at Wrigley since 1950, is back at Wrigley for two more years after Cubs fans pressured Pabst into staying. The rumour as it that 90% of all Old Style sales happen at Wrigley. Old Style Lite is also available.
Bud Light is now the official beer of the Cubs, and Budweiser is sponsoring the bleachers, so of course you'll find these guys. Yet, you can find other beers at different stands inside the Stadium, imports like Corona, Heineken, Amstel, Guinness and even Red Stripe. Beer at Wrigley goes for $7 or $7.50, depending on brand and format.
It was a great day for baseball. The hot dogs were cooking. 
At Wrigley, the food selection is quite interesting.  But whoever says baseball, says hot dog.
There are different types of sausage available in the stadium, and the condiments selection varies from one spot to another.  So you may want to spend some time studying before rushing for the first stand available.
You can go for the classic Vienna Beef Hot Dog (who returned to Wrigley Field last year after a 29 years absence, taking over from Sara Lee's Ball Park franks.), which are widely available.  Or you can be more adventurous, going European with an Italian , a Polish or a Bratwurst;  or go gamey with a High Plains Bison Dog, or go long with a Foot-long Kosher, a Foot-long Buffalo Dog or a Foot-long Bratwurst; or load it up with a Taco Dog, a Nacho Dog, a Frito Dog or a Deli Dog.
But when in Chicago, I do like a Chicagoan, and go for a Chicago Dog.  And where else to get a Chicago Dog but at Chicago Dogs?
I found a stand located on the concourse behind the bleachers, with a view of the street which was still buzzing with people. 
The rooftop bleachers were loud, people seemed to be having a blast over there.
But I could not be distracted.  I had to focus on my order – a Chicago Dog.
If you haven't been following the Juice-Jackson Baseball Extravaganza (or #jjbe12), which is on its last leg, you should check it out.
@juicegniposky and @nathanLjackson have been on a two week baseball trip, with stops in Boston, New York, Washington, Philadelphia, Pittsburgh, Cleveland, Chicago and Toronto.
On their blog, you will find the highlights of their trip,  including great reviews of the food they've encountered in and around the stadiums.
 Mrs. Waffle did some research before our road trip vacation in New York State.  And once I convinced her that Cooperstown was a must stop, she insisted that dinner happened at Dimaggio's Cooperstown Hot Grill.
So first we visited the Baseball Hall of Fame. And then we set out for Dimaggio's.
"The best food in town. Cooperstown, that is." says their website.
DiMaggio's is owned and run by the DiMaggio family, (yes, cousin to Joe) and is located on Route 28, directly across from the Cooperstown Dreams Park - bringing them hungry customers by the busload.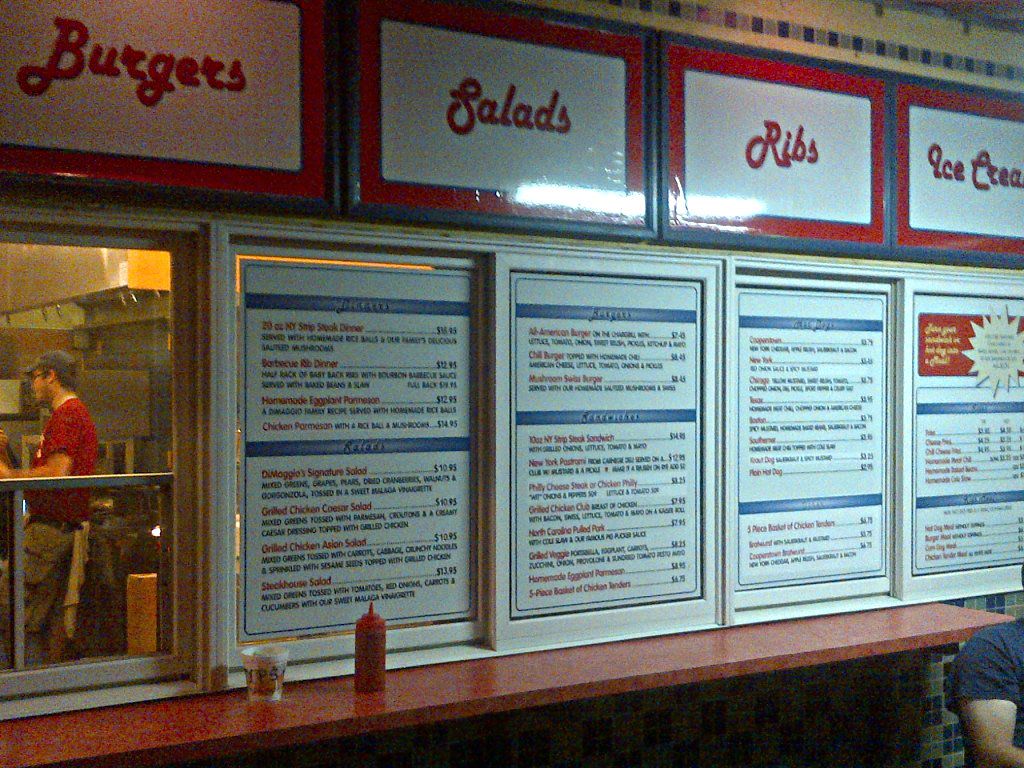 DiMaggio's is obviously targeting families. Leaving aside their ice cream section, with their sundaes selection (banana split, chocolate chip cookie, strawberry shortcake and hot fudge brownie), their menu offers many options: New York Strip Steaks, Baby Back Ribs and all kinds of specialty salads, sandwiches and burgers.
Apparently, DiMaggio's Eggplant Parmesan and Rice Ball are the talk of the town – but I was in town, and nobody mentioned it. Go figure.
But we were there for something else – we were there for Hot Dogs. Nothing goes with baseball better than Hot Dogs, and the Hall of Fame visit built up our appetites. And since Dimaggio's logo is a hot dog, we had high expectations.
We studied the menu posted outside, right by the take-out window.
Dimaggio's Hot Dogs come in 6 all-beef variations:  The New York (red onion sauce and spicy mustard), the Chicago (yellow mustard, sweet relish, tomato, chopped onions, dill pickle, sport pepper and celery salt), the Texas (chili, chopped onions, American cheese), the Boston (spicy mustard, baked beans, sauerkraut and bacon), the Southerner (chili and coleslaw), nd the Cooperstown (cheddar, apple relish, sauerkraut and bacon).  They also have two Bratwurst options, one with sauerkraut and mustard and the other one à la Cooperstown.  You could also get a plain dog. But why would you?
When I said we had built our appetites, I wasn't kidding.  My plan was to sample two dogs, Mel was to go for one. But suddenly, Mel decided that she needed a little more and also went for an American classic: the Cheese Fries.
I was not going to argue. We walked in. You are hit immediately by the bright colours, the smell of french fries and the sound of a pre-teen baseball teams having a blast.  I went to the counter to order, no line-ups.
A medium order of Cheese Fries ($5.25), one New York ($3.45), one Cooperstown ($3.75), one Texas ($3.95), and a pop – with free refills, which is always great!  The staff told me I could go and pick a table, and they would bring our order out.  Awesome.
We decided to sit outside – to enjoy some fresh air and a quieter environment. Across Route 38 the bright lights of  Cooperstown Dream Parks were shining.  Lots of kids having lots of fun dreaming about a not so distant future where, maybe, they could become baseball superstars.  Just like kids like Bryce Harper, Matt Garza and David Price before them.
Lost in my dreams of my future Major League career, I was awoken by the arrival of our food. Mel was about to get up to get a refill, but the friendly staffer told her to enjoy the food – he would be right back with it.  I've got to give them kudos for service, it was great, much better than one might expect in this kind of joint – and certainly putting fast food chains to shame.
The medium basket of cheesy fries was huge.  I was so glad I had resisted the temptation to go for the bigger size. There was a good scoop of a gooey-cheese like substance, but the fries weren't swimming in cheese sauce. Therefore,  the fries were not mushy and were holding up firmly. Of course, the cheesy goo was very salty, but kind of addictive. I guess that's the idea, isn't it?
But we were not distracted by the sideshow.
We soon dug into the line-up.
The Cooperstown: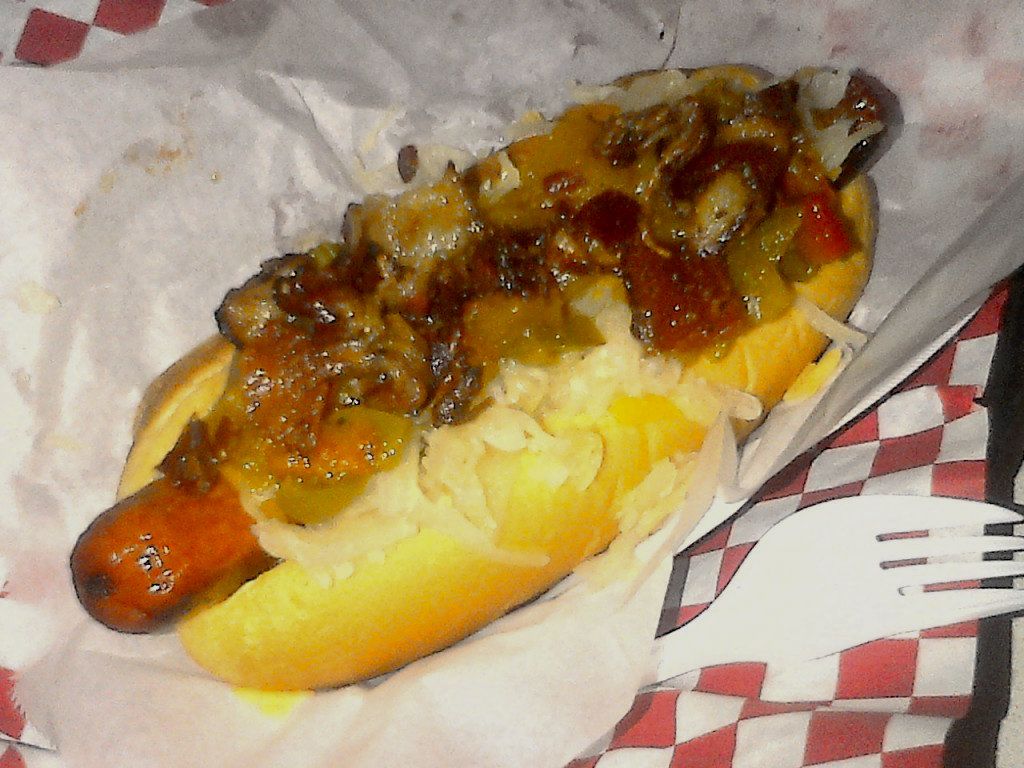 Now, this is truly a one-of-a-kind hot dog. The apple relish is not overly sweet, it is totally different and refreshing. The rest of the toppings bring you back to more traditional dog flavours, acting as a bridge between the New York Cheddar, which of course goes well with apple, and the tangy sauerkraut, which mellows with the relish.  The bacon came in big extras-crispy chunks, they couldn't go wrong there.
Breakfast
It appears I am on a Fresh Fruit Binge for breakfast, as I once again only had a MacIntosh Apple for breakfast before a series of interviews, starting with a taping of the CBC's The House.
Lunch
Another interview, but this time it was a civilized sit-down over lunch with a national affairs columnist. We sat down at the Mix Bistro Bar which is located in the Hyatt, overlooking King Street. I went for the Chicken Tortilla Soup, with Avocado and Pico de Gallo, and a Bartlett Pear and Blue Fin Crab Panini, with Mancheago Cheese and Basil Pesto.

Dinner
It being Good Friday, we were done early after a photo-op at a Portugese Easter Procession and a few more interviews. Which meant that we had a free evening in Toronto. Jennifer suggested that it would be a perfect opportunity to go to the baseball game, as the Blue Jays were hosting the Tampa Bay Devil Rays.  I protested, thinking that a quiet hotel room would be better than a loud stadium,  but I finally caved and joined a few reporters and staff at the Rogers Centre.  Thankfully, the Quaker Steak and Lube is still offering the best deal in the ballpark (I wrote about it before!) and I got myself a half-stadium bucket of Lousiana Lickers Chicken Wings (they don't do full buckets anymore).  The sauce is a mix of Hot-Cajun-BBQ-Garlic, for a sweet and spicy results.  Other flavours offered: Hot, Arizona Ranch, Golden Garlic, Thai 'R' Cracker and BBQ. 
It was the mid-summer meeting of the Greater Ottawa Original Fantasy Baseball and Leisure League and most of the owners were gathered at Al's Diner for deep discussions about the value of "Holds" as a possible pitching categories and the eligibilty criterias for Starting and Relief Pitchers.
Al's Diner is a small establishment located on Clyde avenue, which caters to a blue collar crowd for breakfast or lunch.  It is open for dinner but folks mostly drop by to grab a pint and a snack after work.
The menu is diversified – sandwiches, burgers, salads, pizzas, pastas and comfort food such as Mom's Meatloaf and the Sunday Pot Roast are offered. They also have daily specials and nightly specials.
And on Monday evening, Al's diner is offering Chicken Wings at 35 cents each.
I complied and ordered some wings.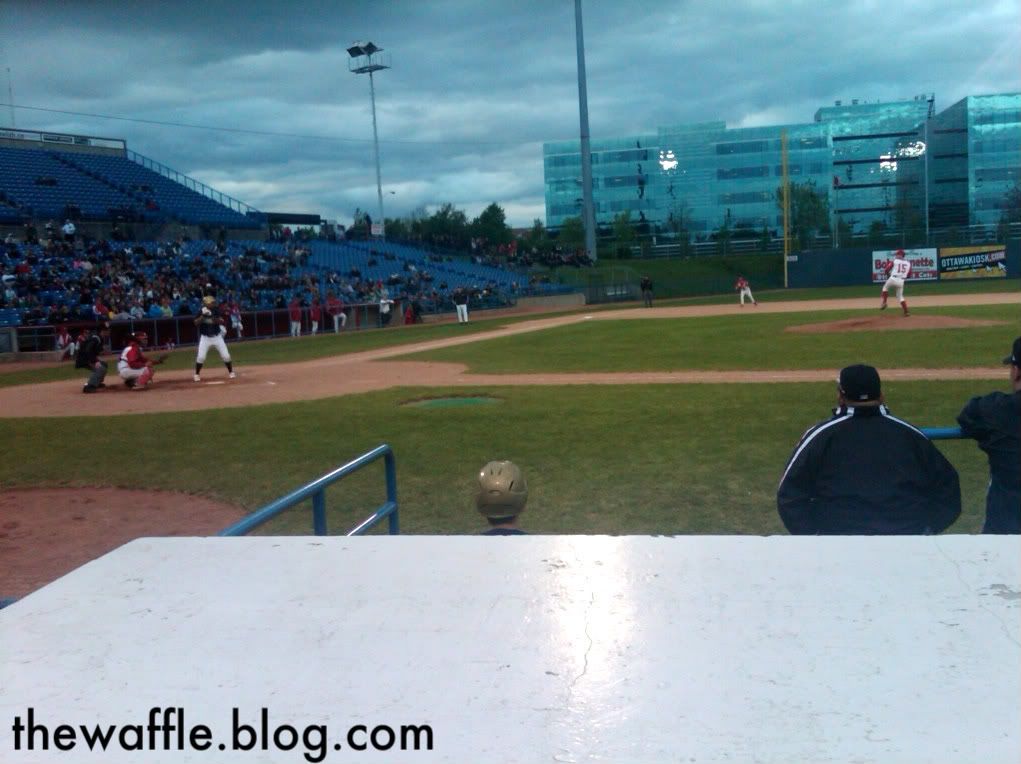 Baseball is back in Ottawa – another attempt to establish "America's Favorite Pastime" ™ in the Nation's Capital.
After the demise of the Rapidz, the Voyageurs, the Lynx, the A's, the Giants, the Senators, it is now up to the Fat Cats to keep the dream alive.
The Fat Cats are the newest team in the venerable Intercounty Baseball League, a semi-professional league established in 1919.
And so there we were, over 3,724 fans attending the Cats' home opener against the Mississauga Twins.
I say "over" because the team started letting fans through the doors for free after a few innings as they couldn't handle the line-ups. Lineups to get into the parking lot – lineups to get tickets – line-up to get inside the Ottawa Stadium.  Many just turned back
If the Fat Cats want to build a fan base, they'll have to fix these problems, and quick.  Thankfully, we arrived early and had bought our tickets on-line, so we only had to line-up to get into the Stadium.  For some reason, the doors were still closed an hour before game time.
Leaving aside for a moment the fact that Grape, the Fat Cats' mascot, is not fat and has no tail, one should also be puzzled by the Ottawa Stadium Group's attempts to keep their prospective fans svelt – through no beer and no hot dogs.
Let me explain.
Somehow, the Fat Cats managed to get a liquor-licence, but not quite the right one.  Which meant that if you were patient enough to line-up to get a couple of cold ones at one of the two beer-selling concession stands at the stadium, you couldn't bring it with you to drink in the stands.  Say what?
Yes, people were stopped at the gates as they were trying to enjoy a cold beverage on a cold and rainy night (coffee was not available – not that I drink coffee. Talking of rainy nights, rainouts could also be a problem, as pointed out by Out of Left Field.)  Still, some baseball fans managed to smuggle a few cans past the security guards, who spent most of the night chasing Grape around the stadium anyway, so enforcing that rule was certainly difficult.  However, most people ended up drinking their beers in the concourse or from the left field pic-nic zone.
I really hope for their sake that they get the proper license soon, because THAT IS NOT BASEBALL.
Getting food was also a problem – and there is no way I was going to miss the action (including a 6-run collapse of the Fat Cats in the fourth – 5 of them runs after two outs!) and wait in line for 30 minutes to get a hot dog.  Same story at the Pizza Pizza counter.
A new trend in sports stadiums around North America is to diversify – people are looking, apparently, for different fare than the usual hot dogs and pretzels.  I was
impressed
by the
Amway Arena
in Orlando.
So the Rogers Stadium has come to an
agreement
with
Aramark
to do just that.  So you can now find on the main concourse a very different selection, like the Muddy York Market in section 109, which is based on a "fresh market" concept showcasing fare from different Toronto communities, such as gyros and souvlakis, satays, kung pao wraps, salads, Mediterranean meze and sushi.  Who the hell wants to
eat sushi while watching baseball
?
There is also a Carvery station in section 122 – hot turkey or "
Keith's Red
" roasted beef sandwiches, this is the place to go if you like to pile it high, in bread, in meat and in dough.
Pizza Pizza
also opened a counter in section 134.  It allows you to bring back a full pizza to your seat. The selection is limited, and it is Pizza Pizza, but if that's what you are craving, worse does exist.
The Baker's Deli in section 125 serves a selection of sandwiches on different breads, such as ciabatta, pumpernickel or rye, with different meats, such as corned beef, pastrami or smoked meat.  Pickles, coleslaw or potato salad available on the side.
But what I really wanted to try was the
Quaker Steak & Lube
in section 134.  During a game, you could be a lucky fan and get a bucket of wings delivered to your seat! But luck is a tough thing to wait for when you are hungry, and hungry I was.
So I made my way slowly to the counter, peering at the game from the open concourse all the way.  Melissa had asked me to bring her something non-meaty, which I thought was a little weird, but I am not the arguing type.  Thankfully, the Quaker Steak & Lube offered some vegetarian options, including the basket of onion rings.  Perfect for her, I thought.
However, this was a bit disappointing.  Thick rings of onion, they were crisp but not overcooked, and they tasted great.  But for 6$, there was only 8 rings in the basket.  That ain't cheap.
The wings looked great. Busy people in the kitchen were tossing them in the different sauces and seasonings available. They were being offered in three sizes : single order, half a bucket or a full bucket.   I asked how many wings were in a half-bucket, and was told 25, so I thought this would be just perfect, and for 21$, it is a deal at the Rogers Stadium – a price not unlike what you would pay for wings in the outside world.  There was a lot of flavours available, and I hesitated a bit.  Louisiana Lickers sounded tempting, but the manager corrected the cashier when I asked if they were spicy – apparently, not so much.  I asked him about the BBQ Chipotle since she didn't seem to know what she was talking about, and he pointed out that this was a dust as opposed to a sauce, and that it did have some kick.  Sold!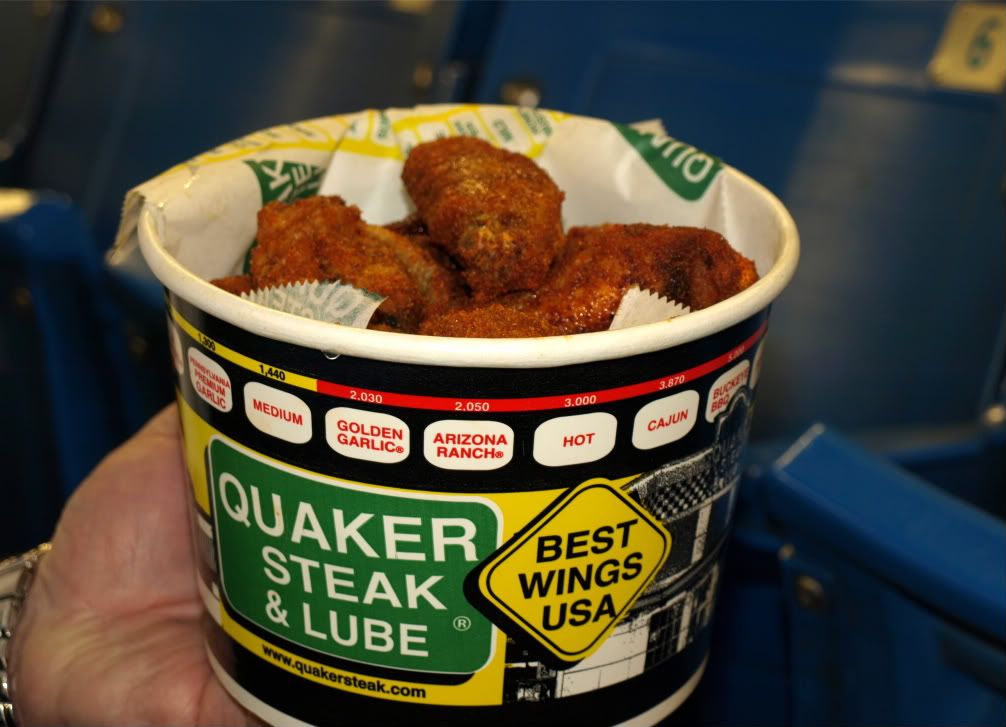 I was pleasantly surprised.  The wings were warm throughout, they were meaty, they were tender, they were well cooked, they were fully seasonned, they were simply great.  The chicken was of a good quality – it was impressive.  In a stadium, you never know what you can end up with, but these wings were just the right size.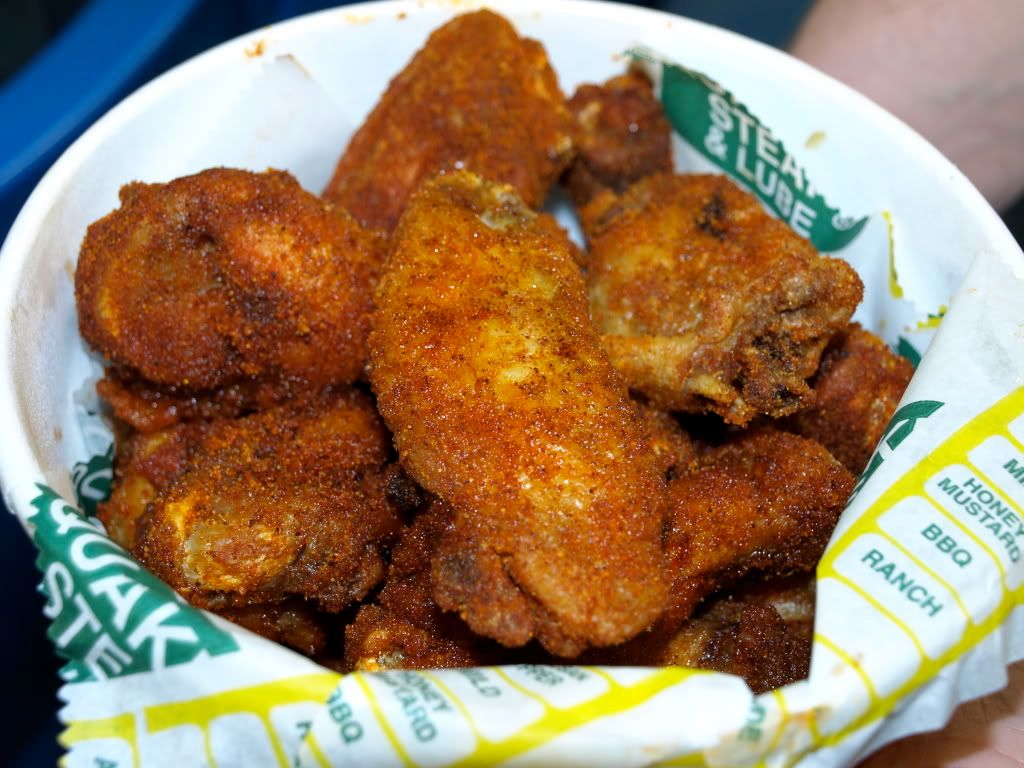 The spices were raw, and by that I mean that the chicken is not cooked with them, the spices are added after the wings are cooked.  Same goes for the sauces, and it is in fact the case in most places. Their melange was quite salty, and the overall flavor reminded me of the old style Lays Chips BBQ flavor, with more punch and a hint of chipotle.  The chipotle was much more present in the aroma then in the taste, but I didn't mind – when overpowering, you can grow tired quickly of chipotle.
I shared a few wings with my seatmates, but I still ended up quite full at the end of the bucket.  There were 19 wings in the half-bucket, less then promised, but at about 1$ a wing, it is still a valuable purchase at the Rogers Stadium.
The
game went on and on
, all the way to the 12th inning –
Lyle Overbay
hitting a 2 run walk-off homerun to give the contest to the Jays, leaving us full and satisfied.
The Toronto Blue Jays are
off to a hot start
, and today the Oakland A's were in town.  
Josh Outman
was starting for Oakland and was facing 
David Purcey
.  I could talk to you about the game, a good one for sure, but you can read all about the Jays' defeat
here
.
I have complained before about the price of beer at the
Rogers Centre
.  Well, it hasn't gone down.  The alley vendors are selling tall
Budweiser
(or
Bud Light
) cans for $9.50, and a large draught at a Bud Booth is $10.
Shame, I say.
I was, however, looking forward to some food.  Although I had had a snack already, I was curious about how the new offerings at the Rogers Centre would turn out. I had seen some "coming soon" signs when I came here for some WBC games back in March.  But when push came to shove, and the score being 5-5 in the 5th, I had no choice but to go all in for a classic – the hot dog.
This is what baseball is all about.  Strategic pace. Beer. Heckling. Hot Dog.
And therefore, a hot dog is what I got.  I couldn't go wrong, a hot dog from the Grille was the recommended buy from the New York Times – they offer advice on what and what not to buy in every ballpark in MLB.
I went to one Hogtown Grill, which is basically a cooking station, and there are a couple of them around the concourse. If you are looking for a dog, you do want to stop there as opposed to a regular hot dog counter.  They don't actually have a grill, but a hot plaque. On top of the weiner, they offered, for an extra cost, to grill some peppers and onions.  I declined, and went for a classic dog, garnished with mustard and ketchup.  Hot peppers and relish were also available.
The sausage was nice, with a bit of a snap.  Very meaty taste, not too salty, it was pleasant.  I thought the bun was too bready, but at least it was fresh.  Kudos for the cardboard container, a better choice than styrofoam or aluminum bags you can see in some other stadiums.  All in all, a fairly good hot dog, which was enough for me for the night, but at $5, it is not a cheap dog.
Many regulars recommend
getting one from a street vendor
right outside the stadium. But I couldn't be bothered, and besides, I want to be sure my sausage is included in the total needed to cover the distance of 3241 stolen bases, which is what the number of hot dogs sold each year at the Jays home park amounts to.
The Rogers Centre allows you to bring in outside food.  A good policy to help folks save some money, especially in these dire economic times.  I prefer to enjoy the stadium fare, but if I had a chance to come more often, I would probably pack a snack here and there.
We arrived in Toronto fairly early – we made good time, thanks to a combination of speed mania and pregnancy.
For our stay, we rented rooms at the Renaissance which is attached to the Rogers Centre. We checked-in, settled in our rooms, and proceeded to Arriba for refreshments.
Arriba is a self-described Modern Mediteranean Restaurant and Lounge.  Seems like an odd choice for a place with a view on the Rogers Centre, but hey, what do I know, perhaps baseball fans visiting Toronto are also fans of Mediteranean fare.  The view is quite neat, and having a good meal is enticing, but if you do make reservations for game time, please be aware that you need to spend at least $50 per person – $75 if the Red Sox or the Yankees are in town.  No charges for the Expos, though.
We sat just in time for the pre-game warm-up, as the A's players slowly crawled out of their dugout to stretch, run around, play catch and do some batting practice while the Blue Jays were wrapping up their own warm up.
From our seats, right by the window, we could see very well. It was quite neat to sit in this loungy environment, and I proceeded to have a quick look at their beer list.  Not a bad selection, a bit pricey but better beers and better prices then in the stadium, no doubts.  So I ordered an Okanagan Spring 1516 Bavarian Lager.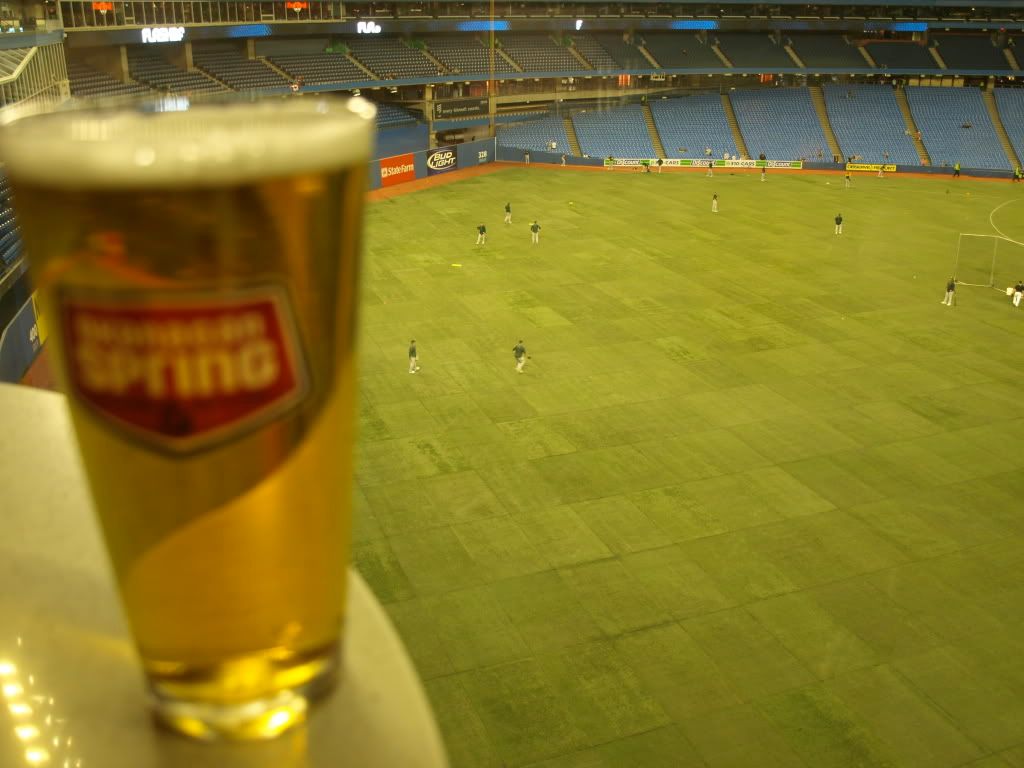 So the beer is brewed according to the Bavarian Purity Law of 1516.  The Reinheitsgebot stated that only four natural ingredients were to be used to brew beer: barley, water, hops, and yeast.  Okanagan Spring claims to follow the true four ingredients recipe, which makes the 1516 a classic Pilsner.  Of a golden clear colour, it is more flavourful beer than the usual commercial Pilsner, but it is pretty low key, the malt being much stronger than the hop. It is pretty close to a Helles, I would argue.  It has a fairly crisp and clean finish, slightly bitter-sweet.  I had a couple more before the game.
As we kept watching the Athletics warming up, using a weird cone-system to measure warm-up distance, my attention was attracted by the tapas menu – half-price from 5 to 7, Monday to Friday.  I smelled a deal.  The tapas selection includes mussels, calamari, quesedilla, bruschetta, chorizo and shrimp.  But we selected, to share, the Yam Fries and the Chicken Wings.
The fries were served with a garlic aioli, which was very creamy and not too garlicky, with a subtle touch of dijon.  Now, they did call them Yams, but really, they were sweet potatoes. It is interesting as a french fry because it is sweet and very dense.  You have to cut them julienne-style, which is what Arriba did.  They were quite salty, probably an attempt to compensate for the sweetness, but it was not overpowering.  It was a pretty big bowl, and at $2.50, a pretty good deal.
The wings were surprising. I have got to admit that a guy at the table next to us ordered them before we did, enticing us by doing so when he gulped them quickly and happily.  He in fact had ordered more by the time we received our order.  Eight wings for $4.50, not a bad price at all.  They came in a fancy rectangular plate, all neatly lined-up and garnished with green onions.  The sauce was a barbecue-type one, spicy but with a low heat level.  The breading was fairly light, crispy but not hard.  They were fairly meaty, and they sustained Scott and I until the game.
.