Browsing articles in "Airplane Food"
We left our hotel at 8:00 AM.  Plenty of time to make the trek to the Fort Lauderdale-Hollywood International Airport, drop the rental car, check-in, go through security and relax before our 11:10 Air Canada flight 925 to Montreal. 
About 15 minutes after we arrived, around 9:00 AM, the announcement came.  Flight AC925 was delayed until 2:15 PM.  Damn. Worse:  they wouldn't check in passengers for flight AC925 before 11:00.   So here we were, with a toddler wanting to run around and 7 bags in tow, stuck at Terminal 2′s check-in area for another 2 hours before we could be processed.  It seems that the policy at Terminal 2 is not to process bags until 2 hours before check-in for lack of storage space. So passengers kept arriving in waves, getting off their cruise ships and being shuttled in.  Other flights were delayed too, and there was nowhere to go for the stranded passengers. It was soon pandemonium, with people piling up with bags and kids and strollers and wheelchairs, as Air Canada decided it was better to process flights one at a time. 
Thankfully, Mel had come prepared.  A bag of PC Whole Wheat Cheddar Little Penguins Snack Crackers, a bag of apple pieces, a bag of Heritage O's Cereal, a bag of Publix's cheese strings and a bag of Bugles.  I didn't know for the life of me why she was bringing that much food, but I sure was thankful she had.  We also had a couple of bottles of cranberry juice and water.
Because Terminal 2 is not exactly an oasis of food choices, pre-security. 
There is Tropical Treats, a Confectionnary selling mostly candies of all kinds.  There is a combined Casa de Fresco – Dunkin Donut's to-go counter, offering bagels, donuts, and pre-packaged sandwiches and salads.  And coffee of course. There is a 5 stool bar called the Cruzan Estate Bar & Lounge, whose name sounds more promising than what you can get. And another counter called Chef Allen's 2 Go –again with packaged snacks and sandwiches.  The biggest piece of real estate is the Newslink newsstand.  In short, nowhere to sit down, relax and eat a nice meal.  Which would have come in handy, since the check-in time was pushed back to 12:30 and the flight to 3:00 PM.  By the time we were through security, we had exhausted all liquids, the Bugles were all gone, so were the apples.  A few Os were left and a bunch of penguins. 
Once one the other side, it was time to look for real food.  Options are also limited post-security: There is another Casa de Fresco counter, something call Miami Subs Plus  featuring subs plus burgers, cheese steaks, hot dogs  and salads.  Another Dunkin Donuts Express. And a Sushi Maki counter. 
There is a grab N' go counter from Sbarro called La Cucina, offering pizza, pasta, salads, grilled Panini sandwiches and other snacks.  Right next to it is another Cruzan Estate Bar & Lounge, with actual tables and chairs!  Not an actual restaurant, but at least you can sit down at a table and relax, grab food and drinks at the bar.  And that's where the three of us squeezed in to wait for our flight.
The menu at Cruzan Estate is limited and most of it comes from La Cucina:   Mozzarella / Roast Beef and Greek Platters, Garden or Chicken Caesar Salads, Sandwiches.  The one item that seems to be taken care of directly at the bar is the "Big City Reds" Grilled Beef Hot Dog.
Mel didn't know what to eat, so she asked me to surprise her. I decided to get her a Portofino sandwich (Grilled Zucchini, Eggplant, Yellow Squash with Roasted Red Pepperss and Mozzarella) but alas, La Cucina was out. Instead, I picked the Italiano, made with Genoa Salami, Italian Ham and Provolone ($7.95).  Personally, I couldn't resist the "Big City Reds" hot dog ($5.00).  To go with our food, I got Mel a Blue Moon and a Pepsi for myself.  Good points here for Cruzan Estate as you can get free pop refills.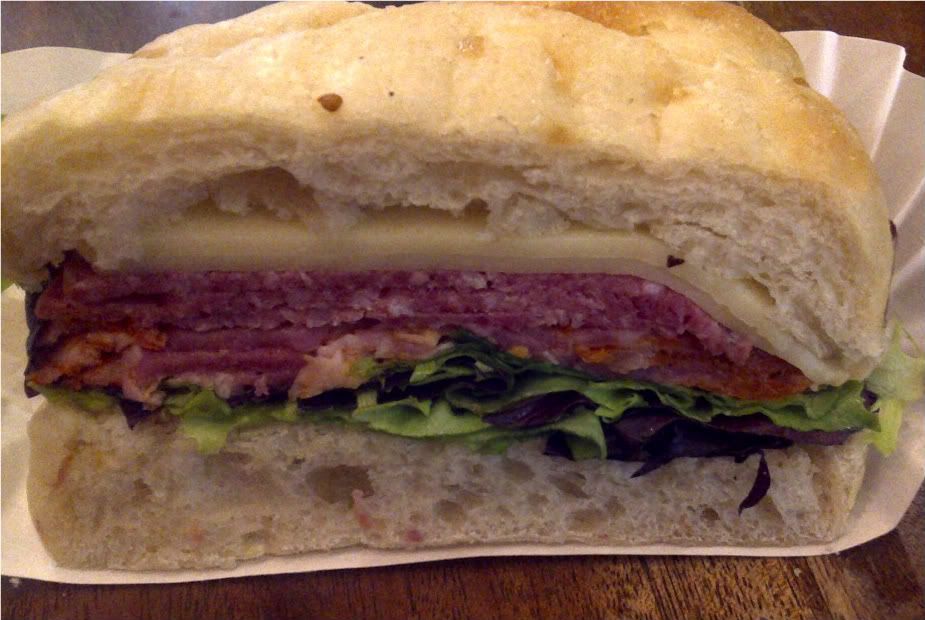 Mel's sandwich looked pretty good, even though it was a pre-packaged sandwich picked up in La Cucina's fridge by the barman. Of course, if you pick it up directly at La Cucina, you can get it grilled. However, the bread was fresh enough, the lettuce too, so there wasn't any extra moisture. 
There was a thick layer of the deli meats, giving the sandwich some texture to balance the thickness of the panini bun.  There was also a fairly thick layer of cheese. 
There was no sauce, no mayo, no mustard, but some was available at the bar. Mel added some mustard. Without being the sandwich of the year, it was correct, if on the expensive side of things.
Originating from Chicago,  Big City Reds is a brand of sausage owned by American Food Group. They specialize in all beef hot dog franks and Polish sausages. You can find them in some NFL stadiums and MLB ballparks across the United States, but mostly in random hot dog stands. Big City Reds proudly claim they are not using any artificial flavors, dyes, MSG, Sorbitol, wheat, hydrolyzed soy or vegetable protein, binders such as sodium phosphate or mustard in their franks. They do however use dextrose and water. Big City Reds sausages are handcrafted in small batches and naturally wood smoked.  
Big City Reds gets its beef exclusively from the Northern Rim – the Dakotas, Minnesota, Wisconsin and bordering Canadian provinces. They claim they are doing so because that is where the cattle are larger, heavier and leaner than anywhere else in the world. The beef is then processed fresh at their Yankton, South Dakota plant.
That said, it is a relatively small operation, and they have not really broken through as a major brand. Folks at Roadfood.com aren't really impressed.
At Cruzan Estate, the dogs are cooked on one of those automated hot dog rollers, not exactly grilled as advertised. They are served on a fresh, untouched bun right from the bag. You garnish as you please: I went for mustard, relish, mayo and ketchup, as in every condiment on offer.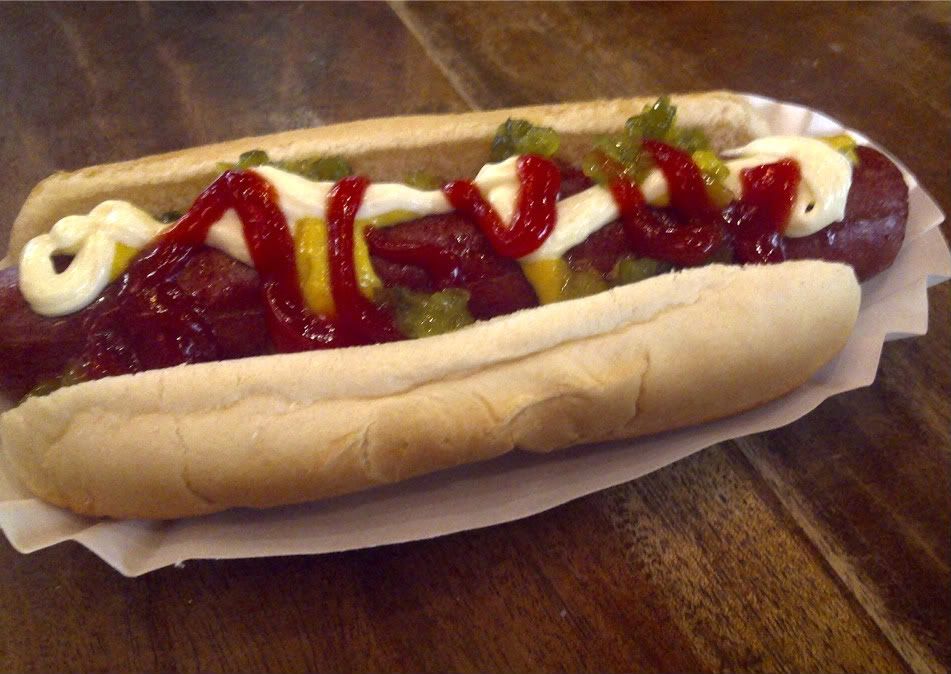 When one travels from airport to airport, one must know where you can grab a bite. And when one travels with Westjet from Ottawa to Vancouver, with a stop in Toronto, one must grab a bite.
Westjet flies out of Terminal 3 at Pearson's International Airport. This means that food choices are limited – especially if you'd like to have a rest and enjoy a sit-down meal. There is a Swiss Chalet, a couple of food counters, 2 small bar and grills. And since last December, there is a Fionn MacCool's.
Part of the Prime Pubs family and opened in partnership with HMSHost, this is the second airport location for Prime Pubs, the first one being a Darcy McGee's at MacDonald-Cartier in Ottawa. At the same time, Prime Pubs announced the opening of another Fionn MacCool's – this time in Orangeville – making MacCool's the leading brand of the company with 8 restaurants.
The Pearson MacCool's menu is more limited than their other locations, but you can find the usual Irish-inspired dishes, such as a Guinness Steak and Mushroom Crock or Shepherd's Pie, as well as other Prime Pubs favorites such as the Prime Rib Burger, the Chicken Curry and the Chicken Tikka Masala. 
Located at Gate C-25, Fionn MacCools is open every day, from 5 am until the last flight.  On our way to the NDP Convention in Vancouver, our Westjet flight stopped for a 3 hour layover in Toronto. I knew where we had to go.  And so, followed by NDP MPs Bevington, Dusseault and Brosseau, and their entourage,  I lead our small delegation to the Irish Pub.
Walking in, you get the usual atmosphere one gets in these establisments – once you pass HMSHost's 'grab and go' counter, which looks out of place. The pub features a nice, long oak bar, well stocked, and a comfortable seating area. We sat towards the back, in a partial booth. From the windows, we had a great view of the different jumbo jets pulling in and out of their gates. The number of seats near the windows are scarce, however, so you'll need a little luck to sit by it. Continue reading »
Our plane was delayed, but there wasn't many food choices in Terminal 2 of the Fort Lauderdale-Hollywood International Airport.  Sure, we were able to watch the Steelers win over the Ravens (or should I say the Ravens lose to the Steelers?) when I secured seats in the Cruzan Estate Bar & Lounge.  But no food was offered.
Attached to it, however, was La Cucina (by Sbarro), offering pizza, pasta and paninis. There was also a small Sushi Maki outlet. Other options included counters such as Casa de Fresco, Miami Subs Plus, Chef Allen's 2 Go and a Dunkin Donuts Express. All were basically offering sandwiches, none of them looked particularly inspiring.
We could have gone to Chili's in Terminal 3, as recommend by the Air Canada agent (a really good restaurant, he said), but since we had just been there for lunch, that seemed a little silly. Beside, we weren't really hungry…
So we waited, thinking that perhaps we would eat when we arrived in Ottawa. Worse things worst, we could grab a bite on the plane, we thought. And we were right. Worse it was.
First, you must be aware that on May 1st, 2010, Air Canada transitioned to credit card only cabins. If you are starving and don't have a credit card, you are out of luck. The Onboard Café is not open for you.  But if you do have a credit card, then it is open. ( Tip: buy a voucher online ahead of time, and get up to 20% off.)
When the time came, Mel and I were hungry, so we ordered some food.  The menu now features items from the Denver-based sub chain Quiznos.  Melissa went for the value duo, a snack and a sandwich for $9.00.  She picked the cheese and crackers (swiss cheese cubes with muli-grain and honey lavash crackers) to go along her Asiago Chicken Wrap.
Air Canada describes the wrap as "all white meat oven roasted chicken strips, real mozzarella cheese, English cucumber and crisp romaine lettuce, drizzled with Quiznos asiago artichoke sauce and served in a flatbread."
The chicken strips were indeed all white meat.  There was a lot of lettuce to fill up the wrap and fill the vacuum left by the very few strips included.
Melissa said that it wasn't "the worse thing she had ever eaten, though as with most sandwiches that are made and then refrigerated, the bread part was a little soggy, cold and soggy to be exact."
We were flying for the first time to Mexico, and experimenting for the first time with the hospitality of Sunwing Airlines.
I had heard good things about Sunwing, a vacation charter company which was founded in 2005. The airline has 10 Boeing 727-800 in its fleet. Melissa let herself be seduced by an upgrade package, mostly for leg room purposes.
We did get VIP check-in and pre-boarding, and we did get more leg-room. But that was it – everything else was the same as everyone else.
Free headsets. Free glass of champagne (not real champagne.) Free snacks. Free glass of wine (table-wine coming in a cardboard container) to go along you free hot meal – we could go with either the lasagna or the chicken on the way down, with shepperd's pie or fish on the way back.
On the way to Mexico, we both picked the lasagna. Why? I don't know. But it made sense at the time.
The lasagna was vegetarian.  It came in a shapeless form, with the cheese concentrated on the right side of the plate, the tomato sauce on the left side, and most of the pasta somewhere in the middle.
It tasted kind of bland, but at least it was warm.
The meal came with a package of Tartinable crackers, some Cracker Barrel cheese, which made a tasty mini-sandwich.  For desert, some kind of Cherry sponge-cake.
It is often said that airplane food is terrible.  It most often is.
Unless you fly First or Business class, domestic flights are indeed feeding you badly, and most often you have to pay extra for it.
But one airline does understand that a nice flight includes a nice meal – no matter where you sit.
Here is what the tray looked like when it appeared in front of me: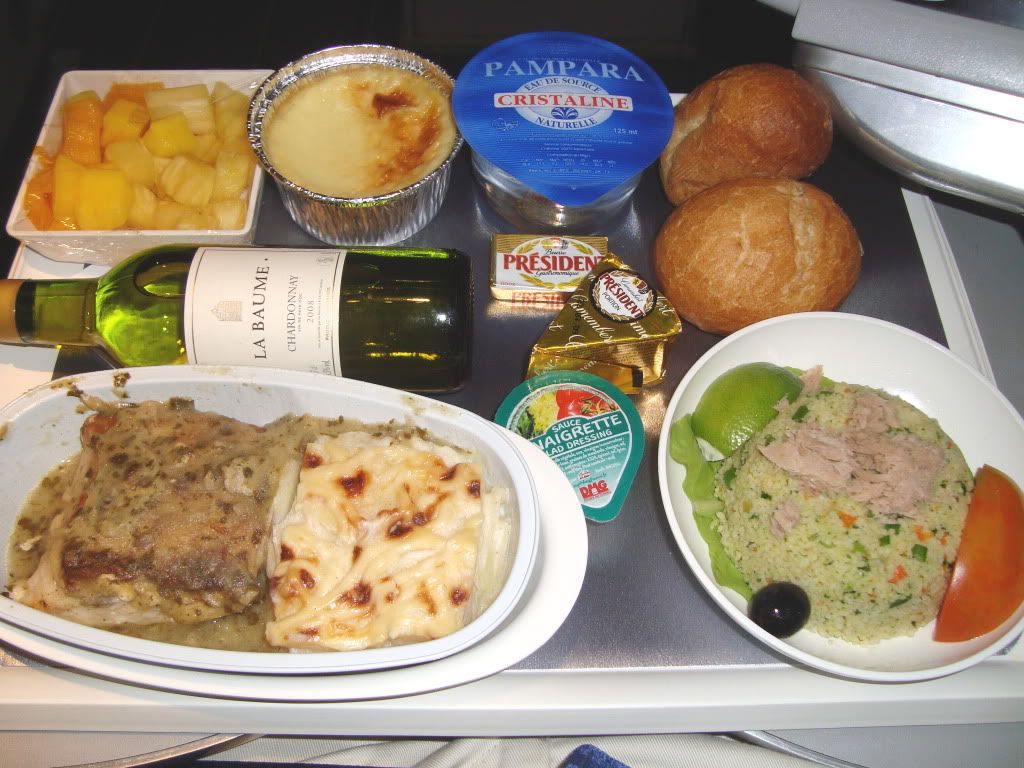 The menu was printed as follows:
Meal Service

Tabbouleh with tuna
Choice of main course
Curried chicken accompanied by rice with raisins
-or-
Filet of barracuda with sorrel and mushrooms, dauphinoise potatoes au gratin
Cheese
Fruit salad
Crème caramel
Coffee and tea
Beverages
Apéritifs
Upon request
Champagne
Jacquart Brut Mosaïque
White Wine
Vin de Pays d'Oc Chardonnay 2008 La Baume

Red Wine
Vin de Pays d'Oc Merlot Cabernet Sauvignon 2008 La Baume
Beer
Heineken
Mineral Water
Soft Drinks
Schweppes (Indian Tonic)
Schweppes (Agrum')
Pepsi
Pepsi Max
7up
Fruit Juice
Fruité
Coffee and Tea
Nescafé

Brandy and Liqueur
This was probably the best meal I've ever had on a commercial flight.
Even though the tabbouleh was low on parsely and mostly made of couscous, and the tuna was from a can, it was not bad.  The baracuda was tender and moist, the potatoes were nicely done. The cheese, a camembert from Président, was half-decent, the bread was fresh, the fruits were alright, and the crème caramel was not the worst I've ever had.
All in all, a very decent meal.
Which is a good thing, considering the long layover I had at Charles-de-Gaule. Exhausted, I could not sustain myself in the Food Court, which was closed, and could not bring myself to indulge in caviar from one of the Expensive Duty Free Stores in Terminal 2E.
I had the choice between an Illy coffee shop and an Exki outlet.  I hesitated, passing the time reading, playing some games on the courtesy PS3 machines in the terminal or on my own PSP, and even was able to get some micro-sleep. After hesitating, I finally settled for the Belgian chain.
Exki's philosophy is to serve high-qualiy fast food, "offering natural fresh produducts (sic) at all the times of the day."  Their motto? "Natural, Fresh, Ready."
Their fare is simple: salads, sandwiches, soups.  They claim not to use any additives, and some of their products are organic, such as their bread.
I decided to go with something simple, so I picked the Louise from their Vitalis selection , which was only 376 calories: homemade cooked ham and gouda cheese, served with a honey mustard dressing on an organic bread made with Malt.  The bread was of a very good quality, with nice tasty flakes of cereal.  The ham was also very good, nice and thick.  They were a bit cheap on the cheese, and they could have added more honey mustard as the sandwich was a tad dry.  Thankfully, I had a Coca-Cola to help me out.
Even by airport standards, at 9.60 Euros, this was a pricey meal.
.
So I was invited by
NDI
to participate in their Retraite Politique in Conakry, Guinea.
They wanted me to give some classes on campaign, share my experiences, hold workshops and participate on a youth panel.
They also wanted me to be available to assist as needed in one-on-one consultations.
I have agreed to go, of course, but since it was a bit last minute, I had to scramble to get the green light from my boss, get the visa, get the vaccines and make all the other arrangements.
But I was happy to go, despite the unstable political situation, and hopefully will be able to help.
To get to Conakry, one doesn't get a direct flight.  My itinerary was as follows:
Ottawa-Chicago-Brussels-Dakar-Conakry.  19 hours of flying time, plus the layovers.
So my first layover was in O'Hare, where I had 3 hours to grab some lunch before taking off for Europe.
So I picked the O'Hare Bar & Grill – it looked like the most comfortable place to eat around Terminal 3.
Not knowing what I would face in Guinea, I decided to go for their steak dinner:
A Ceasar Salad, garlic bread, Redskins Mashed potatoes and a 12 oz Sirloin Steak.
The salad was crisp and fresh, not drenched in dressing. The potatoes were actually very tasty, full of flavour.  The bread was kind of bland.   As for the steak, it was not bad, cooked medium-rare as I asked.  It was fairly juicy, but I still ended up adding a bit of HP sauce to help it a little.
It was the most expensive thing on the menu, at 24$ US, but I somehow did not feel cheated at all and left quite satisfied, having chased it down with a couple of beers.
Then it was off to Brussels, were I landed a little bit past 8 am.  The Brussels Airport is quite modern, thanks to an influx of European money, but the Terminal to Africa, Gate T, is a tad bit empty, depleted of boutiques or restaurants.  The only thing available to travellers is a sports bar.  At 8 in the morning, after a sleepless overnight flight over the Atlantic, the possibilities seemed endless.
I love Belgium.  And I figured I would at least grab some breakfast.  A breakfast beer, that is.
And Hoegaarden seemed fully indicated.
Smooth. Creamy.  A touch of sweetness.  The perfect breakfast for a red-eyed traveller.
And hopefully, I'll sleep somewhere over Africa.
.
This lounge has very good views of the airport, and the seats are quite comfortable.  It is meant for the business crowd, there are conference facilities available, with full workstations and fax machines. And a practice green.  That's right. 
Delta
is an official sponsor of the
PGA
, and this lounge provides the equipment necessary to relax on the green.  Sorta.  I grabbed a putter at the front desk, two
Nike
balls, and I have got to admit, even though the green is very short, it is kind of cool to putt while the planes are moving around you.
To complement my practice session. I grabbed a beer at the bar:  I went for a
Dominion Lager
.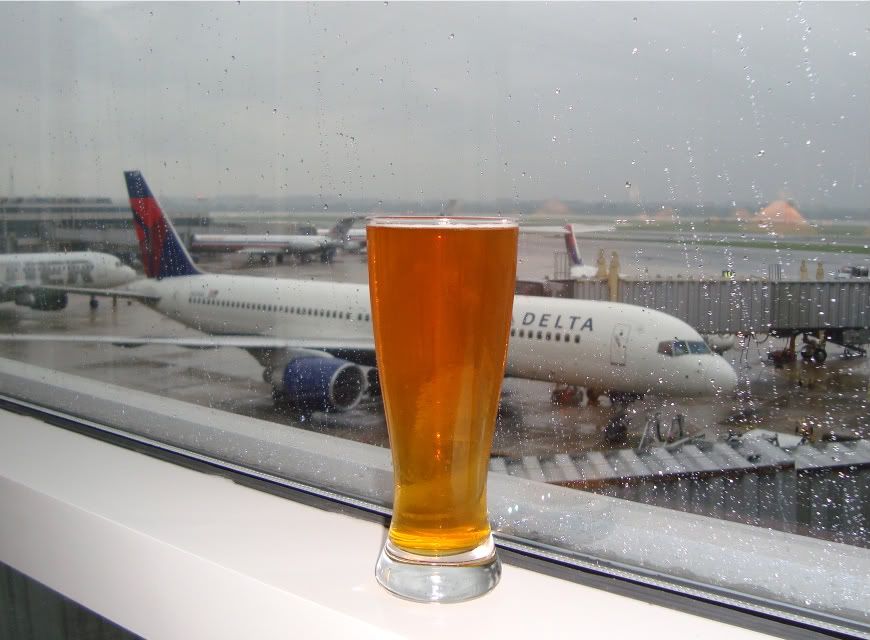 Brewed by the Old Dominion Brewing Co. in Delaware, they were offering it by the bottle.  It poured in a nice copper gold color, with very minimal head.
Fairly bready malt, a nice floral hop balance, and a spicy finish, with hints of sourness that give this lager a lot of character.
It made the wait seem very short.
.