Browsing articles in "A Waffle Exclusive"
It looks like Houston is coming to the National Capital Region and will soon offer another option for steak and rib lovers.
The Laval-based franchise is expanding and will soon open in Gatineau, in the old Cage aux Sports on Montclair in the Hull sector.
The Waffle is basing this story on the fact that he drove by the old Cage aux Sports on Montclair on his way to work today and saw the evidence – renos are well under way, signs are up and gone is the big yellow plane that was hanging from the ceiling. La Cage aux Sports closed over a year ago, after 10 years on Montclair. The word on the street has it that the owners weren't happy with the franchise. It is the second time that la Cage aux Sports has left Hull, after closing their location on Du Portage about 15 years ago. La Cage is still firmly established in Gatineau, on Gréber, and plans to come back to Hull in short order.
This will be the 8th establishment for Houston, who also has restaurants in Laval, Montreal, Lachenaie, Toronto, Edmonton and Barrie.
Houston Canada is offering "a unique environment that has something for everyone…… You will discover a refined kitchen; simple, classy and smart all at the same time." Houston's menu features Ribs, Steaks from the Grill, Burgers & Sandwiches, Fish, Chicken & Pasta. So ya, something for everyone. This new Houston is located two blocks away from a Bâton Rouge, so competition may get fierce.
———————————–
UPDATE 18-01-2013 @ 18:08 PM
Mrs. Waffle had noticed some people coming in and out of the restaurant on Thursday night, so we tried to go check it out tonight. Alas, Houston must have had a soft opening on Thursday night, to which the Waffle wasn't invited. Because even though lights and tvs were on, and a few cars were in the lot, the restaurant was closed, as proven by the locked doors.
———————————–
UPDATE 19-01-2013 @ 10:18 PM
Le Droit is confirming the news and has a few more details about Houston in their paper edition – namely that they officially open on Monday; that two other Houston locations will open soon – in Brossard and Quebec City; that the Gatineau location will have capacity for 200 patrons.
The location were the infamous Waffle 1st Wild Wing Challenge was held last year has been permanently closed, according to Urbanspoon.
The Waffle is saddened by the heart-breaking news that Wild Wing has closed its Ottawa South location.
So many memories!
So many empty buckets filled up!
Thankfully, there are 3 other Wild Wing locations not too far away – in Ottawa East, in Kanata and the newest one on Hog's Back.  Which may mean that this was actually a move, rather than a closure.
Still, the location on McCarthy was convenient, with its proximity to the airport and the Park N' Fly lot.  It was my favorite one in Ottawa, there was always space available and the service was usually friendly and efficient.
We shall move on to another location for our next adventures.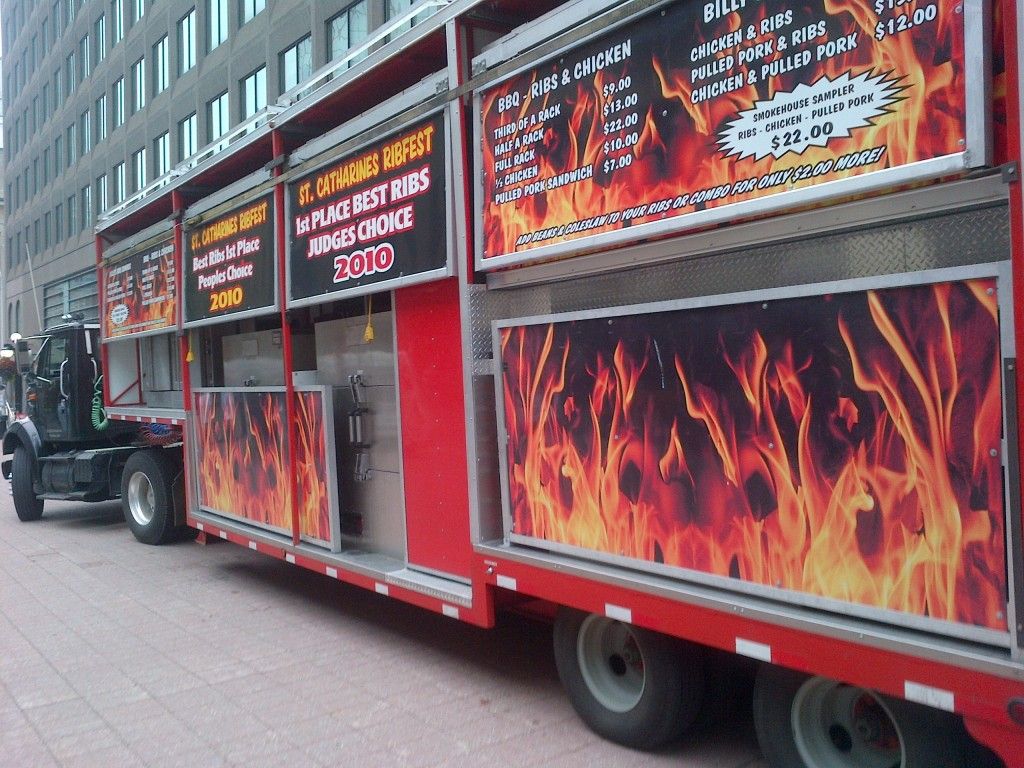 If you walked on the Sparks Street Mall today, you will no doubt have noticed the trailers, the picnic tables, the lemonade kiosks and the BBQ pits being set up.
That's because Ottawa's 21st annual International Chicken-Rib Cook-off starts tomorrow.
Teams from Canada and the United States will be competing for the top rank of best rib choice, best rib sauce, best chicken choice and best chicken sauce.
The 2008 edition basically kick-started the Waffle.
Your favorite teams are back this year: Uncle Sam's, Camp31, Texas Rangers, Boss Hogg, Blazin' BBQ, Silver Bullet, Billy Bones, Gator BBQ, Crabby's and Texas Outlaws.  Also here, Sticky Fingers from Mt. Pleasant, South Carolina and Hawgs Gone Wild.  Check out the map here!
You do not want to miss this event – this is some to the best BBQ chicken and ribs you can get in Ottawa.
Don't believe me? Have a look at this bad boy!
The Waffle, always here to serve the Waffler Nation, was able to put his hands (and his teeth) on a freshly smoked full rack of ribs,  right out of the top shelf of the smoker of one of the teams who were setting up and prepping for the big day.
No grilling, no saucing, just pure smoking.  I can tell you, if this sneak preview means anything, this year is going to be a great year.
Awesome.
The email came from Jack at 6:26 PM exactly. At first, I just thought Jack was going to watch the Sens' game at the Pot.  Like we did so often over the years, after I joined the NDP Windsro/Glue Pot Hockey Pool in 1997.  The plaque hangs proudly on the wall.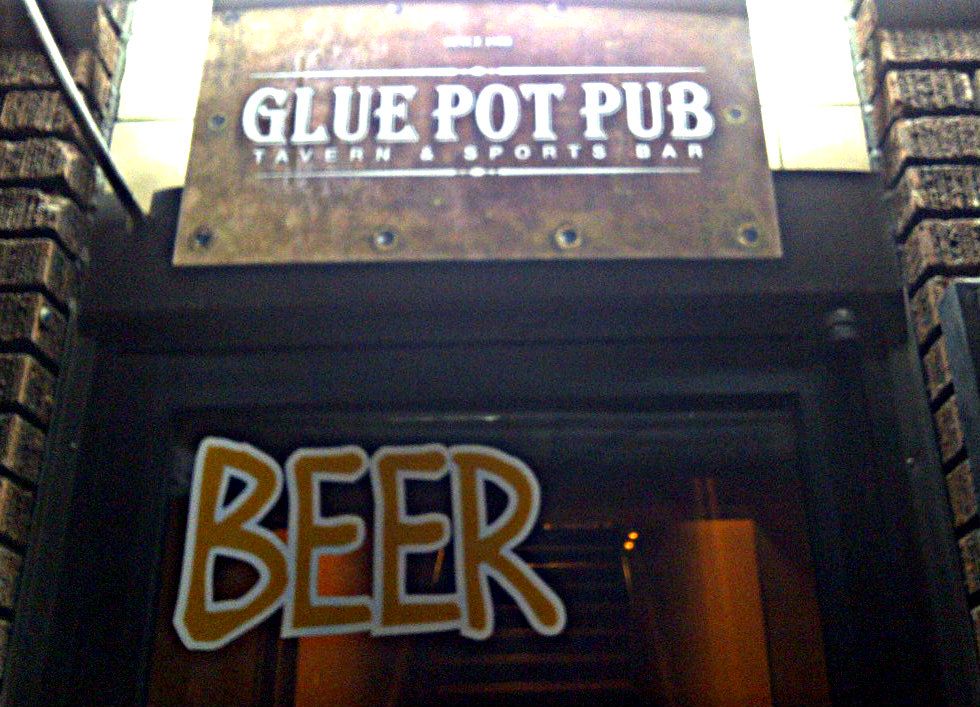 "Heading down to the GPP for the game tonight. Rumour has it that it is the last night the GPP will be open."
Say what?  Hard to believe. Jack must be joking. I didn't really believe him, thinking that perhaps he was trying to get people to tag along with him.  "Grab the plaque, then!" I joked.  Nicole decided to show up, and she confirmed by sending an email at 8:59 PM:
"The rumour is true. The Glue Pot Pub is closing tonight forever.
The plaque is secure."
Oh man.  I wish I had known ahead of time.
I expressed my sadness on twitter:
"The Waffle is really sorry to hear that the Glue Pot Pub will close its doors tonight. Forever. I've been going there for 15 years."
Reactions were immediate, from all over the country:
@northwesternlad : BOOOO!!!! That is terrible news
@michaelgendron : That sucks, any idea why?
@MrsPremise4 : Had my first beer as Hill staffer at The Glue Pot in 1989.
@paulvieira : what's replacing Glue Pot? Why Glue Pot closing?
@sfharris : We should buy it and re-open it. Nothing could go wrong!
@onammio : I am devastated by news of the Glue Pot's untimely demise.
@RoddieGilbert : Triste
@_E_And : Nooooooooooo!!!!!!!!!!!!
@JairusKhan : Isn't that whole block getting demolished to make room for the new library?
So many questions, so little answers.  Why, dear God, Why?
The Sens' were battling the Rangers, and I wanted to watch that game.   At the same time, so many memories at the Glue Pot Pub. I had to go.  Once the third period was over and the game was pushed into overtime, I jumped in my car and went down to the Pot, one last time.
The Glue Pot Pub is located in a building that once was the first Coca-Cola bottling plant in Canada. The building also houses the Adult entertainment establishment known as Barbarella's Diamonds, and a neat Italian café known as Zucchero (Which took over from the famous Dill Pickle Restaurant a few years ago).  The Glue Pot Pub opened in 1988, some kind of a cross-over between a tavern and a sports bar. Over the years, it showcased live music, karaoke and trivia nights. 
The Glue Pot was written up on September 1989 as the place where the research staff of the NDP got together on Fridays to map out what great issues their bosses would tackle the following week.  And talk hockey, as soon NDP staffers and friends also used the location as an excuse to gather, make bad trades, and trash talk their competitors while watching some games. 
There is a copper-topped bar, black tin ceilings and old, worn wood tables and chairs and booths.  Over the past few years, however, they have done a good job modernizing their screens, and now, everywhere you look, there's a TV, so no matter where you sit you can watch the game comfortably.
Just before walking in the Glue Pot, a guy in a suit, likely an out-of-towner on a business trip, asked about my advice - should he go to the Glue Pot Pub or should he go to Bâton Rouge? "Depends what you are looking for, Pal. Do you want cheap beers, pub fare and a rowdy atmosphere, or  are you looking for a good steak in a quiet, upscale casual restaurant?"
He went up the stairs to the Glue Pot.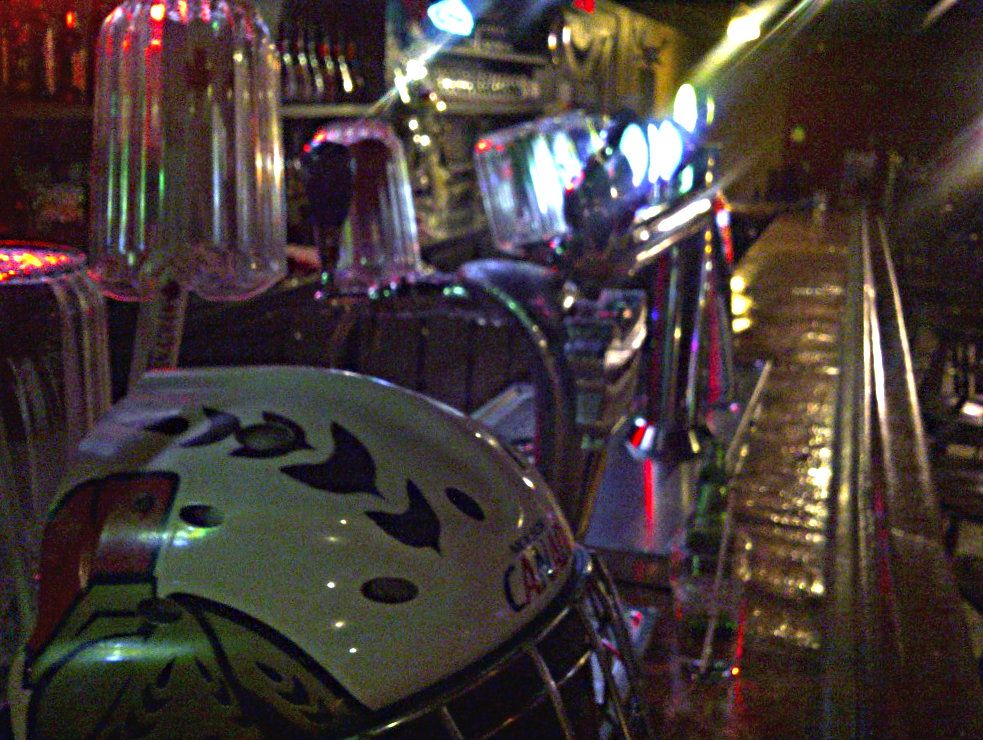 I got in in time, before the OT started and was soon overwhelmed. 
Oh, there was a decent crowd -
but it wasn't exactly packed the way it should have been for a playoff night.
Nevertheless, it wasn't dead.
Yet, the Glue Pot Pub was indeed closing. 
The taps were drying.
Empty pitchers were put over the taps as one by one, the kegs were pouring their last pints.
The popcorn machine was silenced, empty.
No more over-salted yellow popped corns prepared to make you oh, so thirsty.
We would never fill those baskets again.
We would never again try to hit a glass across the table with one.
We would never again throw a fist load of it against an owner taking advantage of a lubricated opponent to make a one-sided deal.
Nicole was still there, Jerry was also there.
Jack had come and gone, securing the plaque. 
I sat down, kind of sad.
It being Wednesday, the Glue Pot was offering its usual Wild Wednesday' specials, one last time.  You could get a personal pitcher of domestic draft for $6.99 and a pound of chicken wings for $7.99.  I'll drink some beers, but I'll skip the wings.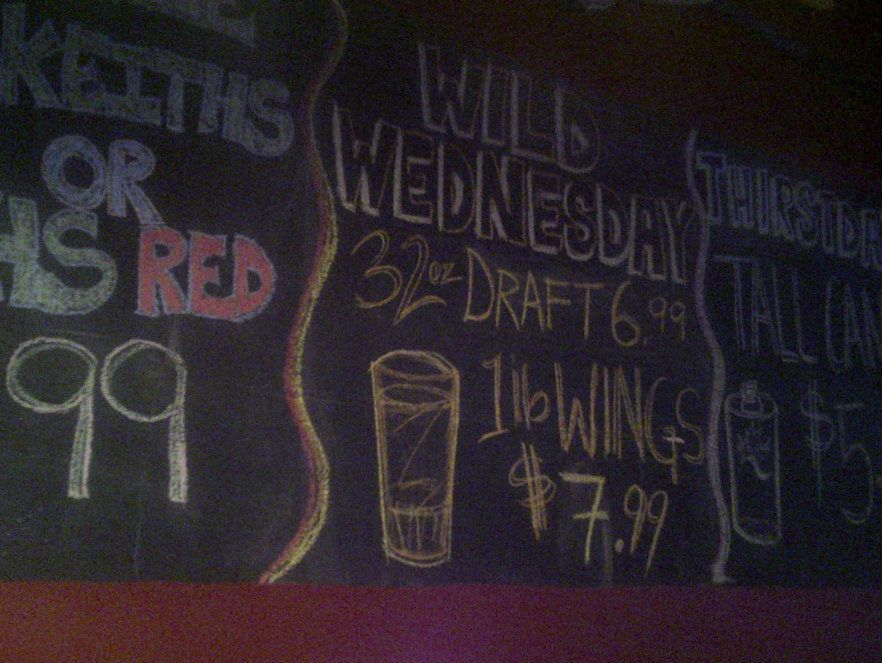 Nicole got up and to get a small pitcher of the only beer still available – Keith's Red.  
The three of us watched the game, talking very little as the Senators and the Rangers were going up and down the ice.
It didn't last long!  Kyle Turris scored after less than 3 minutes and the Glue Pot errupted in cheers! Like the Good Old Days….
Ottawa tied its Eastern Conference quarter-final series 2-2, with Game 5 on Saturday in New York. But you won't be able to watch it at the Pot.
One of the waitresses on staff, who seemed in a good mood despite the fact she was losing her job tonight, told me that the current management of the Glue Pot Pub thought the rent was getting too steep, so they didn't want to renew the lease with the property owner. Hence the closing. Staff found out 2 days before. Rumour has it that there are plans to build condos on that corner, though nothing seemed to be firmed up.
The crowd thinned out quickly after the Sens game was done, most customers not being very interested in the Blues-Sharks game that followed.  We stayed, watching the game, talking about our memories of the place and, oh horror, trying to figure out what our next meeting point would be.
We kept drinking from the drying tap.  A few new customers arrived, looking for a late snack.  Most ordered chicken wings, and after a while, their scent was too tempting.  I flagged another waitress, whom I have known for years, and who seemed a little more distraught by her employment situation.  Even though I shouldn't indulge, I wanted wings. "Oh, I think he is closing the kitchen.  They are running out of food anyway.  But let me see what I can do for you."  The staff had always been very friendly at the Glue Pot.
"You are getting the last order," I was told.
Yay.
I guess.
It took a little longer than usual. They were not super hot, either.  But here they were:  the last Glue Pot Pub Chicken Wings. Ever.
And clearly, I got more than a pound. 
I was glad.  None were left behind.
The wings were crispy, yet not dry. Not very meaty, though, but they have never been at the Glue Pot.  I had asked for their hot ones, and they were nicely heated, good hot sauce flavour, the wings were nicely coated yet they were not bathing in a hot sauce pool at the bottom of the basket.   But more importantly, they were very, very comforting.
It seems we have come full circle - one of my first food entries was about the Glue Pot – and it wasn't on this blog, but rather  in the restaurant guide Cheap Eats Ottawa where I stated matter of factly, about the Glue Pot Pub,  that "although they have modified their menu and you can no longer choose any toppings on your pizza, it is still quite good and quite cheap.  Their burgers are also good, but their fries are overcooked."
But it doesn't matter now.
Glue Pot, I shall miss you.
——————————————
UPDATE  25-04-2012 @ 21:18 PM
Sources are telling us that the Gluepot, or a version of it, is set to re-open soon.  
Greg tells us that someone else has apparently stepped in and taken the lease.  We shall see. 
In other news, there is indeed a long term plan for condos to be built, but we are likely still years away before they close the aging brick complex.  It should be a heritage building, really.  It seems that the plan would be to preserve the brick facade as part of the deal to build the condos.  It's a new trend in the National Capital Region, and it can be nice if the architects do their homework, but it didn't work so well for the Duke of Somerset, did it?
——————————————
UPDATE 23-05-2012 @ 8:44 PM
The Waffle has heard through reliable sources that the Gluepot is re-opening tomorrow, at 11:00 AM. Apparently, management from Barbarella's have decided to take over from the previous management, who left in a huff… It is not the first time that folks from downstairs have owned and operated the Glue Pot. The big problem with leaving the Glue Pot closed is that they share the kitchen, which is actually located on the Gluepot's premise. This in itself may explain why they made the move, in order to keep having access to the kitchen.
Aaaaah, Florida.  The Sun. The Heat. The good excuses to refresh yourself. 
The State of Florida, being the third largest beer market in the country, what would a trip there be without taking the opportunity to drink a few ice cold beers, brewed locally if possible? Well, that's what Mel thought when she returned from a trip to what she called 'the freaking biggest liqour store in the world!' with an interesting selection of Southern Suds – a very big South…
KEY WEST SUNSET ALE
First, the beer that became my beer of choice during this trip. The Key West Sunset Ale is a medium-bodied Amber Ale which actually hails from Melbourne, which is halfway between Daytona and West Palm Beach on Florida's East Coast.
Originally founded in 1996 as the Indian River Brewing Company, the company was reorganized in August 2003 and now does business as the Florida Beer Company.
The beer pours a nice dark golden, copper color, with very little head. Not as bright as a sunset, though. Thankfully.
Aroma is slightly sweet, hints of honey and caramel. It is lightly hoppy.
It drinks surprisingly tart compared to the aroma, however not in a negative way. The first sip just had a little bit more bite than I expected, perhaps grapefruit.
It actually tastes like a moderately bittered amber ale with medium fruity malt flavours and very little hop presence.
All around a good beer. Not too sweet, but not too bitter. Easy to drink. A good beer to enjoy at sunset, let's say, on a Key West quay? (Which we did!)
RAISON D'ÊTRE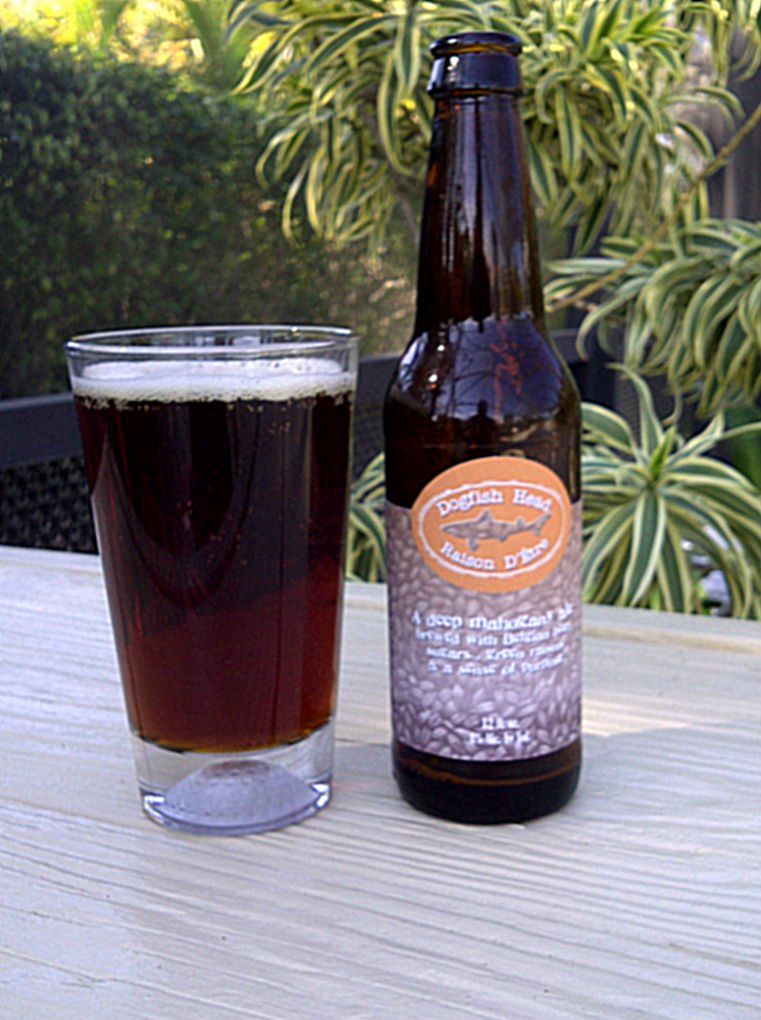 My first experiment was actually hailing from Delaware : Raison d'Être from Dogfish Head Craft Brewed Ales.
Dogfish Head opened in 1995 and claims to offer off-centered ales for off-centered people (Mel laughingly thought this would be perfect for me, I failed to see the humor).  I have had some encounters with their products in the past, and I can confirm that Dogfish Head does brew hard.
Hard as this Belgian-Style Strong Brown Ale, with it's 8% ABV. The Raison d'Être is brewed with beet sugars and green raisins.  That's right. Green.
Dogfish began brewing it in 1996 and bottling it in 1998 as the answer to the question, "What beer should I enjoy with a wood-grilled steak?"  I can see why.  Here is a tasty, complex beer.
A dark brown color with ruby edges,  which explains why it is referred to as mahogany. A  thick light beige head with small bubbles. 
The smell is powerful, a sweet and sour aroma where you can actually distinguish the raisins. Interesting.
The Raison d'Être offers a smooth, clean taste, notes of raisins, dates, caramel - perhaps even rhum – no doubt that to the high alcohol level. A fine beer.
STEELHEAD EXTRA PALE ALE
Despite being in Florida, we jump all across the continent for the next beer, which hails from the town of Blue Lake in Northern California: The Steelhead Extra Pale Ale from the Mad River Brewing Company. This 5.6% brew, is seen as the flagship of Mad River Brewing.
Here we have a bright golden ale, a little hazy likely because of the unfiltered nature.
A nice fluffy white head, which settles and sticks around.
The Steelhead EPA has a medium body with a spicy and floral hop nose.
To taste, there is some light spicy hops to start, but then it becomes a pale malt show. A bit of a doughy, bready flavor.
All along there's a general fruitiness to taste and then a very mild bitter finish.
Fairly highly carbonated, yet very drinkable, but nothing bold or unexpected.
Not a bad beer, but I'm not sure if it fits its Extra Pale Ale label. It would need a little more bitterness to qualify.
Every Sunday, I play soccer with the Sporting Yamela of the Soccer 7s Borsodi Liga. We play at Landsdowne, and usually end up at Irene's afterwards to review the game that was.
Once re-hydrated and satisfied with the post game analysis, I head home – with a quick stop at Kettleman's Bagel Co. to  get our weekly supply of the fresh, wood oven-baked Montreal-style delicacy, in my opinion the best in the National Capital Region. Dense, a hint of sweetness, not salty, freshly made many times a day.  Just good, simple, traditional.
They were voted the best Bagels in town  8 years in a row by readers of the  Ottawa Xpress - though Bagel is no longer a category in the Best of Ottawa survey of the Xpress, since 2006 it has simply been rolled in with the Best Bakery category (A category last won by Kettleman's in 2007).
The place always boasts that it is open 365 days – "We never close!" their sign used to say.  Alas, no longer.  The sign now says it'll close on November 7th, at 1 PM!  Renovations, apparently, are needed.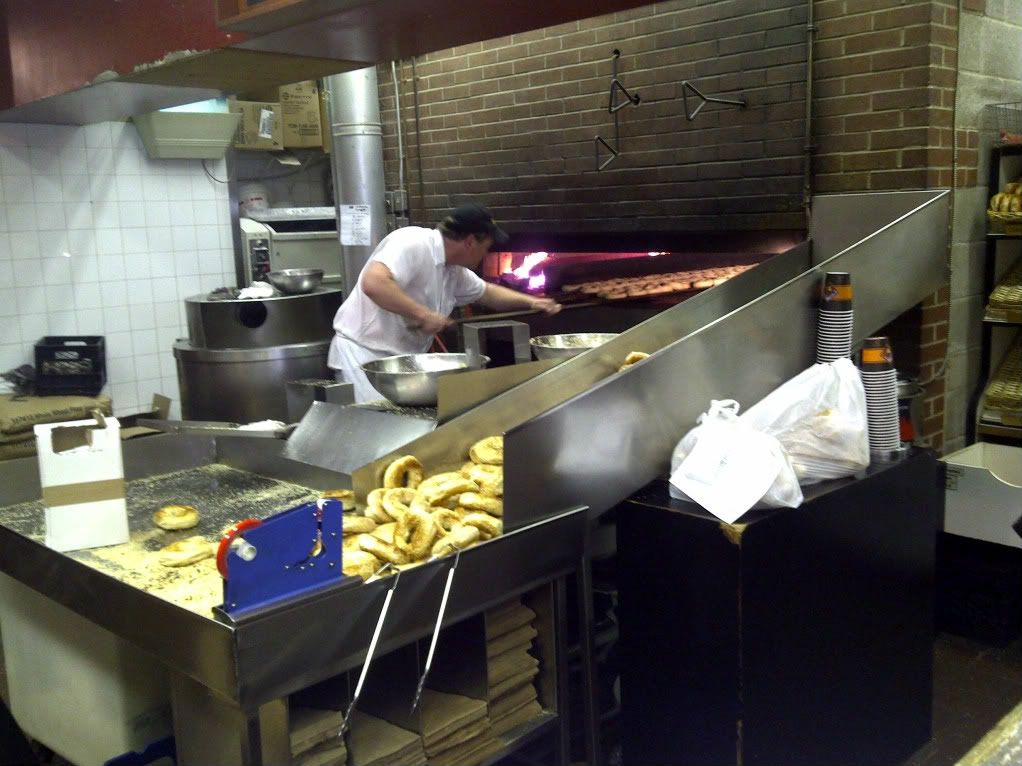 I entered the store, and everything seemed to be business as usual. 
The Bagel Roller was busy hand rolling. The Bagel Baker was busy baking a batch of their most popular bagel, the Sesame – a classic.
The selection of spreads were plentiful, as always.  Cream Cheese, Lox, Hot Peppers, Olive, etc…
But as I ordered my dozen of fresh, and still warm, baked bagels ($7.50) with a small container of Dill Cream Cheese, I had to investigate further.  
The Waffle can confirm that it is true, that the Bank Street location will be closed for at least a month for renovations, but that it will reopen before winter fully sets in.
Bagel lovers will have to rely on the Carling or the Orléans location to get their fix. Which is quite unfortunate for me, as I seldom go to Orléans and the Carling location is also a bit out of the way.  But I may end up there anyway in case the Mrs. Waffle's withdrawl is too hard to manage…
————————————–
UPDATE  Dec. 18 2011 @ 21.09
They are open again!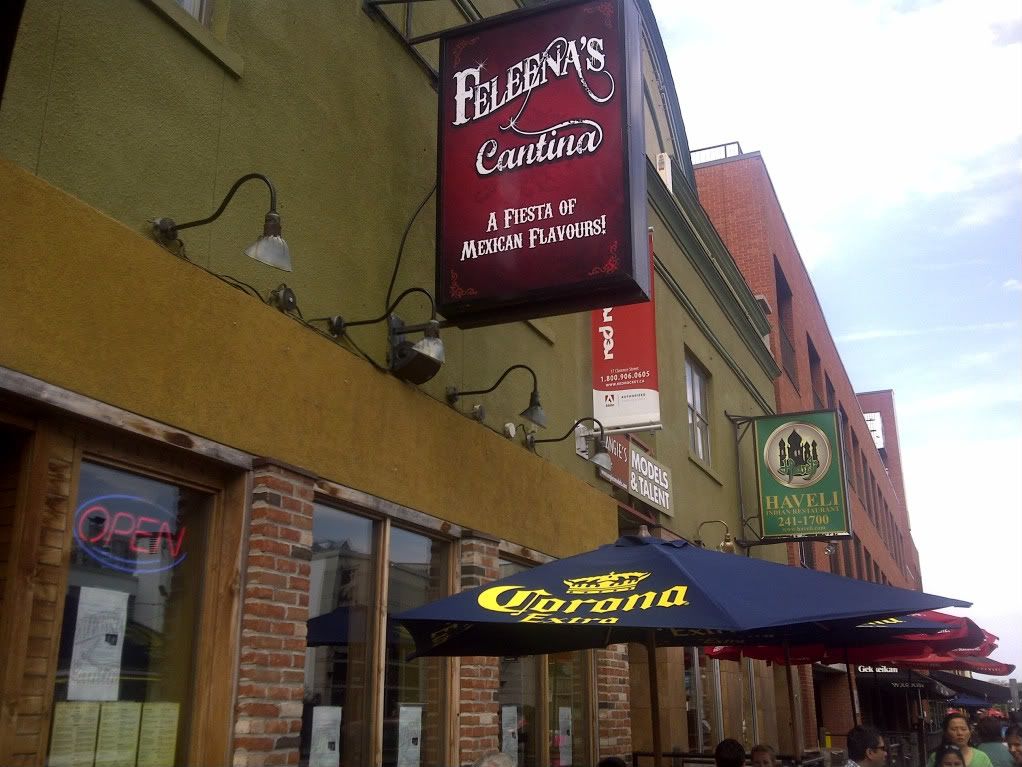 Si, señor & señorita!  Mexicali Rosa's is no more – in Ontario, at least.  
That is what The Waffle found out as he brought his familly to the establishment formerly located on Clarence Street, which is now called Feleena's Cantina.  (No link to Feleena's on Bank that I can see.)
Rebranding? Upscaling? Another failed Market adventure?
I was curious, and since we still wanted Mexican-style food, the name-change didn't deter us. We walked in a little before 2PM looking to enjoy the Mexican-fare and the air conditionning on this hot Sunday of July. The place was empty, which made for great, friendly and attentive service throughout our time there!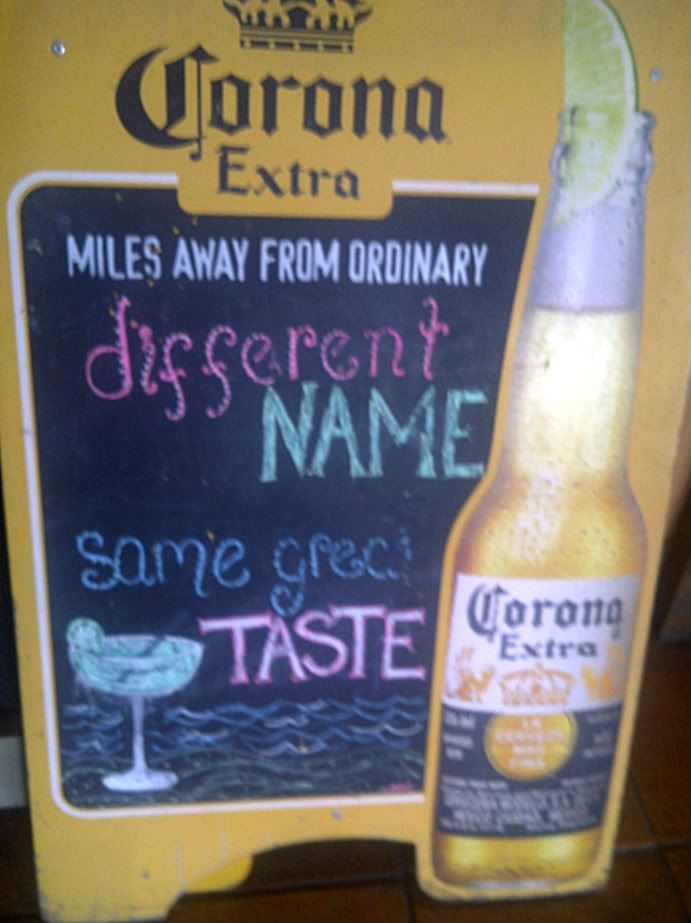 We were greeted by a sign that announced that the changes may only be cosmetic at this point.  "Different name, same great taste" it said. Well, Mexicali has never been a high-end establishment, so we would have to judge for ourselves if that statement is a good or a bad thing.
The first Mexicali Rosa's opened in 1979 and soon became a popular franchised chain of casual resto-bars serving Mexican-style food with Texas and California influences. 
At one point, Mexicali Rosa's had about 30 establishments, having expanded from it's Ontario-base into Quebec, New Brunswick and Nova Scotia.  In each restaurant,  you could find a releaxed and familiar atmosphere and decor of a franchise, but at the same time without it being all the same.  The formula was quite simple and quite unique, and Mexicali was the largest Mexican-themed restaurant chain in Canada. 
In 2002, the franchise company was sold, and what was once a very solid franchise started to have problems. Indeed, towards the end of the decade, the number of Mexicali Rosa's restaurants had been reduced to half of what it was.   "The franchise company misallocated its resources…" analysed Jon Bryan in 2009, when he abandoned Mexicali Rosa's and transformed his Peterborough restraurant into Johnny Eh's. 
The Waffle has learned that the Clocktower Brew Pub will open a new establishment, its fourth one, in the Westboro area in the next few months.  The new Clocktower will be located on the first floor of the Phase II of the  Westboro Station, a Condo Project located on Richmond Road.
The rumour first surfaced last September on SkyScrapperPage's forum, (one of the most active skyscraper enthusiast communities on the web!) where a user claimed that: "According to someone in the sales office, tenants for the Phase I and II of Westboro Station include TD Canada Trust, Shoppers Drugmart and Clocktower Pub!".  Ottawa Foodies were soon looking for a confirmation, to no avail.
The Waffle can confirm today that The Clocktower Westboro has applied for a Liquor Sales Licence (indoor and outdoor area) with the Alcohol and Gaming Commission of Ontario (AGCO) in accordance with the Liquor Licence Act, to operate at 430 Richmond Road.  Ottawa residents who want to comment on the applications can do so in writing to the Commission by March 22nd.
As far as I can tell, the Clocktower is applying for a simple Liquor Sales Licence.  The holder of a sales licence may sell and serve beverage alcohol in a licensed establishment where light meals are available.  According to the AGCO, "Light meals are not snacks which target cravings (nuts, chips, pretzels, etc). Lights meals are made up of more than one food element, such as soup and sandwich, or hamburger with fries, or salad with more than lettuce, which deals with appetite or hunger."
And the Clocktower can deal with appetite and hunger.  Mussels Night on Mondays. Wing Night on Tuesdays. Appetizers at half price for Happy Hour. Their menu is diversified and the food is usually alright, but it is a tad pricey – and service can be spotty, and is often unrelated to how busy the place is – or not.  If you go for the food alone, you may be disappointed.
If you are going to try one of their brews, however, you have a better chance to leave happy. Folks at the Clocktower do offer fresh, great tasting, full flavored beers, using no preservatives, no additives & brewing them only in small batches.  This approach has its downside, as too often one or more of their handcrafted beers are not available. Their regular selection consists of the Kölsch, a light blonde ale; a Rasperry wheat; the Wishart's bitter, which is an ESB (my favourite, nice copper-colour with a nice malty profile); the Fenian red, which is an Irish red ale; and the Bytown brown, heavy on coffee and chocolate flavors. They also offer Seasonal Brews in rotation, beers such as an IPA, a Vienna Spring Ale, a Porter, a Pumpkin Ale, etc.
And the good people of Westboro will soon be able to enjoy them in their own neighborhood!
D'Arcy McGee's burgers have a pretty good reputation for an Irish Pub burger near Parliament Hill. Their menu features a Prime Rib Burger ($11.49) garnished with shredded lettuce, sliced hothouse tomato, dill pickle and fried onions.  For an extra charge, you can add Cheddar, bacon and sautéed musrooms.
There is also a Veggie burger on the menu ($9.99) which substitutes the meat for a portobello mushroom.  (UPDATE —  2011/03/02 @ 11:29 -  Thanks to Ready from Service is Central below) The meat is substituted for a veggie pattie, and is topped with half a portobello cap.)
Both come with your choice of a side of french fries or a green salad.
However, The Waffle has learned that the Ottawa Irish Pub chain is going to release it's new Spring menu in the coming days. And that the menu will feature a new hamburger, which a well-connected D'Arcy McGee's insider has described to the Waffle as a Gourmet Irish Cheeseburger.
D'Arcy's new creation will feature Guinness Aged Cheddar and Roasted Red Peppers as garnish for a half-pounder of ground prime rib burger. The burger will of course be topped with a pile of D'Arcy's signature, crispy, stringy fried onions.
The Waffle welcomes this new addition and cannot help but point out that offering burger options is never a bad thing.
McDonald's is currently studying the possibility of launching a new Quarter Pounder hamburger to complement it's current line of Quarter Pounder sandwiches. Information obtained by The Waffle shows that the hamburger chain is currently testing the hamburger with potential customers.
The investigative investigation investigated by The Waffle has found that McDonald's is currently describing its newest creation as a 1/4lbs of 100% pure Canadian beef (what else?) lightly seasoned with pepper and salt (a regular Quarter Pounder contains 630 mg of sodium, the same with cheese you increase the sodium content to 1110mg!) topped with crisp leaf lettuce, juicy tomatoes, onion crisps (whatever that is), hickory-smoked bacon, processed cheese, creamy mayonnaise and smokey BBQ sauce on a freshly toasted sesame seed bun (a toasted burger bun?  That would be different from Ronald's crew).
The survey, conducted online, is also testing possible names for the new hamburger, including:
BLT Deluxe
BLT with Smokey BBQ sauce
Quarter Pounder BLT with Smokey BBQ sauce
Smokey BBQ Hamburger
It seems clear that McDonald's is keen to have the BLT label associated with the new hamburger, no doubt trying to create a perception of freshness and crispiness in the customers' mind. However, the actual BLT sandwich currently  on McDonald's menu is not a hamburger – it has no beef and is served on a ciabatta bun.  It is definitely interesting that McDonald's is considering calling "Deluxe" the addition of beef to its BLT – one would think that the "Deluxe" label should apply to the fixings (ie bacon, lettuce, tomatoes) as opposed to what made McDonald's what it is – the beef patty.
In fact, it seems to us at The Waffle that McDonald's should simply call it the Quarter Pounder Deluxe. Just by looking at it, it's obvious. The Quarter Pounder has always been a favorite of this corner.  The hamburger was invented by Al Bernardin in 1971, when he was a franchise owner in Fremont. His prophetic slogan, "Today Fremont, tomorrow the world," was bang on. Mr. Bernardin died earlier this year.
Refreshing this classic line of higher-ratio-of-meat-to-bun burgers with a 5th version would be most welcome.  The Quarter Pounder Deluxe would be instantly recognized by customers for what it is – a Quarter Pounder with the works.
Now of course, McDonald's is commercializing a Quarter Pounder Deluxe already – but only in South Africa and it has nothing to do with what McDonald's is considering here.
So here it is, in all it's pre-marketing splendor:
The Quarter Pounder Deluxe
————————-
UPDATE Aug 15, 2010 @ 15:18 :   The Quarter Pounder Deluxe has arrived!!