Ms. Waffle had been chewing my ear all week about her keen desire to chew on pizza. I had reluctantly ignored her all week, for our own good. But I finally relented and suggested we try a new spot for lunch.
We tossed a few names around until I suggestd ZaZaZa.
ZaZaZa was created by Ion Aimers, founder of the successful Ottawa burger chain The Works. The first location opened in 2010 on Putman Avenue, which was the original The Works location before it outgrew the tiny space and moved out. After hosting The Fraser Café for a year and a half, it became ZaZaZa. The Ottawa gourmet pizza chain is now bringing "pizza with pizazz" in three different Ottawa neighbourhoods – and according to Aimers, 3 or 4 more locations could still open.
The location on Putman is tiny, maybe twenty seats. We at first thought it could be a good idea to eat on the patio, but figured that with the kids, it would be easier inside.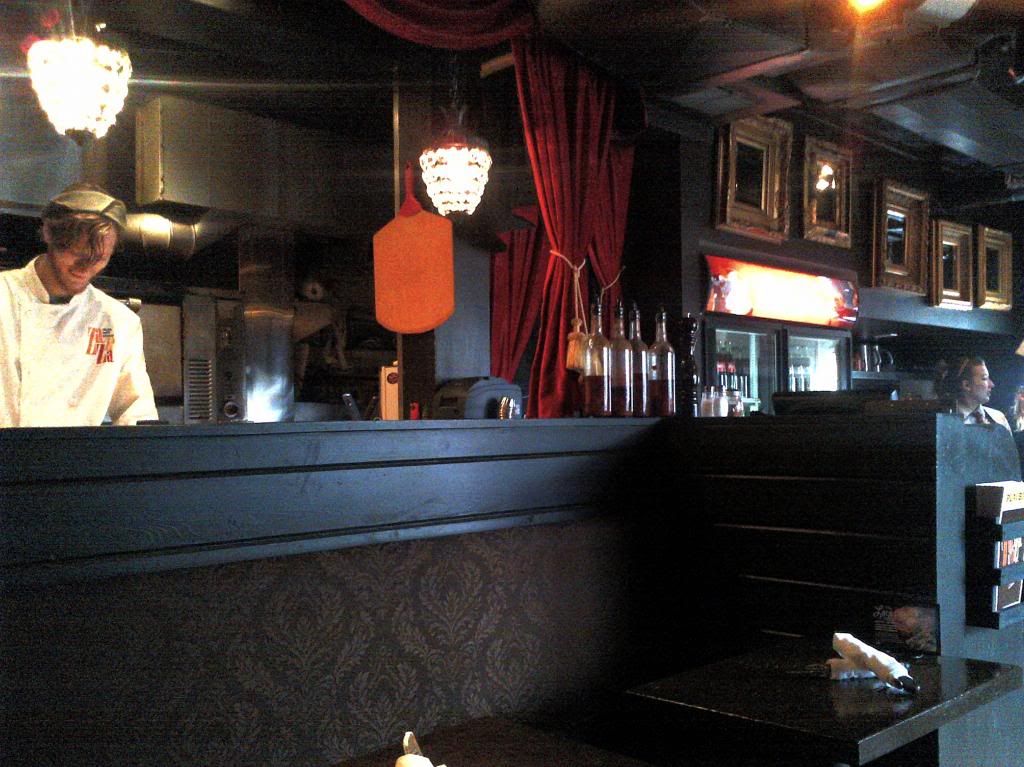 At the back of the restaurant, you have the pizza oven in the left corner, where the pizzaioli are busy making the pies.  In the right corner, the take-out counter.
The spot wasn't really busy, despite the nice weather, with only three tables occupied.  Still, the staff seems to be trained to ask about reservations - likely, it does get busy in there – and you may get cramped if that's the case.
We were brought to a table in a corner and started to look at the menu.
The choice is totally different, quite interesting. ZaZaZa has over 25 gourmet pizzas, with your choice of three different daily-made crusts: cornmeal white, honey oat, and gluten-free made with chickpea flour. For some reason, the pricing is unconventional – from $13.66 to $17.92. Apparently, the most popular is the Crazy Horse (spinach, chicken, pine nuts, caramelized onions and mushrooms on pesto sauce – $16.97). But there were a lot of other interesting options, such as the Cajun Cowboy (tomato chipotle sauce, caramelized onions, chicken, spicy havarti, chorizo, corn – $16.56), the Hot Hot Hot (hot tomato sauce, mozzarella, banana peppers, jalapenos, spicy havarti, hot Italian sausage), the Shangri-La-Di-Da (tomato tandoori sauce, sweet peppers, goat cheese, corn, snow peas, honey drizzle – $13.66), etc.  It was a bit overwhleming.
So while we were trying to make our mind up, we decided to order their appetizer special they call the Lace up: Sweet Potato Cross-Cuts topped with three goat cheese balls served with a dip.  I could say that what convinced us was the fact that a portion of the money for every Lace Up sold goes to the Canadian Diabetes Association, and that would be partly true; but the real truth would be that at $8.49, it was a good deal compared to the price of these appetizers ordered individually ($4.97 for the Sweet Potato Cross-Cuts, $6.41 for the Goodness Gracious Goat Balls of Fire.)
By the time we received it, actually served in a Converse running shoe, we were ready to order our pizzas – Mel went for Erin's Baked Again ($14.90) and I went with the Bleekinator ($15.91). But more pressing business had arrived:
Our server had graciously offered us to try each one of their dipping sauce since it was our first time at ZaZaZa. They were Chipotle Chip, Honey 'n Spice, Lumpy Feta and Hot Mama.  My favorite was the Hot Mama, but I can't say any of them were bad.
The goat balls were made from goat cheese, mushrooms, parmesan, herbs and spices and were served quite hot.  Once you got through the crunchy shell, they were creamy without being gooey, very flavourful.
The Sweet Potato Cross-Cuts were pretty good, crispy. They could have been more fluffy, but at least they weren't dry.  I would have like them a tad thicker, but the portion was reasonable.
Before we could finish, our pizzas had arrived – along with a shaker of pepper flakes and a bottle of mild spicy oil. Even though they are meant to be individual pies, they were almost overcrowding our table and the plates had to be put on an angle in order to fit.
Erin's Baked Again was made with Alfredo cream sauce, mozzarella, twice baked potato, bacon, parmesan cheese and finished with green onion.  The idea, I suppose, is to recreate the feeling and the flavours of potato skins.
I can't say that it worked perfectly.  I mean, it was not a bad pizza.  But the twice baked potato chunks didn't have any kind fluffy texture, and flavourwise, it was kind of bland.  It was also a little dry – it could have used more sauce.  However, once we started dipping it in the Lumpy Feta dipster, it helped tremendously – it was reminiscent of the sour cream dollup you would add to an actual baked potato.  I think you would need to have bigger chunks of potato, a little more sauce (and more garlic in the sauce), crunch the bacon in smaller bits  and sprinkle it all over to improve Erin's Baked Again.
The second pizza was the Bleekinator.
It is made with tomato sauce, mozzarella, tomatoes,  parmesan- and ZaZaZa promises "tons-o-bacon". I suppose they couldn't call it the Baconator – since that is registrated by Wendy's.  Or because the tons-o-bacon promise falls a little short, in my opinion. I mean, there was bacon. Perhaps even plenty of bacon. But not tons – I was a tad disapointed. But only a tad!
Because otherwise, it was an excellent pizza.  You could tell the ingredients were fresh – the tomatoes were juicy, not mealy at all.  The crust, though thin, had a nice crunch without being dry. It is clearly made with a good quality flour.  The amount of cheese was great –  but once again, I wanted more sauce.  Thankfully, the dipsters were still around, and it was particularly good with the Hot Mama.
The service was friendly and prompt. We weren't rushed, were able to take our time before ordering and didn't have to hunt  down our bill when the time came to pay. The pizzas were good – but we haven't found our favorite yet, so we'll have to try again!
One Response