Mrs. Waffle and I decided to go for lunch together, and we pondered our options. After suggesting a few places, she was tempted by Mikes on St-Joseph in Hull.
Officially known as la Trattoria di Mikes for the past few years, but I've never heard anyone call it that way – for all, it is known as Mikes, period.
Mikes is a chain of Italian-style restaurants that originated in Montreal and was first established in 1967 by the Marano brothers. At first, Mikes was known for its famous submarine sandwiches. Mikes' Submarines became a franchise in 1972, and pizza was introduced to the menu in 1975. Mikes was bought by Imvescor in 2000 and today,there are 87 restaurants, all of them in Quebec except for one in Moncton.  (Mikes tried to expand in the Maritimes – and even in the United States, but it didn't work out.)
To this day, Mikes' menu focus on three main dishes:
Their hot Italian subs, still made using the original recipe – my favorites are the Superstar, the Co-Star and the Hot Lukes;
Pasta, such as Spaghetti Neapolitan, Chicken and Brocolli Pennine, Linguine Alfredo, Lasagna Classica and Gamilli alla Gigi, to name only a few;
Then of course there's pizza – your choice of  thin crust or traditional pizza; or even their Sunshine Pizza, with a crust that actually looks like a sun.  Yeah.  They also have what they call Gondolas, basically a folded pizza, similar to a Calzone or a Panzarotti.
The parking lot was full, but inside, there was plenty of room as the lunch rush was coming to an end.  We ignored the main menu and focussed on the lunch menu – available Monday to Friday from 11 am to 2 pm, the lunch specials include a soup or a choice of house or Caesar salad and a choice of coffee, tea or soft drink to accompany your meal.
On offer, a couple of subs and sandwiches, a few pasta dishes, and a couple of pizzas.  But somehow, what attracted our eye was the Duetto ($12.99) - Your choice of pizza (all-dressed, pepperoni or vegetarian) accompanied with Spaghettini Bolognese, french fries, house or Caesar salad.  So ya, we both picked the Pizza-ghetti!
But first, the starters. 
Mel had selected the Caesar salad.
What she got was a typical, commercial, Caesar salad. 
The lettuce was fresh enough, and thankfully it was not drenched in the Commercial dressing Mikes used for their salad.
The bacon bits were (again) of the commercial variety, not clearly made from actual bacon, but still tasty, and better than those orange crunchy things you get with some (even more) commercial Caesars.
Finally, the salad was topped with (again) a bunch of commercial-made croutons, right out of a box.  They were hard, there were bland, they were not eaten.
I felt like having a soup. 
The soup of the day was a Cream of Potato. That sounded heavy.  Thankfully, Mikes always has a Minestrone available, so I got that.
The seasoning was correct. I was worried it would be too salty, but no.
The broth had a good tomato flavour, and the soup had a lot of vegetables in it, most notably green and yellow beans, carrots and onions.  There was also plenty of pasta in the soup.
Overall, it was decent, and certainly lighter than a cream of potato.
A few minutes after, our pizza-ghetti, I mean our Duettos arrived. And they looked delicious! Our server offered fresh cracked black pepper and parmesan before we dug in, we both happily obliged.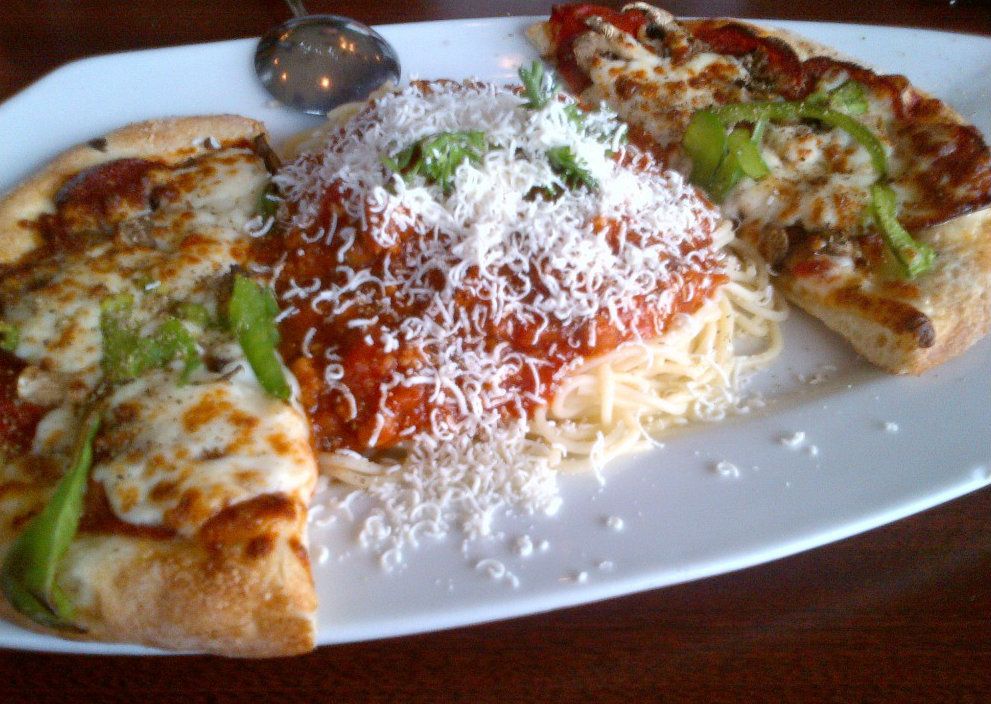 I had ordered the all-dressed pizza to go along with my pasta.  It had obviously been made fast, as the green peppers were sloppily tossed on the pizza.  That said, the crust was buttery and had a good crunch, a very honest crust.  The pepperoni was decent, the sauce had a good tomato flavour and had a hint of heat, but was not overflowing with herbs or spices.  The mozzarella was nicely melted and stringy.  The cheese was caramelized here and there, it was quite pleasant.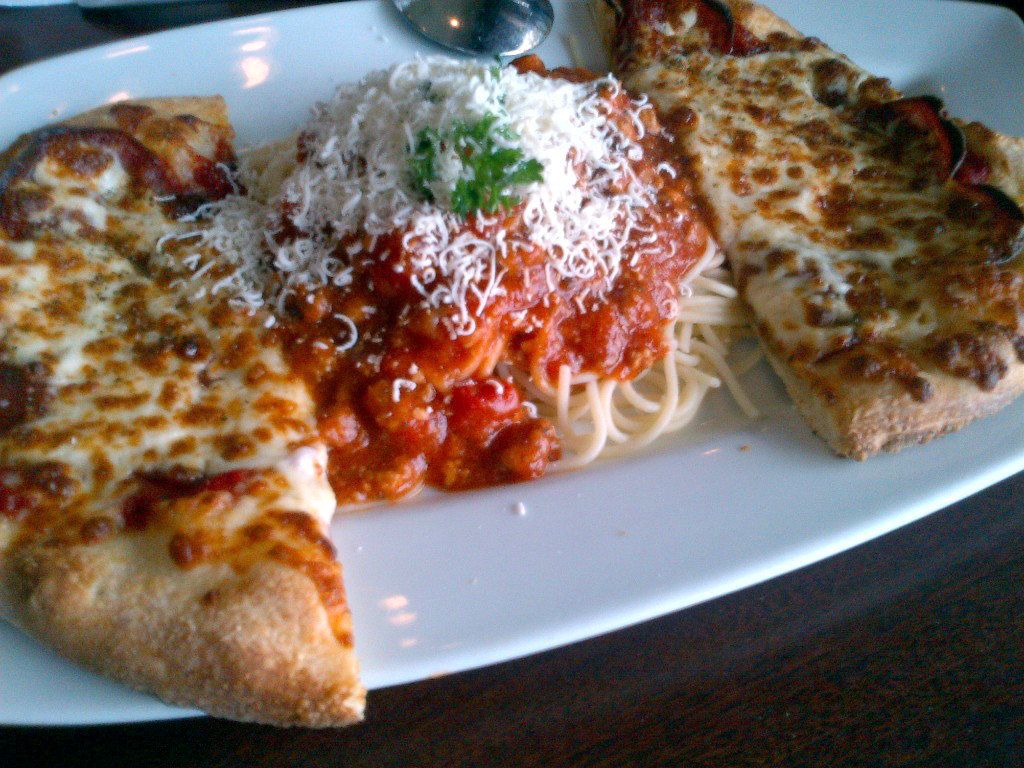 Mel's pizza had only pepperoni, which made it look even better than mine, thanks to the lack of casual-green-pepper-spraying. She thoroughly enjoyed as much as she could, though after a salad and spaghettini she sadly was forced to hand me over her last piece.  I of course took  on the challenge, the Waffle is nothing if not a team player.  
The spaghettini was a tad overcooked, which is typical in these kinds of establishments – they do not go for aldente. The sauce is not bad.  Mikes describes it as a meat sauce, so do not expect a typical red wine sauce.  This is a very basic bolognese, tomato and ground meat. You do need cheese to give it some real flavour, as it is a pretty simple, unidimensional sauce.
Considering what you get, this is pretty good value – it costed us $20 before tax and tips for the two of us, for two appetizers, two mains and bottomless soft drink. But if you want a quick, decent lunch and you are in the area, Mikes is not a bad option.  Be aware that the service, while fairly efficient, is very very familiar and casual.