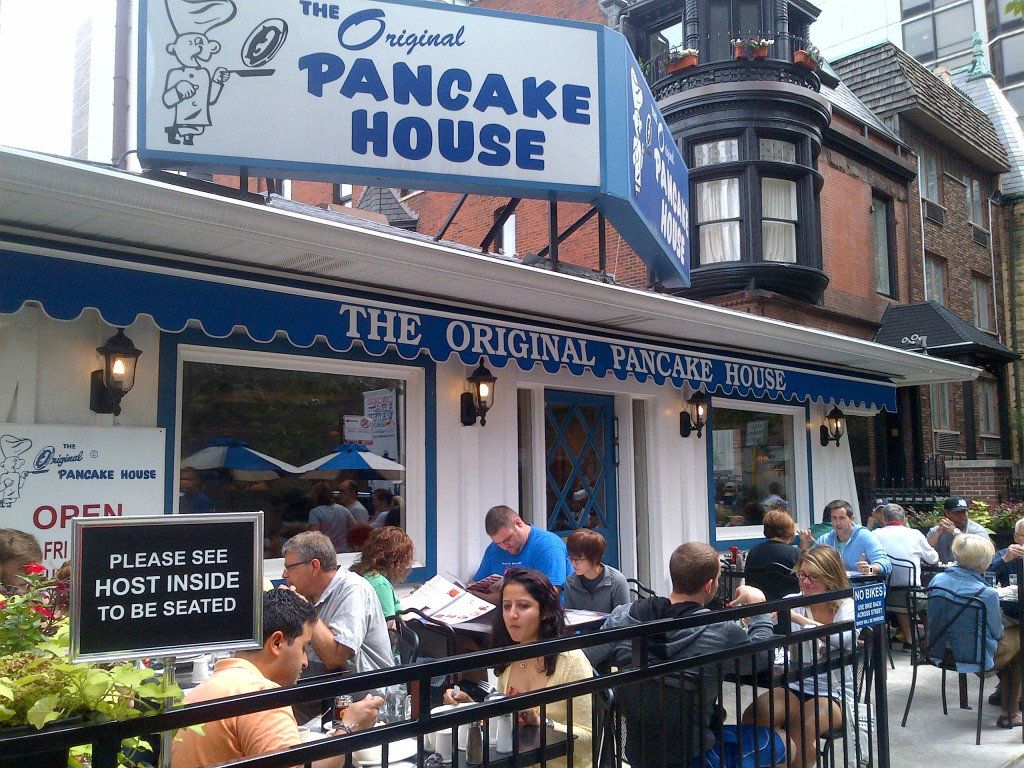 Our baseball weekend was winding down. Before the trip, Theo had spotted a location for our last breakfast. The Original Pancake House.
Well, if it's the Original, did we have a choice?
Now, of course, this Original wasn't the original Original Pancake House, since the chain was founded in Portland, Oregon in 1953.  There is now 116 all over the United States. They pride themselves in using the very finest ingredients, such as 93 score butter, pure 36% whipping cream, fresh grade AA eggs, hard wheat unbleached flour, and their original sourdough starter.
And guess what, their specialty is pancakes.
We made the trek via CRT to the Original Pancake House located in Chicago's Gold Coast District, an historic district on the North Side, known as one of the richest areas in Chicago.  While riding the train, Theo stated that the OPH have something on the menu called a Dutch Baby, that it was enormous, and that if you ate it all, it was free.
Could that be a challenge for The Waffle?
I mean, I've had my share of Dutchies in my youth, and a few Old Dutch as I grew older, but could I eat a whole baby? 
Turns out, it's not a real baby. And no, you cannot get it for free if you eat it all. A Dutch Baby is an air filled popover, oven baked to golden perfection and served with lemon, whipped butter and powdered sugar. That did not appeal to me.
However, their actual signature item is their "World Famous" Apple Pancake, a single large pancake smothered with sautéed Granny Smith apples and cinnamon sugar, baked  to create a rich cinnamon sugar glaze over the puffed up pancake.  There was pictures on the walls, it was on top of their menu – a big plate, with a rich, reddish-brown cinnamon glaze on top of caramelized apples, topping a perfectly baked pancake.
It looked delicious.
We got a table inside the cute blue and white building after about 10 minutes.  We got lucky : the patio was packed and there was a line-up to get in, but we had gotten there just in time -  soon, the wait was over 30 minutes to get a table.
Inside, the place was cramped, not a lot of room for the wait staff to run around – yet the wait staff was running back and forth.  Busy, busy place – so busy that strangers would have to share tables as the management objective is clearly to maximize occupancy.  The restaurant is really a single big room, with tables glued to each other. Cozy. 
Thankfully, the 7 of us got our own table, though Lucky Theo Seven got stuck at the very end of the table, basically squeezing some other patrons into their booth. Snug.
The sweet smell of sugary batter was powerful, and appetizing.  
I peered at the menu, just in case something else could beat my preferred choice.  Pancakes, Waffles, Crepes, Omelettes and other egg specialties, there was plenty of choices.
But my mind was set on the Apple Pancake. 
 
And that's what I ordered.
And that's what I got.
First, it is enormous. Now, that's what I call a serving.
Second, it doesn't look like the picture.  Of course. Nothing ever does.
Third, the edges looked burnt.  Oh, no!
Fourth, the smell of apple and cinnamon was great.
Fifth, where do you start?
Well, you should start by letting it cool down a little, that's where.  Or else you'll burn your mouth, like I did with my eagerness to try it out.
The burnt edges should be a big no-no, yet it seemed to be a fairly common occurrence – Jason had ordered the same thing and suffered the same fate.  Other tables around us seemed to have better luck.  Obviously, these burnt edges were inedible. When you order the Apple Pancake ($10.49), they tell you you will have to wait, but I guess we shouldn't have waited that long. Thankfully, nothing was burnt underneath nor on top, and it was a big portion, so I was able to still fill myself.
The pancake actually looked more like a soufflé. Inside, it was fluffy, almost creamy – eggy in fact, and very filling.  There was a generous layer of baked apples on top of it, probably the equivalent of two apples.  Lots of cinnamon butter to create a caramelized glaze, the topping was the best of this beast.
Other dishes looked very appetizing as well.  Serge went with the Banana Pancakes ($7.39), a stack of buttermilk pancakes topped with diced bananas and dusted with powdered sugar and served with whipped butter and hot tropical syrup; Theo went with the Chocolate Chip Waffle ($7.69), topped with bittersweet chocolate chips, whipped cream and powdered sugar; Mathieu and Steve went for the Danish Kijafa Cherry Crepes ($7.89), three delicate crepes filled and topped with Montmorency cherries simmered in a Kijafa sauce (Kijafa is a fortified cherry wine); and Devin was the only non-sweet tooth; picking the Vegetarian skillet ($9.59), potatoes, onions, mushrooms and broccoli, oven-baked with cheddar cheese  and topped with two Extra Large Eggs.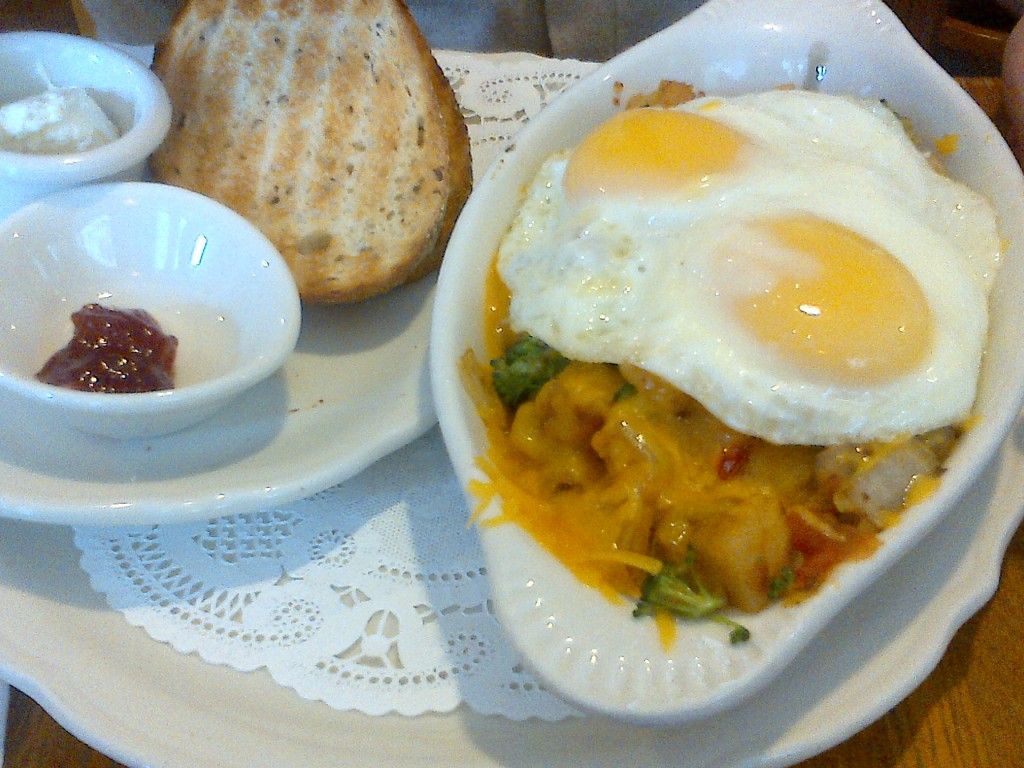 The place was still packed when we left, and the line-up was even longer.
One Response