Browsing articles from "July, 2012"
If you haven't been following the Juice-Jackson Baseball Extravaganza (or #jjbe12), which is on its last leg, you should check it out.
@juicegniposky and @nathanLjackson have been on a two week baseball trip, with stops in Boston, New York, Washington, Philadelphia, Pittsburgh, Cleveland, Chicago and Toronto.
On their blog, you will find the highlights of their trip,  including great reviews of the food they've encountered in and around the stadiums.
We left Indian Lake in the morning, hitting Highway 28. Our New York State adventures were coming to an end, and we had to make the 3 and a half hour trek back to Canada.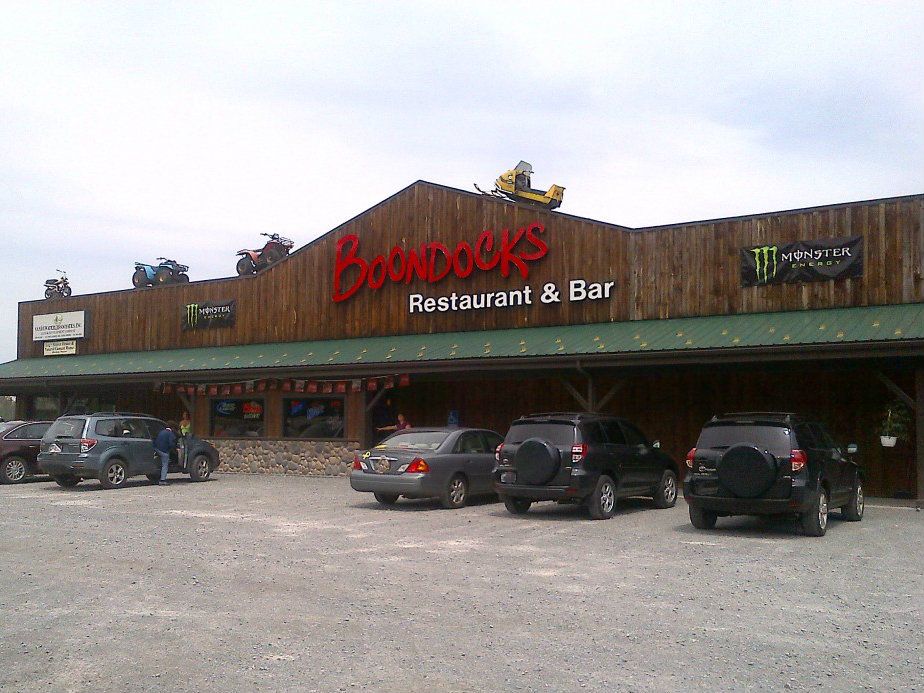 Along the way, we would stop by and admire the numerous mountains and lakes. Lake Durant. Blue Mountain Lake. Eagle Lake. Utowana Lake. Raquette Lake. Eight Lake. Seventh Lake. Sixth, Fifth, Fourth, Third, Second and First Lake. I guess they ran out of names.
About halfway to the border, we started to get hungry. Starving, in fact. But we had reached Highway 12, and options were scarce. Nothing for miles.  Until we saw a size-able establishment with a huge parking lot, with ski-doos and ATVs on the rooftop.
Welcome to Boondocks Restaurant and Bar, Lyons Falls, New York.
Walking in the place is its own adventure. They've got the rustic feel, with lots of wood everywhere. And by wood, I am not only talking about the furniture. I'm talking about the walls, that are either in wood or trying to make you feel like you are in one.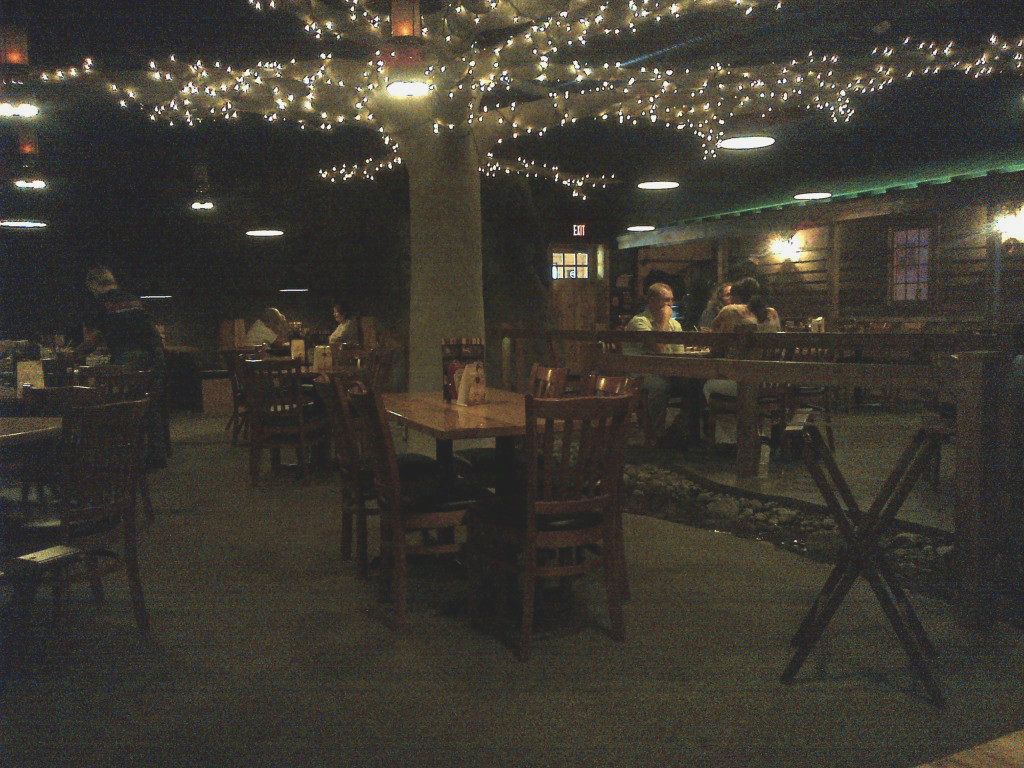 There was a gigantic tree, fitted with lights in the middle of the room. There was a waterfall coming out of rocks, with a creek crossing the room – little country bridges were allowing you to cross over.  Its a cozy Adirondack atmosphere that makes you feel as though you are dining under an open sky, all year long.
We ordered drinks to start, as we looked at the menu. I went with a Saranac Blueberry Blonde Ale from the Matt Brewing Company. I poured it in a frosty pint glass. It had a nice golden color and a significant white foamy head.  The blueberry aroma was strong, the flavour was interestingly fruity, like they added a shot of blueberry juice in it as opposed to a chemical concoction. A really good fruit beer, but it needs to be very cold.  Mel went with another Saranac product, their hand-crafted Root Beer. It is made in small batches and has a fresh root beer taste, with plenty of bitterness but also notes of vanilla and some licorice. Again, better served ice-cold.
The menu was filled with intriguing items. In the appetizer section, you could find deep fried stuff, like Mozzarella Triangles, but also things like Steamers (Steamed Clams) or Load of  Logs (home-made pretzels).  There was a Soups and Salads section, a Pasta section, Chicken, Ribs and Steak, Seafood.  Mel decided to pick one of their sandwiches while I explored the Burger Valley.
Bondoocks' burger valley is not very deep (only 8 different types) but it is wide (any burger is offered in a beef, veggie, or turkey version – and most of them can be made Gluten Free). I looked at the Boondocks Bleu Burger (bleu cheese, bacon, lettuce, tomato and red onion) and the Over the Edge Burger (Golden BBQ sauce, fresh chipotle coleslaw and fried onion tanglers) but finally settled and ordered the Rodeo Burger. In her part of the menu Mel ignored the Tangled Philly (shaved steak smothered with Bourbon BBQ sauce and topped with onions, peppers, mushrooms,fried onion tanglers and Swiss cheese on a toasted Hoagie roll) and the Parmesan Chicken Sandwich and ordered the Ranch BLT Sandwich – with a side of Onion Rings (at an extra cost).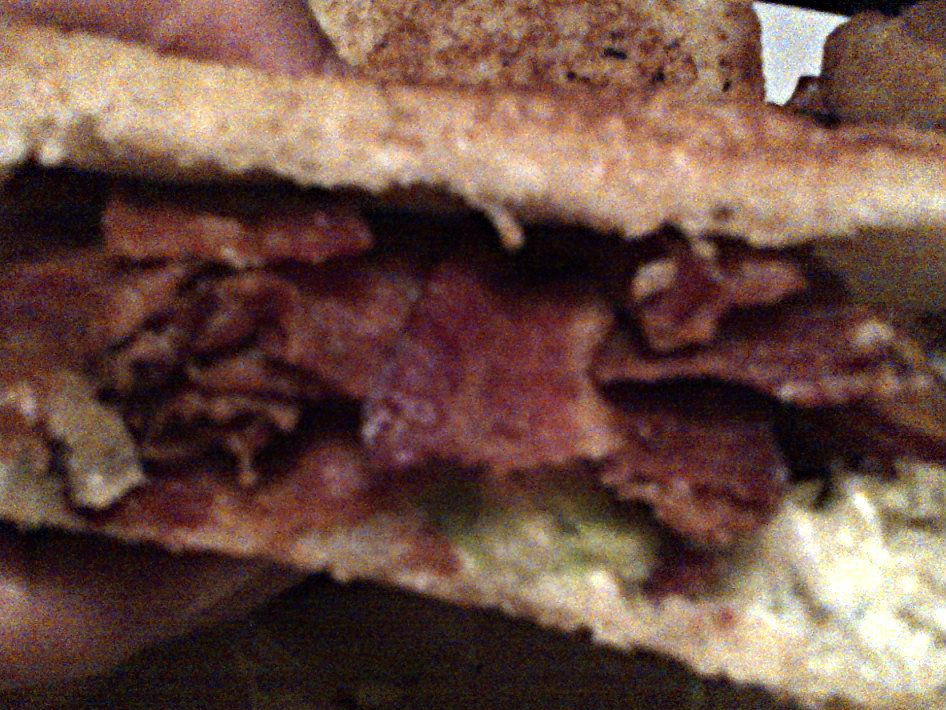 If the onion rings were palatable, the Ranch BLT Sandwich ($7.45) was not named properly. If the "l" and the "t" seemed normal, the "B" was capital. There was a truckload of bacon in that sandwich, topped with lettuce and tomato on grilled Italian bread, nicely toasted, no sogginess. But basically, this was a Bacon Sandwich. The veggies were just a small garnish barely surviving under the thickness of hog goodness – though Mel removed some of it from the sandwich, overwhelmed.  The ranch flavour came in the form of a ranch cream cheese spread, not helping the calorie count.
 Talking of calorie count, this is what my Rodeo looked like: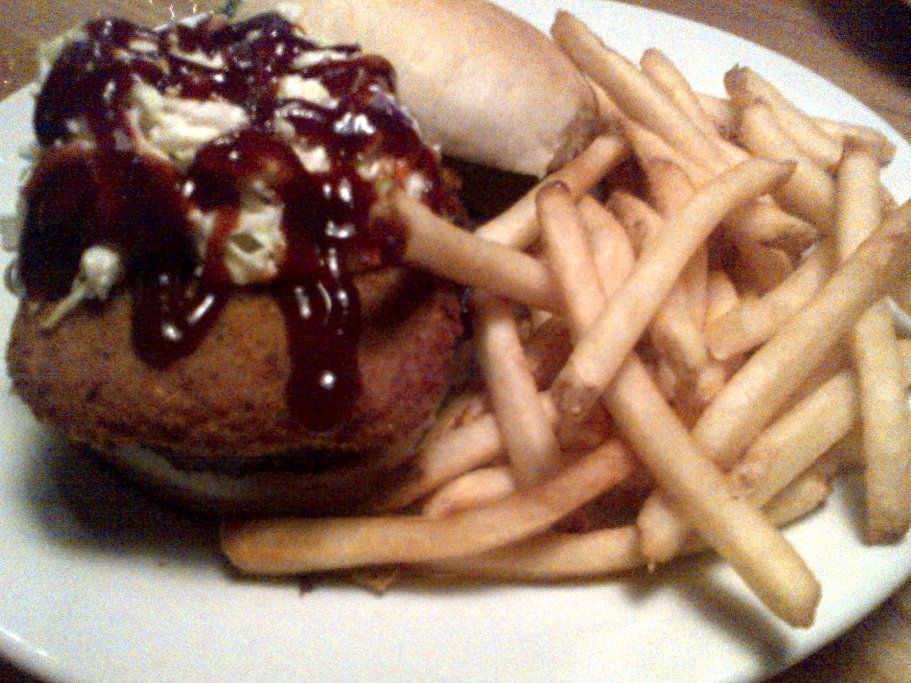 A half-pound beef burger. A huge block of  deep fried Muenster cheese. Coleslaw, piled high. Smothered with a Chipotle BBQ Sauce.
Heeee-Haaaaw!
Now, this was a decadent burger. I've had my share of cheeseburgers in my life, with multiple cheese combinations, double and triple deckers, even cheese-stuffed patties.  But this?  Unexpected. 
Muenster is an American cheese not to be confused with the French Munster.  It is a mild, smooth, soft cheese, usually with an orange tinted-rind and a white interior.
I was expecting a small slice of fried cheese, instead I got a brick of deep fried cheese, with a thick batter – no doubt to prevent the cheese from oozing into the deep fryer. On the upside, it was gooing everywhere – once you got past the crispy crust!
The beef patty was thick, juicy, cooked to medium rare. The coleslaw had a little tang to it and added a nice crunchy and creamy texture to the burger. The Chipootle BBQ sauce was spicy, but there was no chance to overheat with the amount of dairy included in the burger.  Considering the weight it was under, the bun surprisingly held together quite well.
After a while however, the burger started to feel heavy as the cheese brick was falling into my stomach.  I did finish it, but I was kind of glad that the french fries were ordinary – I might have been in trouble if I had finished my plate!
All in all, this was a neat place to stop by randomly. The food was on the outrageous side of the spectrum, but it's not like we had a long road trip ahead of us…
 Mrs. Waffle did some research before our road trip vacation in New York State.  And once I convinced her that Cooperstown was a must stop, she insisted that dinner happened at Dimaggio's Cooperstown Hot Grill.
So first we visited the Baseball Hall of Fame. And then we set out for Dimaggio's.
"The best food in town. Cooperstown, that is." says their website.
DiMaggio's is owned and run by the DiMaggio family, (yes, cousin to Joe) and is located on Route 28, directly across from the Cooperstown Dreams Park - bringing them hungry customers by the busload.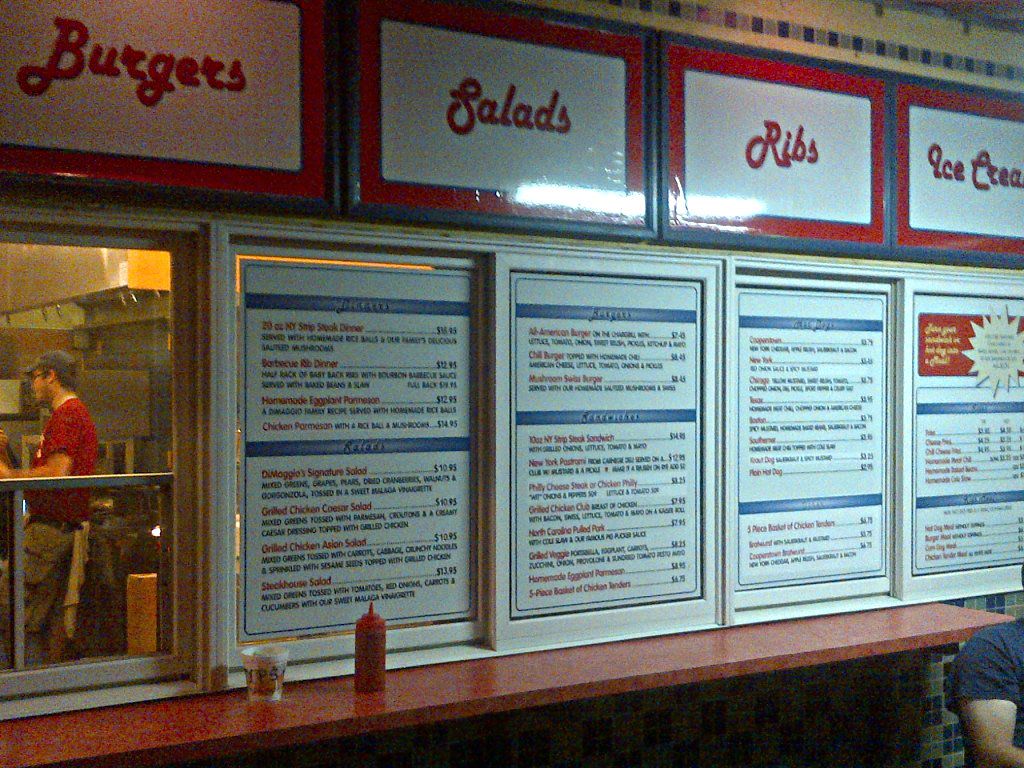 DiMaggio's is obviously targeting families. Leaving aside their ice cream section, with their sundaes selection (banana split, chocolate chip cookie, strawberry shortcake and hot fudge brownie), their menu offers many options: New York Strip Steaks, Baby Back Ribs and all kinds of specialty salads, sandwiches and burgers.
Apparently, DiMaggio's Eggplant Parmesan and Rice Ball are the talk of the town – but I was in town, and nobody mentioned it. Go figure.
But we were there for something else – we were there for Hot Dogs. Nothing goes with baseball better than Hot Dogs, and the Hall of Fame visit built up our appetites. And since Dimaggio's logo is a hot dog, we had high expectations.
We studied the menu posted outside, right by the take-out window.
Dimaggio's Hot Dogs come in 6 all-beef variations:  The New York (red onion sauce and spicy mustard), the Chicago (yellow mustard, sweet relish, tomato, chopped onions, dill pickle, sport pepper and celery salt), the Texas (chili, chopped onions, American cheese), the Boston (spicy mustard, baked beans, sauerkraut and bacon), the Southerner (chili and coleslaw), nd the Cooperstown (cheddar, apple relish, sauerkraut and bacon).  They also have two Bratwurst options, one with sauerkraut and mustard and the other one à la Cooperstown.  You could also get a plain dog. But why would you?
When I said we had built our appetites, I wasn't kidding.  My plan was to sample two dogs, Mel was to go for one. But suddenly, Mel decided that she needed a little more and also went for an American classic: the Cheese Fries.
I was not going to argue. We walked in. You are hit immediately by the bright colours, the smell of french fries and the sound of a pre-teen baseball teams having a blast.  I went to the counter to order, no line-ups.
A medium order of Cheese Fries ($5.25), one New York ($3.45), one Cooperstown ($3.75), one Texas ($3.95), and a pop – with free refills, which is always great!  The staff told me I could go and pick a table, and they would bring our order out.  Awesome.
We decided to sit outside – to enjoy some fresh air and a quieter environment. Across Route 38 the bright lights of  Cooperstown Dream Parks were shining.  Lots of kids having lots of fun dreaming about a not so distant future where, maybe, they could become baseball superstars.  Just like kids like Bryce Harper, Matt Garza and David Price before them.
Lost in my dreams of my future Major League career, I was awoken by the arrival of our food. Mel was about to get up to get a refill, but the friendly staffer told her to enjoy the food – he would be right back with it.  I've got to give them kudos for service, it was great, much better than one might expect in this kind of joint – and certainly putting fast food chains to shame.
The medium basket of cheesy fries was huge.  I was so glad I had resisted the temptation to go for the bigger size. There was a good scoop of a gooey-cheese like substance, but the fries weren't swimming in cheese sauce. Therefore,  the fries were not mushy and were holding up firmly. Of course, the cheesy goo was very salty, but kind of addictive. I guess that's the idea, isn't it?
But we were not distracted by the sideshow.
We soon dug into the line-up.
The Cooperstown: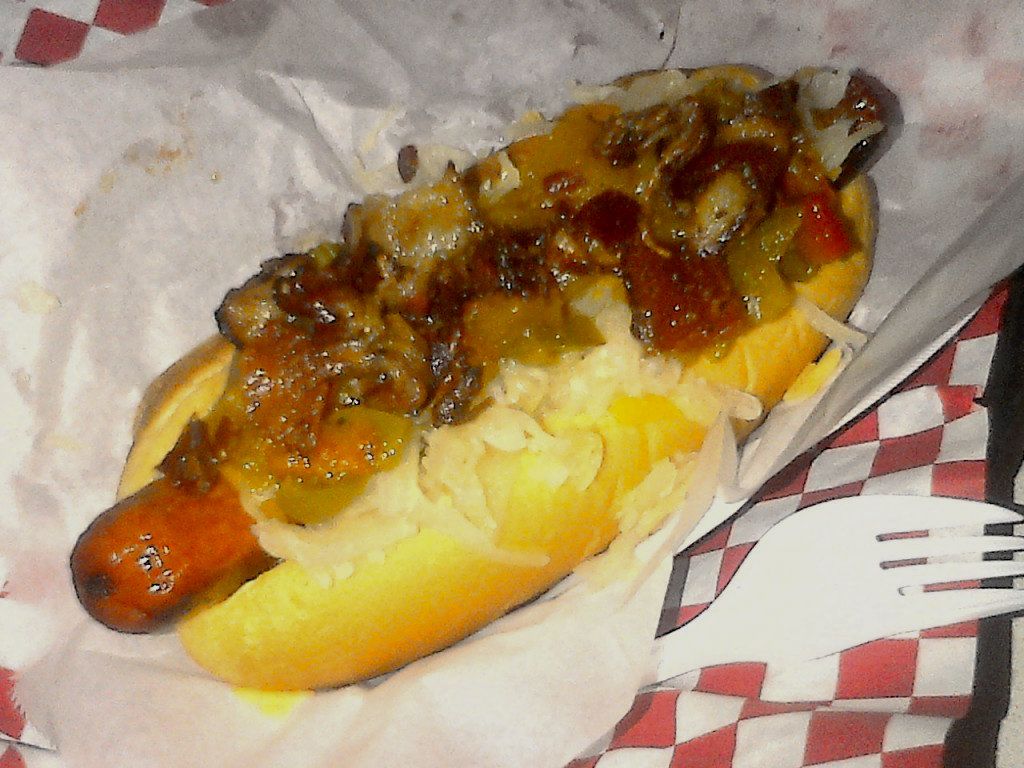 Now, this is truly a one-of-a-kind hot dog. The apple relish is not overly sweet, it is totally different and refreshing. The rest of the toppings bring you back to more traditional dog flavours, acting as a bridge between the New York Cheddar, which of course goes well with apple, and the tangy sauerkraut, which mellows with the relish.  The bacon came in big extras-crispy chunks, they couldn't go wrong there.
Mrs. Waffle had a craving.
She wanted horrid, greasy, salty pizza.
Why?
It all started by a complaint from @JuiceGnipoksy, who really wishes that Pizza Hut and Swiss Chalet would open up shop in downtown Ottawa.
He has a point.  Pizza Hut, founded in Wichita in 1958 and now a subsidiary of Yum!, (the world's largest restaurant company who also owns KFC and Taco Bell), has about 12,000 Pizza Hut restaurants in the world.
But in Ottawa, the closest Pizza Hut from downtown is in the Glebe, on Bank @ Fifth, about 3 kms from Parliament Hill. The closest Swiss Chalet is on Carling @ Kirkwood, about 7 kms from the Hill.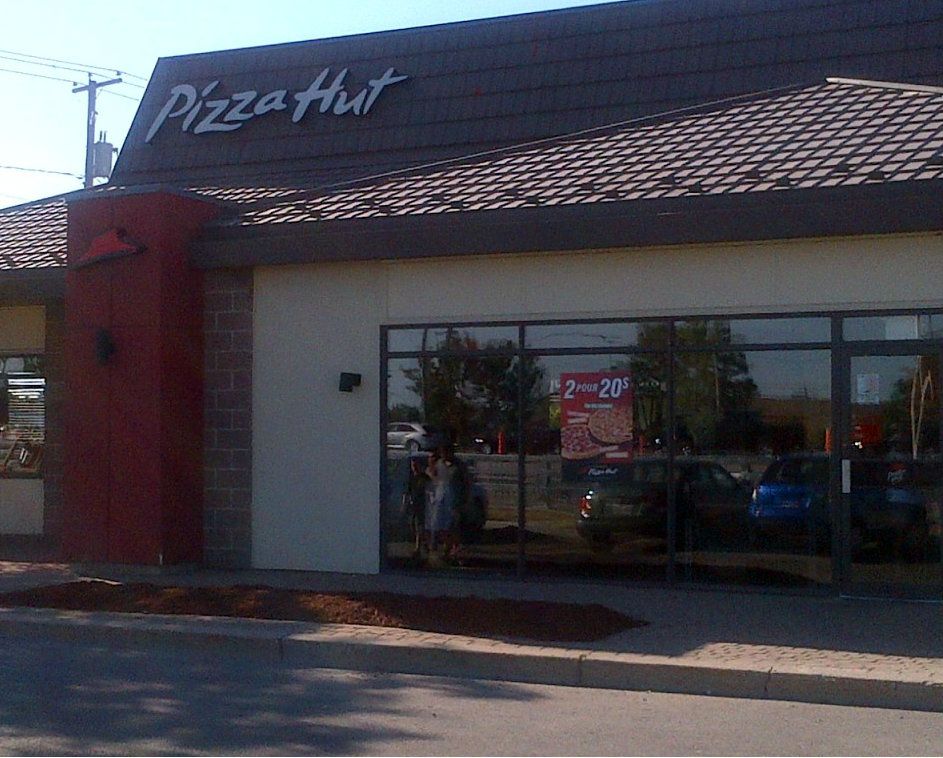 Still, there are 9 Swiss Chalet in Ottawa and 9 Pizza Hut as well.  Swiss Chalet gave up on its Chalet Suisse Quebec locations years ago, but Pizza Hut is quite present and has one franchise in Gatineau, on Gréber @ Maloney.
And that is where we ended up, to satisfy Mrs. Waffle.
We got there around 5:45. The place was not super busy, but it wasn't empty either. In fact, it got busier. Still, the service could have been more efficient – our pop took forever to arrive.  At least it's all you can drink. But I digress.
Good news, kids eat dinner for free all summer, until September 2nd.  The meal includes a beverage, dessert, and your choice of a 6″ Pizza, Fettuccini Alfredo Pasta, Mac N' Cheese, Spaghetti with Meat Sauce or Chicken Boneless Bites.
The Waffle Jr. doesn't like garlic, so Alfredo was out, we were going to get pizza so no need to order one for her either. Spaghetti meat sauce sounded like a messy idea, the Boneless Bites are packing a whooping 1620 mg of sodium.  So we settled for the Mac N' Cheese.
Not a lot of cheese, pretty watery sauce, no colour – I know it's the kids' menu, but they could make an effort. Sad.
Since Mel was hungry NOW, she ordered a ceasar salad as an appetizer. The small salad arrived promptly. The lettuce was fresh and crispy, and was not too drenched in the commercial dressing. There was plenty of croutons, shaved Parmesan, tomatoes (!) and some bacon bits. On the side, a slice of lemon to garnish. We've seen worse.
But as you know, we were here for horrid, greasy, salty pizza.
First, we had to pick the crust.
In Canada, you can  go for the Classic, the Multigrain, the Thin N' Crispy, the Pan or the Stuffed Crust. No matter which one you choose, you will get a nice shiny finish, thanks to the mystery green spray can they use right before bringing you the pizza.
At any rate, we felt that the Classic was probably the best choice, but figured we might as well go big or go home. We chose the Stuffed Crust.  I've never had it and figured I should try it before I could then go on to explore deeper into outerspizza and sample the likes of Ultimate Stuffed Crust, the Cheesy Bites Crust, the Cheeseburger Crust or even the Hot Dog Stuffed Crust…
The menu had 20 different pre-selected toppings. Multiply that by 5 types of crust, and you get a 100 different types of pizza to choose from.  Our search didn't go very deep: Mel selected the very first listed by Pizza Hut, a favourite of hers: the Meat Lovers.
What's not to like?  Pepperoni, beef topping (what?), Italian sausage, mild sausage, ham, bacon crumble and mozzarella cheese.
Glorious. No?
I mean, it did look good.  The crust was puffy, bits of cheese were oozing out.  On top, you could see lots of meat and the cheese had a great colour.  And it smelled fantastic.
Mrs. Waffle loves to go to Metropolitain for brunch.
She regularly organizes outings there with her girlfriends.
She loves it.  They offer Brunch cocktails, the classic breakfast is her favorite and she often orders a Chocolatine to end her meal.  (Apparently, most of her friends do too.)
From time to time, she organizes brunch at the Met for other friends - out-of-towner types.  And that's when I get sucked in. 
The 3 of us arrived on schedule, at 10:30.  The Met wasn't very busy, on this Post-Canada Day Day. The patio was fairly full, but we could have elected to sit there if we had wished to do so – or even in the new patio annex, which includes comfortable couches under the trees – more suited for casual drinks than a meal with a toddler.
So we settled in one of the left corner booths inside, and waited for Tara, Cameron and Mary.
The Met's brunch menu is available until 2 PM, which is not bad if that's what you are looking for.  If you'd like something out of their lunch menu, you'll have to wait until 11AM for it to be available – though they have shown some flexibility.
The menu has a focus on eggs: The M Breakfast (eggs any style with choice of meat), Omelette Francaise with fine herbs and Gruyère, Scrambled Eggs and Smoked Salmon with chive crème fraîche, Steak Frites with Poached Eggs and béarnaise sauce, Broccoli Fritatta, and of course, the Classic (two poached eggs on crispy potatoes with smoked country ham and béarnaise sauce) which is what Mel always orders. She did again, leading the way for the rest of the table who all ordered the same. I stubbornly did not.
I ignored the interesting Brunch Sharing Platter since no one seemed keen to share – boiled egg, house pickles, country terrine, 2 cheeses, smoked salmon, apples, berries, figs, mustard, chutney – and also ignored the baking side of the breakfast menu - Buttermilk pancakes with lemon poppy-seed and quinoa pancakes or the Banana Bread French Toast.  I Also took a pass on the Oyster and Seafood Bar, also available for brunch.
Instead, I went with l'Asperge Milanese ($15), served with eggs sunny-side up, black pepper, romano pecorino, lardon, and white truffle oil. For good measure, and mostly to share with Waffle Jr., I ordered a side of Sausages.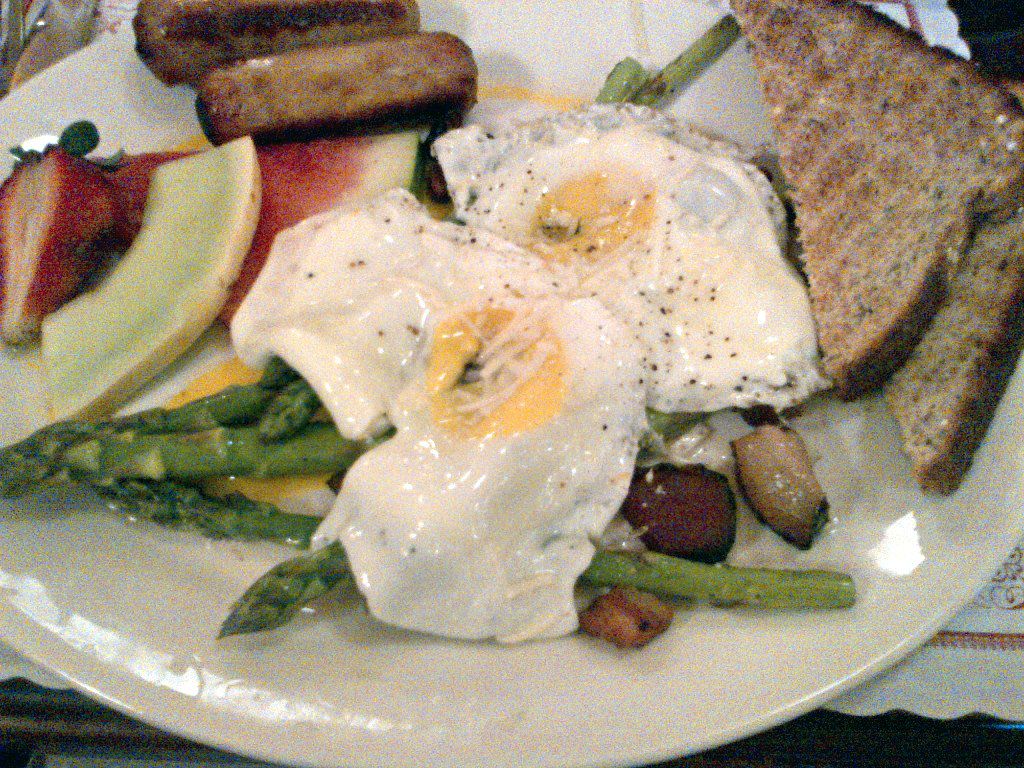 Here we have a nice looking plate.  However, one of the yolks had broken, unfortunately contaminating the fresh fruits served on the side.  The eggs were nicely seasoned with salt and fresh cracked pepper, but they could have used more cheese on top.  They didn't feel greasy at all, very creamy.