Browsing articles from "June, 2012"
Mrs. Waffle was jealous.
I got to pig out every day while she couldn't.
She had placed an order for pulled pork early in the week, but circumstances made it impossible. But tonight she was going to get lucky. After a hard day's work, I made my way to Sparks street to assess the scene and pick up some much needed pulled pork and save my marriage.
However, I was stopped cold by some friends who enticed me to help them drink some ice cold Sangria on Brixton's patio.  Reluctantly, I accepted. But soon enough (ahem) I was back on the quest.
I walked all the way down to the end of Sparks Street. Line-ups were long everywhere, except at the Texas Rangers, where there was no line-up at all.  Alas, no luck – they were out of pulled pork!  Bad planning or exceptional pork? I will never know: I was on a mission.
I decided to turn around and try a new competitor this year, so new in fact that the official Sparks Street Mall web site didn't even list its presence: Hawgs Gone Wild.
Hawgs Gone Wild BBQ team is from Daytona Beach, Forida. Their menu is slightly different than the other ribbers: they offer their beans and coleslaw at 1$ each (as opposed to selling them combined.) Also, they offer cornbread and Hawgs' Hash, and a Heavenly version of said Hash. Intriguing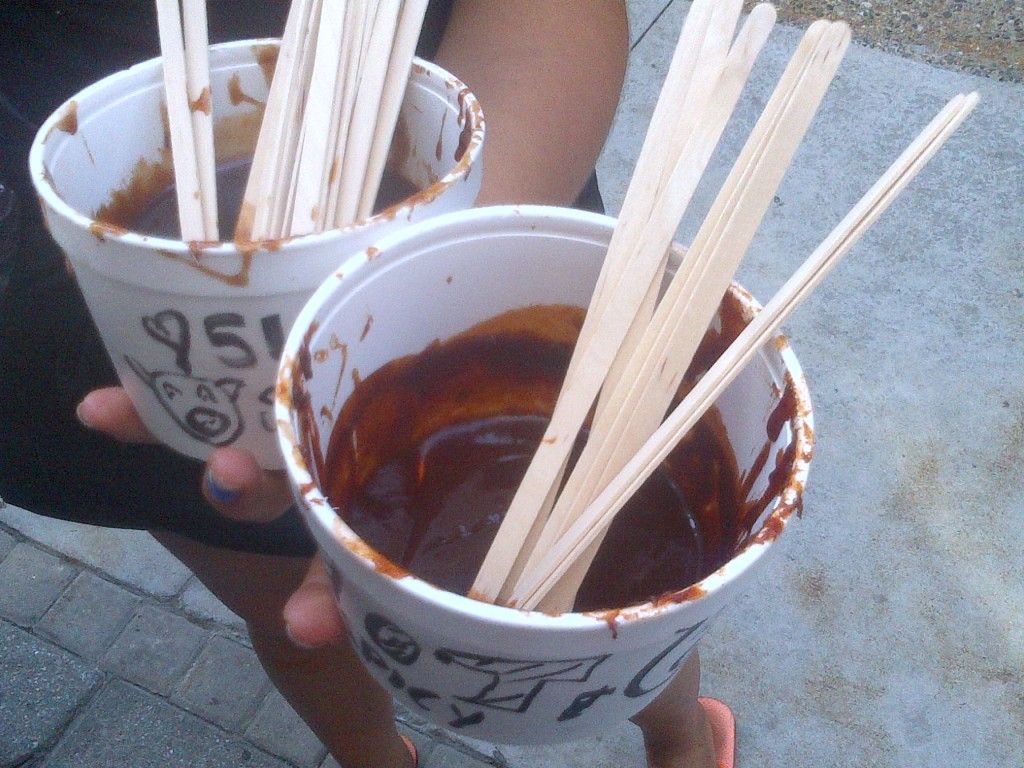 As I was lined-up, a Hawgs' staffer was coming down the line to get folks to sample their sauces – the Hot and the Sweet.  Hmmmm. Nothing like sauce on a stick.
The Hot sauce had a good kick to it. You could taste the chili peppers, there was no kidding around, but the heat level was totally palatable.  Would be great on pork, for sure.
The Sweet sauce was very sweet, with a touch of sourness. To me  it was a little too sweet, though I think it could work with chicken.
The choice of Hawgs Gone Wild was also a good one, speed wise. The line was moving quickly.
I ordered a pound of pulled pork, and as a bonus, two side orders of Hawgs' Hash.
For good measure, I squirted a good helping of BBQ sauce on each side of the pork – the hot on the left, the sweet on the right.   I should have squirted more, I've got to say.
I had some leftover buns and we used them to make some delicious sandwiches.  The pulled pork was tender but could have been shredded better. It was a tad bit on the oily side, however.  And as expected, the hot sauce worked better with the pork than the sweet sauce.  However, mixing the two sauces together also worked.
As for the hash, well, it is a nice addition to the usual menu.  In this case, all it was was skin-on smashed potatoes, but they were cooked properly, were fluffy and chunky. Good stuff.
Overall, Mel was pleased. And that's what mattered.
Finally, the House has recessed for the summer.
Finally, I'll be able to enjoy a full rack of ribs and not be pressed for time between meetings and Question Period.
You either go Full Rack or Go Home, they say.
Well, they don't really say that, but they should.
With lunch time approaching, it being Friday and the Heat Wave still scorching Sparks Street, there was no time to waste in order to get good quality Q with minimal wait. 
I got out of the office and lined up at the closest stand, right outside the Sparks Street exit of our research bureau: Billy Bones BBQ.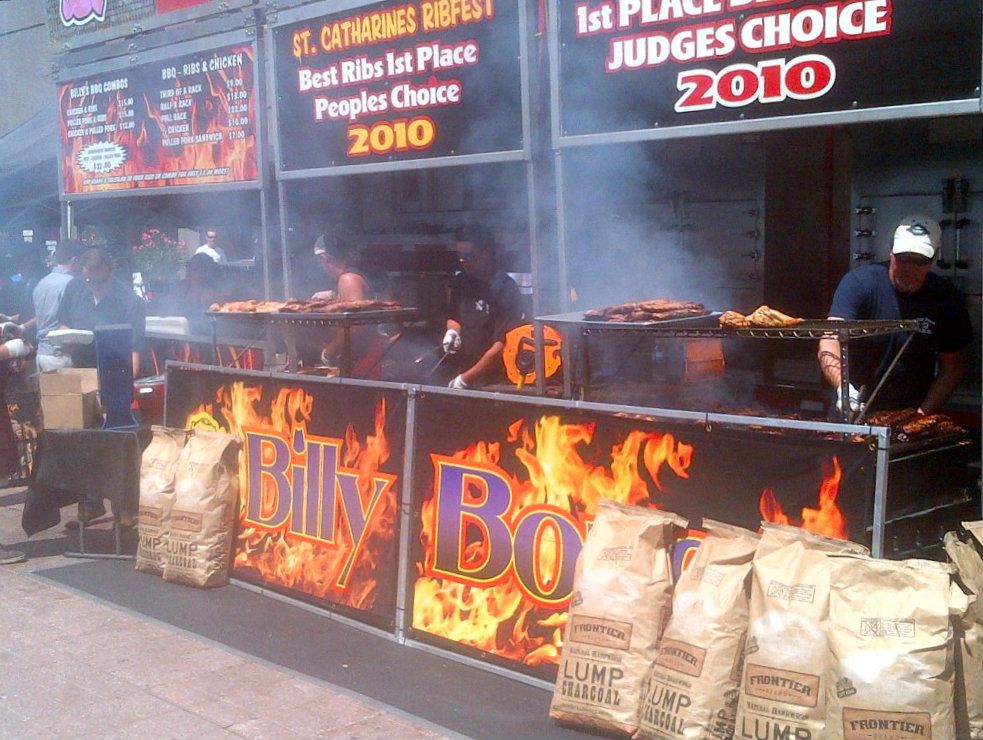 Bill Wall, aka Billy Bones (no relations with the pirate from Treasure Island), has been in the business for 36 years. From their home base in Sanford, Michigan,  Billy Bones BBQ has participated in cooking competitions in every state of the United States of America, and also  in Ireland and Jamaica, and has accumulated over 350 awards over the years.
In Canada, Billy Bones BBQ is operated by the Brunton siblings from Fort Erie, ON, interestingly, the Brunton family also handles Silver Bullet.
Legend has it that Billy Bones learned to cook at the side of an ol' gentleman on Central avenue in Cincinnati, Ohio, in the Sixties. What do you know.
They were working the grills hard.  The decaled flames weren't needed to imagine how hot it must have been behind the grill. I could only hope their hard work would be worth it. I ignored the pulled pork, I ignored the chicken, I skipped the beans and the coleslaw and ordered the Full Rack (22$) of Billy Bone's St-Louis style pork ribs.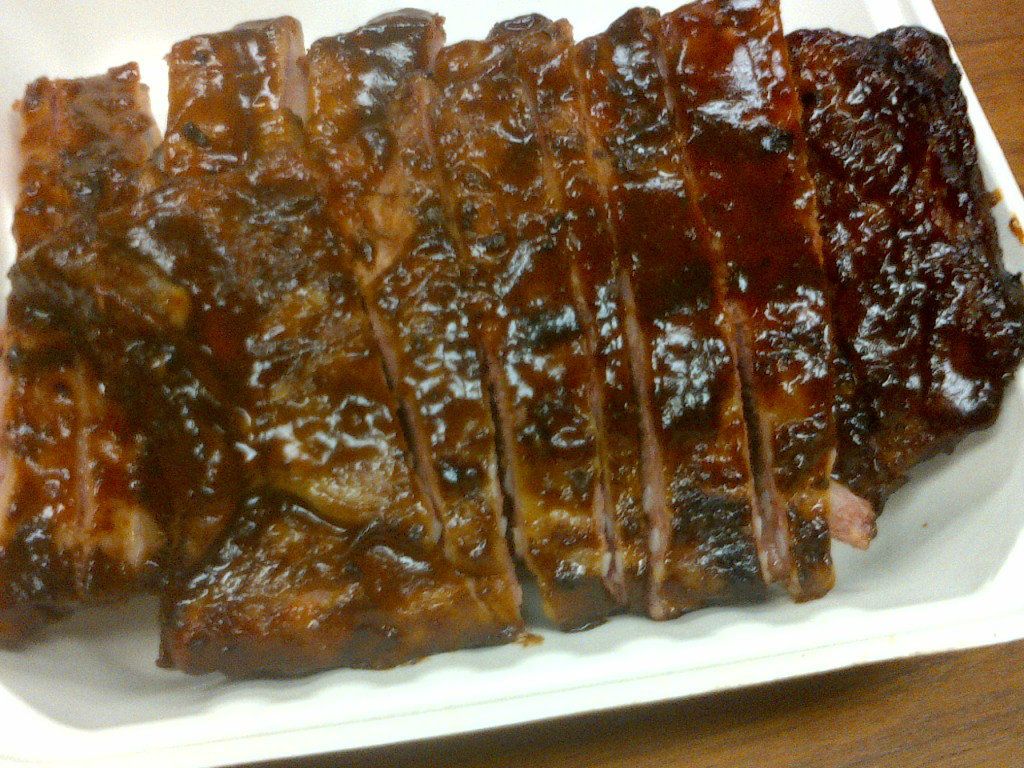 Billy Bones' ribs were tangy with a smoky bite. They were meaty, tender, juicy.  Well-balanced by the sauce, neither too sweet nor too bitter: vinegar, soy, brown sugar. A good blend of flavours underneath.  They were easy to eat, and went down fast, with the help of an ice cold Diet Coke.
Because you do have to keep an eye on your calorie intake.
Day two of the Sparks Street Cook-Off.  Day two of the Heat Wave.  The sun was blasting (the planet, not the paper), so grillers were sweating and hungry patrons were burning as they lined up to get their fix of ribs, pulled pork, chicken, beans and coleslaw.
That was the scene as we walked out of the National Press Building, following the NDP's press conference reviewing the Spring Parliamentary sitting.
The Leader of the Official Opposition looked at his watch, looked at me and said "We must get some ribs!"  Why, yes, I said! Why, no, said the NDP's House Leader. His loss.
We sent our vegetarian colleague to reserve some seats on Brixton's patio. Brixton's has the brilliant idea of offering its space to rib-lovers, as long as they buy a beverage. (A smart idea!)
So we lined up at the Silver Bullet location. The ribbers were working hard to keep the pace as the lines were growing longer.
Silver Bullet is from Fort Erie and mostly tours in Ontario. They are regulars here in Ottawa, and a crowd favorite every year, partly because of a favorable spot at the corner of O'Connor, partly because they know what they are doing.
The crew is always into it, they seem to have a lot of fun at Silver Bullet, and it was the case once again, folks yelping and being really energetic despite the heat.
The stall was generating lots of smoke while we waited in line, and the grillman was working hard to grill and mop the meat. I finally decided to go with the Texas Teaser (22$), in order to sample all the meats on the offer (Ribs, chicken and pulled pork).  My boss had the Ribs and Pulled Pork Bullet Classic Combo (15$).
The ribs were great.  Very tender and lean, yet not giving completely, and look at that nice smoke ring! The smoky flavour was fantastic, all the way to  the bone, underneath a crusty bark. Also, lots of meat on them, this was a solid 1/3 rack of ribs, and the sauce was a great complement.
Silver Bullet's sauce is sweet with a hint of spice and heat. Not too thick, and gluten-free, it was also very good with the pulled pork.  Talking of the pulled pork, the meat was very tender, very well pulled too.  Not too fatty, it needed a bit of sauce to round out the flavours, and it was delicious.
The chicken, however, was a bit of a disappointment, as the meat was bland, and on the dry side of things. Once you were past the skin, you were out flavour.  Unfortunate, but you can skip the bird.
Nevertheless, Silver Bullet remains a strong competitor on Sparks Street and as we walked back to the office, the line up had actually doubled in size.
So Ribfest, or as it is officially known, the International Invitational Chicken-Rib Cook-Off Competition, is on.
The Waffle is planning to pig out this week, and Mrs. Waffle has put in an order of Pulled-Pork to bring home.
But things are busy on the Hill as the Spring sitting comes to an end, and time is precious. One cannot wait in line for too long to enjoy the meat on offer.
So you either have to go early, or late, ie avoid the high-noon rush hour. and considering the scorching temperatures hitting Ottawa these days, a shorter line is definetely better.  But if you have only time to eat around noon, here is another tip: favor the extremities. Line-ups are usually shorter in the block past Kent (Boss Hogg, Texas Rangers and Blazin' BBQ) or near Elgin (Texas Outlaws and Crabby's) .
But often, shorter lines can mean lesser quality.  Time is money, but is it good food?
The Waffle went ahead to check things out for you on Opening Day.
Indeed, the line-ups were quite short at Crabby's BBQ Shack.  In fact, I waited for Marc-André to make it and didn't feel the need to get in line and save a spot. Once he got there, we had our food whitin 5 minutes.
Crabby's BBQ Shack has been in the business for 20 years.  Hailing from London and founded by  George Kefalidis, Crabby's is still a family owned business and operates at least three independent rib teams at any given time, the first hitting the competition circuit in 1999.
Crabby's uses natural wood and cooks over an open flame, the good old fashioned way! Crabby's has won over 350 'Awards' to date for 'Best Ribs', 'Best Sauce', and 'Best Chicken.' Now of course, all these teams win prizes all the time. If a team wasn't winning, they wouldn't have much to put on their banners and no trophies to display, so who would come?
Still, in 2011 Crabby's won 1st place for their Ribs at the Gatineau Beer Festival, and at Ribfests in Etobicoke, Scarborough, St. Thomas and London. Their chicken won 1st place in Peterborough, Mississauga and Sudbury Their pulled pork won in Gananoque, and their sauce in St. Thomas and Lindsay.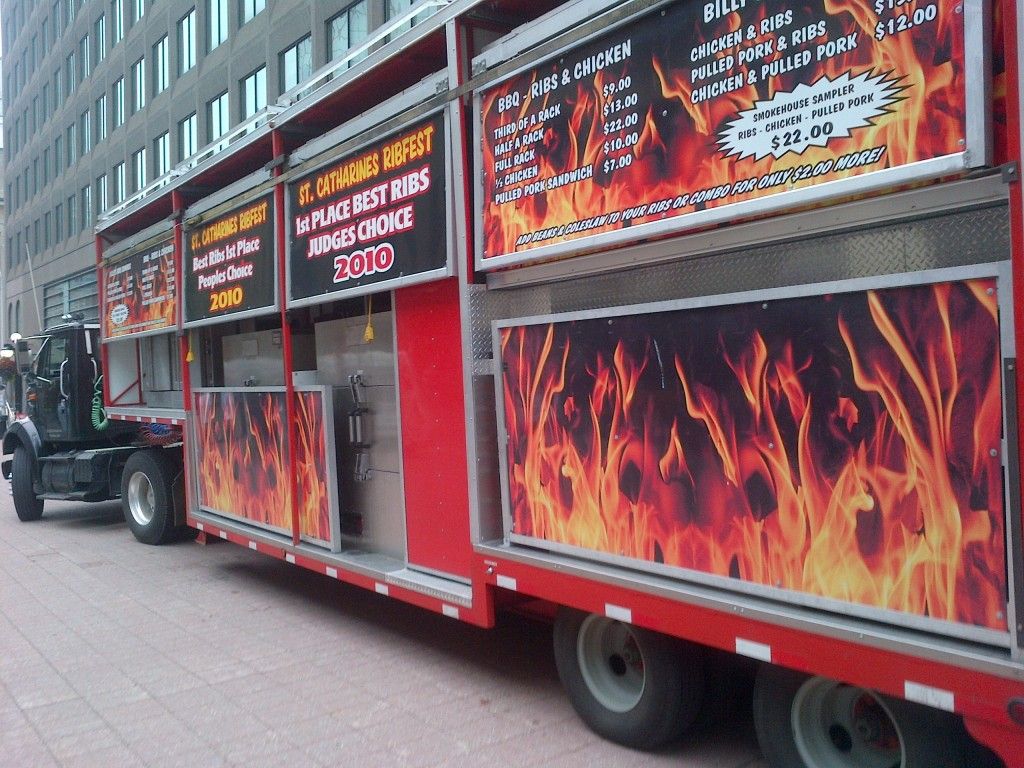 If you walked on the Sparks Street Mall today, you will no doubt have noticed the trailers, the picnic tables, the lemonade kiosks and the BBQ pits being set up.
That's because Ottawa's 21st annual International Chicken-Rib Cook-off starts tomorrow.
Teams from Canada and the United States will be competing for the top rank of best rib choice, best rib sauce, best chicken choice and best chicken sauce.
The 2008 edition basically kick-started the Waffle.
Your favorite teams are back this year: Uncle Sam's, Camp31, Texas Rangers, Boss Hogg, Blazin' BBQ, Silver Bullet, Billy Bones, Gator BBQ, Crabby's and Texas Outlaws.  Also here, Sticky Fingers from Mt. Pleasant, South Carolina and Hawgs Gone Wild.  Check out the map here!
You do not want to miss this event – this is some to the best BBQ chicken and ribs you can get in Ottawa.
Don't believe me? Have a look at this bad boy!
The Waffle, always here to serve the Waffler Nation, was able to put his hands (and his teeth) on a freshly smoked full rack of ribs,  right out of the top shelf of the smoker of one of the teams who were setting up and prepping for the big day.
No grilling, no saucing, just pure smoking.  I can tell you, if this sneak preview means anything, this year is going to be a great year.
Awesome.
I've been wanting to meet up with Toronto Star reporter and beer expert Josh Rubin for some time. The opportunity finally arose today before my flight back to Ottawa, which was around 4PM – meaning that I had some time to kill in the afternoon. @starbeer suggested that we meet up for lunch and a pint at Caplansky's.
Caplansky's Delicatessen first opened shop in 2008 when owner Zane Caplansky (check out his blog) simply got fed up relying on visits with Montreal friends to get his fix of  Smoked Meat Sandwiches – so he opened his own kitchen in the Monarch Tavern.  After a very successful year, he had to relocate to a bigger location – on College just west of Spadina – and opened his very own full establishment.
Despite that, Caplansky's feel like it's been there forever.  A bare brick wall covered with old pictures, neons and newspapers' article,  a worn-out terrazzo floor, and the counters displaying the meats, the pickles, the desserts. Somehow, the location can hold 70 people, and maybe an extra 40 outside, where we decided to sit under the awning to enjoy the comfortable if cloudy day.
Caplansky's does things the old-fashioned way. Except for the bread (which is from Silverstein's Bakery)  and the pickles, everything is home made.  Of course, the meat is the star.  They hand rub the meat and then turn each brisket everyday for three weeks.  They smoke it right there in the kitchen - and there is no doubt about that when you walk in and you're hit by the aromas.  The smoked meat is then hand-cut, which makes for thicker, more appealing slices.  They also  make a house mustard, in which the mustard seeds are fermented in Chimay. ((The coleslaw of fennel, red onions, garlic, carrots, cabbage, and olive oil, is also his own.))
I soon found out that there is more to Caplansky's menu than the classic Smoked Meat Sandwich. I skipped over the breakfast menu (available all day, offering, among other things, smoked meat hash, versht and bagels.) to focus on the lunch section. In addition to smoked meat, you will find other deli sandwiches such as Smoked Turkey, Grilled Salami and Pickled Tongue, available in the regular or fresser format.  Other Jewish deli classics are also offered, such as Chopped Liver, Knish, Kishka, Borscht, Gefilte Fish and Motza Balls. More modern dishes are also available, and tempting, like the Caplansky's burger with its 70% ground beef, 30% smoked meat combination, or the Smoked Meat Poutine. Continue reading »