Browsing articles from "February, 2012"
Aaaaah, Florida.  The Sun. The Heat. The good excuses to refresh yourself. 
The State of Florida, being the third largest beer market in the country, what would a trip there be without taking the opportunity to drink a few ice cold beers, brewed locally if possible? Well, that's what Mel thought when she returned from a trip to what she called 'the freaking biggest liqour store in the world!' with an interesting selection of Southern Suds – a very big South…
KEY WEST SUNSET ALE
First, the beer that became my beer of choice during this trip. The Key West Sunset Ale is a medium-bodied Amber Ale which actually hails from Melbourne, which is halfway between Daytona and West Palm Beach on Florida's East Coast.
Originally founded in 1996 as the Indian River Brewing Company, the company was reorganized in August 2003 and now does business as the Florida Beer Company.
The beer pours a nice dark golden, copper color, with very little head. Not as bright as a sunset, though. Thankfully.
Aroma is slightly sweet, hints of honey and caramel. It is lightly hoppy.
It drinks surprisingly tart compared to the aroma, however not in a negative way. The first sip just had a little bit more bite than I expected, perhaps grapefruit.
It actually tastes like a moderately bittered amber ale with medium fruity malt flavours and very little hop presence.
All around a good beer. Not too sweet, but not too bitter. Easy to drink. A good beer to enjoy at sunset, let's say, on a Key West quay? (Which we did!)
RAISON D'ÊTRE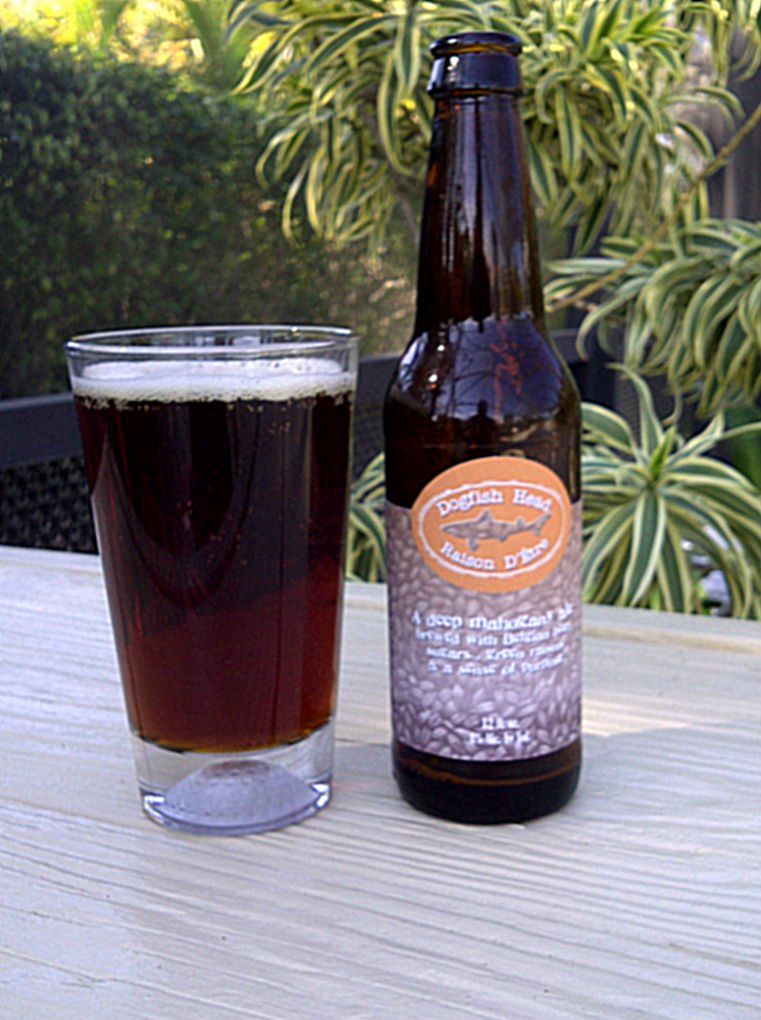 My first experiment was actually hailing from Delaware : Raison d'Être from Dogfish Head Craft Brewed Ales.
Dogfish Head opened in 1995 and claims to offer off-centered ales for off-centered people (Mel laughingly thought this would be perfect for me, I failed to see the humor).  I have had some encounters with their products in the past, and I can confirm that Dogfish Head does brew hard.
Hard as this Belgian-Style Strong Brown Ale, with it's 8% ABV. The Raison d'Être is brewed with beet sugars and green raisins.  That's right. Green.
Dogfish began brewing it in 1996 and bottling it in 1998 as the answer to the question, "What beer should I enjoy with a wood-grilled steak?"  I can see why.  Here is a tasty, complex beer.
A dark brown color with ruby edges,  which explains why it is referred to as mahogany. A  thick light beige head with small bubbles. 
The smell is powerful, a sweet and sour aroma where you can actually distinguish the raisins. Interesting.
The Raison d'Être offers a smooth, clean taste, notes of raisins, dates, caramel - perhaps even rhum – no doubt that to the high alcohol level. A fine beer.
STEELHEAD EXTRA PALE ALE
Despite being in Florida, we jump all across the continent for the next beer, which hails from the town of Blue Lake in Northern California: The Steelhead Extra Pale Ale from the Mad River Brewing Company. This 5.6% brew, is seen as the flagship of Mad River Brewing.
Here we have a bright golden ale, a little hazy likely because of the unfiltered nature.
A nice fluffy white head, which settles and sticks around.
The Steelhead EPA has a medium body with a spicy and floral hop nose.
To taste, there is some light spicy hops to start, but then it becomes a pale malt show. A bit of a doughy, bready flavor.
All along there's a general fruitiness to taste and then a very mild bitter finish.
Fairly highly carbonated, yet very drinkable, but nothing bold or unexpected.
Not a bad beer, but I'm not sure if it fits its Extra Pale Ale label. It would need a little more bitterness to qualify.
We left our hotel at 8:00 AM.  Plenty of time to make the trek to the Fort Lauderdale-Hollywood International Airport, drop the rental car, check-in, go through security and relax before our 11:10 Air Canada flight 925 to Montreal. 
About 15 minutes after we arrived, around 9:00 AM, the announcement came.  Flight AC925 was delayed until 2:15 PM.  Damn. Worse:  they wouldn't check in passengers for flight AC925 before 11:00.   So here we were, with a toddler wanting to run around and 7 bags in tow, stuck at Terminal 2′s check-in area for another 2 hours before we could be processed.  It seems that the policy at Terminal 2 is not to process bags until 2 hours before check-in for lack of storage space. So passengers kept arriving in waves, getting off their cruise ships and being shuttled in.  Other flights were delayed too, and there was nowhere to go for the stranded passengers. It was soon pandemonium, with people piling up with bags and kids and strollers and wheelchairs, as Air Canada decided it was better to process flights one at a time. 
Thankfully, Mel had come prepared.  A bag of PC Whole Wheat Cheddar Little Penguins Snack Crackers, a bag of apple pieces, a bag of Heritage O's Cereal, a bag of Publix's cheese strings and a bag of Bugles.  I didn't know for the life of me why she was bringing that much food, but I sure was thankful she had.  We also had a couple of bottles of cranberry juice and water.
Because Terminal 2 is not exactly an oasis of food choices, pre-security. 
There is Tropical Treats, a Confectionnary selling mostly candies of all kinds.  There is a combined Casa de Fresco – Dunkin Donut's to-go counter, offering bagels, donuts, and pre-packaged sandwiches and salads.  And coffee of course. There is a 5 stool bar called the Cruzan Estate Bar & Lounge, whose name sounds more promising than what you can get. And another counter called Chef Allen's 2 Go –again with packaged snacks and sandwiches.  The biggest piece of real estate is the Newslink newsstand.  In short, nowhere to sit down, relax and eat a nice meal.  Which would have come in handy, since the check-in time was pushed back to 12:30 and the flight to 3:00 PM.  By the time we were through security, we had exhausted all liquids, the Bugles were all gone, so were the apples.  A few Os were left and a bunch of penguins. 
Once one the other side, it was time to look for real food.  Options are also limited post-security: There is another Casa de Fresco counter, something call Miami Subs Plus  featuring subs plus burgers, cheese steaks, hot dogs  and salads.  Another Dunkin Donuts Express. And a Sushi Maki counter. 
There is a grab N' go counter from Sbarro called La Cucina, offering pizza, pasta, salads, grilled Panini sandwiches and other snacks.  Right next to it is another Cruzan Estate Bar & Lounge, with actual tables and chairs!  Not an actual restaurant, but at least you can sit down at a table and relax, grab food and drinks at the bar.  And that's where the three of us squeezed in to wait for our flight.
The menu at Cruzan Estate is limited and most of it comes from La Cucina:   Mozzarella / Roast Beef and Greek Platters, Garden or Chicken Caesar Salads, Sandwiches.  The one item that seems to be taken care of directly at the bar is the "Big City Reds" Grilled Beef Hot Dog.
Mel didn't know what to eat, so she asked me to surprise her. I decided to get her a Portofino sandwich (Grilled Zucchini, Eggplant, Yellow Squash with Roasted Red Pepperss and Mozzarella) but alas, La Cucina was out. Instead, I picked the Italiano, made with Genoa Salami, Italian Ham and Provolone ($7.95).  Personally, I couldn't resist the "Big City Reds" hot dog ($5.00).  To go with our food, I got Mel a Blue Moon and a Pepsi for myself.  Good points here for Cruzan Estate as you can get free pop refills.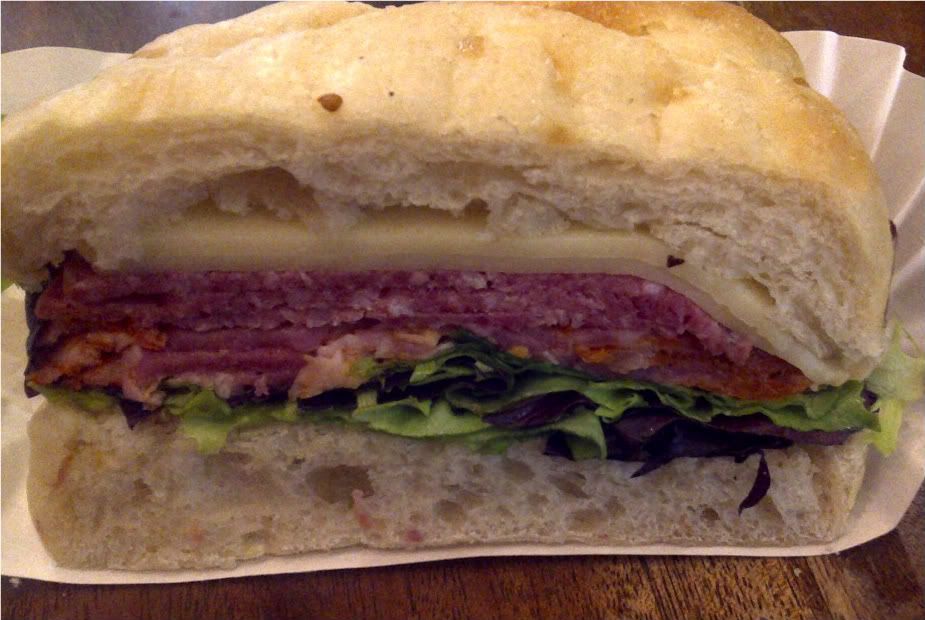 Mel's sandwich looked pretty good, even though it was a pre-packaged sandwich picked up in La Cucina's fridge by the barman. Of course, if you pick it up directly at La Cucina, you can get it grilled. However, the bread was fresh enough, the lettuce too, so there wasn't any extra moisture. 
There was a thick layer of the deli meats, giving the sandwich some texture to balance the thickness of the panini bun.  There was also a fairly thick layer of cheese. 
There was no sauce, no mayo, no mustard, but some was available at the bar. Mel added some mustard. Without being the sandwich of the year, it was correct, if on the expensive side of things.
Originating from Chicago,  Big City Reds is a brand of sausage owned by American Food Group. They specialize in all beef hot dog franks and Polish sausages. You can find them in some NFL stadiums and MLB ballparks across the United States, but mostly in random hot dog stands. Big City Reds proudly claim they are not using any artificial flavors, dyes, MSG, Sorbitol, wheat, hydrolyzed soy or vegetable protein, binders such as sodium phosphate or mustard in their franks. They do however use dextrose and water. Big City Reds sausages are handcrafted in small batches and naturally wood smoked.  
Big City Reds gets its beef exclusively from the Northern Rim – the Dakotas, Minnesota, Wisconsin and bordering Canadian provinces. They claim they are doing so because that is where the cattle are larger, heavier and leaner than anywhere else in the world. The beef is then processed fresh at their Yankton, South Dakota plant.
That said, it is a relatively small operation, and they have not really broken through as a major brand. Folks at Roadfood.com aren't really impressed.
At Cruzan Estate, the dogs are cooked on one of those automated hot dog rollers, not exactly grilled as advertised. They are served on a fresh, untouched bun right from the bag. You garnish as you please: I went for mustard, relish, mayo and ketchup, as in every condiment on offer.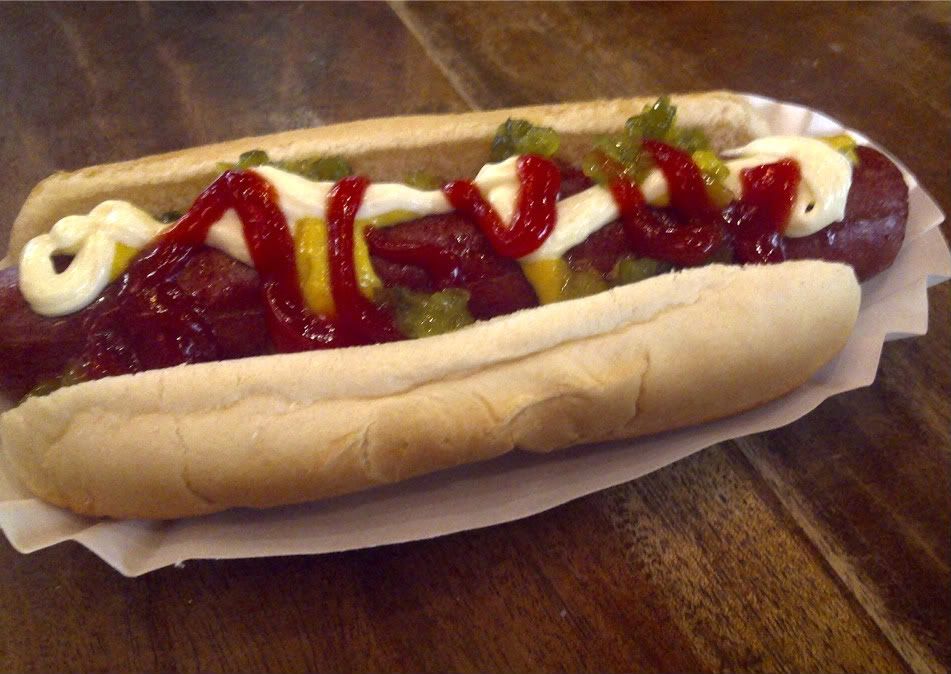 We were leaving Cutler Bay for an extra day of family vacation in Hollywood, where we had rented a room at the Westin Diplomat, right on the beach.
I set the GPS for my driver, and as we were heading north on the US1, I suggested to her that perhaps we should ignore the GPS direction and keep driving north on the Federal Highway, actually avoiding the I-95 to drive the scenic route, through downtown Miami and Fort Lauderdale, all the way up to Hollywood.  During this vacation, we drove the entire US 1 from Mile 0 to Mile 178.  Only 2199 more miles and we were in Canada. 
We figured it would take longer, giving just enough time for the Waffle Jr. to have a good nap, while not driving in heavy traffic, it being Sunday. It was a good plan and an enjoyable drive. But soon enough, we were hungry. But we had to wait for the backseat passenger to wake up. When she did, we had reached North Miami Beach and we pulled into the parking lot of the first joint we saw: Gourmet Diner.
A classic, stainless steel diner, long and narrow wagon, decorated 50s retro, with an eclectic comfort food menu mixing  Country-Style French cuisine and American Diner Traditional Fare.  
Daily specials are on a whiteboard, which the waitress will put on a chair next to your table, giving you extra options. Although many of them were the same as their regular or their special 29th anniversary menus.  Sides options would differ, you'd get a coffee or tea included, but price would be the same.  And despite it being past noon, the breakfast menu was also available.
The place, which opened in 1983, was not really busy, so our server had to come back three times (to her annoyance, despite the very polite front) before we were ready to order. So many options! Hot Dog, Cheeseburger, Brisket? Celery Root Salad, Trout Meunière, Frog Legs? Penne Veal Bolognese, Churrasco Chimichurri, Chicken Kabob? "Just Bon Cuisine"`, the menu stated, giving us a hint that perhaps the French picks were the way go. If you didn't care about grammar.
Still, tough choices to make, except for the Waffle Jr. who got a Grilled Cheese with fries ($4.95), one of her favorites.
Mel ordered the Chicken Piccata ($14.95, veal also offered), thin slices sautéed with capers in a lemon butter sauce, from the Anniversary menu, which meant she could get a soup or a salad. The soup of the day being Black Bean Soup, Mel elected to go with the Caesar Salad.
For my part, I hesitated a lot but ended up ordering the Lamb Shank ($16.95), braised in red wine with onions, carrots and tomatoes. I could pick two sides from Vegetable Soufflé, Mashed Potatoes, French Fries, Baked Sweet Potato, Basmati Rice, Sweet Potato Fires, Steamed or Grilled Broccoli or Asparagus, or Apple Sauce. 
Sometimes, you make bad decisions.  And sometimes, even though you know you are making a bad decision, you stick with it.
The evening had gone well enough. The weather was great in downtown Miami.  Earlier, we had enjoyed  walking around the Bayside Market, enjoying the scenery, doing a bit of leche-vitrine . We had seen a good basketball game – well, 3 good quarters at least – that saw King James and the Heat beat the Sacramento Kings.
We decided that the weather was nice enough for us to hang out an extra hour downtown, let the game traffic dissipate. So we headed back to Bayside, where the crowd was thinning and some of the  shops were closing.  We looked for a good spot to have a drink and grab a bite to eat.  We decided to skip the Bubba Gump, Chili's, Hooters and the Hard Rock Cafe and picked an independant tourist trap: Latin American.
We had walked by a couple of times, and the place was busy with a good vibe. The spot has a patio on the water front, with a nice view of the Marina and of the Port Boulevard Bridge, which was nicely lit in blue.  A local band was playing at Bayside's stage lower down.  We grabbed a quiet table and start peering at the menu, hoping to prolong the evening for the best.
Our Latin American server was at the table soon enough to take our drink orders.
"I think I'm going to try this beer", I said pointing at a Polar beer ad in the menu.
"Sorry, we don't carry it.  It's just an ad", he responded.
Why would anyone print an ad for a product they don't sell in their menu is beyond me.
But what could I do?
Puzzled, I let Bruce take the initiative.  "We'll just have a pitcher of draught beer." 
Fine, I thought.  Let's do that.
"Er, sorry, this shouldn't be on the menu.  I don't know why it is there, we have not sold draught beer in years."
The selection was getting limited.  Our server kept suggesting we go for one of their specialty drinks instead: mojito, margarita and other daiquiris.
But after an evening at the American Airlines Arena, I was eager for a cheap beer (As opposed to the $13.50 Corona which I reluctantly paid for over there.) The selection was limited to a handful of bottles, and I went for a Dominican Republic product I hadn't had in years: A Presidente.
Melissa and Bruce followed my lead, but Lindsey elected to drink a Virgin Strawberry Daiquiri.
Our waiter was back shortly.
"We are out of Presidente, I am sorry."
You got to be kidding me.  I gave up, and ordered a Pina Colada.
"You have that, right?" I asked to make sure.
Our waiter smiled feebly and went on his way to fetch our drinks.
Needless to say I was very glad to see my cocktail show up at the table.
This  should have been our first clue.
But how worse could it go?
Well, much worse.
But for the moment, I was enjoying the view and my Pina Colada, which was decent, cool, had plenty of rhum and a big, fresh slice of pineapple to boot.  Bonus, I get to keep the plastic glass!
We landed in Fort Lauderdale after an uneventful flight.  After going through all the necessary steps, we were soon on our way to our destination in Cutler Bay, a little over 45 minutes from the airport.
Our breakfast, grabbed quickly at the Maple Leaf lounge at the Pierre-Elliott Trudeau airport, was long gone.  The Waffle junior munched on some cheese on the plane, but both The Waffle and The Mrs. Waffle had nothing to eat.  By the time the luggage was retrieved, the car rented and The Waffles on their way under the Florida Sun, it was way past lunchtime.
We hit the I95-S, and since our journey would lead us all the way to the end of the Expressway, where we would hit the US1. I suggested that we wait until then to stop and eat, that surely we would see a spot along the way.
There was a lot of traffic on the South Dixie, so we elected to find a spot on the right side of the road and ignore any places on the left of the road.  It was a good call for a couple of reasons:  the traffic was so heavy that turning left was mission impossible (very long line-ups and heavy incoming traffic) and the restaurants on the left side of the road were not inspiring us:  Taco Bell, McDonald's, Wendy's, Subway.  But there was absolutely nothing on the right side, except luxurious trees, villas,  and a few business that weren't serving food.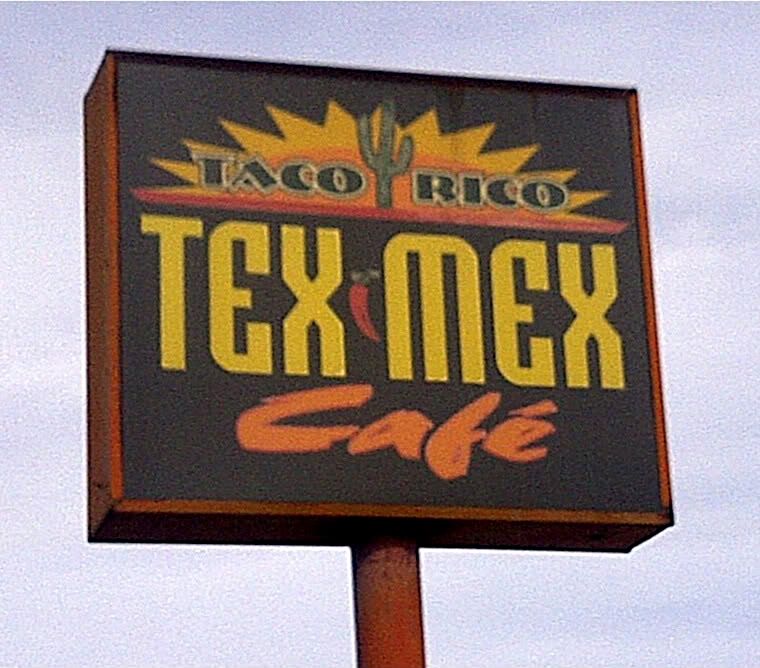 Until eventually a sign was spotted down the road in Coral Gables: Taco Rico Tex-Mex Café.
The place is not much more then a hole in the wall, and could sit about 20 people in a very limited space maybe 6 feet wide and 20 feet long.  There is also a small patio with a couple of tables.  Despite it being past 2 PM, the place was quite busy, and there was a small line-up of customers ready to order some tex-mex fare.  In fact, the spot seems quite popular as it did not let up even though it was the middle of the afternoon.  Must be cramped at lunch time.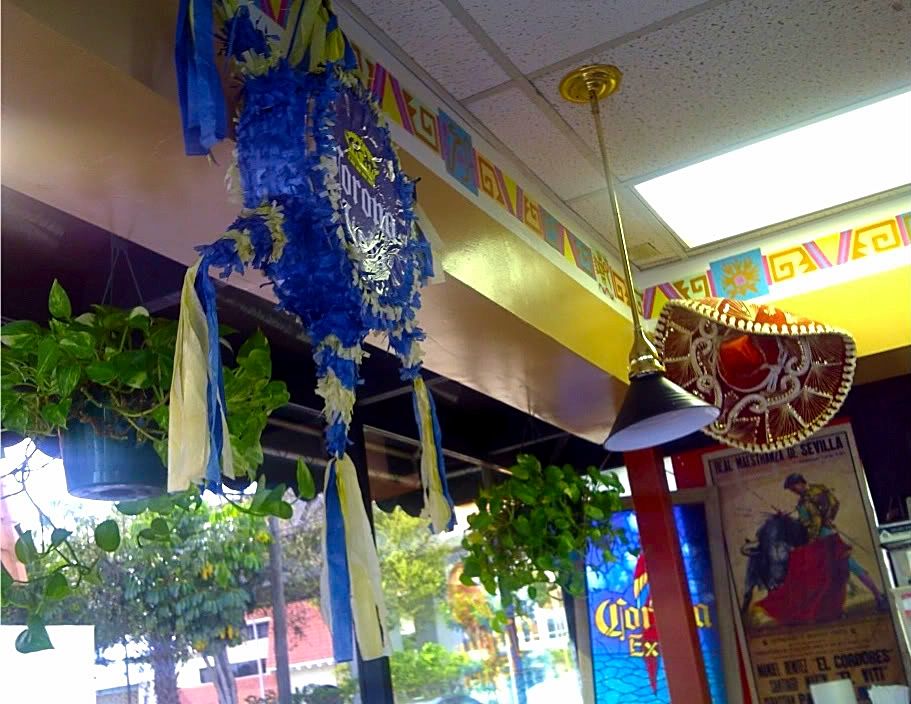 The restaurant felt quite authentic, as much as these places can be authentic: music on a bad radio system, mexican-american art pieces, a few sombreros, signs with bright colours, with a very we've-been-here-forever feel to it.
The place could definitely use a refresher: it didn't look sparkling clean either, the ceiling especially showing its age with spots of various size and colours all over it.  Perhaps signs of the violence that might have occurred during the Taco Battle of Dixie Highway.
The menu was hand-written on the wall behind the counter:  Soups and Salads, Enchiladas, Fajitas, Burritos, Tacos, Quesadillas.  Typical menu.  Mel loves Tacos and spotted the Three Taco Platter lunch special – and it was available, despite the fact that it was past 2 PM on a Saturday.  Turns out, Taco Rico offers their lunch specials form 10:30 AM to 4:00 PM everyday of the week, 9 tex-mex items between $5.29 and $6.29, all served with rice, beans, chips and salsa.  Good deals.  However, my eye was caught by the Suiza Enchiladas, served with green salsa ($8.59).
The man at the counter had a very thick mexican accent, but I managed to order my food and understand his questions. Tacos.  Hard.  Beef.  Enchiladas.  Chicken.  "Like something to drink?"  Two beer taps were behind him, I ignored the Miller Lite and ordered two Dos Equis. We were thirsty, my friends.  I thought I had managed everything rather well, on more than one front: the total was $21.59. But Taco Rico Guy  he really fooled me when this question:  "Como you appal?"  I asked him to repeat, still no go.  At the third try, I understood: he was asking me my name, in french!  "I love french, it is such an elegant language!" he said.  Who am I to argue?
The Taco Rico Guy grabbed a scoop of home-fried tortillas from a large container behind the counter.  I grabbed the basket of chips, dropped them on our table and went back to have a look at the salsa bar, which had 8 different types for us to sample.  The chips were fresh, crunchy.
All salsas looked home made, but I cannot guarantee that it is the case. We had a tough time deciding which one was our favourite between their mild salsa and their chipotle salsa, for very different reason.
Their mild salsa was refreshing, nice tomato flavor and well balanced.  The chipotle had a nice zing to it, but was not too hot.  The Aji, a hot salsa, was not bad either. Their atomic salsa was hotter, quite hot in fact, but it didn't taste great – almost sandy.
Back in January, Claira Calderone, Accounts & Promotions Manager for Kinki and Mambo restaurants, invited The Waffle to come out and sample some of the new items being offered to customers in 2012. I've been to Kinki a few times, but I've always walked by Mambo, noting the loud latino music that could be heard from the street, with people dancing towards the back of the place. Not my scene, I thought.
Nevertheless, I was quite happy to accept the invitation, and a few weeks later, Mrs. Waffle and I were able to go and we met up with Claira at Mambo.
Mambo opened in the Spring of 2007, taking the spot occupied in the By Ward market by Meditheo. A little brother to Kinki, which is also owned by Marisol Somes and Zadek Ramowski, Mambo is quite different, yet has some similarities.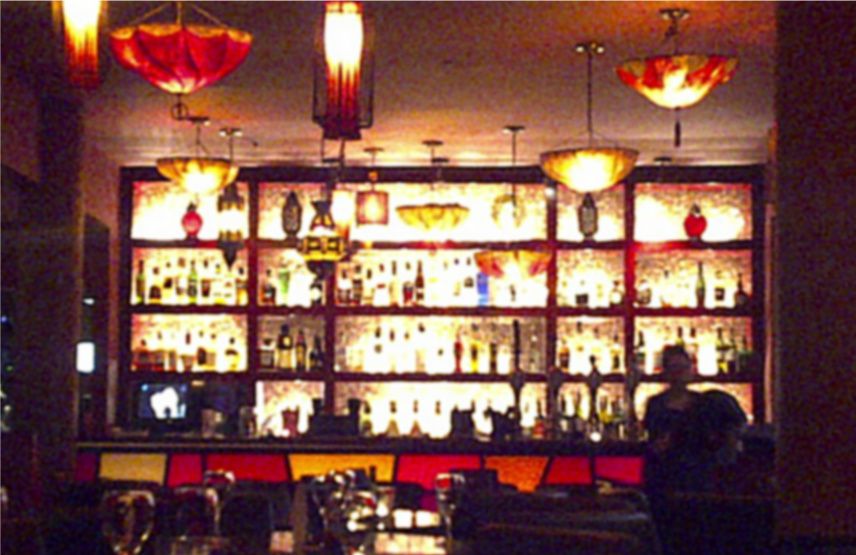 For instance, both restaurants are meant to be sexy.  Mambo's decor is an interesting combination of exposed brick walls and bold, vibrant, warm colors.  The lighting can create either a warm and intimate atmosphere or a callende party place.  At the very back of the restaurant is a very colourful, inviting bar.
There is private room on the lower level, perfect for bigger events. Mambo also has a rooftop patio which is a rarity in Ottawa and is likely worth checking out, if only to have a new perspective on the Market fauna. Even though it offers a full lunch, dinner and brunch menu, the most popular items on the menu are the tapas.  You can enjoy them with a glass of Sangria, Mojito or Margarita and during Happy Hour, you get double portion Tapas for a reduced price.
But we were here for dinner. Chef Pablo Robaina joined us at our table and sat down to talk about his food, his inspiration and the path that lead him to Mambo. Quite at ease, he generously shared his story with us and we had a great conversation as he discussed his vision of Latin Food – which is not your ordinary beans and rice Tex-Mex!  Born in Venezuela, Robaina got his passion for food from his grandmother, who raised him.  He was clasically trained at Le Cordon Bleu in Mexico before moving to Ottawa, where he notably worked at Amate, the now defunct little Mexican restaurant in Westboro.
A bowl of freshly made popcorn was brought to our table for us to munch on while chatting with our hosts.  Seasoned with a spicy-lime salt, it is a fun snack, and different than the usual bread-filling basket most restaurants bring first.  Mrs. Waffle couldn't stop herself from indulging.
Mambo is calling itself a nuevo latino restaurant, giving Chef Robaina the liberty of creating dishes with a large spectrum of influence, from South America to Mexico, from Spain to even Portugal, and perhaps even their overseas colonies.  But don't talk to Chef Robaina about fusion cuisine: "Fusion is confusion," he stated when I asked him about it.  "I am using Latin influence from all over the world to create modern dishes."
Chef Robaina created a specialty meal for us to try out, showcasing new items from their 2012 menu.  A couple of appetizers to share, followed by a different entrée for each of us. We were happy to oblige.
First up were the Camarones al Ajillo ($14), or garlic shrimp, a classic Mexican dish often served as an appetizer, and also very popular in Puerto Rico and other Latin American countries.
Here, the shrimp are served in a zesty sauce, made with garlic, paprika, parsley and guajillo pepper.
The guajillo, used regularly in Mexican cuisine, has an earthy flavour and will give some heat, somewhere between an anaheim and a  jalapeño. It gave the sauce its deep, red colour.  The shrimp were also garnished with a sprig of rosemary, more for the look than the flavour.  On the side, a couple of lemon wedges and some naan bread.
The shrimp were of a nice calibre, meaty. They were well cooked,  though one or two were a tad overdone.   The sauce was quite zesty, not too spicy. It made the dish feel very fresh on the palate. No need to add more lemon, though, there was plenty of citrus flavour in there.  The garlic does not have a very strong presence however, so if that is the dominant flavour you are looking for, you may may be disappointed.  Mel on the other hand is always looking for a citrus punch, and seemed at one point to be contemplating eating the last of the sauce with a spoon.
The naan bread is an interesting choice to go along with this dish.  It doesn't add or remove anything from the shrimp, but it is made fresh and is nice to dip in the sauce once you run out of shrimp – which will happen fast if you do share the dish.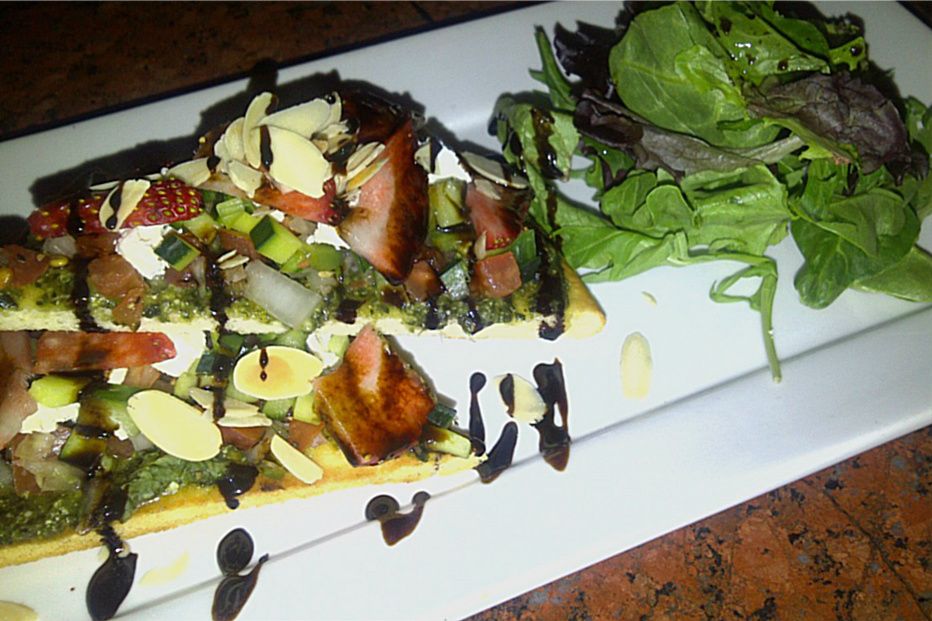 Next, the Verano Flat Bread ($12) was brought to us. Verano, as in Summer.  Summer, as in Fresh Produce.
The dish looked fantastic, and had a great combination of ingredients.  Pesto in lieu of pizza sauce, goat cheese, onions,  jalapeños, cucumbers, tomatoes.  To add even more summer to the dish: fresh strawberries, a great flash.  To garnish, some slivers of roasted almonds and a balsamic reduction.
I have to admit that I enjoyed this dish quite a lot.  Different, fresh, lots of different flavour and texture and levels.  The strawberries, very present, worked beautifully with the balsamic flavour. Simple, yet complex.  A great dish to share, or as a light meal.
Our main entrées arrived shortly after. Continue reading »
I don't buy a lot of frozen meals. I haven't for a long time. But, from time to time, convenience trumps my passion for cooking. Perhaps we had a busy day, perhaps we have a busy evening, perhaps we are tired or simply not keen on cooking. Ordering delivery is expensive, so from time to time, I just pop something in the oven, set it and forget it. Well, I don't forget it because if I do it'll burn. But you get the idea.
So I was walking down the frozen aisle section at my local IGA when I saw a new product, discounted at 50% : the St-Hubert Creamy Chicken Lasagna. Say what? A St-Hubert Lasagna? Indeed. In fact, St-Hubert has a couple of frozen lasagnas available in grocery stores, the other one being called the Garden & Chicken Lasagna. But do not expect to find any lasagna in their restaurants. You just won't find any. Why?
Well I did ask St-Hubert about it. Why wasn't lasagna on St-Hubert's menu? Why come up with it at all? St-Hubert answered The Waffle: "At first, it was to expand our product line with different meals with chicken. A couple of restaurants did some tests with it but the success wasn't there, so we decided to stop selling these items," explained Joanne Cyr from Meilleurs Marques, the distributor behind St-Hubert's grocery products. Meilleurs Marques' brand portfolio also includes Angostura, Valentine and Loney's.
The product is a 1 kg Lasagna, made with fresh pasta and 3 cheeses and white chicken meat. It is meant to serve 4 people as a main. Convenient, it kind of is, as you just have to play with your oven. Quick, it is not, as it needs 45 minutes of cooking, 15 minutes of broiling and another 10 mins to rest and cool down before serving. Thankfully, St-Hubert warns us that the tray will be hot and to use caution when removing said tray from the oven. Fair warning. Another warning on the box, though, is a tad more worrisome: We cannot guarantee that all chicken cubes are totally free of pieces of bones. Er, they should at least wish us good luck. (We were lucky – no bones in our lasagna.)
I know I am!
(Thanks to Shay for pointing this out from 9gag.com)