Browsing articles from "January, 2012"
I go to Milestones Grill + Bar from time to time, mostly the location near Parliament Hill. Not too often, as I find the faux-branché atmosphere sometimes a little on the annoying side. Milestones, which was founded in Vancouver in 1989, has grown fast since Cara bought the chain in 2002, and now has 45 locations in British-Columbia, Alberta and Ontario.
I went there for lunch with a bunch of colleagues between two meetings, and hesitated for some time as I studied the menu. Despite the "a little of everything for everyone" approach, I was really undecided. Salads, Sandwiches, Burgers and Wraps, Pasta, Asian-style, Steaks, Chicken and Seafood. They even have a Gluten-Free selection, which I assume is appreciated by those on a Gluten-Free diet.
The food is generally good, if overpriced. Which perhaps leads to the aforementioned hesitation.
After a few minutes, I settled on Milestone's version of comfort food, from their menu's urban classics section: The Kobe Style Classic Meatloaf. Apparently, meatloaf were once very popular with the urban scene.
The service was prompt and efficient (if familiar), and my meatloaf arrived promptly.
The meatloaf comes topped with lightly fried onion strings and is served over their garlic mashed potatoes, with a shiitake mushroom au jus and seasoned vegetables, in this case carrots and green beans. Fresh parsley was used as a garnish.
Sometimes, life sucks.  And when it does, you need to make it better. And today, life sucked. And one way to make it better, is to go for comfort food.  Mel and I were both in need of comfort food, and, good thing was, lunch time had arrived.  I asked her what she would like and she said she could use a good burger.  
Now, I know that Mel is not keen on fast food chains such as Burger King or Wendy's.  She doesn't mind Harvey's or A&W but will reject McDonald's 99% of the time.   This wasn't what she needed anyway.  I thought of The Works, I thought of Hintonburger…  But something else popped up in my mind: Five Guys - Burgers and Fries. Ever since their arrival in Ottawa was pointed out to me by reader Bruce, I meant to try it.  This was a perfect opportunity.
Five Guys was founded in 1986 in Arlington, Virginia by Jerry Murrell and his family. Jerry and his sons, the "Five Guys", opened a few more locations in Virginia before the restaurant's popularity convinced the Murrells to franchise the stores. In 25 years, Five Guys has grown to over 900 locations in 46 American states and 6 Canadian provinces. The company has plans to open another 1500 units! Ambitious. Maybe you've never heard of it, which wouldn't be a surprise considering the chain doesn't advertise, issue coupons or any other promotions. But they do have an online store.
But one of the main reasons for my failure to sample one of their burgers is the location of their outlets. The little burger chain is growing in the nation's capital: they first opened on Hazeldean Road in Kanata,  followed by one on Greenbank Road in Barrhaven.  The third one opened this fall at the Train Yards Centre and and a fourth is due to open in Orleans on Innes Road.  So not central, I'd say.  There is talk about Five Guys opening two more locations, one in downtown Ottawa, and one in the Hunt Club area
For some reason, we picked the Greenbank Road location.  If was a beautiful day, there was no traffic and we soon pulled into the Village Square Mall parking lot.  The bright red letters on the brand new building were like a lighthouse in a sea of parked cars.
First thing that hits you when you walk into Five Guys:  there are 50 lbs bags of Idaho Famous Potatoes and boxes of peanuts forming a cordon to handle traffic.  Free peanuts on the shell while you wait!
Talking of peanuts, Five Guys is clearly allergic to any concerns about peanut allergies – along with the large supply of fresh peanuts, they also fry their potatoes in peanut oil. The rest of the decor is all red and white, with framed newspaper reviews from all over the place hanging all around the restaurant.
Once you get to the menu, you notice how simple it is: Hamburger. Cheeseburger. Bacon Burger. Bacon Cheeseburger.  And "Mini" versions of them.  (A regular burger has two patties, a mini only one.) They also have Hot Dogs. A few veggie options: Veggie Sandwich, Cheese Veggie Sandwich and Grilled Cheese (Note that their veggie sandwich is not a veggie burger, it is a burger bun filled with as many toppings as you would like. And since one grilling station is reserved for vegetables, those grilled onions and mushrooms are meat-free.)  Two types of fries, regular or cajun-style, in two sizes. Coca-Cola products.  That's it.  No milkshake, no chili, no chicken tenders-fingers-nuggets-burgers.  When you don't use freezers, you have to keep your menu simple, and that is what Five Guys has done.
There is a long list of toppings, all free of charge, as many as you want! You can garnish your burgers with mayonnaise, lettuce, tomatoes, grilled onions, grilled mushrooms, ketchup, mustard, relish, raw onions, jalapeno peppers, green peppers, A1 steak sauce, Bar-B-Q sauce, and hot sauce.  Nice. 
So we lined up to order. The place was busy, but not packed. But you had to wait in line a few minutes before ordering, which gave us the time to wonder which of the 250,000 possible topping combinations we would select.  Mel ordered a Mini Bacon Cheeseburger ($5.49) with lettuce, pickles, tomatoes, ketchup, mustard and jalapenos.  I went with a Cheeseburger ($7.49) with mayonnaise, lettuce, tomatoes, grilled onions, grilled mushrooms, ketchup, mustard, and A1 steak sauce.  After thinking about it, we decided to share a large order of fries ($4.59) rather than getting a regular one each. Soft drinks are self-serve once you purchase the cup, and you get free unlimited refills, so there is no point in getting a big one if you are planning to dine-in.
The kitchen is open-concept so you can watch your order being made.   Two hot plaques were the fresh, never frozen hand-made patties are being grilled.  Deep-fryers were the potatoes, hand-cut every morning, become fries in peanut oil.  And of course the assembly station, where you can monitor how your burgers are being made.  It is handy if a topping is forgotten, you see it right away – which was the case for a couple in front of me who reminded the teenage staffer that bacon was part of their burger order.  It is not as interactive as Harvey's, where you direct the assembly yourself, but it is nevertheless a cool concept.
Once our burgers were ready, they wrapped them up in classic aluminum wrap paper and put them in a bag. They then filled up our regular size fries container, put it in the bag and added a big scoop of fries on top of it, directly in the bag!
 All meals come the same way — in a brown paper bag. There are no plastic trays, which I think is a downside. It is probably cheaper and employees don't have to collect and clean trays, but it doesn't make it easy for the customers. Especially for someone who orders for his family – and also once you are done and you are trying to clean up your table.
The fries were very good.  They are thick, fresh, nicely golden and crispy. And they are served almost immediately after being fried, so they are pipping hot!  You do get the home-made feel they are trying to achieve. Skin is on, but it doesn't dry out the fries. Much better than regular fast food fries, by a mile.
I left my burgers wrapped a little bit as I noticed that the processed cheese was not placed on the patties while they were cooking.  I knew that a few minutes in the foil would melt that cheese nicely.  Once I opened my package, the burger appeared in all its glory:
A last minute decision to accept Rod's offer to go see the Ottawa Senators' game against the New Jersey Devils meant that dinner wouldn't be super healthy tonight.
So be it.
We walked into the Scotiabank Place, and pondered what to do.  Time was limited, but perhaps because this is basically the last day of the Holidays, there wasn't that many people in the concourse.
We stopped by the Club Red to peer at the menu, and thought that a pricey fine dining experience was probably not what we needed.
Walking towards the concessions, we noticed that Frank Finnigan's was pretty much empty – which suited us just fine.
Born in Shawville, QC, Frank "The Shawville Express" Finnigan played 10 seasons for the Ottawa Senators in the 20s and 30s, and was captain of the team for two seasons.  He scored 115 goals and accumulated 203 points in 553 NHL games, winning the Stanley Cup with the 1927 edition.
Finnigan was part of the 'Bring Back The Senators' campaign, but he died before the new Senators took the ice. The Senators honoured him by retiring his #8 jersey. Finnigan's number was retired 58 years after he finished his NHL career – the longest wait for a player to have their number retired. The street in front of the main entrance to the Scotiabank Place is also named Frank Finnigan Way.
We found two spots at Frank Finnigan's bar, and after a few painful minutes of being ignored by the not-so-busy staff, we finally were able to get some service. We ordered a couple of beers (had to settle for a Canadian – they were out of Rickard's Blonde, my first pick) and we got some menus to look at.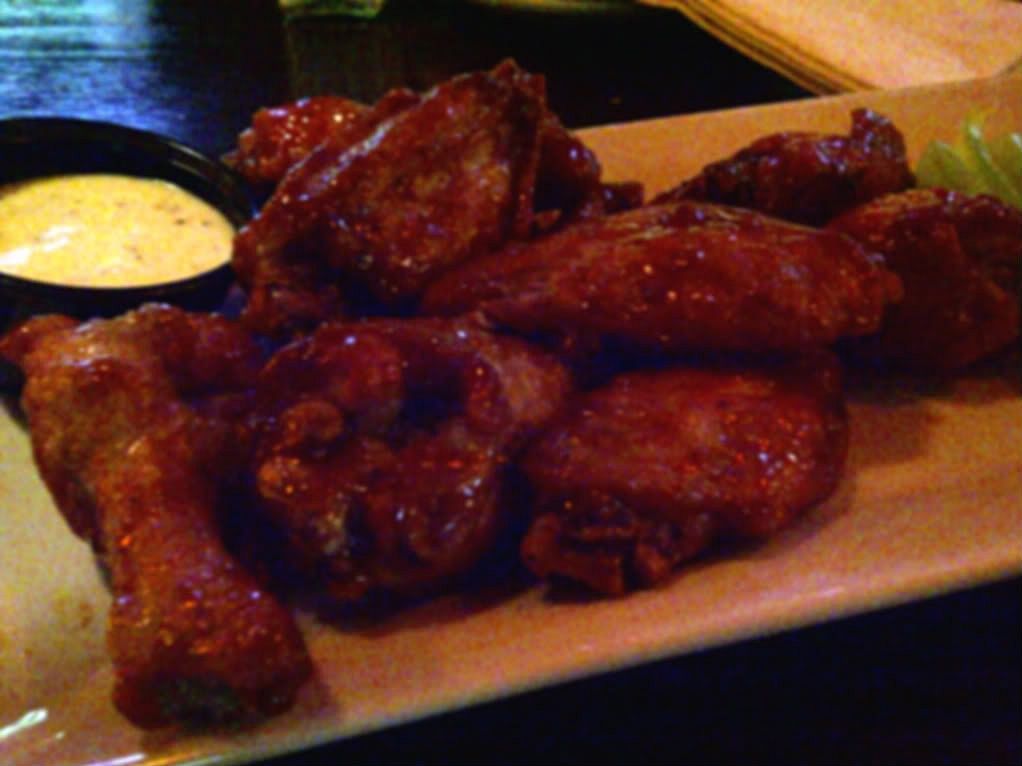 Finnigan's menu, although limited, is what you expect for a sports bar. Chicken tenders, smoked meat, a couple of different sandwiches, wrap and burgers.  There is also a recent addition of fish and chips and a few salads and there you have it.  All entrées are under $20 in this casual establishment.  Their doors open at 4:30 p.m. on game days.
And, oh, of course, Chicken Wings. Finnigan's wings come in 5 declinations: mild, medium, hot, BBQ & honey garlic. We decided to share an order, and since Rod is a sensitive guy, we ordered the BBQ wings.
They arrived promptly, which was good, as the clock was ticking and game time was nearing.
There were 9 wings on our plate, accompanied by 3 celery sticks and a blue cheese dipping sauce.  The wings were medium-sized.  They were served warm throughout.  The BBQ sauce was a little tangy, a little sweet.  Nothing special, but not terrible.  The wings weren't drenched in the sauce, which is good, just a nice coating. Without being super moist and juicy, I can't say they were dry either.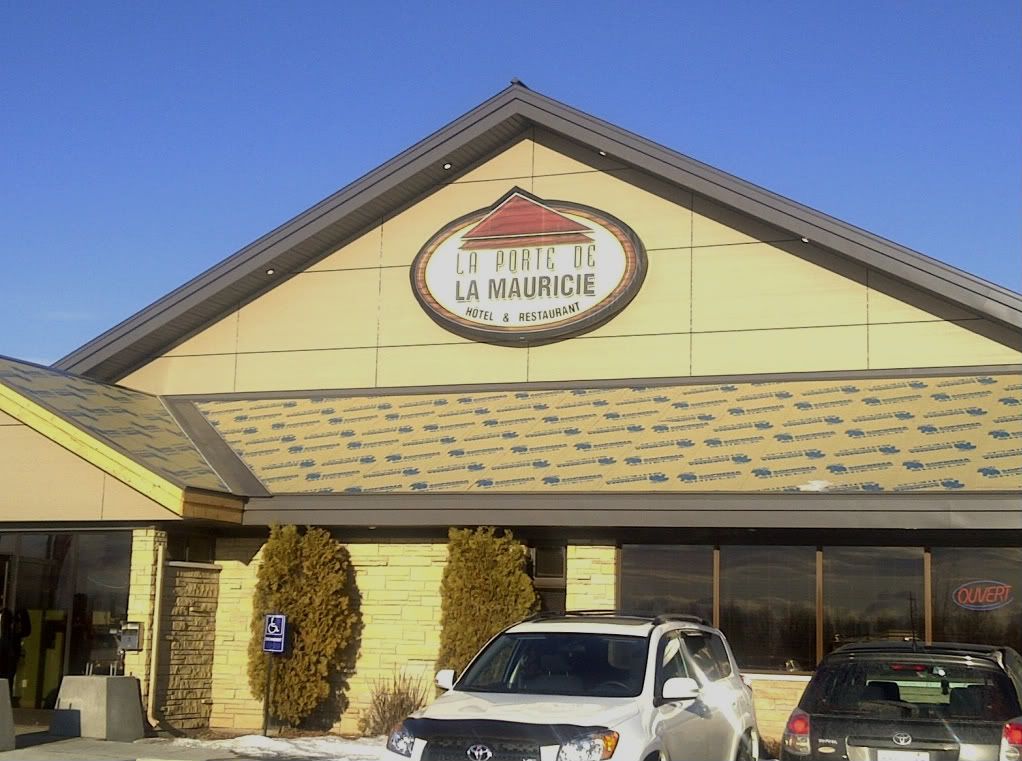 We were driving back from Quebec City and were letting the little one sleep in the back for as long as we could. Such is what you do when you are driving a lot during the holidays.
When she woke up would determine, once again, where we would eat, depending on where we were. Just how far could we go? We were on the 40 and closing in on Trois-Rivières.  Perhaps we could reach the outskirts of Montreal?
Not quite.  She woke up as we were exiting Trois-Rivières, limiting our options.  I suggested waiting until Berthierville, but was told that she wouldn't hold out that long.  We were closing on Yamachiche. The choice became obvious: la Porte de la Mauricie.
This old truck stop, which opened 30 years ago, was recently expanded and renovated. The complex now includes, on top of the original restaurant and the gas bar, a convenience store, a Thaï Express, an A&W and a 20 unit motel.  And there is more renovations planned, 1.5 million dollars having been announced to refresh the outside and to increase the restaurant's seating capacity to 425.
The restaurant is spacious.  They have hosted receptions and meetings of all kinds, including over 500 weddings!  And since they are beside the 40, it is quite convenient. Ain't it?  On the food side, they feature a Saturday and Sunday night buffet, a Sunday Brunch and their Wave of Seafood on Fridays.   They also serve the best prime rib in the world.  Or so they claim. I, somehow, have doubts. But it is a popular spot for the locals as well.
The menu is diversified, as is often the case for these kinds of establishments.  I felt like a Club Sandwich, which is usually a good side-of-the-highway bet.  I had the possibility of ordering a simple Sandwich Club, or going for the Super Club Sandwich ($11.99).  "What's the difference?"  I asked our server, and she responded that it was the same, but with fries AND onion rings.  Super!  I went for it. 
- "Ketchup, mayonnaise?"
- "Of course."
- "Would you like honey for your onion rings?"
- "Absolutely."
Honey to dip your rings in is a classic in Quebec, the combination of the sweetness of the honey with the salty rings is part of  the natural order of things. The service was courteous and efficient, so the food arrived promptly and so did the free Pepsi refills ($2.39) when one was needed.