Browsing articles from "November, 2011"
On workdays, I usually have a light breakfast at home or, when I don't have time, I snack on fruit at the office. But from time to time, I need something more substantial to get going. When that happens, I head towards the 5th floor cafeteria in Centre Block and order the best deal on the Hill: the healthy breakfast special.
For $3.59, you get two toast (whole grain of course), your choice of an egg white omelet, scrambled or poached, a cup of cottage cheese, and a mountain of fruit (2 slices of tomato, 3 slices of honeydew, 2 slices of cantaloupe, 3 quarters of orange, 2 slices of watermelon, 1 quarter of grapefruit and a small bunch of grapes.) You also get a milk or a juice.  All that for $3.59!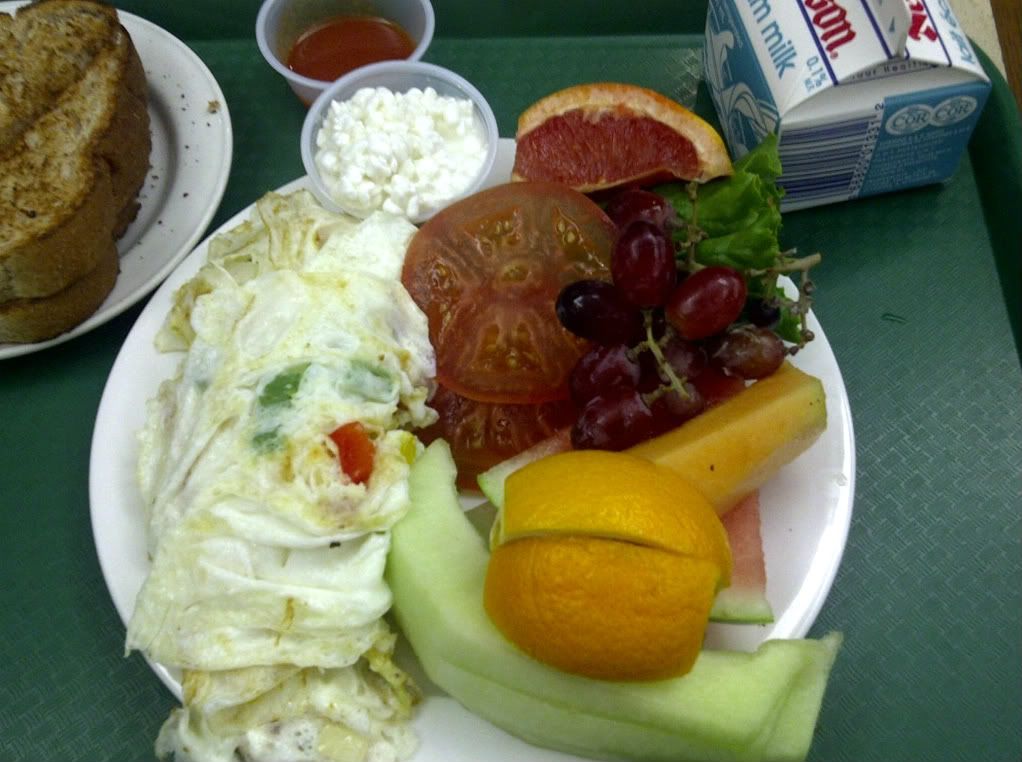 Now, of course, it is not the fanciest omelet. Pre-separated egg whites poured on the hot plaque. After a bit, addition of bell peppers and onions. Because they are added after the fact, they actually get steamed on top of the eggs as opposed to being fried. It works in a way, as the veggies remain quite crunchy and juicy. The omelet is quite size-able, too. The fruit are fresh, and as you can see, there was plenty.
Now, of course, you can go for the unhealthy breakfast special, which is the same price – but your eggs are yolky, your fruit are potatoey and your cottage cheese is meaty. 
But you know me, always a bias towards healthy.
This morning, I received a weird email.
"Miso happy James' back!
 Quick Response is 'wonton' to welcome back our 'kamikaze' comrade James from his tempura paternity leave (aka baby vacation). 
We are going to all-you-can-eat sushi in his honour. How better to 'maki' the occasion? Udon are all welcome to come join in on the spider roll-licking good times!
So at 12:30 we will all sashimi to Albert St to edamame a spare rib or two…
 Don't be shrimps, be dynamite!
 Sincerely,
 Bei-seaweed salad."
Yeah, I know. 
Despite the bad puns, one must salute the effort of the writer, who inflicted embarrassment upon herself in order to create hilarity amongst her co-workers.  Way to go, Bei-seaweed.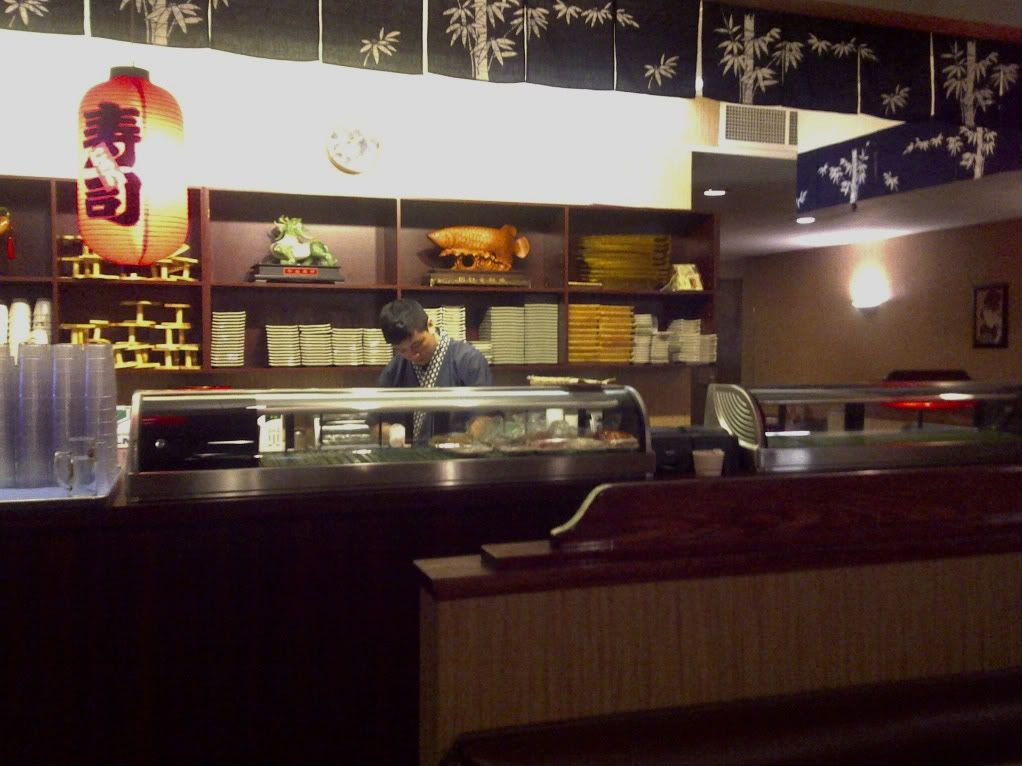 Still, we made our way to the new Kirin Express, an Asian-fusion restaurant which replaced the venerable Cathay House as reported by The Waffle last year.
And by Fusion, I mean they have a Chinese Buffet downstairs and All-You-Can-Eat Sushi upstairs.  And upstairs we were headed.
First, one must admit that the much needed renos of the top floor are making the space a much more welcoming place. 
The warm woods, the soft lighting, the sober accessories are a long overdue improvement over what the previous administration offered towards the end.
We picked up our order tablets, and started scribbling down orders.  The AYCE menu is divided in 13 categories: Soup & Salad, Deep Fry, Tempura, Terriyaki, Udon, Noodle, Donburri, Sushi Pizza, Sushi, Sashimi, Roll, Spicy & Crispy Roll, Hand Roll.  153 items on the menu.  But there is a catch – about 30 items are available at dinner time only, including all Sashimi, which was a major disappointment for me.  Continue reading »
Every Sunday, I play soccer with the Sporting Yamela of the Soccer 7s Borsodi Liga. We play at Landsdowne, and usually end up at Irene's afterwards to review the game that was.
Once re-hydrated and satisfied with the post game analysis, I head home – with a quick stop at Kettleman's Bagel Co. to  get our weekly supply of the fresh, wood oven-baked Montreal-style delicacy, in my opinion the best in the National Capital Region. Dense, a hint of sweetness, not salty, freshly made many times a day.  Just good, simple, traditional.
They were voted the best Bagels in town  8 years in a row by readers of the  Ottawa Xpress - though Bagel is no longer a category in the Best of Ottawa survey of the Xpress, since 2006 it has simply been rolled in with the Best Bakery category (A category last won by Kettleman's in 2007).
The place always boasts that it is open 365 days – "We never close!" their sign used to say.  Alas, no longer.  The sign now says it'll close on November 7th, at 1 PM!  Renovations, apparently, are needed.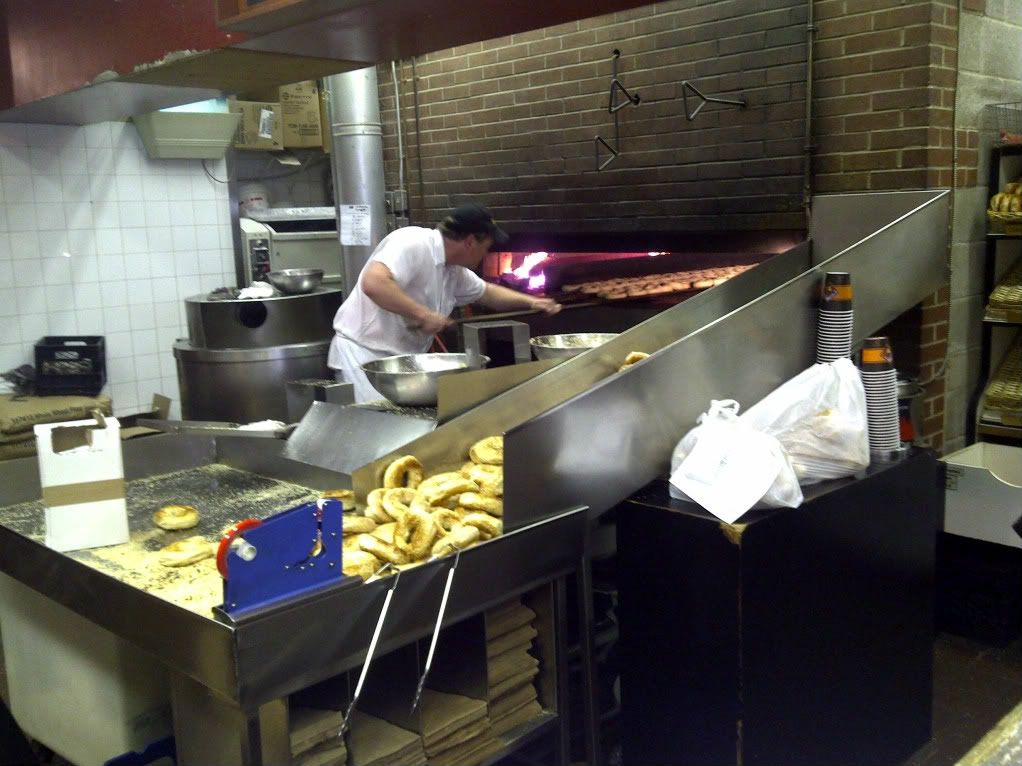 I entered the store, and everything seemed to be business as usual. 
The Bagel Roller was busy hand rolling. The Bagel Baker was busy baking a batch of their most popular bagel, the Sesame – a classic.
The selection of spreads were plentiful, as always.  Cream Cheese, Lox, Hot Peppers, Olive, etc…
But as I ordered my dozen of fresh, and still warm, baked bagels ($7.50) with a small container of Dill Cream Cheese, I had to investigate further.  
The Waffle can confirm that it is true, that the Bank Street location will be closed for at least a month for renovations, but that it will reopen before winter fully sets in.
Bagel lovers will have to rely on the Carling or the Orléans location to get their fix. Which is quite unfortunate for me, as I seldom go to Orléans and the Carling location is also a bit out of the way.  But I may end up there anyway in case the Mrs. Waffle's withdrawl is too hard to manage…
————————————–
UPDATE  Dec. 18 2011 @ 21.09
They are open again!
A reader, Emily, pointed out to me that Ottawa Magazine just came out with their Best Restaurant Issue.
In it, food editor Shawna Wagman has submitted her Ottawa  Top 10 Restaurants List.
Wagman's premise? Dining has apparently moved into a new era where respect for culinary tradition and home cooking collides with vanguard ideas. The best meals, it seems, are coming out of kitchens where the chefs excel at experimenting while keeping it real. Who knew?
Her list features an interesting mix, some obvious choices and some surprises – great to see Oz Kafé making the list. (The Waffle was there not too long ago.)  Gone from last year's Top 10 are Castlegarth, The Wellington Gastropub, Atelier, Play, Bistro St.Jacques, Absinthe and Taylor's Genuine. It's hard to stay on top.
But what surprised me the most was how many of these restaurants I've never actually been to. 
I guess The Waffle has been busy.
Anyway, here are the restaurants and their chefs.
OTTAWA MAGAZINE TOP 10 RESTAURANT LIST
1. Black Cat Bistro (Patricia Larkin)
2. Navarra (René Rodriguez)
3. Town ( ?)
4. OZ Kafe (Jamie Stunt and Simon Bell)
5. Canvas Resto Bar Etc. (Charles Beauregard)
6. Fraser Café (Fraser brothers)
7. Restaurant E18hteen (Matthew Carmichael)
8. The Whalesbone Oyster House (Charlotte Langley)
9. Murray Street Kitchen Wine Charcuterie (Steve Mitton)
10. Sidedoor (Matthew Carmichael and Jonathan Korecki)