Browsing articles from "January, 2011"
Our plane was delayed, but there wasn't many food choices in Terminal 2 of the Fort Lauderdale-Hollywood International Airport.  Sure, we were able to watch the Steelers win over the Ravens (or should I say the Ravens lose to the Steelers?) when I secured seats in the Cruzan Estate Bar & Lounge.  But no food was offered.
Attached to it, however, was La Cucina (by Sbarro), offering pizza, pasta and paninis. There was also a small Sushi Maki outlet. Other options included counters such as Casa de Fresco, Miami Subs Plus, Chef Allen's 2 Go and a Dunkin Donuts Express. All were basically offering sandwiches, none of them looked particularly inspiring.
We could have gone to Chili's in Terminal 3, as recommend by the Air Canada agent (a really good restaurant, he said), but since we had just been there for lunch, that seemed a little silly. Beside, we weren't really hungry…
So we waited, thinking that perhaps we would eat when we arrived in Ottawa. Worse things worst, we could grab a bite on the plane, we thought. And we were right. Worse it was.
First, you must be aware that on May 1st, 2010, Air Canada transitioned to credit card only cabins. If you are starving and don't have a credit card, you are out of luck. The Onboard Café is not open for you.  But if you do have a credit card, then it is open. ( Tip: buy a voucher online ahead of time, and get up to 20% off.)
When the time came, Mel and I were hungry, so we ordered some food.  The menu now features items from the Denver-based sub chain Quiznos.  Melissa went for the value duo, a snack and a sandwich for $9.00.  She picked the cheese and crackers (swiss cheese cubes with muli-grain and honey lavash crackers) to go along her Asiago Chicken Wrap.
Air Canada describes the wrap as "all white meat oven roasted chicken strips, real mozzarella cheese, English cucumber and crisp romaine lettuce, drizzled with Quiznos asiago artichoke sauce and served in a flatbread."
The chicken strips were indeed all white meat.  There was a lot of lettuce to fill up the wrap and fill the vacuum left by the very few strips included.
Melissa said that it wasn't "the worse thing she had ever eaten, though as with most sandwiches that are made and then refrigerated, the bread part was a little soggy, cold and soggy to be exact."
We were on our way back to the Fort Lauderdale airport as our vacation was coming to an end. All week, Melissa had been talking about going to Chili's. Why? I think she has been craving Chili's because of all the ads she sees when I force her to watch American Football. Which, of course,  I never do.
Founded in Dallas in 1975, Chili's has over 1400 locations in 32 countries around the world, most of them in the United States. There are 14 locations in Canada, all in Alberta except for 2 in Saskatchewan and 1 in Ontaro.
We were driving south on the I-95 and our appetites were growing, so I started looking for a Chili's location on the GPS. There are a lot of Chili's in Florida, so I had no trouble picking one – we stopped in Wellington, Florida, a well-off village in Palm Beach County.
The location was fairly large, and despite being busy, there was plenty of seats available in the dining room, and even more in the bar section. The atmosphere is meant to be very friendly, fun and carefree, marketing to families and young adults. Noisy, but not too loud. The place, with it's Southwesternish decor, was very clean and lots of staff were roaming around, double teaming tables everywhere.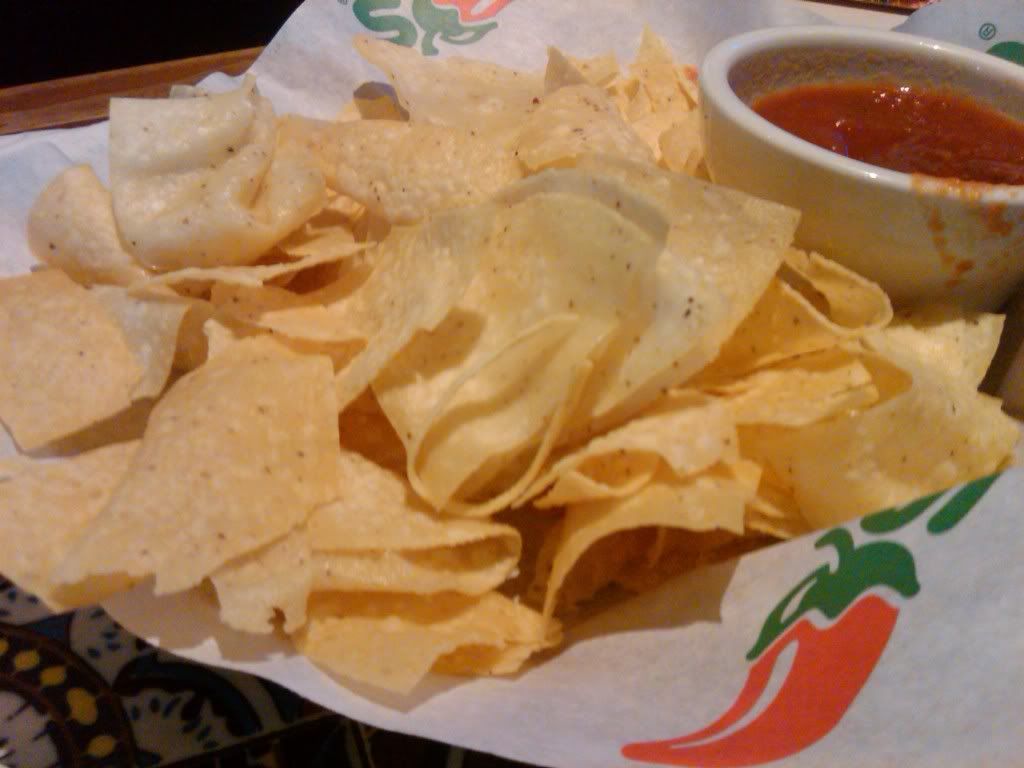 We had barely sat down in our booth when our first waitress very forcefully asked if we wanted chips and salsa. We were too afraid of her to say no and kind of hoping they would be free like at Chinco Rhino, we said yes. They weren't, but at $2.99, that's not really overpriced.
It took no time for us to receive a basket of deep fried Tostada Chips with a big bowl of salsa, which they claim is house-made.
The salsa, I have to say, impressed us.  They did not wimp out on the spices (or salt!!), it had a nice bite to it. It wasn't, however, a chunky type – it was in fact quite runny.  Nevertheless, enjoyable, mostly for the bite. (There are some copycat recipes out there that you can check out.)
The corn chips were deep fried – and some were so deep fried they were transparent. Thankfully, they weren't all like that, most of them were thin and crispy. The bowl of chips, despite being bottomless, was more than sufficient as an appetizer for the two of us, so we didn't get a refill.
To chase down the chips and the spicy salsa, I ordered Chili's signature margarita:
The Presidente.
Sauza Conmemorativo Tequila, Patrón Citrónge orange liqueur and Presidente Brandy, shaken and served in its own shaker, it was pretty good.  And there was plenty of it, therefore there was no need for me to order another one later. Respectable.
Melissa, being a good mother and a responsible driver, settled for Strawberry Lemonade. This weird concoction was bottomless, and she was even offered a refill to go as we settled the bill.
Nice.
But of course, the main attraction was the food.  We both discarded their Mild or Wild menu, Chili's current promotion. It didn't seem wild enough to deserve that qualifier, and why go mild anyway?
At first, I figured since I was at Chili's, and since there were signs everywhere stating EAT MORE CHILI and similiar slogans, I should order Chili.  Here, they call it Terlingua Chili (slow-cooked chili with beef, onions and chiles, topped with cheese), named after the famous Texas town, host of two famous chili cook-off – the Chili Appreciation Society's International Telingua Chili Championship and the Annual Original Telingua International Championship.  I got cold feet though, afraid of a disapointment, and took a pass on the chili.
I kept looking, and spotted the ribs. Ah, yes, Chili's famous babyback ribs, with it's famous "I want my babyback babyback" jingle (performed here by Nsync in 2002!). Chili's claims that their ribs are slow-smoked in-house over pecan wood. I had some doubts, and I found out later that it is not quite how they are done – the truth is that they are pressure-smoked during prep in the morning, refrigerated, and then finished on the charbroiler when ordered.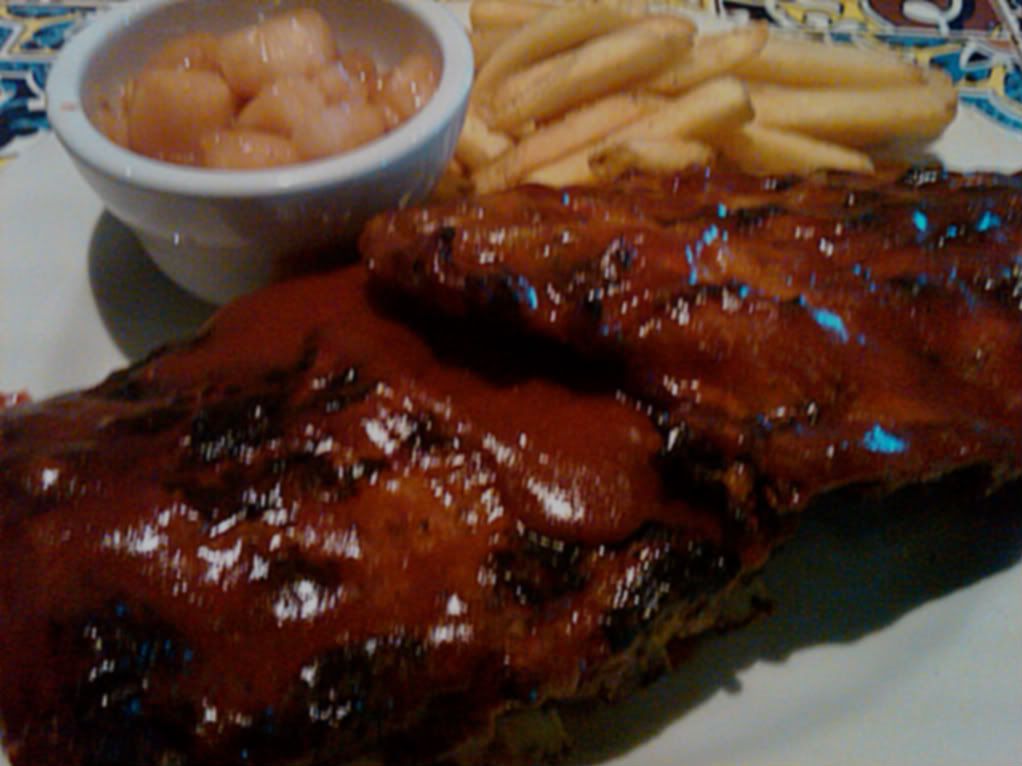 I ordered a full rack of the Original babybacks ($16.99). Other options were Honey-Chipotle, Shiner Bock BBQ Sauce or Memphis Dry Rub. But I decided to stick with the original, hoping I couldn't go wrong considering Chili's marketing of their ribs.
Yes, Chili's is very proud of their ribs, and there are a lot of copycat recipes on the web.  It was definitely a nice size rack of ribs.  The meat was falling off-the-bone, with very little effort.  The meat was very tender, but the smoke wasn't really present – it had only a subtle presence.
The ribs weren't marinated at all – it is clear that they add the flavour at the last minute, smothering the meat with the sauce.
A reader, Chris, alerts me to Men's Health recently published list of Top 20 Worst Drinks in America in 2010. Of note, Starbucks is on the list 3 times.
Now in this corner, we are not one to condemn anything because of its lack of nutritional value – we mostly focus on taste. And Men's Health is focussing on sugar content – which can only enhance taste, right?
Nevertheless, the list is an interesting read, if only to see what our neighbours to the south are drinking – and what risks being available here soon, if it ain't already.
20. Worst Water

Snapple Agave Melon Antioxidant Water (1 bottle, 20 fl oz)
Sugar Equivalent: 2 Good Humor Chocolate Éclair Bars
19. Worst Bottled Tea
SoBe Green Tea (1 bottle, 20 fl oz)
Sugar Equivalent: 4 slices Sara Lee Cherry Pie
18. Worst Energy Drink
Rockstar Energy Drink (1 can, 16 fl oz)
Sugar Equivalent: 6 Krispy Kreme Original Glazed Doughnuts
17. Worst Bottled Coffee
Starbucks Vanilla Frappuccino (1 bottle, 13.7 fl oz)
Sugar Equivalent: 32 Nilla Wafers
16. Worst Soda
Sunkist (1 bottle, 20 fl oz)
Sugar Equivalent: 6 Breyers Oreo Ice Cream Sandwiches
15. Worst Beer
Sierra Nevada Bigfoot (1 bottle, 12 fl oz)
Carbohydrate Equivalent: 12-pack of Michelob Ultra
14. Worst Kids' Drink
Tropicana Tropical Fruit Fury Twister (1 bottle, 20 fl oz)
Sugar Equivalent: Two 7-ounce canisters Reddi-wip
As we were making our way towards the John Dickinson State Park, we were keeping an eye out for a place to have dinner before getting to our vacation accomodation.
The Waffle Jr. had just woken up and was, also, eager for dinner. We made an infructuous stop at Duffy's Sports Grill on Indiantown road in Jupiter (The parking lot was full, it was Friday Night, it was a Sports grill – we though better than bringing in a starving baby).
We kept going North on Highway 1, until a colourful sign attracted our attention. We were at Pep's Island Grill in Tequesta, Florida.
It being Florida, we decided that despite the cool evening, we had to have our first vacation meal outside. Pep's has a very large deck, surrounded by palm trees and going all the way around the corner. There is also a Tiki bar at the back. As we set up, we noticed how the interior seating was not very appealing, looking more like a roadside diner, but the patio was certainly more interesting. And considering the time of day, the road traffic noise was very limited.
There were three other tables occupied on the deck, but we had to go inside to indicate our presence – it seems that no one had noticed us, even though at least two staffers came to look after their tables. Hopefully, this was not a sign of the service to come.
Pep's Menu features $10 Real Deals: A starter, an entrée and a dessert – the selection includes Jumbo Crab Cakes, Lamp Chops and Chicken Picata. Not a bad deal at all, but we took a pass.
Melissa went for the Dozen Shrimp, half grilled, half tempura ($13.50). With her dish came two sides of her choice, she went for the Lobster Mac and Cheese and the Garlic Mash.
But first, a starter was included and she got the Bimini Salad.
I can only assume that this salad is from the Bahamas, Bimini being the closest point in the Bahamas to mainland USA – about 80 kms East of Miami.
On a bed of greens were some tomatoes, green peppers, mango, pecans, with a honey poppy seed dressing. Interesting, different.
The shrimp were very good, especially the grilled ones, lightly seasoned and greatly smoked. They were cooked to perfection and simply melted in the mouth.
The tempura shrimp were also quite good – golden, crispy, yet tender on the inside.
Both types were good with lemon, or with the cocktail sauce but the tartare sauce that also came with was heavy and masked the shrimp's delicate flavour.
As for the sides, the garlic mash were correct, but the star was definetely the lobster mac and cheese.  Creamy, with good chunks of lobster and a bread crumb and parmesan topping, it was quite good.   It would make a very rich main if it were available as such.
I ignored the main menu and had to try a Florida Delicacy currently available at Pep's: I ordered a pound and a half of Florida Stone Crab claws, medium size ($25.90).  They came with two sides as well, and I picked the coleslaw and the Grilled Asparagus with Chinola Sauce. Continue reading »