Browsing articles from "October, 2010"
My most assiduous readers and many casual ones as well have noticed that the Waffle has slowed down his postings in the past two months.
No doubt, the arrival of the Waffle Jr. is one of the reasons why I haven't been able to updtate regularly.
But the main reason has been my frustration with my host, Blog.com.
For over a month, Blog.com was impossible to use. Bad gateways, 502 errors, 504 errors, 505, 506…
It was frustrating at times, and I did consider moving my blog somewhere else.
Once they resolved their stability and performance problems, I was ready to resume my activities.  Unfortunately, their fix created more problems, which forced me to make some design changes in order to ensure a smooth migration of my older material. Hence, the Waffle Makeover, which didn't take as much time as a Restaurant Makeover.
There might some kinks left, but hopefully you'll be able to enjoy my posts regularly soon.  In fact, many posts were left unfinished as I couldn't save them properly, so you will see some backdated posts popping up soon.
As you can see, the Waffle has a new look.  Gone is the green and orange scheme, and for now, the Waffle is applying the No Logo rule.  The old logo may resurface again, perhaps in another form.
Many readers have asked me where these Waffles are from.  Well, I'm glad you asked.
When Mel and I were in Paris for Christmas in 2007, we decided to take a couple of side trips, one of them to Belgium.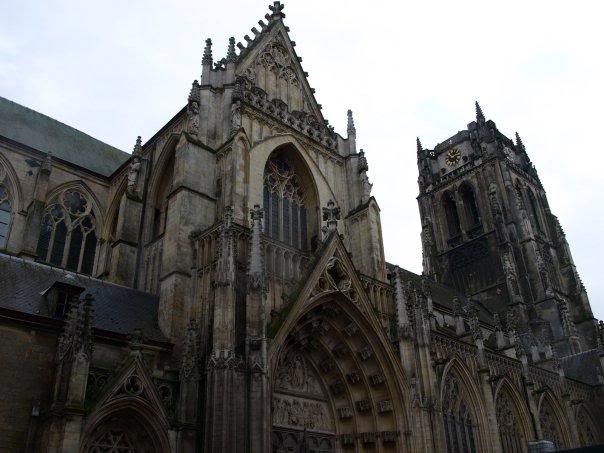 We visited Brussels, had lots of beers, mussels and chococlate and particularly enjoyed the Christmas light and sound show at the medieval Grande Place.
We made a whistle stop in Liège to admire the architecture, cross the Meuse and visit the public market.  We also went to Tongeren, the oldest town in Belgium.
Tongeren was founded in 15 BC and was an important Roman administrative centre.
Our Lady's Basilica, a massive gothic building, built in 1240, still dominates the town with it's 64 metre high bell tower.  It was undergoing major renovations and preservation work when we visited.
Nearby, the statue of Ambiorix is in the middle of the Grote Markt.  Ambriorix defeated two of Caesar's legions. Tucked behind are some  original Roman walls, dating from the  II century.
But the real gem was a little waffle shop located on Maastrichterstraat, squeezed between clothing stores, on what is probably the nicest street of the town.  We ordered these waffles, and saw them being made in front of our eyes.
And I've got to say I never had better waffles in my life.
They were small, you could hold one in your hands.  But they were fresh and warm, fluffy yet crunchy, light but dense, with cristallised sugar melting in your mouth without being too sticky. They were, no doubt, worth the trip to Belgium on their own.
Trudeau once said that "There's no place for the state in the bedrooms of the nation."
But apparently, there is a a place for the state in the stomachs of the nation:
Canadian Press reports that the sale of the KFC Double Down sandwich may be reviewed by the Ontario government:
Ontario Health Promotion Minister Margarett Best was asked about the Double Down today, and said it was something the province could investigate.
Best said it wasn't something that the government had discussed, but added  "it's certainly is something we may look at and review."
To be fair, Best didn't actually raise the issue – and most likely, not knowing what she was talking about, decided not to close any doors.  And once that door is not closed, then media are free to say that Ontario may do a review – after all, the Minister didn't say no so it *may* happen.
Sigh.
First, this will not happen.
Second, if it was actually going to be even remotely considered (which it won't be), why stop there?
Why not review  Breakfast Buffets?  All-you-can-Ribs?  Eggplants?
One can argue that they are way more damaging to your health than a breadless sandwich.
———————————
UPDATE – Oct 19 @ 17:02
Well, that didn't take long:
Ontario government backs off idea to eyeball KFC's Double Down sandwich
Just what a province could do about a food product that's considered perfectly legal _ even if indisputably unhealthy _ was unclear. But Liberals wern't saying why Health Promotion Minister Margarett Best had two positions on the Double Down in as many hours.
Best was responding to recommendations the province ban smoking in apartment buildings _ an idea she rejected _ when she was asked about the Double Down, and said it was something the government could investigate.
However, her office later issued a statement in which Best claimed to "reiterate" that there were no plans to review the availability of any food products in Ontario.
"Consumers have the right to choose the food they wish to purchase," said the updated statement from Best's office.
———————————
UPDATE – Oct 19 @ 22:02
Conservative Health Minister Leona Aglukkaq  was also asked to comment on KFC's Double Down while being interviewed on the CBC's Power and Politcs.  The interview was supposed to be on cadmium, but P&P host Evan Solomon couldn't resist pulling out a Double Down from under his desk to grill (or shall I say deep fry?) the Minister about the new culinary revolution.
Solomon asked about imposng a "Fat Tax", but Aglukkaq refused to take the bait before refusing to take a bite..
The segment starts at 6:12.  The Double Down stays on the screen for basically the entire interview!
It is not clear what happened to the sandwich after the show. It appeared it stayed by Solomon's laptop for the remainder of the show, all the way to the end.  Rosemary Barton cleary stated she was not eating it, but Solomon didn't commit one way or the other – before grabbing the Double Down as the show was ending…
It turns out that I won't need to go on a shopping trip in order to enjoy the new sandwich sensation from KFC.
Many readers (thanks to J-F for sharing healthzone.ca's analysis and Laura for sharing treehugger's article, and to all others who were afraid I would miss this culinary event.)
Two Original Recipe chicken breasts (filet removed), two pieces of bacon, two slices of processed pepper jack cheese, and of course, the Colonel's Sauce.  What's not to like?
One acute observer would note that the american recipe calls for two melted slices of Monterey Jack and pepper jack cheese – which sounds better than the processed pepper jack cheese announced in Canada.
Other differences:  the American version is 540 calories, 32 grams of fat 1,380 milligrams of sodium while the Canadian version is also 540 calories, but only 30 grams of fat.  Oh, and a paltry 1,740 milligrams of sodium.
I guess Canadians like salt more than Americans - although Health Canada's recommended daily sodium intake ranges from 1000 mg per day to 1500 mg per day.
Also, the healthier grilled version of the Double Down, available in the USA, is not offered up North.
The Waffle will most certainly try it out for you, dear Wafflers - but he'll have to hurry, as the breadless sandwich is available only until November 14th.