So after being snubbed by Colonnade, we were left hungry, still wanting pizza and definitely wanting a patio.
Off the top of our heads, in the area, there was not a lot of selection. We could have driven down to the market and tried The Grand again, but after our first and last visit, we have yet to go back. We may yet, but not tonight.
Besides, we didn't really feel like having lots of people around, so the Market was not the best of ideas, and neither was Elgin Street.
And that's when I suggested Gabriel Pizza at Bank and Somerset, and that's where we sat down on a patio, 8:54 a Sunday Night in Ottawa.
Gabriel Pizza is an Ottawa-area chain which started delivering pizza and pasta in February of 1977, when the very first Gabriel opened in Orleans. The franchise now operates 23 takeout and delivery counters, and 6 family restaurants across the National Capital Region.
I've never had a pizza from any of the location I didn't like, so I wasn't unhappy about being here. An elderly couple was finishing up an "Heavenly Hawaïan" and a table of four typical Centretown characters were hanging around long after their meal was done – staying longer than us, in fact, providing us quality, free entertainment as they interacted with other characters passing by.
I ordered a beer from their limited tap selection and we peered down at the menu to look at the pizza selection, which was not as limited.  First thing jumping at us, they have a couple of new pizzas to offer:  Pollo Alfredo (Alfredo sauce, chicken, broccoli, red peppers, feta cheese); Steak Stampede (steak, mushrooms, red onions, green peppers, smoky BBQ sauce) and Texas Bold Em (chicken, bacon, hot peppeers, red onions, Texas wing sauce.)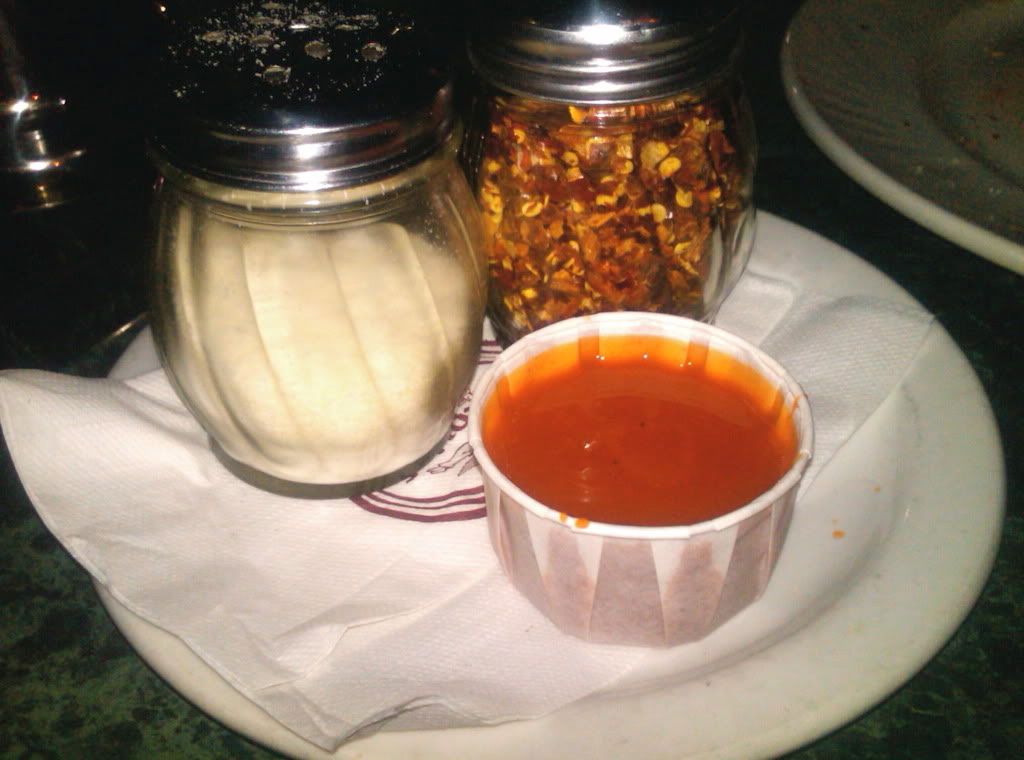 But none of these choices seemed to interest Mel.  We quickly eliminated most pies and ended up hesitating between two: Orleans Favourite (pepperoni, bacon, double cheese) and the Meatsa Pizza (pepperoni, ham, italian sausage, bacon).
Mel had the final word – despite being tempted by the double-cheese, she wanted lots of meat – so we ordered a large Meatsa.  At $25.50 for a 15″, it's not cheap (though cheaper than Colonnade – $25.95 for their Meat Lovers) but let's see if they can deliver on their slogan – "Bigger, Better Pizza".
And to be sure this would be flavourful, Mel ask for a dipping sauce – for an extra buck, we got a side of Buffalo sauce (the nice and smooth Buffalo rendition of Frank's Red Hot), which was promptly delivered with shakers of parmesan and hot pepper flakes.
The Meatsa arrived 12 minutes later: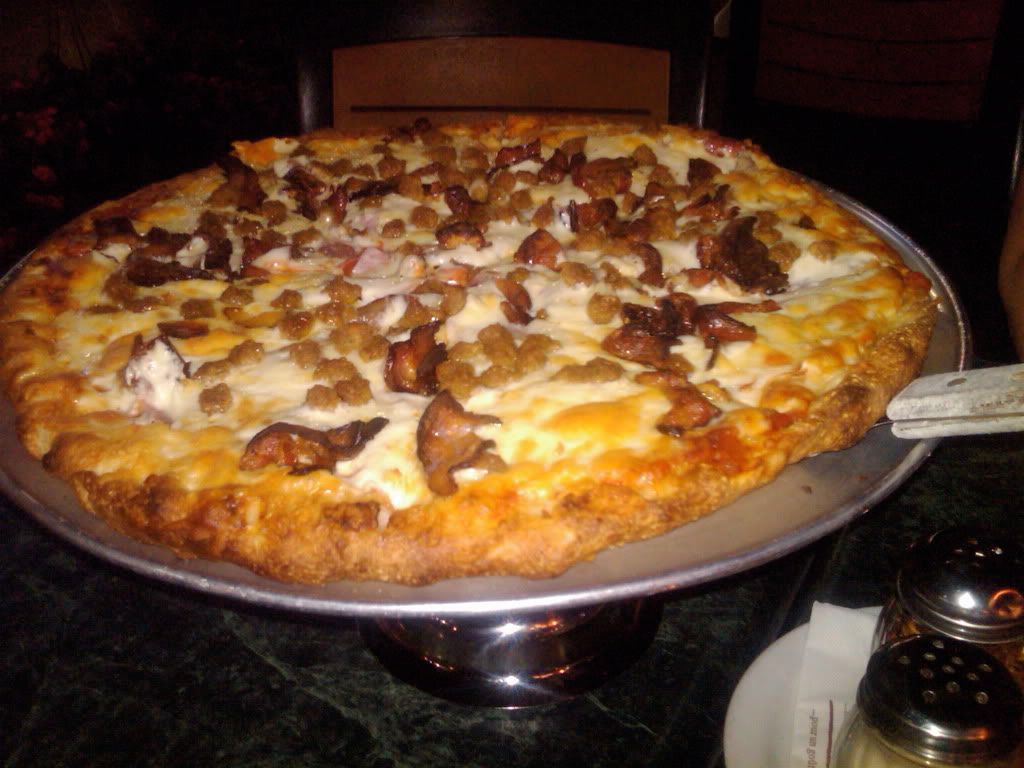 The pizza looked very appetizing.  Lots of sausage bits were evident, bacon was also easy to spot, although it was not distributed very evenly on the pie. The pepperoni and the ham were no doubt buried under the cheese, which looked like a mix of mozzarella and cheddar. The crust was nicely golden, clearly established – except for a slice-size part were it seemed a bit thin.
After we had admired it enough, we helped ourselves to a slice each.  The server hadn't deemed it necessary to do it for us, which is strange, but perhaps understandable considering she was alone taking care of the tables and the pick-up counter.
We dug in and enjoyed a very good pizza.  Let's have a closer look: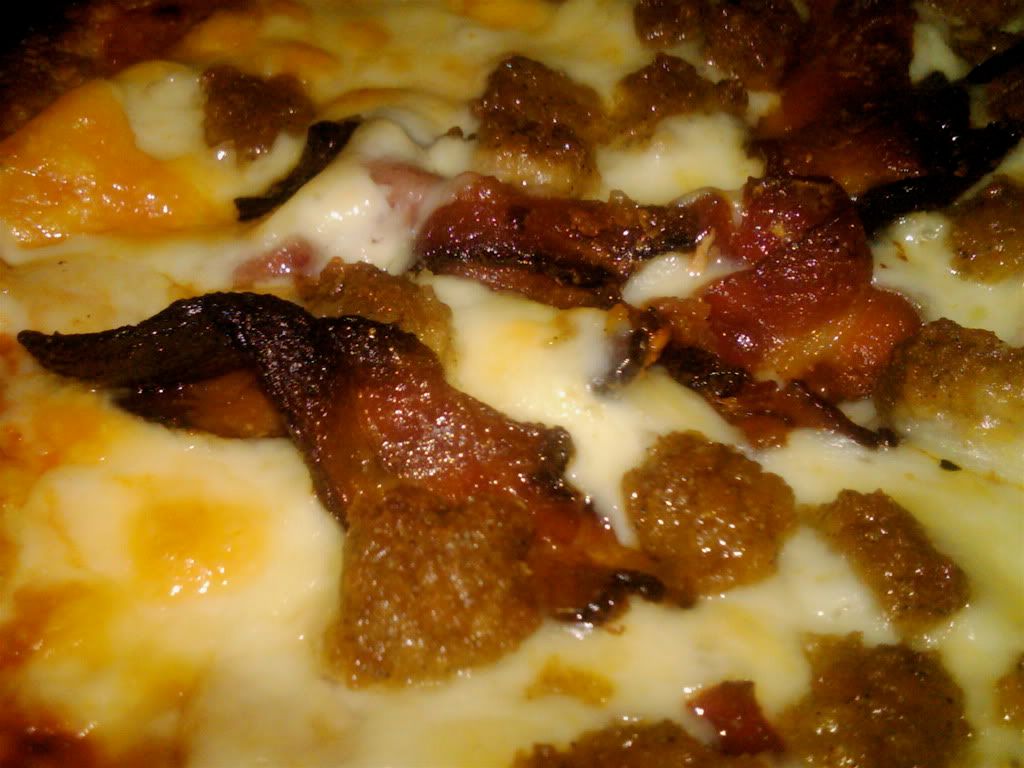 The crust was very good.  It had a nice crunch to it and it was not burned at all. In fact, it was almost fizzy – I think they add soda water to their dough. The cheese was alright, not of the best quality but good enough. They definitely are adding cheddar to get a nicer colour faster, yet everything was melted nicely, and again, no burnt marks, not even close to caramelization. The sauce was fine, but there should have been more of it – it's definitely not the star of this pizza.
The star is the meat, starting with the bacon. Real bacon strips, very crispy, good smoky flavour.  Sadly, if they go all in on bacon, the same cannot be said for the sausage bits – Gabriel seems to use the generic, soy-filled sausage bits used too commonly. Too bad. The other two meats were burried under the cheese, but it was a hidden treasure.  The ham was cut thinly, but stayed together nicely – a sign it's not filled too heavily with water.  The pepperoni was standard, again sliced nicely, not too salty and a little spicy. Overally, a very satisfying pizza, and we didn't have a whole lot to bring back.
But:
Was it "Bigger"?
Well, no. It was the size and included the amount of toppings one is expecting when he pays that price.
Was it "Better"?
Well, depends better than what.
Better than Colonnade, who failed to serve us? Certainly.
Better than most Pizza chains? For sure.
Better than Ezra? No doubt.
4 Responses