Browsing articles from "June, 2010"
As reported by The Waffle in an exclusive over two months ago,  Smoke's Poutinerie finally opened in Ottawa on Monday, in the location once occupied by famous indie music store End Hits.
The place is already a hit, the fast growing poutine-only chain having earned a solid reputation in Toronto over the past 20 months. It now has 10 locations, all in Ontario, but is set to open it's first Quebec location in Mont-Tremblant on July 7th.
Will it make it in La Belle Province?  That remains to be seen.
Will it make it in the By-Ward Market? Very likely.
I resisted the temptation of checking it out on Monday and Tuesday.
But when Jesse suggested we go for a reconnaissance mission for lunch, I simply couldn't say no.  And the bean salad I had brought to work for lunch simply paled in comparison to the mission.
Marc-André was more interested in chicken wings but without a wingman, decided to join us on the poutine discovery adventure.
We arrived around 12:15 – the place was packed and we were worried we would have to eat our poutine outside the joint, in the brisk cold of late June. We waited in line, eyeing the patrons and hoping they'd time their departures with our readiness.
Thankfully, Her Majesty was also in Ottawa today, and we somehow managed to grab a table under Her portrait when our order was ready.
We ate under Her watchful eyes and friendly smile.  The place must be owned by the Royal Family, because she looks an awful lot like Smoke.
Nevermind.
We scouted the menu, which offers over 20 different options.  The line was moving fairly fast, although not as fast as most poutine counters usually do – most likely a combination of the affluence and of the variety of choices – and of the 14 year old staffers in the kitchen.
But we couldn't really complain – we were orders #72, 73 and 74 of the day after all.
Jesse didn't feel adventurous and decided to judge Smoke's poutine with a regular size Traditional ($6.95).
Marc-André, despite his earlier chicken wings craving, took a pass on the four chicken options and went for another classic, the Italian Poutine – but the Deluxe version, with Italian Sausage ($9.95).
I decided to be a little more adventurous – I went all in with the Philly Cheese Steak Poutine ($9.95), with shaved roast beef, peppers, mushrooms, onions and of course, cheese sauce.
It was the mid-summer meeting of the Greater Ottawa Original Fantasy Baseball and Leisure League and most of the owners were gathered at Al's Diner for deep discussions about the value of "Holds" as a possible pitching categories and the eligibilty criterias for Starting and Relief Pitchers.
Al's Diner is a small establishment located on Clyde avenue, which caters to a blue collar crowd for breakfast or lunch.  It is open for dinner but folks mostly drop by to grab a pint and a snack after work.
The menu is diversified – sandwiches, burgers, salads, pizzas, pastas and comfort food such as Mom's Meatloaf and the Sunday Pot Roast are offered. They also have daily specials and nightly specials.
And on Monday evening, Al's diner is offering Chicken Wings at 35 cents each.
I complied and ordered some wings.
And here is a new competitor in the world of best sandwiches on the US market – another reason to go on a shopping trip. Alex shared the news with me, thinking it would be of interest to me.  I can't imagine why.
Massachusetts-based chain Friendly's has released a new item on their burger's menu, called the Grilled Cheese Burger Melt. You can find it at any of the 505 locations found along the East Coast of the United States.
Leaving aside the fact that Friendly's was an Ice Cream shoppe to start with, one shouldn't be surprised at this new item.
Melts have been a popular item for years now, a more gooey version of the classic cheeseburger.
And using two oozing, grilled cheese sandwiches  as buns for burgers has been a growing trend amongst american underground foodie circles – and they call it The Fatty Melt.
It has been featured on many blogs – I first noticed it on A Hamburger Today – but not surprinsingly, the name wasn't picked up by Corporate America.
I used to go to Dunn's Famous on Queen Street fairly regularly for breakfast before work. We even had a little breakfast club going, and even though we went to other spots from time to time, Dunn's was our regular hangout. In the morning, the place is usually packed  with white and blue collars alike, united in their wish to enjoy a respectable breakfast, served quickly and for very little money – and in Ottawa, they've been doing this since 1990.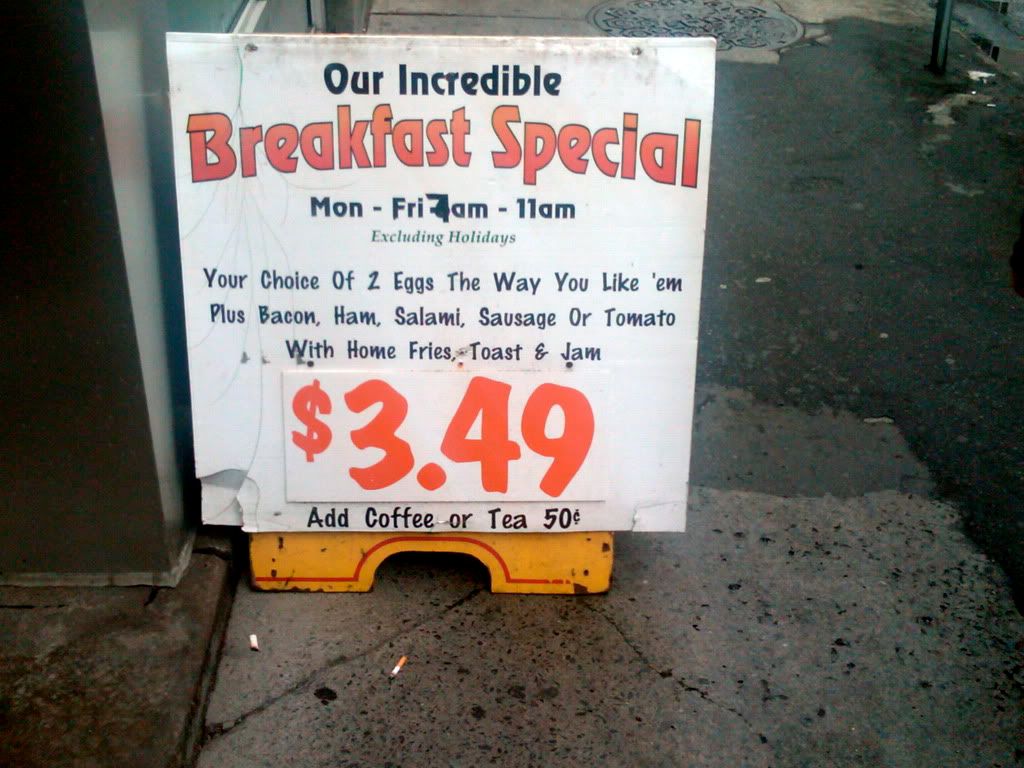 Now, very little money used to mean $1.99 for the special – 2 eggs with home fries, toast and your choice of bacon, ham, salami, sausage or tomato.
About 2 years ago, the special went up to $2.99.  And today, as I was going for breakfast with a co-worker, the sign informed me that the price had gone up again – $3.49.  And an extra 50 cents for coffee or tea, something that used to be included for free – making the special actually $3,99 for coffee drinkers.
Now, I guess this still qualifies as a cheap eat.
But the inflation has to get under control!
Nevertheless, we both disregarded the other breakfast options and settled for the special.
I'm not a big fan of runny eggs. Dunn's says you get two eggs as you like 'em, but if you like 'em poached hard, you are out of luck – they don't like to serve 'em like that. So I always settle for scrambled.
The place was not too busy and our big plates arrived quite soon after – it never takes long.
The scrambled eggs weren't too bad. I mean, don't expect anything fluffy or buttery, but at least they weren't too dry – it has happened before. But the home fries are quite good – real potatoes, fried on a hot plaque, they weren't mushy at all, not overcooked either.  Delicious with ketchup.  The sausages were nothing special, but they were done right, and were juicy enough.
Despite the inflation, what you get at Dunn's for breakfast is still good value for money.  It does the job to start the day.
It's baaaaaack!
It's free burger week in Canada, starting tomorrow and going until June 20th at Harvey's.
I guess their Gift Burger for their 50th birthday was so popular, they decided to bring it back! 
Here is how it works:
With the purchase of Any Burger (Original, Premium or Veggie), enjoy a Free Burger (Original, Premium or Veggie) of equal or lesser value.  Simple enough?
Great thing is, burgers with bacon and/or cheese are included in the offer.
Double and Triple Originals are also included.
However, the offer is available only À La Carte – you can't buy a Combo and expect a free burger.
And it's Free Burger Week – so don't expect to get free Chicken Sandwiches, Chicken Strips or Hot Dogs.  It's burgers, got it?
So there you have it folks.
Don't miss out.
There has been a lot of ink on the prospect of a possible eventual (coalition-merger-agreement-collaboration-co-operation-discussions-arrangements-accords-non-aggression pacts) between the Liberal Party of Canada and the New Democratic Party of Canada.
Speculations, punditry, analysis abound. 
But none captured the essence of the public debate quite like L. Ian MacDonald in the Gazette:
"A Liberal-NDP coalition is not as obvious a fit as some proponents think. The two brands are very different. The Liberals are a great national trademark, the equivalent of McDonald's in the fast food space, while the Conservatives are Burger King and the NDP like Harvey's.
What the Liberals need to do is renovate their brand with new offerings on the policy menu. They can't get by any more with burgers and fries, when customers want salads and bottled water."
In this corner, we believe that L. Ian MacDonald is correct in his assessment of the Liberals being McDonald's, the Tories, Burger King and the NDP, Harvey's.
After all, Michael Ignatieff is about as popular as cadmium laced toys.
With Peter MacKay leading denials on Afghan detainees and Vic Toews claiming that the G20 summit costs are reasonable, the Conservatives are truly the home of the Whopper
And recent poll numbers are showing clearly that the NDP is a beautiful thing.