Browsing articles from "May, 2010"
Sparks Street was once the commercial and financial centre of Ottawa.   There was a streetcar until 1959, when it was removed.  The decline began soon after, and Sparks Street was transformed into a pedestrian mall in 1961 in an attempt to revitalize the area,  The street still has many imposing old banks and insurance company buildings – I still like the potential.
But outside office hours, Sparks Street often turns into Wasteland, despite having all the attributes needed to make it a vibrant quarter.  It is downtown, close to Parliament, has hotels nearby – including the Marriott and the Delta right  on Sparks.  There are plenty of offices, condos and shops – though maybe a few too many souvenir shops.
Yes, there are a few pubs and restaurants, but let's just say you won't find a lot of people there on a Saturday evening, people seem to desert Sparks for the Market or Elgin street.   So business is tough – as the owners of Jazz'oo found out.
But at lunch, or right after work, lots of places can be very busy.  Choice is limited however, and quality is not the priority for everyone.  In the summer, having a patio is an obvious advantage.
And the best one is located on Block 5 – Carmello's.
The patio is wide. It has shade.  You never feel cramped. And the food is pretty good.
I had a lunch date with a member of the Press Gallery, and funny enough, she had never heard of the place.
She discovered the closest thing to Italy's soul there is on Sparks Street.
I ordered a Pale Ale, she ordered a glass of rosée.
Soon after we ordered, our drinks arrived, with a basket of fresh made bread.
"This bread taste like cake!" she stated.
Indeed, it did.  Soft and moist, a hint of sweetness, we both struggled not to engulfed the basket.  Nothing good can come out of bread that tastes like cake!  A bottle of balsamic vinegar was on the table for us to pour in a plate and dip the cake-bread in – but their pourer needed some fixing as the vinegar was leaking in what could have been a messy incident - something they should check from time to time.
Carmello's lunch menu is simple, yet diversified.  Antipasti, of course (Zuppa, mussels, bruschetta, salads), old world and new world pizza, and a selection of pasta (many options within the four sauces offered – Pomodoro, Pomodoro Cremoso, Alla Panna or Aglio e Olio).
There are also daily specials, creations that are not on their regular menu which are often interesting.  Like the pork, pear and caramelized onion pizza I ordered.
This was quite interesting.  Obviously, the pork loink, shaved thinly, is not your usual pizza topping,  but the sweet barbecue flavour it was cooked with married very well with the mild pears and the caramalized onions. The mariage with the tomato sauce, however, was odd, the sweetness of the toppings not going full well with it. It just wasn't right, and despite the cheese's best effort to balance the dish, I think the pork should have been more herby than sweet. Overall though, it was still interesting - but this pie needs a little work.
My date ordered the Calamari Alla Griglia, a simple dish of grilled calamari on a bed of market greens and served with fresh lemon
Calamari is too often destroyed in a thick breading and deep fried too long, so it's nice when a spot offers it grilled.  The flavour is much more powerful, much more "au naturel", but the challenge to deliver is much stronger.
Carmello's did well.  The plate arrived, and despite the fact that the dish was in the antipasti section, my date couldn't believe how many molluscs were on the bed of fresh green mix (lettuce, mesclun, endive).  The plate was quite appealing, and she forced me to take a few pieces.  The calamari was served with a thin line of pesto sauce, which was really there to look nice and didn't really add anything to it.  The squid was grilled nicely - although the mantle was a tad chewy at times – a sign it was almost being overcooked.  Still, the result was quite respectable and is certainly a dish I can recommend.
My press gallery friend was quite happy about the discovery, and announced promptly that this was her new favorite patio on Sparks.  I'm glad. Because despite being geographically challenged, Carmello's is worth the detour.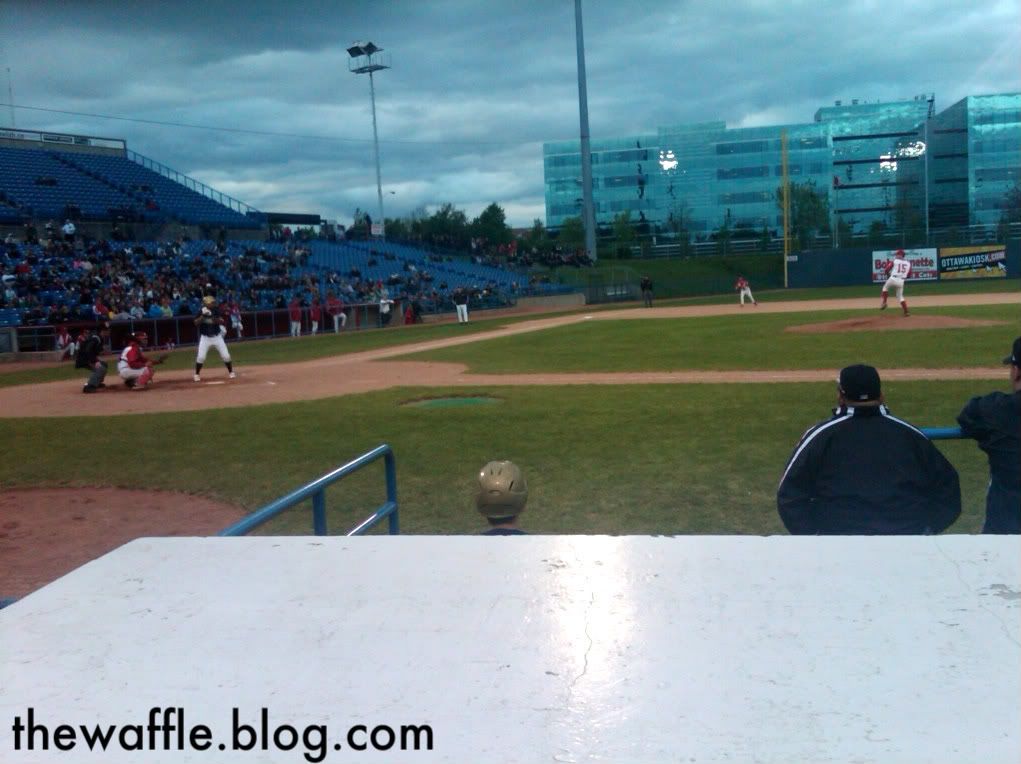 Baseball is back in Ottawa – another attempt to establish "America's Favorite Pastime" ™ in the Nation's Capital.
After the demise of the Rapidz, the Voyageurs, the Lynx, the A's, the Giants, the Senators, it is now up to the Fat Cats to keep the dream alive.
The Fat Cats are the newest team in the venerable Intercounty Baseball League, a semi-professional league established in 1919.
And so there we were, over 3,724 fans attending the Cats' home opener against the Mississauga Twins.
I say "over" because the team started letting fans through the doors for free after a few innings as they couldn't handle the line-ups. Lineups to get into the parking lot – lineups to get tickets – line-up to get inside the Ottawa Stadium.  Many just turned back
If the Fat Cats want to build a fan base, they'll have to fix these problems, and quick.  Thankfully, we arrived early and had bought our tickets on-line, so we only had to line-up to get into the Stadium.  For some reason, the doors were still closed an hour before game time.
Leaving aside for a moment the fact that Grape, the Fat Cats' mascot, is not fat and has no tail, one should also be puzzled by the Ottawa Stadium Group's attempts to keep their prospective fans svelt – through no beer and no hot dogs.
Let me explain.
Somehow, the Fat Cats managed to get a liquor-licence, but not quite the right one.  Which meant that if you were patient enough to line-up to get a couple of cold ones at one of the two beer-selling concession stands at the stadium, you couldn't bring it with you to drink in the stands.  Say what?
Yes, people were stopped at the gates as they were trying to enjoy a cold beverage on a cold and rainy night (coffee was not available – not that I drink coffee. Talking of rainy nights, rainouts could also be a problem, as pointed out by Out of Left Field.)  Still, some baseball fans managed to smuggle a few cans past the security guards, who spent most of the night chasing Grape around the stadium anyway, so enforcing that rule was certainly difficult.  However, most people ended up drinking their beers in the concourse or from the left field pic-nic zone.
I really hope for their sake that they get the proper license soon, because THAT IS NOT BASEBALL.
Getting food was also a problem – and there is no way I was going to miss the action (including a 6-run collapse of the Fat Cats in the fourth – 5 of them runs after two outs!) and wait in line for 30 minutes to get a hot dog.  Same story at the Pizza Pizza counter.
The evening started at The Exchange with a going away party for a colleague who was leaving us behind, attracted as she was by the big $$$ one can make as a lobbyi$t in this town. Who can blame her?
My first two attempts to order a beer were unfruitful – they were out of Kronenbourg, they were out of Okanagan Spring Ale.  I ended up drinking Creemore – and my wife enjoyed one bottle of O'Douls, before being told they were out of that too.  I hope for their sake tomorrow is delivery day.
During the evening, we had to suffer through the pathetic display of the NHL bias in favor of the Canadiens as they won their second Game 7 in a row, and fairly easily at that.
Mat and Justin didn't need to do much work to convince me that I had to drown my sorrows – so we walked to the Market – a quick stop at the Laff convinced us to go elsewhere – and we ended up at the Dominion Tavern, for some Molson Export quarts, loud punk music and even some pool playing. The Dom is the antithesis of the Market concept – which is why those who love it, really love it.
Whitout noticing, it was closing time. Mat was hungry, and I didn't have a proper dinner so his suggestion to go for poutine was more than welcome.  And what do you know, right besides the Dom is Sasha's Chip Wagon.
Perfect.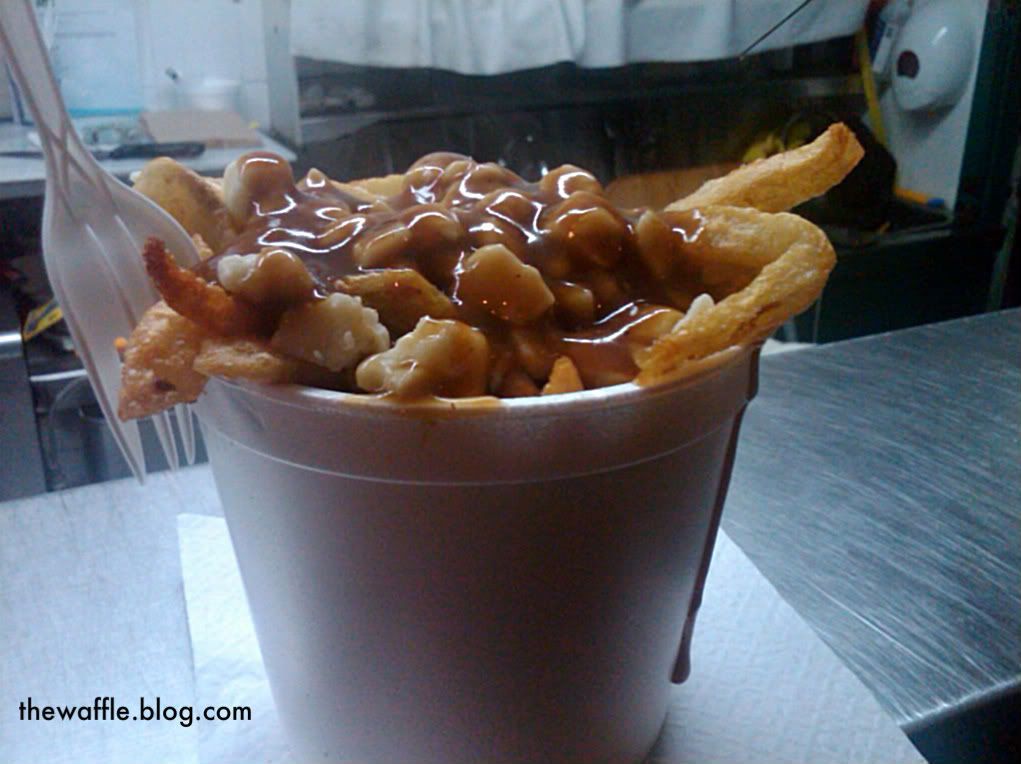 Sasha's was chosen as the best Chip Wagon in 2009 by the readers of the Ottawa Xpress, and it's poutine also got an honourable mention.  We ordered a large one each – 7$ a piece.  We were Sasha's last customers, but nevertheless, the fries were fresh out of the fryer, golden and crispy; the gravy was hot and rich.  The cheese was not the freshest – no "squeek-squeek", but it was curds, so Sasha's gets points for that and there was plenty of it.
Although the gravy was good, I was looking for a little something – and thankfully, Sasha's offers a condiment bar to complement your dish. (Be aware of Cobrasnatch's warning – Sasha's is prone to crackhead condiment raids! ) The usual stuff is available, including hot peppers, green olives, and what I needed – bbq sauce!  I gave my poutine a good squeesh, and that really hit the spot, giving the poutine a little tangy twist which was fantastic.
So I did it. 
I did my share for the children. I went early – because I wanted to make sure the lines weren't too long, and because I had a meeting scheduled for noon. But I didn't want to miss McHappy Day.
The one day in the year where there is no guilt whatsoever in going to McDonald's.
I ordered two Big Macs – no fries, no pop – forcing McDonald's to cough up 2$ for the children.
And I bought a McHappy pin too, for 1$. 
I am a McHappy Man. It's the least that I can do.  What did you do?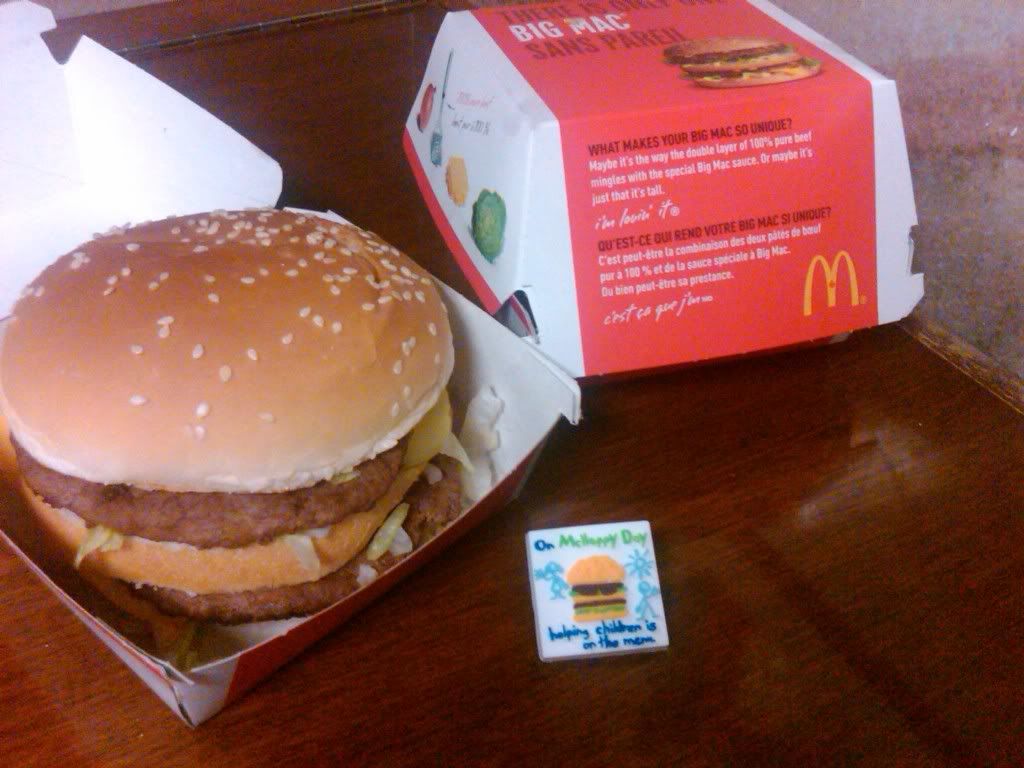 These two Big Macs combined got me to 20% of my daily value of Vitamin A, 8% of  Vitamin C, 50% of Calcium and 70% of Iron.  Who says it's not good for you?  Well, maybe the 2040 mg of Sodium are not helping.  But who's counting when you do it for the children?
I need to point out that these Big Macs were nicely made – fresh bun, plenty of sauce, stacked properly.  It's so nice when the staff are putting them together nicely.
Oh, and no, McDonald's has not released it's new Quarter Pounder Deluxe yet.
Today is McHappy Day 2010!
Time to do something for Canada's children, people!
It is the 17th edition in Canada.
You can have a look at McDonald's press release.
Because today, McDonald's restaurants across Canada will donate $1 from every Big Mac, McMuffin and Happy Meal sold to local children's charities across Canada. Many restaurants also held local fundraising events leading up to McHappy Day.
Since its inception in 1977 (not sure how this adds up to 17, maybe it is fast food math), McHappy Day has raised more than $28 million for Ronald McDonald House Charities of Canada and hundreds of other local children's charities.
You can also show your support by going to McDonald's Canada's Facebook fan page and confirming your attendance for McHappy Day. To get exciting McHappy Day updates from across the country, Canadians on Twitter are encouraged to follow McDonald's Canada.
You cannot go to McDonald's? You cannot bring yourself to engulf a McMuffin or a Big Mac?
You can text MCHAPPY to 30333* and make a $5 donation to RMHC Canada.
Have a Big Mac today. Do it for our children.
McDonald's is currently studying the possibility of launching a new Quarter Pounder hamburger to complement it's current line of Quarter Pounder sandwiches. Information obtained by The Waffle shows that the hamburger chain is currently testing the hamburger with potential customers.
The investigative investigation investigated by The Waffle has found that McDonald's is currently describing its newest creation as a 1/4lbs of 100% pure Canadian beef (what else?) lightly seasoned with pepper and salt (a regular Quarter Pounder contains 630 mg of sodium, the same with cheese you increase the sodium content to 1110mg!) topped with crisp leaf lettuce, juicy tomatoes, onion crisps (whatever that is), hickory-smoked bacon, processed cheese, creamy mayonnaise and smokey BBQ sauce on a freshly toasted sesame seed bun (a toasted burger bun?  That would be different from Ronald's crew).
The survey, conducted online, is also testing possible names for the new hamburger, including:
BLT Deluxe
BLT with Smokey BBQ sauce
Quarter Pounder BLT with Smokey BBQ sauce
Smokey BBQ Hamburger
It seems clear that McDonald's is keen to have the BLT label associated with the new hamburger, no doubt trying to create a perception of freshness and crispiness in the customers' mind. However, the actual BLT sandwich currently  on McDonald's menu is not a hamburger – it has no beef and is served on a ciabatta bun.  It is definitely interesting that McDonald's is considering calling "Deluxe" the addition of beef to its BLT – one would think that the "Deluxe" label should apply to the fixings (ie bacon, lettuce, tomatoes) as opposed to what made McDonald's what it is – the beef patty.
In fact, it seems to us at The Waffle that McDonald's should simply call it the Quarter Pounder Deluxe. Just by looking at it, it's obvious. The Quarter Pounder has always been a favorite of this corner.  The hamburger was invented by Al Bernardin in 1971, when he was a franchise owner in Fremont. His prophetic slogan, "Today Fremont, tomorrow the world," was bang on. Mr. Bernardin died earlier this year.
Refreshing this classic line of higher-ratio-of-meat-to-bun burgers with a 5th version would be most welcome.  The Quarter Pounder Deluxe would be instantly recognized by customers for what it is – a Quarter Pounder with the works.
Now of course, McDonald's is commercializing a Quarter Pounder Deluxe already – but only in South Africa and it has nothing to do with what McDonald's is considering here.
So here it is, in all it's pre-marketing splendor:
The Quarter Pounder Deluxe
————————-
UPDATE Aug 15, 2010 @ 15:18 :   The Quarter Pounder Deluxe has arrived!!