Browsing articles from "April, 2010"
I had to work late and really didn't feel like cooking.  Mel was meeting some friends in the area, so she was certainly willing to look into having a nice dinner.
I suggested the Market, and since she is a sucker for pasta, I decided to bring her to Mezzanotte, a restaurant which incidentally she didn't know anything about. This Italian restaurant is located in the heart of the Byward market, in the same building as Le Droit and the Empire Grill. However, it is on the Murray street side and can be easily forgotten. I, in fact, had not been there for years.
Which is really too bad.  Because the food was excellent and the staff very attentive. The place is quite nice, a warm and lovely atmosphere created by dark woods complimented by white leather furniture.  The restaurant is fairly big, I'd say about a 100 seats, but it was not too crowded except for a civil servant's retirement party.
We sat down and peered at the trendy Italian bistro menu. Pasta, of course, but also a couple of fish, chicken, veal and beef  dishes. Their wine list focusses on Italian wines, of course, but you can find a few French bottles.
Soon after we ordered, incredible multi-grain buns were served to us with olive oil, mixed at the table with a combination of sundried tomatoes, garlic, peper flakes, basil and other herbs - thankfully, we had not ordered appetizers!
The mixture was rich, spicy, different, delicious.
It was an explosion of sunny flavours. Seeing our waiter mix everything in front of us was a nice touch, and they were quite generous with it.
The buns were served very, very warm – yet quite fresh and soft.
I ordered the Pepe Ripienne ($19.95), a red pepper stuffed with a porcini risotto, with pancetta and ricotta cheese over a melted asiago and a sundried tomato basil pesto sauce.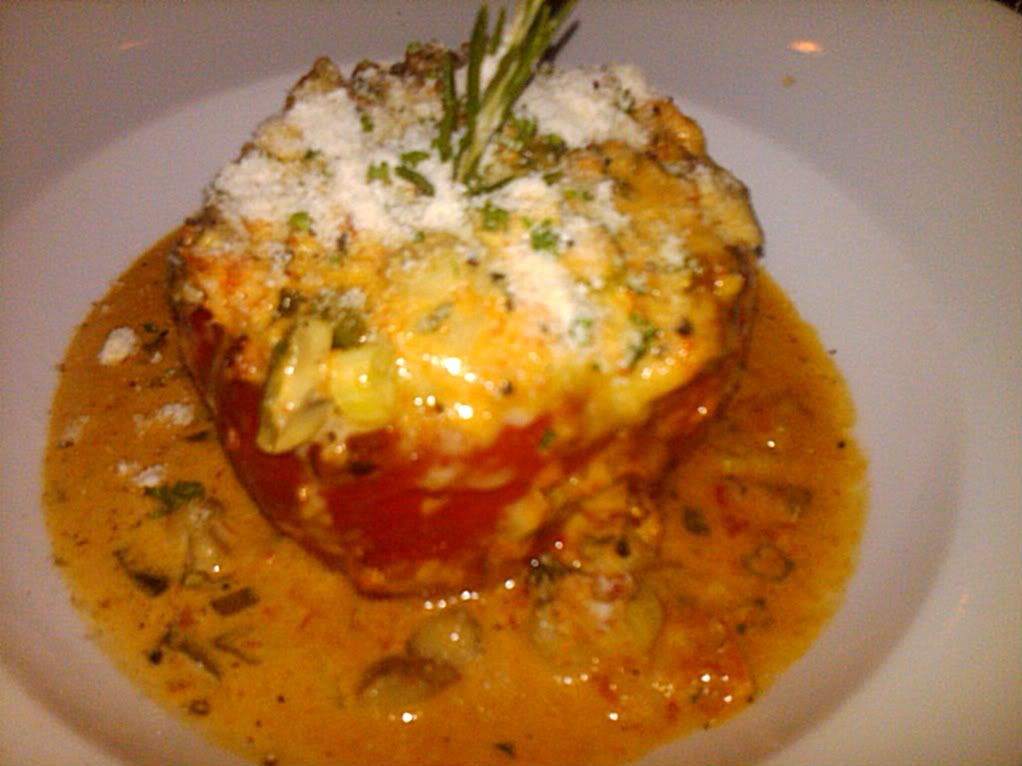 I usually do not order vegetarian dishes, but this was actually inspiring.  And yes, I know pancetta is not a vegetable, but it's not meat either, is it?  Either way, it's delicious, and I enjoy it very much when used as part of a dish.
And this was a nice looking dish. The risotto was creamy and dense, as it should be, and the mushroom flavour was strong. The red pepper was cooked perfectly – it was not overcooked and stayed together nicely. It made each bite even more enjoyable.
The sauce was a nice complement to the dish, the pesto being a little subtle, no doubt to strike the balance needed for the risotto.  The melted asiago was a great touch, especially with the addition of a healthy helping of fresh grated parmesan to smooth things out.
The dish was quite filling – lots of cheese and rice do that – yet it was light and fluffy and I felt like having another one.  But I didn't.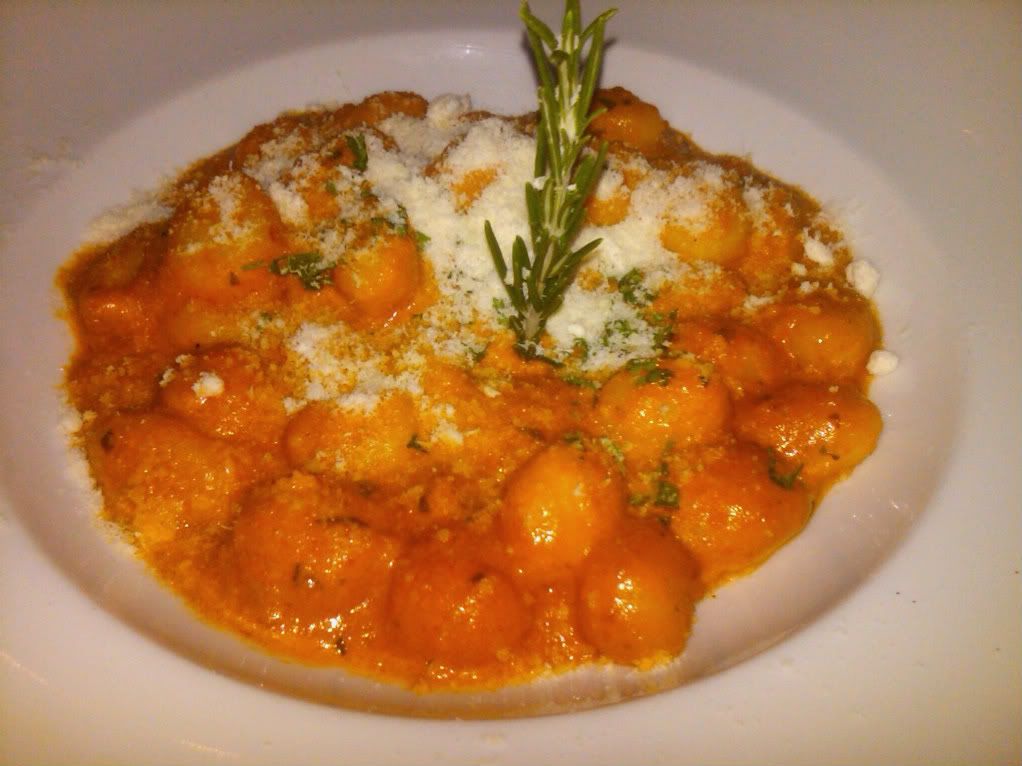 Melissa ordered their Pasta alla Mafalda ($16.95), which were gnocchi in a basic tomato sauce.
Although Melissa has a major weak spot for pasta, she has an even weaker spot for potatoes. Not surprisingly, wannabe-pasta potatoes are a favorite of hers as well as an Italian classic.
The gnocchi here were quite simply prepared – but this simple dish brought everything back to the essence of the gnocchi – great texture, cooked perfectly, and served with a simple and efficient tomato sauce.  A classic.
Mel enjoyed them – but they were quite filling, as they tend to be, and she had to bring half of it home with her.
Needless to say, we skipped dessert.
On a final note, let me point out that the service was incredible. Our waiter was very attentive and extremely pleasant. I certainly won't wait as long this time to go back to Mezzanote.
From Red Flag Deals we learn that Dairy Queen wants to thank its customers with a short lived but deliciously frozen promotion: Between April 19 to 25, buy 1 Blizzard and get a second one for 25¢!
That's right!
Why? Well, apparently it is the 25th anniversary of the Blizzard, and Dairy Queen wants to celebrate by thanking us – hoping to get more customers hooked on their creamy treats, no doubt. You may or may not need this coupon in order to take advantage of the offer, there seems to be some confusion on Red Flag about that. The annoucement was buried in this press release where Dairy Queen launches all kinds of other initiatves to celebrate.
On the flavour front, on top of their 25 Blizzard flavors, DQ will launch new flavours of the month, starting with the Ooey Gooey Caramel Brownie Blizzard – Gooey caramel, Real fudge brownie pieces and chocolate chunks blended with their creamy vanilla soft serve – no, it's not ice cream, remember?
On the internet front, some online promotions such as "Operation Happy Birthday" and "Capture the Cup."
"Operation Happy Birthday" invites anyone with a camera, camcorder or mobile recording device to record and submit a one-minute video clip with their most original, creative or funny version of singing "Happy Birthday" to the Blizzard. I can't wait.
The "Capture the Cup" contest invites DQ fans to submit photos of themselves interacting with a Blizzard in both fun and unique situations and places.  Hilarity will surely ensue.
On the bizzare front, the Blizzardmobile was launched.
The what?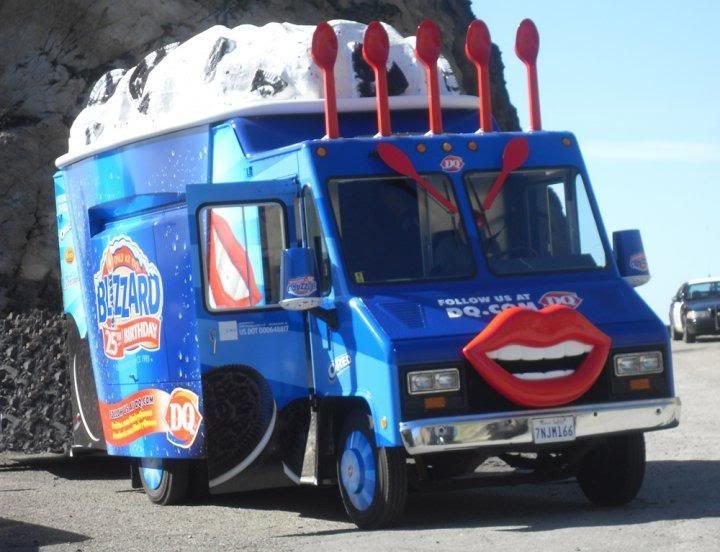 The Blizzardmobile.
Here is a truck, which is somewhat shaped like the Blizzard's 25th birthday cup topped with an Oreo Blizzard, including the red spoon. They have more red spoons on the top of the truck's cab and as windshield wipers.
Upside down Blizzard cups have replaced the side mirrors. DQ's red lips are installed the front, side and rear of the Blizzrdmoible.
The side panels will open into the truck's interior where more than 2,000 Blizzard samples will be served in each city. DQ says the Blizzardmobile will be visiting 25 cities from April to August, in the US and Canada.
What then?
Here is how DQ is describing the stops:
"The Blizzardmobile will stop at several select locations in each of the 25 cities during the tour. Some stops will feature an extensive celebration that includes an emcee, music, photo opportunities, a "snow storm," free Mini Blizzards and a chance to experience the Blizzard Blaster – a giant, upside down, inflatable Blizzard cup filled with chilled, swirling vanilla-scented air. Blizzard fans will don goggles and arctic mittens fashioned with oversized spoons as they step into the Blizzard Blaster for 25 seconds to try and grab coupons, amid swirling confetti, for prizes. Some stops will be quick sampling events at local DQ stores determined by Blizzard fan club members who will vote to decide at which location the vehicle will stop."
Sounds like fun, huh?  I can't wait to put on the goggles and arctic mittens.  The Blizzardmobile is currently in Lexington, KY.  Will it come near you? More details on DQ's Facebook page.
Yesterday's Poutine Outrage led me to another discovery: Smoke's Poutinerie, sponsor of the now infamous first World Poutine Eating Championship, is expanding in the owner's home backyard – Ottawa.
Scheduled to open in June 2010, this will be the first Smoke's Poutinerie east of Toronto.  Another one is scheduled to open in Kingston in August.
Smoke's Poutinerie has secured a prime spot on Dalhousie street at the corner of Rideau, a location previously occupied by independant music store End Hits, which closed last month.   End Hits was voted best indie record/CD store four years running but simply couldn't survive the arrival of the digital age.
Smoke's Poutinerie however is making the transition just fine.  The arrival of the Toronto chain in the National Capital Region's Poutine Market is certainly not going to please the other poutinerie, such as the Elgin Street Diner (A town's favorite despite the soy-based gravy), la Pataterie Hulloise (to get the real stuff, you just have to cross the bridge) or the multiple chipwagons, especially the Market Institution known as The Blooming Onion, which is just down the street.
Smoke's poutine menu is diversified – so long as you are looking for a poutine.  You won't find any hot dogs or sandwiches or hamburgers of any kinds, but on top of the classic poutine, Smoke's is  offering 5 pork variations (including the Triple Pork – Chipotle Pulled Pork, Double Smoked Bacon and Italian Sausage);  4 chicken options (Curry Chicken? Really?); 7 beef possibilities (Italian, of course, but also Smoked Meat, Chili and Philly Cheese Steak) and 3 vegetarian poutines.
I never had a poutine from Smoke's.  But if I am to believe reviews from Nachos at Midnight and Sweet Life, or even the Globe and Mail, Smoke's is the place to go for poutine in Toronto, although both Foodosophy and Mmm, Tasty! expressed some reservations about the gravy.  They both claim that the chicken-based sauce is lacking something.
The Waffle will certainly investigate the Ottawa location, and report back.
——————————
UPDATE – June 30th 2010 @ 13:14
Read the review of my first visit here.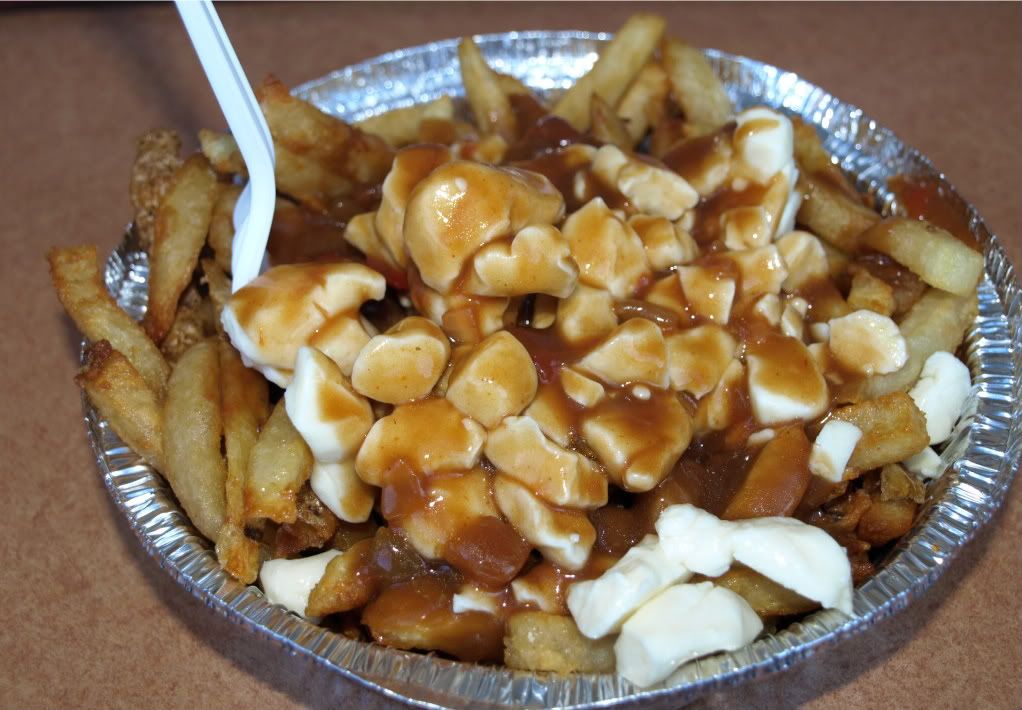 My friend David alerted me to this article  about a brewing controversy which threatens our national unity:
Toronto is hosting a Poutine Eating Contest.  Toronto!!
To add insult to the injury, Quebeckers are banned from said contest!!
SHAME!!!
How can that be?
After all, this is THE Quebec delicacy, on top of being a very unique cultural symbol.
Professional competitors from Major League Eating will come to Toronto for the World Poutine Eating Championship, $1 500 in prizes will be on-the-line in the 10-minute Championship, the first Poutine contest ever sanctioned by the International Federation of Competitive Eating and hosted by Smoke's Poutinerie. The event will be held on May 22nd at BMO Field.
Even though the 12 professional spots have been filled, amateurs can still register in the hope of getting one of the three amateur spots to compete against the best.
But shamefully, the rules are set against the only true poutine champions – Quebeckers.
It's right there in the official rules:
1. All residents of Canada, excluding those in the Province of Quebec, who have reached the age of majority (18 years of age) by May 22, 2010 are eligible to participate in the "Tell Us Why You Love Poutine" contest.
Why? Somehow, it is Quebeckers' own fault. Of course.
Apparently, the owners claim that Quebec laws don't allow its residents to apply.
"I don't argue with lawyers," said Smoke's Poutinerie owner Ryan Smolkin.
Excuse me?
My wife knows how to convince me.
She obvisoulsy had a plan in mind when she sent me a story about Kentucky Fried Chicken's hot new item, launched on April 12th, the Double Down Sandwich.
Two boneless pieces of KFC's famous fried chicken in place of the buns. In between the replacement buns, two slices of Monterey Jack and Pepper Jack cheese, two slices of bacon, and some of the Colonel's Sauce – albeit not the original one.
All  that for only 540 calories, 32 grams of fat.
Oh, and a paltry 1,380 milligrams of sodium.  
"Sadly, it is not available in Canada, I understand," I pointed out.
She quickly replied: "yeah…. wanna go do some duty-free shopping across the border in New York? "
 So there you have it, folks.
The Waffle may be soon on a mission to explore the next frontier of sandwich making.
A sandwich so good, there is no room for the buns.
And with the dollar at par, how could I say no?
.
Following the lastest Rahim Jaffer controversy, the Waffle has uncovered this gem featuring the former charter member of the Snack Pack, a group of six young Reform MPs who were raiding Ottawa's restaurants and bars in the late 90s. 
I wonder how McDonald's feel about it now, and if, like the Conservative Party, they will ask for their trademark to be removed from Jaffer's website…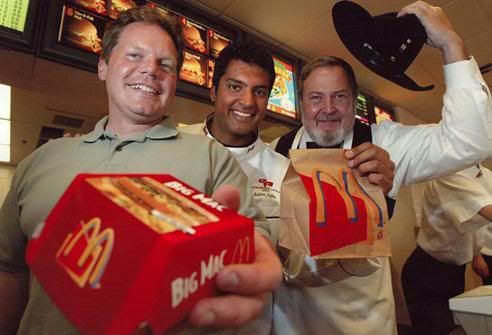 Jaffer is pictured here between his former colleagues, Conservative MPs James Rajotte and Peter Goldring.
Someone alerted me this morning to the fact that Today in 1990, McCormick Canada launched a new product that, 20 years later, has become the number one spice seasoning in the country, according to Nielsen MarketTrack. 
And indeed, I've got La Grille Montreal Steak Spice on my spice rack, one of 5 varieties  I currently have for my culinary amusement, the other spices being a blend from Le Bifthèque, La Cage aux Sports, Farmboy and Lesters' Old Texas BBQ. 
I admit, I used Lesters yesterday for some steaks on the barbecue, but there is no question that La Grille is going down faster than any other jar I've got.
La Grille Montreal Steak Spice is a solid blend (Including Salt, of course, but also Crushed Red Peppers, Mustard, Dehydrated Garlic and Onions), but it's success is also based on a solid marketing effort and the fact that Canadians love to barbecue, more and more.  Indeed, two thirds of Canadian households now own a barbecue and over a quarter of Canadians are barbecuing at least once a week, and the trend keeps going up.
Here are some excerpts from McCormick's press release:
LONDON, ONTARIO–(Marketwire – April 6, 2010) – With as many as one-fifth of the population barbecuing year round and two-thirds owning a barbecue or outdoor grill, Canadians obviously love to barbecue.
McCormick Canada's popular La Grille Montreal Steak Spice seasoning has been a big part of that Canadian cooking tradition for the past 20 years.
La Grille's cornerstone product, Montreal Steak spice seasoning, was launched in 1990 after the company's product development team visited a Montreal eatery.
Since 2001, the La Grille brand has been nominated as a finalist four times in the Canadian Council of Grocery Distributors Grand Prix, and based on consumer votes, won the 2010 BrandSpark International "best new product" award in the seasonings/sauces category.
With the release, McCormick decided to celebrate by including recipes for Steak and Vegetable Kabobs, Baby Back Ribs and Grilled Salmon Asparagus Salad.
Product and recipe photos are also parked here.
Turn on La Grille!
After an afternoon of shopping and lèche-vitrines on the totally revamped St-Joseph Street in the lowertown part of Quebec City now known as the "Nouvo St-Roch", we were kind of peckish.  And our family dinner was not planned until much later.
We could not wait – and decided to find a nice place for a light bite.
 We ended up at the Café Bistro Agga. The spot is halfway between a café and a bistro, offering loosely european-inspired light fares (4 different fresh soups every day, European Hot-dogs, smoked meat, sandwiches, pizza).  The place obvisouly sells the Agga Coffee although it doesn't seem to be officially affiliated with the torefactor.
Opened in 2000, it was fully renovated in 2006 to keep up with the competition establishing itself in the gentrified neighborhood.  The place is trying to be many things – a café-branché, a cool lunch spot, a neighborhood bistro – and a bar with live music.  However, there is nice warm feel to the room – many plants, big windows, a nice stone wall behind the bar with cool lights to create a contrast – clearly defining that corner as the cool one within the cool place. We elected to sit in a comfortable booth by a window – we had no trouble doing so because the place was basically empty.
We had a quick look at their menu – which was located on a billboard behind the counter. There is in fact no table service there before 4 pm, although the staff did bring the sandwich to our table when it was ready. We finally decided to share their Turkey-Pesto sandwich, accompanied by their garden salad. You can also get the Turkey-Pesto variety in a submarine – but it seemed to us that the 9 grain bread was a better choice.
 
The turkey was the deli kind, but of a good quality. The pesto was subtle but present.  There was some veggies too, to give it a nice texture.   But what made this sandwich was the finish – oven toasted in order to melt the emmanthal cheese.  Nice.
On the side, their garden salad.  Very simple Mixed greens, tomatoes, red onions, some shredded cheese, it was fresh and refreshing – although one would grow tired of the sweet creamy raspberry vinaigrette.
Overall, we had nothing to complain about – our hunger was satisfied, we had a nice break from shopping and we discovered a neat little place, not pretentious yet not boring.  Be warned however that the place can get very busy at lunch time during business days, as many reviewers point out.
We just arrived in Quebec City, and as usual, first things first – our obligatory stop at Chez Ashton.  This time, we were at the Charest Boulevard location, in St-Roch, a 24h location which I visited quite often in my youth.
I have reviewed Ashton's Poutine and their Galvaude before, so for good measure, I ordered a Dulton this time. (I ordered a Regular – but somehow she punched in a Mini – and since that's what she charged, I figured it was probably for the best anyway…)
A Dulton (most often called a Dalton, sometimes a Duleton) is basically a traditional poutine, to which you add ground beef.
Ashton does claim that their ground beef garnish is lightly spicy and delicious. They use the same mixture for their pain à la viande, their version of the sloppy joe. Here is their secret recipe, which doesn't look bad on paper.
And here is what it looks like on top of a poutine:
As usual, the cheese curds were fresh ("squeek-squeek"), the french fries warm, golden and cripsy, and the gravy fairly thick, not too salty.  But what makes a good dulton is a good ground beef topping, and to be honest with you, this was a little bland.  The spices weren't really present.  You cannot find any onion kick. Not that it's bad, but it's just bland.  I added lots of black pepper to it. The texture is nice – finely ground, no big fatty chunks, very smooth – but that basically reinforced the lack of character of the beef blend. However, for those who like it, they are generous with it – and because of the fine grind, it spreads nicely throughout the poutine and you have some of it with each bite, to the last one.
Now, my opinion does matter a lot. But for you out there who need more than my verdict, I can point to the consensus from the users of MaPoutine.ca who also do not seem to like Ashton's Dulton.  Maybe it needs something else to bring it together?
To be continued…
We had to hit the road early for Quebec City, and somehow that prompted the wife to suggest breakfast at McDonald's on the way. I was not about to stop her from enjoying one of those weird cravings they have when expecting, so we hit the road with the objective of  stopping  in Casselman for a romantic date, and to fuel our bodies and our car.
Whenever I have breakfast at McDonald's, I usually go for the Sausage McMuffin. It is only $1.39, it is only 370 calories, and it does what it is suppose to do.
But today, I felt a little more adventurous and I went with something I have never tried : the McGriddles Sandwich.  
The McGriddles sandwich offers typical breakfast items served between two mini-pancakes which are pre-injected with maple flavoring. For some reason, the pancakes are embossed with the McDonald's logo.  Just in case we forget where we are, I suppose.
The McGriddles were introduced in 2003.  At the time, McDonald's knew they were facing a challenge - no doubt informed by focus groups - and their campaign taglines was taking the bull by the horns:   "Weird. But a good kind of weird." and "Bizarre, but yummy".
In Canada, the McGriddles are available in three varieties:
Sausage
Sausage, egg and cheese
Bacon, egg and cheese
 And I went ahead and ordered the Sausage, egg and cheese McGriddles sandwich for $2.99. 
This is the biggest of the three McGriddles, at 198g and 550 calories (130 calories per cake!). 
I'd have to agree with McDonald's initial assesment:  Weird.  Bizarre.