Browsing articles from "December, 2009"
On our way to Quebec City for the New Year, my wife had a craving for A&W. I didn't mind – I like their hamburgers and their onion rings are very good.
So we stopped at the Terrebone location (1 of 697 A&W in Canada) to grab lunch. The place was not really busy, which is always a good thing. Fast food can never come fast enough, can it?
Melissa went for a classic Teen burger. But I decided to go for their new product: Their Sirloin Baby Burger Twins, which is fairly cheap at $3.49.  My Twins were only 174 g vs the Teen's 239 g.  Carbs?  32  g for the Twins, 41 g for the Teen.  Protein? 24 for the Twins, 1 more for the Teen. Sodium? 900 mg for the Babies, 1220 mg for the Tweenie.  Calories?  500, a tie.  The healthier choice?  The Garden Greens Salad.  But who cares?
A&W launched the Twin Burgers in Canada in October as its response to the the popular culinary phenomenon sweeping restaurants across North America: the slider.
They are meant to be two identical mini-sized burgers with sirloin beef patties topped with Balderson cheddar cheese, mustard and the Chubby Mayo (Used since 2001 when A&W re-launched their Chubby Chicken.
You must have seen the advertising, and wondered as I did if any burger was actually too cute to be eaten.  Now, as with all the other A&W burgers, the Sirloin baby burger twins came in an aluminum foil bag.  Because that's how they used to do it to keep burgers warm, they decided that it was how it was going to be done. So I unpacked them, looking forward to my cute burgers…
But the ones I got were certainly not too cute. Compare what I got with the advertised Twin burgers, below.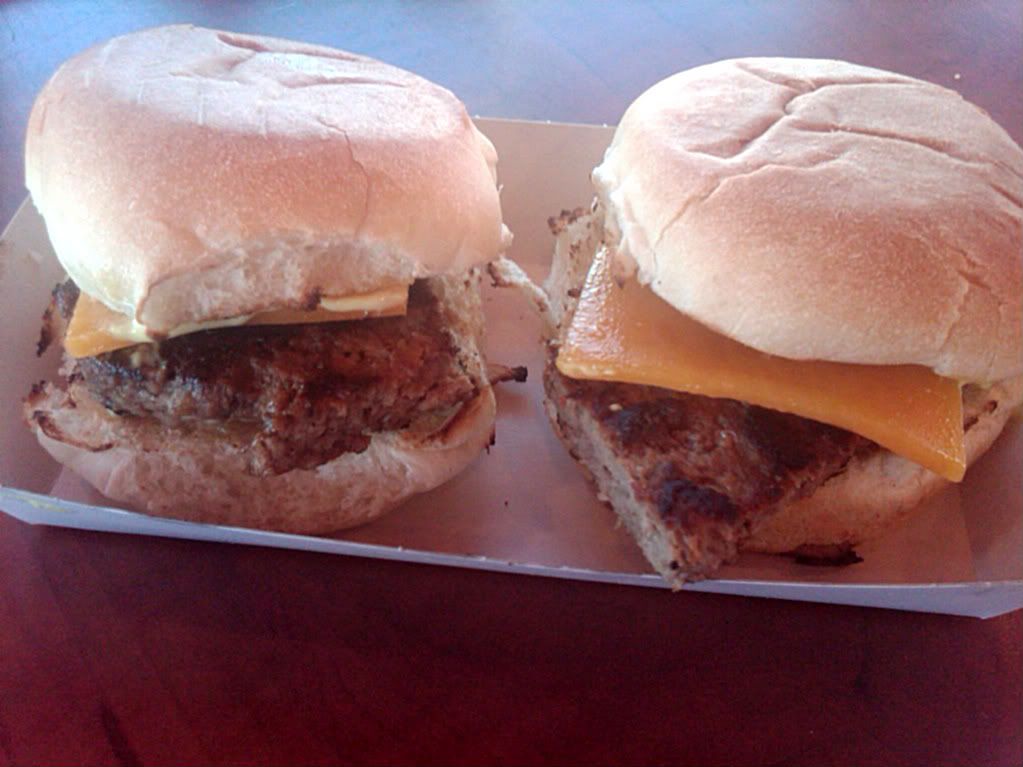 As you can see, the patties I got were not mini patties. They were regular patties cut up to fit a mini bun. What the Hell is that? They can't do that, can they? Violating the integrity of a patty with a knife?
The place got busy, so I just ate my twin burgers anyway, instead of getting up  to complain.  I will take it up with the headquarters instead.  As for taste, I thought they were a little bland. The beef seems overdone.  The mixing of the mayo with their mustard works, but there was not enough of it. Red onions to zip it up? Barely noticeable. The cheese was thick, which is a nice step up from the usual process yellow slices used in most burger chains. However, it was certainly not melted or even melting. Mostly, it was sweating.  Still, nice cheddar flavour.
At any rate, the Waffle will contact A&W and figure out if indeed the beef patties for their mini-burgers may, from time to time, be made of cut-up parts of the Uncle in the burger family.  I know it didn't happen to Cheap Appetite. I will investigate and report back shortly.
———————–
UPDATE  Jan 07 2010, 22:02:  A&W answers the Waffle

.
From all of us here at The Waffle, a special Christmas Treat via the creators of This is Why you're Fat.
A tree made of parsley, tomatoes, sausages, wieners slices and cocktail weenies makes for a tasty decoration around any house, and it will feed all your guests while entertaining them at the same time.
Enjoy, and Merry Christmas.
I know, I was just there, but we had to stop somewhere for lunch on the way back from Buffalo, didn't we?
So we did!  Dinosaur Bar-B-Que welcomed us for lunch. It being Monday, the place was not as busy as it had been on Saturday. But it was still very busy.
We sat down in a corner, a little tired from the week-end, a little anxious to get home.
We looked at the menu quickly.  Ribs were ordered, Fried Green Tomatoes too. I went for the BBQ Prime Rib Smothered Sandwich. Then Patrick ordered the Bacon Cheeseburger. That's when it began:
"How would you like your burger?" our server asked.
"What?" replied Patrick.
"How would you like it cooked?"
"What?"
"How would you like your burger cooked?"
"Cooked?"
That when I intervened: "Yes, cooked.  Rare, medium-rare, you know? Cooked."
Patrick still looked confused, but ordered medium-rare.  His confusion is hard to explain, but it probably has something to do with the fact that almost no restaurant in Canada offers a cooking doneness for their burgers.  Most often, you have no choice but to have it medium to medium-well – if not well-done.
Of course, as Patrick slowly understood what he had done, he had second thoughts. So he got up to change his order to medium.
That episode over, we were soon enjoying our food.
With my sandwich, I ordered the Mac & Cheese – I felt I had no choice considering how much the guys enjoyed it last time. It was very good – creamy, cheesy, a little spicy.  And, for good measure, I had the A.K. Chili as my second side.  It was not bad, but I had to add some hot sauce to bring it to the desired level of heat.  It was not super meaty, but at least had a good consistency.
As for the Sandwich, the Autopsy is after the jump… Continue reading »

What to do to refuel and keep going after an afternoon of tailgaiting, drinking, and football in Buffalo?
The best place to go is The Anchor Bar.
So I dragged the gang there, hoping that they would deliver as they did the last time I was there.
The matronne was there, blowing kisses as usual, promising to deliver steamy tasty chicken wings for all.
We sat in the bar area, catching Sunday Night Football. 
Near us, Boston Globe reporter Dan Shaughnessy was chatting loudly with a Buffalo scribe about today's game at Orchard Park.
Of course, let's not forget we had a vegetarian with us.  Turns out – he believes fish are veggies, because he ordered the fish and chips.
The Anchor Bar calls their fish & chips the "Fish Fry Everyday".
Rick got a gigantic piece of Icelandic Haddock, served with a healthy serving of crispy french fries and some coleslaw on the side.
The fish was flaky, nicely fried, not greasy at all.
"It was very good fish", Rick said. "If only they would smother it in chicken wings sauce".
All in all, Rick seemed to enjoy his vegetables.
But the rest of us were focussed on more serious matters: chicken wings.
After all, this was why I was able to attract them here.  But, a little skeptical, they decided to go easy to start:  we only ordered a bucket of wings.  I pledged for hot – after all, that's how they were meant to be eaten.
The wings didn't came in a bucket.  There was no chicken bucket.  But there were about 50 on the plate, nicely glowing after being tossed in the original hot sauce, with half that number of celery sticks and 4 cups of the blue cheese sauce on the side. But it was no wing bucket.
Now, these are good wings. It had been a long day already, but it seemed to me they were even better than the last time I had them. Medium sized, they were tender and crispy, not dry at all, the sauce was coating them very nicely. The heat was present, cooled down nicely by the blue cheese dip if needed.
As I expected, we ran out quickly – we had to order another bucketless bucket.  This time, at Patrick's insistance, we ordered the medium.  Unfortunate mistake – with no sauce to speak of, the second batch was much dryer and definitely not as flavourful.
Next time, we won't listen to Patrick.
Here we were, in Parking Lot C of Ralph Wilson Stadium, for a quick tailgate before the Patriots-Bills game.
I say quick because it was a 1 PM start, so it reduces the available time before the game, especially considering the night before.
I planned ahead this time, and brought some equipment and supplies, including a propane stove to cook our pre-game meal.  For food, we went to Tops, which usually has everything one can need.
Not this time, though – one having self-imposed vegetarian constraints, we looked for veggie burgers or dogs.  No luck in downtown Buffalo.  But I was already planning a vegetarian chili.
Butter

1 small red onion

1 green pepper

1 can of crushed tomatoes

1 can of red kidney beans

1 can of black kidney beans

1 can of corn

salt

pepper

my secret blend of chili spices
I used a small hand-powered food processor to chop the onion and the green pepper. I melted the butter (picked up at Jim's Steakout yesterday), then I lightly browned the onion.  I followed with the green pepper, and a good helping of salt and pepper. After a few minutes,  I threw in the can of tomatoes, heating at low.  Once it was simmering, I added my special blend (garlic powder, onion powder, morrocan paprika, black pepper, and Club House's Chili Powder), then the beans and the corn.  I let simmer for a while in order for the chili to get denser, et voilà.
This was a pretty good chili, as far as non carne goes.  I usually do not add corn to my chili, but I thought it would be a good substitute for beef and add a nice colour and texture to the dish.  It was not too spicy, but the hot sauce gave it a nice bite.  I've got to admit that I did like that sauce – it is great for cooking.  But I can see why some might not like it on its own.  In the chili, however, it worked very nicely.
Steak sandwiches were also on the menu.  I toasted some buns, I quickly pan-fried some minute-steaks, finishing them with some of the Original Dinosaur BBQ sauce  - the Sensuous Slathering sauce – that I had picked up at the joint in Syracuse (More on that soon).  A great BBQ flavour, with smokiness, it has a dark honey colour.  Fairly thick, this sauce needed to be reduced a bit.  Although tomato is the main ingredient, the main flavours comes from the mustard and brown sugar. A little bit of a kick at the finish, a nice cayenne touch.
The sandwiches were a success, as you can see below (left). So much so that even the vegetarian joined in – no worries, he replaced the meat with a healthy helping of vegetarian chili (right).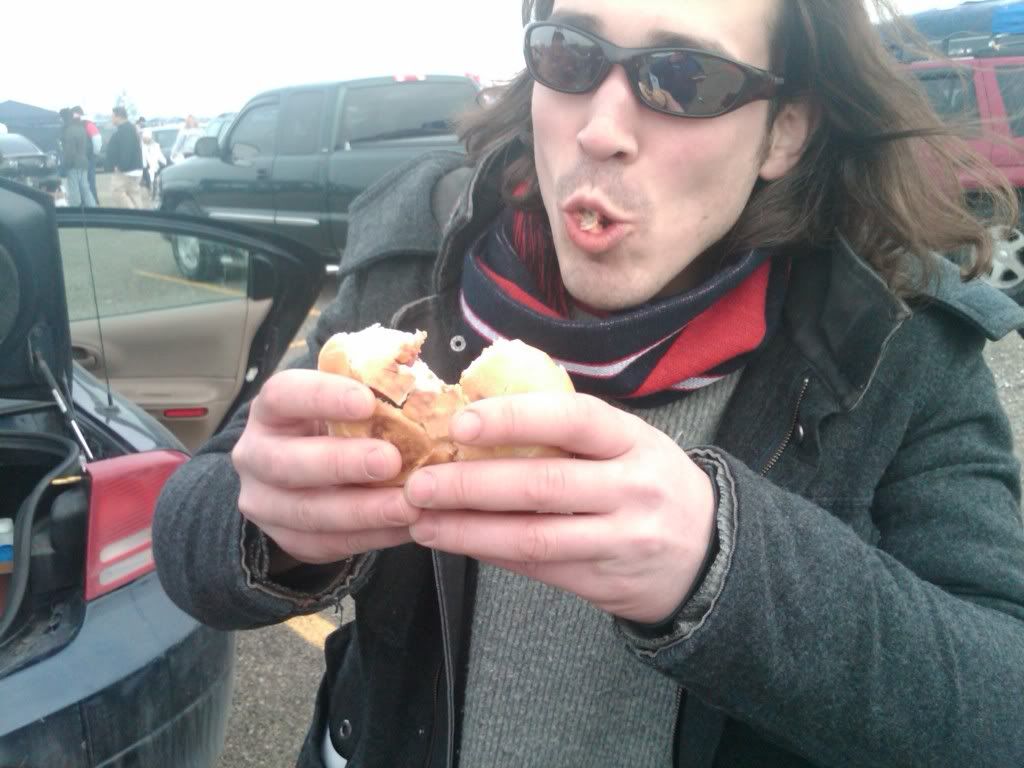 The Bills however did not do so well, but at least they were in it until the end. But nevermind.
I found that out very slowly though after our night out on Chippewa street following the Sabres-Penguins' game.
I was hungry. We were in a bar watching the last bit of Sunday Night Football.
I decided to scout out a location for a nice dinner and I left the guys behind . I saw the sign.  Jim's Steakout.
I saw the sign and it opened up my eyes
I saw the sign
Life is demanding without understanding
I saw the sign and it opened up my eyes
I saw the sign
No one's gonna drag you up to get into the light where you belong…
But where do you belong?
(I saw the sign – I saw the si-i-ign) I saw the sign!
(I saw the sign – I saw the si-ig-i-ign)
(i saw the sign – i saw the si-ign) i saw the sign!
And it opened up my eyes, I saw the sign! (sign, sign,sign)
Except I didn't open up my eyes, and I walked through the wrong door.
Of course I did – I thought I was walking into a branché steakhouse. Duh.
So I walked into the Crocodile.  Unbeknownst to me.
There were TVs, the closests playing the Oilers vs Capitals game. Bonus, a sign advertising a free Pint of Blue Light with your Sabres' tickets. Yes, it's Blue Light, but it's beer, and it's free.  I informed the guys of my location.  Come one, come all.
While waiting, I toured the place.  Nobody was eating.  Nobody was watching SNF – the game was not even on.  Perhaps I should have clued in?  Naah.  Free Beer.
They guys showed up. They paid the 5$ cover charge (I didn't have to pay!) They too didn't see football on any of the TVs. They asked. "We do not play football here." Huh??? The sign said the place was the Official Buffalo Bills Tailgate Party! The guys were cursing me – they were missing the last minutes of the 4th quarter of an exciting game. "Free Beer", I replied, unconcerned.
But it was Blue Light. Draught.  So we drank it fast, and left.  And then we went to the actual Jim's Steakout, which is obviously a place to take steak out.  As in to go.
And so we walked in.  The place was busy with a fairly young and inebriated crowd.  Music was loud.  Cooks were working away in the open kitchen, trying to keep up with the orders.
Jim's Steakout is a Buffalo-owned chain of sandwich shops, with 9 locations.  It's menu mostly focuses on sandwiches, and those sandwiches feature beef quite heavily.
The place claims to have the best hoagie in town.  What is a hoagie? It's basically a submarine sandwich on an Italian roll, usually made with Italian ham, prosciutto, salami, and provolone cheese.  Why is it call a hoagie?  What's cooking America explains.
Jim's Steakout features 7 hoagies (6 with beef); 18 submarines (4 with beef); 14 other types of sandwiches (9 with beef).  Even 2 out of the 5 salads have beef in them!
The vegetarian options are limited to the Cheese Cold Sub, the Veggie burger, the Chef Salad or the Veggie tacos.  No problem for Rick to make a choice.
I had to steak it out.
I ordered the Diavlo hoagie : steak chopped on the grill, topped with fried onions, fried hot peppers, melted cheese and Jim's Secret sauce.
Now, isn't this a marvel or what? Jim claims the beef is 100% premium sirloin steak.  Not sure how premium it is, but it may explain why it was still tender despite being grilled on the hot plaque. Of course, it was chopped very thinly, and smothered in a pretty good sauce which was only adding to the beef flavour without distracting from it.  By grilling the hot peppers, they got rid of the acidity and kept most of the heat – nicely done.  There could have been more cheese though  - it was a little light.
Nevertheless, this was a very good sandwich before going back to our base for some poker – ready to go all-in!
The first sporting event of this Buffalo trip was the Sabres taking on the Penguins at theHSBC arena a very nice and modern building.  Opened in 1996, it's seating capacity is 18 690 persons. They are proposing a makeover, but I actually think no major changes are really needed.
We got there using the Buffalo light train, cruising through downtown Buffalo with other hockey-goers. We walked into a grand foyer, welcomed by a gigantic Labatt Blue Zone neon sign. (Labatt Blue is the Official Canadian Import Beer of the Buffalo Sabres! Yay!) We got up to our seats (thank you, Last-Row-Deverow) through very wide corridors. We did not feel cramped anywhere, not even in the Souvenir shop, nicely stocked, and the line-ups at the many concessions were very short.
When it's time to eat, there are many options at HSBC. In fact, Sports Road Trip ranks it #4 in the NHL. The Harbour Club is the posh area, with banquet facilities for 800, with a view of both the arena floor and the Buffalo waterfront. There, you can find organic meals. You can also go to the Pepsi Headlines Bar – a classic sports bar with classic sports food or for a busier environment, the Tops Food Court with games and the Buffalo Sports Hall of Fame (which we skipped for some odd reason).
Concessions include the "Caliente Corner" with Mexican fare (100-level, Aisle 5); The "Pile High" deli features carved roast turkey and other sandwiches (100-level, Aisle 8); The "Pour Man's Aud Club" (behind section 111) also specializes in carved meat sandwiches. Beef on Weck is a popular selection.
We were on our way to Buffalo, although this time I was with a different gang – this time, I was with New Democrat colleagues.
Lunch time was rapidly approaching, and most of the guys in the car were getting annoyed with Axl's quality singing. Despite the fact that they have no musical ear, I accepted the proposal to stop in Syracuse for lunch – Michael knew a barbecue joint that would rock our socks more then Axl, apparently.
So here we were in downtown Syracuse, pulling in front of Dinosaur Bar-B-Que.
(Click on the picture to get a feel for the location!!  First Waffle movie ever!)
The joint (now with locations in Harlem and Rochester) was opened in 1983 by three bikers, bound together by "the love of good food, a 55 gallon drum cut in half, and a serious case of wanderlust".  What could possibly go wrong with that?
The sign was clear: this was a genuine rib joint. Blues music was pouring out of the outdoor speakers, and we happily walked into a packed place, even if it was past 1 pm already.  And it got even busier later, people lining up and waiting for tables.
The cooks were busy in the kitchen, the waiting staff was not wasting time moving quickly from table to table, and the owner was happily shouting announcements in the sound system, standing in the Hostess Hut by the front door.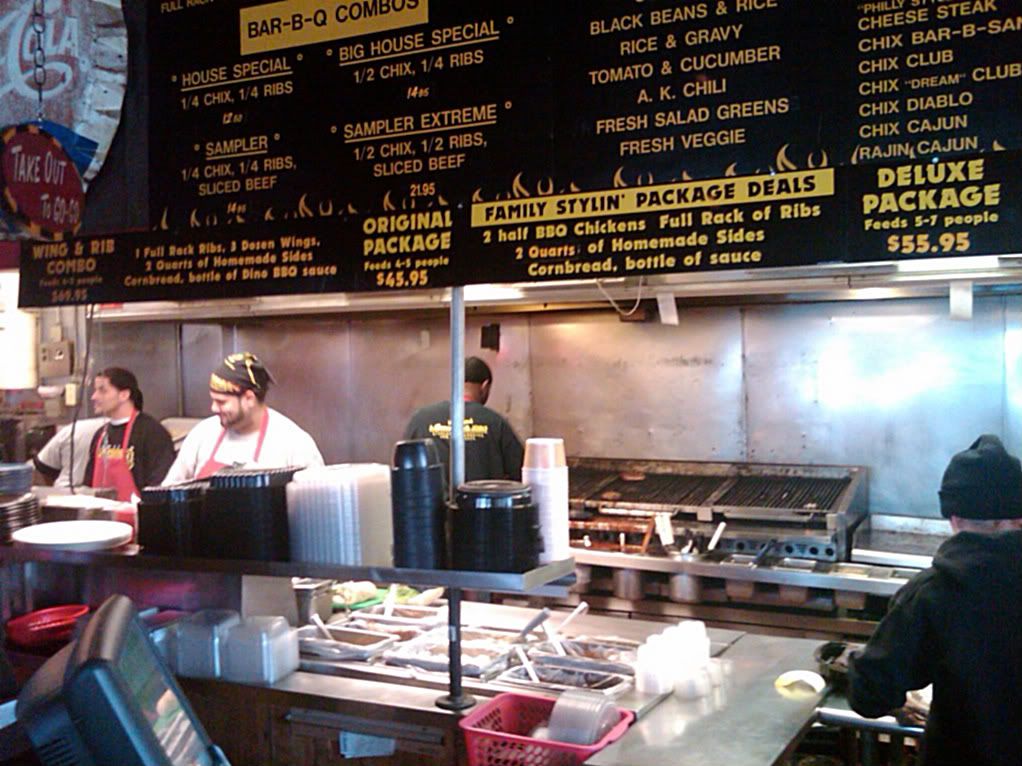 Thankfully, there was room for our party of five. The BBQ aromas were great, the menu offered many options, including some for our vegetarian organizer. (The other vegetarian chickened out, which is kind of weird for a vegetarian.  Thankfully, we replaced him with a carnivore.)
We peered at the menu. Everything you expected was there. While we were thinking, we ordered a couple of pitchers of beer.  With the beer, I suggested that we share a pound of their Drunken Spicy Shrimp Boil as an appetizer. Enthusiasm and cheers all around – it was going to be a fun weekend.
For 20$, we got about 40 shrimp, which were cooked in a boil of beer, old bay, cayenne, herbs and spices. They came with a side of habanero cocktail sauce.
The shrimp were big, tender, spicy. Impressive – though a tad messy, but it didn't seem to bother us.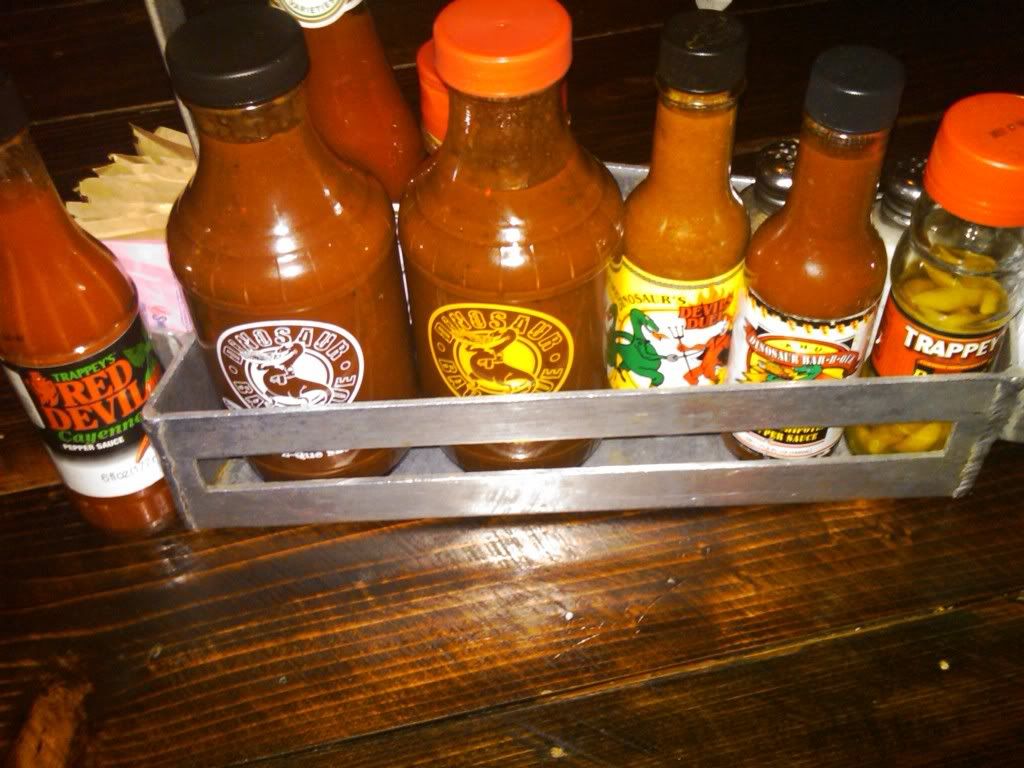 Then, another important decision faced each of us: what sides to choose from? And what sauce would you pick from the selection available on the table?
Each dish came with two choices amongst:
Mac & Cheese • Carrot Raisin Salad • Cole Slaw • Macaroni Salad • Tomato Cucumber Salad • Soup of the Day • Bar–B–Que Beans • A.K. Chili • Fresh Salad Greens w/ Bar–B–Blues House Dressing • Real Mashed Potatoes with Gravy • Black Beans & Rice • Rice & Gravy • Fresh Fruit Salad • Applesauce  • Cottage Cheese • Fresh Veggie of the day • Fresh Cut Fries.
Depite the fact that their fries are cooked in 100% Canola oil – "Zero Trans FAT Crapola" – I went ahead with the Cole Slaw and the Bar-B-Que Beans to accompany my main meal: The Tres Hombre!!!  A spirited serving of pulled pork, some sliced Texas-style Beef Brisket, and ribs!!!  And all that came for only $15.95!!!  Much cheaper then the, oh so tempting High Time Special: A Full Rack of ribs plus a bottle of Dom Perignon for $195.00…
Now, that was some good Bar-B-Que! The pulled pork was great, tender, moist. I added some of their sauces here and there, to give it a little more zip.  It was fantastic, and there was lots of it.   The ribs were great – they marinate them for 24 hours with a spice rub; then they are slowly pit smoked and lightly glazed with their Sensuous Slathering sauce. They were meaty, perfect tenderness without staying on the plate when you picked a bone.  The brisket was disapointing – a small smoke ring, though the smoky flavour was present – but it was a little dry, and I guess I prefer the texture of bigger, juicier slices – at Dinosaur, they are thin sliced. It was, however, plenty of food.
The sides were not bad.  The cornbread was a bit too moist for my taste, but the coleslaw was creamy and a little spicy, and the beans were tasty, but a little runny.  Not a homerun, but not bad nevertheless – and besides, that is not why we stopped.
Pat went for the Traditional Sampler (left – ¼ chicken, ¼ rack of ribs, beef brisket) with mac & cheese and fries on the side.  Michael chose the pulled pork and ribs combo (right), with a side of mac & cheese and coleslaw.
Marc-André didn't want Michael to feel bad and chose the same thing (left), but he went for the fries and oddly, the cucumber and tomato salad.  Perhaps he wanted to fit in with his neighbour, Rick, who ordered the Fried Green Tomatoes and by fried, they meant crispy fried, topped with shrimp, romano and cheddar cheese and served with a ranch sauce. On the side, mac & cheese again (I tried it – it looked creamy and cheesy and it was excellent – my choice next time) and the soup of the day – a crab bisque.
This was a great pit stop. Sure, it is a bit out of the way, and you risk arriving in a packed place after trouble finding parking, but this was simply great and a lot of fun. Dinosaur, I'll be back.
I had to work late, so dinner was also going to be late.  However, the wife was hungry, and she was craving pasta.  Again.
"We've had pasta all week!!!" I reminded her gently.
She would not argue against pizza, she stated.  So off I went on the hunt for a  pizza to satisfy her hunger, and mine.
I figured I could get some pizza and maybe surprise her with a side of pasta.  A pizza-ghetti, or something similar to take out.
A pizza-ghetti is a combo meal, offered in a lot of family restaurants throughout Quebec, especially but not exclusively in italian-style chains such as Mikes (review), Pacini (review) or Giorgio.  Also very popular in these locations is the pizza-césar
Basically, a pizza-ghetti is a personal pizza, sliced in half, with a side of spaghetti, usually with a tomato-based sauce.  It is not something you would find in Italy, or in most countries of the world for that matter.
So I drove around Hull, looking for a pizza place that was not too busy and maybe could accommodate Mel's pasta craving too. And I ended up at Dora Pizza, a small lebanese-owned pizza counter located on St-Joseph.
The pizza oven was dominating the space at the back, squeezed between dozens of empty boxes, that an employee was dutifully stacking while I waited.
I had ordered at the place before.  Dora Pizza delivers for free after 11 am everyday. It is one of these places where pizzas are always 2 for 1.  I peered at the menu, looking for the gem that would please my hungry woman.
Looking on the pasta side, the selection was limited.  Three types of spaghetti, two lasagnas, cheese ravioli.  No pizza-ghetti  there.  On the pizza front, 14 types were on the offering.  Classics such as All Dressed, Hawaian, Vegetarian were there.  And so were the less classic Taco, Smoked Meat and Pizzaghetti.
Pizzaghetti! Eureka!
But wait a second – why is it on the pizza menu, listed with the others?
I looked at the description:  Meat sauce, pepperoni, spaghetti, cheese.  Huh?
Well, whatever it was going to end up to be, I was ordering it.  What could possibly go wrong?
The pizzaiola, lebanese-born, was spinning the pie in front of me. So far, so good.
Meat Sauce, check.  Pepperoni, check. But I could not see any spaghetti, no containers, no cauldron, nothing.
And that is when the box stacker showed up, once again, but this time, no boxes.  Instead, he had a ball of spaghetti, steaming and covered with plastic wrap.  He gave it to the pizzaiola, and she proceeded to garnish the pie with it.  She finished it with cheese, and in the oven it went.  It came out soon after, and it was a work of art.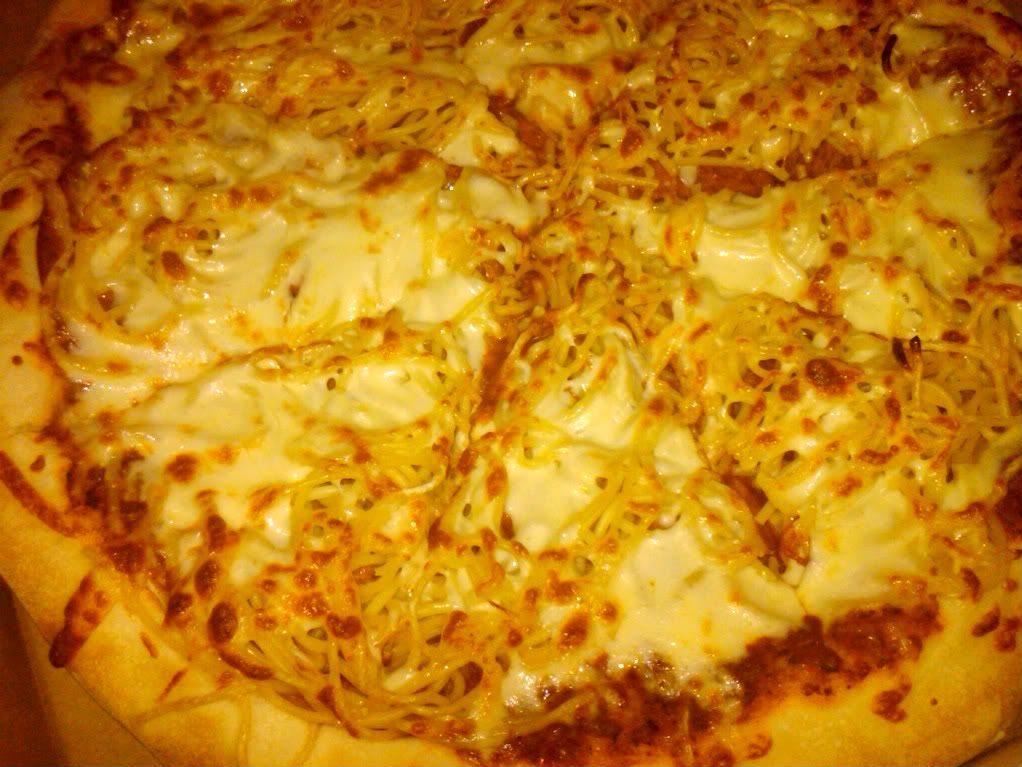 I was pleasantly surprised, and so was Mel. She's made fun of pizza-ghetti before, but today she was quite excited when she opened the box.  For my part, I was worried the spaghetti would be dried up, but except for a handful of little bits, it was no different than any baked spaghetti. The meat sauce was correct, the pepperoni not overpowering. The mozzarella was alright, thought not quite as melted as it should have been.  All in all, not a bad food experiment.  If I were to make this at home, I would toss the pasta in the meat sauce first, to coat them nicely and make sure the meat sauce flavor would not be stuck between the meat and the pasta.  However, to order this again, someone would have to be in the right mood to enjoy it.
I was meeting a colleague at Milestones for a business lunch today. They only had room at the bar – not very private, not very comfortable, and not very what we felt like. So we left.
And ended up at the Métropolitain.
Yes, I know, I talked about the Métropolitain here and here. What can I say?  Milestones was too busy to accomodate us.   And it's – 25, we were not going to walk around waiting to be inspired.  We went downstairs, hoping there would be space.  And there was.
We shared some oysters while waiting for our main course.  I picked a new addition to the Met's menu – the Veal Milanese, which, incidentally, seemed to have replaced the Pork Milanese on the menu.  It was described as a veal cutlet, breaded and fried, served on a garlic butter toast, topped with bruschetta sauce, accompanied by mixed greens.
The salad was correct – it was mixed greens and only mixed greens, with the exception of a few red onions.
The veal was not bad, the meat very tender, as expected, although it was almost overcooked – almost.  The breading was light on Parmesan cheese, but still well seasoned.  It was crispy, with no burned parts.   Serving the veal on a half-baguette smothered in garlic bread was risky – especially considering that it was topped with their bruschetta melange.  Garlic could have been overpowering, but there was not a lot with their bruschetta, so it was ok.   If anything, the bruschetta "sauce" could have used a bit more seasonning, some fresh herbs like oregano and parsley.  And it could have been reduced into an actual sauce – to concentrate the flavors.  Still, a good dish, though a bit pricey at 20$.
Let me point out that, even though the place was busy with lots of Christmas lunch-going people, the service was efficient and courteous. Nothing like feeling appreciated as a costumer.