So The Waffle tied the knot.  
My apologies to the many Broken Hearts out there who are devastated for not being the lucky one.
Many readers, notably Andrea C. and Kayle H.,  called on The Waffle to review his own wedding dinner.
Although he irritated the bride slightly by taking pictures of the food, The Waffle is happy to oblige. One doesn't marry The Waffle without marrying his thousands of fans.
The wedding was celebrated on the shore of Lac Leamy, in the Hull sector of Gatineau, a stone's throw from the Casino.  The reception was held on site, in a neat little French place called Bistro Le St-Eloi.
The friendly staff kicked off the dinner part by serving a soup, a potage of vegetables.
The concoction was heavy on tomatoes, but you could definitely taste red peppers as well.  Nicely spicy, they finished it off with a few bits of chives. It was quite smooth, not bland at all.  Delicious.
Next came their salad, called Méli-Mélo because it involved a mix of greens and lettuces, with some garden vegetables.
As with most restaurants, it was a bit heavy on the dressing, but nothing overwhelming since the dressing was not powerful in flavour.
3 mains' were offered by the Bride and Groom:
34 went for the Bride's pick, a Chicken Breast stuffed with Merguez, accompanied by Bell Peppers.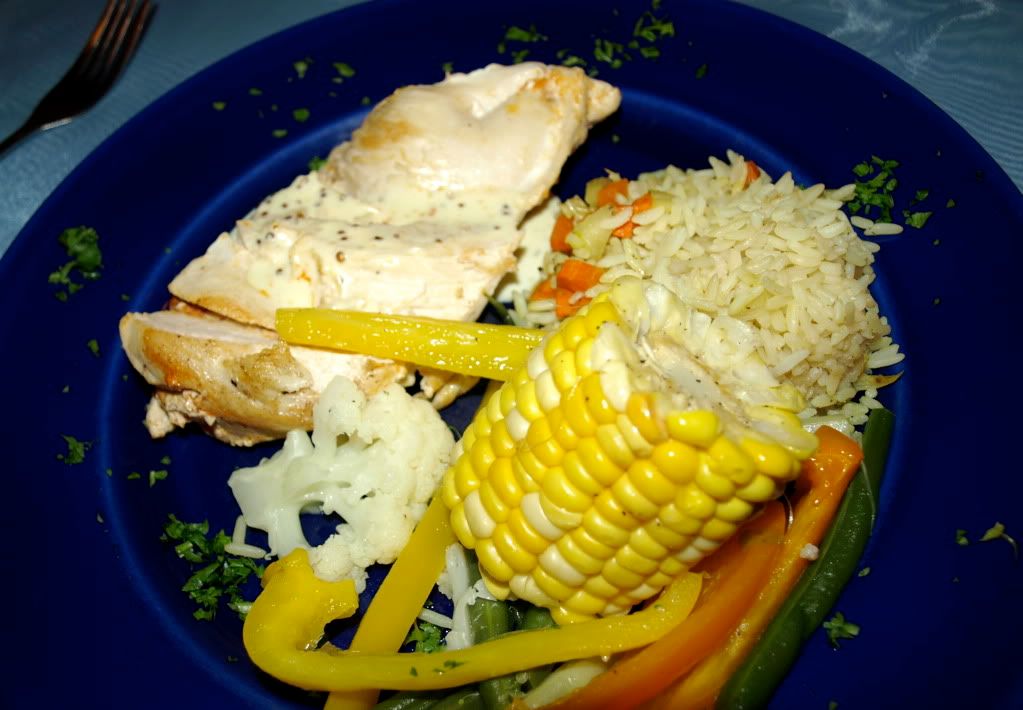 The chicken was tender and juicy, and the merguez was mild in order not to offend the delicate palates.
32 selected the Groom's choice, a Veal Cutlet with Asparagus.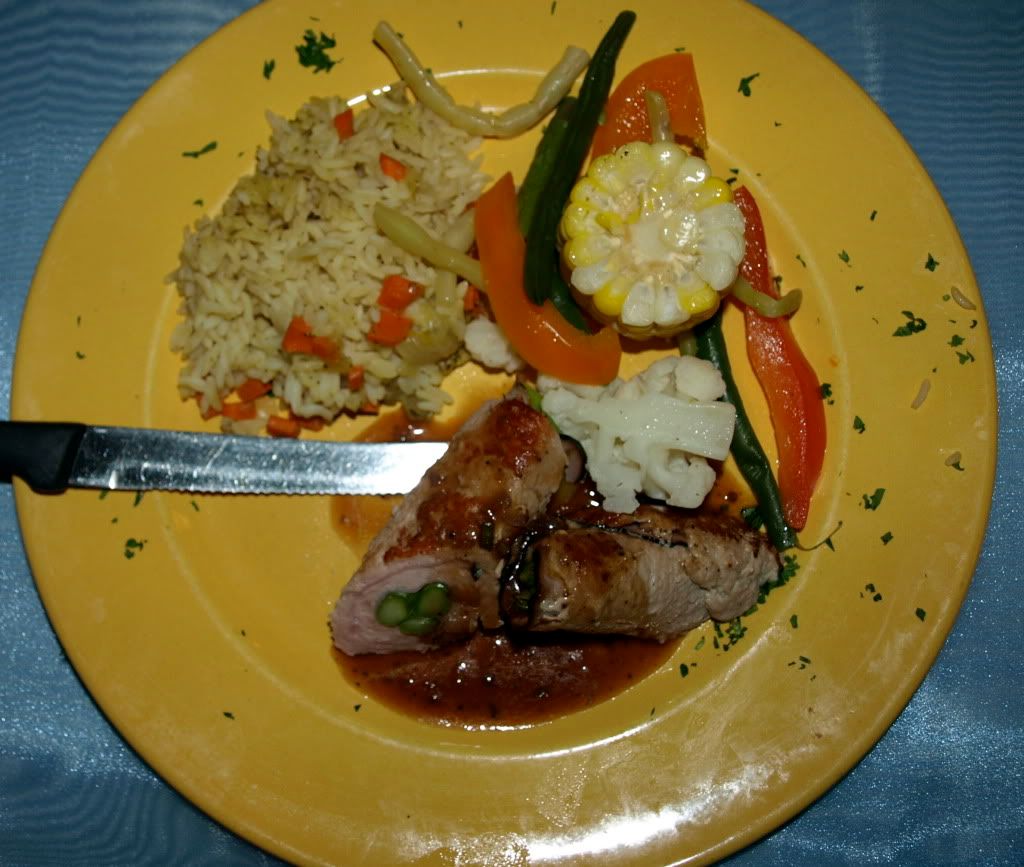 The veal was very tender, the asparagus adding some crunchy-moisture, a combination that worked very well.  The sauce finished the dish perfectly, adding an extra touch of depth to it all.  Quite satisfying.
25 decided to go with the Sole and Shrimp combination, served with rice.
The sole was cooked perfectly. I mean perfectly.  There was a hint of spice which worked great with the fish.  There could have been more shrimp, but overall the balance wasn't bad.  The sauce was present as a very subtle finishing touch, to add some moisture to the dish.
Every main was served with a piece of corn on the cob on the side.  The corn was fresh, juicy and quite a nice addition to the meal.
2 had vegetarian restrictions and were served some vegetarian stuff that the Waffle didn't and wouldn't try.  
3 were young enough to be able to pick from the kids' menu.
And for dessert, we had a magnificient wedding cake made by Judy Randall as a favour to the newly weds.  One of the best researchers the NDP has ever had on staff, she put a lot of effort and energy into creating a delicious chocolaty masterpiece.
Overall, a great dinner.  Kudos to Gilles, Camille and all the staff at Le St-Eloi for their part in making the evening memorable.