Browsing articles from "August, 2009"
So The Waffle tied the knot.  
My apologies to the many Broken Hearts out there who are devastated for not being the lucky one.
Many readers, notably Andrea C. and Kayle H.,  called on The Waffle to review his own wedding dinner.
Although he irritated the bride slightly by taking pictures of the food, The Waffle is happy to oblige. One doesn't marry The Waffle without marrying his thousands of fans.
The wedding was celebrated on the shore of Lac Leamy, in the Hull sector of Gatineau, a stone's throw from the Casino.  The reception was held on site, in a neat little French place called Bistro Le St-Eloi.
The friendly staff kicked off the dinner part by serving a soup, a potage of vegetables.
The concoction was heavy on tomatoes, but you could definitely taste red peppers as well.  Nicely spicy, they finished it off with a few bits of chives. It was quite smooth, not bland at all.  Delicious.
Next came their salad, called Méli-Mélo because it involved a mix of greens and lettuces, with some garden vegetables.
As with most restaurants, it was a bit heavy on the dressing, but nothing overwhelming since the dressing was not powerful in flavour.
3 mains' were offered by the Bride and Groom:
34 went for the Bride's pick, a Chicken Breast stuffed with Merguez, accompanied by Bell Peppers.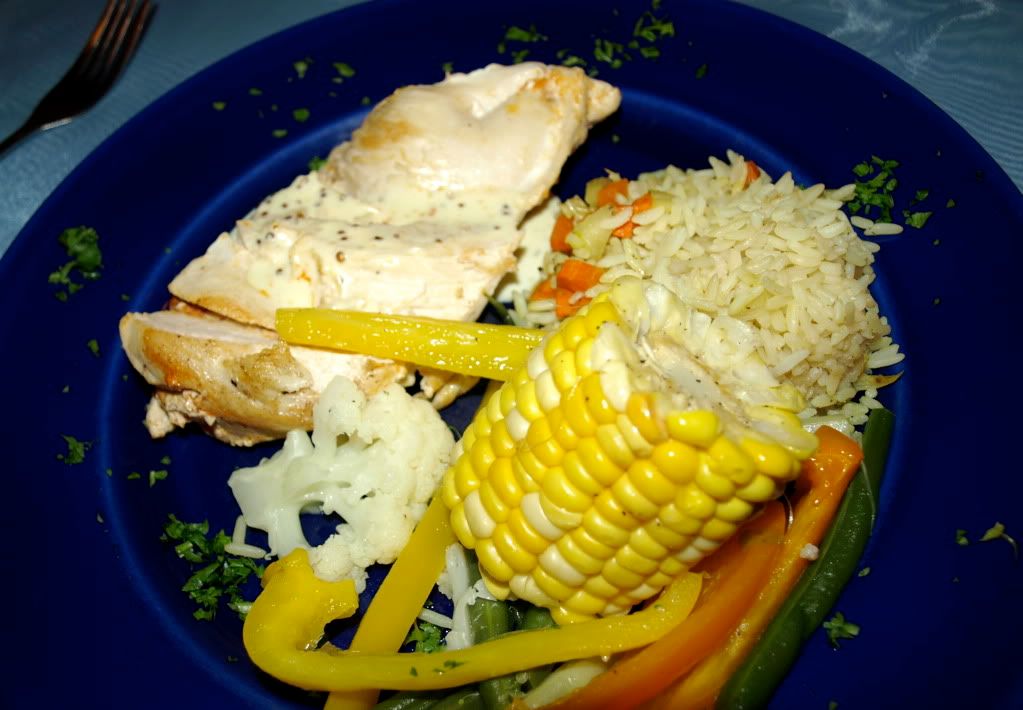 The chicken was tender and juicy, and the merguez was mild in order not to offend the delicate palates.
32 selected the Groom's choice, a Veal Cutlet with Asparagus.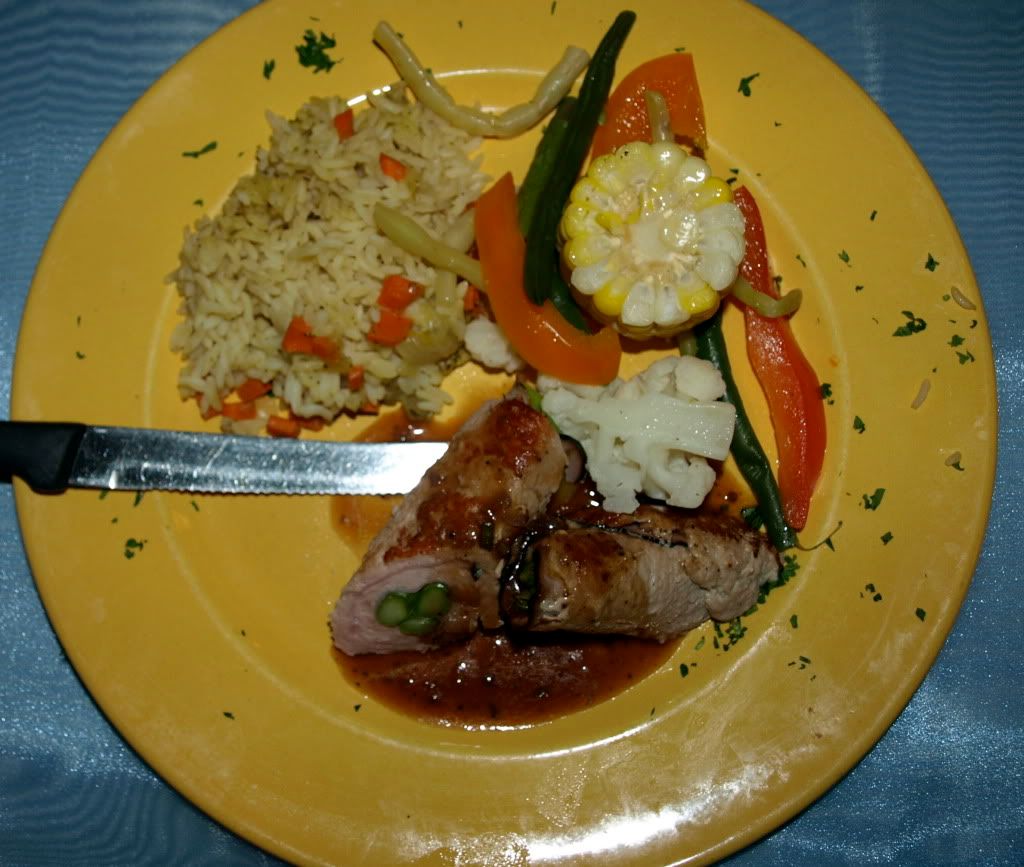 The veal was very tender, the asparagus adding some crunchy-moisture, a combination that worked very well.  The sauce finished the dish perfectly, adding an extra touch of depth to it all.  Quite satisfying.
25 decided to go with the Sole and Shrimp combination, served with rice.
The sole was cooked perfectly. I mean perfectly.  There was a hint of spice which worked great with the fish.  There could have been more shrimp, but overall the balance wasn't bad.  The sauce was present as a very subtle finishing touch, to add some moisture to the dish.
Every main was served with a piece of corn on the cob on the side.  The corn was fresh, juicy and quite a nice addition to the meal.
2 had vegetarian restrictions and were served some vegetarian stuff that the Waffle didn't and wouldn't try.  
3 were young enough to be able to pick from the kids' menu.
And for dessert, we had a magnificient wedding cake made by Judy Randall as a favour to the newly weds.  One of the best researchers the NDP has ever had on staff, she put a lot of effort and energy into creating a delicious chocolaty masterpiece.
Overall, a great dinner.  Kudos to Gilles, Camille and all the staff at Le St-Eloi for their part in making the evening memorable.
Pizza corner is an institution in Halifax.  Located at the intersection of Blowers and Grafton Streets, it got its name because there are inexpensive pizza places on three of the four corners, the fourth one being occupied by the
Presbytarian Church of Saint David
.
You go there for the pizza, mostly late at night after enjoying many frosty beverages.  It is also a great spot to try out a donair, if your stomach is solid and you are going home alone. Wikitravel claims that the area can descend into anarchy when the bars let out, and the restaurants often lock their bathrooms, even to customers!!  But it wasn't the case this Thursday Night, when Rick and I went there after "French Kiss" the party organised by the Quebec section of the NDP the night before the Convention kick-off.
When you get to Pizza Corner, you can choose between the King of Donairs, the European Food Shop or our pick, Sicilian Pizza, Donairs & Subs.
Why did we choose Sicilian? Well, because it is The Home of the Big Slice ®, that's why!!
Rick is vegetarian, so he was creative and selected a Big Slice ® of Vegetarian.
Tomatoes, green peppers, Spanish onions, mushrooms & mozzarella.  It actually looked very good, the tomatoes looked fresh and there was a lot of veggies on the slice.  Rick seemed to enjoy it, which is good, because he only had one shot at it.
I decided I had to counterbalance Rick's pick, and I went for the Meatzza.  Finally, something that sounds better than Meat Lover.  MEATZZA baby!!
Pepperoni, Italian sausage, bacon, salami, ground beef and mozzarella.
I almost got a fresh Big Slice ®, but instead got the last one of the previous pie.  I didn't complain, figuring there was plenty of traffic here that it couldn't be very old.
The pizza wasn't too bad.  Not the best I've ever had, but quite decent for the time of day.  The sausage were spicy, the ground beef and the bacon were unfortunetaly small pre-cooked bits – but at least they weren't too salty, the pepperoni was decent.  The salami was basically non-present.
The cheese was not too greasy and nicely melted, with the nice rubber-texture that you look for at 2 in the morning.
I have to admit I was envious of Rick's tomatoes.  Perhaps the outlet will come up with a Vegemeatzza soon, in order to offer some healthy and balance options.
We enjoyed our slices sitting by the open window, people watching, making fun of overly drunk students, and heckling New Democrats as they walked by.  Good times.
.
As we ran around all morning from interview to interview, we soon realized that no lunch time had been scheduled.  Well, that's always a problem for me when they do that.  And you may not believe me, but they do it quite often.
Anyway, the next interview was scheduled with the Globe and Mail in a coffee shop on  Upper Water Street.  Well, that's always a problem for me when they do that. I do not drink coffee.
Thankfully, the Leader and his assistant Tammy were also hungry, and they happily accepted my suggestion of stopping at O'Carroll's when we walked by.  A quick phone call to the Globe and Mail reporter to change the location, and we were all set.
O'Carroll's is an Irish Pub with a big emphasis on seafood.  There is a dining room, which is quite nice, but I prefer hanging out on the Pub side of the establishment. The place is an iconic institution in Halifax, with a warm atmosphere with its brick walls and wood furniture. They recently  refreshed their menu, which now features pastas, fresh seafood, steak and lamb, plus vegetarian dishes. On the pub side, there is music every night and you can enjoy classic pub fares such as steak and kidney pie, bangers and mash, and fish and chips.  You can also pick one of their Burgers of the Isle named after Irish counties.
As we waited for the Globe's reporter, we ordered. To start, we shared a platter of Oysters.  They were from New Brunswick that day.
Fresh, juicy, they were great with a drop of lemon.  The cocktail sauce, which was different than the regular industrial type, didn't quite work for me.
I hadn't had any lobster yet since I arrived in Nova Scotia on Monday, and so I decided to go for one for my main.  Well, kind of. I went for the lobster sandwich.
A very rich lobster salad, with lots of mayo and green onions, served on a baguette and topped with lettuce and tomato. The sandwich came with french fries.
The baguette was nicely toasted, and since the bread was fresh, it wasn't crumbling all over the place.  Nice big chunks of Lobster in the salad, a little heavy with green onions for my taste.  The tomato and lettuce were fresh as well.   The fries were decent, nicely golden, crunchy and warm.  At $16.95, it is an expensive sandwich, but cheaper than a whole lobster and certainly not as messy.
———–
UPDATE  - Aug. 13 @ 22:32 :  The resulting interview can be found
here.
———–
UPDATE – Aug, 16 @ 2:12  After going to a
ceilidh
at the
Alexander Keith's brewery
, a party hosted by the Nova Scotia NDP Caucus where I was able to tour the brewery and sample their freshest selection, I went back to the O'Carroll's with some of the CBC/Radio-Canada crew.  The music was good, and the beer was even better.I had a few
Garrison Nut Brown Ales
, a nice, creamy ale with mild hop aromas and a nice bitter-chocolaty finish.  
Garrison
brews quality beers, which are guaranteed to be 100% vegan and preservative free.  I really enjoyed this beer.
Sometimes, when you are on tour, people are quite happy to see you or have you as guest.
Not always.
But it was the case in Bridgewater, Nova Scotia.
As I checked into my room at the Days Inn and Conference Centre, I was surprised to find a huge fruit basket waiting for me, along with a nice letter from the assistant manager.
Here are some excerpts:
"We are pleased to have you and Mr. Layton as our guests this evening.
We have just celebrated our first year with this new franchise and are looking forward to experiencing continued growth for this business.
We look forward to sharing our hospitality with you.
We are especially looking forward to the changes that will be brought about by the New Democratic Party."
Next time I am in Bridgewater, guess where I am going to stay?
.
As we were getting closer to
hfx09
, I was sent on a pre-convention tour on the South Shore of Nova Scotia.
The obligatory first stop was at the
Halifax Stanfield International Airport
.  I was a little annoyed because even though my
Air Canada
flight had landed 5 minutes ahead of schedule, we sat on the tarmac for 45 minutes as we waited for a free gate and a free ground crew.  Still, I had a few hours before the boss landed, and so I decided that lunch was the next obligatory stop since it was past noon and Air Canada no longer feeds people on their flights.
The place was busy but not packed.  I settled for a seat at the bar, a prime location to see the staff in action and watch some tennis.
I peered quickly at the menu, and decided quickly – I picked the Fish & Chips. What else for a first meal in Nova Scotia?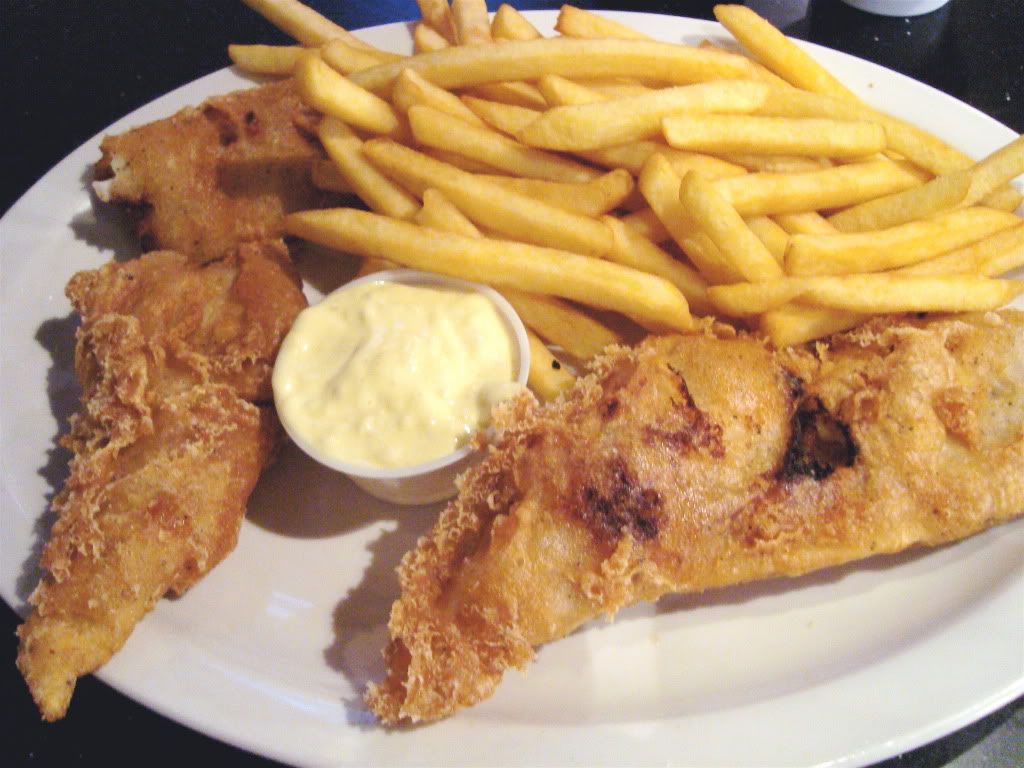 Two big pieces of haddock soon arrived.  The batter was crisp, was holding together nicely, and it was not too greasy.  The fish was not overcooked, still flaky, not dry but not dripping with oil either. The tartar sauce that came with it was not up to the task however – too creamy, bland, boring.
The chips were also a disappointment.  Frozen-type, they were not very crispy and not very warm. They were edible – but frankly, the fish deserved a much better partner.
With a pint of Rickard's Red, this meal costed me $22, including taxes but before tip.
We boarded the Sea Mist II as the sun was starting to go down on Chester's Harbour.
This was after some mainstreeting near the docks, talking to local folks about the issues they care about.
NDP Leader Jack Layton along with NDP MLA Denise Peterson-Rafuse were joining a group of local supporters for a tour of the harbour and maybe some mackerel fishing.
Apparently mackerel is a big thing in Chester.
A big thing.
So we set off, touring the harbour and admiring the scenery.
Notably, Heisler's Marina, constructed in 1924, the Swinehamer House, circa 1800, the Old Baptist Burial Grounds, with its oldest stone dated 1761.
There Champlain Robertson House, overlooking the Back Harbour, was once owned by a descendant of Chief Powhaten, father of Pocahontas.
Everything was quite striking, but we finally set out for the sea.
The weather was perfect.  We were enjoying the breeze and the sun.  Some were trying to catch some mackerel.
And then they got the snack ready – fresh mussels, steamed with water, salt, onions and some fresh herbs.
I love mussels. They are a great source of protein and omega-3; an excellent source of selenium and vitamin B12 and a good source of zinc and folate.
There was someting quite neat about eating them as the sun was going down on the water. The salty smell of the sea was enhancing the eating experience, I ate them slowly, as the sun was slowly but surely falling in the horizon.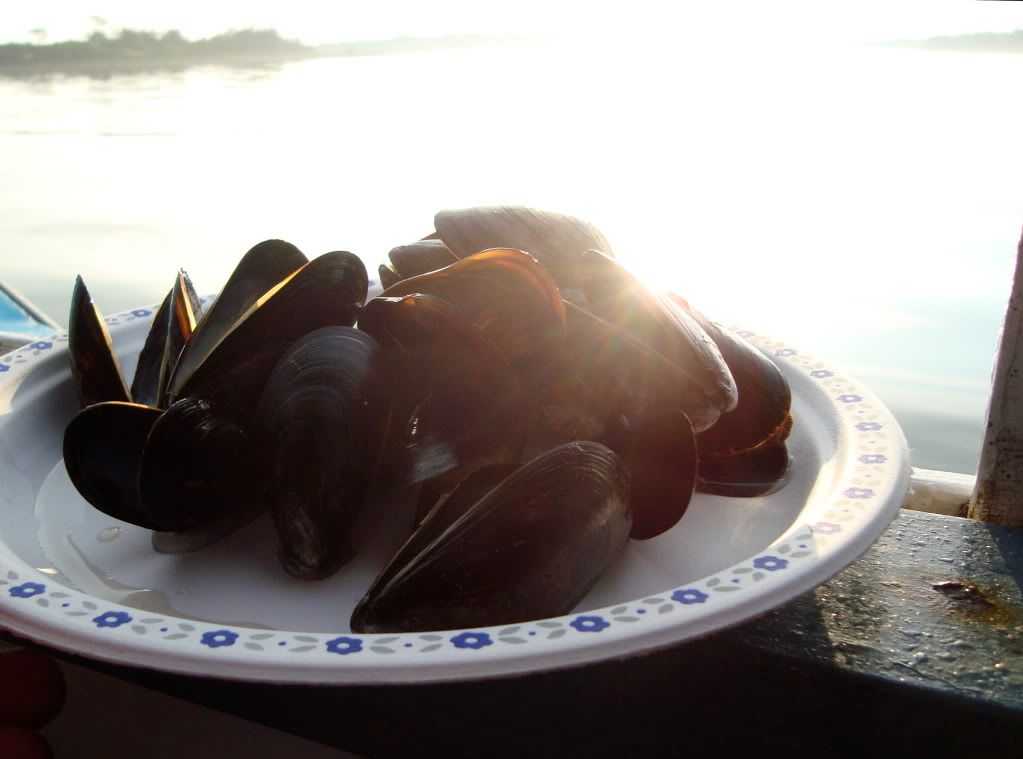 Mel and I were meeting Crystal for dinner to catch up and so on and so on.  Ever since she moved to BC, we barely see her anymore.
Mel had picked the terrace in front of the Metropolitain as a meeting point, planning to maybe wander in the Market for a place to eat.  But since I was a few minutes behind and Crystal was nowhere in sight, Mel made the executive decision to pick up one of the few remaining tables on the Met's patio.
I showed up and we ordered drinks while we waited.  Mel felt Euro-sophiticated and decided to go for an Alsatian Kiss, one of their Metro Martinis – Citron vodka, apple vodka, apple juice, simple syrup.  (Why isn't it called Lemon Vodka anyway?)  It was a well balanced drink – not too sweet, some tartness. Refreshing.   I opted for a pint of Stiegl. An Austrian beer, the Stiegl is a golden lager, with moderate yet rich malt flavours, lightly hopped, a mellow taste overall with a grassy finish.
Crystal finally showed up 30 minutes behind schedule – she wouldn't be able to choose an appetizer as, while waiting, we had decided to take advantage of the dying minutes of the Hill Hour to order Le Petit, the smallest of their seafood platters, and 25% off during the Hill Hour.
Oysters, shrimp, crab, ceviche, salmon, mussels – a nice looking platter and a good opportunity to enjoy quality seafood at a lesser price than the regular one.
As we were consuming the sea fare, we noticed some stalkers.  First, an Ottawa Citizen photographer.  Then, a guy from the Ottawa Sun.  Soon after, a CTV cameraman.  Another reporter soon joined the group.  I put my sunglasses on, hoping they weren't after me again, as they were taking shots of the patio from accross the plaza.  I looked around and noticed a growing local conservative crowd, including Tory blogger Stephen Taylor.
We waited for our food.  Mel ordered the Steamed Mussels & Frites, not quite understanding why they were Mussels & Frites as opposed to Mussels & Fries or, even better, Moules & Frites.  She unfortunetaly missed the "Hill Hour" deadline and ended up paying an extra $7 to enjoy them.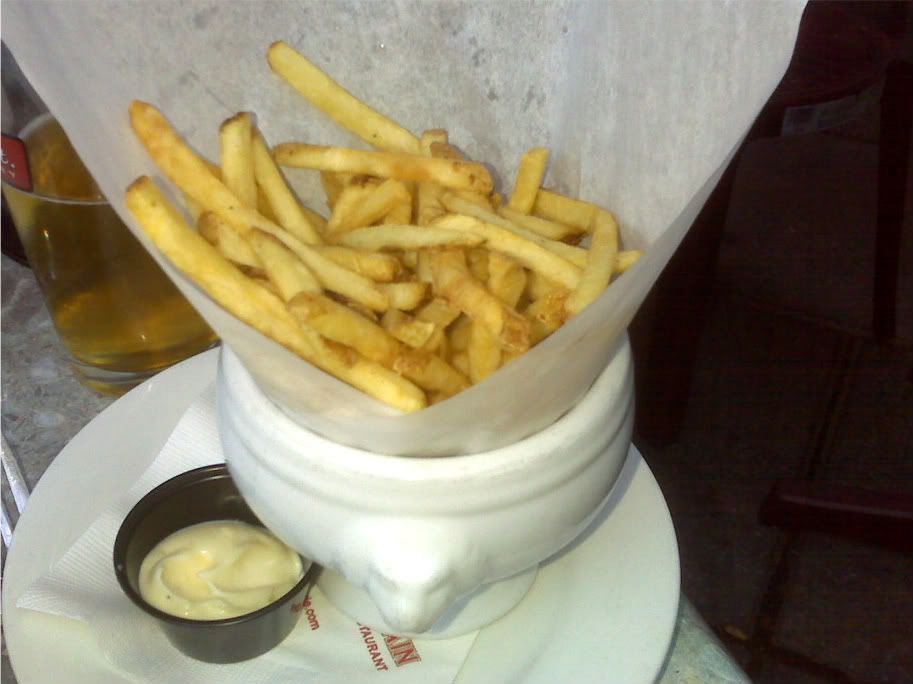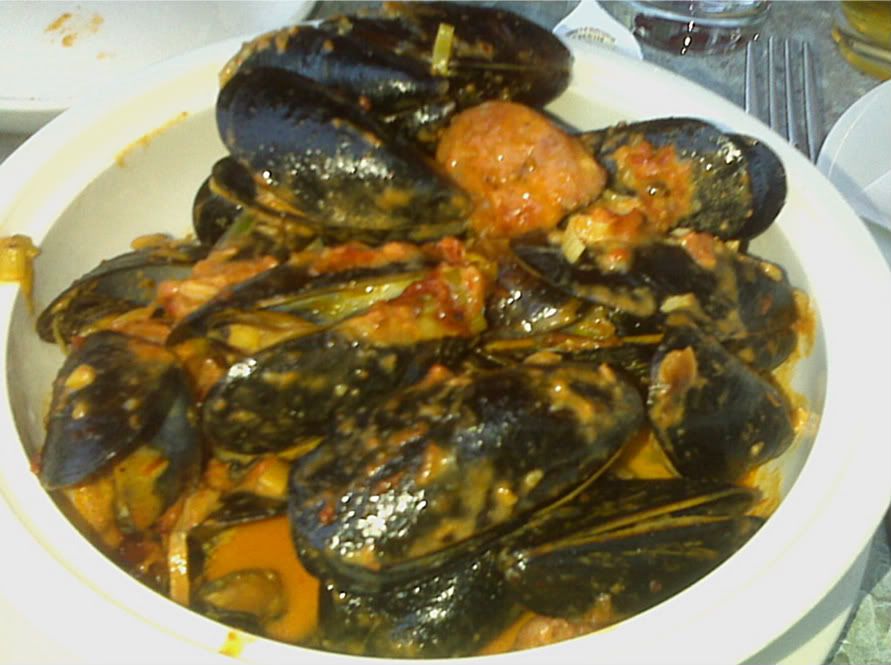 The fries at the Met are always nice, warm and crispy.  The Mussels were prepared with sundried tomatoes and spicy chorizo, they were nicely cooked and the sauce was rich and colourful, a pleasure for the palate and the eyes.
I ordered the Wednesday Special, la choucroute!  Smoked pork loin with pork belly, veal sausage, frankfurter served with sauerkraut and boiled potatoes.  At 24$, it is a stange price for a sausage special, but I could not choose anything else.
The potatoes still had their skins, adding some crisp to the dish.  Nice surprise, the sauerkraut came covered with little french cornichons, adding a fresh vinegar flavour to the fermented cabbage.  The sausages were cooked perfectly, but the smoked pork was a tad overdone and a bit on the dry side. Usually, the cabbage is very dominaut in a sauerkraut, but here, it was just an equal partner to the meat.  The portion was therefore smaller than the usual sauerkraut dish, but I did not suffer too much from it.
Finally, we realized who the crowd was waiting for – Ottawa Mayor Larry O'Brien, who lives nearby, was coming to celebrate the end of his trial.
The "Get out of Jail for Free" party was soon underway, with the Mayor's supporters, a versatile conservative crowd and even some reporters who covered, or not, the trial.
Good times.
I'm glad I had pork.
Jean-Claude Rocheleau
was acclaimed by the riding association.  President of
Canada's United Oil Workers from CEP local 121
, Rocheleau is a very strong candidate for the NDP.  He ran a vigorous campaign last time around and firmly established the NDP as a viable option. In fact, the
NDP has tripled its vote in the riding
since Jack Layton became leader.   A fierce defender of his fellow workers and a strong proponent of energy security, Rocheleau recently took the lead in
the fight to stop Shell from closing its refinery
in the East-end of Montreal.
Jack Layton gave a passionate speech about the state of the economy, a speech appreciated by the troops, and which I am sure will generate some media attention. (UPDATE 2009-08-04 08:37:50 -
It did
.)The unsung hero of the evening, however, is the location.  The nomination meeting was held at a little co-op, le
Bistro In Vivo
.
Located at the heart of Hochelaga, In Vivo is a culturally-oriented bar, with a strong commitment to eco-friendly practices and uses fair trade and local products.  Their food menu changes every day, and focuses on sandwiches of all kinds, pasta and pizza.  The ingredients are selected mostly from the local markets, and are always fresh.
Their beer selection is fantastic.  Tonight, they were offering 34 differents beers from Quebec microbreweries. Their drinks menu has many options: a small fair traded wine list, an impressive cocktail list (beer cocktails, traditional concoction or in-house drinks), fair traded coffees – spiked or not, ciders and hydromels.  They have daily "Heures Joyeuses" specials from 4 to 7, which you can see on the picture above.
In Vivo is the kind of place you would expect to find on the Plateau, in the Quartier Latin or in Old Montreal.  But no, you can avoid downtown and the overcrowded places by going to Hochelaga, get a similar vibe with a much friendlier staff. The great thing about it, you are still on Ste-Catherine.  East.  Very Far East.  But still on it.
.